Are you looking to buy a mattress in New York State? If you are near one of the major cities, you're in luck. There are plenty of options. If you live in very rural New York State (The Upstate), and don't live near any big city, don't fret… there are actually some great online mattress options.
Mattress Stores in New York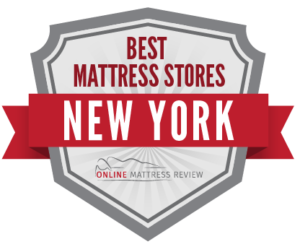 It should come as no surprise that there are tons of quality mattress stores throughout the state of New York. Whether you're looking for affordable mattresses, ease of handling and delivery, customer service, or hard-to-find bedding items, there are mattress stores of nearly every type in the Empire State. While there are mattress stores in most small towns throughout the state of New York, the largest concentrations of mattress stores occur in New York City, Buffalo, Syracuse, Albany and Ithaca. Below we'll jump into some of the most plentiful and most well regarded mattress shops in each one of these locations.
Mattress Stores in New York City
There are hundreds of mattress stores in Manhattan alone, which is why we have also created an in-depth guide to just the city of New York that one may check out if you're already set on purchasing a mattress in the big apple. But to hit the high notes of mattress sales in New York City, one can't help but notice the massive number of mattress firm locations throughout all five boroughs of New York. At our count, there are over 40 locations of Mattress Firm, a national chain known for quality service and standard selections of mattresses: from bargain buys through luxury goods. Other top-rated mattress stores include Craig's Beds (247 W 38th St) in Midtown West, Co-co Mat (2200 Broadway) in the upper west side, Victor's Villa Furniture (3209 Broadway) in Astoria, and Astoria NY Furniture (36-10 Ditmars Blvd). For particularly high-end mattresses there are tons of options as well, particularly in Manhattan. Naturepedic Organic Mattress Gallery (245 E 60th St) in the Upper East Side seeks to provide super high quality certified organic mattresses that reduce exposure to toxins. Hästens is a 6th generation very high-quality bedding and home decor maker who have 4 locations across Manhattan. Duxiana, a mattress company that bills itself out with the tagline "mattresses for life" also offer uniquely high-quality offerings. Customizable "cassettes" enable the hand tailoring of Duxiana mattresses to the comfort requirements of those on either side of the mattress. While this covers the majority of the most affordable and highest quality mattresses in New York City, a much more detailed picture of mattress purchasing in the city may be found in our mattress guide that focuses on the city and not the remainder of the state.
Mattress Stores in Buffalo
There are close to 50 mattress stores in the Buffalo and Niagara Falls region. The most common chains in the region include a number of locations of the national chain Mattress Firm, as well as two similarly-priced regional chains: City Mattress and Metro Mattress. A range of mattress price points are available throughout the region including several second hand mattress shops on the very affordable end. These locations include Otis Bed (80 James E. Casey Dr) and Metro Mattress at (1270 Niagara Falls Blvd). We like the smaller mattress shop Restful Sleepin (393 Division St.) for great discounts on quality mattresses and really phenomenal customer service. This is where you head if you are looking to get a great night of sleep for a great price. City Mattress (4970 Transit Rd) is a very versatile mattress shop with a wide range of mattresses for sale. If you are in need of quality sleep (and we all are) that doesn't break the bank or your back- head to City Mattress. Of course no store is good without quality customer serive, and you will find plenty of that at City Mattress
Mattress Stores in Rochester
Rochester has some great mattress shops. City Mattress (400 Jefferson Rd.) is one of the top ranked shops in the city and offers great professionalism and a great value. You can count on their timely delivery and straightforward salesmanship. If you need to make an exchange, this is no problem here! Every customer is treated kindly and fairly at City Mattress. Sleep City (3300 W Henrietta Rd) has some of the best customer service in the city. You will not be disappointed by the thorough care and attention you receive here. For great quality mattresses and an accommodating staff, Sleep City is an excellent choice. This location is also family-operated. Jamestown Mattress is a high quality mattress shop with top-notch customer service. The people who run Jamestown Mattress are true professionals and know how to custom build mattresses to meet your specifications. If you are looking for something that will suit your sleeping needs, feel any form of discomfort in your current sleep and need very specialized guidance, head to Jamestown Mattress.
Mattresses in Syracuse
Sleepmaster Mattress (2770 Erie Blvd. E.) offers a great range of mattresses. If you were wondering: "where can I get an organic mattress in syracuse?" Sleepmaster if you answer. You can find sustainable, organic chemical-free mattresses and conventional mattresses alike. Every budget is accommodated and the customer service is of the highest quality. China Towne Furniture and Mattress is a great option for those living in or near Syracuse. This is a great spot to check if convenience is king for you. You can even find great bargains and a timely delivery service. Smith Contemporary Furniture is a fantastic place to pick up a high quality mattress that won't break the bank. At Smith Contemporary you will find sizes that fit everyone in your family and from sales clerks who are experienced, and excellent. This furniture and mattress shop is a gem. The quality is incredibly high and so is the value.
You can also check out mattress online at some of our favorite stores: