In this article we've narrowed down some of the best mattress shops in the entire state of Illinois, focusing primarily on the ones in larger areas.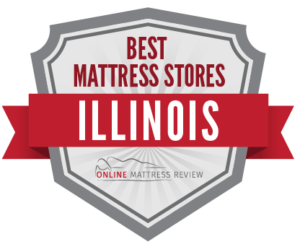 There are no shortages of great mattress options in the Prairie State. Whether you are living back to back with St. Louis, situated in the smaller cities in Illinois, or have found your home in the great city of Chicago, we have got you covered when it comes to mattresses.
Mattress options in Illinois are as diverse as the state is large with everything from custom build king-size mattresses to single beds perfect for your small studio in Chicago.
In today's market, you can pay as little or as much as $200-$40,000 for a mattress. Yes, some people see this investment as important if not more important than purchasing a car. But whatever your budget, Illinois has something for you.
If you're looking for chemical-free there are a number of shops that custom build not only to size and shape but with sustainable organic materials in mind.
Check out our individual city pages within the state, or a run down of mattress store offerings by region below.
---
Mattress Stores in Chicago
There are a number of fantastic options for a mattress in Chicago. Whether you're looking for something organic, discounted, or something in a hurry, Chicago has quality and affordable mattresses to meet your specific needs.
1208 E Roosevelt Rd, Lombard, IL 60148 Phone (630) 785-2477
There is a Mattress Overstock in Lombard for those who are looking for a mattress near Chicago.
Chicago River North 16 W Grand Ave, Chicago, IL 60654 Phone (312) 836-0904
North Halsted 3145 N Halsted St, Chicago, IL 60657 Phone (773) 472-1044
South Loop East 3 E Roosevelt Rd, Chicago, IL 60605 Phone (312) 588-1437
Broadway Square 5232 N Broadway, Chicago, IL 60640 Phone (773) 989-7232
Mattress Firm does a great job supplying each neighborhood with a place to shop around. You will find them in Chicago River North, North Halsted, South Loop East, Broadway Square and more.
---
Mattress Stores in Central Illinois
Have you ever wondered- where can I find a mattress in Springfield? We have you covered, as there are a number of options for Springfield residents and those who are looking for a mattress near Springfield.
3101 Lindbergh Blvd, Springfield, IL 62704 Phone (217) 726-0000
Sam's Best Brands Plus provides honest customer service, fair priced mattresses, and accommodating delivery options.
3308 Robbins Rd, Springfield, IL 62704 Phone (217) 787-2125
Verlo Mattress Factory is a fantastic local mattress shop that custom makes beds to fit your sleep style and budget needs. This is a small locally run mattress shop in Springfield.
Peoria 4732 N Brandywine Dr, Peoria, IL 61614 Phone (309) 681-8895
East Peoria 356 West Washington Street, East Peoria, IL 61611 Phone (309) 694-2298
Mattress Firm provide mattresses in downtown Peoria as well as across the river in East Peoria.
514 S Country Fair Dr #3638, Champaign, IL 61821 Phone (217) 359-0156
If you are looking for a mattress shop in Champaign, you may want to try Illini Mattress Company. They offer a wide range of mattresses for every budget. They will even accommodate custom build requests.
514 S Country Fair Dr. #3638, Champaign, IL 61821 Phone (217) 359-0156
901 W Anthony Dr Ste B, Champaign, IL 61821 Phone (217) 352-9025
Other great options in Champaign include Mattress Boss, and Mattress Firm Champaign.
265 E Ash Ave, Decatur, IL 62526 Phone (217) 877-0900
When in Decatur, you may want to check out Slumberland Furniture (265 East Ash Ave) for all of your mattress needs.
---
Mattress Stores in Southern Illinois
For the purposes of this write up, we are also including St. Louis for Southern Illinois as we understand that a number of people use St. Louis as their place for making quality purchases.
6431 Hampton Ave, St. Louis, MO 63109 Phone (314) 678-9100
700 S 42nd St, Mt Vernon, IL 62864 Phone (618) 242-3146
If you are wondering where you can find a mattress shop in Mount Vernon we recommend checking out Steffy Home Furnishings for great customer service and personalized quality attention.
1330 E Main St, Carbondale, IL 62901 Phone (618) 351-1149
If you are looking for a mattress near Marion, we found a few spots like the Mattress Firm Clearance in Carbondale.
213 N Park Ave, Herrin, IL 62948 Phone (618) 942-4993
Or you may want to check out Bryan Furniture in Herrin. Bryan Furniture supplies quality mattresses, great customer service, and home delivery.
---
These are our most popular mattress cities in Illinois:
You can also check out mattresses online at some of our favorite stores: