You can use this guide to find the best mattress shopping experience in Idaho.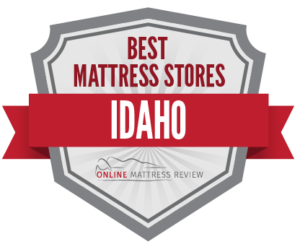 If you are looking for a quality mattress in Idaho, you can rest easy. Today, with the growing mattress industry there are more mattress shops and online mattress options than ever before. You can find memory foam, latex, organic, coil, adjustable and more.
The industry needs to earn your business as the competition is steep, so don't be afraid to ask for a price match, free delivery, or even a discount. This no longer needs to be a pressurized situation.
However, sales teams still work on commission and owners still push for high end sales which is why we selected only the mattress stores that employed patience, honesty, and overall great customer service.
We looked for the top-ranked mattress shops in the state and divided them into three region. Though, with the industry growing more than ever expect to find quality mattress stores in cities like Nampa, Idaho Falls, Grangeville, McCall, Cascade and Lewiston. The following are our picks for the top mattress stores in Idaho
---
Mattress Stores in Boise
Wondering, Where can I find a mattress store in Boise? You're in the right spot. We looked across town for the mattress stores that provided quality customer service, and a great selection and here's what we found.
4540 S Federal Way, Boise, ID 83716 Phone (208) 345-9721
If you want to support a local business, head over to Leisure Mattress Factory where you'll find premium American-made mattresses in a family-run shop. The owners have been in business for decades and are truly knowledgeable. If you need some niche items, definitely check here.
3163 E Lanark St, Meridian, ID 83642 Phone (208) 246-8849
Mattress Land SleepFIT is a great place to head if you're struggling to get some quality sleep, have back pains from your old mattress, or simply aren't sure what you need to best support your needs. The sales team is patient and will not push you to purchase outside of your comfort zone. There are a wide variety of mattresses here too.
Mattress Stores in Twin Falls
Wondering where to find a mattress in Twin Falls? We can help. Mattress shopping is easier than ever as there are more options. That being said sometimes less is more which is why we combed through all of the top-ranked mattress shops in the area and selected only location that offer quality customer service, mattresses and affordable prices.
506 2nd Ave E, Twin Falls, ID 83301 Phone (208) 733-9133
Sleep Solutions offers a number of name brand beds for a great price. We like the sales team just as much as their quality products at this group provides a calm atmosphere with no-pressure sales. For a no-fuss purchase, head to Sleep Solutions.
Everton Mattress Factory
529 North St, Filer, ID 83328 Phone (208) 326-3407
Everton Mattress Factory – Therapedic Mattress of Idaho offer more than just quality name-brand mattresses. If you need to shop for more than a mattress, and want to do it in one spot, head here. The mattresses are premium and the furniture is stylish and sturdy. What's more the sales team aren't pushy. We recommend doing some shopping online as they may even price-match here.
1305 Filer Ave E, Twin Falls, ID 83301 Phone (208) 944-9050
Another great option for a one-stop shop is Ashley Home Store where you'll find a ton to choose from in terms of mattresses and other furnishings for your home. Their staff are patient and knowledgeable about their products. We think the items are more on the higher end of the price spectrum, but the quality is fantastic.
Mattress Stores in Coeur d' Alene
If you are wondering "Where can I find a mattress in Coeur d'Alene?" you're in luck. There are actually a number of fantastic options for Coeur d' Alene residents. However sometimes less is more which is why we combed through all of the top-ranked mattress shops in the area and selected only the locations that offered the best selections, prices, and customer service. Here's what we found.
6235 N Sunshine St #3, Coeur d'Alene, ID 83815 Phone (208) 762-0800
National Mattress and Furniture is a fantastic for their incredible selection and sales team. The group are knowledgeable and really pay attention to your needs. Not only that but this location is family-run.
411 W Haycraft Ave, Coeur d'Alene, ID 83815 Phone (208) 676-1766
Mattress Land SleepFIT is a great option for any individual who is looking to find a solution for ergonomic issues, back pains and more. If you are trying to improve your sleep, head here to check out the myriad beds for support.
503 W Appleway Ave a1, Coeur d'Alene, ID 83814 Phone (208) 676-8560
Are you in the market for an organic mattress? Check in at Comfort City where you will find an incredible selection for mattresses including organic all natural and toxin-free. The sales team are easy to work with and the shipping process is convenient and reliable.
Our guide to the best mattress shops in Idaho has come to an end and we wish you all the best luck as you make this important decision.
You can also check out mattresses online at some of our favorite stores: