Are you hoping to upgrade your sleep quality and searching for the best shop in the Detroit area?  If you feel comfortable ordering a mattress from your home without trying it first, there are many great options to buy online from a proven and reputable online mattress company with great return policies. 
If you'd rather try your mattress out before buying, find the best mattress store near your location by using our guide below.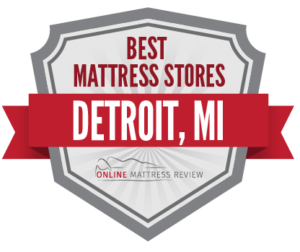 According to the CDC, Michigan residents have some of the poorest sleep in the nation, with 38-44% logging less than 7 hours per night. Poor sleep has been clearly linked to a host of health problems, including some of the chronic conditions- like asthma and obesity- whose rates are higher in Michigan.
If you're one of the many busy professionals in the bustling city of Detroit, you may find that you're not carving out enough time for sleep, and are tossing and turning at night, or are waking feeling groggy. Fortunately, a simple fix can improve your sleep quality.
A 2009 study by the Better Sleep Council shows that switching to a new mattress leads to improved sleep. A better mattress helps users fall asleep faster, stay asleep longer, and sleep more deeply and restfully. And fortunately for residents of Detroit, the city has a great number of mattress shops.
Many specialize in affordable mattresses, with closeout and overstock inventory. Some carry comfort models designed to alleviate sleep problems like back pain or snoring. Others sell furniture and appliances as well as mattresses.
With all the options, you may be wondering which is the best place to buy a mattress in Detroit? We've combed the listings and reviews to narrow down the many options. Our guide to the Best Places to Buy a Mattress in Detroit highlights the top-reviewed and most popular options in each geographical area of the city. Read on to find the best mattress stores in Detroit, right in your neighborhood.
---
Mattress Stores in Central Detroit
There are plenty of places to buy a mattress in Central Detroit.
12070 Greenfield Rd, Detroit, MI 48227 Phone: (313) 273-9600
One of the highest-rated is Budget Appliance and Mattress, which offers reasonably priced appliances and affordable mattresses. Don't look for a fancy showroom here- the inventory is stacked in a warehouse-style setting, but attentive sales staff making finding the right product easy. Reviewers praise the store for professionalism, pricing and responsive customer service, as well as speedy delivery.
10570 Gratiot Ave, Detroit, MI 48213 Phone: (313) 921-8322
Nationalwide Furniture carries mattresses by Chicago Mattress Company and Serta, with models ranging from economy to comfort, as well as traditional and adjustable beds. The store runs regular specials, so prospective customers would do well to research their current offers.
14510 Eight Mile Rd, Oak Park, MI 48237 Phone: (248) 968-2200
Another option for affordable mattresses is Mattress Wholesale, a well-reviewed and reliable local chain with factory-direct prices.
---
Mattress Stores in North Detroit
The area of North Detroit has a number of excellent places to buy a mattress at an affordable price.
14510 Eight Mile Rd, Oak Park, MI 48237 Phone: (248) 968-2200
Up on the border of Oak Park, Mattress Wholesale is a great place to score a bargain on a new mattress. Customers give rave reviews to this family-owned, local chain's professional sales staff and reasonable prices. The store carries mattresses by Serta, Sealy, Englander, and Corsicana Bedding, along with select bedroom furniture.
8400 E 8 Mile Rd, Detroit, MI 48234 Phone: (313) 826-0130
Over in the Bel Air Center, Romeo & Juliet Mattresses & More has earned an impressive 204 Google reviews with an average of 4.5 stars. Rome and Juliet is the largest furniture store in Detroit, and sells high quality living room sets, dining room sets, and bedroom sets at deep discounts, along with a selection of highly affordable mattresses. Because the store specializes in closeouts and overstock, the inventory rotates frequently and varies greatly. Customer report scoring amazing deals, especially when buying more than one item, making this an excellent place to buy a mattress along with a bed or bedroom set.
---
Mattress Stores in South Detroit
There are a few places to buy a mattress in South Detroit, both of them are furniture stores that stock mattresses.
7701 Vernor Hwy, Detroit, MI 48209 Phone: (313) 841-1200
Danto Furniture has been in business for 77 years, and sells both furniture and mattresses at discounted prices. The store has earned an impressive 5 star rating on Yelp for its affordable prices, and sells a selection of economy mattress brands, including Ashley Sleep, Coaster, Sierra Sleep, and Englander.
6200 Miller Rd, Dearborn, MI 48126 Phone: (313) 582-9601
Over in the Warrendale neighborhood, Detroit Furniture, is another family-run furniture and mattress shop. Detroit Furniture stocks a selection of mattresses by Serta, Corsicana, Five-Star, and Sierra Sleep, all at factory-direct prices.
---
Mattress Stores in East Detroit
Out along East 8 Mile Road can be found a cluster of furniture and mattress stores that offer a wealth of options for those looking to buy a mattress in East Detroit.
12700 E 8 Mile Rd, Detroit, MI 48205 Phone: (313) 821-4139
The highest-rated place to buy a mattress in East Detroit, on the other hand, is Bargain Furniture. This locally-owned business has been in operation for 25 years, and has earned a solid reputation for excellent customer service and reasonable prices. In addition to furniture, the store sticks a number of affordable mattresses, with innerspring, memory foam, gel and hybrid options. Brands available include Sierra Sleep, Ashley Sleep and Coaster.
13007 E 8 Mile Rd, Warren, MI 48089 Phone: (586) 775-1110
---
Mattress Stores in West Detroit
15348 Livernois, Detroit, MI 48238 Phone: (313) 864-1111
5th Avenue Furniture is Detroit's top-rated furniture store, and a great source for an affordable mattress. The store carries innerspring, memory foam and gel mattresses, and has earned an incredible 347 Google reviews, with a 4.8 star average. Customers praise the store's friendly and professional staff, and the discounted prices on furniture and mattresses, which are a fraction of retail. The store runs frequent special offers and promotions, and customers can save even more by shopping during one of their seasonal sales.
Livernois Appliances & Mattresses
14040 Livernois, Detroit, MI 48238 Phone: (313) 883-4444
Livernois Appliances and Mattresses (14040 Livernois Ave) sells reasonably-priced washers, refrigerators and other large appliances, along with economical mattresses and mattress sets. This store has a warehouse (rather than showroom) arrangement, so customers would do well too enlist the help of the sales staff to locate the right product.
They do not have a website.
---
Also check out:
The Best Mattress Shops in Michigan
You can also review mattresses online at some of our favorite stores: