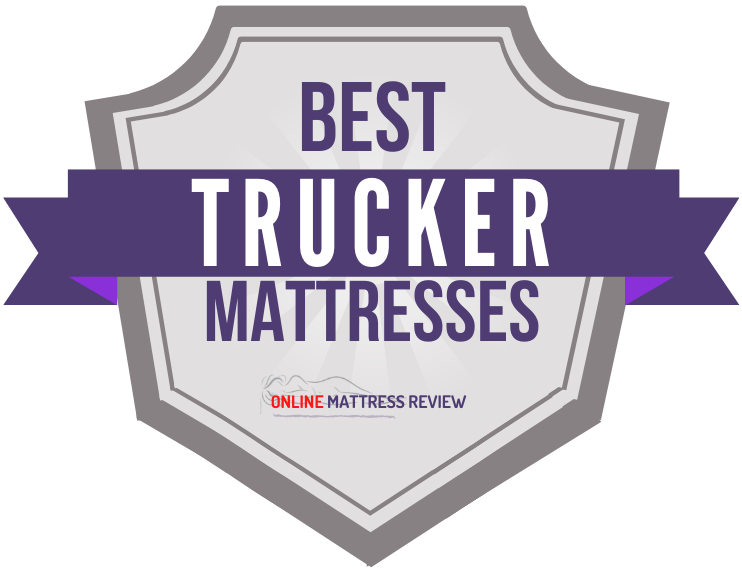 Did you know that most American truck drivers log in an average of between 2,000 and 3,000 miles per week on the road? In a year, the total mileage can be more than 100,000 miles! In comparison, the average motorist logs in an average of 13,500 miles per year.
Such is the importance of truckers in the US economy that nearly every product sold and consumed in the country has been placed on and traveled by truck at one point or another.
Even a single day of the trucking industry and its truckers at a standstill will adversely impact a wide range of sectors. Just imagine the widespread impact of a week-long work stoppage! For this reason, truckers must adopt healthy lifestyle habits that ensure they can perform their jobs well. Among these healthy habits is getting at least six hours of sleep every day.
Being on the road isn't a valid excuse not to enjoy the benefits of sleep, including reduced risk of illness, improved work performance, and enhanced interpersonal relationships. Indeed, the importance of sleep cannot be overemphasized for truckers since sleep deprivation is a leading cause of big rig accidents.
It's all easier said than done, however, because truck drivers don't have the luxury of a definitive sleep pattern. With their flexible work schedule, getting sleep at regular hours or intervals isn't always possible. With trucking companies requiring their drivers to log in 125,000 miles every year – or 500 miles a day, if that makes it more relatable – sleep is a must!
There are also rules and regulations imposed by the Department of Transportation about the number of hours that over-the-road truck drivers can work. Under the current law, truck drivers can work up to 70 hours for eight days! For every 70 hours of work, they must take a 34-hour break before the next shift starts.
With this in mind, every truck driver must make an effort to find the best mattress for their sleeping space inside their trucks! Getting a restful sleep while on the road is 100% possible if and when you have a comfortable sleeping surface. Of course, the temperature, lighting, and overall environment of your sleeping quarters matter, too.
Take note that the FAQs and recommended mattresses in this article are for regional, over-the-road, and long-haul truck drivers. Truckers on local routes typically sleep in their beds at home and, thus, do not need trucker mattresses, not to mention that their rigs aren't equipped with sleeping berths.

---
Here are the top five best trucker mattresses. These were chosen based on their durable materials and construction, ease of maintenance and cleaning, and exceptional balance of comfort and support. (Measurements in inches are length, width, and thickness) 
5 Best Trucker Mattresses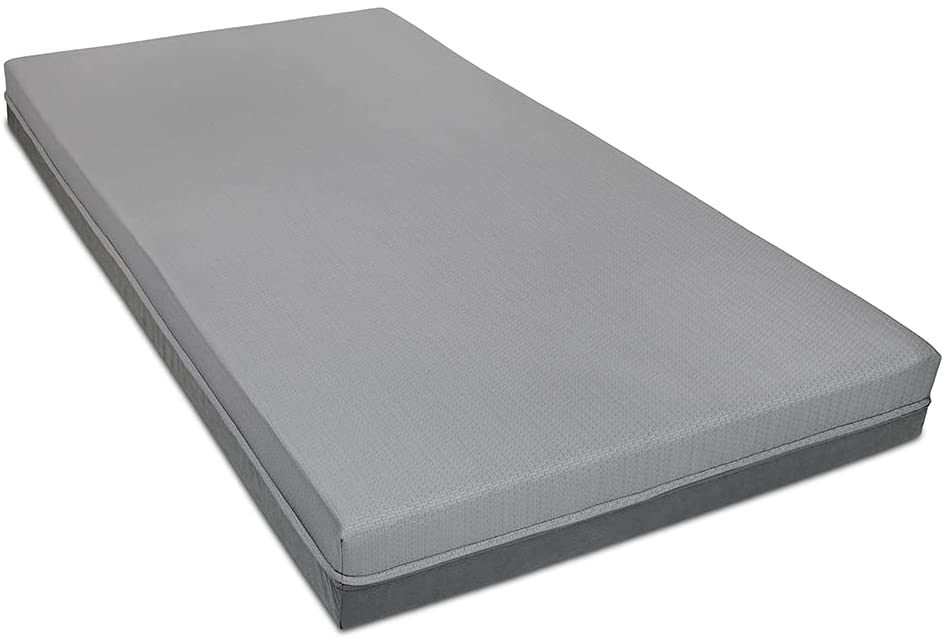 North America Mattress Corporation is a well-known manufacturer of mattresses, including stretcher pads, hospital mattresses, and trucker mattresses. The trucker mattresses are compatible for use with long-haul rigs, semi-trucks, and recreational vehicles, and most of these products are highly rated among drivers. The company also takes immense pride in the superior quality of its American-made mattresses backed by a 12-month warranty.
The world-class quality of its trucker mattresses is evident in the Big Trucker truck mattress, a large mattress that will fit in many types of platforms.
STRENGTHS WE LOVE
It measures 80 x 42 x 7 inches, so it's wider than a twin XL-size mattress but with the same length. The wider dimension means that an adult can enjoy ample space, especially when changing positions. (Standard twin XL-size mattresses are typically used by children, teenagers, and petite adults.)
The gray cover means that the dust and dirt buildup won't be as visible as on a white cover. Plus, it has a luxurious look and feels that's uncommon in utilitarian trucker mattresses. Bed covers, including fitted sheets and mattress protectors, are necessary to get the best possible sleeping experience on them.
It's a removable cover, too, making it easy to remove and clean whenever it gets dirty. The zipper keeps the cover in place, too, so there's no need for constant – and inconvenient – adjustments. The fabric at the bottom of the mattress has a grippy surface, too, so it doesn't slip and slide on the platform.
The all-foam construction consists of four layers of foam that ensure pressure-relieving comfort for hours on end. A 1-inch soft pillow top-like layer lies underneath the stretch fabric cover, followed by a 2-inch medium conforming foam. These are the comfort layers that provide a soft, cushioned feel. The support layers consist of two firm foam types – a 2-inch firm foam and a 2-inch ultra-firm foam. These multiple layers ensure the Goldilocks point between comfort and support while also guaranteeing years of use.
It's designed to accommodate a heavier or larger driver, thanks to its extra-thick 7-inch thickness and layers of firm foam. According to the manufacturer, a 400-pound person can sleep on it without flattening it out.
The mattress isn't constructed for flipping, but it can be rotated at regular intervals, such as once every two to three months, to prevent uneven height. But you can flip it if you want an extra-firm foam that can support a heavier or larger body. The base foam can take the pressure without going too flat.
It's a great mattress that provides comfort and supports even after a few years of regular use! You will likely find it firm enough to provide support but soft enough to provide pressure relief, especially with the bumps on the road.
This is a mattress-in-a-box, so it's delivered in a rolled and compressed foam inside a packaging box. You must place the unopened box on the platform where the mattress will be placed and then release it from its box. The mattress should expand in 24-48 hours.
Things to Consider:
There may be a slight chemical smell when the mattress is first released from its plastic packaging. But it dissipates in a couple of days; opening a window in the sleeper cabin speeds up the process.
It may be too firm for some drivers; personal preference affects perception of its firmness level.
OMR ADVANTAGE SCORE: 9/10
---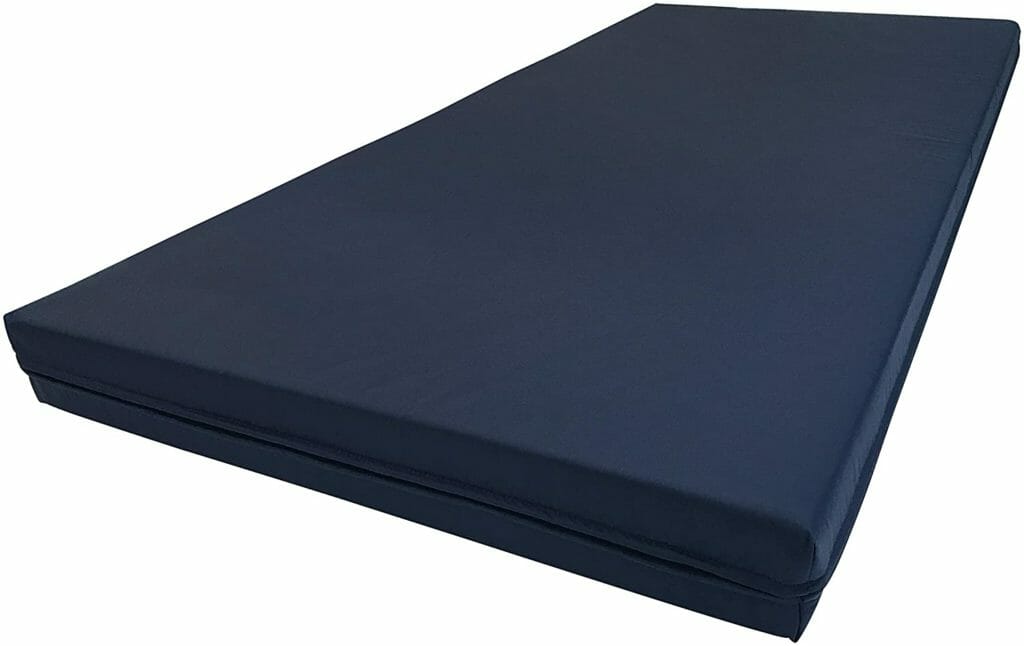 Yet another high-quality product from North America Mattress Corporation is the Everynight Road Deluxe truck mattress! Made with CertiPUR mattress that meets every safety standard, it's an excellent mattress for long-haul truck drivers who need every minute of sleep they can get.
This is part of the company's Basic Collection, a line of mattresses designed with maximum comfort and affordable price in mind. The Everynight Road Deluxe mattress may be classified as "basic," but its durability and quality mean good value for the money.
STRENGTHS WE LOVE
Its 75 x 35 x 5 inches measurement means that it's as long as a twin-size standard mattress, although it's smaller in width. While it may seem too small for average-size truckers, it's still a good choice for fairly small sleeper cabs. Plus, what it lacks in space is more than makes up for in lightweight – it's an easy 25-pound mattress, a convenient feature when you want to move it.
The simple construction makes it a good choice for truck drivers who want one less thing to think about during a busy day. Aside from the blue fabric cover, the mattress has a 5-inch premium foam that provides a medium-firm feel. There's no fuss and nothing fancy about it, but most truck drivers get the job done. (Note that experts recommend a medium-firm mattress for most people because of its happy balance between comfort and support.)
Its one-layered foam design means that the mattress can be flipped so that both sides can be used. Flippable mattresses have a longer lifespan because wear and tear can be evenly distributed on both sides. The medium-firm feel, nonetheless, is true regardless of which side you're sleeping on. Its flippable design has other benefits, such as flipping its dirty side and using the cleaner side in the meantime.
The blue fabric cover can be removed and washed in a washing machine whenever you feel like it. The nylon fabric can be wiped with a damp cloth to spot-treat stains if the laundry isn't possible. Its quality zipper can withstand multiple openings and closing, as well as keeps the cover in place.
Things to Consider:
The 5-inch mattress may be a tad thin for larger or heavier persons. But the company accommodates thicker versions of the Everynight Road Deluxe mattress.
OMR ADVANTAGE SCORE: 8.5/10
---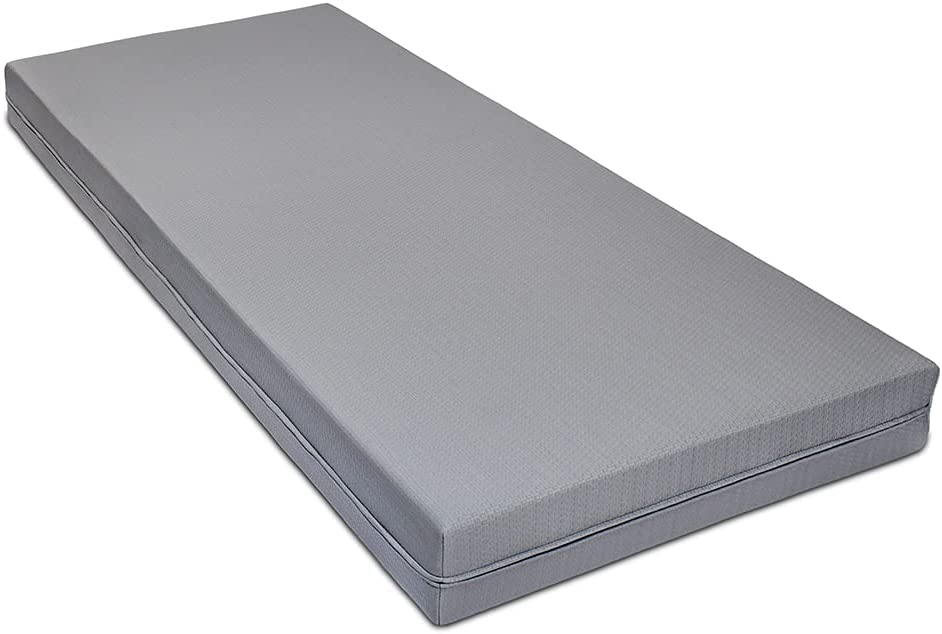 The Dual Duty, Dual-Sided trucker mattress from North America Mattress Corporation is part of the Performance Collection. Its name implies a specialty mattress designed for top performance in terms of versatile use, comfort and support, and long-term durability. Indeed, the superior performance makes it among the best of its kind!
STRENGTHS WE LOVE
This mattress is larger than a standard twin XL mattress but smaller than a queen-size mattress with an 80 x 42 inches. But it's a sufficient size for average- to large-size truckers who want some room to move on the bed but without it taking too much space in their sleeper cab.
Its gray fabric cover has a soft, supple feel, although it is still recommended to put appropriate beddings on it. Fitted sheets, duvets, and blankets, as well as pillows, complete the sleeping experience! But the gray cover serves a practical purpose, too, specifically in hiding dust and dirt that accumulates with regular use. Don't worry about cleaning it since it's a removable and washable polyester cover.
The 6-inch thick mattress can withstand the pressure of an adult body, so it doesn't flatten out too soon or too fast. The multiple layers of premium foam consist of soft foam, performance foam, and semi-firm foam. The soft foam conforms to the body's curves and, thus, provides soothing relief to aching pressure points. The performance foam reinforces the cushiony comfort feel of the soft foam while also boosting support for the spine. The semi-firm layer acts either as the stable base layer or the extra-supportive sleeping surface.
It's a flippable mattress, thus, the dual duty, dual-sided name. There are many benefits to such a mattress, too! First, you can extend its usable life by regularly flipping the mattress and, thus, distributing its wear and tear. Second, you can choose your desired level of firmness depending on which side you're sleeping on. Sleep on the soft foam layer, and you will enjoy a medium-soft feel; flip the mattress so you lie down on the semi-firm layer and your sleeping experience transforms into a firmer one.
The mattress supports a sleeper up to 250 pounds without becoming too flat.
Its polyester cover can be easily cleaned, either through spot cleaning for minor stains or in the washing machine for major accidents or dirt buildup. Use mild soap and lukewarm water, then air-dry the cover for best results.
Things to Consider:
Flipping it may require some effort since it weighs 40 pounds.
OMR ADVANTAGE SCORE: 8.5/10
---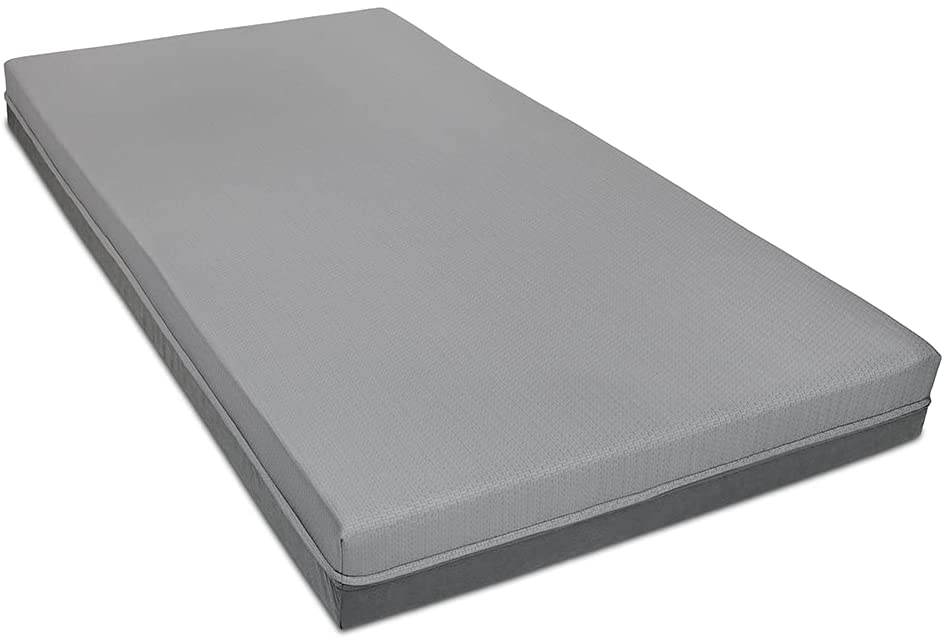 Gel memory foam is a popular material for mattresses because of its cooling properties. Beads are infused into traditional memory foam, which will decrease the latter's heat retention properties. Think of the combination as sleeping on a cooling surface while also getting the body-hugging experience of memory foam.
This is the kind of pleasurable sleeping experience that you can expect from the Road Elite Cool Gel Memory Foam truck mattress. Part of the Cool Gel Collection, it's a popular choice among long-haul truckers in temperate and tropical routes.
STRENGTHS WE LOVE
The measurements – 80 x 36 inches – make it two inches smaller in width but the same length as a standard twin XL-size mattress. Even a fairly large trucker can fit in it, although there will be less room to move than, say, in a queen-sized mattress. But since truckers learn to sleep in unorthodox conditions, it's akin to the most luxurious bed on the road!
Its gray polyester cover is soft and supple to the touch, and you may be tempted to just lie down on top without beddings. Still, you should consider comfortable beddings since these are essential to restful sleep. When the cover gets dirty, it can be easily removed and washed.
The mattress comes with a 12-month guarantee, as is the case for North America Mattress Corporation products, and can be ordered in a custom size.
Its foam layers are all made of CertiPUR-certified foam that meets federal safety standards. The foam doesn't contain PBDEs, ozone depleters, heavy metals, and formaldehyde, as well as contain low VOC levels. You will be sleeping on a mattress that will not introduce toxins into your system.
The 6-inch mattress has three layers of foam designed to deliver optimum comfort, support, and stability. The first layer is a 2-inch cool gel memory foam, a material with the contouring benefits of memory foam but with less heat retention. The liquid gel infused into memory foam wicks body heat away instead of retaining it, which means a cooler sleeping experience.
The second layer is a 2-inch performance foam with a soft feel that enhances the body-hugging comfort of the gel memory foam. You can't have enough comfort after a long day of driving through various terrain and traffic conditions! But the two layers of cushiony foam aren't too soft that you will get a sinking feeling (i.e., in-the-mattress kind of experience).
The base layer consists of 2 inches of firm foam that gives extra height and provides a stable support base. Note that this isn't a flippable mattress since the gel memory foam layer can be damaged otherwise.
Most customers say that the mattress provides a comfortable and supportive sleeping experience that their sciatica and back pain were resolved after a few nights of use.
It's easy to assemble since it comes in a rolled and compressed form inside a box. Just like all mattress-in-a-box products, it should be placed on its intended platform before unboxing.
Things to Consider:
The more expensive price can cause second thoughts. But if you're looking for a good investment in your sleeping quarters, then it makes financial sense.
OMR ADVANTAGE SCORE: 8.5/10
---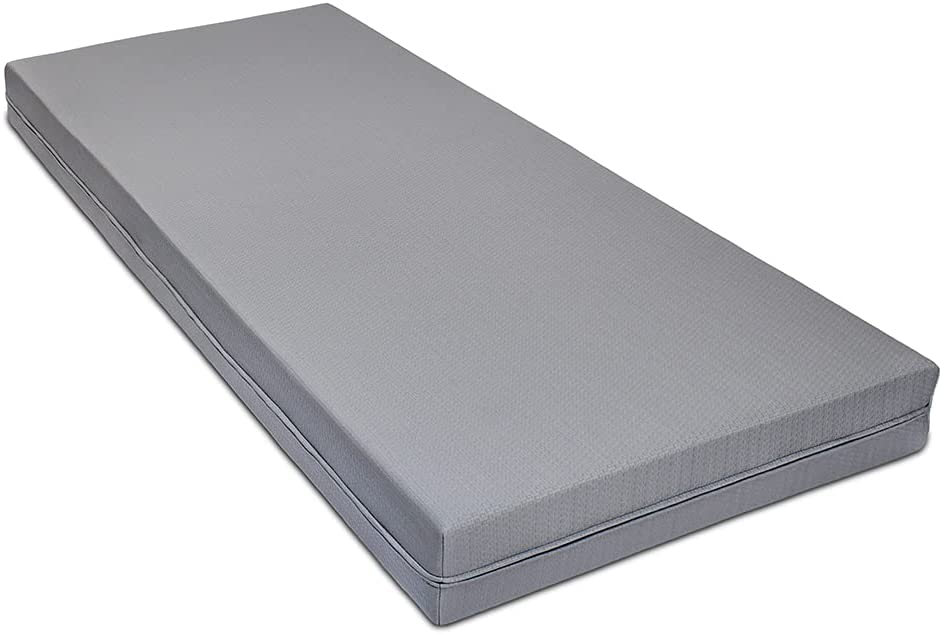 If you're looking for a more basic yet still high-quality truck mattress, then you may want to look into one of North America Mattress Corporation's Basic Collection mattresses. This is the Layover Dual-Sided Economical mattress that can support up to 250 pounds. While it's a simple mattress, it delivers on durability and quality at an affordable price, a combination that appeals to value-conscious truck drivers.
STRENGTHS WE LOVE
With its measurements at 80 x 24 inches, it's a smaller mattress in terms of width than a twin XL-size standard mattress. Most truck drivers find it to be adequate for their needs since it allows for various sleeping positions. If you're the type who sticks to one sleeping position most of the night, or you change between two positions only, then it's a great choice.
The foam layers are all made of CertiPUR-certified foam, so it's as safe for use as can be under current standards. These are eco-friendly types of foam, too, since no heavy metals, ozone depleters, and PBDEs have been used in their manufacture.
The 5-inch foam ensures that the mattress will last for several years since the foam will not prematurely collapse under the weight of an adult, even with regular use. Made of medium comfort foam, it provides a medium-firm feel for average-size persons. This means your sleeping experience will be characterized by an on-the-mattress feel where your body gets the comforting contouring property of foam while still maintaining neutral spine alignment.
Since there's only one layer of foam, it can be flipped on either side. You can then extend its usable life by evenly distributing wear and tear on both sides. Be sure to rotate it, too, regularly aside from flipping it.
Things to Consider:
Only one firmness level (medium-firm) regardless of which side you sleep on.
OMR ADVANTAGE SCORE: 8/10

---
FAQs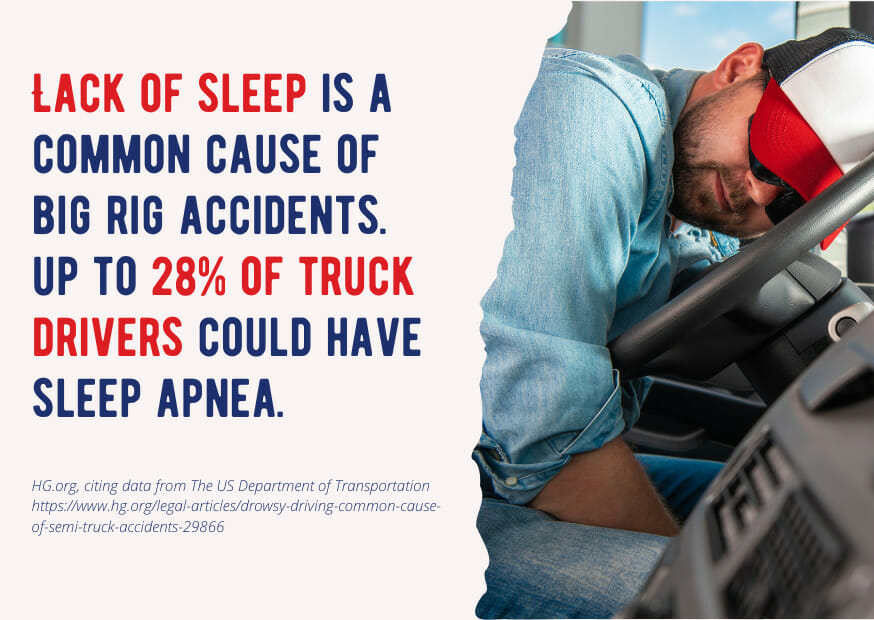 1. Where do truck drivers sleep in their trucks?
Most long-haul big rigs have sleeper cabs or sleeping berths behind the driver's seat. These cabs or berths are usually small rooms or compartments with varying amenities. In many ways, these rooms are the truckers' home away from home and, thus, they make it as comfortable as possible.
With many truckers unable to come home due to interstate jobs, the sleeper cabs can be home for several weeks, if not months at a time! Like homes, the type of amenities and comfort level that can be enjoyed in these cabs vary widely. These aspects depend on the type of truck, the willingness of the trucking company to provide optimum comfort for their drivers, and the personal preference of the driver.
A typical sleeper cab has a platform on which a mattress can be placed on top. The platform itself may be a temporary or permanent structure, usually welded to the body of the truck itself. The mattress can then be accessorized with sheets, a comforter, and pillows according to your preference.
This is the basic setup, but there are also sleeper cabs with fairly luxurious amenities that will make your life on the road so much easier and better. These amenities can include a small refrigerator, a microwave oven, and an entertainment center with a gaming console and television set. There may even be a small closet for your things and a few pieces of grooming equipment.
As for a toilet, a sleeper cab may or may not have it. Most, if not all, also don't have showers and sinks. Portable toilets and chemicals to break down human waste and reduce malodorous smells, fortunately, are available. Truck drivers can also do their business on the road, at truck stops, and in other suitable places.
As for staying warm at night or keeping cool during the day while sleeping, clothes and comforters are only part of the solution. Many new big rigs have auxiliary power units (APUs) that keep HVACs running even when the engine is off. Even older trucks have battery-powered or diesel-powered APUs for this purpose.
2. What are the mattress sizes for trucks?
In the past, inflatable mattresses were the common beds used by truckers because of their affordable cost and efficient convenience. But all-foam and innerspring mattresses have become more popular because these are more durable and comfortable and provide more support. Many non-inflatable mattresses also have user-friendly features like flippable design, grippy bottom fabrics, and removable covers.
As for truck mattresses, these are different from the standard mattress sizes in the United States. You will find it challenging to place a standard twin XL mattress on a sleeper cab since it won't match the platform. For example, the North American Mattress Store Big Trucker Truck Mattress, which measures 80 x 42 inches, is wider than the standard twin XL mattress (80 x 38 inches).
The differences in measurements emphasize the importance of getting precise measurements of the platform on which the mattress will be placed.
3. Why don't truck drivers sleep in hospitality establishments?
To put it simply, sleeping in hotels, motels and inns can be expensive when you're checking in every night while you're on the road! The total costs will eat into your bottom line and, thus, it isn't advisable. Besides, most hospitality establishments don't have parking accommodations for trucks, so these aren't practical places.
Truck stops, on the other hand, have large parking areas designed for this purpose. Many business parking lots also have amenities for trucks and, thus, are better choices for truckers. Many customers of trucking companies also allow truck drivers to park their rigs in their premises overnight, resulting in cost savings.
While it may seem practical, truck drivers aren't allowed to park on the side of roads. The practice isn't just unsafe for truck drivers and other motorists, but it's also illegal. However, truck drivers can do so in case of emergencies.
There are times when truck drivers stay in motels, hotels, and inns, but these are only under certain circumstances. During extreme weather conditions, such as snowstorms, blizzards, and hurricanes, when being outside is too dangerous.
4. How many hours of sleep should truck drivers get?
Adults need at least seven hours of sleep every night. But you, an individual truck driver, can determine the number of hours of sleep you need for safe work performance. You may need more or less sleep depending on your age, physical condition, and personal preference, but you must also consider the rules and regulations of your job.
According to the Federal Motor Carrier Safety Administration (FMCSA), specifically its Hours of Service rules, you can drive for 11 hours every day but take a 10-hour break. You can spend said break on various activities, including sleeping and doing the laundry, cleaning your cab, and preparing your meals. Furthermore, you must not drive your rig after the 14th consecutive hours after returning to your job. The break also includes time spent on unloading cargo, fueling, and post- and pre-trips.
These rules are intended for truck drivers to get sufficient rest and sleep. Thus, you are well-advised to follow them. But, in the end, you have the responsibility to ensure that you're getting sufficient sleep necessary for safe driving. Keep in mind that in 31% of vehicular crashes resulting in driver death, fatigue was the cause.
Here are effective ways that you can enjoy a restful sleep on the road.
Invest in a comfortable mattress that offers excellent support. While it may be a considerable investment, it's an investment that pays off. Be sure to use good beddings and pillows, too.
Block out the light from the traffic and surrounding buildings. Put up blackout curtains on the windows and use a sleep mask.
Turn off the television and other screens. This way, you can get to sleep without their glare.
Drown out the noise, too, by wearing earplugs or noise-canceling headphones, perhaps using a white noise machine.
Keep your sleeping berth as clean and clutter-free as possible. The more space you have on your bed, the better your quality of sleep can be.
Follow a nighttime routine as much as possible. The tasks that come with it, such as washing your face, brushing your teeth, and changing into clean clothes, act as signals to your brain that it's sleeping time.
Eat a light meal, avoid caffeine and alcohol, and destress before sleeping.
Don't forget that your driver's seat is also important in getting sufficient sleep. Your seat must be comfortable so that you can drive for hours without getting sore joints and muscle pains afterward.
5. How can you choose the best truck mattress?
Since you will be sleeping on a truck mattress for at least six hours per day, you must choose the best one for your specific needs. Your first step is to find truck-specific mattresses, which brands like North American Mattress sell. These are specifically designed to fit the typical platforms in big rigs, including semis instead of standard-size beds used in typical bedrooms.
Then, take precise measurements of the platform on your sleeping cab by using a measurement tape. Be sure to provide a small allowance, an inch at most, for the beddings since these will take up space. Your mattress must fit snugly in the platform, so there's little to no movement when you're changing positions.
The second step involves choosing the type of mattress based on your budget, preferred sleeping position, and level of firmness. Be aware that inflatable mattresses aren't recommended for truck drivers because these offer little to no support. Instead, all-foam, innerspring, and hybrid mattresses are the best choices.
But which one is the best for you? Here are a few things to consider.
All-foam mattresses are excellent options for truck drivers because the best ones provide the sweet spot between comfort and support. Most of these mattresses also come in a box, making them easier to set up in your sleeper cab. Many are also fairly affordable, so money isn't a biggie, and there are more expensive mattresses that give excellent value for the money.
There are two main choices in all-foam mattresses, and many of these mattresses also combine two or more types of foam for optimum comfort and support. Memory foam mattresses are available in different firmness levels, from plush to firm, but these offer excellent cushioning comfort. Their extra-responsive property means that you will enjoy an increased "hug," resulting in significant pressure relief.
Latex foam is naturally elastic, so it has a slight bounce resulting in an on-the-mattress sleeping experience. If you want a mattress that provides soothing pressure relief without the excessive "hug" of a memory foam mattress, then get a latex foam mattress.
Innerspring mattresses are also good choices since their innerspring coils provide sufficient spine support. But be sure to get an innerspring mattress with a thick comfort layer, perhaps also with a transition layer, since you don't want the coils pressing against your pressure points.
Hybrid mattresses consist of a comfort layer and a support layer of pocketed spring coils. These mattresses are excellent choices, too, because of their thick foam for comfort and coils for spine alignment. But these mattresses tend to be heavier and thicker than their all-foam counterparts and, thus, may not be as convenient as all-foam mattresses.
It would help if you also considered your preferred sleeping position since it will impact the best firmness level for your truck mattress. The general rules are:
Soft to medium firmness for side sleepers
Medium to medium-firm level for back sleepers
Firm mattress for stomach sleepers
Medium-firm mattress for combination sleepers
Your weight will also affect the best choice in a truck mattress. If you're of average weight, your best bet is a medium-firm mattress. You will want a firmer mattress if you're on the heavier side, say, 230 pounds and above.
Since you're on the road without easy access to a washing machine, your truck mattress must also be easy to clean. Look for a mattress with a removable cover so it can be quickly changed when it gets dirty. You should also immediately treat stains (spot treat) so these don't spread out. 
Conclusion
In conclusion, truck mattresses must be chosen with the same careful thought as standard bed mattresses. You want a comfortable bed where you can catch your ZZZs and refresh your body for the next long drive. Your life, as well as the lives of pedestrians and motorists along your route, all depend on it!