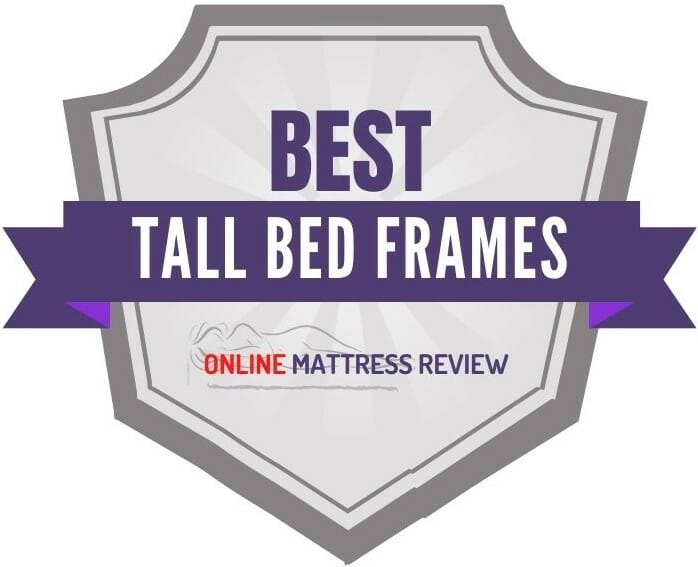 For some, placing the mattress on the floor is great for support and stability. This may be true for heavy and thick mattresses with a sturdy frame that can support the weight. However, some experts insist differently. They recommend most users avoid placing the mattress directly on the ground since this may cause bacteria and dust build-up, which may cause health risks.
Placing the mattress on the floor may lead to mold growth, especially when high humidity or if liquid spills are frequently near the mattress. This applies to hardwood floors that are susceptible to retaining moisture. Constant exposure to moisture may create the right environment for bacteria to thrive. With this, long-term exposure to these may trigger allergic reactions and can be fatal.
Choose the Right Height for You
That's why it's important to use a bed frame with the right elevation. This protects your mattress from breathing and may be less susceptible to moisture build-up. Additionally, it's also best to pick the right height that will affect how you can easily get in and out of bed. Choosing a height that's too low may be challenging to climb out to, especially for older individuals. This will require more energy for you to propel yourself out of bed. Bed frames with a height that's closer to your knee-length might be ideal. Simply bend down and push yourself out of bed with your feet firmly on the floor.
There are several tall bed frames available in the online market. Some come with different features and price points. To help you choose the right fit, we've prepared the ten best tall bed frames:

Best Tall Bed Frames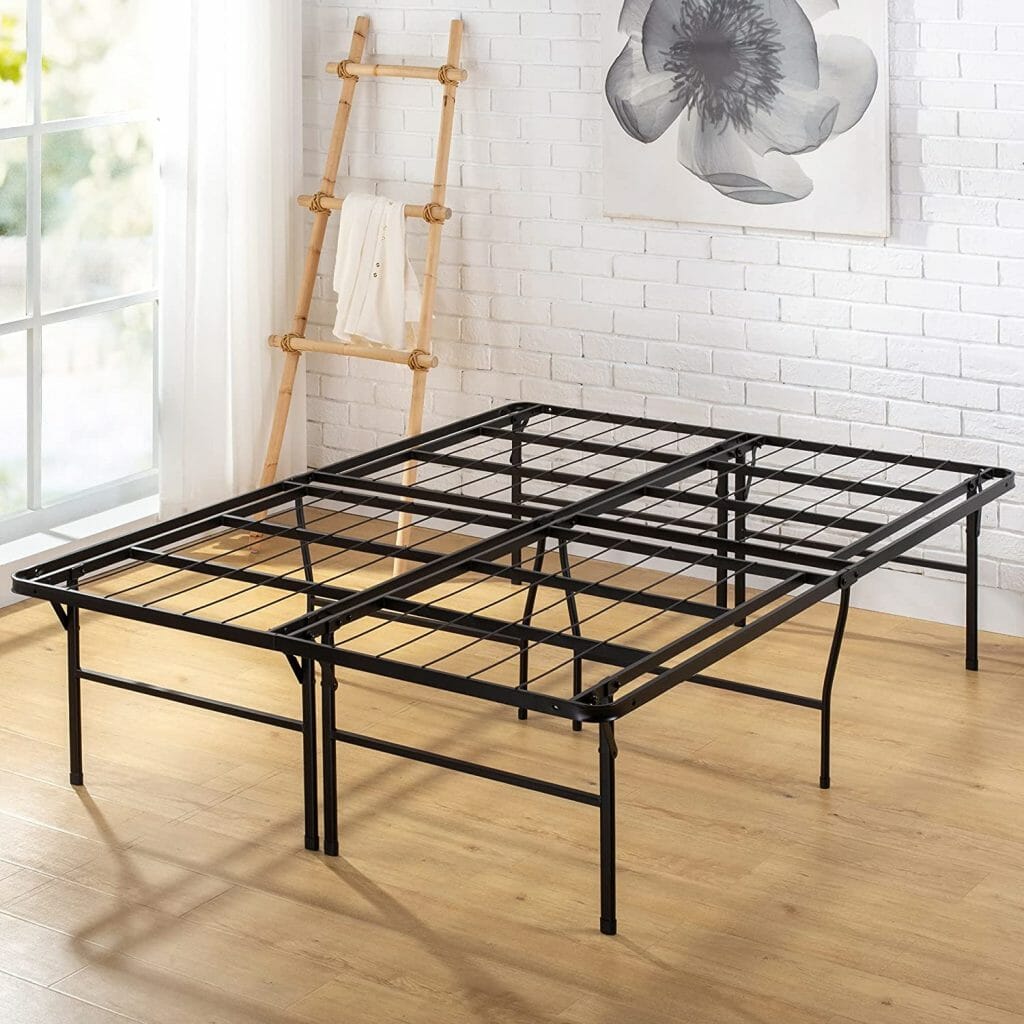 The ZINUS SmartBase Heavy Duty Mattress Foundation comes with an 18-inch-high frame. This tall bed frame is made from durable steel that's built to last a long time. It comes with several contact points for sturdy support and has curved legs in the middle for more flexibility. With this, it may be able to support up to 3,000 pounds of weight, so you don't have to worry when getting a thick mattress. Plus, its legs come with plastic ends to prevent scratching the floor when moving the bed.
To prevent sagging, its platform comes with horizontal steel wires instead of a box spring. Having a high frame also allows you to have a larger clearance space for storage. You may place plastic containers or even an extra rolled-up mattress. Best of all, there's no need for any tools to assemble the frame. It comes folded in a box. Unfold the frame, lay your mattress, and you're good to go. Overall, the ZINUS SmartBase garnered great reviews online. Most users are happy about its easy installation feature and value for money.
Strengths We Love:
The frame is made from heavy-duty steel that's built for durability and stability.
The frame utilizes steel wires to support the foam mattress and prevent it from sagging. This is especially helpful for users with thin mattresses that need a stable platform.
There's a large space available under the frame for extra storage. This is beneficial for those staying in small rooms or who have a lot of things.
ZINUS offers a 5-year warranty for any manufacturing defects on the frame.
The frame is easy to install and put away at the same time. Ideal for those who want to add a temporary extra bed that's sturdy.
Things to Consider:
If you're aiming for a more elegant room, this frame might not look the part. However, you can use a bed rap or longer bedding to cover the steel legs.
OMR Advantage Score: 10/10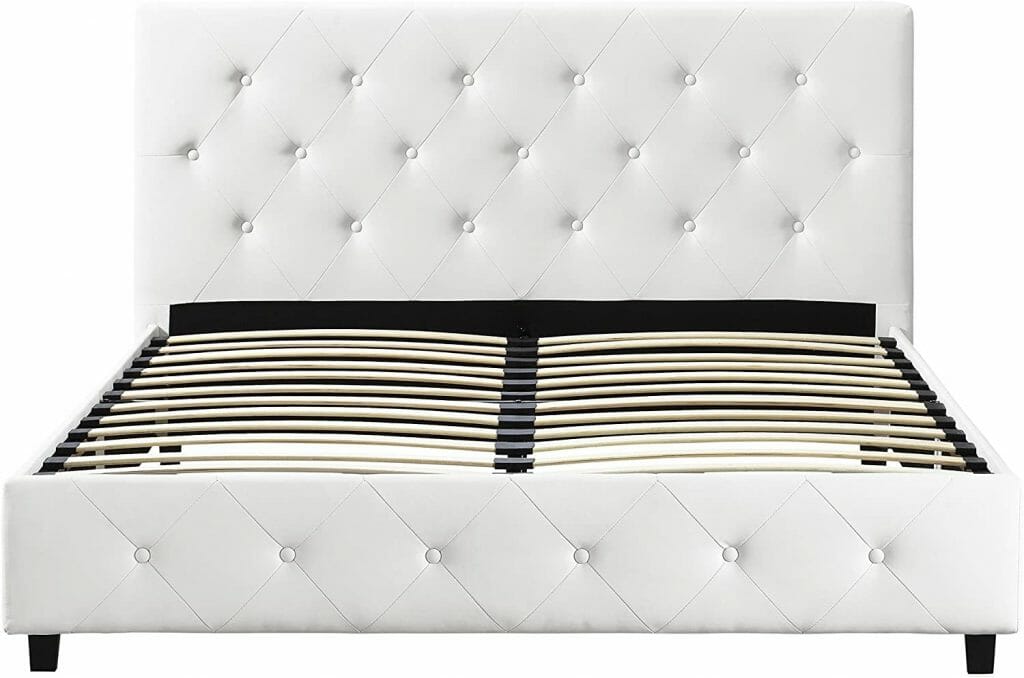 The DHP Dakota – Upholstered Faux Leather Platform Bed comes in an elegant white upholstered bed frame design that sits at 13 inches in height. Both its headboard and footboard are covered with faux leather and button details. The headboard is also padded to protect your head better while in bed. If you're looking for a bed frame that's both durable and contemporary, this is the right one for you. Each corner has a metal rail for stability, while its center has a metal rail for added support.
To support your mattress, the bed frame is equipped with a bentwood slat system that's guaranteed to make the bed more comfortable and your sleep longer. The wooden slats are spaced evenly and secured with a long metal rail in the center. Its bentwood design allows better shock absorption, perfect for any bed action. There's no additional support, like an additional box spring, needed to accommodate your mattress with this system. The DHP Dakota has been rated highly for its affordability and sturdiness.
Strengths We Love:
The headboard is an additional feature that enhances the bed frame's look and adds protection so your head would avoid hitting a hard surface.
The faux leather adds elegance while being low maintenance. It's easy to maintain and clean. You may use a washcloth to get rid of any dust build-up.
Its slat system distributes weight evenly, which may add more comfort to your sleep.
You get what you're paying for since it's sturdy, elegant, and durable.
Things to Consider:
Depending on preference, the contemporary look may not be for everyone. Good thing there are customizable headboard covers that may hide the faux leather to better suit your style.
OMR Advantage Score: 9/10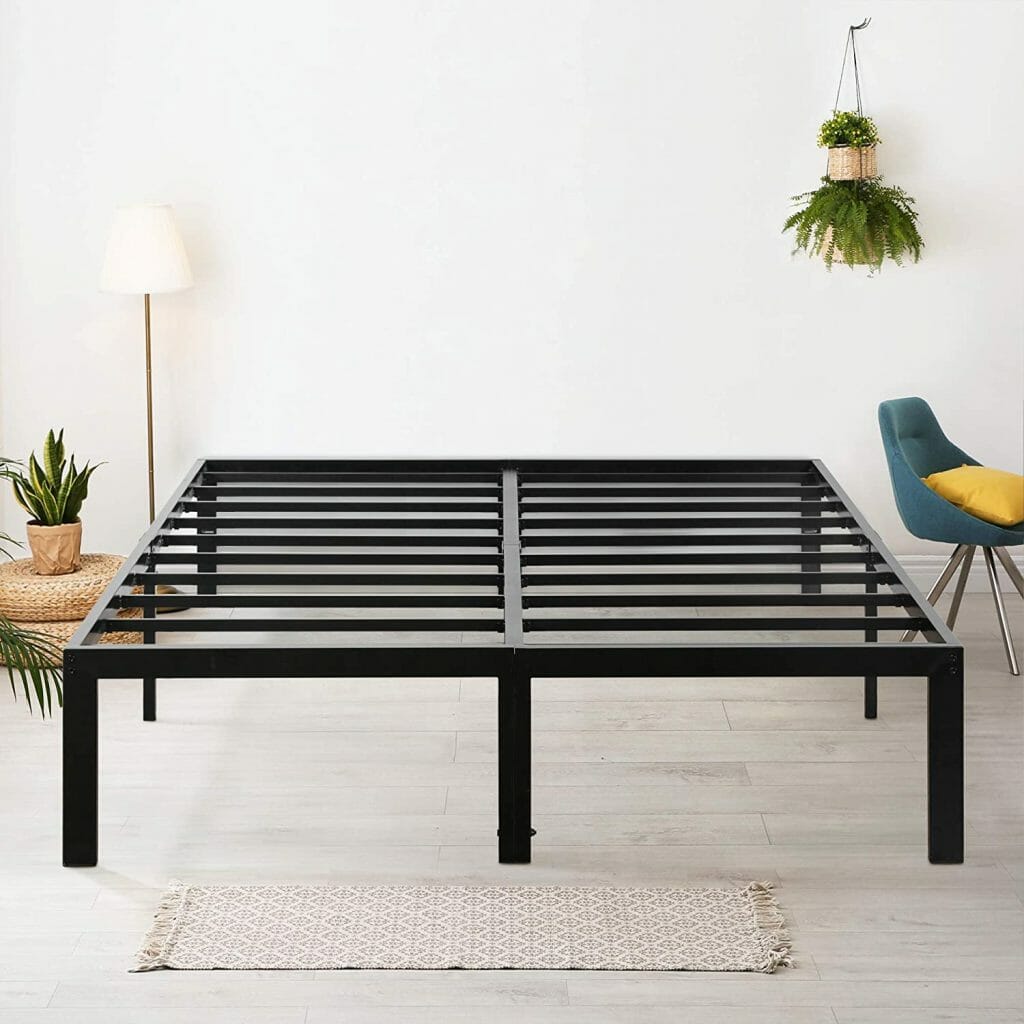 Great for heavy mattresses, the Olee Sleep Heavy Duty Queen Steel Slat boasts an 18-inch height. This tall bed frame is made of steel for better durability and longevity. Its metal slats are very reliable and evenly spaced for better support. This design also prevents wobbling for added comfort when sleeping. The mattress wouldn't be slipping with the slats embedded in the platform, leaving space for the mattress to fit perfectly.
With its height, there's a large space under the bed frame. This may be used as extra storage space to store plastic containers for clothing or even toys. This saves you space, especially if you're living in an apartment. The bed frame set comes with tools that are necessary to assemble the product. It's also guaranteed to be easy to put together, which usually just takes a few minutes. This feature has also garnered the most praise online.
Strengths We Love:
It can support any type of mattress, even the heavier ones.
Anti-slip and wobbling features ensure that you can sleep soundly and without interruption.
The space under the bed frame may be used as an additional storage space.
The frame comes with a limited 5-year warranty. This shows that Olee is serious about providing quality bed frames.
The frame is easy to assemble and install.
Things to Consider:
The frame may appear to be too simple or generic for some users. You may add a headboard drawer to accentuate your bed space.
OMR Advantage Score: 9/10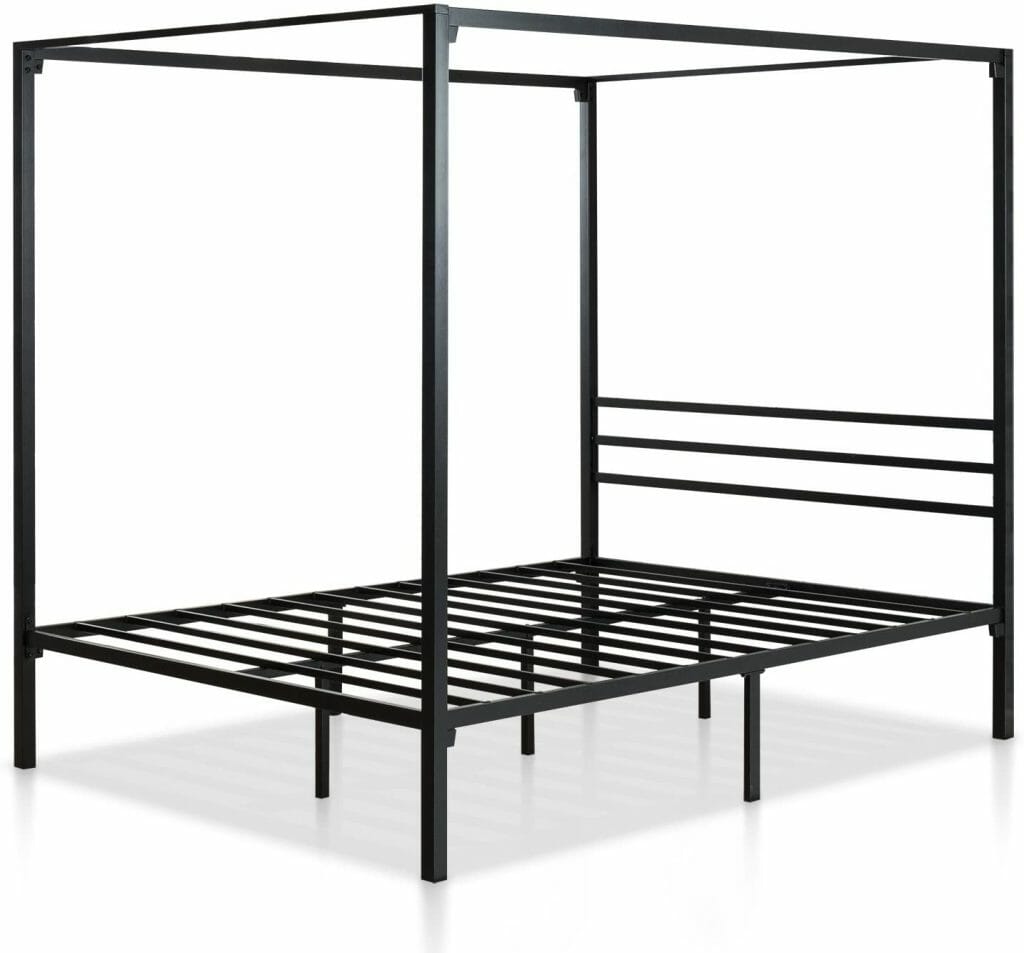 Aside from looking elegant, the ZINUS Patricia Canopy Platform Bed Frame comes with a sturdy platform and durable steel legs at the height of 14 inches. The bed frame uses solid steel that comes in a black matte finish to add to its elegance. Without a box spring, its evenly spaced slats may be able to support the heavyweight that comes with any kind of mattress. Assembling the frame is easy, and it can be done in an hour or less.
One notable feature that the ZINUS Patricia has is its canopy. This comes with stable poles that form the canopy. You may hang patterned curtains to accent your bed and room or keep it simple with light-colored ones. Drapes may also keep light out, so this is best for those who have difficulty sleeping in a bright setting. This bed frame will surely stand out In any bedroom. Overall, the bed frame has received high ratings online. Among the users, it stood out for its durability and value for money.
Strengths We Love:
The canopy adds a unique characteristic to your room. It's highly customizable since you can drape different types of fabric, depending on your preference.
The black matte finish adds sophistication and elegance to the whole bed frame. Plus, it's available in other colors like white and gold.
Its solid steel framework is sure to last long and provide stability for better rest and sleep.
It's affordable, considering that you're getting more than a bed frame.
Things to Consider:
The assembly time may take longer due to its canopy feature. You may tag a friend along to finish faster and enjoy the fruits of your labor.
OMR Advantage Score: 9.5/10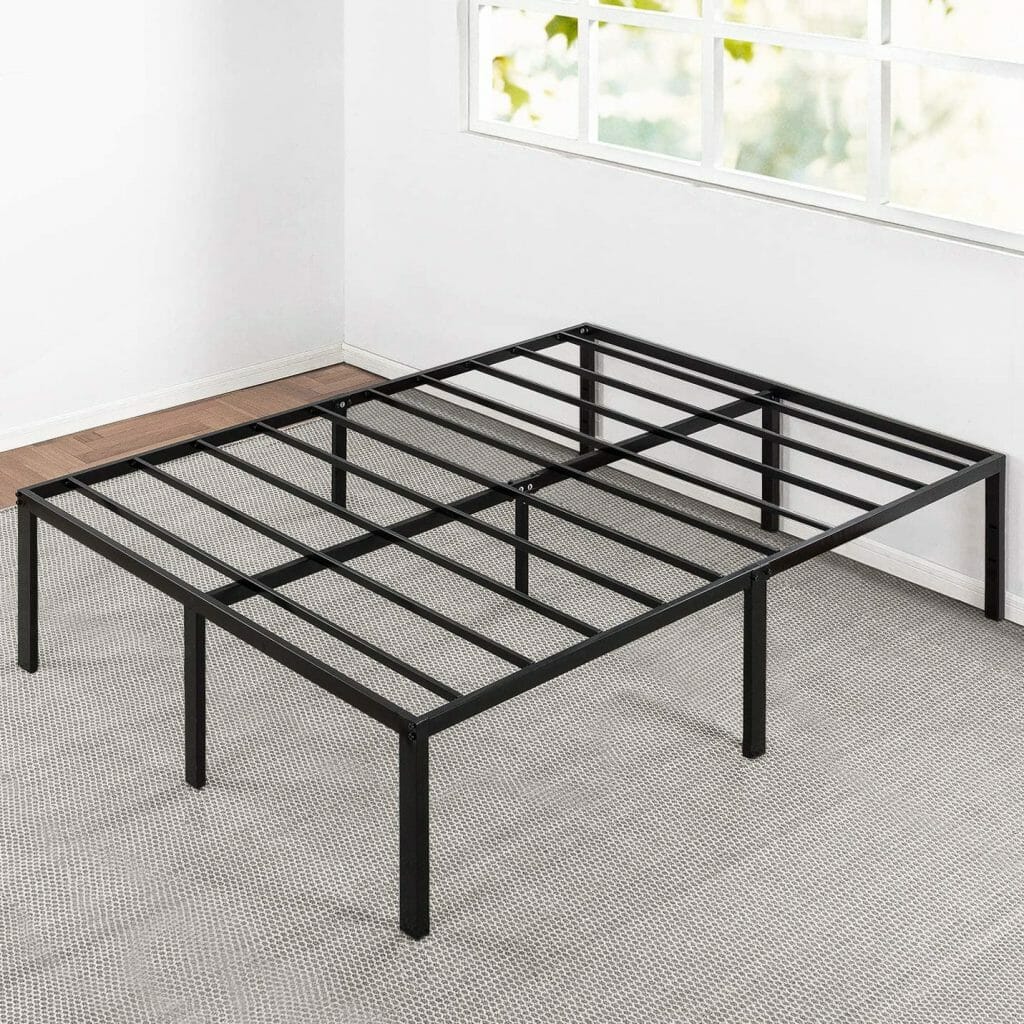 The Best Price Mattress Metal Platform Bed Frame comes with great quality without the steep price. This tall bed frame is designed to be durable and stable with an 18-inch height. It comes with six metal legs for better stability. Its steel slat support is intended to carry heavy loads without squeaking, which may interrupt sleep. Additionally, the frame comes with a large storage space under the bed platform with a height of 16 inches.
One notable feature of the Best Price bed frame is its Fit2Lock feature. With this, there are cups on the side of the platform intended for slats to fit precisely. This makes assembling fast and easy without compromising its stability. The slats are capped with rubber to prevent slipping and making unnecessary noises when subjected to pressure. The entire frame is compactly packed, so it's convenient to carry after delivery. The product has been reviewed well, even getting high praise for its stability and sturdiness.
Strengths We Love:
Quality bed frame at a lower price range. This is ideal for those who are looking for budget-friendly options.
The frame is easy to assemble, especially with its Fit2Lock feature, and comes with clear instructions for set-up,
The rubber-capped slats prevent the metal parts from hitting each other, creating bothersome noise.
Shipped in a compact box, so it's easy to store.
Things to Consider:
It may not be ideal for children because of its height. You may use a bed ladder to help your child in going up the bed.
OMR Advantage Score: 8.5/10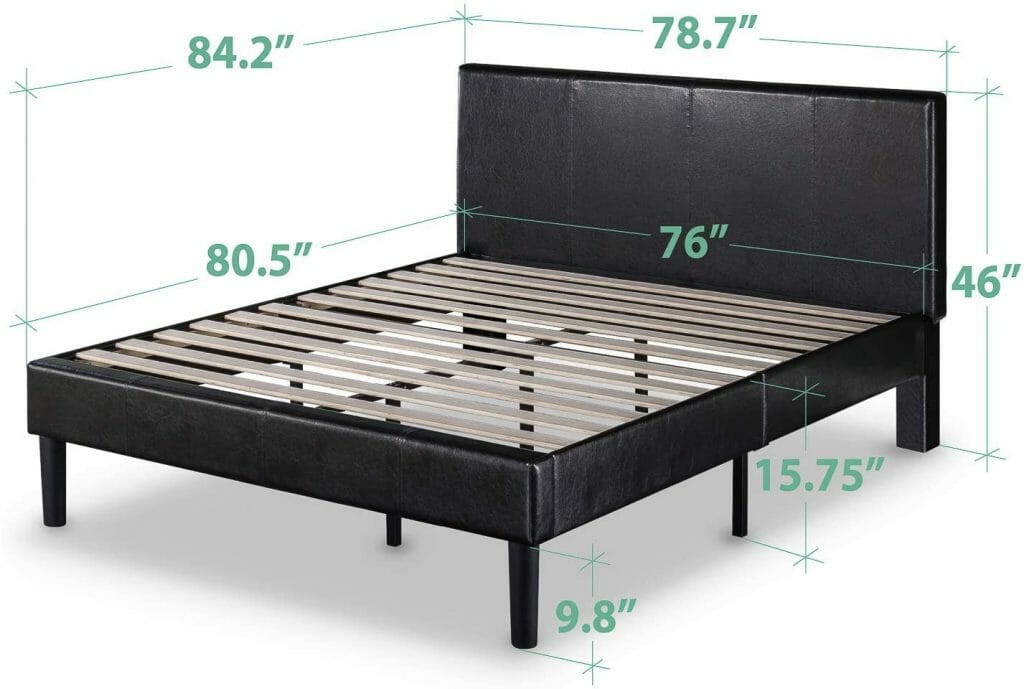 The Zinus Gerard Platform is a great addition to any bedroom. It's upholstered with faux leather and comes in a dark brown color so that cleaning won't be much of a worry. The colors also add sophistication to the ensemble. Along with its footboard, the headboard is padded for extra protection and comfort. Additionally, the bed frame is almost 16 inches in height with an under-bed clearance of almost 10 inches. With this extra space, you may place containers to store your clothes or shoes.
In terms of quality, the Zinus Gerard Platform comes with a steel framework and can carry up to 500 pounds of weight. Enough to accommodate the mattress and its users. It also comes with wooden slats that are spaced evenly for more durable support. Sagging in mattresses may affect their quality and may be uncomfortable to use. Thankfully, the bed frame is easy to assemble, which usually takes less than an hour. The set also comes with the assembly guide and tools to make it more convenient for you. Because of this, the product has gotten great customer reviews online.
Strengths We Love:
The espresso color is easy to pair when looking for bed sheets. It also makes the bed look elegant.
Its framework is designed to carry a heavy load and last for a long time.
The bed frame is packed into a box and comes with the needed tools for easy assembly.
Zinus Gerard's 5-year warranty guarantees customer satisfaction
Things to Consider:
The bed frame is in the higher pay range, but you'll surely get your money's worth with its quality and design.
OMR Advantage Score: 9/10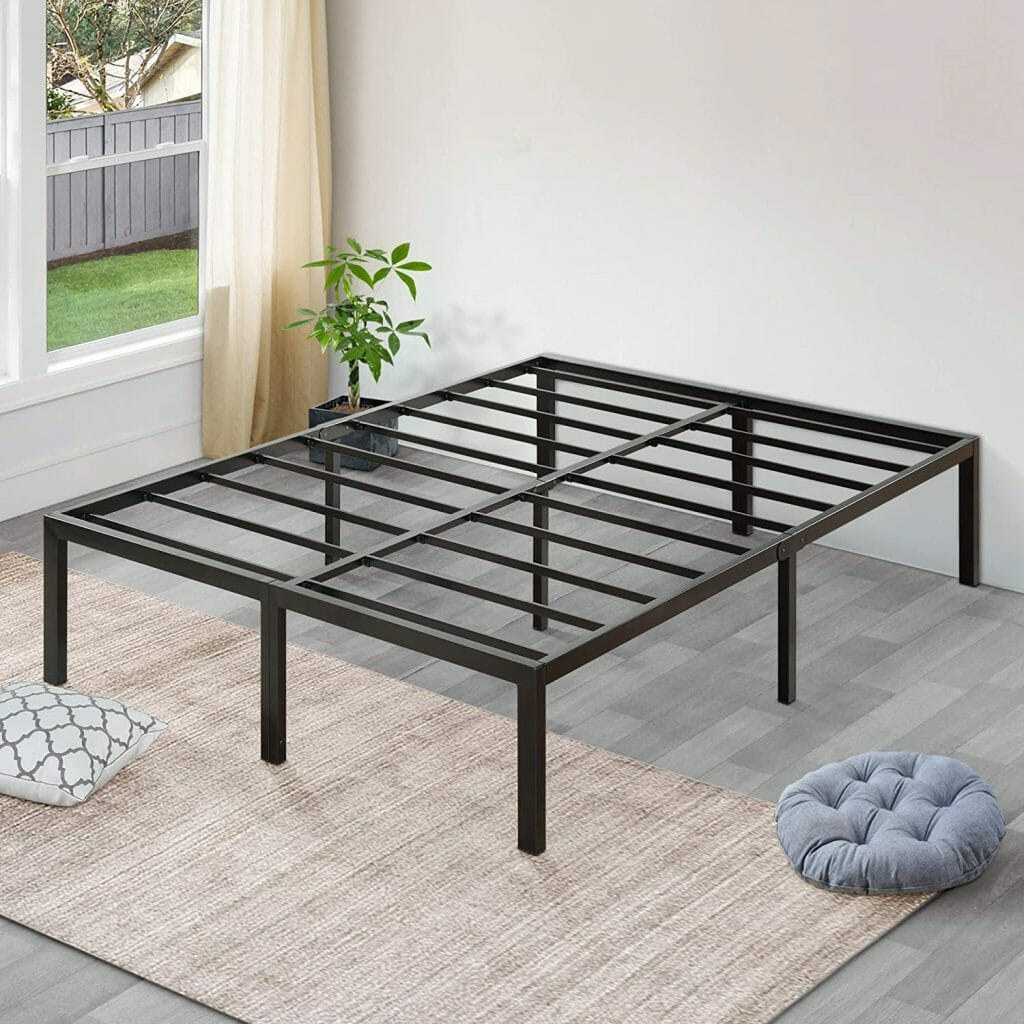 Made from steel alloy, the Sleeplace Heavy Duty Mattress Foundation boasts a modern look that will surely last a long time. This 18-inch tall bed frame offers sturdy support for you or your loved ones without the added cost. It has a total of nine reinforced legs, with 1 of them at the center of the frame for better weight distribution. It has a weight capacity of up to 500 pounds. This allows even heavier mattresses to be carried by the frame.
Aside from its durability, this tall bed frame also comes with large storage space. This will give you ample space to store your belongings, such as books, towels, and bags. With the 16-inch tall under-bed space, you may even place exercise equipment so you can conveniently use them in the mornings. The set also comes in an easy-to-install design, so you don't have to be a pro to assemble one. This product has received good reviews, especially for its easy installation process and affordability.
Strengths We Love:
The Sleeplace Heavy Duty Mattress Foundation comes with a solid steel frame that's durable and stable.
The bed frame comes in a modern design which may fit any room design.
The set is easy to assemble, so it won't take long before you can get a good night's sleep after delivery.
The extra space under the frame may be used to store different belongings.
Things to Consider:
The set doesn't come with a headboard, but you can order one separately. You can also use extra pillows as cushions against the wall.
OMR Advantage Score: 9/10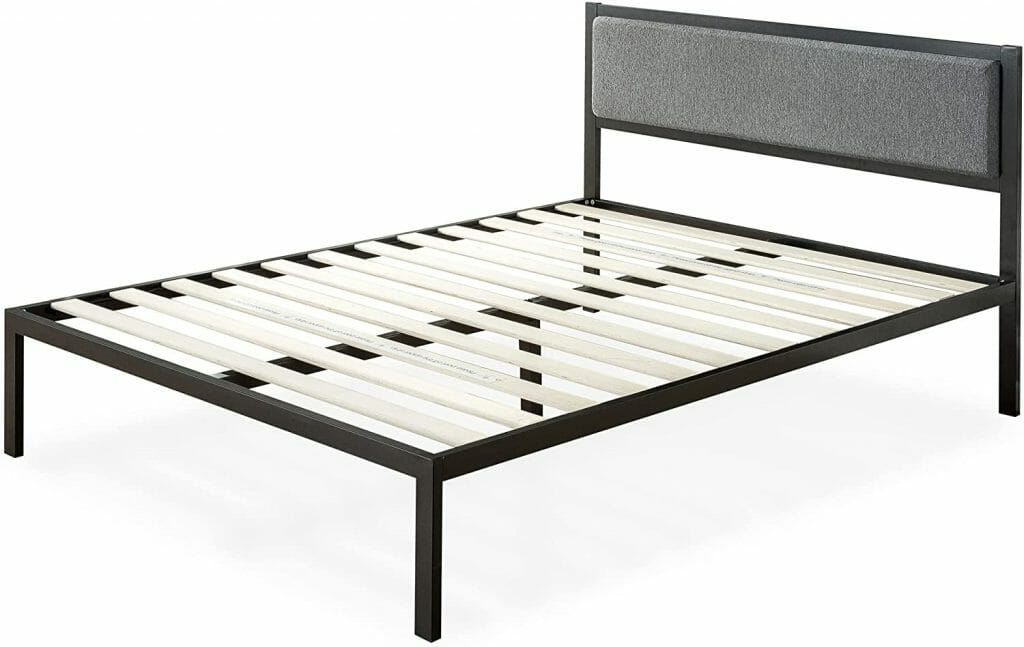 The ZINUS Korey Metal Platform Bed Frame with Upholstered Headboard is the perfect product if you're looking for durability and comfort. The entire bed frame is made from steel, which adds to its sturdiness and longevity. It has wooden slats that are closely spaced to support different types of mattresses, including memory foams and latex ones, without the need for any bed spring. Best of all, it can accommodate up to 700 pounds of weight.
One notable feature of the ZINUS Korey is its padded headboard. This allows its users to sleep more soundly without worrying about bumping their heads on the wall. This functional feature, in gray, also adds a more contemporary touch to your bed space. Having a tall bed frame allows you to store different containers and even suitcases under it. This may help you save more space, especially if you have a lot of extra things stashed around the room. In addition, the product has been rated highly for its ease of assembly and stability.
Strengths We Love:
The upholstered headboard combines function with style. The gray color also softens the black bed frame and adds more neutrality to the bed space.
The bed frame can support up to 700 pounds of weight, so it's built to be sturdy and stable at the same time. This is perfect, especially for growing families.
The extra space under the bed gives the user more storage.
The set comes with five years of warranty so you won't have to worry about defects.
Things to Consider:
If you're looking for a basic bed frame without a headboard, then this product isn't for you. However, the headboard is both useful and may look good in your bedroom.
OMR Advantage Score: 9.5/10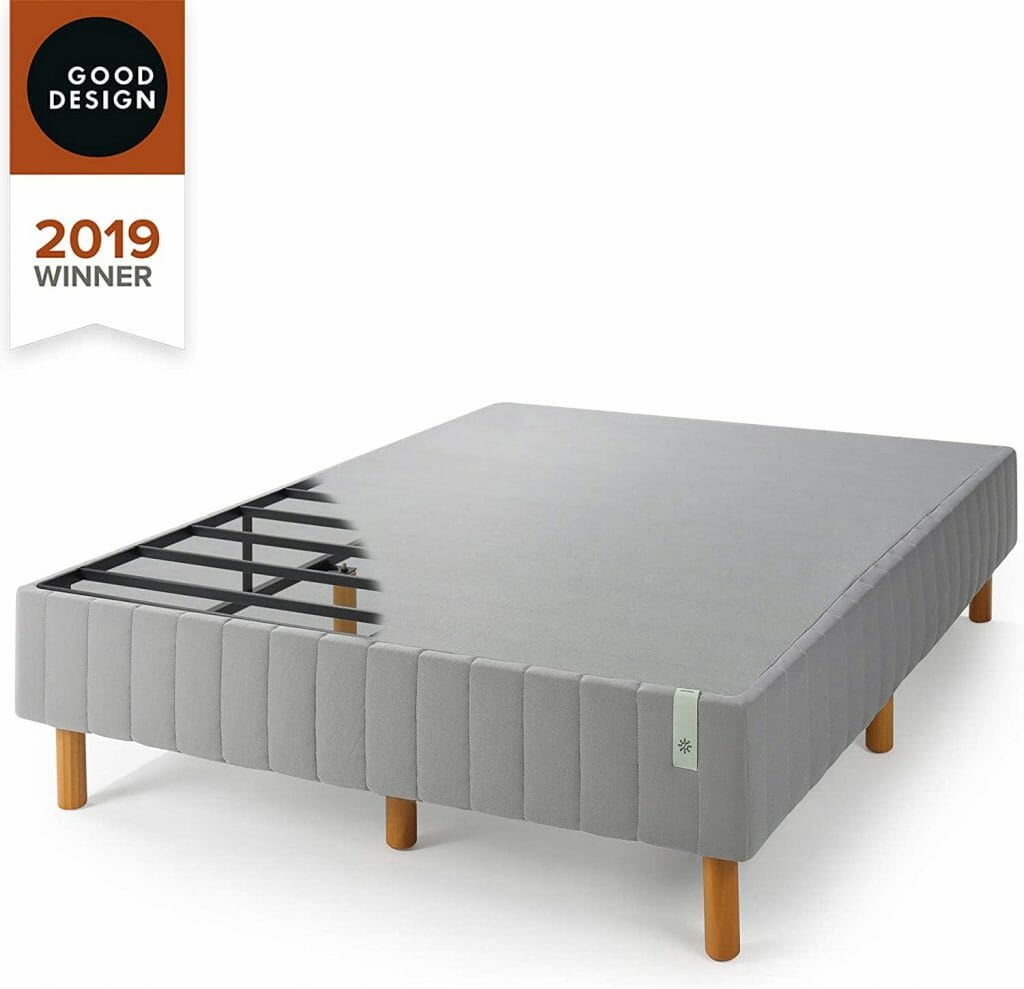 The ZINUS Justina Metal Platform Bed comes at a height of 16 inches for better elevation. It offers stability with its solid wooden legs and steel framework. Aside from its frame, it also comes with a fabric cover that helps with coverage and adds a better look than just having a bare frame. This zip-free cover comes in different colors, including gray, navy, and beige. This design will surely go with any bedroom look that you're aiming for since it's very versatile.
The set is easy to assemble due to its Quick-Snap Technology. This patent-pending feature cuts the time needed to put up the bed frame by fastening the frames together without the need for screws or bolts. A steel frame is also added in the middle of the platform to add more durability, especially in carrying a heavy load. This offers convenience while ensuring the product's stability. Overall, the product has received praise for its easy-assembly feature and sturdiness.
Strengths We Love:
The bed frame's Quick Snap Technology allows users to assemble it more easily without compromising its sturdiness.
The frame cover is unique and gives the frame a better look.
The wooden legs prevent the bed from scratching the floor, especially with long-term use.
The set comes in a 5-year warranty that covers manufacturing and material defects.
Things to Consider:
The frame cover may prevent you from storing items under the bed. You may go for smaller containers or even shoe boxes so you can still utilize the space.
OMR Advantage Score: 9.5/10
Loved for its durability, the 45MinST Platform Bed Frame is equipped with beams in a crisscross pattern for better weight distribution. With this, the bed frame can accommodate up to 3,000 pounds of weight. Moreover, its multiple legs are designed to provide better stability and support. This prevents the bed from shaking during small movements or having squeaking sounds in the middle of the night. The frame also has curved corners to avoid any injuries involving sharp edges. This is a great safety feature, especially for starting families with children.
In terms of assembly, the set is easy to put up since it uses recessed legs. All you need to do is unfold the frames and fasten them with bolts. The tools and guidelines are easy to use and provide all the information you need. The bed frame is guaranteed to be assembled within a few minutes. Additionally, the tall bed frame allows you to store different items under the bed. You may keep some of your children's toys or learning materials. The product has garnered high ratings for its easy-assembly feature and durability.
Strengths We Love:
The steel framework offers stability and durability at the same time.
The bed's curved corners are safe for children and family-friendly.
Its capacity can also accommodate families who would want to sleep together or families with kids.
The frames are easy to assemble and disassemble, which are perfect when entertaining guests.
The design avoids unnecessary shaking or noise, so you'll sleep more soundly at night.
Things to Consider:
The bed frame may look plain and basic. If you're looking for a more stylish bed frame, you may add frame covers to make it more suited for your bedroom style.
OMR Advantage Score: 10/10
Assemble Your Bed Frame
Putting up the bed frame usually follows a certain process. It's best to follow the guidelines that usually go with the product since most manufacturers think of the fastest way to assemble them. Before starting, it's best to check if all the parts are packed in the box. Noticing missing parts halfway through may be counterproductive, so it's important to check them beforehand. Additionally, you may want to assemble the bed frame in the room or area where it will be placed. This will help you avoid moving the entire frame from one place to another, which may take up more of your energy.
During assembly, it's best to use the right tools. This will ensure that the screws or bolts are tightly fastened. Loose bolts may cause the bed to creak or even collapse. Be mindful when doing so since this may prevent accidents in the future. Lastly, check the frame thoroughly. Make sure that the frame is horizontally level by using a bubble level. You may also use a measuring tape to verify that the dimensions are correct. Slanted frames are uncomfortable and may not give you the best sleeping experience.
Which Slat is For You?
Checking the base of the bed is crucial when finding a bed frame since it will support your weight and the mattress'. Slatted bases help to provide enough ventilation for your mattress, so mold won't grow if it gets too humid. Slats are usually made of wood and are spaced accordingly. Tightly spaced slats give a more solid base, while wider-spaced ones offer more air space.
Most bed frames offer solid slats that are flat and run horizontally from opposite ends of the bed. This gives off a firmer feel when sleeping. On the other hand, there are sprung slats that are more flexible and typically mimic a bedspring. This allows you to have better shock absorption and have a bouncier feel when in bed. It's best to consider what type of slat you'd want so you know what to look out for.
Organize Under Your Bed
Having a tall bed frame leaves you more storage space under the bed. This is advantageous, especially for those staying in small apartments or those who love collecting many things. There are many ways to organize your belongings down there. Here are some ways to keep them neat:
Use pieces of luggage. – Your luggage may take up space in your room. Storing them under your bed may help you save space. You can also store your winter or summer clothes and unpack them when the season calls for them.
Organize your shoes. – Shoe racks are great space savers. Additionally, the extra space under your bed may help in storing your shoes. You may use shoe organizers or keep them in their original shoe boxes for better storage.
Store using plastic containers. – Plastic containers come in all shapes and sizes. Find the right one that will fit under your bed. You may use these containers to keep school memorabilia, books, or toys. There are wheeled ones that are easier to move around.
Take advantage of storage bags. – Bulky items such as comforters, extra pillows, or bed sheets may be bulky when stored in the cabinet. Utilizing the space under the bed may help you save more space. You can use storage bags that'll fit the items and protect them from dust build-up.
Conclusion
Having a mattress on the floor may cause mold and bacterial growth and make it harder to get out of bed. Using a tall bed frame with a height similar to the length of your knees may be more beneficial. Several options are available in the online market. You may choose basic metal bed frames or ones with headboards and even canopies. It's important to check the frame's durability and sturdiness to get your money's worth. You may also take note of the bed frame's slats since this may affect the feel of your mattress when used. It's also best to take note of the online reviews from different users since this may help you gauge the product's real features.