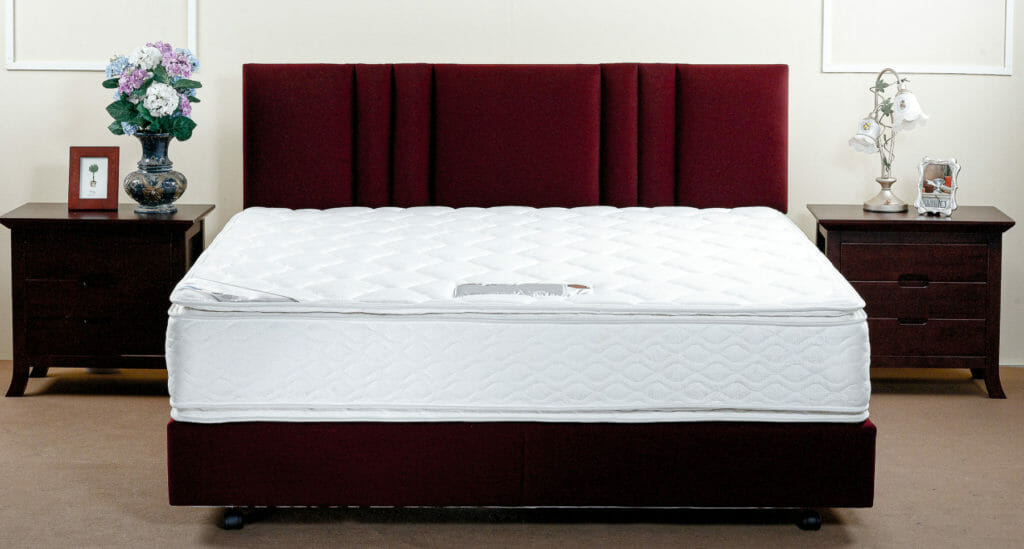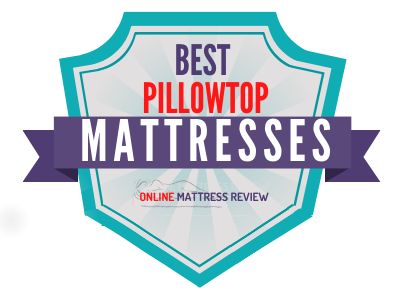 When it comes to buying a mattress online, you're faced with such a broad selection that it can be hard to decide which is the best mattress for you. With thousands of options to choose from, how do you even begin?
Narrow down your list by first choosing between the types of mattresses. You'll need to consider any particular needs, such as mattresses made for back pain, as well as preferences, like whether you like a firmer or softer mattress.
One popular option is the pillowtop mattress, which usually includes a foam layer on top of a body made of coils. Pillowtop mattresses usually offer more support than memory foam or latex mattresses, and they're softer than innerspring mattresses, so they're sort of the best of both worlds.
Even better? Many pillowtop mattresses are quite affordable, making them a great choice for people on a budget.
But once you've decided to buy a pillowtop mattress, you still face a crowded marketplace. Which will be the best pillow top mattress for you?
The Best Pillowtop MattressES
We've reviewed all the options and narrowed it down to our picks for the best pillowtop mattress of the year. Take a look at each one to see which of our favourites might turn out to be your new favourite.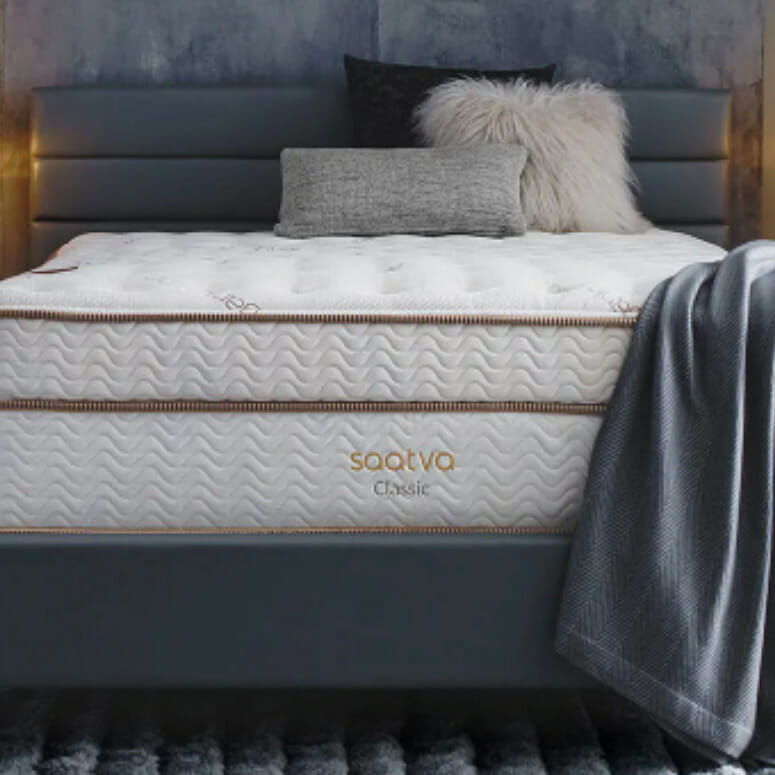 The Saatva Classic mattress is among the most popular mattresses in many categories including hybrid, innerspring and pillowtop. This isn't surprising considering that it delivers on exceptional quality, comfort and support, and durability! Why fix what isn't broke, and in many ways, it's perfect as it is.
In terms of firmness, we rated it as between 6.5 and 7 (10 being the firmest) so it's a medium-firm mattress. This is due to its coil-on-coil construction that emphasizes support first with comfort an extremely close second. The center part has a slightly softer feel, thanks to its zoned support and memory foam layers.
The overall firm is a medium-firm mattress that suits most types of sleepers – side, stomach and back. Your hips and shoulders are in proper alignment so your spine maintains its alignment, too. Your lower and upper back pain from improper body alignment while sleeping should be a thing of the past after several nights.
There are five layers with each layer contributing to the luxurious experience of the mattress. The organic cotton cover isn't just soft and breathable – its antimicrobial treatment is a bonus.
The 3-inch Euro pillowtop layer offers both nice pressure relief and cushioning while the individually-wrapped pocketed coils form the support layer. These coils also ensure better air circulation and bounce, which are also vital for comfort.
The zoned support layer is memory foam in the center of the mattress. Memory foam is used for its excellent pressure relief property, especially for the lower back and hips. The foundation layer consists of two parts – steel coils that add extra lift and foam edge support for reduced sagging.
Motion transfer is fairly high, which means you will likely feel your bedmate's movements during the night. But it doesn't feel like a mini-earthquake either so we overlooked it, particularly as the mattress has fantastic edge support.
Strengths We Love:
High-quality mattress with excellent comfort and support
Great edge support so there's no feeling of rolling off it
Suitable for most sleepers albeit not for heavy sleepers (i.e., over 250 pounds)
Available in three firmness options – soft, medium-firm and firm – and in two thickness (11.5-inch and 14.5-inch options)
Comes with a 15-year warranty and 180-night home trial period
Things to Consider:
Motion transfer leaves room for improvement
Customer service isn't as responsive as expected
OMR ADVANTAGE SCORE: 9.5/10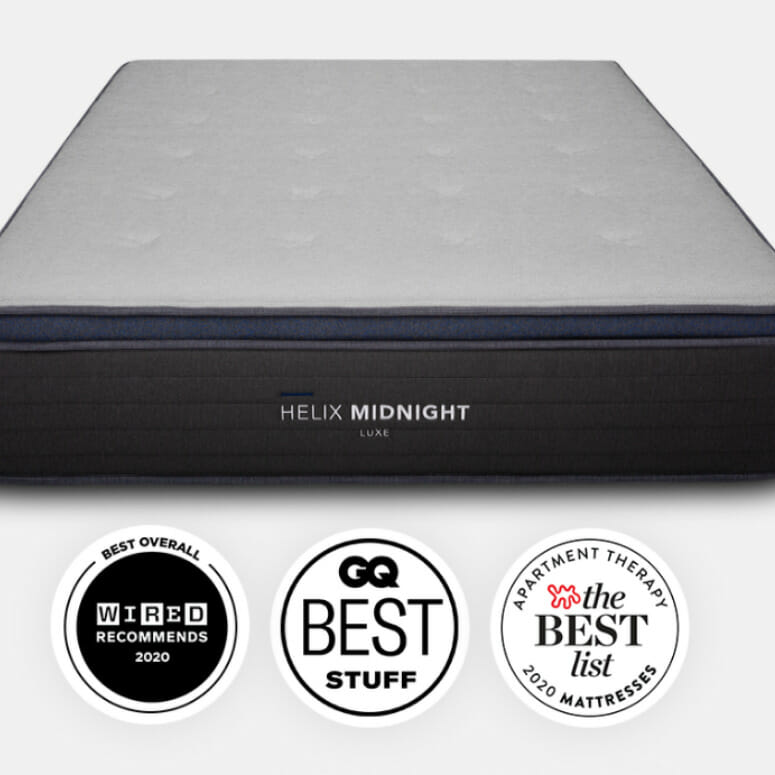 If you're looking for a premium bed at a reasonable price, then the Helix Midnight Luxe mattress is a great choice. The combination of comfortably soft foam and supportive coils wrapped in a luxurious cover makes it popular among most types of sleepers. We even recommend it to hot sleepers, thanks to its passive cooling effect, as well as for couples and heavy sleepers.
With six layers, the Midnight Luxe is a thick mattress that can withstand years of regular use, too. The premium pillowtop layer consists of a breathable fabric that also wicks away moisture and, thus, aids in temperature regulation. But it isn't the only cooling material with the gel-infused memory foam layer below it also performing the same function.
This second layer is chosen for its pressure relief and, thus, comfort quality that complements the third layer. This is also made of memory foam but a high-density foam, not gel-infused, which provides more cushioning benefit.
Beneath them is a transition layer of high-grade polyfoam. While it isn't thick, it provides enough body contouring benefits and a good barrier between the foam and support coils.
The 1,000 individually-pocketed coils form the support layer. Due to their strategic placement and size, these give firmer support to the hips and lower back. These, however, have a softer feel around the shoulders so there's less risk of aches.
The bottom layer provides the structure that gives the mattress its durability. The manufacturer suggests placing it on a solid foundation, nonetheless, to ensure its durability.
With these layers underneath your body, you should be able to keep your spine in proper alignment. This is true even if you're a side sleeper and you're likely to wake up with less back pain. As for its responsiveness level, we say that it's also great for sleepers who change position or move around in bed while asleep.
Strengths We Love:
Sleeping cool is its hallmark, thanks to a built-in cooling cover and gel-infused memory foam
Exceptional responsiveness level (i.e., The mattress adjusts to your changing body position)
Great pressure relief with memory foam layers and body zoning support
Durable overall construction
Comes with a 15-year limited warranty and 100-night sleep trial period
Things to Consider:
Slightly more expensive
Less than impressive motion transfer
OMR ADVANTAGE SCORE: 9/10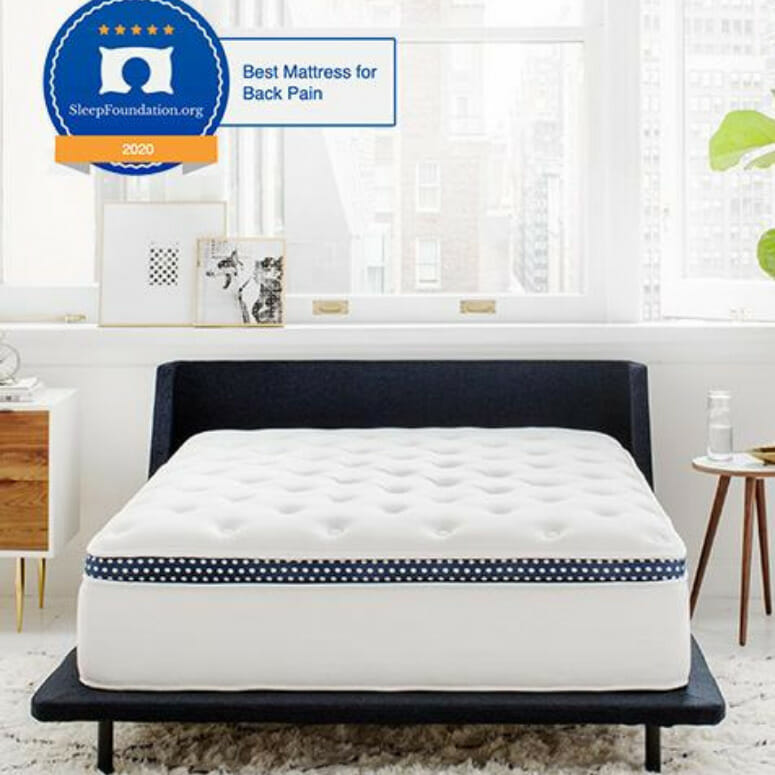 With four firmness versions to choose from, there's one mattress for every preference with the WinkBed Euro Pillowtop mattress. The options are soft, luxury firm, firm and plus, and each version not only has its distinctive firmness score, materials and construction.
All versions, nonetheless, have a Tencel cover that wicks away moisture and, thus, contributes to a cool sleeping experience. The soft, luxury firm and firm versions have a quilted Euro pillowtop layer with gel-infused polyfoam. With its fantastic body-contouring property, it's the best material for relieving pressure points and preventing hot spots.
The more gel-infused polyfoam, the softer the feel of the mattress. This is the case here with the soft version having three layers while the luxury firm and firm versions having two layers only. These three versions have pocketed micro-coils below these polyfoam layers for extra circulation.
As for the Plus version, it has a unique construction that provides extra-firm, extra-strong support for heavy sleepers. The high-density polyfoam and latex combination provides better body-contouring quality and bounce. Sleeping cool is also possible since there's a built-in cooling design, too.
All versions have a zoned support system consisting of pocketed coils that ensure proper spinal alignment. These coils are placed in such a way as to provide cradle-like support for the shoulders and firmer support for the hips. The result: Significant support that reduces back pain in the morning.
Take note that all of these mattresses have a 13.5-inch thickness. You may want to choose a foundation that suits your personal preference in terms of total bed height. Plus, be sure to buy the right-sized bedsheets.
With these layers, the motion transfer is quite good, too. But if you're looking for the least motion transfer, we suggest getting the soft version.
Sitting and sleeping near the edge doesn't give the sensation of falling over and landing on the bed. The reinforced edge consists of narrower coils that gives it a sturdier feel.
The luxury firm and firm versions make it easier to move around on the bed. In contrast, the soft version gives slightly more resistance during movement.
Strengths We Love:
Made of high-quality materials without chemical flame retardants
Mattress has great comfort and support benefits that reduces pain from pressure points
Compatible with many frames and foundations
Limited motion transfer combined with high responsiveness
Comes with lifetime limited warranty and 120-night sleep trial
Things to Consider:
May have off-gassing when first unwrapped but it dissipates in a well-ventilated room within a day
Slightly expensive
OMR ADVANTAGE SCORE: 9/10
HONORABLE MENTIONS
Next up is the DreamCloud Luxury Hybrid Mattress. It's not the most affordable option on our list of the best pillowtop mattresses, but its quality features make up for the higher cost. Plus, with its six layers of premium materials, you can't go wrong with its just-right balance of support and comfort.
These six layers also make it among the thickest mattresses at 15 inches on this list. The quilted pillowtop offers isn't just plush and luxurious to the touch but also offers moderate contouring for good pressure relief. This is a medium-firm mattress with a 6/10 firmness rating in our opinion and, thus, it offers full-body support.
Cashmere is a luxury material and it's present on this DreamCloud mattress as its light, lush and breathable cover. We like that it also wicks moisture and heat away from the body for a cooling experience. With its quilted memory foam, the cover also has a cushioning and cradling effect on the pressure points.
The Euro pillowtop layer underneath is just the right thickness so your body neither sinks in too deeply or feels like it's a wooden board. This has two benefits – first, there's sufficient airflow and, second, the responsiveness is quite high. You can move around with more ease without necessarily disturbing your partner's sleep.
The layers beneath the Euro pillowtop are the point-activated gel memory foam and the individually-encased coils. These are the main comfort and support layers, respectively, which provides an on-the-bed experience and minimizes motion transfer. There's also the added benefit of more even weight distribution, thanks to the individually-wrapped coils.
The DreamCloud Luxury Hybrid Mattress features a luxury firm support system that ensures you get a good night's sleep. Try it out for 365 days, and if you don't feel satisfied, you can get a full refund. There is also a lifetime warranty, which isn't too common among mattresses.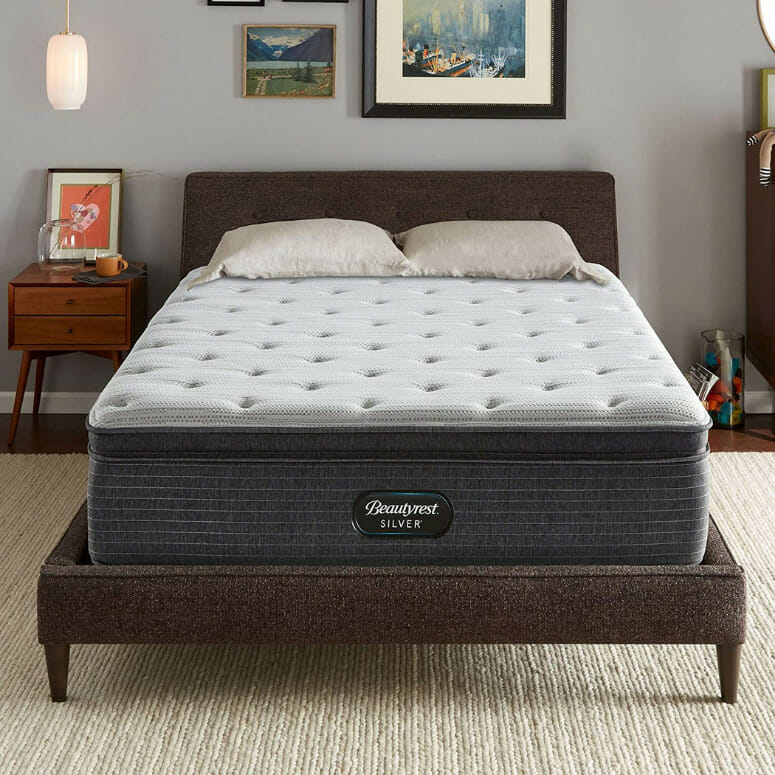 The BRS900 Silver mattress is among the most affordable yet quality mattresses we've come across. While the Silver Collection itself comes in different firmness levels and mattress size, we're focusing on the plush and queen-sized version. We've chosen it because of its cooling quality combined with a Goldilocks balance between comfort, support and overall quality.
Sleeping hot isn't a big issue with this mattress, thanks to its dual cool cover that keeps it fresh, cool and comfortable. There's reduced risk of waking up covered in sweat although we must also emphasize that a conducive bedroom environment is also a must.
While the gel-infused memory foam contributes to heat dissipation, its main function is body contouring and comfort. You will feel like you're sleeping on a cloud with just the right in-the-mattress experience. No worries about sinking too much into the mattress and sacrificing support while on it.
The above-par support comes from the plush pocketed coils that cradle the body where it matters the most. We observed that there's a softer feel on the upper body and a firmer feel on the lower body, which means less back pain. Plus, these coils aid in motion isolation that allows co-sleepers to enjoy a restful sleep even with frequent changing of positions.
We liked the idea of edge-to-edge support, too, since it reduces the risk of falling off the edge of the mattress whether awake or asleep. There's less sagging, too, over time even when you're the sit-on-the-edge-of-the-mattress type of user.
Don't flip the mattress but it's useful to rotate it – head to foot – once every six to eight months. Besides, the energy foam that acts as the base layer provides a sturdy foundation for the layers above it.
The Classic Brands Mercer Pillow-Top Cool Gel Memory Foam and Innerspring Hybrid 12″ Mattress combines the supportive structure of springs with a layer of gel memory foam on top for comfort. Gel memory foam aids breathability to keep your body cooler at night. The individually wrapped coils move independently so you won't notice when your partner rolls over in the night.
At first glance, it's a beautiful mattress with its quilted pillowtop knit cover with detailed patterns. Even the sides have a knitted pattern that adds interest to the mattress. But these aren't just for show as the cover provides a comfortable layer while the sides allow more air circulation.
This is a mattress where its beautiful form complements its practical function, layer by layer! Like all the mattresses on this list, it has a gel-infused memory foam layer for a luxurious sleeping experience. Not only does it provide a nice comfortable layer but it has a cooling effect on the body.
High-density traditional foam adds another layer of comfort to the gel-infused memory foam. Both give a cushioning effect that soothes tired muscles and eases pressure on the shoulders, hips and lower back. Plus, both are resistant to bacteria, dust mites and allergens that can cause illnesses with prolonged exposure.
The pillowtop has a cushiony feel that makes it so easy to continue sleeping if only real-life responsibilities aren't intruding. Add in the right linens and your bed will give hotel beds a run for their money.
Take note that the mattress comes in a compressed and rolled form inside a box. You must place it on top of a foundation or frame before unrolling and deflating it. With its heavy weight, it can be a struggle to transfer it from floor to frame.
The price of the Classic Brands Mercer Pillow Top Cool Gel Memory Foam and Innerspring Hybrid 12" Mattress is competitive, but it's not the most affordable option you'll find. The mattress comes with a 100-night sleep trial offer, so you can give it a good test before you make your final decision.
When comfort and better sleep are your priority, and you have a larger budget to spend on the very best pillowtop mattress you can find, the Nest Bedding Alexander Signature Hybrid is worth considering. This mattress combines a pocketed coil system with high-quality foam layers for the ultimate sleep experience.
Nest designed the Alexander Hybrid mattress with durability, softness and support as the topmost considerations. When used properly including regular rotations and cleaning, it can last for several years without significant sagging. While there may be slight decreases in comfort and support level, these aren't noticeable to the average users.
This mattress has several layers, too, which makes it not only thick but heavy. We suggest buying quality linens and putting it on a solid foundation to make it more comfortable and durable, respectively.
Nest tends to give the layers fancy names that may sound Greek to most of us but when explained in layman's terms are quite standard. The Thermic Phase Change Cooling cover, for example, simply means that the quilted copper-infused foam material has a cooling effect.
The TitanChil Endurance foam is a polyurethane foam with high responsiveness that makes it easier to move around. The SmartFlow Support foam is a type of foam with punched holes designed for better airflow.
There are also 8-inch pocketed coils for exceptional support for the entire body. These coils are also there for added firmness and bounce to the mattress. The 1-inch base layer is made of foam material that protects the coils from the pressure.
All these layers result in a medium-firm mattress that we think has a 6.5 rating on the 1-10 firmness scale. This is a great mattress for combination sleepers as well as for side and back sleepers.
When you buy the Nest Bedding Alexander Signature Hybrid, you get access to a lifetime warranty, as well as a lifetime comfort guarantee. Nest claims this is the most comfortable mattress on the market, and that guarantee lets you try it for yourself before deciding if you agree.
The DreamFoam Bedding Willow 12" Eurotop Latex Mattress offers various customization options so you can create the best pillowtop mattress for you. Its special Euro pillowtop section is a three-inch layer of Talalay latex, which offers safe and supportive relief from pressure points.
The DreamFoam Bedding Willow 12" Eurotop Latex Mattress also features additional layers of latex, as well as reflex foam and high-density base foam. The layers come together to offer an ideal blend of alignment and cushioning.
One of its unique selling points is the opportunity to change its firmness according to your preference. This is made possible through a zippered design on the cover that allows adding another foam layer for more softness/comfort. The extra layer can also increase the mattress' usable lifespan by protecting the layers beneath it.
This is an upgraded 12-inch version with Talalay latex at its heart. This isn't your typical latex either as it's designed with optimum buoyancy in mind. As you lie on the mattress, you will feel your muscles becoming more relaxed from the ultra-comfortable sensation.
There are three firmness levels to choose from, too – soft, medium and firm. The soft version is geared toward people who want an in-the-mattress experience. The medium option is just the right firmness level, about 6.5 rating, for most types of sleepers. The firm version provides extra support and, thus, is popular among heavy sleepers and people with back issues.
All these mattresses, nonetheless, can support up to 950 pounds. These also come with a 120-night risk-free trial period and a 10-year warranty.
Getting a sweet night of sleep is within reach with the SweetNight Hybrid Mattress! Of course, it's possible with the right use of materials and the right design, construction and quality.
The 12-inch mattress has above-par motion isolation, thanks to its combination of innerspring coils and gel-infused memory foam. You can sleep through the night even when your partner or pet tends to move around in their sleep. The pocketed coils move independently, thus, the minimum motion transfer and great give.
We recommend the queen-sized version since it has a medium-firm feel perfect for couples and singles who are combination sleepers. The latter are those who change positions, such as from side to back sleeping, more frequently throughout the night. The couples who use it say that the medium-firm feel addresses their different needs in firmness.
Even weight distribution across the mattress is also assured with the 3-zone pocket design. This means that instead of pressure being concentrated in just a few parts of your body, you will feel a more even distribution. Your spinal column will be more aligned and your shoulders, hips and lower back have the right support.
There are no toxic chemicals used in any of the materials, too. Mercury, formaldehyde and other heavy metals can cause illnesses over the long-term period. Plus, the coils will not rust since these are made from carbon steel.
But it may take some time for the mattress to reach fully-inflated form, usually after 72 hours after unrolling it. There's little off-gassing and it's easy to set up on a slatted base, flat platform or box spring.
There's a 10-year warranty period and a great return policy.
If you're looking for an affordable innerspring mattress with a pillowtop, you should take a closer look at the Modway AMZ-5770-WHI Jenna 10" Queen Innerspring Mattress. (It does, of course, come in other sizes as well, from Twin to California King.)
This mattress is 10 inches thick and features both an innerspring system with individually wrapped coils and a responsive foam topper. There are fewer layers but what it lacks in number it more than makes up for in quality! The combination of extra support from the innerspring coils and maximum comfort from the two layers of foam and a padded polyester cover makes for a great mattress.
The Modway AMZ-5770-WHI Jenna 10" Queen Innerspring Mattress offers both comfort and support. Its coils help minimize motion transfer in case your partner rolls over in the night, while its foam topper adds cushioning.
Plus, it doesn't take too much time to reach full inflation after unrolling it from its box. You just need to wait for 24 hours and then you can use it afterwards. There's no off-gassing, too, so sleeping well shouldn't be a problem. SHOP NOW
TOPPER ONLY
Do you have a mattress that isn't as comfortable as you'd like it to be? Well, you can easily resolve the issue by placing an Avocado Green mattress topper on it! You're not just adding a comfort layer but you're also boosting your physical and mental health.
The topper is made from the best organic materials, from the GOLS-certified organic latex to the organic wool and cotton. You don't have to worry about lying down on a bed made with potentially toxic materials.
The extra cushioning will also transform your sleeping experience! Your old mattress will feel brand-new because it has a more comfortable and supportive feel. It's well worth the cost indeed.
Conclusion
The best pillowtop mattress can help you get better rest at night, while also reducing the pressure on your spine and hips. With so many options to choose from, the search can be overwhelming, but hopefully our breakdown helps you decide on the best pillowtop mattress for you.