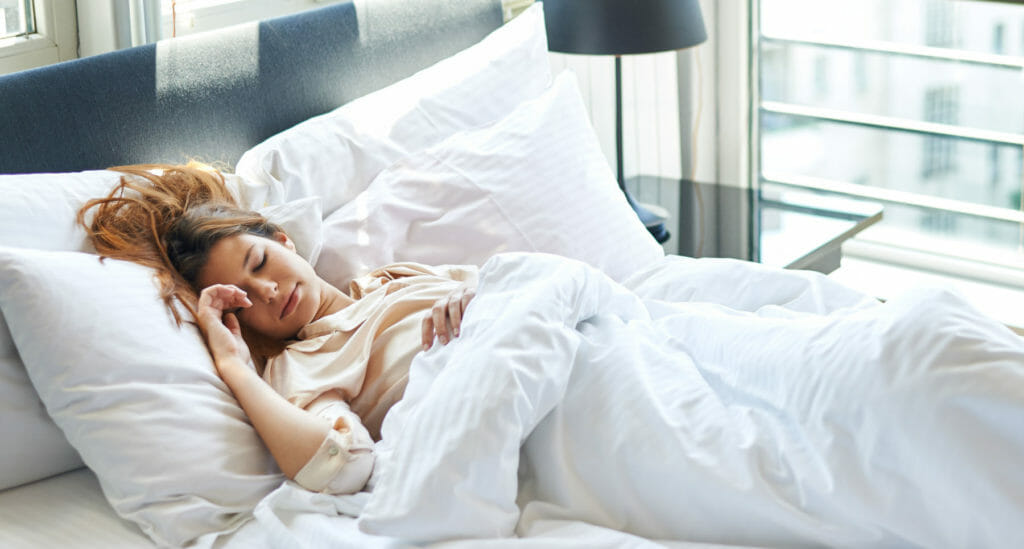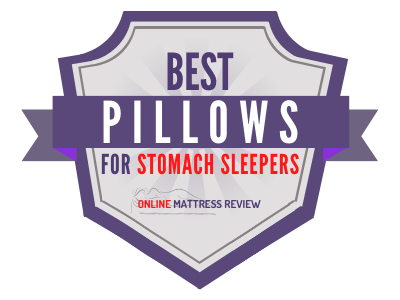 There are four sleeping positions: back, side, stomach, and a combination of the three. Each of these sleeping positions requires a pillow with unique characteristics to get proper spinal alignment and a restful night's sleep.
Stomach sleepers are prone to neck and lower back pain if they don't use a mattress and pillow specifically designed to relieve the stress placed on these areas. Specifically, a low profile pillow is necessary to prevent neck pain while belly sleeping.
We think picking an excellent pillow for belly sleeping shouldn't be a pain in the neck. That is why we researched the top 10 best pillows for belly sleepers. You won't belly flop if you pick any of the pillows below, so choose one and start catching those Z's.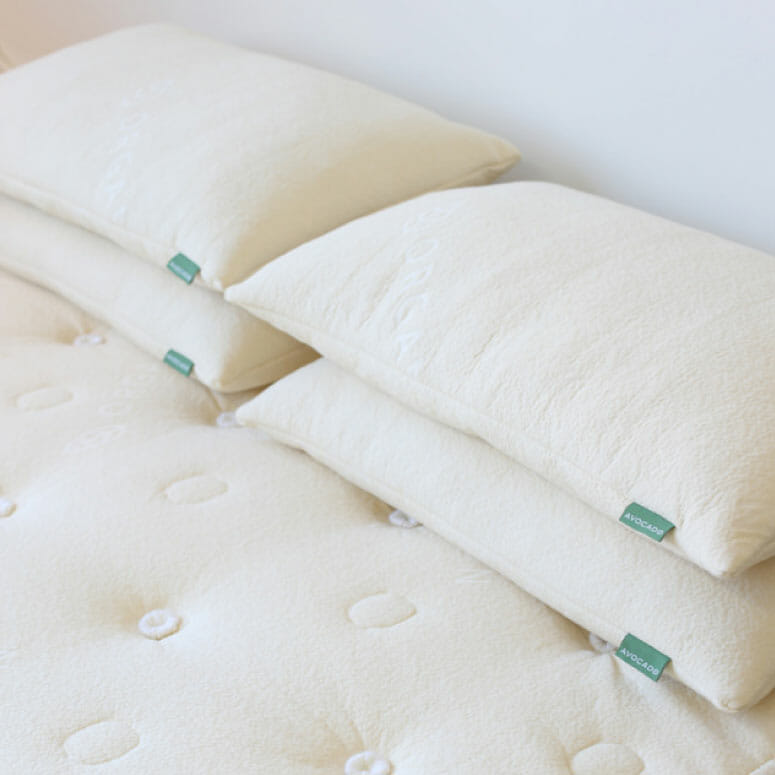 Picking an eco-friendly product does not always mean you have to sacrifice quality and comfort, which is why we chose the Avocado Green Pillow as our number one best pillow for stomach sleepers. If you sleep on your stomach, your cheek comes directly into contact with the pillow, so it makes sense to purchase a product free from harmful chemicals and dyes that can be absorbed through your skin. That's where the Avocado Green Pillow comes in, because everything about it is organic, natural, and sustainably produced.
Ribbons and strings are familiar at birthday parties, and the Avocado company brings the party to your pillow. The inner filling of this pillow is made of certified-organic latex ribbons and kapok fiber, creating that ultrasoft responsiveness your neck needs when you sleep on your stomach. Kapok is a fiber harvested from a rainforest tree that is sometimes referred to as the silk-cotton tree. Sounds nice, right? The unique resiliency and softness of kapok fiber combine to impart this pillow with a medium-soft feel.
Getting the right loft on this pillow is extremely easy: You can remove or add pillow filling based on what you find most comfortable. This stomach sleeper's dream is covered by a 100% organic cotton pillowcase, which is incredibly soft to the touch and cooling during hot nights. With all the relevant organic certifications on its materials, this pillow is a steal at $79. If you feel your pillow needs a little TLC years down the line, you can purchase a half-pound bag of this unique pillow filling for only $15.
Stats
Price: $79.00 (Standard)
Size: Standard, Queen, King
Material: 100% organic cotton case, organic latex, and organic kapok fiberfill
Warranty: 1-year warranty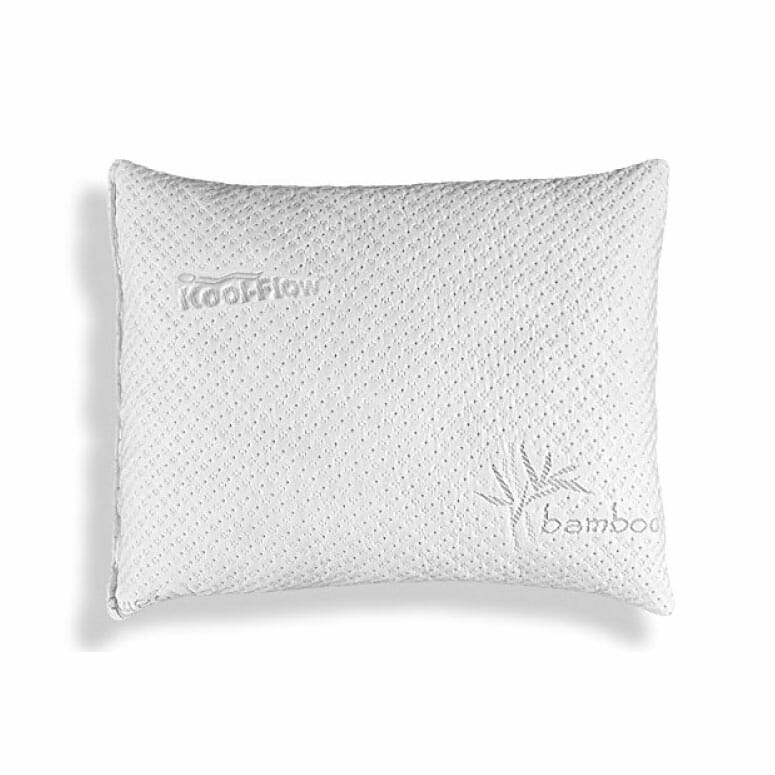 Finding a comfortable pillow as a stomach sleeper can be a pain in the neck, literally! Xtreme Comforts Slim Memory Foam Pillow is here to save the day. This slim pillow is the thinner version of Xtreme Comforts' famous 7-inch pillow. This pillow, at only 5 inches tall, is sure to take the strain and tension off your neck from using a regular pillow while stomach sleeping.
The shredded memory foam used in this pillow is certified to be free from the potentially harmful chemicals that are often found in other memory foam. The advantage of using shredded memory foam as opposed to a solid block is two-fold: You can move and maneuver shredded memory foam within the case for optimum comfort. Additionally, using shredded memory foam allows air to circulate freely within the pillow, keeping you cool throughout the night.
Memory foam is known for retaining heat well, which is why Xtreme Comforts uses shredded memory foam. They also use a pillowcase made out of bamboo, which may not strike you as a material that dissipates heat well, but it is actually one of the best materials for this purpose. Bamboo is incredibly breathable, durable, and soft, the ideal ingredients for the perfect pillow cover. You may be surprised to find that these pillows arrive at your door compactly rolled and vacuum-packed. When you open them, these pillows expand to the full 5-inch profile.
Stats
Price: $39.99 (Standard)
Size: Standard, Queen, King
Material: Bamboo cover, shredded memory foam filling
Warranty: 6-year warranty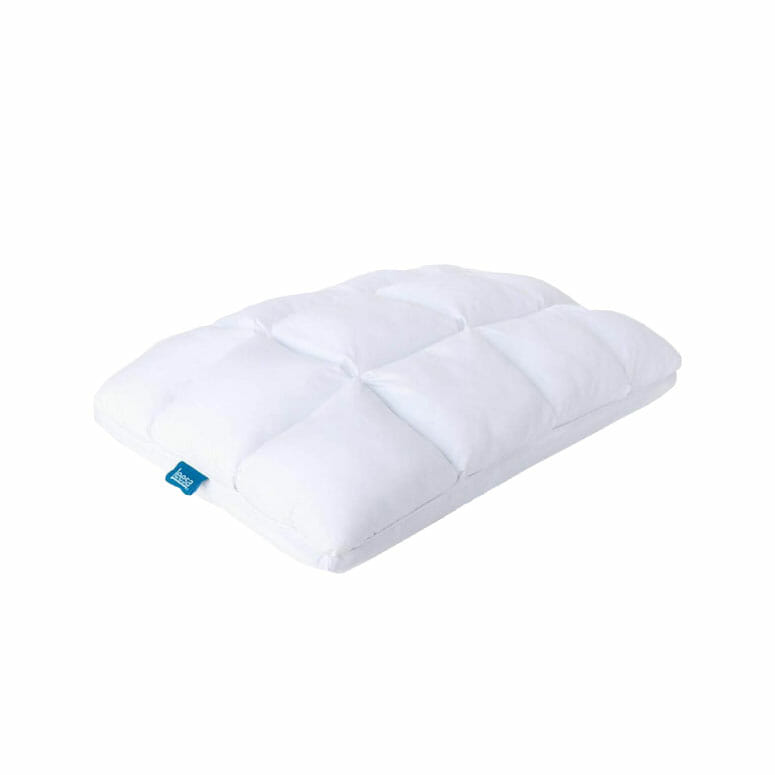 If you are a stomach sleeper that frequently has difficulty falling or staying asleep because you overheat at night, our third place pick for the best pillow for stomach sleepers is worth considering. When you first see this pillow, it might remind you of a down comforter with its quilted pockets and ultra-soft feel. But unlike a regular down pillow, those who are allergic to feathers don't have to worry, because this pillow is filled with polyester fiber.
Polyester fibers sometimes have a tendency to clump together, but this company designed a pillow with quilted pockets to avoid this problem. If you flip the pillow over, you will find a ventilated gel layer that pulls heat away from your body. So, if you start to feel hot throughout the night, flip the pillow over to the cooling gel layer and fall back asleep quickly. Located in between the quilted polyester filling on top and the gel layer on the bottom is a lighter polyester filling layer that helps ventilate heat and promotes more airflow from one side of the pillow to the other.
This pillow is covered with a 60% Tencel covering that is lightweight, breathable, and durable. There is a zipper on the side of the pillow so you can remove the lighter polyester buffer layer if you want. Eliminating the middle layer allows you to adjust the pillow height to your preferred pillow profile to help you sleep more comfortably. When you need to freshen up your bedding, just throw the pillowcase into your washer. The machine-washable cover and quilted top ensure that the polyester filling does not clump.
Stats
Price: $92.00 (Standard)
Size: Standard, Queen
Material: 60% Tencel/40% Frio/nylon cover, polyester and gel filling
Warranty: 3-year warranty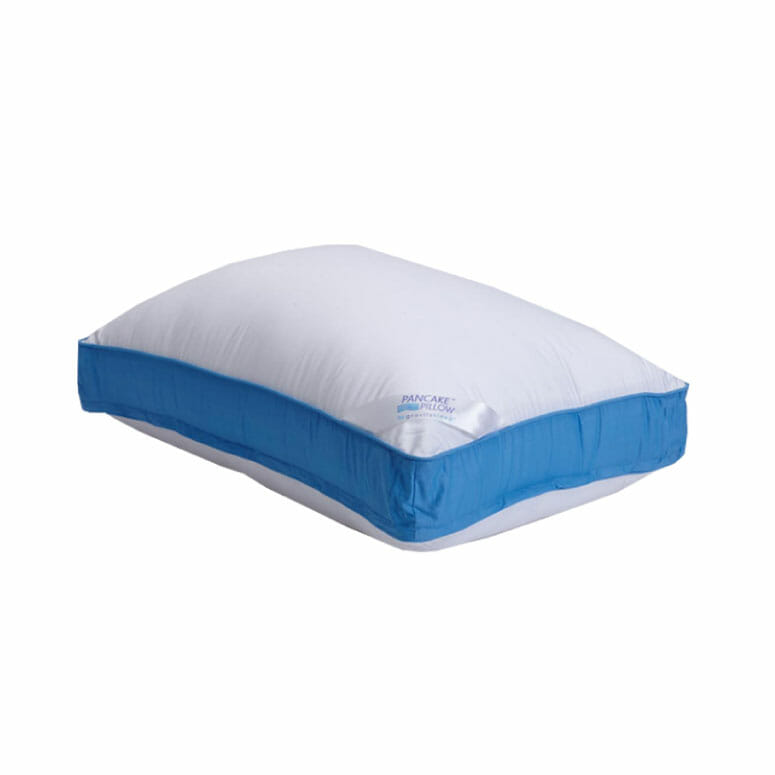 Pancakes are typically considered a breakfast food, but consider trying the Pancake Pillow if you want the ultimate in personalized, adjustable comfort. Why is it called the Pancake Pillow? Six removable thin mini pillows are located inside the pillowcase, giving you complete control to adjust the pillow profile to your most comfortable level. In fact, the versatility of this pillow makes it suitable for all sleeping styles: back, side, stomach, and combo sleepers.
The outer cover of this pillow is 100% cotton, which is soft and breathable. The cotton pillowcase has a 300 count, meaning that for every inch of fabric, there are 300 threads. With cotton, the higher the thread count, the heavier and warmer the material feels. A 300 thread count is suitable for a pillowcase, because your head is a significant source of heat loss. The heat from your head has to go somewhere, so having breathable fabric is essential for a comfortable night of sleep.
Each pillow is filled with down alternative microfiber, which has the coziness of down feathers without the feathers. You won't spend your days attempting to collect and vacuum up escaped scattered feathers that are common in natural down bedding. The microfiber used in these pillows is hypoallergenic and dust mite-resistant so you don't wake up feeling congested from allergies.
Stats
Price: $59.99 (Queen)
Size: Queen, King
Material: 100% cotton cover, microfiber fill
Warranty: 100% satisfaction guarantee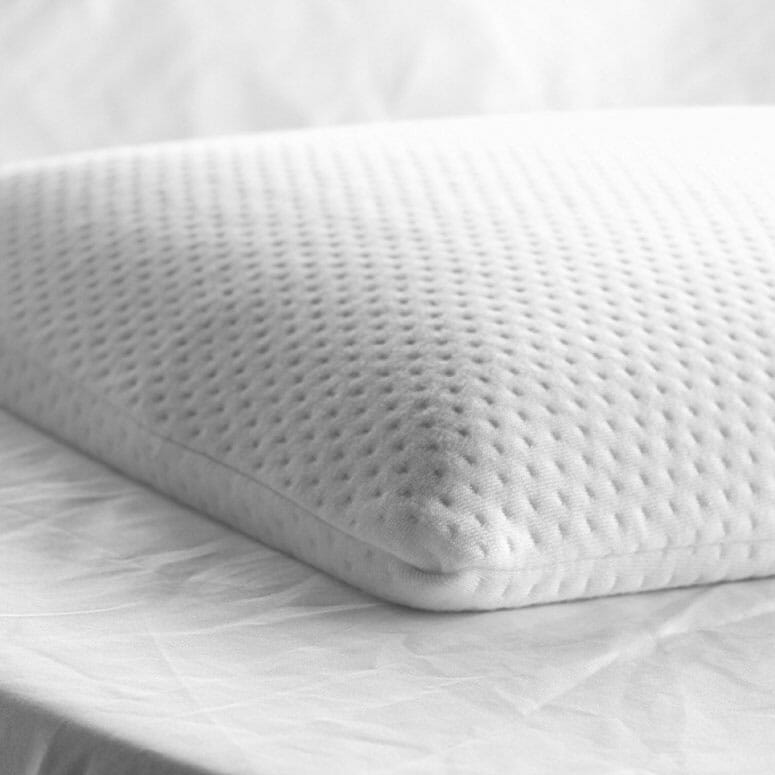 You won't have to punch this pillow to find a comfortable sleeping position with our number five ranked best pillow for stomach sleepers. The Elite Rest Ultra Slim Sleeper pillow is made explicitly for belly sleepers. At 2.5 inches in height, this pillow is likely one of the lowest profile options on the market, and it's made from solid memory foam.
The shape-conforming properties of memory foam make it easy to find a comfortable, supportive sleeping position. The memory foam has a rounded top with a flat back, so there is no need to flip it during the night. The 2.5-inch profile is perfect for stomach sleepers or back sleepers.
Since this pillow contains a memory foam core, it has a firm feel. The foam core is covered by a 100% cotton pillowcase that is soft and breathable. The cover is easy to clean: Simply throw it in the washer with your other laundry. Some reviewers say that the pillow arrives with a chemical odor that dissipates if you leave it in a well-ventilated area for a couple of days.
Stats
Price: $39.96 (Standard)
Size: Standard
Material: 100% cotton cover, memory foam core
Warranty: N/A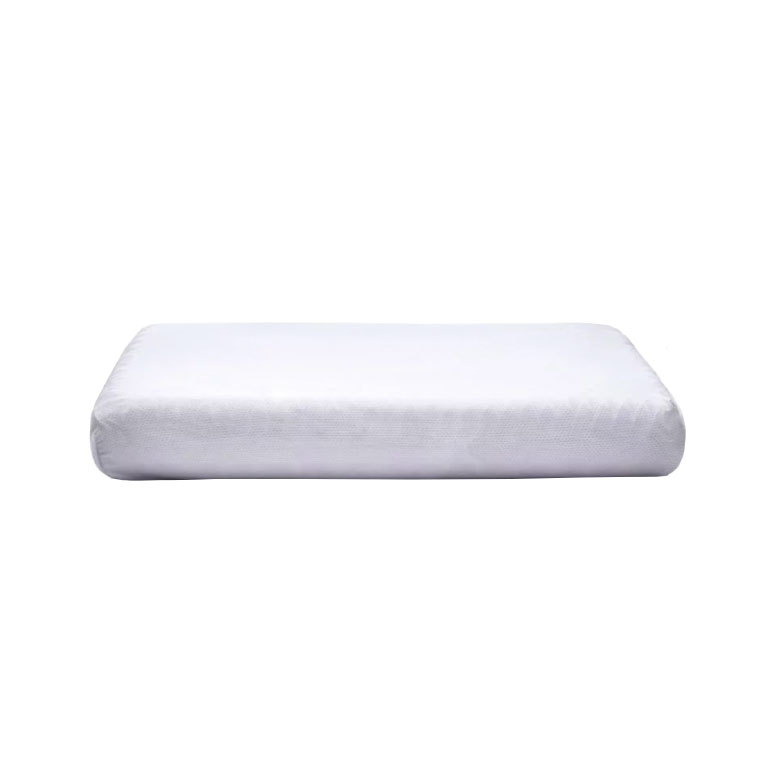 If you're unsatisfied with the pillows you have tried in the past such as down, polyester, and memory foam, try out the Purple Pillow. This pillow is unlike any other because it isn't made of any material you've ever slept on.
This pillow's core is made of a Hyper-Elastic Polymer that feels like a mix between super-soft rubber and silky foam. This one-of-a-kind material is molded into a grid pattern that buckles in high-pressure regions that tend to cause pain, and remains supportive in low-pressure areas. Don't try and find a knock-off version of this pillow on the web, because there isn't one. This pillow is $100 well spent if you have had trouble finding a pillow in the past.
The pillow cover is made of a polyester, nylon, and spandex blend that effectively transfers heat away from your head. If you want to clean your pillow, remove the cover and toss it into your washer with like colors, then wash the inner core by hand with warm water. We know you may be skeptical, but you have nothing to lose by trying it with Purple's 100-night sleep trial. If you are not satisfied with the comfort of this pillow by the end of the sleep trial, Purple will refund your money.
Stats
Price: $99.00 (Standard)
Size: Standard
Material: 88% polyester, 3% nylon, 9% spandex mesh cover, Hyper-Elastic Polymer Smart-Comfort Grid
Warranty: 1-year warranty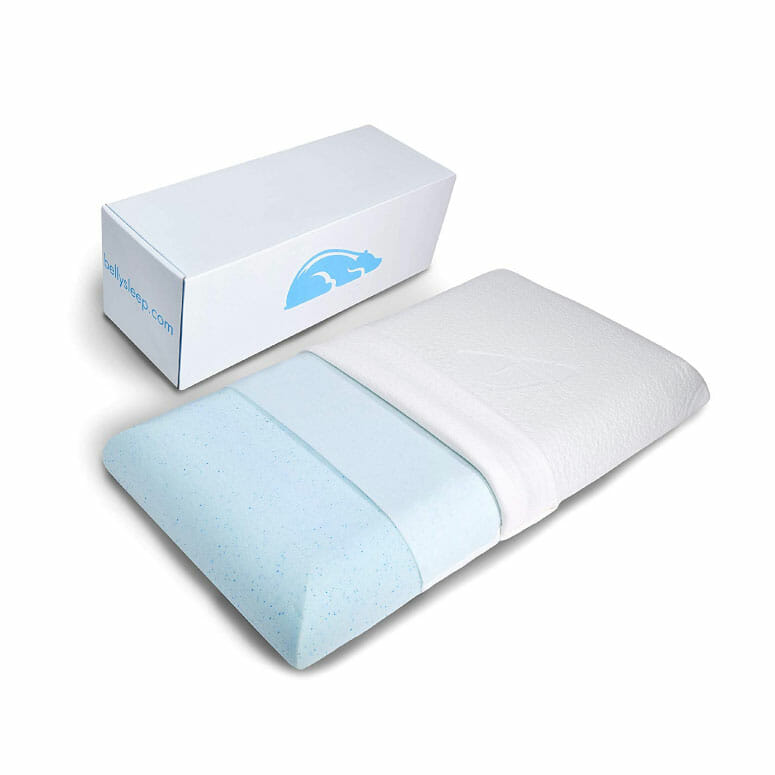 Coming in seventh place for the best pillows for stomach sleepers is the Belly Sleep Gel Infused Memory Foam Pillow. This pillow is very similar to our number five ranked pillow with a profile of 2.5 inches. This pillow is a better choice than the Elite Rest if you are a hot belly sleeper. The gel-infused memory foam keeps you from overheating better than the regular memory foam found in the Elite Rest pillow.
The memory foam has a density of around 3.25 pounds per cubic foot, or what is considered 50D memory foam. This density of memory foam has a slow response, so that when you place your head on this pillow, it conforms to your head shape while still offering support. The bamboo and polyester pillowcase wicks away moisture, keeping heat from building up while you sleep. The bamboo cover is machine-washable, so even if you sweat at night, you can always fall asleep with a clean pillowcase.
Customers can't say enough good things about this product, praising the memory foam's thinness and ability to conform to your neck for support and comfort. The pillowcases really do wick away moisture and feel cooler than other materials. The only negative reviews concern changing sleeping positions, from belly sleeping to side sleeping: This pillow is too thin for side sleepers.
Stats
Price: $49.99 (Standard)
Size: Standard
Material: Bamboo polyester cover, gel-memory foam core
Warranty: 100% satisfaction guarantee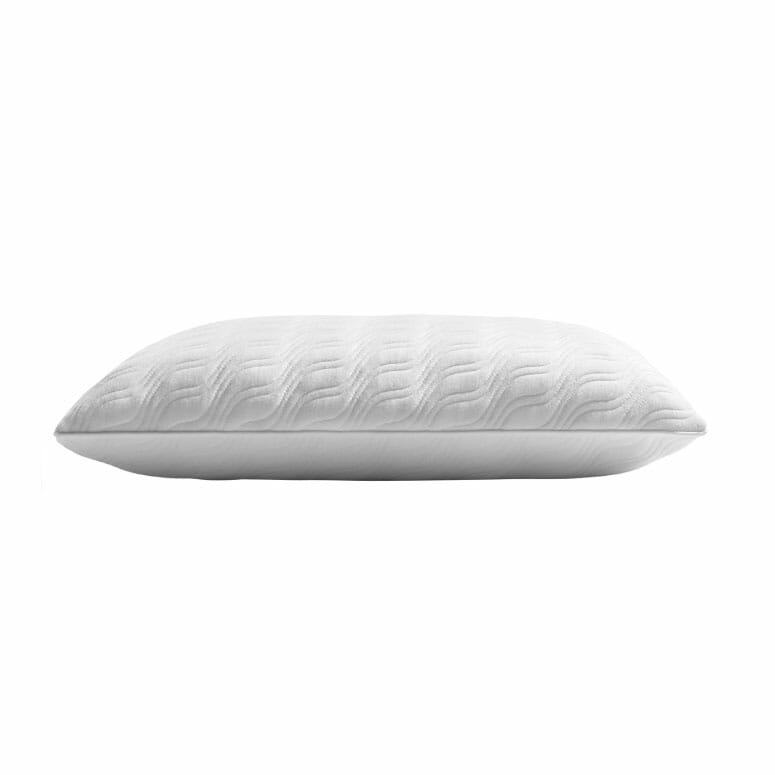 NASA, the same people that send U.S. astronauts to the moon, is responsible for inventing the Tempur material. This material is similar to high-quality memory foam, and then again has qualities not found in other foam. You'll be hard-pressed to try and find the ingredients of this material, because the formula for Tempur is proprietary.
Tempur-Pedic designed this pillow, constructed in several layers, especially for stomach sleepers. The outer cover is made from soft and durable cotton, the kind that makes you look forward to going back to bed. Under the outer cotton pillowcase, you will find a thin pad of Tempur foam to add support and firmness. Sandwiched between the thin Tempur foam, tiny micro cushion cells of Tempur material allow the pillow to conform to your head's shape.
This pillow has a soft feel, so if you need a firm pillow, check out a different option from our list. The unique Tempur material is guaranteed to never flatten or become misshapen, and the Tempur-ProForm Pillow's warranty covers your investment for half a decade. Most of the customers who have purchased this pillow cannot say enough good things about it. Like with many pillows designed for stomach sleepers, this one is not extremely comfortable for side sleepers, or if you tend to switch sleeping positions throughout the night.
Stats
Price: $96.75 (Queen)
Size: Queen, King
Material: Cotton cover, Tempur material filling
Warranty: 5-year limited warranty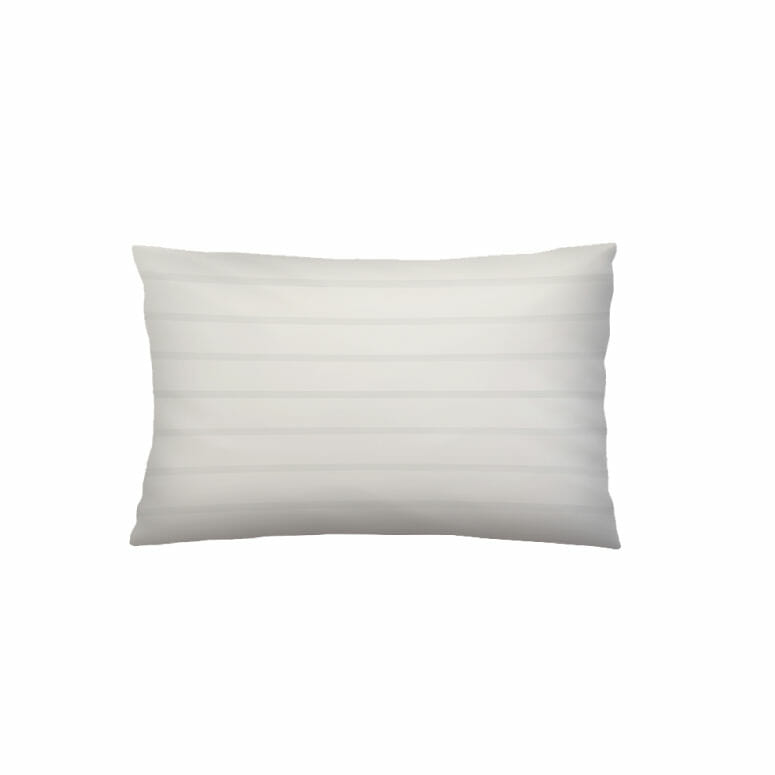 If you're having difficulty falling asleep at night, quit counting sheep and start sleeping on their wool. There's a reason why counting sheep is a thing, and it's because sheep are soft and comforting. If you're well informed, you are aware of the realities of animal cruelty. But there is no need to worry about this wool –– it is both chemical- and cruelty-free.
Each PlushBeds Natural Luxury Wool Pillow is handmade just for you. Other companies use the process of dipping wool into a strong acid to remove debris, which ultimately eliminates the natural curliness of the wool. Furthermore, wool that has been dipped in acid is subjected to chemical perming and bleaching. The yarn used in these pillows does not go through these processes, so there are no added chemicals or dyes.
Wool is excellent at wicking away any moisture (such as sweat) that may accumulate during hot summer months. During the winter, wool also keeps your head warm and comfortable without overheating. The wool used in these pillows is third-party tested to ensure that it is free from impurities and other harmful elements. These pillows are made in the U.S., so that PlushBeds can ensure the wool is harvested according to their high standards. The one downside to these pillows is that they cannot be returned, since each pillow is made by hand once you order.
Stats
Price: $89.00 (Standard)
Size: Standard, Queen, King
Material: Wool
Warranty: No returns accepted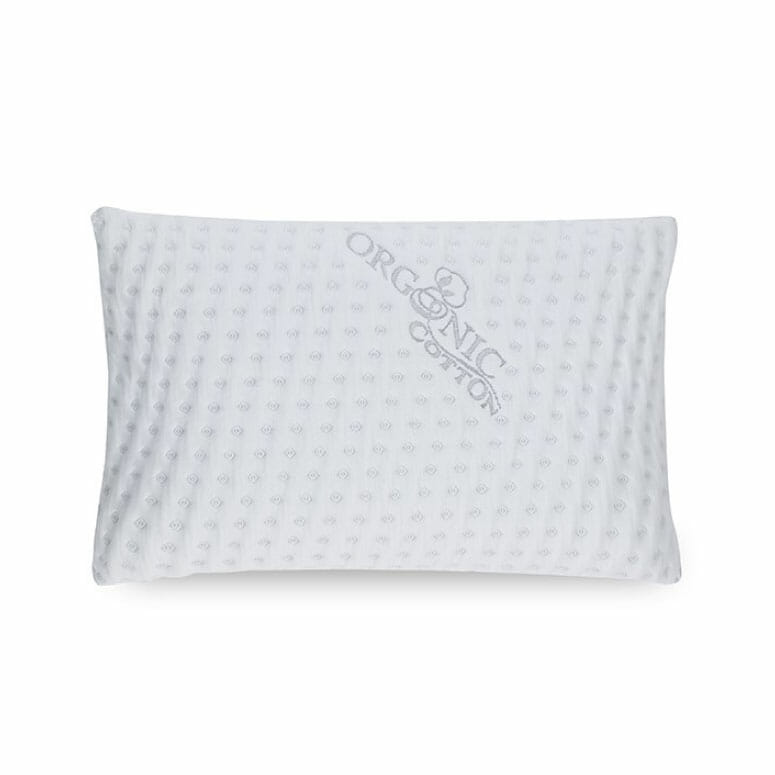 If the thought of going to sleep on a rubber pillow rubs you the wrong way, read on for our 10th best pillow for stomach sleepers: The Talalay Latex Pillow uses latex derived from the Hevea brasiliensis (rubber) tree, using a sustainable, environmentally friendly method. Latex provides the resiliency that many people look for in their mattresses and pillows.
What is so great about latex in pillows? Latex has some unique properties that make it an ideal material for pillows. Much like memory foam, latex cradles your head, but is more responsive than other types of pillow stuffing. Plus, Talalay latex is up to seven times cooler than other kinds of latex. You can purchase this pillow in a high or low loft. If you are a stomach sleeper, (which we assume you are, because you're reading this article), choose the low loft for the most comfortable sleep.
This pillow is covered by a moisture-wicking, antimicrobial pillowcase made out of organic cotton. If you have a latex allergy, you can still use the Talalay pillow because it is constructed in such a way that avoids causing reactions. Customers who have purchased this pillow say that it is so comfortable that they will never go back to using memory foam again. Try out the Talalay pillow for four months, and if you are not happy with your purchase, Brooklyn Bedding will refund your money.
Stats
Price: $89.00 (Queen)
Size: Queen, King
Material: Organic cotton cover, Talalay latex filling
Warranty: 10-year warranty