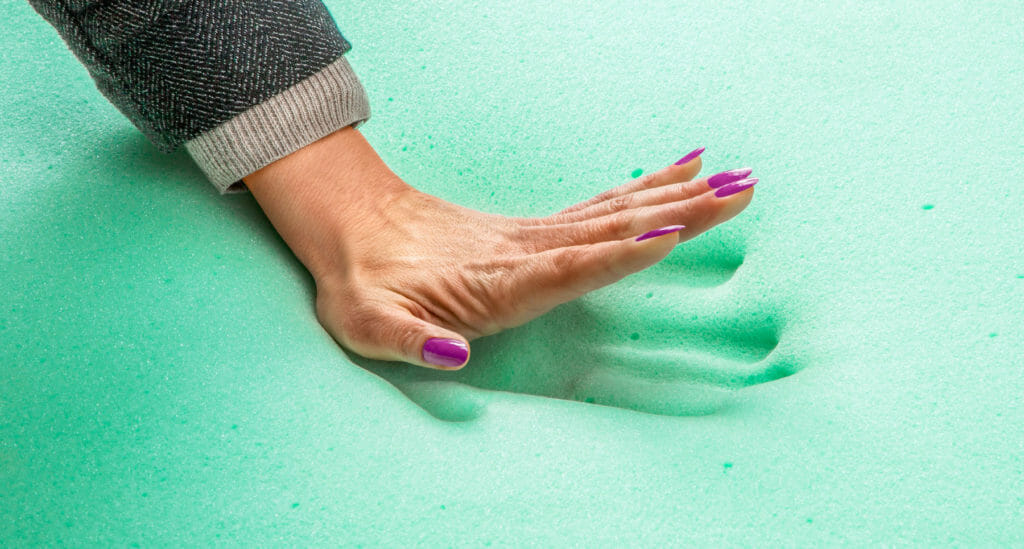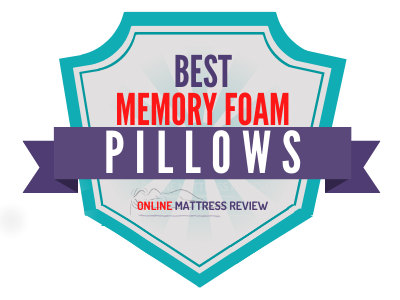 Is there anything better than the pressure conforming support of a memory foam pillow? A great mattress is pretty high on the list, but we're talking about what goes on top of the bed. Memory foam pillows have exploded in the past few decades because… well, because they're comfortable! You can buy all sorts of pillows today, from travel pillows to pillows specifically designed for side sleepers. But for a good old-fashioned restful night, you can't beat a memory foam pillow for your bed.
You may be saying to yourself, "Yeah, I hear what you're saying, but my head gets hot when I used a memory foam pillow." This was a common problem for memory foam before the advent of gel infusion. With gel-infused memory foam, paired with a bamboo or copper infused pillowcase, you can now sleep cool with a memory foam pillow.
"Great! You've convinced me—but there are hundreds of memory foam pillows on the market. How do I choose?" I'm glad you asked! We've made the process much simpler by looking at dozens of the best memory foam pillows, rating them, and creating a list of the 10 best memory foam pillows we found. Simply read below and pick one that catches your attention, you can't go wrong.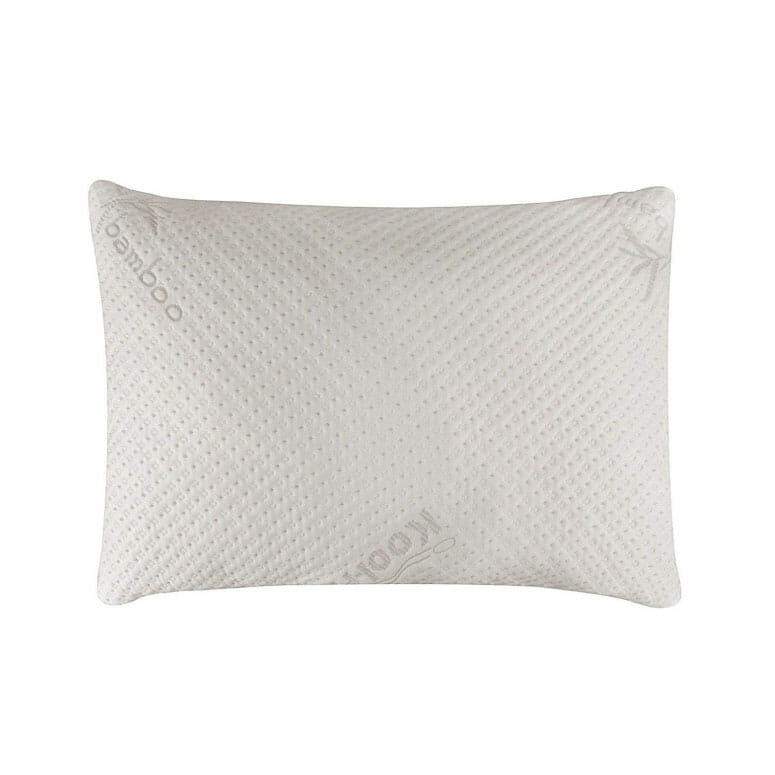 While Snuggle-Pedic may sound like a company that sells baby products, this sleep company takes its pillows seriously. If you're looking for a memory foam pillow that you can customize to your comfort and sleep needs, you've found it with the Snuggle-Pedic Ultra-Luxury Bamboo Shredded Memory Foam Pillow, which tops our list of the 10 best memory foam pillows.
Eco-friendly, CertiPUR-US Certified, hypoallergenic, and dust mite resistant are all features of this pillow. If you're still asking yourself, "What's so great about this pillow?" Well, we're going to tell you.
Unlike most memory foam pillows, you can adjust the amount of foam for a customized fit that's perfect for your head and neck. Whether you like your pillow on the thicker side or thin, simply unzip the cover and add or remove filling to your preference. Speaking of the cover, it's 43% bamboo, which means it's breathable and cooling throughout the night. If you drool when you sleep, that's not a problem—this pillow is 100% machine washable.
Still not convinced that this is the crème de la crème of memory foam pillows? Take this pillow for a dream spin with the 120-night trial, and if you're unsatisfied for any reason, you can return the pillow for a full refund. Everyone wants to know that they're buying products that will last, which is why Snuggle-Pedic backs this product with a 20-year industry-leading warranty.
Stats:
Price: $49.99 (standard)
Size: King, Queen, Standard
Warranty: 20-year warranty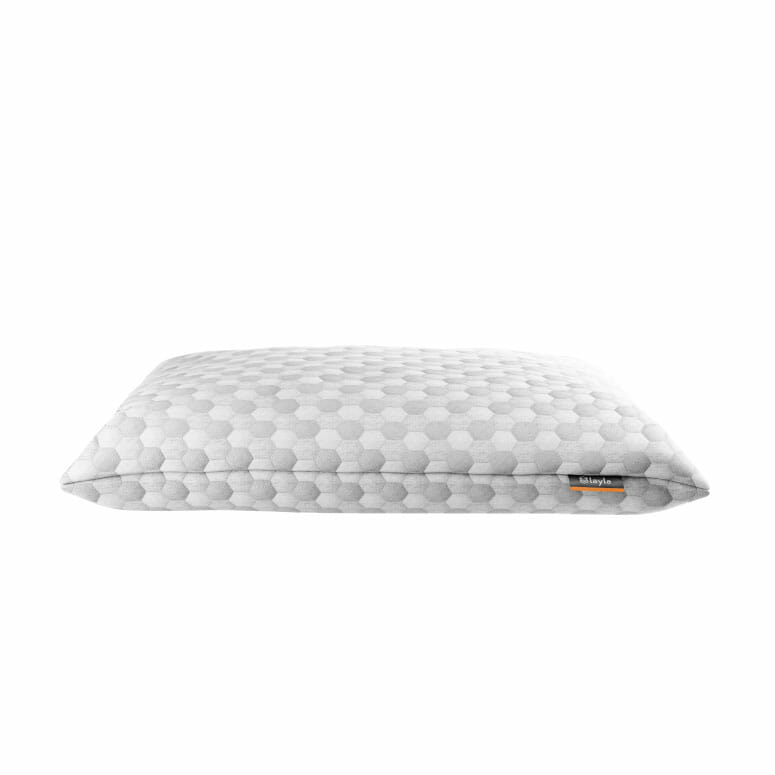 Looking at this pillow brings to mind images of checkerboards. Luckily, unlike checkers, the Layla Kapok Memory Foam Pillow will not make your head hurt. The pillow's outer cover is made up of hexagonal shapes in shades of grey and white, which gives this pillow a pleasantly soothing aesthetic. So why the hexagonal shapes? Well, we don't know, but they look cool.
Two great fillings are combined in this pillow to give your head and neck support: memory foam and Kapok fill. For those of you who don't know (myself included before I looked it up), Kapok is a silky fiber typically harvested from Kapok trees that grow in the rainforest. Unlike other textiles such as cotton, Kapok is very soft and provides a lot of loft to the pillow. These two attributes combine to make your head feel like you are using a down stuffed pillow. So you have the molding effect of memory foam and the softness of a down pillow. Pretty cool, right?
If you're a stomach sleeper and need a lower profile pillow to prevent waking up with a sore neck, you can remove some of the fillings to fit your preference. Hot sleepers will love this pillow because that decorative outer cover we were talking about earlier is infused with copper. Copper infused fabric allows heat to be pulled away from your head, and since it absorbs heat so well, you won't have to flip your pillow to find a cool side.
Stats:
Price: $99.00 (Queen)
Size: King, Queen
Warranty: 5-year limited warranty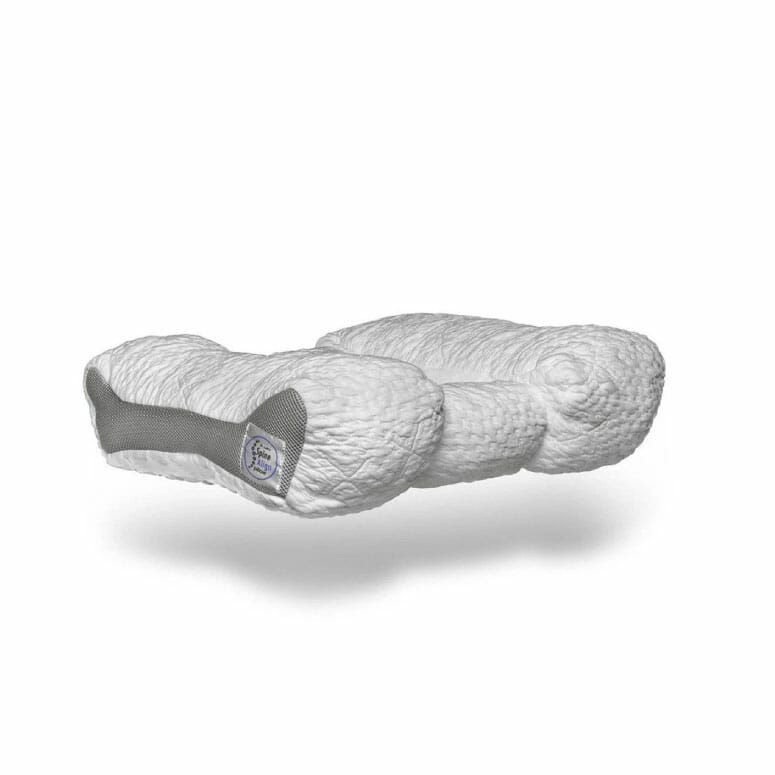 A doctor-recommended pillow designed for back and side sleepers is what you get with Dr. Loth's SpineAlign® pillow. Back and side sleepers will find a sleeping companion that does precisely what the name says—it align their spines. Two sleep systems have been used to design this pillow, with the outer higher sections for side sleepers and the indented middle for back sleepers.
Take control of your sleeping experience by getting the loft that is most comfortable for you by removing or adding foam. You can access the proprietary memory foam via a zipper on the back of the pillow. The foam is CertiPUR-US certified, meaning the memory foam was made without harmful chemicals and using environmentally friendly manufacturing practices. What do Harley-Davidson motorcycles, Gibson guitars, and Dr. Loth's SpineAlign Pillow all have in common? All of these products are awesome, and they are all made in the USA.
This pillow does have a unique shape that will take a few nights to get used to. Customers who are using this pillow can't stop talking about how much it has helped their neck and back pain. They agree that it does take a couple of nights to acclimate to the new feeling, but they say that once you do, you'll never go back to a "regular" pillow. If you end up not liking this pillow for whatever reason, you can return it after 30 days (to make sure you've had significant time to adjust to the feel) and before 90 days for a full refund. The manufacturer wants you to give this pillow a chance, which is why they don't allow returns before 30 days.
Stats:
Price: $149.00 (Queen)
Size: Queen, Standard
Warranty: 90-night sleep trial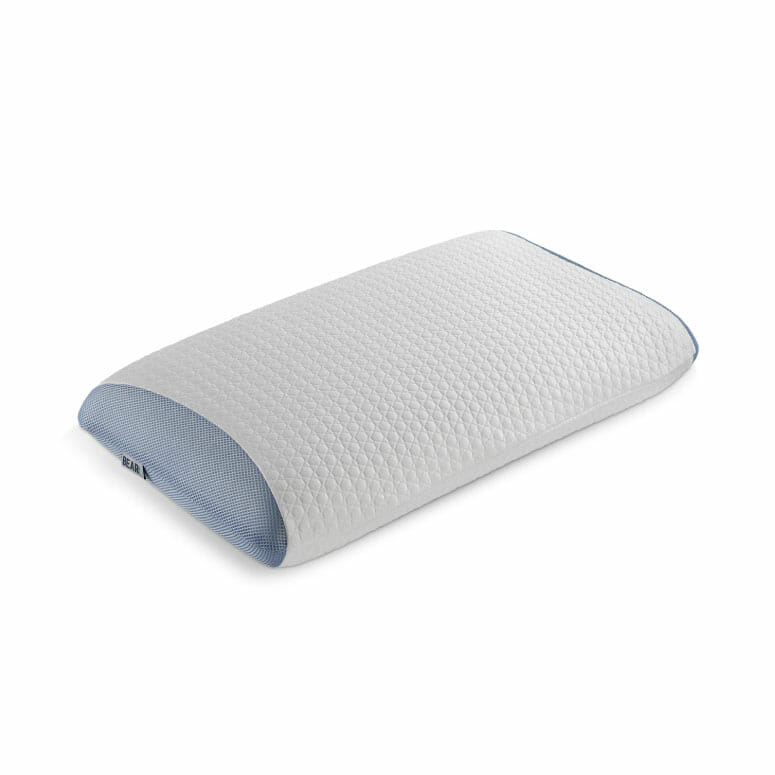 As Goldilocks discovered, some pillows are too soft, some pillows are too hard, but the BearPillow is just right. Pillows that are too soft can make you feel like your head is lying on the bed, while pillows that are too firm can cause neck and back pain. This is why Bear Mattress created the BearPillow. The pillow has the conformability memory foam is known for, along with the resilience of latex. They call this foam Loft-X foam because it has the perfect loft that prevents strain and pain in your neck.
Hot sleepers will love the double ice fabric that covers the outside of the pillow. Two mesh panels on the sides allow air circulation through the pillow, helping you stay cool throughout the night. Unfortunately, the double ice fabric is a patented trade secret by the Bear company, so you won't find it on any other company's products. What we do know about this fabric is that it's 40% cool yarn and 60% polyester. What the cool yarn is composed of is the real enigma. That said, customers say the pillow stays cool pretty much at all times, with their head resting on it or not.
Machine washable? Check. Hypoallergenic? Check. 2-year warranty? Check. What more could you want? How about a 90-day sleep trial to test out the BearPillow for yourself? Okay, fine. They offer that as well! This company has been in business for over 25 years, so they know what they're doing when it comes to sleep and pillows. Give the BearPillow a try, especially if you tend to sleep hot during the night.
Stats:
Price: $95.00 (Queen)
Size: Queen, King
Warranty: 2-year limited warranty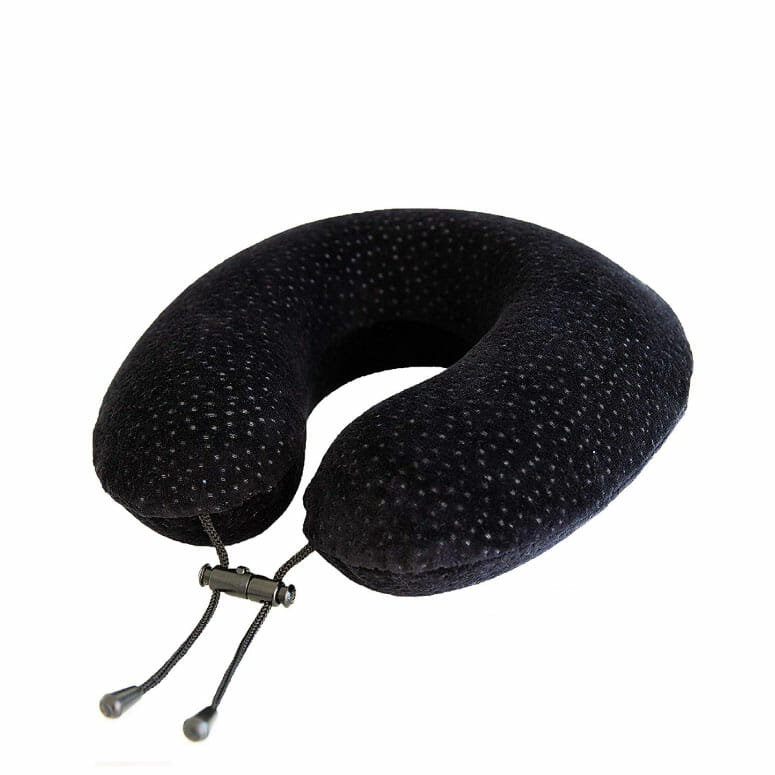 I know we said earlier that we were going to be talking about pillows for your bed, but when you list the best memory foam pillows on the market, the AERIS Travel Pillow just has to be included. This travel pillow proves you can experience the comforts of a memory foam pillow even while on a plane. Or a train. Or a bus. Or in a car. Or… well, you get the point.
This pillow is made with a slow-responding visco-elastic foam that molds to the pressure of your head and neck, while still providing an underlying feeling of support. The adjustable toggles on the sides of the pillow help you get a close fit and added pressure, so the memory foam fully cradles your head.
Travel pillows are great, but who wants to haul a large travel pillow around the airport, bus station, or destination. The AERIS Travel Pillow comes with a travel carrying pouch that can compress this travel pillow to half its original size. The removable velour cover is both soft and machine washable, which are two valuable attributes in any pillow, but especially a travel pillow. The best thing is that there are no special washing instructions or steps. Just pop it in with your regular load of laundry and wash and dry.
Use the pillow with the opening in the front to support your neck when leaning back, or flip the pillow around with the opening toward the back, if you want chin support while sleeping upright. Included with the purchase of the AERIS Travel Pillow are earplugs and a blindfold. The AERIS Travel Pillow is a complete travel system that will help you get some z's whatever the situation or environment. You also have the option to purchase additional covers for the pillow (sold separately).
Stats:
Price: $24.90
Size: Travel size
Warranty: N/A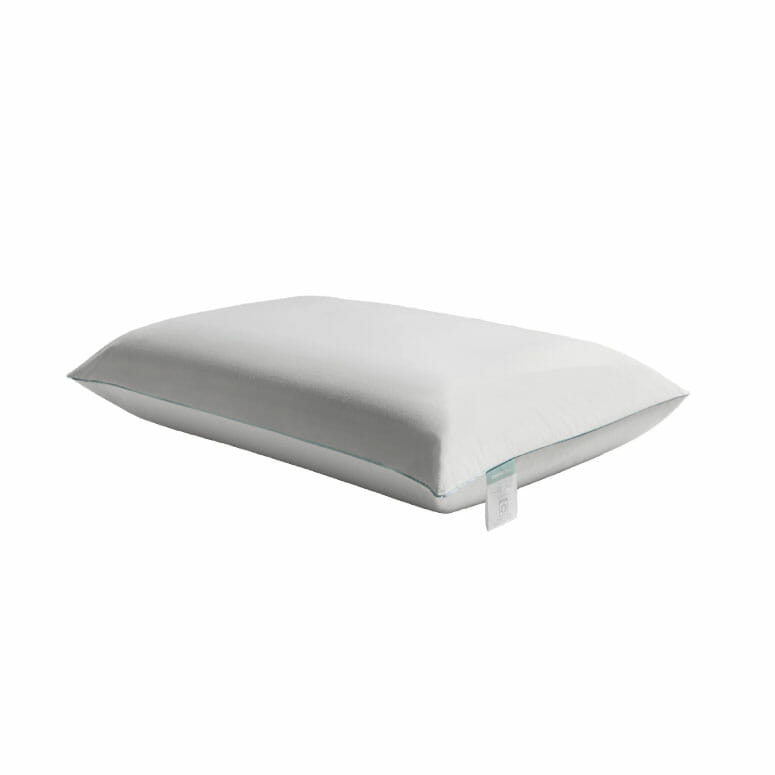 We've all heard of TEMPUR-PEDIC, right? That sleep company most known for its ultra-comfortable mattresses? Well, TEMPUR-PEDIC has made a pillow designed explicitly with hot sleepers in mind, and they've called it the TEMPUR-Cloud® Breeze Dual Cooling™ Pillow. It even sounds cool with words like breeze and dual cooling. So what sets this pillow apart from its pillow competition?
It's the TEMPUR-Breeze® Gel Layer that's located on both sides of the pillow. You can visibly see the gel layer, which shows up icy blue on the outside of the pillow when the pillowcase is removed. The 100% cotton, quilted cover is soft and likely where the Cloud part of the pillow's name is derived. This pillow is designed for all types of sleepers, including stomach sleepers, back sleepers, side sleepers, and combination sleepers.
TEMPUR material is a NASA invention—yes I'm talking about the National Aeronautics and Space Administration. So this stuff is pretty high tech. TEMPUR material is a patented type of memory foam that is comfortable, durable, and has proven itself over time. The pillow itself has a medium feel that, like other memory foams, will conform to pressure while providing a reinforcing base. TEMPUR-PEDIC will replace any TEMPUR-Cloud Breeze Dual Cooling Pillow if there are material defects within 5 years of purchase.
Stats:
Price: $169.00 (Queen)
Size: Queen, King
Warranty: 5-year limited warranty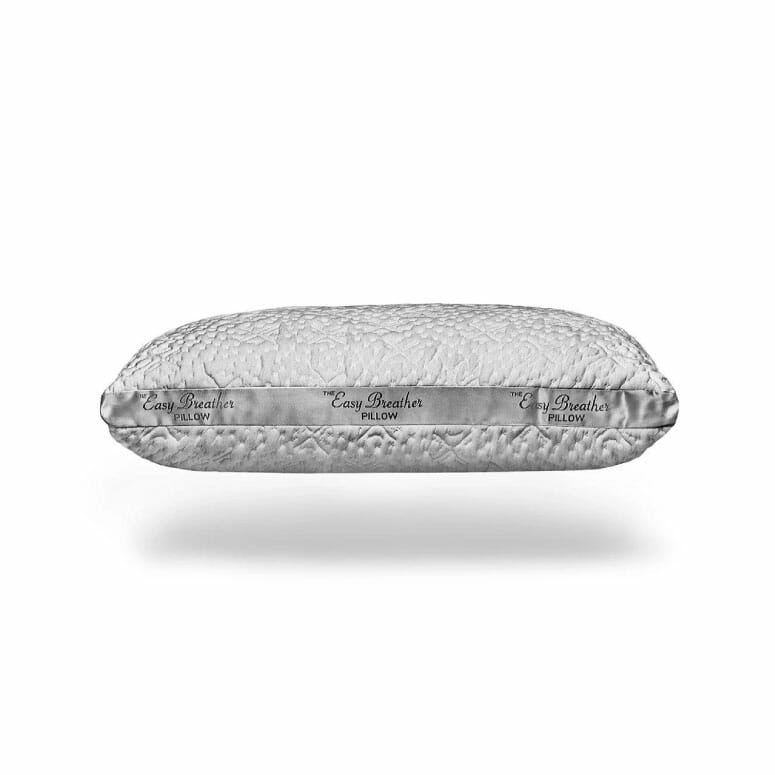 Nest Bedding is a family-owned company that started in 2011 and specializes in making high-quality sleep products at an affordable price. And when it comes to their Easy Breather Pillow, they didn't fail us. Nest touts this pillow as the "number one pillow on the internet," and it's undoubtedly the company's best selling pillow.
This pillow is both adjustable and soft. If you're looking for a firmer pillow, our #1 ranked best memory foam pillow (Snuggle-Pedic Ultra-Luxury Bamboo Shredded Memory Foam Pillow) is a better option.
The Easy Breather Pillow is unlike other memory foam pillows reviewed here so far, in that it feels much more like a down pillow. The down feel is due to the airy, shredded memory foam that comprises its core. The memory foam can be removed to achieve a preferred height that is most comfortable for how you sleep. The Tencel blended fabric provides both wrinkle-resistance and superior softness for when your face hits the pillow.
It's almost too hard to believe that a memory foam pillow can be as soft as a down pillow, but these claims are backed up by customers who have purchased it. The memory foam does provide support toward the bottom when the head hits the pillow, which is an aspect down pillows lack. This pillow is also available in three sizes, so whether you have a queen, king, or other sized bed, you can find a pillow size that fits. There are zero risks in giving this pillow a try with the 30-night sleep trial provided by Nest.
Stats:
Price: $99.00 (Queen)
Size: Queen, King, Standard
Warranty: Lifetime comfort guarantee, 30-night trial
8. Zoned Dough®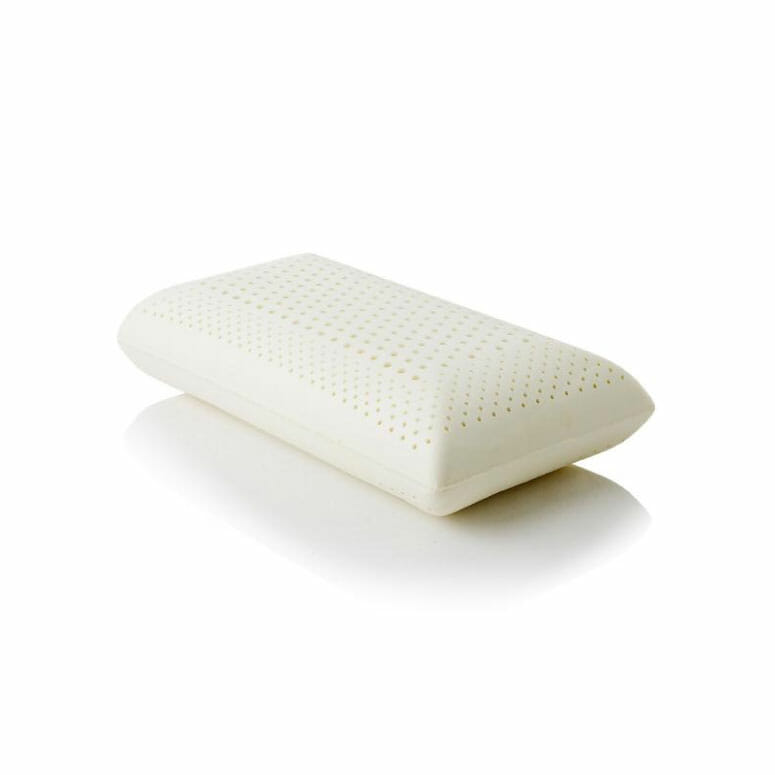 You're sure to have a restful night's sleep with the Zoned Dough® pillow by Malouf. They use a special trademarked Dough memory foam that supports your neck while providing the softness and give that cradles your head. Make no mistake about it, though—this is a genuine memory foam pillow in firmness and support. The pillow has a softer feel when pressure is placed on it due to a unique innovation. Read below to find out about this technology.
Take this pillow out of its pillowcase, and you may think you received a defective pillow. Holes riddle the surface, but they do so for a reason. Smaller holes toward the surface, where your face meets the pillow, are followed by progressively larger holes toward the center. These different sizes of vents allow for the material to give at different pressures. What you get is a pillow that supports at the top of the pillow due to the small holes and gives toward the middle because of the larger holes. It's pretty ingenious.
Covering this swiss cheese-looking pillow is a Tencel™ removable pillow case that draws away moisture (including drool) during the night. You get to choose the loft you want in your pillow: low loft (4.5″), mid loft (6″), or high loft (7″). You'll also be covered with a 5-year warranty, in case you have problems with this pillow. And the cherry on top of this doughy treat? A portion of every purchase of a Malouf product goes to a foundation that helps fight child exploitation. Loft options, unique technology, and the fact that the company gives back to a worthy cause earn this pillow a strong standing among the best memory foam pillows on the market today.
Stats:
Price: $107.99 (Queen)
Size: Queen, King
Warranty: 5-year warranty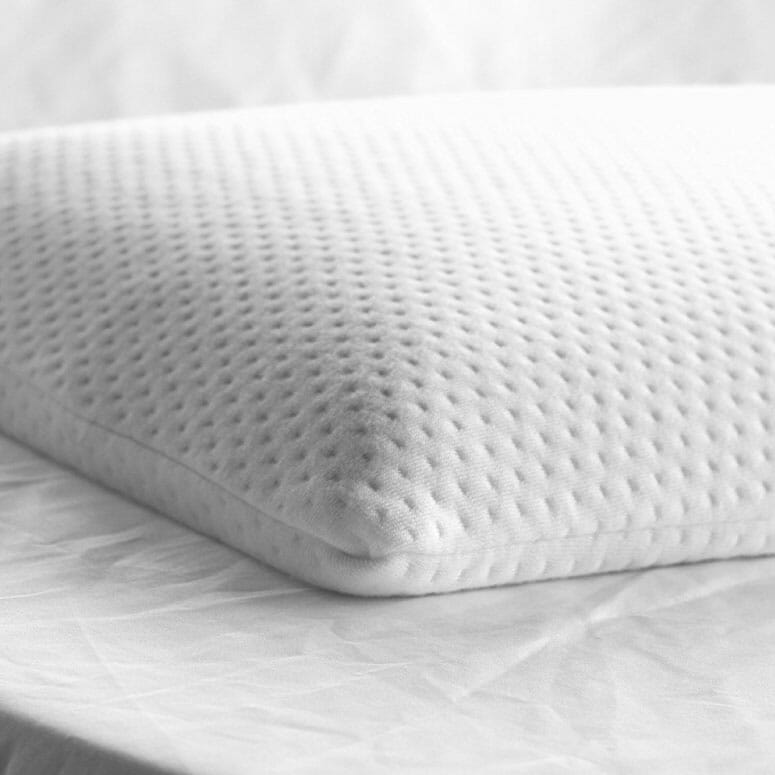 A belly sleeper's dream! The Elite Rest Ultra Slim Sleeper pillow is designed with belly sleepers in mind. With this pillow, which measures only 2.5" in height, belly sleepers can ditch the down pillows and switch to memory foam. This pillow may also work well for back sleepers who need a couple of inches more on their other pillows to align their spines.
The 100% cotton cover is so soft you will start finding excuses to go lay down. The pillow is not designed to be flipped over—it has a flat side that contacts the bed and a rounded top side where you place your head. This pillow is hypoallergenic, antifungal, and dust mite resistant like most memory foam, but make sure you wash the cotton pillowcase regularly. The Elite Rest Ultra Slim Sleeper pillow is considered a firm memory foam pillow.
Many customers who have purchased this pillow say that they finally found the pillow they have always looked for to make belly sleeping more comfortable. They say that if you tend to sleep with your arm under your pillow at night, this is the perfect pillow at the right height. Weirdly enough, some customers indicate that the pillow they received was made of latex; it even said it on the tag. It's hard to say what happens to make someone receive a latex pillow, but if this occurs, return the pillow and either get a new one or your money back.
Stats:
Price: $39.96 (Standard)
Size: Standard
Warranty: Returns accepted according to Amazon's policies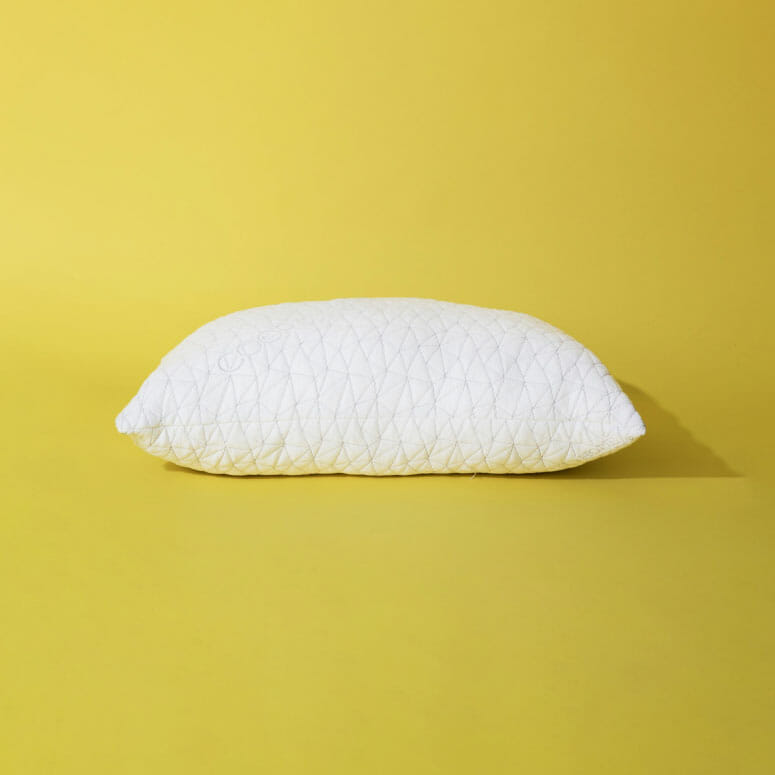 When you name a product "The Original," the product must be pretty great to have stood the test of time. The Original by Coop Home Goods is no exception. Coop Home Goods is a small, family-owned company that focuses on making quality products at reasonable prices. The founder of this company suffered from chronic neck and back pain, which was the inspiration for The Original pillow, and the rest is history!
This pillow is well suited to side sleepers, and you have the ability to remove foam to achieve the height of the pillow that will ensure you don't wake up with neck pain. This is a medium-firm density memory foam and microfiber blend that's perfect for those who like a firmer pillow.
If your preferences lean more toward softer pillows or you are a hot sleeper, try the Eden pillow by Coop Home Goods, which is made from gel infused memory foam. This pillow (and others from this company) don't use leftover memory foam; this is pure and high-quality memory foam. Oh, I almost forgot, its CertiPUR-US and GREENGUARD Gold certified.
The pillowcase is composed of the company's proprietary Lulltra™ fabric, which is made of sustainably farmed bamboo, making it cool and incredibly soft. The pillow is reasonably priced, and high quality, but don't take my word for it—give this pillow a try with the 100-night sleep trial offered by Coop Home goods. The pillow also comes with a reassuring 5-year warranty. If something happens in a couple of years, let the company make it right by replacing the defective pillow.
Stats:
Price: $59.99 (Queen)
Size: Queen, King
Warranty: 5-year warranty