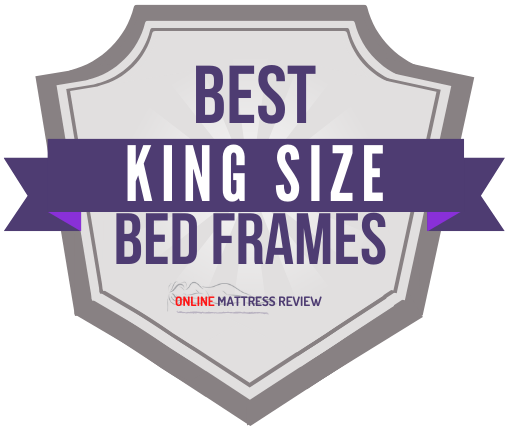 Did you know that Louis XIV of France conducted official business from the luxurious comfort of his bed? Indeed, beds and bedrooms weren't the private sanctuaries they are in modern times!
Just imagine sharing your bed with strangers and thinking nothing of it, and you will appreciate the fact that you can sleep on your king-size bed without kibitzers.
Once you get your frame, check out the Best King Size Mattresses
But what exactly is a king-size bed frame? From an international perspective, there's no single set of dimensions accepted across all nations. In the United Kingdom, it's 60″ × 78″ but it's 72″ × 85″ in India; these are width and length measurements in inches.
In the United States, a king-size frame is 76″ x 80″, and it's the measurement for all the king-size bed frames on this list.

With these US measurements, a king-size frame is 16 inches wider than its queen-size counterpart. It's also the same size as two twin XL frames placed in a side-by-side position; a twin XL frame measures 38″ x 80″.
King beds are also known as Eastern beds, a term used to differentiate them from California king beds that measure 72″ x 84″. Don't be fazed by the names because these are only used for convenience.
Their main difference, aside from size, is their target market – a king bed is suitable for people of average height while a California king bed is best for taller people.
Methodology in Choosing the Best King Size Bed Frames on Our List
When we looked at dozens of king-size bed frames for this list, we considered these factors in choosing the ten best frames.
We chose the bed frame based on its type of material and its associated durability. While a mattress should be replaced every six to eight years, a bed frame can be used for a longer period. Indeed, many of us take pride in the heirloom quality of our bed frames, especially the wooden frames that may have been handed down for generations.
Most of the products here are then made either of wood or metal or a combination of both. These are materials known for their long-term durability, especially when maintained well. Wood, for example, can be re-stained or re-painted for a brand-new look, while metal can be treated with an anti-corrosion substance.
Durability is also the primary consideration since it's the determining factor in getting the best value for your money. The longer you can use a bed frame, the better value you will get from it.
The bed frames must also have exceptional quality in terms of their construction and design. We're talking about frames made with world-class craftsmanship, attention to detail, and contemporary appeal. While it may seem like a tall order, we found several frames that meet the brief.
While we don't believe in getting cheap bed frames with shoddy quality, we also believe that you shouldn't pay for an arm and a leg to get a high-quality frame. These nine king-size bed frames have mid-range prices but high-quality characteristics.
---
THE BEST KING SIZE BED FRAMES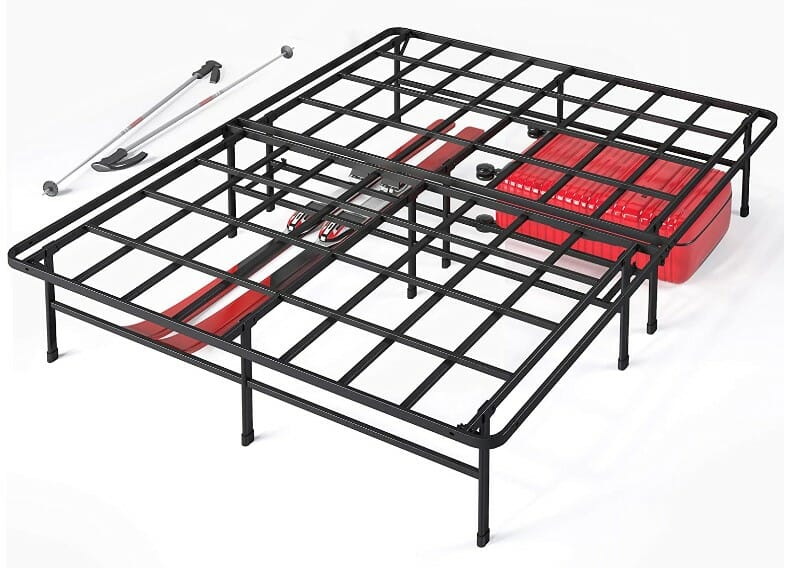 Basic Information:
Size: 80" x 76"
Weight: 59.5 lbs.
Material: Metal
Type: Platform
Product Highlights:
4,000-pound weight capacity
With large under-bed storage
Sturdy, stable, and quiet
With 5-year limited warranty
Without the need for a box spring for the Zinus SmartBase frame, you will save between $100 and $250! The metal frame replaces a box spring partly because its slats are closely spaced. You can directly place your mattress, whether it's an all-foam or an innerspring or a hybrid mattress, on it, and voila!
There's not an inch of a weak spot on the frame, thanks to its all-steel construction. Everything about it, from its multiple legs to its slatted frame, is a durable metal that will stand for years of use! We assume that its metal parts have been treated for anti-rust and anti-corrosion, common for metal frames.
Such is its exceptional durability that it can support 4,000 pounds! Of course, a king-size mattress with its beddings and several people on the bed won't hit the weight limit, but it's still a good thing to know. We then recommend the Zinus SmartBase frame for couples, plus-sized individuals, and people who sleep with their pets or children.
When it's assembled as recommended, the bed frame is as quiet as a mouse, too! There are no creaking and squeaking noises emanating from it, even with horseplay, sex, and movements. Just be sure to check that the nuts and bolts are securely tightened, so it stays quiet through the years.
This is the so-called Big and Tall frame, too, due to its extra stability. Several extra-thick beams on the frame prevent the slats from sagging or sinking under the weight of several people.
Sure, it won't win any design awards because of its straightforward industrial look, but that's okay, too. The first thing we look for in a reasonably-priced bed frame, after all, is its function in terms of utility, durability, and quality. The Zinus SmartBase frame meets the brief even when it isn't something Louis XIV of France would have held court on.
The under-bed storage is quite impressive, too, with nearly 13 inches of clearance space under the frame. You can store boxes and other things underneath it, perhaps allow your pets to sleep there. This is a suitable frame for them when your bedroom doesn't have as much storage space in cabinets as you'd like.
We love two thoughtful details about its design, too. First, the recessed legs mean that there's less risk of stubbing your toes or gashing your knees against the frame. Second, the plastic caps on the legs mean no scratches on your floor.
The bed frame is surprisingly easy to assemble, too, despite its formidable look. You don't need tools for its assembly, and it will take 10-15 minutes for the entire process. Disassembling is as easy as assembling it, too.
---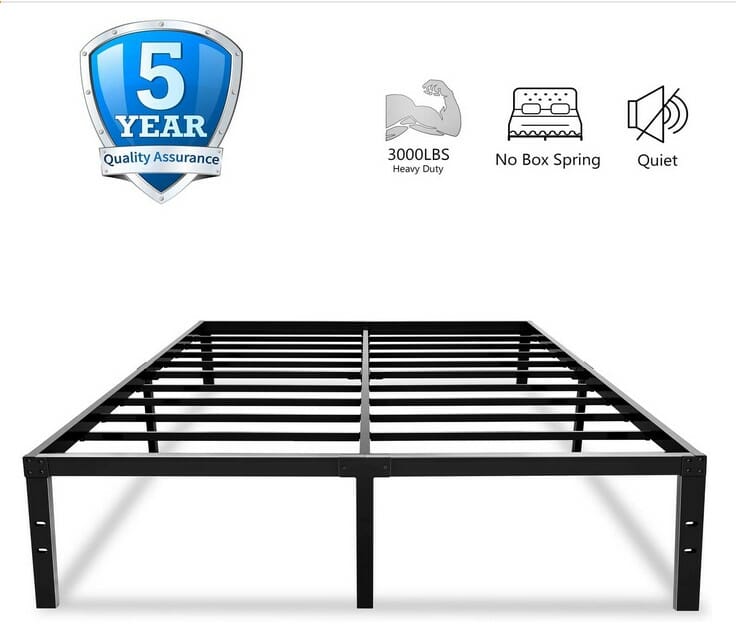 Basic Information:
Size: 80" x 76"
Weight: 52 lbs.
Material: Stainless steel
Type: Platform with slats
Product Highlights:
3,000-pound weight capacity
Underbed storage
Durable and reliable frame
Yet another king-size bed frame with a straightforward design is the Noah Megatron frame, an all-metal frame. Such is its simplicity that you may think you can make it yourself if you have the materials and tools. Everything about it boils down to a single aspect – it's a functional frame that can support up to 3,000 pounds in combined weight.
But therein also lies its beauty! If you're looking for a no-fuss yet ultra-functional frame at a reasonable price, then you can add it to your shortlist. This frame will also last for several years, thanks to its rust-resistant stainless steel construction, which means you will get the best value. You won't have to change bed frames every time you change your mattress because this can last for ten years or more.
The simplicity of the design also means that it's quick and easy to assemble. Once the package arrives, you can easily move it from your front door to your bedroom, either on your own or with some help. Then, get the parts out of the box, read the manual, check the parts, and then proceed to its assembly.
The necessary tools, such as Allen wrenches, and hardware are already in the box, so it's a hassle-free job. You may take 15-20 minutes for the actual assembly, and it's a quick job even for a non-mechanically inclined person. The integrated design means that most of the pieces click into place with minimum intervention.
We suggest checking the tightness of the screws and other hardware since it will affect the overall performance of the bed frame. If it feels still a bit shaky or wobbly, you may want to do this step. Once every screw is in place and proper tension, the bed frame is as solid as a rock!
Place the mattress on top of it and jump a few times to check the frame's sturdiness and stability. The frame's so sturdy and stable that it doesn't wobble, shake or move from its position even with vigorous physical activity. The structural integrity is, indeed, topnotch!
Many features make it an ultra-functional frame even when it's on the Spartan side. The 12-inch under-bed clearance provides a storage area for your odds and ends. The slats have 1-inch subsidence from the mainframe, a feature designed to keep the mattress in place instead of slipping and sliding.
Every vertical support has a hard plastic insert designed to keep the bed from sliding on hardwood floors. But many buyers say that it isn't doing the job and, thus, rubber inserts or a mat underneath the bed is recommended.
---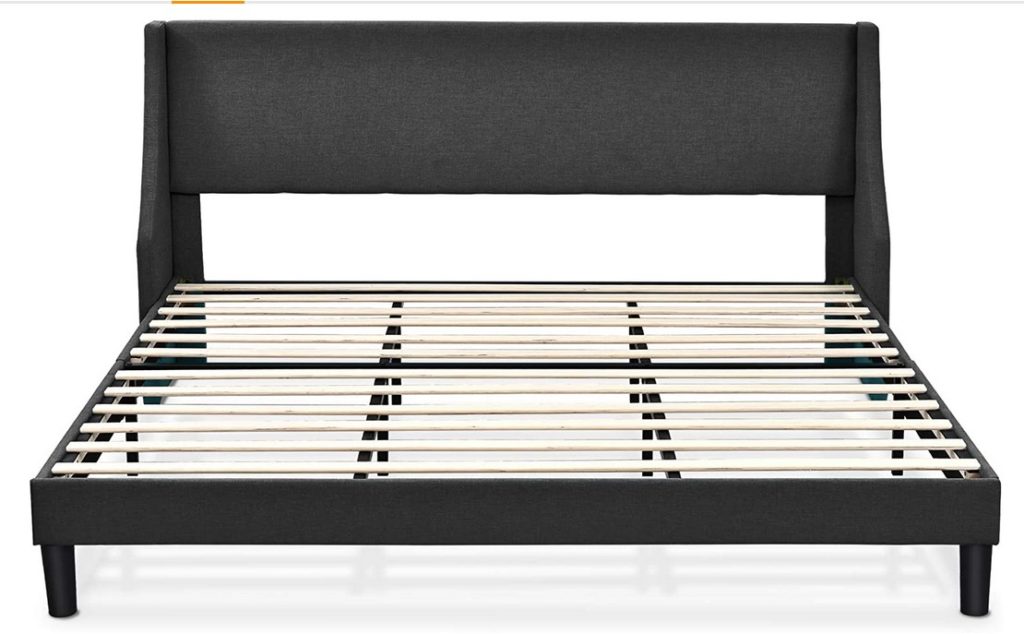 Basic Information:
Size: 79.5" x 81.7"
Material: Wood, iron and fabric
Type: Platform
Product Highlights:
900-pound weight capacity
Durable materials and construction
Elegant design with wingback-style headboard
When we think of elegant bed frames, we think about large and lavish headboards that will give Her Majesty's headboard a run for its money. We also associate it with sky-high prices that not every Tom, Dick, and Harry can afford. Fortunately, there's the Allewie platform bed frame with a headboard fit for a king or a queen, but it doesn't cost an arm or a leg!
The frame has a chic and contemporary look that features a high wingback-style headboard with side wings when assembled. Think of being a king or queen in your bedroom with such a soaring and sophisticated backdrop! You can leave the headboard as is or personalize it, as well as place pillows in your desired colors to spruce it up.
The bed comes in several colors, from light and dark grey to light yellow, peacock green, and burnt orange. You can then either adopt a neutral color scheme or add a pop of color in your bedroom from its largest furniture.
The upholstered headboard has substantial foam padding, too, so it's a cushy and comfortable place to prop yourself up while reading a book, watching television, or browsing the Internet. The entire effect doesn't overwhelm, thanks to the headboard's clean surface and simple silhouette.
The bed frame is delivered in two boxes, and each box may be delivered on different days. The boxes contain the bed frame itself as well as the slats and headboard with its side wingbacks. Despite the size of the frame, it's quite easy to assemble, although there are plenty of parts and fasteners to consider.
Depending on your mechanical ability and the presence of an assistant, you can take between 30-60 minutes to assemble the frame. We suggest using a drill with an Allen head driver for a quicker assembly and methodically following the instructions.
This is a stainless steel frame with wooden slats, so there's no need for a box spring for your mattress. Just place your mattress on top of it, arrange it, so it perfectly fits the frame, and place beddings on it.
To test the finished frame's sturdiness and stability, you can jump, roll and walk on it – with the mattress on top. Based on numerous customer reviews, the Allewie frame holds its structure well – no shaking, no wobbling, no creaking noises. With protective food pads, its support legs won't leave scratch marks on your floor, too.
---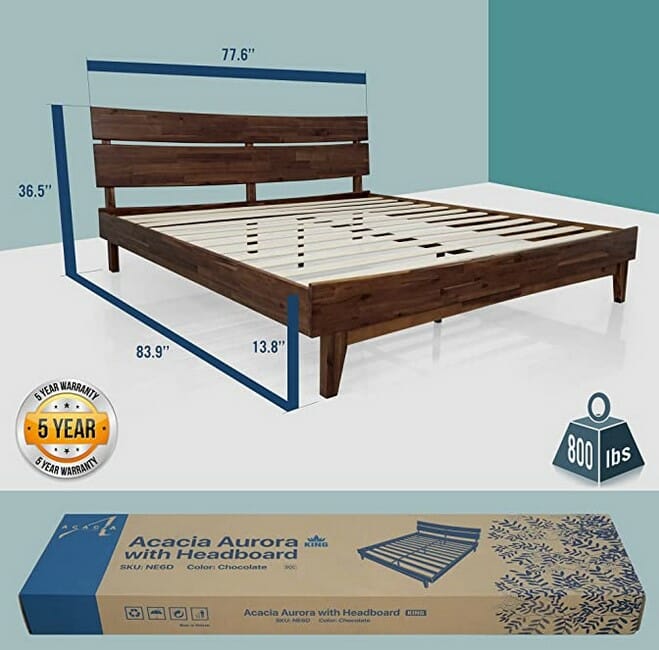 Basic Information:
Size: 77.6″ x 83.9″
Weight: 119.7 pounds
Material: Solid acacia wood
Type: Platform
Product Highlights:
800-pound weight capacity
Sturdy, stable, and stylish frame
Compatible with most types of mattresses
Wood has a warm and welcoming vibe that makes it a perfect material for bed frames, and it has been so for centuries. The Acacia Aurora frame continues the tradition of functional and beautiful bedroom furniture!
Acacia wood is a durable material for furniture purposes, so we highly recommend the Aurora frame. It will last for several years and withstand wear and tear, including moisture exposure, scratches, and dents, which come from daily use. It can even last for more than a decade with proper maintenance, and it's a great investment for this reason.
If you're an eco-conscious consumer, you will also appreciate that acacia wood is among the most sustainable wood used in furniture! This is because acacia trees are cultivated in tree farms in many parts of the world, and nearly every part of an acacia tree has its uses.
The bottom line: You're getting a strong and sturdy frame that will last for several years, perhaps even past a decade, and that you can buy guilt-free. You can knock on the frame, from its headboard to its slats, and you will find that it's as solid as can be; there are no hollow sounds that characterize inferior wood.
Due to its heavyweight and solid construction, you're well-advised to have an assistant when assembling the frame. There are tools provided in the package for this purpose, but you may also use your own Allen wrench. We also suggest reading the instructions, if only to ensure that you're putting the parts together as intended.
The frame already comes with pre-drilled holes, so there's no need for extra holes or power drills. There are spare screws, nonetheless, since you may need them. The assembly itself was easy-peasy when instructions and common sense are applied to the job.
There are two color options – chocolate and caramel. Both are beautiful, so it boils down to personal preference. Both options also have a clean look about them that makes the frame easy to blend with your existing décor.
According to the manufacturer, the paint used is lead-free, non-toxic, and odorless. But some customers assert that there's a subtle urethane smell when they first release the frame from its packaging. It isn't overpowering, and it will dissipate in a few hours in a well-ventilated room.
The frame comes with a 30-day return period and a 5-year warranty.
---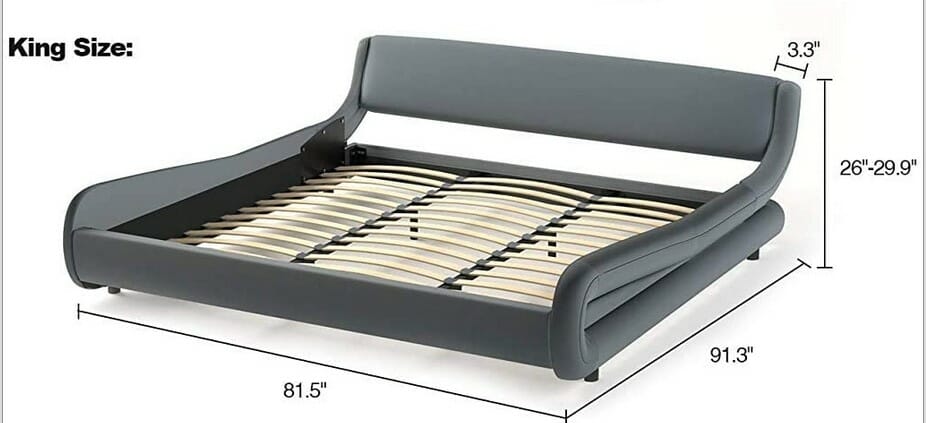 Basic Information:
Size: 91.3"' x 81.5''
Weight: 74.5 lbs.
Material: Wood and PU leather
Type: Platform
Product Highlights:
Unique contemporary style
Adjustable headboard
Sturdy, noise-free, and stable design
The Kealive Modern frame isn't your typical square frame. With its curved line design – think of long, thick pool noodles curved into a tight "S" shape with one end rising to meet the headboard – it immediately catches your eye. This isn't the plain Jane of platform frames – it's the more flamboyant, fabulous, and fun cousin!
What's more, its headboard and footboard aren't your usual square features either! Both have a rounded quality about them that's in contrast with the sharp edges of most frames. But these aren't just aesthetic features – the headboard and footboard are designed to keep the mattress in place. The recessed design ensures that the mattress doesn't slip and slide during vigorous physical activity and sleep movements made by sleepers.
While the frame will look best in every setting, from rustic to industrial, you may want to place it in a bedroom with a more contemporary vibe. Its gray color can be paired with just about any themed beddings, from whites and neutrals to bold colors, because it's like a blank canvas.
The modern design even extends to the material used to cover its wooden base! Instead of fabric, high-quality PU leather is used, and it's a conversation starter. Besides, we like PU leather because it has a sleek look and a smooth feel.
Of course, beauty is only skin-deep, and quality matters more! The best bed frames should be sturdy and stable since these will be subjected to daily use and with the added weight of the mattress and sleepers.
The Kealive Modern frame also meets the quality standard, thanks to several relevant features. First, the frame itself is made of durable wood covered in PU leather. The slats are spaced near enough that there's no need for a box spring, and a mattress won't sag or sink in places.
Second, the leg structures are reinforced so that the frame stays put even with vigorous movements being made on its surface. There are also several legs so that there's even weight distribution.
With these two features, the frame is as noiseless as can be. There are no creaking and squeaking noises to be heard, provided that it's been assembled as intended.
The adjustable headboard is a welcome design feature, too. Its height can be adjusted between 26″ and nearly 30″ depending on the height of the mattress and your preferred headboard height. You won't want to cover such a stylish headboard, too.
The bed frame is delivered in two boxes due to its large size. Assembly is pretty easy, too.
---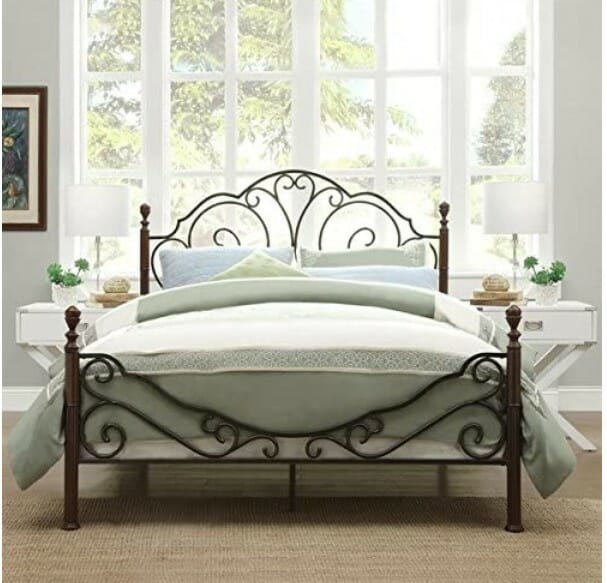 Basic Information:
Size: 87" x 82.5"
Material: Metal
Type: Panel
Product Highlights:
Comes with a 90-day limited warranty
Beautiful design
Durable construction
The LeAnn bed frame is different from the frames on this list because of its old-fashioned charm. This is the kind of frame that we associate with a lady's bedroom, or a romantic getaway for couples, or a teenager's whimsical space. Indeed, while it's made from metal parts, there's nothing industrial in its aesthetic!
The first feature that attracted our attention was the graceful scroll patterns on its headboard and footboard. While the scroll patterns are neither elaborate nor fancy, it works well because this is a contemporary frame, after all! Anything more elaborate and the frame will have crossed the line, so to speak, from contemporary to vintage.
When you're lying on it – with mattress and beddings, you will feel like a queen because the headboard has a tiara-like vibe. If you're looking for a ladylike bed, then this could be it.
Take note that it isn't a good idea to place a mattress directly over the slatted frame! You must place a box spring on top of the frame first and then position your mattress over it.
The metal slats are designed to withstand the weight of both a box spring and a mattress, although the manufacturer didn't provide a weight rating. The frame itself is larger than the typical king-size box spring and mattress, but that's for a good reason. This way, the frame has a small allowance that can accommodate the differences in measurements of king-size box springs and mattresses.
The footboard has a lower profile than the headboard but still high enough to keep the box spring and mattress in place. The headboard is tall enough that even with a thick mattress topper on top of the mattress, its beautiful scroll patterns can still be appreciated. There are side rails, too, which keep the box spring and mattress in place.
The slat legs can be height-adjusted, a unique feature that makes it easy for short and tall people to benefit from using the LeAnn bed frame. You can get a low-profile or a high-profile bed depending on your personal preference, thanks to this feature. You may want a low-profile bed since it makes for an easier time getting on and off it.
The 8.7″ under-the-bed clearance is sufficient enough for small storage boxes to fit under. But the actual space will be affected by the adjustable slat legs.
---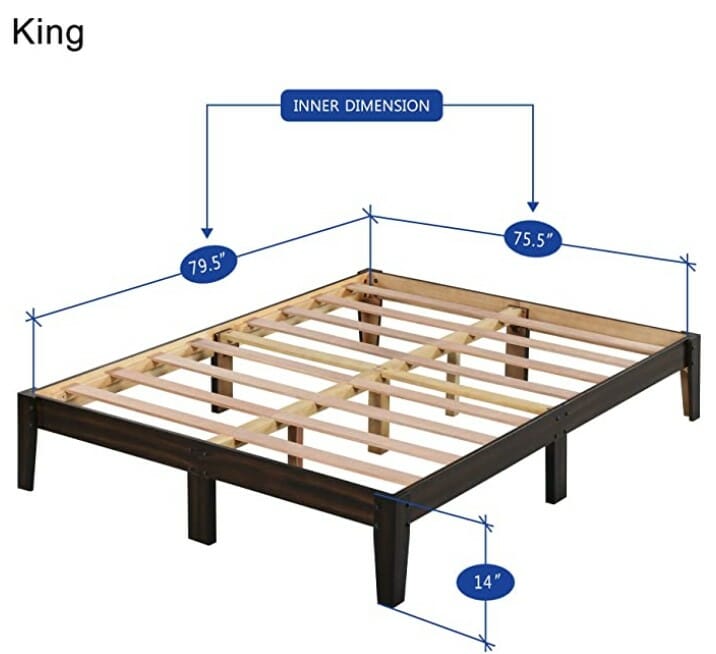 Basic Information:
Size: 78.38" x 82.38"
Weight: 55.1 lbs.
Material: Wood
Type: Platform
Product Highlights:
Streamlined design with straightforward assembly
Durable construction
Noiseless
The Olee Sleep Deluxe frame is delivered quickly to your doorstep, and it's something that should be appreciated. It also comes with a 5-year limited warranty, which is proof of its good quality. The warranty means that the manufacturer stands behind its product and will replace it when necessary. Terms and conditions apply.
The frame arrives in a single box, which is light enough to move from your front door to your bedroom under your own steam. The package comes with a set of instructions that outline the assembly process and the tools and hardware in detail. You don't need to have a college degree to assemble the frame, but a few handy-dandy tools are a must.
There are numerous screws to put in place and tighten, but that's part of the process. With a little help, you can assemble the frame in an hour or so.
The sides of the frame and the exterior legs are in black, which gives it a sophisticated look. But the wooden slats and interior legs are in a lighter color, a common feature in frames of this type. The Spartan design has its appeal – not everybody, for example, likes the old-fashioned scrolls on metal frames or avant-garde designs. Simpler frames also make for simpler assembly and repair.
The wooden frame has a sturdy, solid, and stable quality that makes its utilitarian design less of a flaw. You can place a 200-pound mattress on top of it, and there will be no squeaks, creaks, and other noises from it. You can even do the "knock on wood" thing—not for good luck but to test the wood's quality—and find that it has a solid sound, too.
If you hear even the slightest sound, such as creaking or squeaking, you should check the screws. In most cases, loose screws compromise the frame's structural integrity and result in these unwelcome noises.
---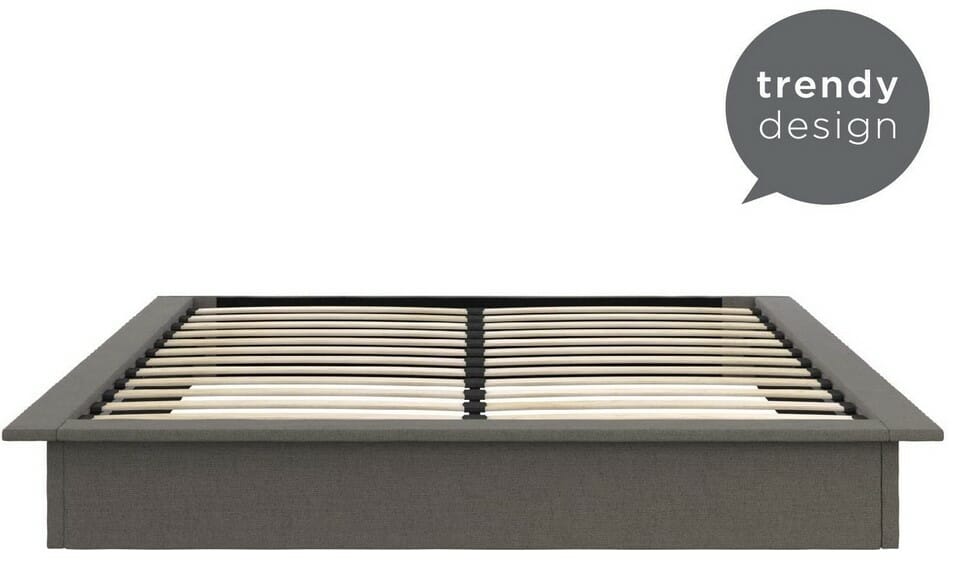 Basic Information:
Size: 80" x 76"
Weight: 82 lbs.
Material: Metal
Type: Platform
Product Highlights:
Low profile with a streamlined silhouette
Sturdy and stable (without legs)
500-pound weight capacity
The DHV Maven platform is shipped in an easy-to-handle box with all the hardware and tools needed for its assembly already included. The ease of assembly is due to the organized packaging, too.
The pieces are packed according to their order of assembly, every upholstered piece came in its cloth bag, and the metal pieces were in plastic bags. Even the screws were packed based on size!
The hex tool was already included in the packaging, but you will need a Phillips screwdriver, too. There are clear directions for the assembly and with each part clearly labeled, it was a breeze.
The abovementioned features are true for the bed option. If you order the bed with a storage option, the number of shipping boxes and assembly process will be different. The latter is shipped in two boxes containing the platform bed, wooden slat support, and drawers.
For purposes of this ranking, we're focusing on the bed option only. When assembled, the frame can accommodate a king-size mattress with no allowance on all sides. But if you want an allowance on the sides and foot part, you can place a smaller mattress. Either way, you should be able to tuck the beddings into the mattress's underside and, thus, create a smooth and sleek look.
This is a low-profile bed so that a thicker mattress can be placed on it. You may like a low-profile bed if you have mobility issues or you just like the look. You may also like that it has a modern sensibility to it – no-fuss, no-nonsense design, just a frame that will hold the weight of your mattress and stay in place.
There's no need for a box spring on this frame either. The sturdy slats can hold the weight of both your mattress as well as you and your bedmate, without and with vigorous physical activity.
This comes with a one-year limited warranty.
All of these bed frames will provide a safe, sturdy, and stable foundation for your king-size mattress. Your choice will be determined by your budget, preference in design, and size of your bedroom. No matter your choice, we assure you that it's the right one!
---
FAQs About King Size Bed Frames
Who will benefit most from using a king-size bed?
Well, of course, people who sleep alone can sleep on a king-size bed because it's such a spacious bed. Couples, nonetheless, are the cohorts who typically use king-size beds because these provide maximum personal sleeping space. Every person can have 38 inches of sleeping space on his/her side of the bed.
Think of it as sleeping on two twin XL beds pushed together but without the risk of one of your body parts slipping through the gap between the beds. You will also be saving time, energy, and money on maintaining two separate beddings since you're only going to use one set on a king-size bed.
What's the suitable size for a mattress placed on a king-size bed frame?
The best mattress is a king-size mattress, too, but few considerations are made, particularly in measurements. When pairing your bed frame and mattress, we suggest the following steps:
Measure your mattress first. Take note of the exact measurements in inches as it's the commonly used unit of measurement in frames and mattresses.
Add between two and five inches to each side of the mattress measurement. The extra inches are necessary to ensure that the mattress will be a perfect fit for the frame. Note that modern bed frames typically have drawers, shelves, and headboards, even upholstery, which add inches to their basic measurements.
Find a bed frame that will fit the mattress using the above-mentioned measurements (mattress' dimensions plus 2-5 inches for allowance).
We always suggest using a measurement tape on both the mattress and bed frame since returning either one of them to their sellers is inconvenient, if not costly. You want to be able to use your bed at the soonest possible time instead of waiting for a replacement or ordering a new product.
We also want to emphasize that the king-size frames featured here are slightly larger than the 76″ x 80″ dimensions for king-size mattresses. These larger measurements take into account the recommendation for the frame to be larger than the mattress.

What's the best size of beddings for a king-size mattress?
This is an important question since you don't want any part of your mattress to poke through its beddings. Instead, you want the fitted sheets to be securely tucked under the mattress that, in turn, will enhance the beauty of its frame.
First, measure the mattress, including its width, length, and height (thickness). Then, choose the fitted sheets according to these dimensions.
For mattresses with heights ranging from seven to 14 inches, standard fitted sheets will suffice.
Choose fitted sheets with deep pockets for mattresses with 15-inch height.
For mattresses 16 to 22 inches in thickness, use fitted sheets with extra deep pockets.
What's the recommended room size for a king-size bed?
The minimum room size is 13 feet by 13 feet, but you can choose a larger room if you like. Since a king-size bed is large, it's best placed in a large room, so there's room to move on both its sides and at its foot. If it's placed in a smaller bedroom, it will overwhelm the room, resulting in a cramped space.
What are the common king-size frames?
These are available in several types in terms of types of materials used and design. For materials, king-size frames are available in wood, such as natural wood and engineered wood, metal, leather, and fabric. Many bed frames are a combination of materials, such as wood for the base and fabric for the upholstery.
The types of king-size bed frames include:
Wood frames with wooden slats are popular because of their durable quality, simple yet sophisticated design, and suitability for all types of mattresses.
Platform bed frames have a fairly low profile and are suitable for use with mattresses that don't require additional support.
Metal bed frames range from rustic country chic designs to industrial themes. These are also durable and reliable since their construction allows them to take on extra weight.
Panel beds tend to be more expensive because of their accessories, such as base, headboard, and side panels. Thus, these are also known for their sturdiness and stability, thus their suitability for a heavy mattress and a box spring.
Other styles include sleigh beds, floating platforms, and even trundle beds.