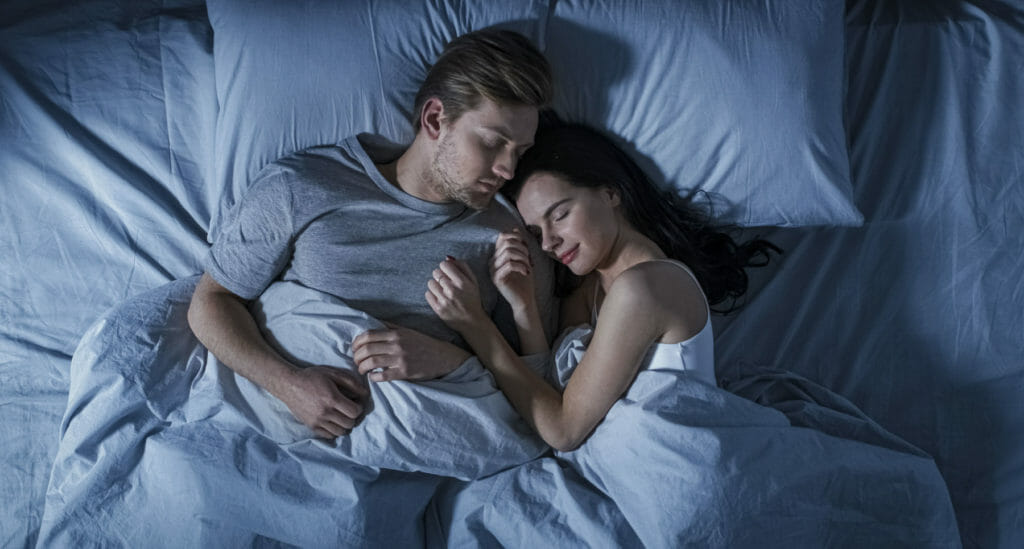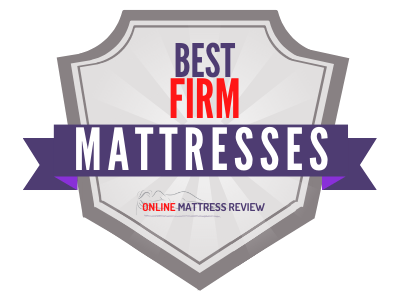 Looking for a quality mattress can leave you feeling like Goldilocks in the three bears' bedroom. Some are too hard, some are too soft, and only a few feel just right. And if you err on the side of Daddy Bear and want to check out the best firm mattresses, you may find that what feels firm to you may not feel like that to others.
That's because sleep style, personal preference, and body size all matter when it comes to choosing the right bed. For example, stomach sleepers or heavier individuals often prefer firmer beds, since their head, hips, and shoulders sink into super soft mattresses too much, causing their spines to misalign.
In our guide to the top 10 best firm mattresses below, compiled from comprehensive customer and product expert reviews, there aren't many mattresses targeted specifically to side sleepers. Typically, if you snooze on your side, you need a mattress that conforms more readily to your body's curves.
Instead, we highlighted mattresses that score 6 and above on the industry scale of 1-10, with 1 being feather-soft and 10 more likely to feel concrete-hard. Made with different materials and technology, these mattresses suit a wide range of tastes, and are firm enough to keep your spine in neutral alignment. No matter what kind of sleeper you are, you will sleep soundly and comfortably and won't wake up each morning like a bear with a sore back with these 10 best firm mattresses.
1. The Saatva Mattress by Saatva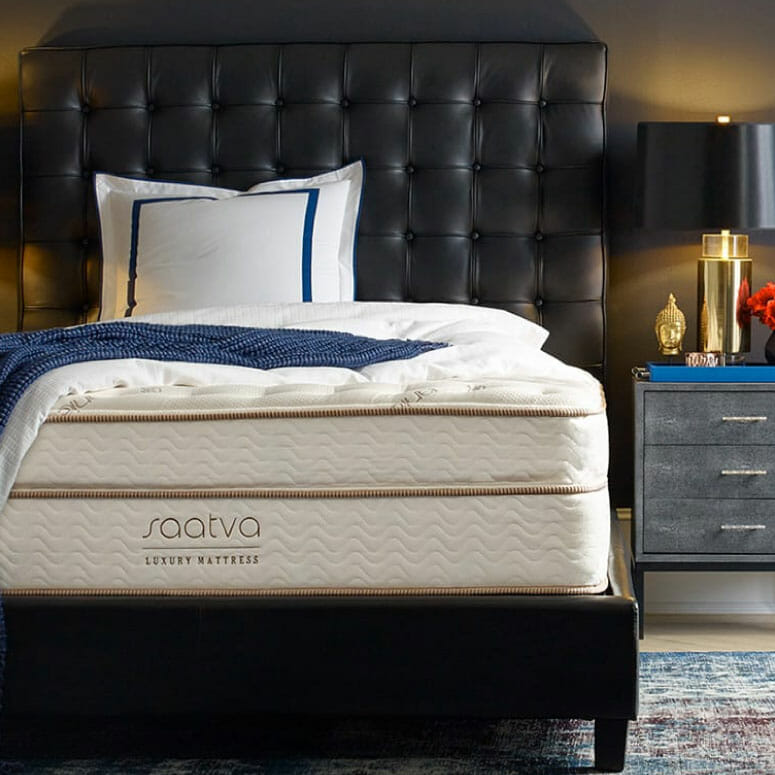 The flagship mattress from luxury bed brand Saatva is available in three firmness levels, including the bestselling Luxury Firm, rated 6 on the firmness scale, and the Saatva Firm, which ranks as a solid 8.
With a combination of plush pillow top and memory foam layers above a sturdy coil-on-coil system, this hybrid mattress is a great choice if you are seeking both luxury comfort and balanced support.
The Saatva mattress is designed for optimal spinal hygiene, offering a good bit of bounce without disrupting balance. The luxury soft Euro pillow top and high-density memory foam provide pressure relief for aches and pains, while individually wrapped coils reduce motion transfer and offer more body-contouring as you sleep.
A second set of tempered, recycled steel coils further prevents the mattress from sagging. Edge support is also enhanced by the foam encasement around the bed perimeter, making this American-made mattress a great choice for couples and just about every style of sleeper. That said, the Saatva Firm tends to be a front runner for back and stomach sleepers, as well as heavier body types. Additionally, you can choose between 11.5 or 14.5 inches in height, depending on how thick you like your mattress.
As well as being one of the best firm mattresses around, this bed is a good bet for eco-conscious shoppers. Not only are the inner springs constructed from recycled steel, but the outer cover is made from organic cotton blended with skin-friendly hypoallergenic fibers.
Details
Price: Starts at $599 to $1,499
Firmness: Three different firmness levels, Plush Soft, Luxury Firm, and Firm
Material: Hybrid, foam, and coil-on-coil
Lifespan and warranty: 8+ years lifespan; 15-year warranty
Special features: Eco-friendly materials used throughout, including recycled steel inner springs
Special offers: 120-night sleep trial and Free White Glove Delivery + Mattress Removal
2. DreamCloud Luxury Hybrid Mattress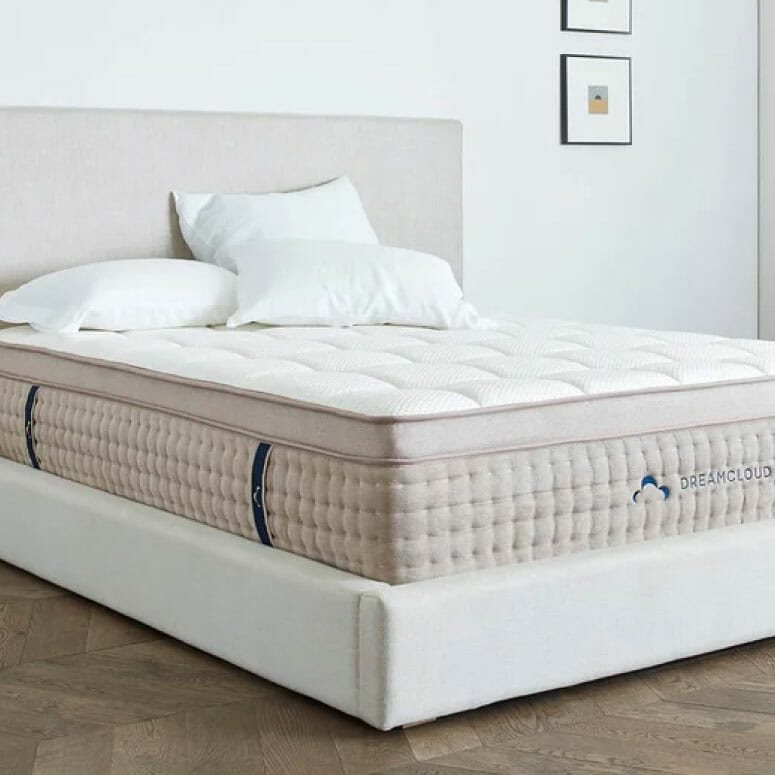 Like the Saatva, the DreamCloud Luxury Hybrid Mattress is another top-quality bed boasting both soft foam layers and pocketed coils.
Though it's probably not your first pick if you like your mattresses extra-firm (DreamCloud rates it as a 6 on the firmness scale), this mattress scores highly for its pressure-relieving comfort.
For starters, it is thicker than standard mattresses, coming in at an unusually tall 15 inches, which is ideal for heavier body types. And with eight layers consisting of coils, memory foam, latex foam, and a pillow top, you can be assured optimum body support.
But, let's start with the pillow top. Made with a hand-tufted blend of cashmere and polyester, it not only provides a super-soft, luxury hotel feel (and a high five to that!) but delivers maximum breathability. The cover is also quilted with gel-infused memory foam, which adds to the superior comfort.
The bottom layer of high-density memory foam helps reduce any motion transfer, ensuring excellent pressure redistribution. In the meantime, the combination of pocketed micro coils, hypoallergenic natural latex, and tough memory foam layers work in unison to cushion and support your body without allowing the mattress to sag under your shoulders and hips.
Think that's all? Nope. Due to the high-density foam encasing the coils, this mattress also offers outstanding edge support. And, the strong air circulation through the micro coils along with the latex layer keeps you cool.
Free shipping is available to all U.S. customers, with White Glove delivery also available for an additional charge. If you're still wondering whether this mattress is for you, don't worry. DreamCloud gives you a longer-than-usual 365-night sleep trial in which to make up your mind!
Details
Price: $899 to $1,399
Firmness: Medium (Luxury) Firm
Material: Hybrid, foam, and coils
Sizes: Twin to California King
Lifespan and warranty: 8+ years lifespan; lifetime warranty
Special features: Hand-tufted cashmere blend pillow top
Special offers: 365-night sleep trial; free shipping in the U.S.
3. The Plank from Brooklyn Bedding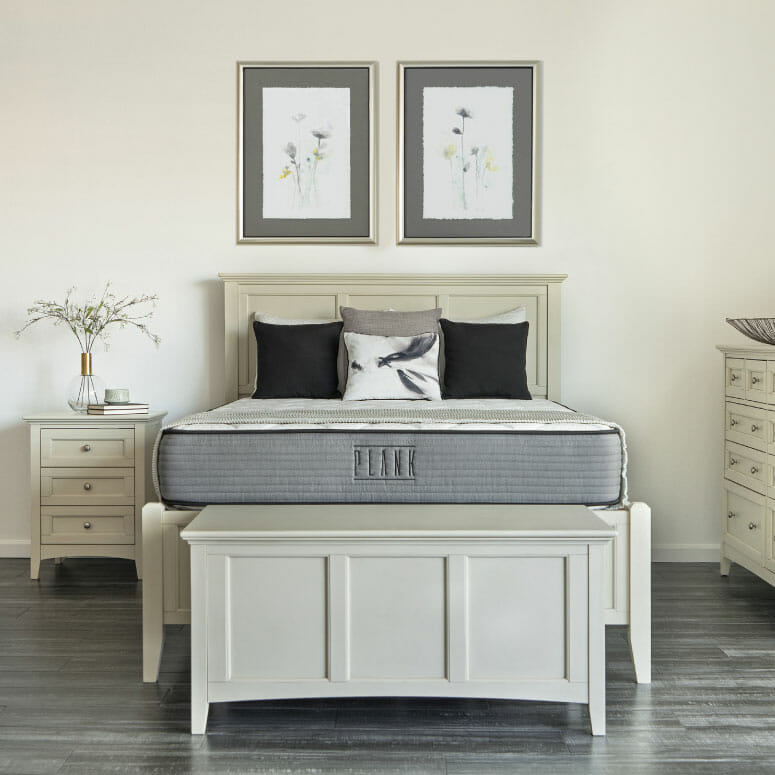 Don't like plush? The mixed-foam Plank from Brooklyn Bedding is for you. A dual-sided mattress with firm and ultra-firm comfort levels, the Plank is one of the toughest mattresses available. With minimal body-conforming, this mattress is ideal for stomach sleepers and heavier back sleepers who typically get the best hip, spine, and lumbar support from a firmer bed.
The first side of the Plank contains two inches of gel-infused TitanFlex polyfoam, offering a cool sleep and deep compression support. Flip it over and the ultra-firm side is all high-density foam, specifically designed to align your spine and maintain a firm sleep surface as you drift off to dreamland. Punching in at seven inches, the base also ensures the bed's ongoing stability and durability.
Both sides have quilted top layers for extra padding. However, the layer on the ultra-firm side is half the size of the other side, guaranteeing a distinct lack of loft for that extra-firm feel. A breathable cotton-polyester cover also helps snoozers give heat the heave-ho, though if you're a particularly sweaty sleeper, you can order a cooling top panel made from phase change molecule (PCM) fabric at an additional cost.
As an all-foam bed, the Plank produces practically no sound when bearing weight. Also, good motion isolation means snoozers' movements are well-absorbed, making it another great bed for couples.
Details
Price: $699 to $1,249
Firmness: Dual-Sided Firm and Ultra-Firm
Sizes: Twin to California King
Material: Mixed foam
Lifespan and warranty: Lifespan of 6-8+ years; 15-year warranty
Special features: Additional cooling PCM top panel at extra charge
Special offers: 120-night sleep trial
4. Helix Twilight from Helix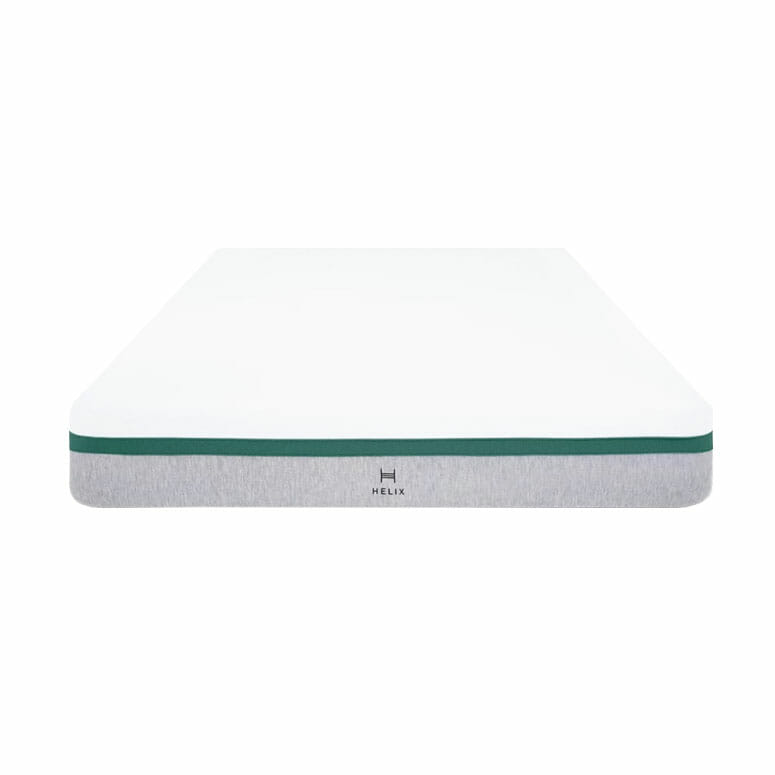 Helix offers a wide range of mattresses, and their online personalized quiz probes you on everything from your general sleep style to favored feel so you can easily find one to match your taste. If you're a side sleeper who prefers a firm feel but still wants added pressure relief, the Helix Twilight is one of the few firm mattresses specially designed with you in mind.
Measuring at 10 inches thick, this mattress is constructed with three foam layers: The comfort layer is made of the brand's proprietary 2.5 PCF Memory Plus foam, which is specially designed to cushion pressure points if you catch Z's on your side. The transition layer is a high-grade polyfoam, and the base layer is a high-density support foam.
Between the transition and bottom layers, a pocketed coil support core encourages excellent body contouring while also limiting motion transfer.
This snug but sturdy mattress comes with a dual-sided polyester top cover that's soft to the touch and provides ample airflow and breathability.
You also have the option of switching to a Twilight Luxe model, which is constructed with a premium pillow-top layer for extra padding and a gel memory foam comfort layer, optimized to ensure spot-on support for your body type.
Add excellent edge support, cooler temperatures, and a below-average price point, and the Helix Twilight is not only one of the best firm mattresses on the market, but also one of the most popular.
Details
Price: $600 to $1,245
Firmness: Firm
Material: Hybrid, foam, and coils
Size: Twin to California King
Lifespan and warranty: 8+ years lifespan; 10-year warranty
Special features: Can upgrade to a Luxe Model for even greater support
Special offers: 100-night sleep trial & free shipping in U.S.
5. The WinkBed by Winkbeds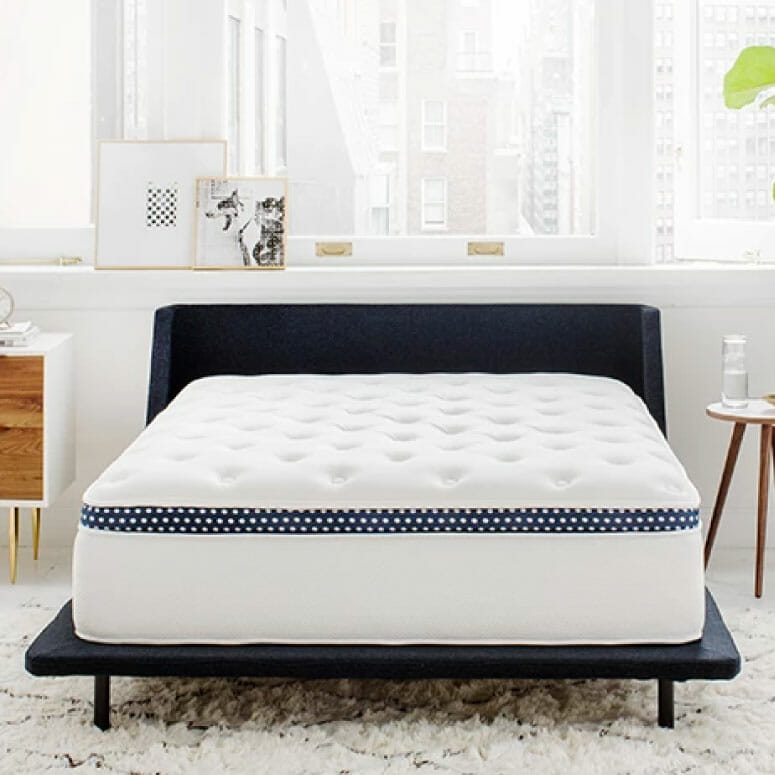 The WinkBed is a hybrid mattress available in three different firmness constructions, ranging from medium soft (4.5) to firm (7.5). The Luxury Firm (6.5) is the brand's bestseller, and it's recommended for all sleeping styles.
The Winkbed offers a superior balance of contouring comfort and strong support, which is perfect if you prefer to sleep "on" rather "in" your mattress. Comfort layers of polyfoam, gel memory foam, and a double layer of zoned mini-coils ensure above-average support. It is all topped off with a compressed-cotton lumbar pad to target lower back and hip pain.
This bed's overall robustness makes it an excellent option for heavier individuals. However, the WinkBed Plus, which is specifically designed for those over 300 pounds, swaps memory foam and mini-coil layers for a single layer of supportive latex.
All the versions of the WinkBed sleep fairly cool thanks in large part to the oh-so-soft eucalyptus-derived Tencel mattress cover. On top of that, the mattress boasts great edge support.
Though the WinkBed has a pretty high price point, the supportive zoned coils, overall sturdiness, and quality stitching ensure that it is a very durable mattress. The WinkBed mattress is backed by a 120-night sleep trial and a full replacement lifetime warranty. The company also offers free shipping anywhere in the contiguous U.S.
Details
Price: $1,049 to $1,849
Firmness: Soft, Medium, Firm, and Plus
Material: Memory foam and polyfoam (latex in Winkbed Plus)
Sizes: Twin to California King
Lifespan and warranty: 7+ years lifespan; lifetime warranty
Special features: Special model for heavier sleepers
Special offers: 100% free returns within 120-night sleep trial
6. The Allswell Mattress from Allswell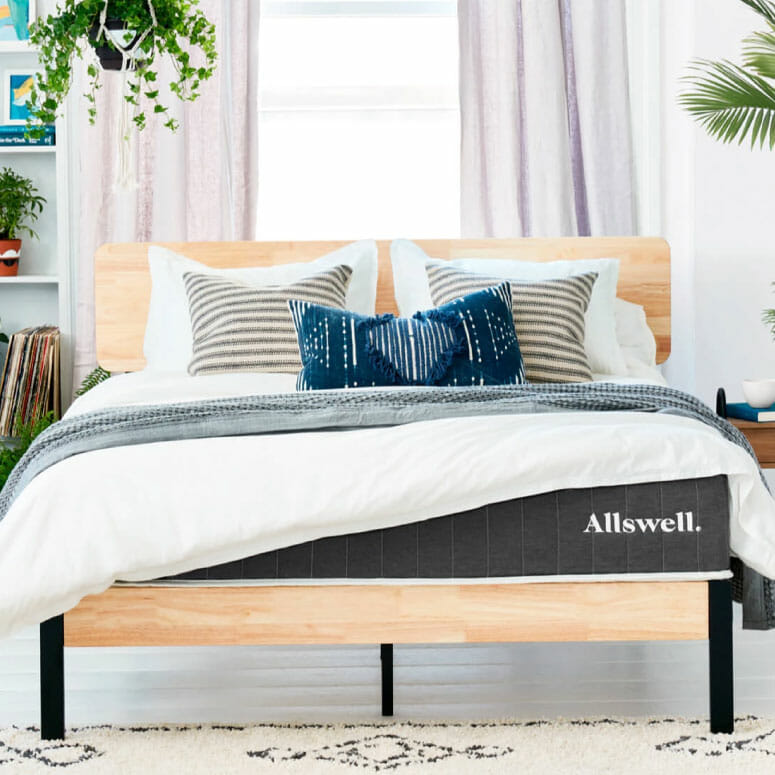 The Allswell is a 10-inch thick hybrid mattress that falls between 5.5 and 6.5 on the firmness scale. It's a good fit for average-weight folks, though heavier sleepers shouldn't discount it either, as the excellent added edge support means less sagging and more stability overall.
The top and bottom layers of high-performance polyfoam sandwich a central layer of individually wrapped pocketed coils. A comfy quilted cover includes gel memory foam, which gives body-contouring comfort to complement the sturdy, pressure-relieving support of the springs. Additionally, all the foam used in the Allswell mattress are CertiPUR-US certified, granting you a safe and comfortable sleep.
Like all quality hybrid mattresses, the American-made Allswell sleeps cool, thanks primarily to the natural airflow between the coils. This firm mattress also absorbs and minimizes a significant amount of motion transfer, making it a good pick for couples.
However, probably the most enticing element of the Allswell mattress is its budget price tag. This quality bed will set you back a mere $245 for a twin, and less than $500 for their largest size. Shipping is free, and customers in the contiguous U.S. can also select White Glove delivery for an additional cost.
Details
Price: $245 to $420
Firmness: Medium Firm
Sizes: Twin to California King
Material: Foam and coils
Lifespan and warranty: Lifespan of 8+ years; 10-year warranty.
Special features: CertiPUR-US foam
Special offers: 100-night sleep trial
7. Green Mattress from Avocado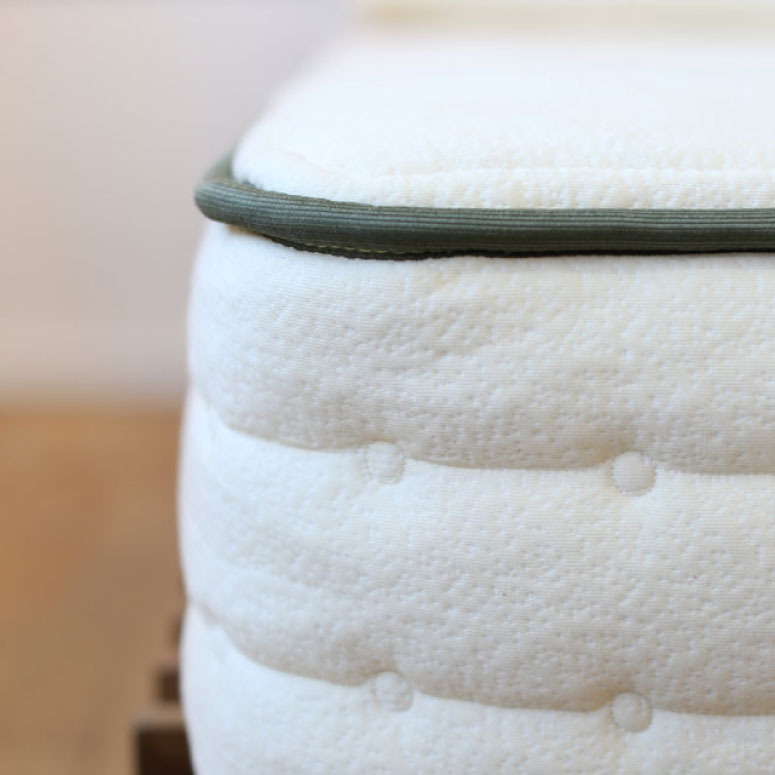 Eco-friendly shoppers searching for a firm mattress to match their values should check out the Avocado Green Mattress. From the cover to the inner coils, this mattress ticks all the right boxes: It uses natural, organic, and environmentally certified materials to create a hybrid bed that's cool, comfortable, and long-lasting.
At 11 inches tall, the Avocado Green features a simple two-layer structure of natural latex and upcycled steel pocketed coils.
The 3-inch top layer is made from 100% Dunlop latex, sourced from sustainable Hevea brasiliensis trees in Asia. Apart from being exceptionally cooling, this latex layer brings a lot of bounce to the bed, making it more responsive for restless snoozers. It also conforms well for sleepers who need relief from pain and pressure.
The Avocado Green's core is constructed with individually pocketed 8-inch steel coils, giving it strong support. Uniquely, these coils are grouped into five strategic zones, granting more specific support to your shoulders, hips, knees, and spine.
The sturdy coils placed around the mattress's perimeter keep it from sagging, no matter how often you get on and off.
The cover of the Avocado Green Mattress is a soft, breathable cotton, hand-tufted with GOTS-certified organic wool sourced from New Zealand. Designed to wick moisture away from the body, it's also naturally antimicrobial and resistant to dust mites.
And just in case you'd like to go one step further and be 100% sure that no animals were harmed in the making of your mattress, Avocado recently launched a wool-less vegan version of this bestseller.
Details
Price: $959 to $1,699
Firmness: Firm
Sizes: Twin to California King
Material: Hybrid, latex, and pocketed coils
Lifespan and warranty: Lifespan of 8+ years; 25-year warranty
Special features: All eco-friendly materials; there is also an option to buy an additional pillow top for more latex bounce
Special offers: 365-night sleep trial
8. Loom & Leaf from Saatva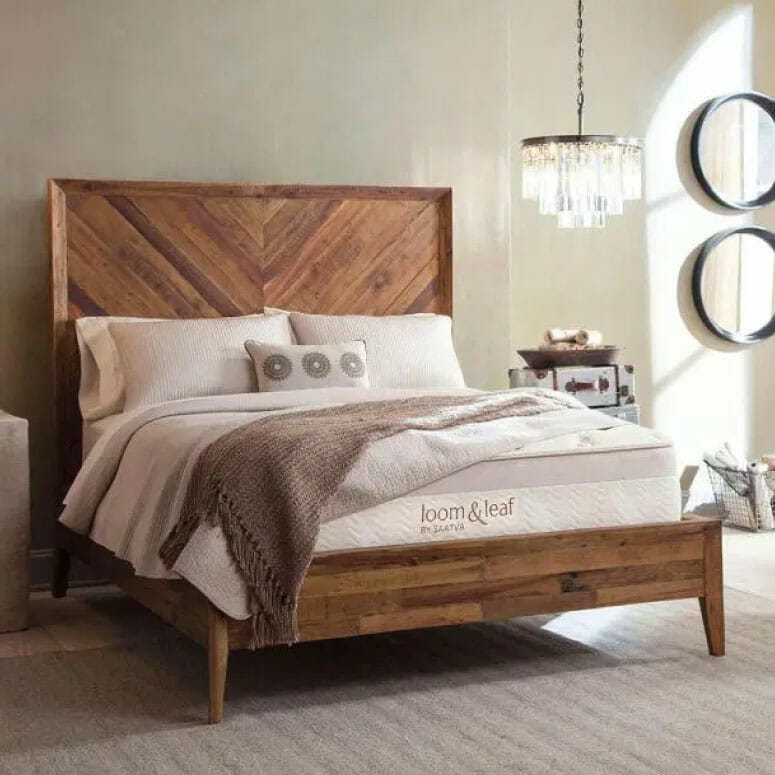 The Loom & Leaf mattress from Saatva is a high-quality memory foam mattress with two different firmness levels. The bed's popular Relaxed Firm scores a 6 on the firmness scale and a thumbs up from most sleeping types. The Firm option is rated at an 8, which makes it suitable for folks who favor a much more solid feel, or if you tend to snooze on your back or stomach and want your weight distributed evenly across the mattress.
Constructed of four different layers of foam, this wholly American-made mattress punches in at a comfortable thickness of 12 inches.
The top layer of memory foam is laminated with a quality cooling gel. This combo not only provides optimal spinal support, but also helps regulate body temperature to avoid the hot, sleepless nights that can occur all too regularly on a memory foam mattress.
Below the gel memory foam, the compression layer is made up of high-density visco-elastic memory foam, providing sleepers with good contouring and deep pressure relief.
The third layer is a transition layer offering you further support, while the base layer is 5.5 inches of high-density polyfoam.
The whole mattress is contained within a soft organic cotton cover, which also uses flame-retardant thistle to keep you cool and comfortable. A thin layer of foam within the cover also provides extra pressure relief.
Environmentally conscious shoppers will be pleased to know that all of the foam used in this mattress is fully eco-friendly, and Saatva uses a botanical antimicrobial fabric treatment on all of their mattresses to help inhibit bacteria and prolong the mattress's life.
Details
Price: $849 to $1,799
Firmness: Medium Firm and Firm
Sizes: Twin to California King
Material: Memory foam
Lifespan and warranty: Lifespan of 6+ years; 15-year warranty
Special features: All eco-friendly materials
Special offers: 120-night sleep trial
9. Amerisleep AS1 by Amerisleep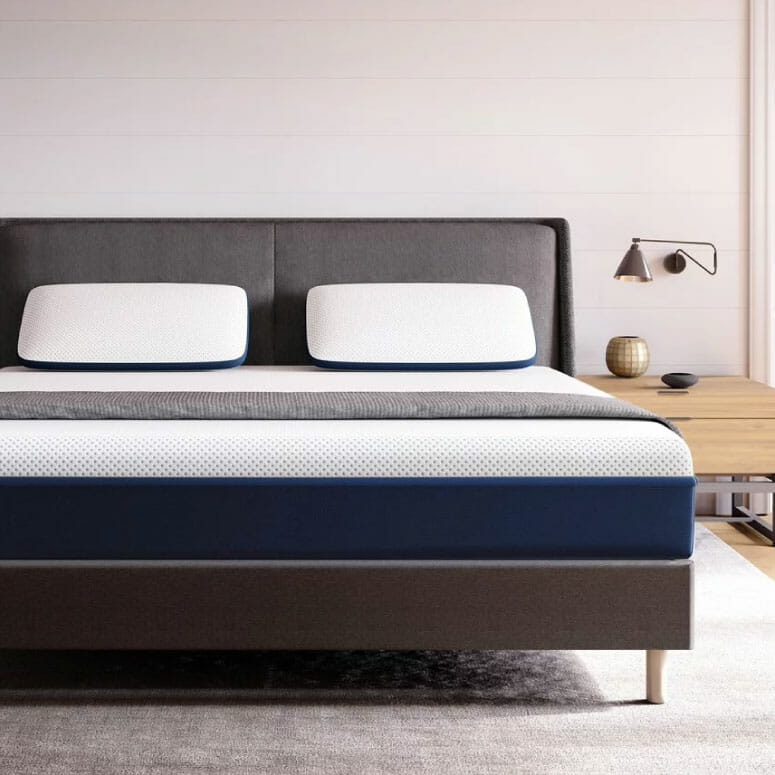 The Amerisleep brand offers five different foam mattress models, but the AS1 is the firmest option. Best suited for heavier individuals or back and stomach sleepers, the firm feel of this bestselling mattress comes primarily from the eight inches of high-density polyfoam that make up the base and bulk of the bed.
That's not to say the Bio-Pur memory foam comfort layer atop the base doesn't provide softness. But at only two inches thick, don't expect the plush feel or pressure relief of deeper memory foam mattresses. Equally, don't worry about feeling stuck in the mattress when you shift positions.
If you tend to sleep hot, you will be pleased to know that even as an all-foam mattress, the AS1 is designed for optimum airflow and cooling. The top comfort layer features an open-cell structure to help transfer heat away from the body. And the soft, stretchy cover is made from a blend of polyester, spandex, and Celliant fabric which absorbs and converts body heat into infrared energy, ensuring you wake refreshed and energized each morning.
Due to the foam's firmness, the AS1 mattress can also absorb motion transfer significantly, so you won't disturb your partner if you move around during the night.
Details
Price: $849 to $1,599
Firmness: Firm
Material: Foam
Lifespan and warranty: Lifespan of 6+ years; 20-year warranty
Special features: Cooling Celliant technology in the cover
Special offers: 100-night sleep trial and free returns
10. Bear Mattress from Bear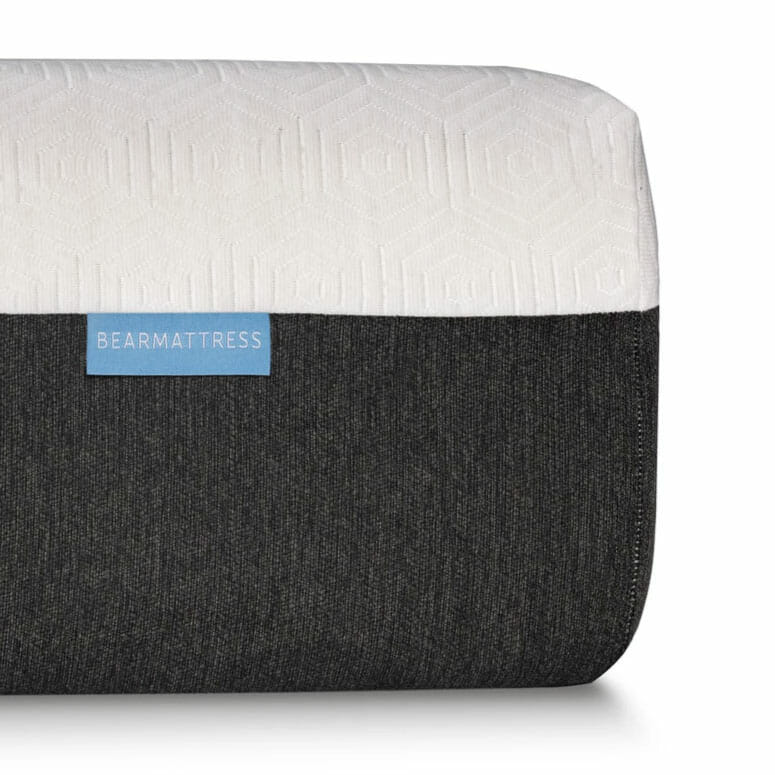 The original Bear Mattress has been a popular pick among athletes since the company was founded in 2015. Its Celliant cover, designed to reduce body aches and aid muscle tissue recovery, is a primary reason for this following. But as one of the best firm mattresses out there, it also delivers a strong, supportive feel to your spine and lumbar region, which is extra important if you are very active.
At a standard 10 inches thick, the Bear contains three layers of foam. A top two-inch layer of graphite-infused memory foam not only offers immediate pressure relief at the shoulders and hips, but also a breathable, heat-removing surface for cool sleeping.
Don't worry about sinking too deeply into the memory foam either. A two-inch transition layer of responsive polyfoam underpins the top layer to help you feel like you're sleeping "on" your mattress rather than "in" it. Plus, the base of the bed is constructed with six inches of high-density polyfoam, providing a stable, balanced support ideal for heavier or stomach sleepers who need a firm mattress to keep their spine aligned.
The Bear Mattress also absorbs movement significantly, which makes sleeping with a partner easier to do. Also, customers report that the all-foam Bear Mattress is practically silent, even for combo sleepers who regularly shift positions during the night.
Details
Price: $540 to $940
Firmness: Medium-firm
Material: Foam
Lifespan and warranty: 6+ years lifespan; 10-year warranty
Special features: Targeted at athletes and active individuals
Special offers: 100-night sleep trial and free shipping within continental U.S.