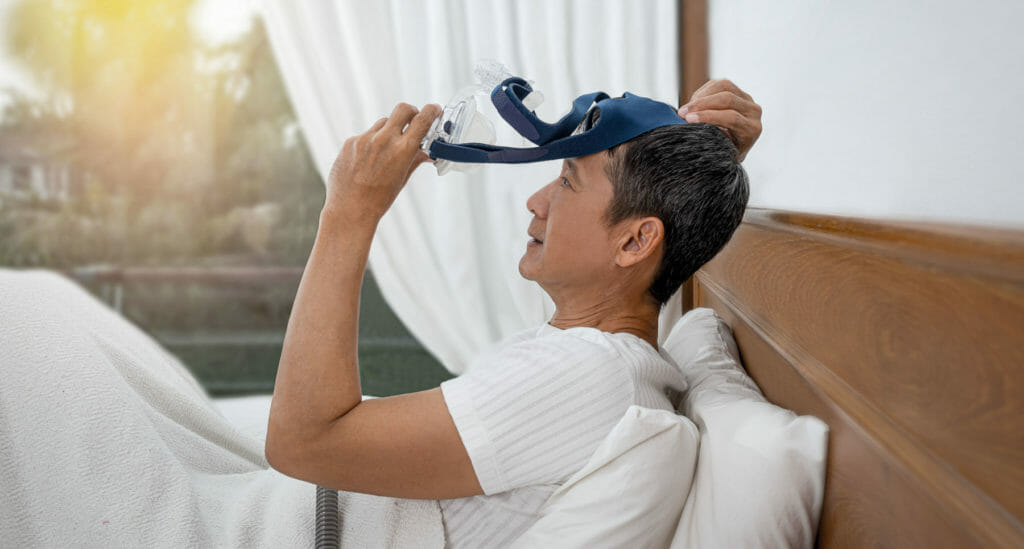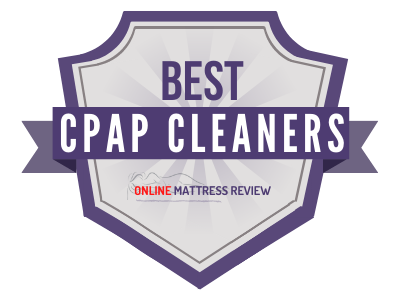 Those of us that use CPAP machines have enough to deal with by having to wear a mask at night. You shouldn't also have to worry about whether your mask and the machine that is pumping oxygen into your lungs are clean and sanitary.
Using a sanitized CPAP machine can pump the necessary oxygen you need to wake up refreshed. Combining a clean CPAP machine with a comfortable and supportive mattress can get you feeling better than you have in years.
There are several ways to disinfect your CPAP machine including ozone, ultraviolet light, and disinfectant chemicals. Each of these methods has its own advantages and disadvantages, and all of them kill most of the bacteria that try to colonize your mask and tubing.
We did our research into the best CPAP cleaners with all disinfecting methods, and listed them below to make it easier for you to make the best purchase possible. Read on and start breathing and sleeping better than ever before.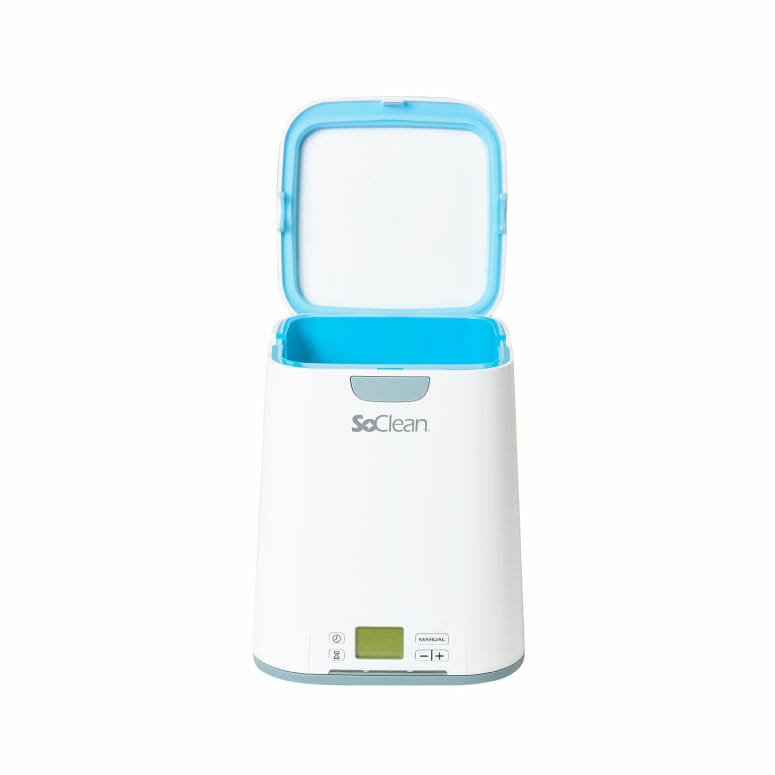 Coming in cleanly at our number one spot for the best CPAP cleaner is the SoClean 2 CPAP Cleaner and Sanitizer. The SoClean 2 is the Cadillac of CPAP cleaners, accommodating a wide range and variety of CPAP masks. This machine is small enough to fit on your nightstand while delivering hospital-quality sanitation. Given that insurance companies and Medicare do not currently cover the cost of this machine, it is priced at a reasonable $348.
How clean does the SoClean 2 get your mask? This machine kills 99.9% of bacteria, viruses, and mold. If you're curious as to how this machine kills so many microbes, you may be surprised to learn that it uses ozone, so there are no messy liquids like in some other CPAP cleaners.
The filters, which change the ozone back into normal oxygen, last about six months. New filters cost around $30, meaning that this machine will cost you about $60 per year to operate. A hose slot is indented into each side of the device so that no matter on which side of the bed you sleep, your machine faces forward. 
If you know you will be out of bed at a specific time, using the programmable timer option ensures you always have a clean CPAP mask when you go to bed. There is a status indicator light located on the machine and an automatic shut off option. If you use a heated hose for your CPAP, you can buy an adapter for an additional $20 or $30.
Stats
Price: $348
Programmable Timer: Yes
Warranty: 2-year warranty
---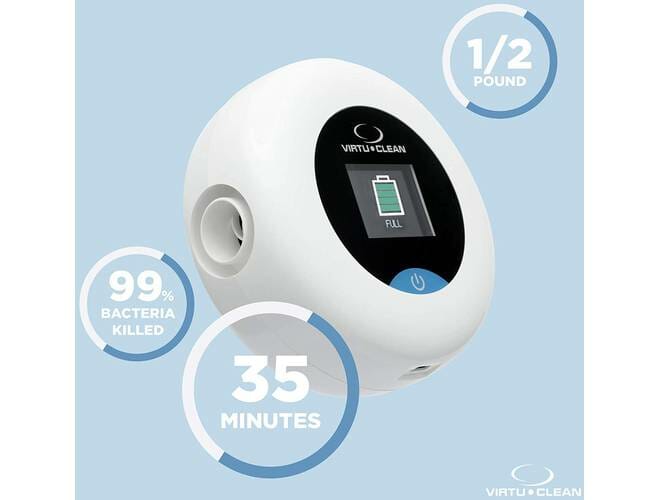 If you tend to travel for work or play, you know how hard it can be to keep your CPAP machine clean on the go. The VirtuCLEAN CPAP cleaner is portable and you can take it anywhere the wind may blow you. This device weighs only half a pound and is less than six inches in length, width, and height. It can fit just about anywhere! Possibly one of the best features about this machine is that it is battery-operated. If you're short on electrical outlets or happen to be traveling in a place where outlets are not readily available, this machine is the answer to your electrical woes.
You may be saying to yourself that a battery-powered option is excellent, but if the battery only lasts for one cleaning, it's not worth it. Luckily, the VirtuCLEAN CPAP cleaner gives you a whopping seven cleanings for each charge of the battery. Much like our number one ranked CPAP cleaner, this machine uses ozone to kill harmful microbes, but in a shorter amount of time. Each cleaning cycle lasts for only 30 minutes, and each charge of the battery gives you 210 minutes of operating time.
To use, simply attach your mask hose to the VirtuCLEAN CPAP cleaning machine and place the mask end into the portable carrying case that comes with it. Turn the device on, wait 30 minutes, listen for the five beeps that signal the end of the cleaning cycle, turn the machine off, and presto, you have a clean mask and tubing. Cleaning the humidifier is just as easy as attaching the tube and repeating the steps without the travel bag.
Stats
Price: $279
Programmable Timer: Yes
Warranty: 18-month warranty
---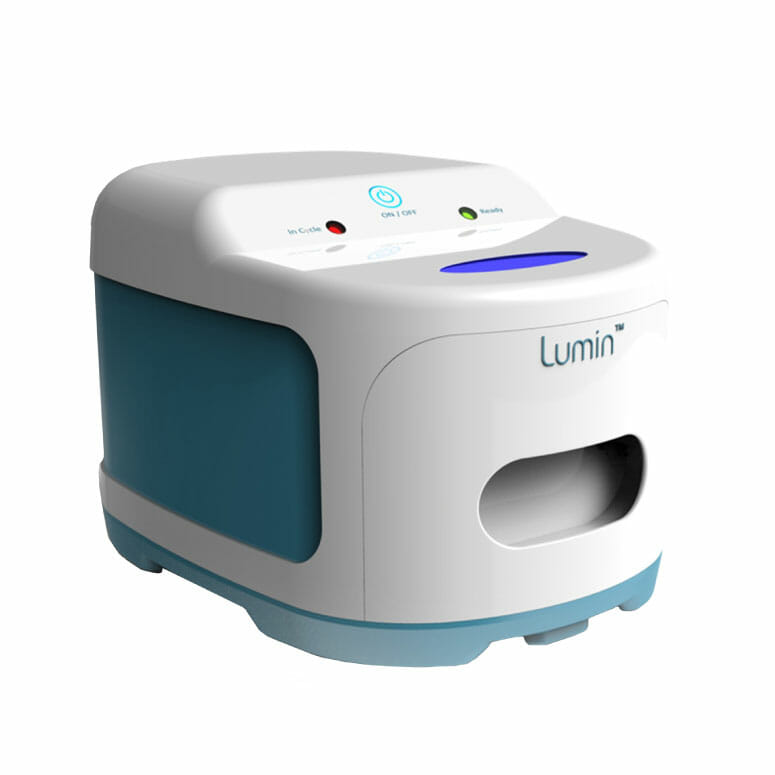 Ozone can sound scary. Isn't it the stuff that destroys the atmosphere? While ozone is a safe technology for sanitizing and disinfecting, maybe you're not ready to leap into using it. If you aren't, the Lumin CPAP Supplies Sanitizer may just be up your alley, because it uses ultraviolet light to kill microbes. Ever wonder why you have to wear sunscreen while you're out in the sun? It's because of the damaging effects of ultraviolet light waves.
Humans can only see a small amount of the total light emitted on the electromagnetic spectrum. Other types of light that we cannot see include ultraviolet light and infrared light. These lights are classified based on the length of their wave of energy. Ultraviolet light, like the one used in this machine, has a very short wavelength, which has a lot of energy and can pass through a microbe and hit its DNA. When ultraviolet light hits an organism's DNA, it can become inactive and unable to function normally, eventually leading to the organism's death. This is essentially how this CPAP cleaner works to kill bacteria, viruses, and other pathogens.
You don't have to worry about replacing the filter on this machine because the Lumin CPAP Supplies Sanitizer does not use filters! This machine cleans your CPAP equipment in five minutes, which is the quickest time of all the products we reviewed so far. You also won't harm the ozone layer with this machine. Unfortunately, the Lumin does not come with an automatic timer to clean your mask at a specific time each day.
Stats
Price: $249
Programmable Timer: No
Warranty: 24-month warranty
---
Our fourth best CPAP cleaner is one worth serious consideration if you don't mind taking the time to throw in a cleaning tablet every morning. The Sani Bot D3 sanitizer sounds like something out of a sci-fi movie, so you might expect it to perform to perfection. You will not be disappointed with the Sani Bot D3, a machine that takes its cleaning as seriously as its name.
If you still haven't bought into ozone and ultraviolet technologies, you are likely better off choosing a machine that uses plain old tap water and disinfectant tablets. The process is simple: Add heated tap water to the machine basin, add a cleaning tablet, and set the timer. Once the sanitizing process is complete, rinse the CPAP equipment with tap water.
Using the Sani Bot D3 is a more involved process than the other three CPAP cleaning machines so far. This device comes with 60 sanitizing tablets with your purchase. You can buy additional tablets (available in 60-tablet boxes) for around $10, or less than 17 cents per day to clean your machine. 
Take control of how you clean your CPAP machine. The Sani Bot D3 allows you to increase cleaning times while it's running: Select your water temperature, and toggle between normal cleaning and deep cleaning. The machines take about five minutes to warm up, and the LED screen alerts when the warmup is complete. While the LED screen appears complicated, you will find that the modes and functions are easy to navigate.
Stats
Price: $199
Programmable Timer: Yes
Warranty: 2-year warranty
---
5. Sleep8 CPAP Cleaner and Sanitizer
We're sorry, this item is no longer available.
Sometimes great things come in small packages, which is undoubtedly the case with the Sleep8 CPAP Cleaner and Sanitizer. This lean, mean, cleaning machine can fit into the palm of your hand and is about the size of your iPhone. What more could you ask for in a quiet, powerful, and portable CPAP cleaner?
The Sleep8 is another CPAP cleaner that utilizes ozone to sanitize. You can also use it to clean and sanitize a BIPAP or APAP. This machine is designed for the 21st century with an incredibly quiet motor and a micro USB charger. A sanitizing filter bag is also included. To start cleaning your CPAP mask and hose, remove your mask and tubing from your CPAP machine and place them into the sanitizing filter bag. Zip the filter bag shut and attach the Sleep8 machine to the bag. Turn on the machine and wait! The Sleep8 device runs for one hour and automatically turns itself off when complete.
Another great feature about this machine is how simple it is to operate. There is only one button on this device, which is the power button. A small LCD tells you how much time is left in the cleaning process before it shuts off. This machine is the only one in its class to have an automatic safety shut-off, and the machine does not turn on if the unit is not attached to the sanitizing filter bag. The manufacturer does recommend replacing the filter bags every three months, which will cost you around $20 per bag replacement.
Stats
Price: $249
Programmable Timer: No
Warranty: 18-month warranty
---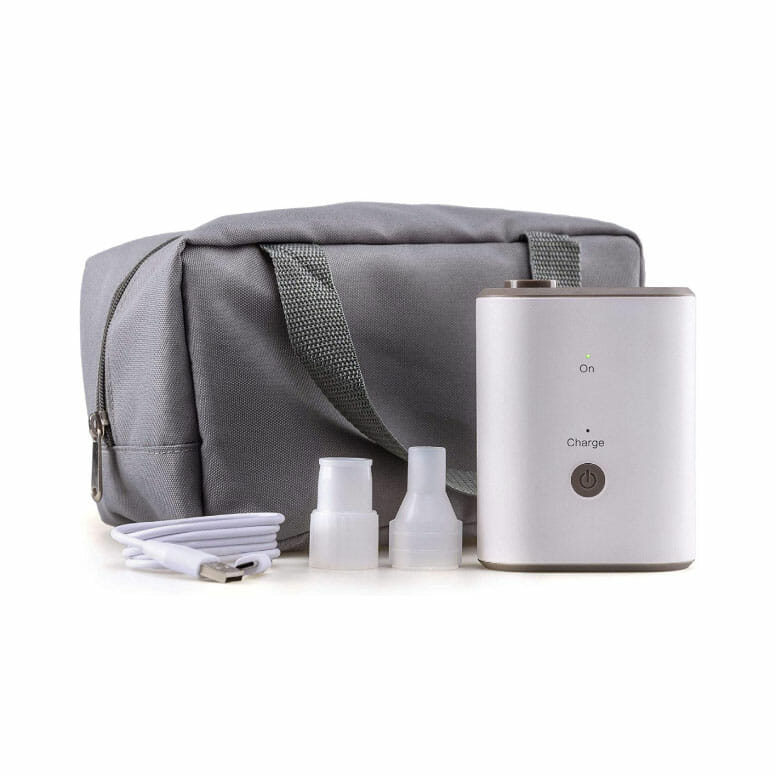 If the thought of millions of bacteria colonizing your CPAP makes you uncomfortable, choosing a CPAP cleaning machine should be a priority. The CPAP Cleaner and Sanitizer Bundle by Perfecore is an option worth considering at a little over $100. Since this machine is battery-operated, you can toss it in the car in case of an impromptu road trip or vacation. Perfecore is located right here in the U.S. and specializes in making solutions for in-home care.
Half an hour is not a long time to wait for the peace of mind you will have knowing that your mask is free from 99.9% of bacteria, viruses, and other microbes. As we mentioned above, this battery-operated unit can be fully charged in under two hours. The unit uses a USB adapter for charging, which gives you the versatility to connect to a wide range of power sources. The process for cleaning your CPAP mask is essentially the same as our number five ranked CPAP machine, the Sleep8 CPAP Cleaner and Sanitizer.
There are many similarities between the Sleep8 CPAP cleaner and this machine by Perfecore: both of them use ozone, a sanitizing bag, and a simple one-button operation. This machine is larger than the Sleep8, and does not have an LCD monitor. The lights located on the top of the device signal whether the machine is on or charging. Additionally, you don't need to replace the sanitizing bag every three months like the Sleep8.
Stats
Price: $128.98
Programmable Timer: No
Warranty: 1-year warranty
---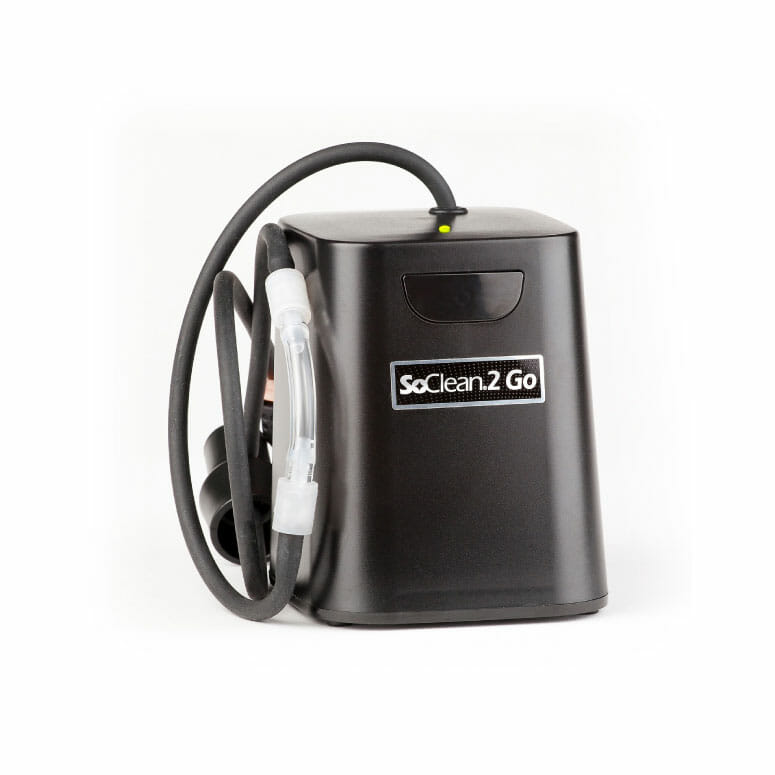 Do you love our number one pick for best CPAP cleaner, the SoClean 2, but want a portable version? Do you want the quality and reliability of a company that is qualified to accept health savings and flexible spending accounts for payment? The SoClean 2 Go CPAP Cleaner is the only machine on this list that fits all of these criteria. With the SoClean 2 Go, you get the best of both worlds, a quality machine that is portable and battery-operated.
The SoClean 2 Go and the SoClean 2 share many similarities, such as using ozone to sanitize, and an automatic shut-off function. With that being said, the SoClean 2 Go is a much scaled-down version of its big brother. There is no timer to start automatic cleaning at predetermined times each day, and this machine lacks a large LCD monitor. But if the lack of gadgets and gizmos is not a deal-breaker, this machine still kills 99.9% of germs and has the added benefit of being portable.
You can plug this unit into the wall, but it can also run off eight AA batteries, which is an annoying feature that could have been made better with a single rechargeable battery, such as in other portable CPAP units. This machine does an excellent job sanitizing, but its other features are mediocre. You may be better off choosing another machine if you plan on leaving it on your nightstand, as this machine lacks an LCD screen and a programmable timer.
Stats
Price: $219
Programmable Timer: No
Warranty: 1-year warranty
---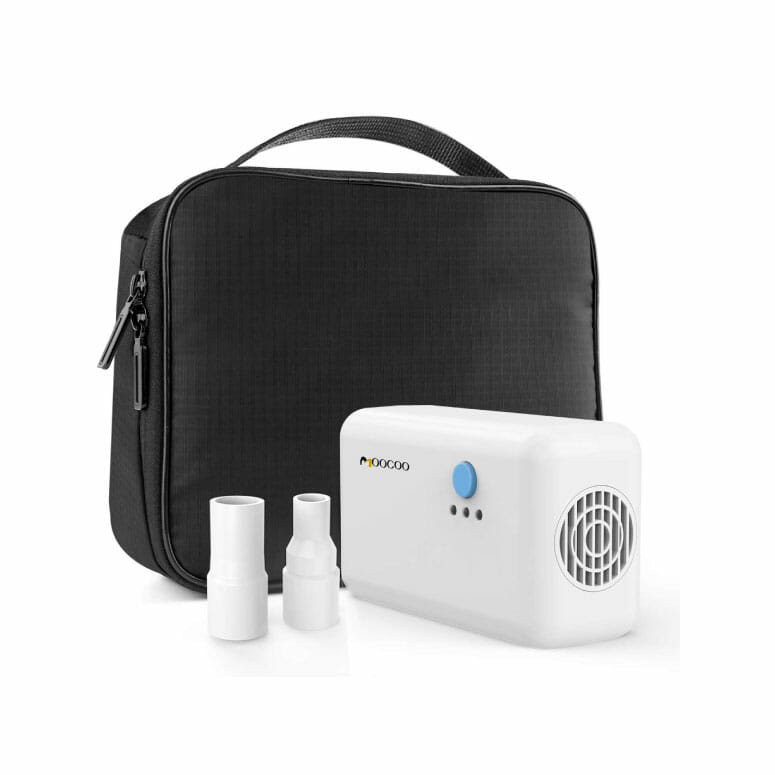 Multifunctional machines are like that Swiss Army pocket knife you used to carry around when you were a kid; you never knew when it would come in handy. The Multifunction Moocoo CPAP cleaning machine not only cleans your CPAP mask and tubing, but also cleans the humidifier on your CPAP machine. A machine that also cleans the humidifier is relatively rare, so it's refreshing to come across a device that does.
The Multifunction Moocoo CPAP cleaner functions much like some of the other sanitizers we came across on this list. To use this device, take the hose and mask off your CPAP machine and place it in the bag. Ozone is pumped into this bag for disinfection. Cleaning the humidifier is as simple as plugging it into the humidifier section on your CPAP machine. You can choose between three cleaning cycle modes, including timed, intermittent, and continuous.
This CPAP cleaner is one of the lightest — if not the lightest — on the market, weighing in at only 0.3 pounds. Small enough to place in your front pocket, but powerful enough to clean the equipment that goes into your mouth, the Moocoo CPAP Cleaner and Sanitizer is built with quality and convenience. Unfortunately, we were unable to track down warranty information from this company, but Amazon allows returns within 30 days of purchasing.
Stats
Price: $64.90
Programmable Timer: No
Warranty: 30-day Amazon return policy
---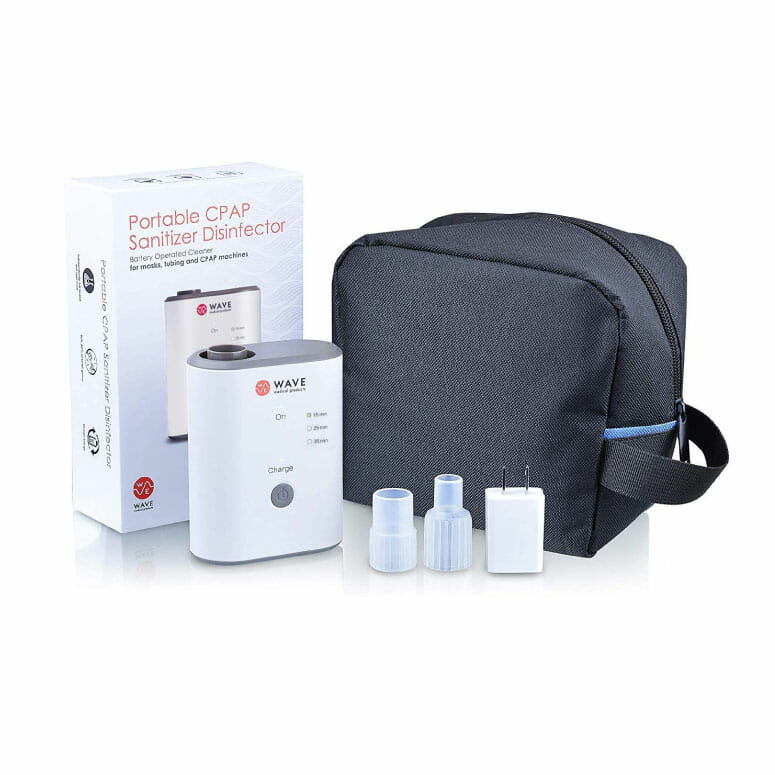 Who has the time to wash their CPAP by hand every morning? With CPAP users 30% more prone to infections, you have to look out for your health. The Wave Medical CPAP Cleaner and Sanitizer Bundle takes the hassle out of cleaning, and gives you time back for things that you genuinely enjoy doing.
Did you know that ozone kills bacteria and other microbes over 3,000 times faster than chemicals and other sanitizers? Machines that sanitize with ozone also typically do not require costly filters and cleaning products. This machine weighs in at only eight ounces and is the size of a deck of cards, so you can take it wherever you go.
Customers who have purchased this machine have mostly good things to say about it. Many customers indicate that their recurrent sinus infections disappeared after using this machine, but some customers voice concerns that the battery only holds a charge for one cleaning cycle. Despite the battery life, this $89 machine is a great deal, and it's made exceptionally well.
Stats
Price: $89.50
Programmable Timer: No
Warranty: 3-year warranty
---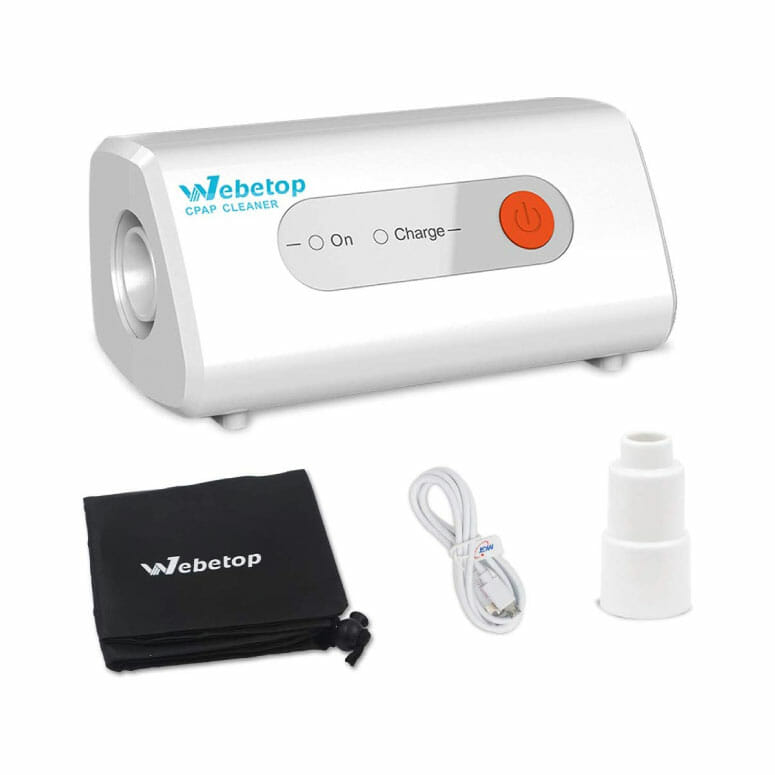 Occasionally, you can buy quality at a reasonable price, and the Altizure Mini CPAP Cleaner is proof. This machine is our number 10 pick for the best CPAP cleaner and also our cheapest, sliding in at just under $50.
The Altizure can sanitize your CPAP machine using ozone in about 25 minutes, making it one of the quickest cleaning machines on this list. The Altizure Mini CPAP Cleaner features an "on" and "charging" light, and a buzzer that rings three times when the cleaning process is complete. This machine can operate off battery power or while plugged into an AC outlet. The company uses a reliable and long-lasting lithium battery to ensure that your device works when it's supposed to.
The manufacturer advises against using your CPAP machine for 60 minutes after using the Altizure Mini CPAP Cleaner. Ozone, when inhaled, can cause serious health issues. The HEPA filter helps rid the air of ozone, and the manufacturer recommends changing the filter every six months. You can purchase a year's worth of disposable filters for this machine for just under $13.
Stats
Price: $49.99
Programmable Timer: No
Warranty: 1-year warranty