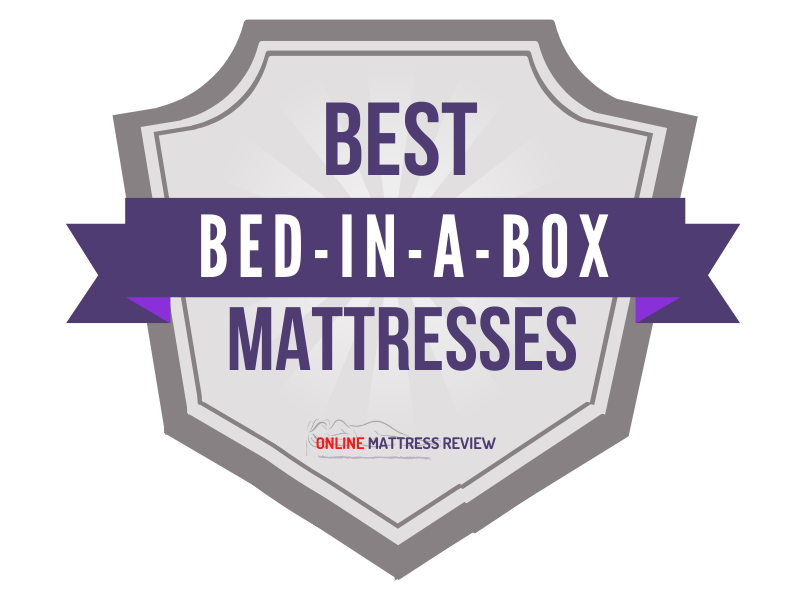 Bed-in-a-box mattresses are a modern invention, and it's a far cry from the box-bed of the late medieval times in Europe.
Even before the COVID-19 pandemic, when online purchases became even higher, bed-in-a-box mattresses were already popular. These were not only convenient for college students, young professionals, and homeowners, but they were also comfortable to sleep on. 
We know the importance of getting a good night's rest for your physical and mental health! We can even say that nearly everything that makes life good stems from getting sufficient sleep every night, from work productivity to emotional stability. Sleep is important in the following aspects:
Learning and memory including taking in and retaining new information
Boosting your mood and stabilizing your emotions, including the ability to react to situations in the appropriate manner
Keeping your heart healthy, mainly through maintaining normal blood pressure and reducing the risk of heart disease and stroke
Increasing your athletic performance and work productivity since sleep reenergizes the body's organs and rejuvenates the mind
Decreasing your risk of type II diabetes
Enhancing your body's immune system by allowing the immune cells to work against pathogens at optimal levels
Maintaining your weight since sleep deprivation can result in hunger pangs throughout the day
Of course, every individual's sleep needs are different, and these needs change with age. On average, adults need 7-8 hours of uninterrupted rest every night to enjoy the benefits of sleep. Sleeping more than nine hours isn't recommended because too much of a good thing can be bad.

Speaking of a good night's sleep, the ten bed-in-a-box mattresses featured here were chosen for their outstanding comfort and support.
These are medium-firm mattresses made of foam, usually polyurethane and memory foam. While every individual has specific needs in comfort and support, these mattresses hit the Goldilocks spot – just the right balance between softness and firmness to satisfy most adults. 
As its name suggests, a bed-in-a-box mattress is a foam mattress that has been compressed and rolled before being packed into a box. The method makes it more convenient to deliver to your home and then set up in your bedroom.
Once in your bedroom, it must be released from its box and plastic packaging using a blunt tool and allowed to expand for a few hours. (The number of hours for inflation depends on the manufacturer, and it can vary from 24 to 72 hours.) 
These ten bed-in-a-box mattresses are also queen-sized (80×60 inches), and most are 10 inches in thickness.  
the Best Bed-in-a-box Mattresses
T&N is known for its direct-to-consumer business model for selling its bed-in-a-box mattresses and other bed-related products. The bed-in-a-box mattresses are made of its proprietary, custom-made polyurethane foam known as T&N Adaptive Foam. These products have a 10-year warranty and a 100-night sleep trial period, which are standard features in the industry.
There's a return feature that makes T&N unique in the industry, nonetheless. Every mattress returned within the 100-night sleep trial period will be donated to a nonprofit organization or a local charity. These are all true for the T&N Original Adaptive Foam Mattress, a lightweight product at 67.9 pounds.
Strengths We Love:
The T&N Adaptive Foam consists of a polyfoam with ceramic gel and graphite beads that serve complementary cooling functions. The ceramic gel beads have a moisture-wicking function, while the graphite beads draw heat away from the body before dissipating it. You will enjoy a cooler sleeping experience since there's little to no heat retention in the foam itself.
The foam has a moderate contouring quality that provides an on-the-mattress, medium-firm feel. As your body presses into the foam, your shoulders, back, and hips are cradled by the foam and provided with pressure relief. Your spine maintains its neutral position since you're not sinking into the foam, too. The combination of the sweet spot between cushiony comfort and spine support makes it the best on our list.
Also, there's more resilience to the T&N Adaptive Foam, which means it bounces back faster to its original shape. You have an easier time changing positions since there's no feeling of being trapped in the mattress. Motion transfer isn't an issue, too, so there's minimal sleep disturbance when sleeping with a partner.
The foam is certified by CertiPUR-US and Greenguard Gold, meaning these are free of harmful substances, chemicals, and pathogens when delivered.
Things to Consider:
There's a slight chemical smell when it's first released from its plastic packaging. The manufacturer says to give it 72 hours to dissipate, and it did in most cases.
This may be too firm for certain people, particularly lightweight individuals, instead of the medium-firm feel experienced by most customers.
OMR Advantage Score: 9.5/10
---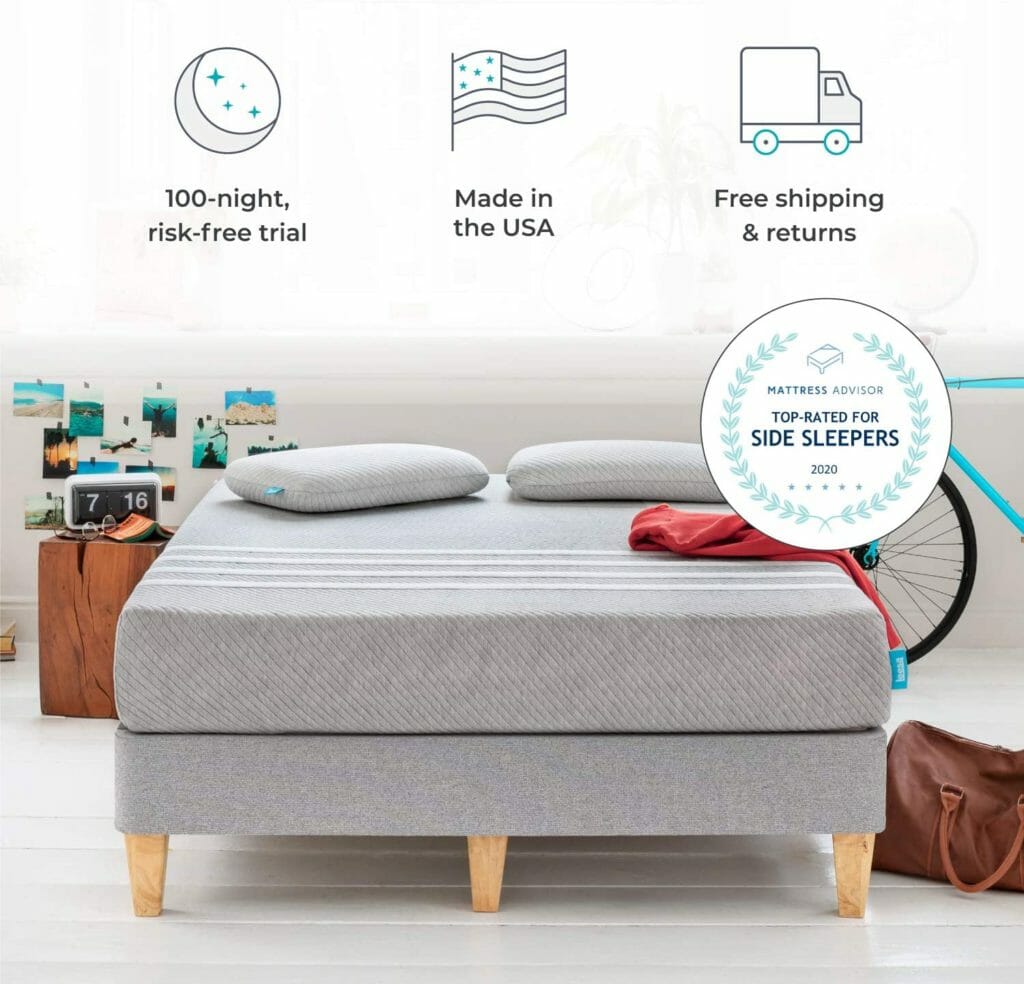 Leesa is a mattress manufacturer that prides itself on being "makers of good." Every ten mattresses it sells results in one mattress donation. This philosophy also applies to its Original Mattress Memory Foam Bed-in-a-box, an all-foam mattress with a medium-firm feel. The product comes with the standard 100-night risk-free trial, 10-year warranty, and free shipping and returns.
Like most mattresses-in-a-box, the Leesa mattress doesn't have an impressive appearance when it's fully inflated, although its soft and breathable gray twill cover is attractive. But once you lie down on it, you will realize that performance matters more than appearance. This is an affordable memory foam mattress that hits the right spots – your pressure points – and then provides them with sweet relief.
Strengths We Love:
With its medium-firm feel, it's an excellent choice for adults with typical needs in a mattress. It's neither too soft nor too firm, so it's suitable for adults with little to no underlying health issues requiring customized mattresses. It's also a great choice for side, back, and combination sleepers because of its medium-firm feel.
Most customers say that it provides sweet relief from the chronic pain in their shoulders, back, and hips. The comfort layer of memory foam cushions their body while also providing spine support. The base layer consisting of firmer foam prevents too much sinking, so neutral spine alignment can be maintained.
While memory foam has its temperature regulation issues, these can be resolved by using a feather topper on top of the mattress. This is true if you tend to sleep hot, but you may also skip the feather topper if you're not a hot sleeper.
The mattress has a nice bounce, so there's ease of movement, both while sleeping and when engaged in physical activity. There's no noise and little motion transfer, too, since it's an all-foam mattress.
Things to Consider:
There's a significant amount of off-gassing during the first 24 hours, but it quickly dissipates soon after.
OMR Advantage Score: 9/10
---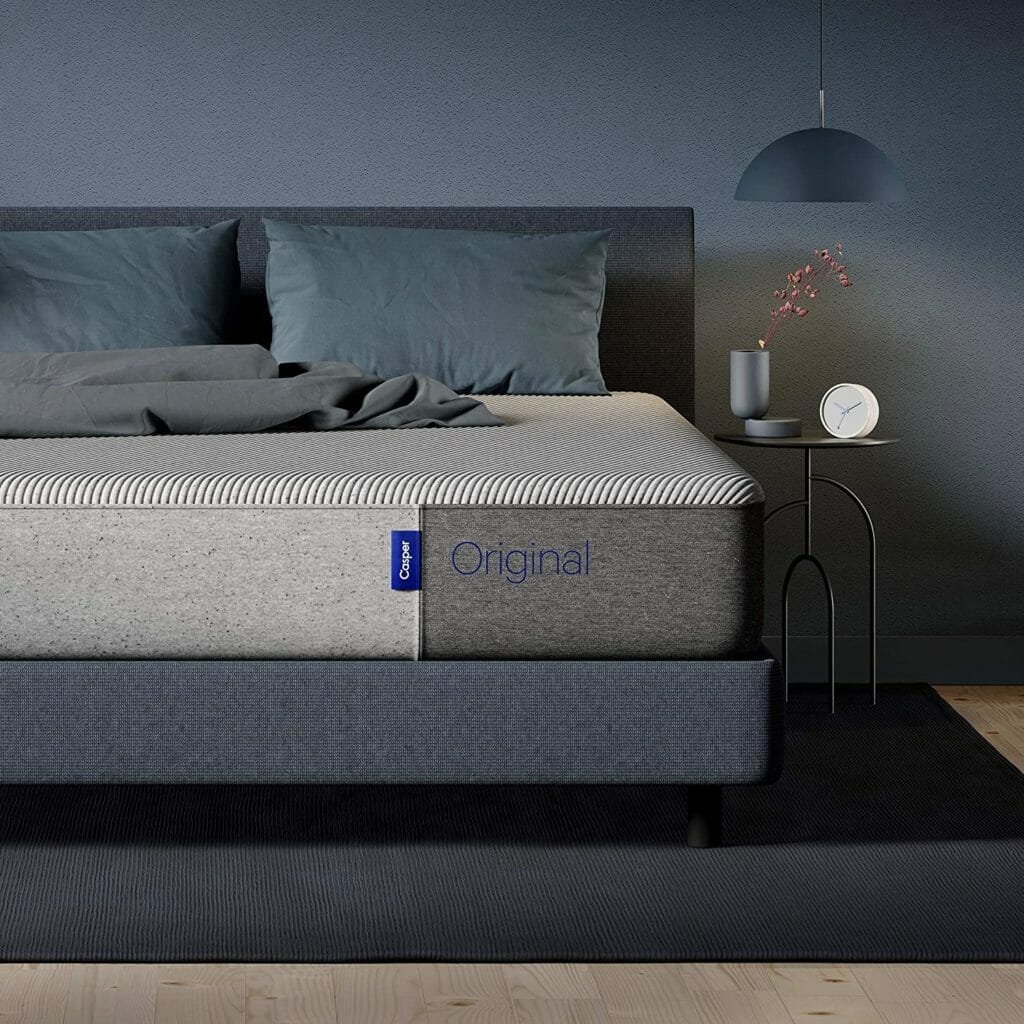 Casper Sleep is the pioneer in mattresses-in-a-box, and its reputation as a specialist in sleep products has only become stronger despite the stiff competition. While it has showrooms in large cities like Chicago and New York, its online sales seem as brisk as before these retail locations came into the scene. With its mattresses manufactured in Pennsylvania and Georgia, it also takes pride in its American-made branding.
This Casper Original Foam Mattress comes with free returns, a 10-year limited warranty, and a 100 night-trial period. While it comes in a rather large box, it only weighs 79 pounds, so it's easy to move and set up. The medium-firm feel means that it's a great choice for most adults who like the on-the-mattress feeling combined with a sleeping-in-the-cloud sensation.
Strengths We Love:
Thanks to its ribbed design, the cover has a textured feel, and it feels smooth to the touch and easy on the eyes. Plus, it's made from recycled materials – the manufacturer doesn't give specifics – and it has a knitted style with a four-way stretch. Its zippered feature is also easy to remove and wash when it becomes too dirty for your comfort.
This all-foam mattress with three layers of foam comes in different types, thicknesses, and functions. The first layer is a perforated foam with its tiny holes dissipating heat away from the body, thus, providing a cooler sleeping experience.
The second layer is foam with three areas of targeted support – softer foam in the shoulders area, firmer foam under the waist, lower back, and hips. The third layer consists of thick, firm, and durable foam that provides strong and stable support while preventing too much sinkage. 
The overall sleeping experience is one of exceptional comfort and support due to the multiple layers of foam. There's a moderate hug but with good ease of movement and bounce. Every layer of foam is also safe for use due to its low VOC content and other potentially harmful chemicals. 
Things to Consider:
A few customers complained of an oily chemical smell lasting for a few days.
OMR Advantage Score: 9/10
---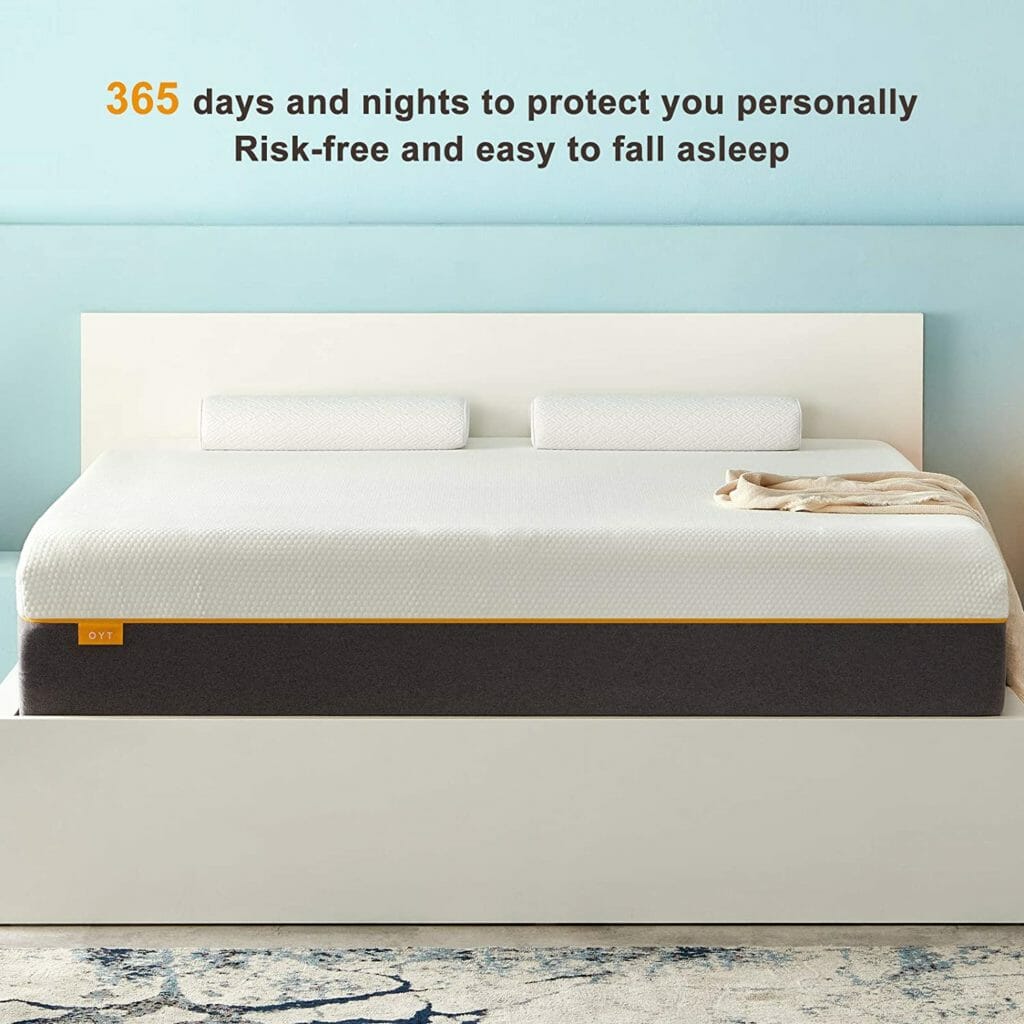 The all-foam OYT Gel Memory Foam Bed-in-a-box Mattress may be lightweight – it's just under 58 pounds – but it's a heavyweight in the features that matter most! This durable mattress can last for ten years with proper use and care, but it comes with a lifetime warranty. Because of its all-foam construction, the fully inflated mattress can also be placed on any frame or foundation, even an adjustable frame.
The two-tone color is attractive, too, although the mattress must be covered with appropriate beddings, perhaps even a mattress protector. The pristine white cover with its textured feel is too luxurious for it to be ruined by solid and liquid accidents!
Strengths We Love:
The mattress' medium-firm feel means that it has a universal appeal among adults. Since it's in the mid-range between plush and firm, nearly every type of sleeper will find it suitable for their needs. Side, back, and combination sleepers will benefit most from it; stomach sleepers will likely not since their preferred sleeping position requires a firm mattress.
The all-foam mattress has three layers that deliver a good balance between comfort and support despite the relative simplicity of its design. The combination of gel memory foam as the topmost layer and comfort foam underneath provides a soft, cushiony surface for your body. There's an on-the-mattress feel with its moderate hug around the shoulders, back, and hips, as well as sufficient spine support necessary for neutral spine alignment.
There's less tossing and turning because the mattress is so comfortable and supportive. The mattress also absorbs more movement, so there's less sleep disturbance among bed partners. Getting in and out of bed becomes easy with reduced sinking into the base layer.
The cooler sleeping experience, even in a non-airconditioned room, is the result of the gel memory foam as the topmost layer. But you may also want to put a feather topper for added cooling effect and softness.
Things to Consider:
One customer complained of mold when it was delivered.
A strong chemical smell persisted for a couple of days before it eventually dissipated.
OMR Advantage Score: 8.5/10
---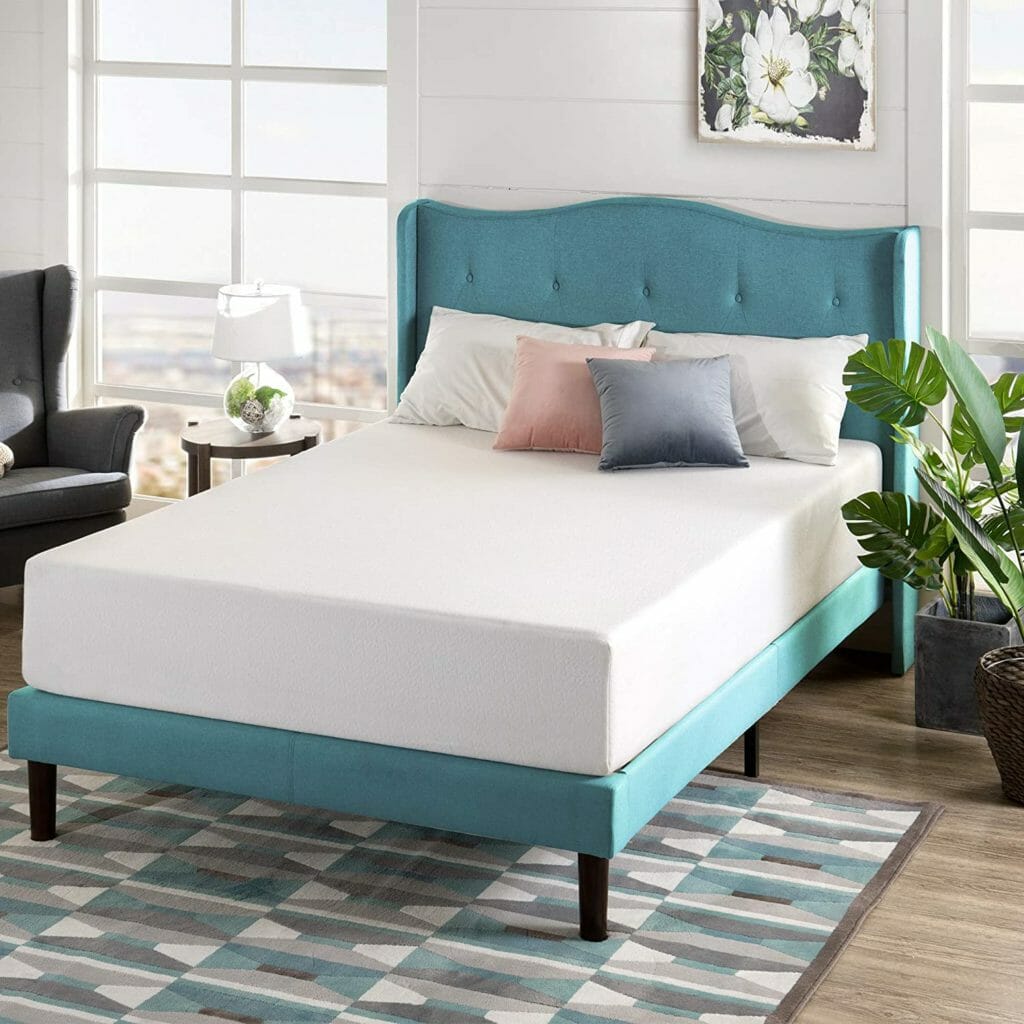 Zinus ensures that its customers will enjoy peace of mind with every mattress bought from its retailers. Said peace of mind comes mainly in its use of natural ingredients in its foam materials. These ingredients include olive oil, green tea, activated charcoal, and copper, each of which has specific functions in better sleep quality.
Green tea and activated charcoal, for example, reduce the risk of mold, mildew, and bacteria growth in the foam. This also brings a cooler and fresher quality to the foam even after a few years of regular use. This particular 12-inch queen-size bed-in-a-box mattress has green tea-infused memory foam, too.
Strengths We Love:
The all-white, poly-jacquard cover has a pristine appeal to it that encourages feeling its softness with your hands and experiencing the mattress' delightful feel. This is a breathable material, contributing to the cool sleeping experience, partly due to the memory foam layer.
The mattress has the right combination of foam layers from their type to their thickness. The green tea-infused, 3-inch memory foam layer conforms to your body's unique shape, whatever your preferred sleeping position. Your achy joints and painful parts will be a thing of the past, thanks to the pressure-relieving cushion.
The base layer consists of a 7-inch thick, dense foam that acts as a sturdy support to prevent premature sagging and sinking. The 2-inch comfort foam underneath the memory foam has a firmer density for proper spine support.
Since it's firmer, it stops your body from sinking too much and, thus, prevents spine misalignment. But it's still light enough to allow adequate airflow and prevent overheating. 
Every foam layer is CertiPUR US-certified, meaning that it has been tested for durability, safety, and performance. This is a seal of approval that customers trust. The entire mattress can support weights up to 500 pounds and comes with a 10-year limited warranty.
Things to Consider:
A few customers reported a strong mildew smell, while most reported the usual chemical smell. Both disappeared within a couple of days.
The mattress can't be flipped, just rotated, but it's a common feature in most mattresses-in-a-box.
OMR Advantage Score: 8.5/10
---
Mattresses-in-a-box comes in different thicknesses resulting in more choices for customers. Each thickness has its benefits in comfort and support, weight capacity, and overall bed height. This is true for this particular queen-size Molblly Memory Foam Mattress-in-a-box available in four thicknesses – eight, 10, 12, and 14 inches.
The 10-inch mattress is the sweet spot for most people because it's thick enough for exceptional comfort and support but thin enough for typical frames. At under 55 pounds, it's also light enough to set up and rotate regularly.
This can also be placed on top of most frames, such as adjustable, flat platform, box spring, and slatted base. (While the manufacturer says that it can be placed on the floor, we don't recommend it.) 
Strengths We Love:
The all-foam mattress has a three-layer construction, with each layer consisting of a different foam. The 2-inch gel memory foam layer has a cooling and cushiony effect for better sleep quality, even for hot sleepers. Gel memory foam conforms so well to your body's unique curves that you will experience immediate pressure relief and a cool feeling.
The 2.5-inch comfort foam layer provides more support than comfort despite its name. Since it's a firmer foam set below a gel memory foam, it prevents uncomfortable sinkage and spine misalignment. The 5.5-inch high-density foam at the base stabilizes the upper layers, so it doesn't move around too much even with your vigorous movements. In short, the comfort level is amazing!
This is a medium-firm mattress that most adults will find suitable for their needs. Due to its all-foam construction, the mattress also has low motion transfer, so it's suitable for partners with different sleeping habits. The responsive bounce means more ease of movement than with a soft mattress.
Made from CertiPUR US-certified and Oeko-Tex-certified materials. Safety is always a must with sleep products.
Things to Consider:
The gel memory foam's cover has fiberglass for fire prevention purposes, but it may cause allergic symptoms in susceptible individuals. There's no direct contact with the fiberglass, however.
OMR Advantage Score: 8.5/10
---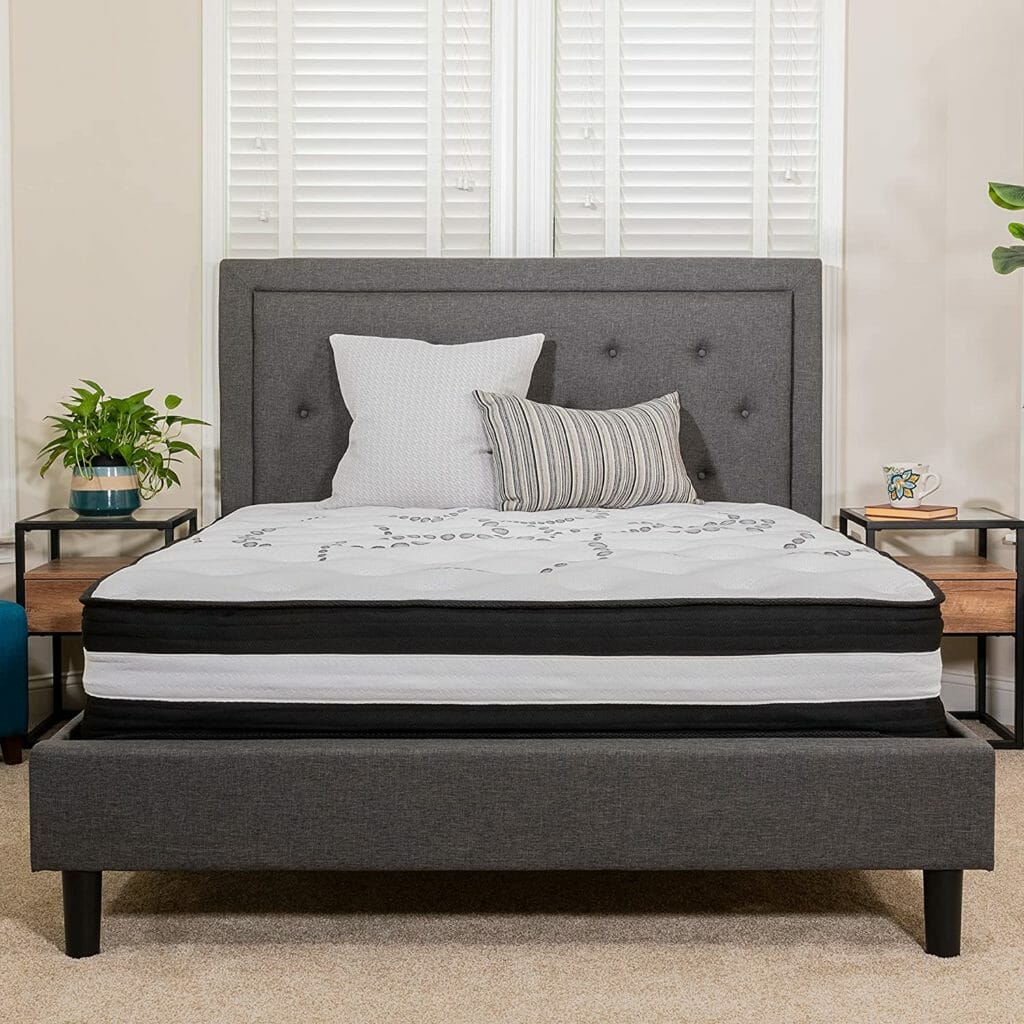 Hybrid mattresses consist of foam layers and an innerspring coil layer, usually as support structures and motion isolation features. While it may seem like mattresses-in-a-box are all-foam types, many have innerspring coils, albeit smaller than the usual. This is true for the Flash Furniture Queen Mattress-in-a-box with 12-inch pocket springs.
In general, hybrid mattresses have several advantages that contribute to their enduring popularity due to their innerspring coils having better airflow, more bounce and support, and less motion transfer. The foam layers provide pressure relief due to their body-conforming quality.
Strengths We Love:
The mattress's quality and quantity of foam layers provide a soft, comfortable, and supportive sleeping surface. There's no risk of your body getting into the slightest contact with the layer of pocket springs, meaning no discomfort ever. The foam layers start with fire retardant foam, followed by complex foam and high-density foam.
Most customers say that their quality of sleep and the number of hours slept have increased even on the first night of use! The foam layers cradle the body while also providing cushioned support for the pressure points and the spine. The layer of pocket springs provides a bouncy experience while also making it easier to change positions.
Medium-firm feel means that it's a suitable mattress for most adults with typical sleep needs so that partners can benefit from its use. Foam toppers may be added for extra softness.
Suitable for use with platform beds and fully expands in 2-3 days.
Things to Consider:
The mattress may be too heavy to move on your own at nearly 80 pounds.
The bouncier feel may not be to everybody's preference.
OMR Advantage Score: 8.5/10
---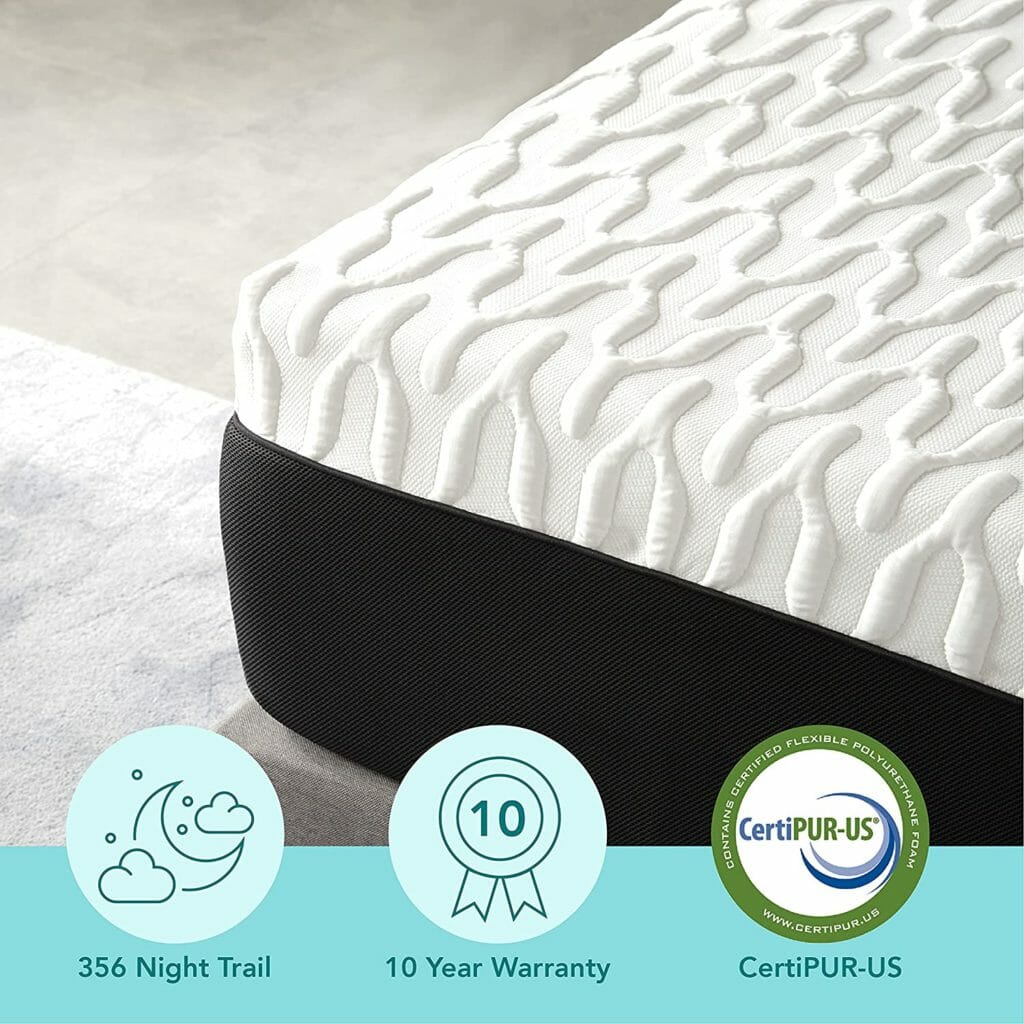 Chita's byline is that the company doesn't cheat even when its name sounds like it. Pun aside, this particular Chita Gel Memory Foam Mattress-in-a-box is made with quality materials chosen for their durability.
Out of its box, the mattress comes in its rolled, compressed, and sealed form. Once released from its plastic packaging, it should expand in a couple of hours, although it will take a few days for its full expansion. Be sure to use an oversized fitted sheet since it's a thick mattress, and it's for this reason, a box spring isn't necessary.
Strengths We Love:
The quilted fabric cover feels cool to the touch aside from having tight stitches and interesting textures. The cool feature comes from the gel memory foam underneath it, but the fabric itself appears to be made of breathable material.
The 3-inch gel memory foam layer doesn't just keep the body cool by dissipating heat, but it also contours to the body's shape better than traditional foam. Your shoulders, back, and waist, seem to be cradled by softness, so there's immense pressure relief, but you're not sinking too deeply into the mattress.
The two-layer design underneath the gel memory foam – a 2-inch soft foam and a 6-inch base foam – increases spine support for your body, too. These foam layers also make the mattress more durable against vigorous physical activity and greater weight placed on it. The non-slip fabric at the bottom prevents it from going this way and that with your movements.
This is a medium-firm mattress that can be made softer with the addition of a mattress topper. There's a certain amount of giving suitable for side sleepers.
Things to Consider:
This may be too firm for lightweight persons and for persons with underlying medical conditions that require a plush or medium plush mattress.
OMR Advantage Score: 8/10
---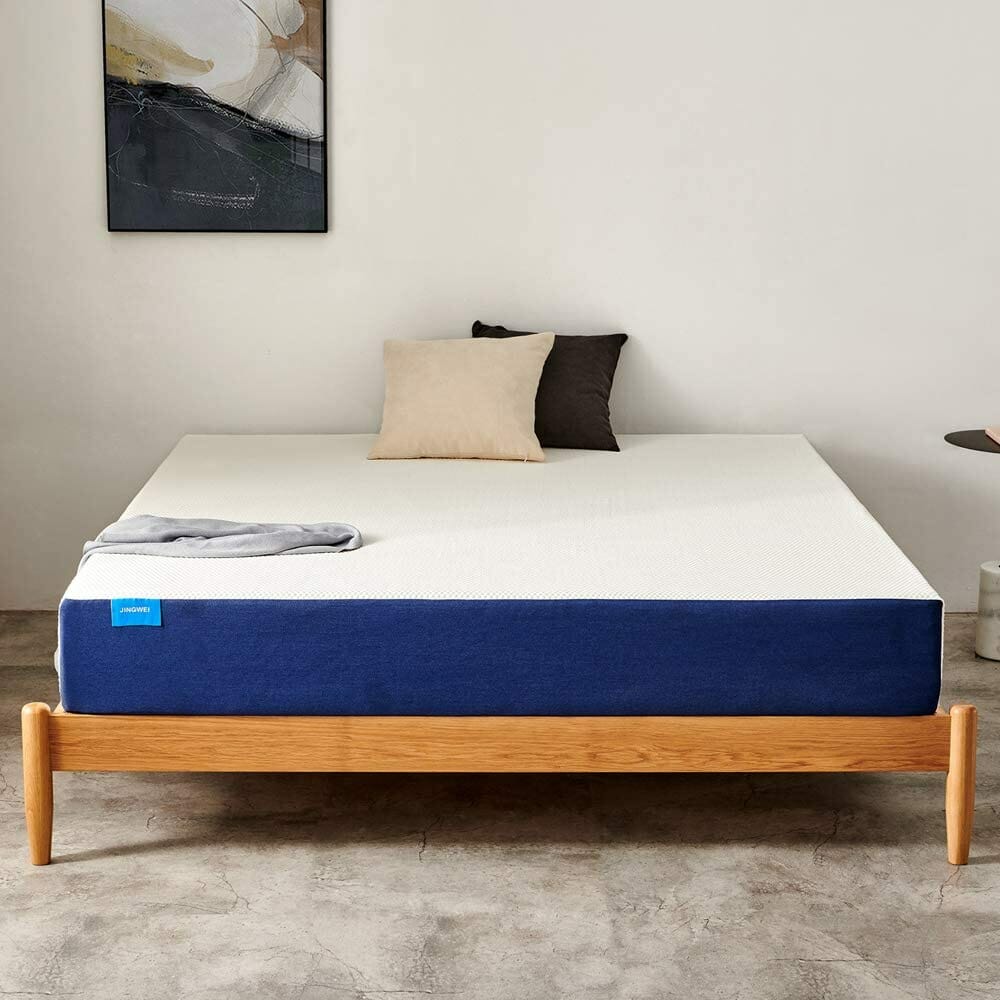 The name may not ring bells, but the outstanding quality of the Jingwei Gel-infused Memory Foam Mattress is more than enough for it to be included here.
Since it's delivered in compressed and rolled form, it's easy to move from the front door to the bedroom and through narrow passageways. It's also designed for nearly every frame type, including slatted base, box spring, and flat platform, so there isn't a need to purchase a new one.
Affordability is its hallmark, but the Jingwei mattress comes with the standard accessories in the industry. These include a 30-day money-back return policy and a 10-year limited warranty. The manufacturer recommends sleeping on it for a couple of weeks as a break-in period, but most customers say it's comfortable after just a couple of nights.
Strengths We Love:
The 3-layer design ensures the right balance between soft cushiony comfort and firm spine support. The medium-firm feel cradles the body while still giving an on-the-mattress feel. The 2-inch gel memory foam has a cuddling effect that gives a moderate hug while allowing relatively easy movement. The cooling effect comes from the gel beads in the foam, too, so sleeping hot is a thing of the past.
The 2.5-inch comfort foam pushes back against the pressure from your body, so there's little feeling of sinking into the mattress. This also means better spine alignment from the shoulders to the hips. You won't be waking up with aching joints and a painful back.
The 5.5-inch base layer is too firm that it isn't a good sleeping surface. But it effectively provides a sturdy and stable support base for the upper layers.
When first delivered, this is such a clean mattress that you may be tempted not to place beddings on it.
Things to Consider:
There's a somewhat strong chemical odor, a typical one that resolves on its own after a week or so.
A few customers say that their mattresses haven't risen to their fullest height.
OMR Advantage Score: 8/10
---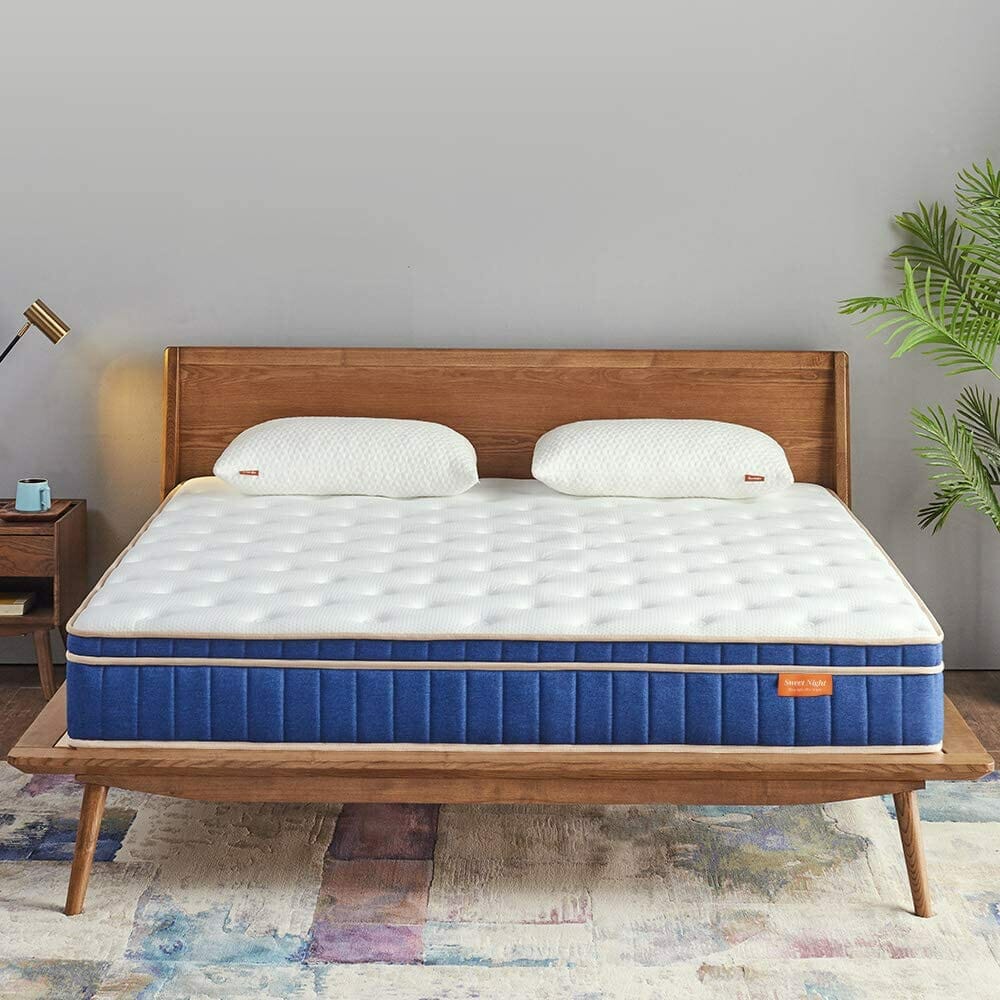 Sweetnight offers a wide range of sleep products from its Napierville, Illinois headquarters, including mattresses, pillows, and even bed frames. Of these products, the Ocean Blue Hybrid Mattress-in-a-box is a standout because of its deceptively simple blue-and-white design. Upon closer inspection, it's a great product that delivers on the promise of a sweet night, thanks to its multiple layers of foam.
This has a 10-year warranty aside from being a recognized brand known for its efficient return policies, although most customers don't return their mattresses. The 8-inch thickness may not be as thick as the other mattresses on this list, but it's still a comfortable and supportive mattress. Just place it on a higher frame, which may be slatted or solid, if you want a higher bed; there is no need for a box spring.
Strengths We Love:
The knitted fabric and gel memory foam work together in dissipating your body heat away so you can sleep cooler. The coils allow air to move better in the mattress, too, resulting in less heat retention. Most customers attest to the cool sleeping experience!
The gel memory foam is so responsive to body pressure and heat that it quickly conforms to its unique curves and indentations. After a minute of lying down on the mattress, you will feel the moderate hug around your body and the sweet relief on your pressure points.
The underlying layer of high-density foam and individually pocketed steel coils push back against the body's pressure resulting in moderate sinkage. The spine support means there's little risk of spine misalignment and, thus, of waking up with an aching back. There's less motion transfer, too, than expected, while the edge support is much better than with an all-foam mattress.
Things to Consider:
A few customers complained of an area that wore down faster than expected, resulting in the uncomfortable feeling of a coil or two slightly poking them.
OMR Advantage Score: 7.5/10
FAQs 
1.) What's the story behind the boom in the mattress-in-a-box trend?
Casper Sleep started the bed-in-a-box mattresses trend in 2014 when it was introduced to the public. Before its launch, mattresses were usually sold and bought in brick-and-mortar stores.
The traditional way was seen as more convenient, safe and secure because customers could test the products' quality before making a final decision. The aspects of quality included the mattresses' materials, firmness, and durability, the same aspects used in online purchases. 
While there were initial hesitations about online mattress purchases, these were soon erased! There's a theory that its rise was partly because of the spike in interest in mattresses after the 2008 financial global crisis.
Many people disposed of their old mattresses and bought new ones, thanks in part to better finances. The online bed-in-a-box mattresses industry addressed the increased demand that the brick-and-mortar stores couldn't at the time. 
There's also the fact that consumers became accustomed to using the Internet, including software and mobile apps, for easy solutions to everyday issues. Companies selling bed-in-a-box mattresses also offered better quality and prices, as well as faster delivery and white-glove treatment.
The emergence of sophisticated mattress technology also increased the appeal of bed-in-a-box mattresses. Every brand attracted customers with a unique hook, from two-sided mattresses to gel memory foam mattresses with cooling and pressure-relieving support. Nowadays, you will find almost every bed-in-a-box mattress version, from all-foam to hybrid mattresses in standard sizes.
2.) What are the benefits of a mattress-in-a-box for the modern lifestyle?
Yes, it seems odd that you will buy a mattress from an online store, so you won't be able to test it by lying down on it first. What if the mattress turns out to be a dud? What if it's too soft or too firm for you? So many what-ifs, so little assurance when selecting from bed-in-a-box mattresses online!
The hesitancy is also understandable considering that a mattress is a long-term commitment. Experts suggest replacing your mattress once every seven or eight years, so it isn't something that you will buy every year. You will also spend at least six hours on it every night, so it makes sense to try it out first.
These are valid concerns, but manufacturers of bed-in-a-box mattresses have found clever ways of working around them. For one thing, you can test the mattress first through the 100-day trial period, the typical duration for most bed-in-a-box mattresses.
You will have 100 days to determine whether the mattress meets your needs, particularly its comfort and support. You can keep or return it within the allotted period. 
For another thing, you can read reviews about the bed-in-a-box mattresses that have taken your fancy before buying one. You will find numerous authoritative reviews, too, such as the one you're reading now.
Bed in a box mattresses also have benefits that contribute to their enduring popularity. These are convenient purchases to make because you can shop from the comfort of your home. You can browse through the selections with just a click of a mouse instead of wearing down your shoes. You can pay without lining up at the counter and wait for the mattress to be delivered directly to your home.
You may even avail of a free white glove delivery! This means the delivery person will bring your bed-in-a-box mattress to your bedroom, set it up on your bed, and take away your old mattress for proper disposal.
Bed-in-a-box mattresses are also more affordable than traditional mattresses with the same sizes, materials, and layers. Most online bed-in-a-box mattress companies don't maintain brick-and-mortar locations, particularly retail stores with showcase areas. The cost savings on overhead and personnel expenses are then passed on to the customer.
Many online bed-in-a-box mattress companies also offer affordable financing plans. You can then upgrade to a luxurious queen-size bed without sinking the boat.
3.) What materials are mattresses-in-a-box made of?
The materials used in bed-in-a-box mattresses matter because these will determine the beds' comfort, support levels, and durability. Due to their compressed and rolled nature, bed-in-a-box mattresses are usually made of different types of foam, including latex, memory, and gel memory foam. The density and thickness of these foam types differ depending on whether these are used in the comfort, support, or base layer.
Many bed-in-a-box mattresses are also hybrid mattresses since innerspring coils are used as the support layer. The foam layers are used for the comfort and base layers.
Each type of foam has its pros and cons, too. Latex foam is a natural, dense foam made from rubber that offers comfort and support in varying levels, from ultra-plush to ultra-firm. Memory foam offers exceptional pressure relief and spinal transfer combined with low motion transfer but can have cooling issues. The gel memory foam offers all the benefits of memory foam with the extra benefit of better cooling, but it can be more expensive.
Hybrid bed-in-a-box mattresses have the added benefit of innerspring coils that provide better spine support and alignment. But the motion transfer is more observable due to the coils. These beds may also have reinforced edges, which means less risk of falling off the edge.
4.) What types of frames are best for mattresses-in-a-box?
Always check with the retailer or manufacturer about the recommended frame for your bed-in-a-box mattress. The importance of a proper frame cannot be overemphasized because it's vital for sturdy support and accessible height. You don't want a saggy mattress that sinks through the frame, much less a frame that buckles under the weight of the mattress!
You also don't want to place your mattress on a frame that's too low or too high lest you have difficulty getting into and out of bed. The ideal bed height is 25 inches from the floor, but it will also depend on your height, weight, and physical condition. Tall people benefit from a 30-inch high bed, while people with mobility issues may appreciate a lower bed.
With that said, bed-in-a-box mattresses may be placed on most types of frames like:
Adjustable frames, which can be lowered or raised depending on your preference.
Platform beds, which have a solid base, so there's no need for a foundation.
Slatted beds, which are affordable yet durable.
Bunkie boards, which are more affordable alternatives to brand-new frames.
5.) What features should you look out for?
First, you must determine your specific needs in a mattress based on your sleeping preferences and your height, weight, and physical condition. What's your preferred sleeping position – side, back, stomach, or a combination? What's your weight – light, average or heavy? What are your specific health issues that will affect your choice in materials – chronic pain in the back, joint aches, or surgery?
Your answer to these questions will impact your final choice is a bed-in-a-box mattress. Your choice, for example, may be a medium-firm gel memory foam mattress. You like sleeping on your side and back, you have average weight, and you're looking for a mattress with excellent pressure relieving properties.
Aside from a level of comfort and support acceptable for you, which are non-negotiable, you must also consider the following features:
Durability. Keep in mind that a mattress should be replaced every seven to eight years. You then want your bed-in-a-box mattress to last for at least eight years. Choose a mattress with high-quality materials so you can get the most from your money.
Affordability. Look for bed-in-a-box mattresses that combine durability and quality with reasonable prices. Patience is key, but it pays off with a long-lasting mattress.
Warranty and trial period. These are testament to the manufacturer's confidence in the quality of the product.
With this in mind, we chose these ten bed-in-a-box mattresses for their proven durability, reasonable prices, and exceptional quality.
Conclusion
In conclusion, mattresses-in-a-box are great products for the money, especially if you're watching your budget. As with all consumer products, the key is in making careful consideration of your personal preferences first. The best products are the ones that meet your needs and want, not those of the Joneses.