There are a huge number of mattress shops in the Atlanta area. We've put this guide together to help you narrow down the best places to buy a new mattress near Atlanta.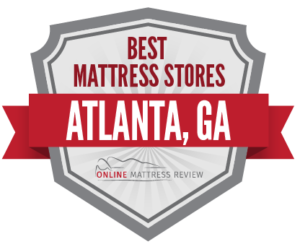 If you're not sleeping well, you're not living well. We've all heard studies about the powerful impact of rest on immunity, weight, stress levels, and even life expectancy. It turns out that sleep also determines the quality of your day-to-day functioning
. A recent study conducted by the National Sleep Foundation found that of adults with excellent sleep (8+ hours of quality rest per night), 90% reported that they are "very effective at getting things done each day." Those with poor sleep? Only 45% reported the same level of efficacy.
One factor that can make all the difference between deep, restorative rest and poor-quality sleep is a good mattress. A separate poll by the same source found that 92% of adults agree that a good mattress is essential to good sleep.
If your mattress is more than 8 years old, you're overdue for a replacement. Experiencing back pain, snoring, night sweats, or insomnia? It may be time for an upgrade. There are plenty of options these days when it comes to buying a mattress, from simple and affordable mattresses, to mattresses with smart technology that allows them to adjust to postural changes throughout the night.
There are mattresses made from gel, foam, and even all-natural mattresses made from latex, cotton and even coconut fibers. Before making a purchase, you'll want to research your options, and a great place to start is with our guide to the best places to buy a mattress in Atlanta.
We've compiled the most well-rated mattress shops in each neighborhood to help you decide where to buy a mattress that fits your comfort needs and budget. Read on and get on the road to better rest- and better quality of life- today.
---
Mattress Stores in Central Atlanta
3230 Peachtree Rd Suite #100, Atlanta, GA 30305 Phone (404) 237-5778
Located right close to Downtown Atlanta, The Original Mattress Factory is a well-established place to buy a mattress in North Atlanta. This popular chain retailer operates their own mattress factory in each city where they have a retail presence, allowing them to stock locally-made mattresses in each store, and offer factory direct prices.
The company is so confident in the quality of their materials and manufacturing practices that they actually allow prospective customers to book factory tours at any facility. Shoppers have equally high confidence in the store, giving Original Mattress Factory 4 stars on Google and Yelp. Customers appreciate the wide selection, which includes models at different price points, from basic to luxury.
---
Mattress Stores in North Atlanta
1335 Chattahoochee Ave NW, Atlanta, GA 30318 Phone (404) 355-7606
There are quite a number of excellent places to buy a mattress in North Atlanta. One of the highest-rated of these is Mattress Outlet Atlanta. This no-frills, warehouse-style outlet retailer sells Simmons brand mattresses exclusively, one of the nation's most popular mattress brands. The store has earned an impressive 4.7 star average rating on Google, with customers citing incredible discounts of 50-70% on pillow top, memory foam, or BeautyRest mattresses.
3230 Peachtree Rd Suite #100, Atlanta, GA 30305 Phone (404) 237-5778
For those who prefer the security of shopping at a chain store, The Original Mattress Factory has another highly-rated location in North Atlanta in addition to their downtown showroom.
1300 Ernest W Barrett Pkwy NW, Kennesaw, GA 30152 Phone (678) 369-0086
Finally, Relax the Back is the go-to mattress store in North Atlanta for those experiencing back pain. The store specializes in ergonomic furniture and mattresses designed specifically to deliver relief to those experiencing discomfort or needing special postural support. The store stocks therapeutic gel mattresses, special elongated and wedge-shaped pillows, massage beds, adjustable bases, and a wide array of top-of-the-line Tempur-pedic mattresses. Relax the back is staffed by a chiropractor and personal trainer, who offer special insight into customers' comfort needs and guide shoppers to therapeutic sleep solutions.
---
Mattress Stores in South Atlanta
Mattress Fast
3645 Marketplace Blvd Suite 180, East Point, GA 30344 30349 (678) 353-7863
For those who don't want to spend all day mattress shopping, Mattress Fast is an excellent solution. Reviewers on Yelp give this mattress shop an average of 4.5 stars, citing outstanding customer service. In addition to mattresses, the store stocks pillows, bed sets, frames and adjustable bases. They do not appear to have a website.
---
Mattress Stores in East Atlanta
1221 Caroline St NE Ste G130, Atlanta, GA 30307 Phone (404) 688-4140
650 Ponce De Leon Ave NE Bldg 800 Ste A, Atlanta, GA 30308 Phone (404) 815-9600
2112 N Decatur Rd, Decatur, GA 30033 Phone (404) 982-1818
There are no less than three locations of Mattress Firm in East Atlanta: Mattress Firm Edgewood, Mattress Firm Midtown, and Mattress Firm Decatur. As the nation's leading mattress retail chain, Mattress Firm has a solid reputation for wide selection and expert customer service, and each location has an average customer rating of 4 or more stars.
779 Fulton Terrace SE, Atlanta, GA 30316 Phone (404) 681-2121
While Mattress Firm offers a wide selection, Colgate Mattress is highly focused on delivering a single specialty product: baby and toddler mattresses. Colgate boasts a 4.8 star Google average rating, and is committed to offering the highest quality and safest crib mattresses available.
---
Mattress Stores in West Atlanta
Customers looking to buy a mattress in West Atlanta have fared options than elsewhere in the city.
3755 Carmia Dr SW Ste 1270, Atlanta, GA 30331 Phone (404) 346-9700
Mattress Firm has another location in Southwest Atlanta, Mattress Firm Camp Creek, which has earned an impressive 4.9 star average rating on Google. Reviewers cite outstanding customer service from the staff of "sleep experts," who are trained to assess each customer's body type, sleep style and comfort preferences to refer them to the right mattress.
J & R Mattress
2560 Donald Lee Hollowell Pkwy NW, Atlanta, GA 30318 Phone unk
Independently owned J & R Mattress is a no-frills mattress shop located in the Northwest, with affordable prices, and a solid 4-star average customer review average. They do not have a website.
130 Selig Dr SW, Atlanta, GA 30336 Phone (404) 472-0205
Finally, Southern Nights Mattress Company is a mattress factory which sells both commercial and consume4r products. Customers in search of a locally-made mattress can pick up a new model at factory-direct prices, and even take advantage of Southern Nights Mattress Company's mattress recycling service to dispose of their old products.
That brings to an end our guide to the best mattress stores in Atlanta, Georgia. Good luck as you shop!
---
Also check out:
Mattress Shops in Georgia
You can also review mattresses online at some of our favorite stores: