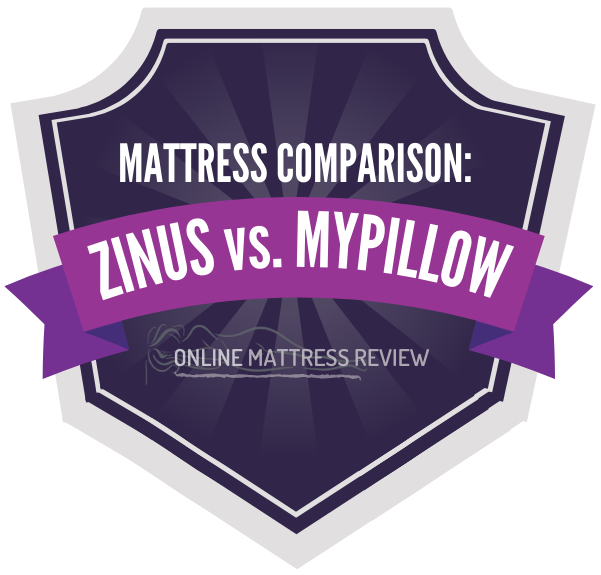 We live in the 21st century and enjoy the luxurious comfort of its sleep-related products! Case in point: In the 15th century, when Johannes Gutenberg, Christopher Columbus, and Joan of Arc lived, people used mattresses made with pea pods, feathers, and straw! Nowadays, nobody would dare sleep on such a mattress.
After all, we already have foam mattresses that provide optimum comfort and support and don't invite creepy-crawly critters as much as the 15th-century beds. Modern all-foam mattresses, which are featured in this article, are typically made of multiple layers of comfort, transition, and support layers with a base layer.
The number of layers in an all-foam mattress matters, but not because of the Princess and the Pea effect. Instead, the more layers there are, the better the performance of the mattress. The best all-foam mattresses have three or more layers since these result in the following benefits:
Give a more luxurious experience in terms of cushioning and comfort
Provide more dynamic support and, thus, promote neutral spine alignment
Ensure a gentler transition between comfort and support layers
Provide improved breathability within the mattress through the transitional layers

Users experience the benefits of the different types of foam for comfort, support, transition, and base layers. The types of foam used include latex foam, memory foam, and high-density foam, each of which has its specific merits.
Let's take a brief look at the merits of these three types of foam and, thus, have a better understanding of their benefits when combined.
First, latex and latex-alternative foam mattresses are popular because of these positive characteristics:
These are "quick response" mattress materials, meaning that they respond quickly to movement.
These are suitable for individuals who don't want the in-the-mattress sinking feeling of memory foam but still want significant pain relief.
These are also more buoyant materials, so they quickly adjust to your body's curves with every movement. If you're looking for less bounce, you should consider latex alternative foam.
These are more breathable materials than memory foam, making them an excellent choice for people who sleep hot or have night sweats.
We suggest choosing natural latex foam mattresses since these have little to no polyurethane-based chemicals. The best of them were manufactured using either the Dunlop or the Talalay method.
Second, memory foam mattresses may be more expensive, but their benefits outweigh their costs:
These are low motion isolation mattresses so individuals who want uninterrupted sleep even with a bedmate who frequently moves in his/her sleep.
These also have slow response characteristics, meaning that light sleepers will find it more comfortable for their needs.
These have better contouring properties than latex mattresses – perhaps, the best of all types of foam. For this reason, we highly recommend memory foam mattresses for people with chronic pain, side sleepers, and others who want a better "hug."
We suggest looking for open-cell memory foam, gel-infused memory foam, or reticulated foam support layers for their "sleep cooler" experience. You may also look for faster-response memory foam if you're concerned about ease of movement.
Third, high-density foam shares similar qualities with memory foam in that both are made with more compact foam material. But it's more breathable than traditional memory foam because of its tightly packed open-cell property. As a result, it's more comfortable and durable than the latter, particularly when paired with an innerspring system.
For these reasons, we chose all-foam mattresses from Zinus and MyPillow for comparison purposes. The specific products are Zinus Pressure Relief Cloud Memory Foam and MyPillow Complete Foam Mattress Sleep System. Both are all-foam mattresses and have the same thickness – 10 inches – although their foam compositions are different.
(Note: Zinus has more mattress choices than MyPillow. The Pressure Relief Cloud Memory Foam mattress featured here, for example, is also available in 8″ and 12″ mattress thickness.)
Zinus, an e-commerce company, sells a wide range of mattresses, many of which have been infused with olive oil, green tea, and charcoal as a way of eliminating harmful toxins. Established in 2004 when it launched its first bedding products, it's among the more well-known bed-in-a-box companies with a US manufacturing facility opened this year. It's a publicly-traded company on the South Korean stock exchange.
MyPillow, Inc. is a Chaska, Minnesota-based company that manufactures mattresses, pillows, and other bedding products. Founded by Mike Lindell in 2009, it's known for its use of open-cell polyfoam for its products.
First Impressions: Dimensions and Colors
While choosing an all-foam mattress shouldn't be made based entirely on first impressions of its color and appearance, we have to admit that it's an influencing factor.
We make choices based on what our eyes can see, and, in some instances, we use the products' visual impact as a deciding factor or as a tie-breaker. This is true for the Zinus and MyPillow all-foam mattresses, too. 
Zinus
The Zinus mattress comes in the following sizes and weight:
Twin – 39″ X 75″ X 10"/36.4 lbs.
Full – 54″ X 75″ X 10"/49.3 lbs.
Queen – 60″ X 80″ X 10"/58.2 lbs.
King – 76″ X 80″ X 10″/72.3 lbs.
The manufacturer notes that the sizes are subject to a margin of error of +/- 0.5″. This isn't a big deal since bed frames and beddings typically have allowances, too.
Once it's fully deflated, its beautiful design can be appreciated in full, too. While white is its predominant color, it is a common feature in mattresses since white has a clean feel. Its grey patterns break the monotony! The symmetrical wavy patterns on the surface add to its textured feel. There's a distinctive line between the edges of the mattress and the middle part, too.
MyPillow
The MyPillow mattress comes in these sizes:
Twin – 38″ x 75″x 10″/37 lbs.
Twin XL – 38″ x 80″ x 10″/39 lbs.
Full – 53″ X 75″ x 10″/49 lbs.
Queen – 60″ X 80″ x 10″/58 lbs.
King – 76″ X 80″ x 10″/78 lbs.
California King – 72″ X 84″ x 10″/78 lbs.
The mattress has a white sleeping surface and blue perimeter, a color combination that evokes the ocean with its waves. While beddings will cover these colors, we like that it has a relaxing look and feel. The sleeping surface has a tufted design that breaks the monotony of the all-white fabric.
Winner: We have to give MyPillow mattress this first round, if only because it comes in several sizes. Both mattresses are also beautiful to look at, aside from obviously made with high quality in mind. The fabrics are soft yet sturdy while the seams appear durable, so using either one of these mattresses over the long term won't result in frazzled threads.
Setting Up: Assembly and Platform
Both the Zinus and MyPillow mattresses are the bed-in-a-box type. These are rolled and compressed using special machinery in the factory and then shipped in a box. The mattress must then be freed from its box before it can be used.

A few tips when unwrapping a bed-in-a-box mattress so you won't feel like you're wrestling with foam:
Move the box into the room where it will be set up, preferably next to its intended bed frame. If in doubt, you should ask the manufacturer about the best types of bed frames or foundations for your mattress. The common types are wooden slat platform, box spring, and solid base, and these are designed to provide support for both the mattress and its sleeper.
Tip: A solid foundation is best since it provides a sturdier frame, and you don't have to worry about the spacing between slats and sagging and sinking in places. If you choose a slatted foundation, which is also a great choice, be sure that the slats are spaced no farther than three inches apart. Platform and adjustable frames are also excellent choices for all-foam mattresses.
Open the box with a dull object so as not to tear through the mattress.
Slide the still-unopened mattress into the bed frame.
Carefully cut the plastic layers using a pair of scissors. Caution and steady hands are essential so as not to cut into the foam.
Unroll the mattress so that it isn't so tightly compressed and folded in half. Wait according to the recommended number of hours for it to achieve its fullest thickness.
You may also read the instructions that come with the bed-in-a-box mattress since there may be special concerns.
Zinus
Most buyers of the Zinus mattress found it easy to set up, particularly as it's like any other bed-in-a-box mattress. If you order it, you will receive it inside a box in its compressed and rolled form. You may or may not require assistance in getting it from your front door to your bedroom.
Just place the compressed mattress on its bed frame, cut its packaging, and allow it to expand to its full size. The waiting game starts here as it can take up to 72 hours for it to happen. You can sleep on it after a few hours, nonetheless, and you may even walk, jump and play on it at this time. The manufacturer says that it will speed up the decompression!
This is also compatible with most bed frames, including:
Platform
Slatted
Boxspring
Adjustable base
Bunkie board
Since it's a memory foam mattress, there's a slight chemical smell when it's released from its plastic packaging. We suggest opening the windows in your bedroom for a well-ventilated environment, which will quickly dissipate the smell. This can take 72 hours or so, too, which means that you may or may not sleep on it on its first night in your home.
Don't worry about the chemical smell, as it's a common occurrence. If you have high sensitivity to it, you can put off sleeping on it for the next few nights.
MyPillow
FedEx delivers every MyPillow mattress to its customer, and it's just as easy to set up as the Zinus mattress. Since it's also a bed-in-a-box mattress, it should be released from its box and plastic packaging before its full glory can be seen.
While a few customers say that it only takes 30 minutes for the mattress to become fully inflated, it may not be so for all buyers. We suggest waiting for at least 24 hours before using the mattress, so it has reached its fullest height.
There's also a subtle off-gassing odor when the MyPillow mattress is released from its plastic packaging and while it's inflating. But it's generally tolerable and harmless, and it's gone by the end of the day. Again, the trick here is to place the mattress in a well-ventilated room while it's decompressing from its original compressed form.
Winner: The MyPillow mattress wins this round because of its shorter decompression time. But in terms of ease of assembly and off-gassing, the verdict is a draw.
Under the Cover: Materials and Layers
In this particular order, the heart and soul of all-foam mattresses are their multiple foam layers – comfort, support, transition, and base. Each layer is typically made of a different type of foam chosen for its specific properties. But it's common for the memory foam to be the comfort layer, followed by latex and high-density foam for the lower layers.
When stacked one on top of the other, these layers determine the height of the mattress. This is a crucial factor when choosing an all-foam mattress since thickness affects its level of comfort and support, as previously discussed.
And then there's the matter of softness. Generally speaking, the thicker the mattress, the more cushiony and softer it will be. The thicker the mattress, the more weight it can also support.
Both the Zinus and MyPillow all-foam mattresses are suitable for children and adults, even slightly heavier individuals. These are medium-profile mattresses that support lightweight to average-sized individuals. Their high-density foam layers also reduce sagging and sinking in places where sleepers tend to sleep and stay for a longer period.
Zinus
The 10-inch Zinus mattress has multiple layers consisting of:
A 2-inch microfiber and quilted foam cover, a layer designed to give a moderate hug and individualized comfort. You should be able to feel not just a hugging feeling but also significant pressure relief on your neck, shoulders, and hips. We decided that, indeed, it's a comfortable mattress just by its first layer and after only five minutes of lying on it.
A 1.5-inch memory foam enhances the superior feeling of cushiony comfort and pressure relief of the first layer. This has a medium-response quality, meaning that it's midway between a slow and quick response memory foam.
2-inch comfort foam is the transition layer between the memory foam comfort layer above and the support layer below. Don't dismiss it as being thinner than average because it's thick enough to prevent your body from sinking into the firmer – and less comfortable – base support layer.
A 4.5-inch high-density foam acts as the base support layer. It has multiple functions, including supporting your spine and preventing premature sinking, sagging, and other damage to the mattress. The spine support is vital since sleeping with your spine with an unnatural curvature will worsen back pain, among other health issues.
According to Zinus, all of its mattresses have been tested for compliance with the Open Flame Test and the Cigarette Smoldering Test. The different types of foam used in its mattresses are also CertiPUR-US-certified, among the country's highest safety and quality standards. The foam layers are then made without harmful substances, including PBDEs, TDCPP or TCEP flame retardants, heavy metals, formaldehyde, and low in VOCs.
MyPillow
The 10-inch MyPillow mattress has the following layers:
A quilted cover with a thin foam insert results in a soft texture and a sinking feeling when a hand is pressed into it. This is also a stain-resistant and quick-drying cover that feels cool to the touch. But we still suggest using a mattress protector over it, even with its stain-resistant and quick-drying properties. It's better not to take any chances with the cover, not to mention that it's such a hassle to clean up liquid and solid accidents.
Plush gel foam is the comfort layer that provides optimum relief from painful pressure points with its cushioning comfort feel. Since it's the softest layer, it provides a deeper hug than the quilted cover, so every major curve of your body feels like it's being cradled. This is also a high-airflow comfort foam, meaning that it's a less dense and more breathable type of foam that prevents overheating.
A transition layer made of extra-soft comfort foam comes next, and it's made of high-density foam. Keep in mind that it's a firmer type of foam, providing more support for the spine. You will still feel the cushiony comfort, but there's more resistance, so you don't sink too deeply into the foam.
A plush transitional layer made of comfort foam enhances the supportive feature of the mattress.
A supportive base foam layer stabilizes and reinforces the mattress that, in turn, makes it possible for you and your bedmate to engage in vigorous activities. More than that aspect, it's also vital in preventing the mattress from sagging in places, a must if you want to enjoy your mattress for many years.
The different types of foam used in this MyPillow mattress are also CertiPUR-US-certified. Such a guarantee should contribute to your peace of mind regarding the safety of the mattress you're sleeping on.
Winner: MyPillow wins this round, albeit only by a small margin. Both brands use CertiPUR-US-certified foam and come in a 10-inch-thick version. But the MyPillow mattress has a greater number of layers that provide alternating layers of comfort and support.
Sleeping Experience: Firmness and its Related Experience of Comfort and Support
Comfort and support are interrelated concepts when we're talking about mattresses. You can't be comfortable if your spine doesn't have the support it needs. You also can't be comfortable if the all-foam mattress you're lying on has an extra-firm support layer unsuitable for your light to average weight.
But these are also distinct concepts that must be understood based on their own merits. On the one hand, comfort refers to the physical ease, the contouring property, and the cushioning experience provided by the foam. All mattresses, from all-foam and innerspring to hybrid mattresses, have foam as the first layer for these reasons.
On the other hand, support refers to the spine's alignment when you're lying down on the mattress. The ideal spine alignment should be its natural S-shaped form when viewed from the side and a fairly straight line when viewed from the front. There should also be an even distribution between the lighter and heavier parts of your body.
Finding the Goldilocks spot between comfort and support is a tricky proposition. Too much comfort from a plush mattress and your spine can suffer from it. Too little comfort from an extra-firm mattress and your pressure points will be worse than the wear.
Generally speaking, your weight should be the primary factor influencing your decision on the best type of firmness in your mattress. Here's a simple yet informative guide you can use. (Numbers in parentheses refer to the firmness scale with ten being the firmest.)
Extra soft to soft (2-3) is best for side sleepers under 130 pounds
Medium soft (4) is suitable for side sleepers under 230 pounds or all sleepers under 130 pounds
Medium (5) is a great choice for side and back sleepers under 130 pounds but not more than 230 pounds
Medium-firm (6) is excellent for side sleepers over 230 pounds and all sleepers in the 130-230 pounds range
Firm (7) is for stomach and back sleepers over 130 pounds and for heavier side sleepers
Extra-firm (8-9) is best for heavy sleepers over 230 pounds
Of course, you have to consider your personal preferences but be sure to consider your weight, too. You neither want to feel like you're sleeping on a plank nor sink into the deep abyss of foam.
Zinus
The Zinus Cloud mattress is rated as medium-firm, or a 5 to 5.5 on the firmness scale, so it's recommended for sleepers in the 130-pound to 200-pound weight range.
People who are heavier than 200 pounds will find themselves sinking too much into the mattress and, thus, being less comfortable and supported. We suggest looking for a firmer mattress since the Zinus Cloud mattress will only sag under their weight and worsen their back pain. 
Both side and back sleepers under 200 pounds will benefit the most from sleeping on the Zinus Cloud mattress. Its 2-inch microfiber and foam quilted cover and 1.5-inch memory foam layers provide a soft, luxurious, and plush sleeping surface. As soon as your body hits the mattress, you will feel it being caressed and cushioned by the foam layers, so you feel comfortable immediately.
After 10-15 minutes, your sore pressure points from your neck to your hips seem less achy because of the luxe cushion provided by the memory foam. Take note that memory foam reacts to your body heat and molds to your curves in a way that seems intimate yet comforting. With traditional latex foam, there's less of a hug than with memory foam, too.
But stomach sleepers over 200 pounds are well-advised to steer clear of it since there's a high risk of sinking too far into the mattress. The result: Unnatural spine alignment, worse back pain, and sore pressure points.
As for combination sleepers, we're on the fence about recommending it. While it hits the sweet spot between comfort and support, its memory foam layer can make it a bit challenging to move around without feeling stuck.
The bottom line: The Zinus Cloud mattress is great if you're looking for a medium-firm mattress suitable for your average weight and preferred sleeping position.
MyPillow
The MyPillow mattress is on the medium-soft side, perhaps a 5.5 on the 10-point firmness scale. The first impression is that it's a fairly soft mattress, thanks to the plush gel foam layer. But wait for 10 minutes or so, and its firmer side emerges, although it isn't as firm as a 7-rated mattress.
If you're under 200 pounds, your initial impression is of a pleasant sinking feeling into the softcover and comfort layer. You will feel a slight to moderate hug on different parts of your body – slight for lighter parts, moderate for heavier parts like your shoulders and hips. With the cushiony support, you will feel so comfortable as to fall asleep within minutes!
Side sleepers will find a great mattress for their needs because their neck, shoulders, and hips are comfortable. The in-the-mattress feeling for lightweight sleepers is also a factor in its popularity.
But back and stomach sleepers may not like it as much as side sleepers! Their preferred sleeping position means that a firmer mattress, perhaps a medium-firm mattress (6 to 6.5), is their best bet. The firmer foam composition means that their spine maintains its neutral alignment, not curved in an unnatural and unhealthy manner.
Since it's in the medium-firm range, the MyPillow mattress provides sufficient support for sleepers under 200 pounds. The transition and support layers ensure that your spine has the right support to maintain its neutral alignment. You won't feel that you're sinking too deep into the mattress, too, since these are firmer layers.
Again, heavier sleepers will push through the first comfort layers and get the sinking feeling associated with a too-soft mattress. There's little spine support that, in turn, results in less sleeping comfort. But the discomfort isn't all there is to it, as the unnatural spine curvature results in chronic back pain and painful pressure points.
Winner: This is a close fight considering that both are medium-firm mattresses suitable for sleepers between 130 and 200 pounds. But if push comes to shove, we're choosing the MyPillow mattress because it nearly hits the Goldilocks spot. We like that it's soft enough to provide cushiony comfort yet firm enough that there's sufficient spine support for lightweight and average sleepers.
Practical Aspects: Motion Transfer, Ease of Movement and Edge Support
Your overall sleeping experience is also about motion transfer and ease of movement, as well as edge support if you sleep with a bedmate. Motion transfer refers to the amount of movement transferred from one part of the bed to another, such as when your bedmate changes position or gets off the mattress. The less motion transfer – or higher motion isolation – the better for couples and people who sleep with their pets.
All-foam mattresses, especially ones made with memory foam, are considered the best in motion isolation. You're less likely to feel the mattress moving even with a restless bedmate since the foam absorbs the movement's impact.
Ease of movement refers to the ease with which you can change sleeping positions. With an all-foam mattress, ease of movement can be an issue because of its slow response property. You may find it a bit harder to move on the bed, too, because you feel stuck in the foam.
Yet another issue with all-foam mattresses is edge support, although it's a minor one in our opinion, especially if you sleep alone. There are all-foam mattresses with extra foam structures around their perimeter for extra edge support, but these aren't common. This isn't surprising as the foam is intended to have a close contouring effect on your body.
With these disadvantages, why are all-foam mattresses still popular? Well, there are plenty of all-foam mattresses that still perform better than most on the ease of movement and edge support aspects. You may want, for example, a firmer memory foam mattress if you want better ease of movement and edge support. There's almost always a solution for mattress-related issues, and it's often easier to find them when it comes to all-foam mattresses.
Zinus
This isn't the best all-foam mattress if you're a combination of restless sleeper who weighs nearly or over 200 pounds. You're likely to get bogged down in the memory foam because of its contouring property and weight. You will find it more difficult to change positions because your elbows, hands, and knees sink too far into the plush mattress.
But if you're a combination sleeper weighing under 130 pounds, you will find that the Zinus Cloud mattress is an excellent choice. Your on-the-top experience is due to your lighter weight, too. You can move and change positions more easily since you're feeling more resistance from the mattress.
Couples will also love the Zinus Cloud mattress because of its low-motion transfer property. You and your partner can be combination sleepers or get out of bed often, but you won't be disturbed as much as you dread. This is due to memory foam's quality of absorbing motion energy much better than innerspring and hybrid mattresses.
Just make sure that you and your partner don't have significant differences in weight and height. If you do, then the Zinus Cloud isn't recommended because there will be sagging and sinking in places. If your partner is much heavier than you are, for example, you will find yourself being "dragged" to his/her side of the bed. A firmer and thicker mattress is a better choice in this case.
As for edge support, the Zinus Cloud mattress doesn't have reinforced edges. This is a huge issue for people who like sleeping near the edge or for heavier people who sleep with a partner, or for individuals who like sitting on the edge. But if you're comfortable sleeping in the middle and you usually sleep alone, it's a great all-foam mattress.
Due to its memory foam layer, the Zinus Cloud mattress isn't suitable for people who sleep hot or have night sweats. There's no mention, too, of memory foam being infused with gel beads, a temperature regulating feature.
MyPillow
Softer mattresses tend to have better motion isolation properties. The MyPillow mattress had a satisfactory performance in this aspect in that it minimized motion transfer quite well. It was okay, but it wasn't as good as that of Zinus' Cloud mattress.
If you sleep with another person, you will likely observe that the MyPillow mattress absorbs the motion from your partner, but you may still feel his/her movements. This can be a bit of an inconvenience if you're a light sleeper who wakes up with the slightest disturbance.
Switching positions and getting off the bed can be a bit uncomfortable, too, because of the soft mattress. You will need a bit of strength to move from side to side or from your back to your side. There's little to no bounce on the bed, which contributes to its low rating regarding ease of movement.
There's no edge support in the MyPillow mattress, too, which is understandable considering that it's an all-foam mattress. If you sleep near the edge of the bed, you're likely to roll off it and fall to the floor.
Winner: We're going for the Zinus mattress because it offers better motion isolation and ease of movement over the MyPillow mattress. Both, nonetheless, performed poorly on the edge support aspect, but it's acceptable. These are all-foam mattresses without a combination of coils and foam for reinforced support.
Maintenance Matters: Cleaning and Caring for the Mattress
All-foam mattresses require regular and proper cleaning since foam is a magnet for dust, dirt, and stains. First, start with a mattress protector since it will be the barrier between the foam and the accidents that come with its use. Not only will it prevent liquid and solid stains from seeping through the foam, but it will be easier to clean up the mess.

Other important tips for cleaning and caring for an all-foam mattress.
Avoid getting the foam wet, whether with your bodily fluids or with water, soda, and wine. This is true even with a mattress protector on it. Your bed should be primarily a place for sleeping and sex if you have a partner, limiting the eating and drinking on it.
Rotate the mattress regularly, so there are no obvious signs of sagging in one place over the others. Rotate it head-to-foot at least once every three months.
Use a vacuum with a hose attachment to thoroughly clean the mattress on all sides. Do this at least once every three months, too. If possible, have it professionally cleaned to eliminate unwanted stains and smells.
Avoid placing it near areas with strong heat sources, such as radiators and furnaces. Doing so will decrease the risk of the mattress caught fire and make it conform to your body better. Memory foam reacts to heat, thus, the suggestion.
And replace your mattress when you need to, not when it's on its last legs. Changing its beddings weekly is also a must so that your body fluids and odor won't stick to the mattress.
Zinus
Like most all-foam mattresses, the Zinus Cloud mattress is easy to care for if you follow the above-mentioned suggestions. The manufacturer recommends rotating the mattress once every season – or three months – so there are fewer depressions and indentations on just one side.
But this isn't a flippable mattress! The comfort and support layers are arranged in a specific manner and, thus, flipping them will affect your sleeping experience. If you slipped on the base support layer, you will be uncomfortable during the night and wake up with more aches and pains than you bargained for.
MyPillow
Flipping the mattress is also a big no-no with the MyPillow mattress because of its unilateral design. Again, rotating it every three months will do the job. Other care and maintenance measures also apply to this mattress.
Winner: It's a draw because both are easy to maintain.
Freebies: Sleep Trial and Warranty
The warranty and sleep trial period positively impact purchasing decisions, too, especially with online purchases. You don't want to be stuck with a mattress that doesn't fit your needs or meet your expectations. You may want to return the mattress within the sleep trial period with 100 days as the common term.
Zinus
The Zinus Cloud mattress comes with the usual warranty and sleeps trial period offered by many manufacturers.
Free shipping in the contiguous United States
100-night trial
10-year warranty; terms and conditions apply
MyPillow
The MyPillow mattress has slightly different terms, including:
Free shipping, but it doesn't ship its products to Alaska, California, and Hawaii as well as Canada
6-month money-back guarantee
60-day sleep trial
10-year limited warranty
Winner: We chose the MyPillow mattress for its slightly more favorable terms, particularly the 6-month money-back guarantee.
Conclusion
| | | | | | | | | |
| --- | --- | --- | --- | --- | --- | --- | --- | --- |
| | First Impressions | Setting Up | Under the Cover | Sleeping Experience | Practical Aspects | Maintenance Matters | Freebies | Tally Count |
| Zinus Pressure Relief Cloud Memory Foam | Lose | Lose | Lose | Lose | Win | Draw | Win | 2 |
| MyPillow Complete Foam Mattress Sleep System | Win | Win | Win | Win | Lose | Draw | Lose | 4 |
From the table above, we conclude that the MyPillow Complete Foam Mattress Sleep System is a better mattress than the Zinus Pressure Relief Cloud Memory Foam. The former wins in terms of first impressions, assembly, and sleeping experience, which are the most important factors in our opinion.
But we also acknowledge that every individual has unique needs in an all-foam mattress. You may find that the Zinus Pressure Relief Cloud Memory Foam is your slice of heaven on earth so go for it!