ASMR is the most famous sleep therapy that you've never heard of – unless you have heard of it, in which case there's a good chance you're addicted.
The phenomenon of ASMR was first identified in 2007, in a forum post titled: WEIRD SENSATION FEELS GOOD. The writer described an unexplained tingling sensation they "randomly" felt in their head and body.
It seemed to be caused by moments of non-sexual intimacy: being read a story as a child; having someone write on their hand. "i'm not complaining cause i love it," they wrote, "but i'm just wondering what it might be… help."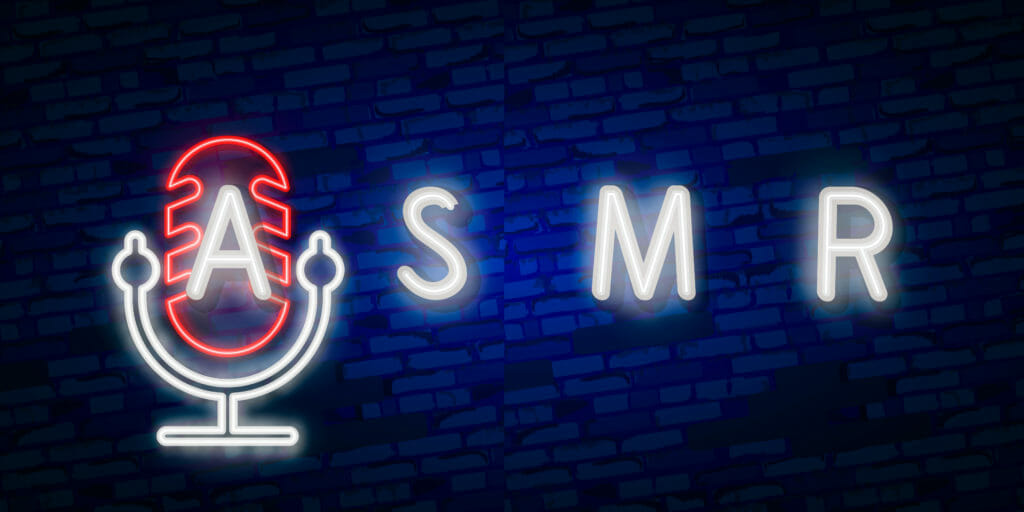 It turned out a huge subsection of the human species experiences the same kind of highly-relaxing 'brain tingles' – just nobody ever thought to talk about it. The internet changed that. By 2009, intimate whispering channels started to appear across YouTube. By 2011, the sensation had its own pseudoscientific name: Autonomous Sensory Meridian Response.
Soon there were hundreds of 'ASMR-tists' creating ASMR videos packed with 'triggers' such as paper folding, simulated hairdressing, and any kind of roleplay you could ask for. The top ASMRtists became YouTube celebrities as millions of viewers cued up their videos to help them relax or fall asleep, and today, there are at least nine ASMR millionaires, according to our calculations. ASMR began to enter the mainstream, through records, movies, and even a Super Bowl commercial starring Zoe Kravitz.
So what does the ASMR landscape look (and feel) like today? We crunched the numbers to create a visual guide to the key influencers, triggers, and fandoms of ASMR. Now sit back, relax, and just let it happen…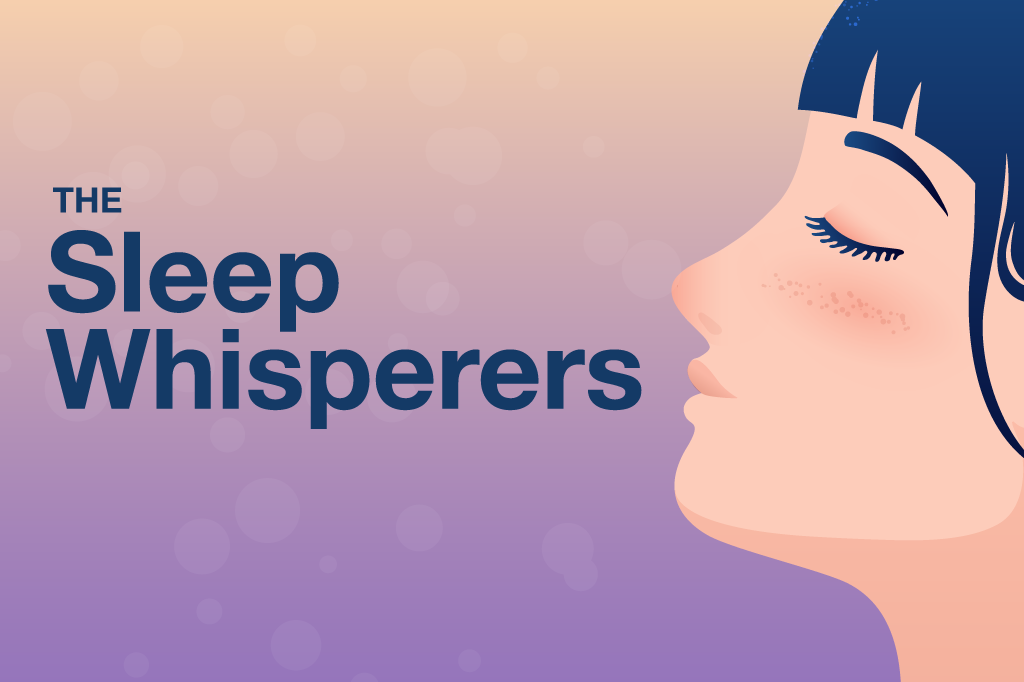 The Top ASMR Influencers, Ranked
Ask who the reigning monarch of ASMR is and you'll get a lot of different answers. Could it be Gentle Whispering, who started in 2011 and remains a firm favorite among ASMR's original audience? Or bilingual ASMRtist softlygaloshes, founder of ASMRYouReady, and a familiar face on the scene since 2012? Nope. The numbers say it's Ice Cream Rolls from Germany. His highly tactile ice cream tutorials have snagged him 883,861,562 video plays, 8 million subscribers, and an estimated ASMR fortune of $2,000,000.
Which Countries Are Hooked?
To identify ASMR viewer hotspots, we uncovered the number of YouTube searches for the keyword 'ASMR' and filtered them by country. The warmer the color on the map, the more searches-per-person being made in the corresponding area.
Top Findings:
YouTube users in Brunei are

three times more likely

to go hunting for tingles than in any other country.
Sweden, Iceland, Norway, New Zealand and France are the among the biggest searchers.
Finland is the top country in Europe, with more than 2 searches per person for ASMR videos on YouTube.
When it comes to South America, Chile takes the lead, followed closely by Uruguay and Argentina.
YouTube users in St Vincent and Grenadines search for ASMR videos more often than anyone else in North America, with Canada taking the second place.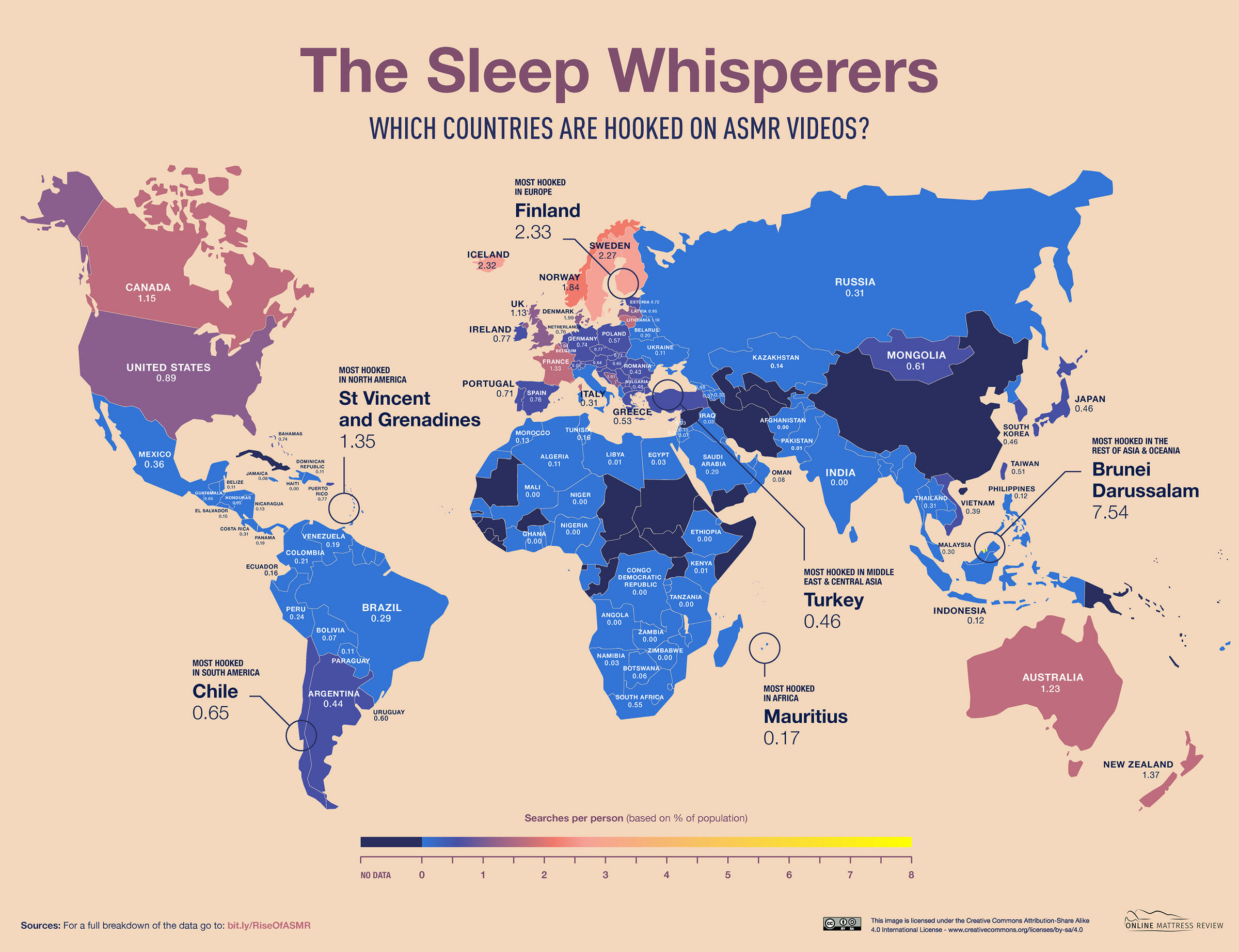 Click here to view map in full size
The Most Popular ASMR Triggers
ASMR triggers are mysterious things. No single trigger works for everyone who experiences ASMR, and sometimes the most surprising things can stimulate the effect when you least expect it. ASMR fans love to share 'unintentional' ASMR videos (such as old Bob Ross painting tutorials), and ASMRtists tend to mix multiple triggers into their videos to be sure to get those tingles tingling.
However, the most popular search term for a specific ASMR trigger is 'massage.' There's just something about seeing somebody get a head massage that evokes a bliss state even in casual viewers.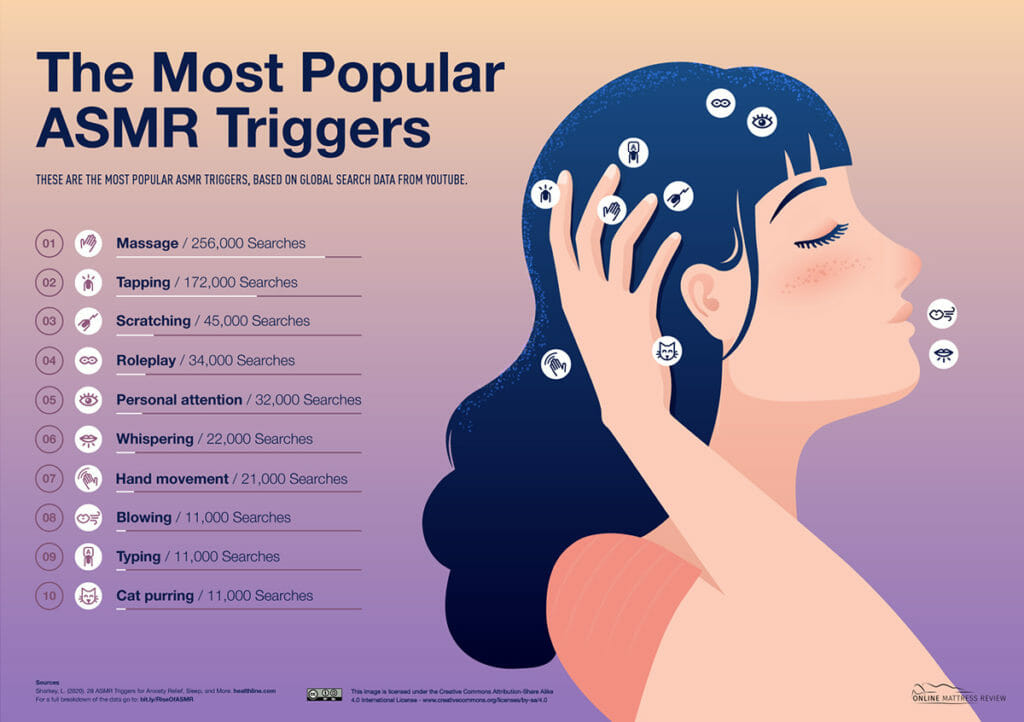 10 Most Watched ASMR Videos On YouTube
ASMR fans vote with their fingertips. The multimillion view counts on the most popular videos are partly explained by returning viewers who enjoyed copious tingles the first time around. Everybody has to find their own favorite triggers and ASMRtists, but if you're new to the phenomenon then it helps to start with the hits.
JerryPop's Yummy Nummies-Mini Slushy Maker ASMR is the most popular ASMR video of all time. Combining classic ASMR triggers with other popular YouTube phenomena such as unboxing and mukbang, the video has achieved 110,035,588 views. For a popular ASMR video to help you nod off, try ASMR Darling's 20 Triggers To Help You Sleep.
1. Making Glossy Slime With Piping Bags
Bright gooey colors squeezed into a dish and slowly swirled into each other until they become a thick, gummy slime. We estimate this four-minute video earned Pelangi Warna $157,334. Pure art?
Total video views: 82.4M
Estimated earnings: $153.6K
---
2. Yummy Nummies-Mini Slushy Maker ASMR
What's most surprising about the all-time most popular ASMR videos is that many feature no identifiable human and are very short. Popular ASMRtists can often thank a magnetic personality and a long immersive experience for their success – but JerryPop does it all with colourful products, manipulated slowly and tinglingly. Yes, tinglingly.
Total video views: 110.1M
Estimated earnings: $203.7K
---
3. ASMR 50+ Triggers over 3 Hours (NO TALKING)
The UK's ASMRMagic produced this three-hour epic as a kind of request show of her top hits. It even comes with a menu so you can click straight to the trigger that really gets you buzzing.
Total video views: 82.4M
Estimated earnings: $153.6K
---
4. Mixing Lipstick With Clear Slime
A pair of anonymous hands chops and snaps dozens of lipsticks into a baking tray of clear slime, and then mixes it all up. Be warned, the ident music at the end might wake you up from the nap you were just starting to enjoy.
Total video views: 75M
Estimated earnings: $140.7K
---
5. Crushing Lighters and Other Things by Car!
Have you ever heard an electric car being parked on gravel? Bliss! But if that's too minimal for you, here's somebody anonymous driving a full-on petrol car over toys, crayons, and an unexpected Rubik's Cube. Destructive bliss!
Total video views: 73.9M
Estimated earnings: $136.9K
---
6. ASMR Edible Hair Brush, Spoon, Bubble Tea, Gummy
ASMR videos don't have to make sense – they just need to make sensations. That gives ASMRtists license to go as weird as they like in the quest to help you relax. In this one, Jane ASMR eats a hairbrush.
Total video views: 69.3M
Estimated earnings: $137.1K
---
7. ASMR Rainbow Crepe Cake
'Eating sounds' ASMR is a divisive issue: does it give you tingles or does it just yuck you out? Jane ASMR sweetens the pill by only eating things that are colored like bubblegum.
Total video views: 65M
Estimated earnings: $150.3K
---
8. Soap Carving ASMR
Notably published before hand soap became more precious than gold, this Vietnamese video capitalizes on the hidden beauty in everyday objects around us, and how satisfying it is to chop those objects into tiny pieces.
Total video views: 63.3M
Estimated earnings: $117.6K
---
9. ASMR Black Bean Noodles + Fried Chicken
Jane ASMR continues her wander into mukbang territory with a plate of sticky noodles. This one may make you hungry rather than sleepy.
Total video views: 57.8M
Estimated earnings: $116.6K
---
10. Most Popular Food for ASMR (with Stephanie Soo)
ASMR superstar Zach Choi invites mukbang superstar Stephanie Soo for a special guest appearance. A sticky sweet recipe for YouTube success.
Total video views: 52.3M
Estimated earnings: $102.7K
ASMR videos may be a new trend, but the sensation itself seems to be an ancient quirk of the human body – perhaps developed to help us to sleep or to bond with other humans. Now that the secret is out, you can expect to see new whispering videos in your feed for as long as YouTube is around. In fact… have you ever thought of filming your own?
---
Methodology & Sources
To identify the ASMR YouTube accounts with the highest number of subscribers, we made a series of YouTube searches and supplemented them with HypeAuditor's Discovery tool. Once we had a list of top influencers, we used influencer analytics tool NoxInfluencer YouTube Money Calculator to find out the estimated earnings of each YouTuber. To identify the most popular video posted by each influencer, we visited their YouTube channel and sorted their videos by 'Most Popular'. 
We used Ahrefs Keyword Explorer to identify the countries where YouTube users make the most searches for ASMR videos. We then found out the population of each country so we could calculate the average searches per person. Finally we took a list of popular ASMR triggers, and used Ahrefs Keyword explorer to find out which of the terms are most frequently paired with ASMR and searched for on YouTube. We discarded searches for specific YouTubers, along with explicit keywords.
Data was collected in April 2020: bit.ly/RiseOfASMR