For the best prices, discounts and options on mattresses in the San Diego area, browse our guide below.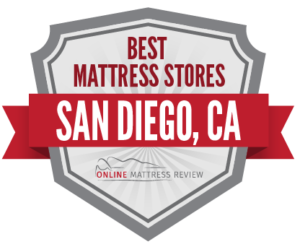 With a bustling population and a health-conscious mindset, San Diego has a big market for mattresses of every type, and a huge number of mattress shops to meet that need.
Many shoppers here want a specialized mattress to correct back pain or improve wellness through more restful sleep.
Others in this eco-conscious city want a natural mattress or a store that offers mattress recycling. And, of course, a great many customers are simply looking to save money by finding the most affordable mattress in town.
We've explored all 64 mattress stores in San Diego to bring you the best of the best by special and location. If you're wondering where to buy a mattress in San Diego, read on to discover the best option in your neighborhood.
---
Mattress Stores in Central San Diego
1660 Camino De La Reina Ste A, San Diego, CA 92108 Phone: (619) 291-9099
2401 Fenton Pkwy Ste 101, San Diego, CA 92108 Phone: (619) 640-5043
The mattress store in San Diego with the most centrally located showroom is Mattress Firm, which has mattress shops in Westfield Mission Valley and Mission Valley East. This national chain consistently delivers a wide selection of affordable mattresses from name-brand companies.
7636 Clairemont Mesa Blvd, San Diego, CA 92111 Phone: (858) 256-0068
Real Deal Mattress is the mattress store in central San Diego with the highest number of positive reviews. Customers report outstanding customer service, with the owner personally providing guidance and assistance. This mattress shop also boasts a huge selection of specialty mattresses, such as memory foam, adjustable and hybrid beds, with excellent prices on high-end products.
7377 Convoy Ct Suite B, San Diego, CA 92111 Phone: (619) 760-7031
Just two blocks away, another mattress shop in the Kearney Mesa neighborhood that's worth a look is Mattress Sale Liquidators. As the name implies, this store specializes in affordable mattresses, with savings of up to 70% off retail value.
4160 Kearny Mesa Rd, San Diego, CA 92111 Phone: (858) 278-0110
In the same neighborhood, you'll also find another location of Mattress Firm. With so many mattress stores clustered in the Kearney Mesa neighborhood, customers can do some convenient comparison shopping to score the best deal.
---
Mattress Stores in North San Diego
Miramar is the neighborhood to head to when looking to buy a mattress in San Diego north of the city center. On and around Miramar Road are clustered no less than ten mattress stores, and shoppers can find great deals or meet specific needs by investing the time to compare products and prices between stores. Several of these mattress stores even match competitors' prices.
7919 Silverton Ave #412, San Diego, CA 92126 Phone: (858) 566-4408
The mattress shop in north San Diego with the highest customer ratings is Mattress Makers. This innovative mattress store sells modular, customizable mattresses, which are assembled in layers and sealed with zippers to allow reconfiguration. Mattress Makers also offers a 10-year "love your mattress" guarantee, and recycles old mattresses or donates them to an orphanage in Mexico. There's even a kids' area in their stylish showroom with toys and Netflix, so parents can take their time to shop.
---
Mattress Stores in South San Diego
2855 El Cajon Blvd San Diego, CA 92104 Phone: (619) 287-2337
The most unconventional and innovative mattress store in South San Diego is certainly Sleep Bedder, a blend of mattress shop, eco boutique and community art space. The showroom is chic and eclectic, with local art, plants, white walls and exposed good beans creating a lush and sophisticated space. Shoppers can sip complimentary tea and coffee, while choosing a high-end, natural or eco-friendly mattress. Stick around for a community event; this mattress shop hosts yoga, kombucha workshops, local art markets, acupuncture and more.
1050 Highland Ave, National City, CA 91950 Phone: (619) 477-7077
If you're after a bargain, try Budget Furniture Outlet, is a small, locally-owned furniture and mattress store with a big inventory and personal service. The owner will match or beat any price, making this a great choice for shoppers in search of the most affordable mattress.
---
Mattress Stores in East San Diego
4135 Poplar St San Diego, CA 92105 (619) 322-6749
If you're considering a futon for your guests or dorm room, Futon John is a well-reviewed mattress store in East San Diego. This family-owned mattress shop has been selling American-made futons for over 45 years. The store makes just one product: trifold futons in sing and double sizes, but customers love the high quality and low prices at this specialty store.
---
Mattress Stores in West San Diego
3146 Sports Arena Blvd Ste 3, San Diego, CA 92110 Phone: (619) 221-1211
3109 Sports Arena Blvd, San Diego, CA 92110 Phone: (619) 225-0171
If you're looking for a wide selection of traditional, name-brand mattresses, there's Mattress Firm Midway District and right nearby, Mattress Firm Sports Arena.
---
Also check out:
Best Mattress Shops in California
You can also check out mattresses online at some of our favorite stores: