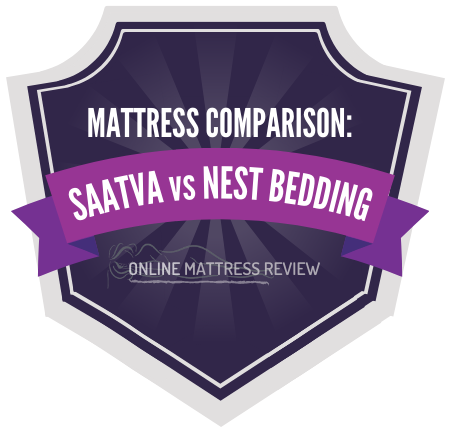 It's the battle of the hybrid mattresses once again! This time, we compared the Saatva Classic mattress and the Alexander Signature Hybrid mattress because of their numerous similarities.
Both, for example, have multiple layers of foam and innerspring coils, with a nearly similar thickness (14.5″ for Saatva and 14″ for Alexander); and available in three firmness levels. 
But what's a hybrid mattress in the first place? It's a mattress with two or more different types of comfort and support layers. The best hybrid mattresses combine a foam mattress, usually with a memory foam layer and an innerspring mattress.
Think of bringing together the best of both worlds. On the one hand, there's the responsiveness and firmness of an innerspring mattress that provides full-body support. On the other hand, the softness and soothing pressure relief from an all-foam mattress contribute to a comfortable sleeping experience.
What you will get, if and when you choose the right hybrid mattress, is the perfect marriage between comfort and support! Nonetheless, the level of comfort and support experience with a hybrid mattress will depend on several factors. These include your personal preferences in firmness level, body weight, and preferred sleeping position.

And then there's the number of layers in a hybrid mattress. This varies between hybrid mattresses, but it's common to see between five and seven layers. These layers, in turn, can be classified into three main layers, namely:
The base layer is at the bottom of the mattress, and it's typically made of an all-foam material. This is the mattress' bedrock, if you will, which provides padded protection for the innerspring coils and stability for the entire structure. The layer's thickness can range from an inch to several inches.
The support layer is where the innerspring coils are found, and it's usually the thickest layer of the mattress. The innerspring coils provide the firmness and, thus, the support that your body needs while in a prone position.
The comfort layer is the topmost layer, and it typically consists of two or more all-foam layers of varying types and thickness. The typical materials used are gel-infused memory foam and latex foam with thicknesses from one to four inches for each sub-layer.
Of course, the quality of materials and construction and the manufacturer's overall reputation matters when choosing the best hybrid mattress! In this case, we're confident that Saatva and Nest Bedding are among the best mattress manufacturers in the United States.
Saatva, a privately-held e-commerce company based in New York City, sells luxury mattresses that earned positive reception from the public. Such is the exceptional quality of its products and its business model that it has received accolades from Forbes, Vogue, and Inc.
Nest Bedding is a San Francisco-based bed-in-a-box company that makes and sells handcrafted environmentally-friendly mattresses, bedding products, and furniture. While it has its flagship store in San Francisco, its products are also available in several showrooms in California, Colorado, Washington, and New York.
Aside from the featured Saatva Classic mattress here, Saatva also sells these mattresses:
Loom & Leaf, a luxury 5-pound memory foam mattress
Latex Hybrid, a hybrid mattress with Talalay latex and innerspring
Solaire Adjustable, an all-foam mattress
Saatva Youth, a dual-sided mattress designed for kids ages 3-12 years
Zenhaven, a 100% Talalay latex mattress with different firmness level (flippable)
Saatva HD, a luxury hybrid mattress for larger/heavier people up to 500 pounds
Nest Bedding also has several other choices aside from the Alexander Signature Hybrid mattress, including:
Love & Sleep, an all-foam mattress
Flip Double-Sided Hybrid, a flippable mattress
Let's start with the comparisons to recommend which of these two mattresses you may want to buy.
First Impressions: Dimensions and Colors
While mattresses will be completely covered in beddings when in use, we think that it's important to judge them based on their appearance, too! We can determine whether a mattress was made with high-quality materials and built with durability in mind from an initial inspection. We can also decide whether it needs a mattress protector or not, especially when children and pets will use it.

Saatva
The Saatva Classic's all-white design with gold-like edging appeals to the simple yet sophisticated sensibility. Besides, there's something so clean and hygienic about sleeping on an all-white mattress!
The tufted cover is soft and supple to the touch, and it's a great first impression of its comfort experience. The foam sinks with the slightest pressure and then bounces back in a few seconds. You can immediately lie down on the mattress and feel comfortable since there's little break-in period involved.
The initial impression is that, indeed, it's a luxury mattress made of world-class materials that can withstand several years of use. The attention to detail, from the tufting to the stitching, screams excellent quality, too.
This is available in the standard sizes, namely:
Twin
Twin XL
Full
Queen
King
Split King
Cal King
Split Cal King
Every size is available in two heights – the 14.5-inch and the 11.5-inch versions; we chose the 14.5″ mattress for comparison purposes. Both heights, nonetheless, deliver the same comfort and support performance.
As for the weight limitations, the Classic can support sleepers weighing up to 300 pounds, particularly for the twin and twin XL sizes. The larger sizes can support sleepers up to 300 pounds on each side from full to split king.
If you're looking for a mattress for larger/heavier sleepers, you should consider the Saatva HD mattress instead. It can support sleepers up to 500 pounds on each side.
Nest Bedding
The Alexander Signature has a two-tone design with the top layer encased in a piece of white fabric and the second layer in a dark blue-black material. There's a defined separation between the two layers, but these layers are sturdy and stable as a single unit – vigorous jumping, for example, won't affect its construction. The tufted top layer is also a pretty sight, and the darker bottom layer may mean less cleaning to be done.
This is a 14-inch mattress that comes in standard sizes, namely:
Twin
Twin XL
Full
Queen
King
Cal King
Split Cal King
If you want a custom feel for every side of the mattress, you can ask for either the King or Cal King sizes. These have the so-called internal split that offers a customized comfort level for each side of the mattress.
The surface looks plush and feels lush, a luxurious experience that prepares us for the good things to come. We like that the foam isn't just soft but also quickly responds to the pressure from our hands. There's also a slight bounce as we got in and out of the mattress.
Winner: For a great first impression, the Saatva Classic immediately grabbed our attention for its clean, chic, and contemporary design. We also liked its higher height, although a half-inch difference doesn't seem much. There are also more sizes to choose from, an important aspect considering the population's diverse needs.
Setting Up: Assembly and Platform
Is the mattress easy to assemble or pain in the back, literally? Is it good on its own, or should it be placed on a platform? These are important questions to ask when choosing a hybrid mattress chosen from an online store.
You will want a mattress that's easy to set up in your bedroom, not to mention one that was a breeze in terms of delivery time and effort. You should also consider whether your existing foundation or platform will be compatible with the mattress you ordered. If not, you're looking at an extra cost for a good bed.
Saatva
The Classic isn't your typical bed-in-a-box mattress, and it's an important distinction between the two mattresses. According to the company, each mattress is made to order, so there's a waiting period involved with your order. But it isn't a lengthy one, thanks to the efficient manufacturing process, with the typical delivery time between seven and 18 days.
The mattress doesn't arrive in a rolled and compressed form. But don't worry about breaking your back to carry it to your bedroom and onto its platform. Every mattress is delivered, free of shipping, by the company's dedicated delivery team, who will then set it up in your bedroom. You can also request the delivery team to remove your mattress and properly dispose of it for a nominal fee.
You can use a foundation, an adjustable base, or a box spring for the Classic, whatever you have now. Since it only has a thin memory foam layer, it doesn't have the dreaded off-gassing to be used almost immediately.
Please take note that the Classic isn't a flippable mattress due to its construction. If you flip it, the bottom support layer won't provide the comfort you're looking for in foam. Your body's too close to the coils in this instance.
Nest Bedding
The Alexander Signature is a typical bed-in-a-box mattress in a rolled and compressed form when delivered to buyers. You may ask the delivery team to have it placed next to its platform, but you can also do it with another adult. The package is fairly heavy but manageable.
You will likely be excited about tearing through the box and the plastic packaging, then watching the mattress expand. And herein lies the waiting game since it can take between 24 and 72 hours for the mattress to reach full inflation. Once it's fully inflated, you won't be able to tell that it was once rolled and compressed in a box!
But there's the issue of slight off-gassing during the inflation time. This isn't a major issue since the mattress comprises non-toxic foam materials with low VOC levels. Just make sure to open your bedroom windows to speed up the off-gassing process.
A thoughtful design feature is the handles that make it easier to move the mattress. You may need these handles when cleaning the underside of the mattress.
Winner: We're partial to the Classic because of its ease of setup and on-the-spot use! The white glove delivery service means that there will be no muscle strains, back pain, and other injuries on your part when it's being set up. You can immediately use it as soon as it's covered with beddings, too.
Under the Cover: Materials and Layers
The type and durability of the materials and how these were used in a mattress influence its overall quality. Thus, we included these aspects in the comparison between the Classic and Alexander Signature Hybrid mattresses. These are also important because both are fairly luxurious mattresses with the corresponding prices.
Both mattresses also have multiple layers consisting of the comfort, support, and base layers, although the number of layers varies. In terms of height as a result of these layers, these products are evenly matched. Both also have high-quality construction with tight seams and stitches, thick fabrics and foams, and sturdy bases.
Saatva
The Classic's layers are:
The hypoallergenic, organic cotton cover with excellent breathable quality.
The 3-inch Euro pillow top with a botanical antimicrobial treatment. This is a plush layer due to the foam padding, making it denser and sturdier than a pillowtop. Since it's also sewn flush along the mattress's edges, it also has a neat and uniform appearance.
The high-density memory foam layer lies below the Euro pillow top, contributing to the overall softness of the mattress. More important, it provides more pressure relief and back support for the body. The memory foam is concentrated more in the middle of the mattress since most people tend to sleep.
The layer of individually pocketed coils – 884 coils in the queen size – made from 14.5-gauge recycled steel is the first support layer. The coils respond to your body's movements on the mattress and minimize motion transfer (i.e., high motion isolation). Plus, their arrangement allows for better air circulation inside the mattress, a great feature for sleeping cool.
The base comprises 13-gauge tempered steel support coils that give it excellent durability even with constant use. This is the foundation that ensures the mattress will hold up over time with less sagging. The support coils are also important because of their high weight-bearing capacity.
The Classic also has a fairly unique feature – a series of high-density foam rails surrounding its perimeter. This feature acts as the edge structure of the mattress and, thus, prevents premature sagging. These rails also make getting in and out of bed so much easier since you're not sinking into the edge.
There's also a flame retardant barrier that doesn't pose health risks since it isn't made from chemical sprays and other possibly toxic substances. Instead, it's made from natural thistle pulp, a combination of wood pulp, polyester, and 100% organic New Zealand wool. The flame retardant barrier is required by federal law, and it's supposed to withstand a 30-minute exposure to open flame.
Nest Bedding
The Alexander Signature also has multiple comforts and support layers. But where the Saatva Classic has a dual layer of coils, the Alexander only has one.
The 1-inch cover is made of gel memory foam with a quilted design. This has the so-called thermic phase change cover technology that means a cooler sleeping experience in layman's terms.
The 3-inch TitanChil Endurance Foam is the comfort and cooling layer. It's a hyper-responsive foam that conforms to your body's contours as you change between sleeping positions.
The 1-inch, 3-pound SmartFlow Support Foam is the transitional layer that separates the all-foam comfort layer from the coil support layer. But since it has a medium-firm feel, the foam is also important in maintaining spine alignment.
The 8-inch support layer consists of reinforced pocketed coils that provide deep compression support, its primary function. Due to their construction and arrangement, these coils also reduce motion transfer and increase airflow through the mattress.
The 1-inch, 3-pound base support foam is the final layer that ties up the mattress. This isn't just a foam layer since it also protects the pocketed coils from premature damage.
The foam layers are made of CertiPUR-certified foam that has been aired out in the factory for reduced off-gassing. Like the Saatva Classic, the Alexander Signature also has a fire barrier, but it's made of non-chemical hydrogenated silica.
We shine the spotlight on a unique Alexander Signature Hybrid feature – a zipper! While a zipper may be small compared to the rest of the materials, it has a big role in the mattress's lifetime.
First, you can exchange or purchase a comfort layer from Nest Bedding and insert it into the mattress – and it's possible because of the zipper. This is an uncommon feature in luxury mattresses where a user can personalize his/her mattress's feel by adding another foam layer. Quite like the Princess and the Pea story!
Second, you can replace the comfort layer as you wish, a change that may be necessary for the years to come. With each change, you're extending the life of your mattress and getting more value for your money. Bonus: You're not throwing more waste into a landfill, a great feature if you're an eco-conscious consumer.
As if that isn't enough reason to love Nest Bedding's clever mattress design, the Alexander Signature Hybrid has a dual firmness feature for couples. This is, however, only available for the king and Cal king sizes only.
There's an internal split in the mattress such that each person can choose his/her preferred firmness. You can, for example, request that your side of the bed has a medium firmness while your partner's side has a luxury firm mattress. Such tailored firmness isn't possible with other brands, and it's tailored specifically for couples with different preferences.
Winner: The Alexander Signature Hybrid mattress wins this round! We appreciate that it has multiple comforts and support layers, but it has two standout features that allow for customization. These features make every person's sleeping experience better, if not the best in their life, because of the personalization options.
Indeed, it isn't your run-of-the-mill, one-size-fits-all mattress, and, for this reason, we're even willing to pay for its premium price.
Sleeping Experience: Firmness and its Related Experience of Comfort and Support
Firmness pertains to the feel of a mattress, specifically whether it's comfortable or not. Since comfort is a subjective experience, firmness is also a subjective topic among consumers. But in the mattress industry, firmness is classified into three main types with their quantitative designations:
Soft or plush (1-3) mattresses keep the spine aligned and relieve pressure points for light people. But these can have too much sink and hug, so there's a risk of excessive spine curvature.
Medium (4-6) mattresses are considered the Goldilocks mattresses because of their balance between comfort and support. These are the popular option for most people because these provide enough contouring and pressure relief while also ensuring spinal alignment.
Firm (7-10) mattresses don't have the sink of soft and medium mattresses, but these still offer sufficient cushioning for pressure relief and spinal support. These are also typically recommended for larger or heavier persons.
If a mattress hits the Goldilocks balance between comfort and support, then it's likely the best mattress for you! This is regardless of whether it's too soft or too firm for others.
Saatva
The Classic is available in three firmness levels, but there's no difference in their overall quality and cost.
The plush soft (3) version provides a body-hugging experience with a deep sink into the mattress (i.e., in-the-mattress feel). It is an excellent option for you if you like sleeping on a cloud, lightweight, and side sleepers who prefer a soft, cushiony bed.
The luxury firm (5-7) version is the bestselling mattress, partly because its comfort experience closely resembles the luxury hotel experience. The excellent balance between cushiony comfort and firm support makes it suitable for every sleeping style. It's also a recommended option for couples with different firmness preferences.
The firm (8) version provides an on-the-mattress sleeping experience with its firmer foam layers. Take note that this is an extra-firm mattress suitable for back and stomach sleepers and people with heavier weight.
Since the luxury firm is the most popular, we chose it for comparison purposes. We found a cushy feel on top without being too billowy and plush and a good bounce and support. While it has a medium-firm feel during the first few months of use, it gradually transitions into a softer feel. This is a normal occurrence as the foam materials decompress over time, and, thus, there's no need to replace it so soon.
Are you a back sleeper? You will likely appreciate its Goldilocks balance of comfort and support. There's a slight sink into the Euro pillowtop, and then the cushioning comfort of the foam layers comes in. The support layer does its job of providing excellent lumbar support, a feature that makes it a mattress recommended for people with sciatica, lower back pain, and arthritis.
As for side sleepers, the Classic is also a suitable mattress since it still provides pressure relief and lumbar support. Consider the Plush Soft version if you're into a deeper sink.
Stomach sleepers may also find the Classic a good fit because of the solid support. But larger or heavier persons may want to look into the Firm version for a firmer experience.
A word about the Classic's spinal zone technology. We weren't impressed with it because we have different heights, sizes, and shapes; thus, the zoning patterns won't match the sleeping position. But if it works for you, then good for you!
Nest Bedding
The Alexander Signature Hybrid also comes in three different firmness levels.
The plush version is recommended for side sleepers, lighter sleepers under 140 pounds, and people looking for gentler support and better pressure relief.
The medium model is a great choice for combination, back and side sleepers; people of average weight; and people who want a supportive mattress with a slight sink or hug. If you're unsure about your preference, you can get it, too, since it's a combination of both plush and firm.
The lux firm version is mainly recommended for back and stomach sleepers, but side sleepers who need extra lumbar support find it suitable, too.
Again, we chose the medium version for comparison purposes, aside from its bestselling model.
The foam layers have a slight sink or give when you first lie down on the mattress. But it doesn't conform too closely to your body that you feel like you're being hugged too closely. You will, nonetheless, love that your pressure points are being cradled, so a soothing feeling becomes evident after several minutes.
We also love that the coil base provides the right kind of support we're looking for in a luxury hybrid mattress. There's a certain consistent, bouncy, and responsive support that promotes better sleep.
Winner: Both mattresses are durable and, thus, it's a draw on this aspect. When it comes to optimum comfort and support for all types of sleepers of average weight, we're giving the Saatva Classic the trophy. We almost immediately appreciated the cushy comfort of the foam layers and the counterbalancing support of the coil layer.
Practical Aspects: Motion Transfer, Ease of Movement and Edge Support
These three aspects of the mattress experience are important for different reasons. Motion transfer makes it easier for you and your bedmate to sleep undisturbed. Ease of movement makes for an easier time changing positions and getting in and out of bed, a must when you have mobility issues. Edge support contributes to a longer lifespan and a better experience of sleeping and sitting on the edge.
Saatva
Unfortunately, the Classic didn't perform well in the motion transfer test. We felt the movements of the other person on the other side of the bed, and it's true even with moderate movement only. This is because while the topmost coils have individual wrapping, the bottom coils don't have it.
Due to the higher motion, it's got more bouncy. If you're not into bouncy mattresses, then the Classic isn't right for you. Ask about the Loom & Leaf instead since it has little bounce to it.
Edge support is where the Classic shines, and it's also because of the dual coils and the foam rails around its perimeter. Sleep near the edge of the mattress, but you won't feel like you're going to roll off it.
Whether the Classic sleeps hot or cool, we have to say that it sleeps on the cool side. This is because of the combination of breathable cover and foam and dual coil system.
Nest Bedding
The Alexander Signature Hybrid is quite a bouncy bed because of its innerspring structure, and it's the kind of springiness that contributes to ease of movement. Due to the multiple foam layers on top of the coil layer, its motion isolation capacity is also good (i.e., less motion transfer).
The innerspring coil base also makes the mattress stronger and sturdier at the edges. Not only does it make sleeping on edge safer and better, but it also prevents sinkage and sagging around the edges. We also like that the mattress sleeps fairly cool, so sleeping through the night is possible even on a hot day.
Winner: We say that it's a draw because both mattresses deliver quite well on these three aspects.
Maintenance Matters: Cleaning and Caring for the Mattress
Did you know that each person sheds about 1.5 grams of skin per day? If you think that's too little, you must consider that it's enough to feed 1 million dust mites! These microscopic organisms don't just look like scary aliens, but these can cause severe allergy problems.
And we're not even talking about the grossness of sleeping on a dirty mattress with dust, dirt, and stains on it! Indeed, with the amount of time we spend on our bed, a clean mattress is a must from lounging to sleeping. For this reason, we evaluated the Classic and Alexander Hybrid on their ease of cleaning and maintenance.
Saatva
Again, the Classic isn't designed for flipping since doing so will result in a 180-degree change in the arrangement of its comfort and support layers. But its usable life can be extended – less sagging in certain areas, for example – by rotating it in a 180-degree turn every six months or so.
Cleaning the Classic is also easy in the sense that there are no atypical measures and equipment necessary. According to Saatva, the following measures are enough to keep the Classic in good condition for several years.
Use a vacuum with upholstery and crevice attachments to clean the mattress at least once every six months. Get into the nooks and crannies, so dirt, dust, and dead skin don't accumulate in these areas. You may want to use a garment steamer to go over it before using a vacuum.
Spot-treat liquid and solid stains as soon as these happen. You can use a natural enzyme cleaner or an upholstery cleaner for this purpose.
Sprinkle baking soda over the mattress's surface to deodorize it, particularly if it's the first time for the mattress to be cleaned. Leave it on for about 24 hours and vacuum the mattress afterward. If possible, you may also want to carry it outside on a sunny day for a good airing out.
Nest Bedding
The makers of Alexander Signature strongly suggest placing a waterproof, washable mattress protector over the mattress to lessen the frequency of cleaning. Nest Bedding sells these protectors in different materials, including terry cloth, organic cotton, and wool.
But life happens, and stains occur. Nest Bedding has its cleaning instructions, including using a clean, dry towel over the stain and pressing on it – no wiping, scrubbing and washing the spot. Just keep dapping on the spot until there's no more appearance of moisture on the towel. If there's a noticeable spot, it's best to call the professionals.
A vacuum cleaner that comes with a brush attachment and a crevice attachment will also do the trick. Clean the mattress using it every six months.
Winner: As is typically the case between mattresses in terms of maintenance, it's a draw. You can easily clean the Classic as fast as you can clean the Alexander Signature. In both cases, you're well-advised to use a mattress protector to prevent stains from seeping through to the mattress's lower layers.
Freebies: Sleep Trial and Warranty
Hybrid mattresses should ideally be replaced after six years of use, but sleep experts also say that it's possible to extend it to eight years. But you may not have to wait that long to replace a brand-new mattress! It's where the sleep trial feature comes in, and we included it in the comparison criteria for this reason.

When should you return a newly-purchased mattress? This is definitely not a decision to be taken lightly either since it will involve communicating with the company, waiting for the pick-up team, and perhaps paying for the service. We suggest going through the oft-complicated process only under these circumstances:
Comfort issues (too soft or too firm)
Pain in the shoulders, back, and hips in the morning
High heat retention
Unresolved off-gassing for several days
Too much motion transfer
Issues with usability for sex, if applicable
The warranty period, as well as its terms and conditions, are just as important. You want the assurance that the company will stand by its quality and replace the mattress, if necessary.
Saatva
Just as Saatva delivers the Classic to your home without a fuss, so will it pick up the mattress in case you decide to return it. But there's a catch – while you can refund your money, you won't receive it in full. You have to pay the $99 transportation fee, which will be deducted from your refund, for the pick-up service.
There's a 180-night window in which you can determine whether the Classic works for you or not. That's about six months, and it's among the longest trial periods we've encountered. But you likely won't reach the six-month mark before you make the decision.
The Classic comes with a 15-year pro-rated warranty.
Nest Bedding
The Alexander Signature comes with a 100-night sleep trial for US buyers. International buyers, including those in Canada, cannot return their mattresses for whatever reason – it's a final sale. The 100-night trial period is quite common in the industry, and, thus, it's an acceptable period.
As for the warranty, it comes with a limited lifetime warranty; terms and conditions apply. Don't get too excited about the lifetime warranty since you can't return the mattress if it shows signs of misuse or abuse.
Winner: We're giving the Saatva Classic the round for its long sleep trial period. After all, if you can enjoy the mattress for six months and then decide it isn't for you, you're slightly in the lead.
Conclusion
We tallied the win-lose-draw count from the above comparisons made, and here's what we came up with.
| | | | | | | | | |
| --- | --- | --- | --- | --- | --- | --- | --- | --- |
| | First Impressions | Setting Up | Under the Cover | Sleeping Experience | Practical Aspects | Maintenance Matters | Freebies | Tally Count |
| Saatva Classic | Win | Win | Lose | Win | Draw | Draw | Win | 4 |
| Alexander Signature | Lose | Lose | Win | Lose | Draw | Draw | Lose | 1 |
The Saatva Classic wins the count, and we can say that, indeed, it's the better hybrid mattress of the two products despite its relative simplicity in terms of features. Of course, the Alexander Signature Hybrid has its merits, too, of which the customizable comfort level for its split-type mattresses is the best.
But we also want to emphasize that your personal needs and wants are always the deciding factors in any mattress comparison! You may decide that the Saatva Classic (Medium) fits your budget, lifestyle preferences, and comfort expectations. But you will be right in choosing the Alexander Signature Hybrid, too, because you and your partner have different firmness preferences.
In the end, you have to lie in the bed of your own choice, and we hope that you will love it!