Pennsylvania is a big state with many mattress shops. We've narrowed down some of the best so that your night's sleep is sure to get better.
Mattress Stores in Pennsylvania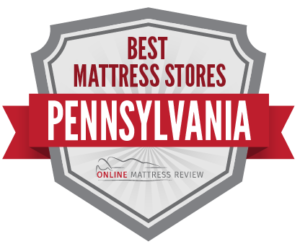 Whether you live in quiet Amish Country, or the bustling streets of Philadelphia, you'll need a good night sleep at the end of a busy day. Pennsylvania offers mattresses as diverse as the state itself including organic, eco-friendly, and all of the name brands you have come to recognize. We spend ? of our lives on our mattresses, so purchasing the right fit is a big deal. Below you will find mattress shops that span the state of Pennsylvania. If you are looking for a mattress that is affordable, high quality, and the perfect fit for your sleep style, check out the mattress stores below.
Mattress Stores in Philadelphia
When in the city of brotherly love, what better way to show you love for someone than with a good night sleep? If you need to know where to find a mattress in Philadelphia, look no further.
1722 Chestnut St, Philadelphia, PA 19103 Phone (215) 963-0105
1944 S Christopher Columbus Blvd, Philadelphia, PA 19148 Phone (215) 755-4310
3664 Aramingo Ave, Philadelphia, PA 19134 Phone (215) 289-5691
Like most major cities, Mattress Firm covers each neighborhood, providing a nearby solution for every neighborhood in Philadelphia. You'll find a Mattress Firm in Center City, Pennsport, Harrowgate and more.
1518 Easton Rd, Abington, PA 19001 Phone (215) 307-1535
If you're looking for a Mattress store near Philadelphia, try Mattress Outlet of Abington. Mattress Outlet offers a wide-range of affordable quality mattresses. Your purchase includes mattress, delivery, and set up.
323 S Main St, Doylestown, PA 18901 Phone (215) 345-5551
83 E Lancaster Ave, Paoli, PA 19301 Phone (610) 647-4068
If you're interested in green and organic mattresses, there are two locations near Philadelphia Your Organic Bedroom in Doylestown and Your Organic Bedroom in Paoli.
Mattress Stores in Pittsburgh
If you're wondering "where can I find a mattress in Pittsburgh?" then you're in the right spot. Pittsburgh, like many large cities, has a number of options that are neighborhood-specific.
4100 William Penn Hwy Store 17, Monroeville, PA 15146 Phone (412) 372-1772
Mattress Warehouse is located downtown and offers all of the name brand mattresses you would hope to find for discounted and affordable prices. In addition to the convenient downtown location, Mattress Warehouse offers affordable mattresses, knowledgeable staff, and top-notch customer service.
5438 Baum Blvd, Pittsburgh, PA 15232 Phone (412) 224-5740
When in Shady Side, make the trip to Levin Mattress. Levin Mattress offers high-quality customer service that includes a mattress fitting that tailors your mattress to fit your sleeping habits.
6401 Penn Ave Ste 470, Pittsburgh, PA 15206 Phone (412) 665-0790
Mattress Firm does an excellent job providing quality mattresses conveniently located in the various regions of the city. If you're looking for a mattress in the East Side neighborhood, try Mattress Firm Village.
401 E 8th Ave, Homestead, PA 15120 Phone (412) 462-7858
Sleep Pittsburgh is a fantastic option for any individual looking for a mattress near Pittsburgh. Sleep Pittsburgh is located in Homestead and offers quality customer service and a knowledgeable staff.
Mattress Stores in Harrisburg
Looking for a mattress store near Harrisburg? Try Mattress Warehouse.
3350 Paxton St, Harrisburg, PA 17111 Phone (717) 558-0846
4637 Jonestown Rd, Harrisburg, PA 17109 Phone (717) 526-0400
5515 Carlisle Pike, Mechanicsburg, PA 17050 Phone (717) 697-8543
Mattress Warehouse provides a wide-range of mattresses, box springs, and pillows that won't break the bank. You should expect to find affordable mattresses, an extremely knowledgeable staff, and convenient and clear shipping as well as return policies. Mattress Warehouse is king in Harrisburg and has several locations including on Paxton Street and on Jonestown Road. If you're looking for a mattress near Harrisburg, Mattress Warehouse has a location in Mechanicsburg that offers all of the same quality customer service, convenience, and name brands you'll recognize.
5010 Linglestown Rd, Harrisburg, PA 17112 Phone (717) 652-5577
For something with a slightly more local flare, you may want to try Whitco Home Furnishings. Whitco Home Furnishings supplies all of your bedroom needs and is a great place to take some time and shop around. They have a 50,000 square foot showroom where you'll find the perfect mattress, box spring and pillow to meet your sleeping and budget requirements.
Mattress Stores in Scranton
If you are asking yourself "where can I find a mattress near Scranton?" you're in the right place.
851 Scranton Carbondale Hwy, Scranton, PA 18508 Phone (570) 344-8748
Resnick's Mattress Warehouse is a great local mattress shop. You will find quality customer service, and a sales team that finds the perfect mattress to fit you and your budget. Prices are competitive when compared to larger chains. If you like supporting small businesses, Resnick Mattress Warehouse is a great option.
918 Viewmont Dr. Dickson City, PA 18519 Phone (570) 961-8501
Mattress Firm Dickson City is a great shop if you're looking for a mattress store near Scranton. This Mattress Firm offers quality customer service, all of the name brands you will hope to find, and a mattress that fits every type of budget.
You can also check out mattresses online at some of our favorite stores:
These are our most popular mattress cities in Pennsylvania: