Did you know that the word "porch" is derived from the Middle English and Anglo-French word "porche"? These words were, in turn, derivatives of the Latin word for port or passage – "Portus."
The porch as we know it today has its roots in ancient Greece and Rome, where open-air, roofed structures were attached to the main structures. The best example is the "porch of the maidens" in the Acropolis in Athens, Greece.
But what exactly is a porch? It's an outdoor structure with open-air sides and a roof that projects from the main structure. Emphasis must be made that a porch should be attached to the main structure and serves multiple purposes, including:
Protecting the entrance to the main structure, especially when these are screened-in structures
Providing shade and a place of relaxation and entertainment for the family
Entertaining family and friends during social gatherings, a common sight in small-town America
The fact that a porch is an attached structure is its main difference from a patio. The latter can either be an attached structure or a detached feature, usually part of the garden landscape. Both, nonetheless, are considered as outdoor living spaces.
Patios are typically characterized by paved surfaces with materials like natural stone and poured concrete and concrete pavers. These are also typically left open to the sky, larger than porches, and easy access between the kitchen.
We pointed out these differences as we mostly chose beds that are suitable for porches. The featured beds here will last longer, look better and serve their purpose better if and when these are placed in roofed areas. Otherwise, their overall quality and functionality will be significantly compromised.
But we also couldn't resist adding beautiful outdoor beds that can also be placed on patios! These outdoor beds have overhead coverings that protect their users from the sun while still allowing them to enjoy the outdoors.
Types of Outdoor Beds for Your Consideration

Since porches are open-air structures with roofs over them, there's a wide range of outdoor beds that will make them more striking and relaxing. There's a ceiling upon which to hang swing beds and areas where convertible daybeds can be placed.
There are so many possibilities when it comes to pieces of furniture on your porch and patios, and here are a few of them.
Swing beds are beds that are suspended from the ceiling via metal chains. These are a cross between a swing and a bed, usually a twin-sized bed. These may or may not have a cushion, such as a mattress or a futon, but many are made with a slatted frame.
Convertible sofas are also popular because of their versatility and practicality. These can be used as a loveseat or sofa that can accommodate between two and three persons in their compact form. These can also be converted into a daybed for napping but can only accommodate 1-2 persons for this purpose.
Sun loungers have retractable overhead coverings that make them more suitable for patios and other outdoor areas without a roof. The overhead coverings can be retracted for sunbathing and other purposes and then fully extended for sun protection, such as when napping.
Cabana beds and the like are similar to standard beds used in bedrooms but with a difference. Their materials and construction are suitable for outdoor use, particularly against the effects of rain, sun, and snow. Examples include the use of waterproof covering on the mattress and all-foam mattresses.
The best type of outdoor bed for your porch or patio depends on the area's size, features, and theme. You may want a swing bed for your porch if you want a welcoming vibe that encourages visitors to relax and feel at home. You may, on the other hand, place a sun lounger on your patio as a place to lie down and relax during a barbecue party.
Methodology Used in Choosing Outdoor Beds

When we first started looking at outdoor beds for porches and patios, we looked into several factors. We then chose the ten outdoor beds on this list based on these factors.
The strength of the materials, the sturdiness of the construction, and the overall durability of the furniture were the first considerations. While these factors also apply to indoor furniture, these are more important in outdoor furniture because of their exposure to the natural elements.
Thus, the featured pieces are made of durable materials like thick plastic, thick and sturdy wood, and weatherproof metals. The pieces of furniture have also been constructed with durabilities in mind, such as screwed-in bolts and slatted frames. These have also been chosen based on favorable customer reviews regarding their longevity in use.
With porches as the first entrance to homes, the outdoor furniture placed in them should be contemporary in style and befitting the home's overall aesthetic. You don't want your porch to look and feel dated since it's the first impression your guests will have of your home – unless, of course, you're aiming for a vintage look. But also remember that "dated" and "vintage" have different aesthetics in that vintage can be charming but dated isn't often so.
The beauty of outdoor beds is that these aren't your typical beds placed in bedrooms! Many of the best outdoor beds have multiple functions, thanks to their adjustable design, so you get the best value. The Tangkula piece, for example, is a loveseat in its compact form, but it converts into a daybed when expanded.
Such versatility is a welcome feature because porches and patios also serve multiple purposes. These aren't just outdoor living spaces for the family members but also places for socializing with extended family and friends. The outdoor beds provide extra seating for guests aside from giving your home a cozy and comfortable ambiance.
Of course, even the best outdoor bed on our list won't last long if proper care isn't exercised. As with any piece of outdoor furniture, it's important to clean their surfaces, repair their damaged parts ASAP, and use them as intended.
---
The Best Outdoor Beds for Porches

Basic Information
Size: 79 x 31 x 25.5 inches
Weight: 74 pounds
Construction type: Convertible sofa/daybed
Product Highlights
Solid Mahogany hardwood frame
Weather-treated cushion materials
Weight Capacity: 500 pounds
Porch furniture should be attractive and versatile, practical and durable – and the Cambridge daybed meets the brief! This can be a standalone piece of furniture with your preferred accents, such as potted plants, or paired with a coffee table and side tables. The combination of terracotta cushions and brown frame is contemporary, so there's no risk of looking dated on photos.
The mattress and its four matching cushions are thick, soft, and comfortable so sitting and lying down on the daybed is always a pleasure. The slats on the frame are spaced well, so there's sufficient support not only for the mattress but also for your body. The mattress may not be the luxurious all-memory foam mattress in your bedroom, but it's more than enough for daytime needs.
The materials of the mattress and cushions are weather-treated to ensure their long-lasting use. These are made of spun polyester fabric, a tough fabric with exceptional mildew-resistant property common in outdoor furniture. But the fabric should ideally be used in furniture placed in shaded areas, such as porches.
Both mattresses and cushions are also stuffed with polyurethane foam and polyester fiber batting. Polyurethane foam has a medium firmness, which most people prefer. Polyester batting is a common material in soft outdoor furnishings because of its thickness and ability to hold its shape well. While it isn't a breathable material, it's also highly resistant against mold and mildew.
The bottom line: The mattress and cushions aren't just pretty to look at and comfortable to lie on, but these are also well-suited to the semi-outdoors environment of porches. The bonus is that their covers are removable and washable! You won't have to live with dirty things, not to mention that you can change their covers, too.
The solid hardwood frame is just as beautiful, functional, and durable as the mattress and cushions! It can support up to 500 pounds, which means two average-sized adults can sit on it.
The frame also makes it possible to turn the loveseat into a daybed with or without an arm that serves as a headboard. Both arms can be dropped to the sides, which will extend the loveseat's length up to five feet. The backrest is a fixed feature.
Despite its convertible nature, it's easy to assemble with manual tools! There are only six large pieces to assemble, which can be put together with an Allen tool and a Phillips screwdriver. Instructions for assembly are included and, if you follow them, you will only take 20-30 minutes to enjoy the final product.
And what a piece of fine furniture at an affordable price it is! Even its fairly low-profile design – it sits low to the floor – isn't a big deal.
---
Basic Information
Size: 78 x 29.5 x 29.5 inches
Weight: 46 pounds
Construction type: Convertible loveseat/daybed
Product Highlights
Made of 100% natural acacia wood
Three adjustable positions
Comes with a mattress and cushions
The Tangkula convertible daybed is available in three colors – dark gray, red, and turquoise – and each unit is gorgeous! These versions are made with 100% natural acacia wood, a hardy material chosen for its solid feel and weather-resistant quality. It can last several years when properly cared for, allowing you to enjoy the best value for your money.
We also love that the acacia wood doesn't have a uniform look, thanks to the unique grain patterns. You may love the uniqueness of each piece since it adds interest to the unit. The light-colored wood also looks light and breezy, a perfect complement to an outdoor living space.
Acacia isn't heavy wood despite its proven durability. The Tangkula daybed can then be easily moved from one place to the other with or without assistance, a great feature when you're into interior décor.
The frame is made of slats with close spacing between them. The backrest and armrest also have slats, a design that promotes better airflow around the daybed.
The cushions on the armrests and seat are thick enough for a comfortable nap, although you may also add a thick blanket for extra cushioning. The 5-inch pillows are slightly thicker with their placement on the backrest, adding to the daybed's overall cozy look and comfortable feel. These pillows can be removed, too, if you want more room when napping, but these are best placed on the backrest if you're sitting on the daybed.
Both the cushions and the pillows have water-resistant covers that act as a protective barrier against the entry of moisture and precipitation. Mold and mildew, then don't easily make a home in the foam. But be sure to cover the daybed during downpours and the like to prevent the cushions and pillows from being soaked through.
The two pillows have removable covers that can be cleaned separately. The bare pillows can also be cleaned and aired to prevent mold and mildew formation. The cushions, on the other hand, should be spot-cleaned when these become stained. Take note that the armrest pillows are attached to the seat cushions, too.
We love that the daybed has a three-position design, too. When both its armrests are propped up, it's a small sofa or loveseat that can accommodate two adults or three children. When just one armrest is down and levels with the seat, it's a chaise lounge for relaxing or reading. When both armrests are down, then you get a comfortable daybed for naps and other daytime relaxation activities.
Indeed, it's the type of versatile furniture that you will want on your porch! You can also upgrade it in any way you please, such as placing throws over the backrest, pairing it with a small coffee table or a side table, or placing an overhead lamp over it.
This is also easy to assemble since all the parts, accessories, and instructions are included in the package. Once assembled, it's easy enough to place it against a wall or in a corner.
---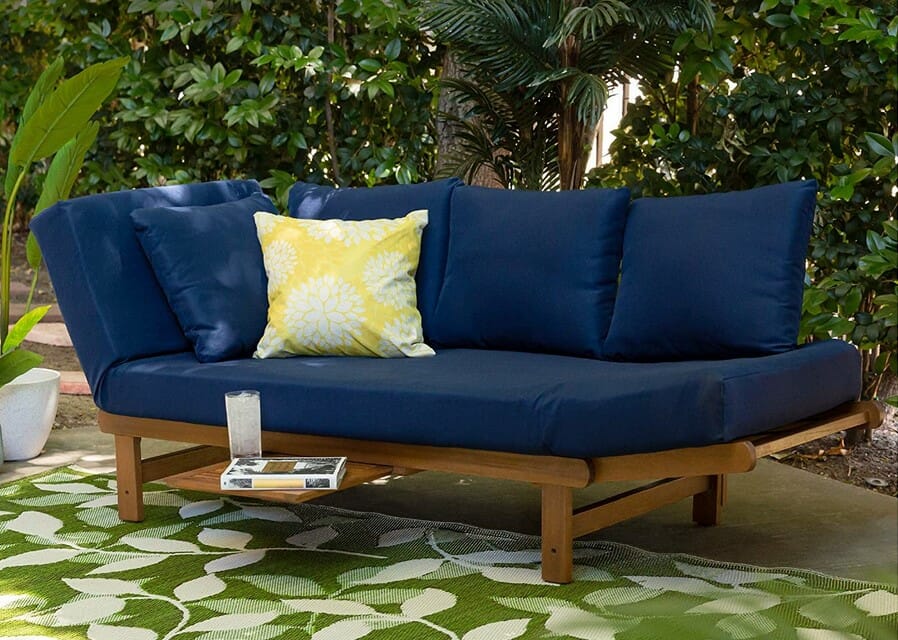 Basic Information
Size: 61.25 x 28.5 x 26 inches
Weight: 71 pounds
Construction type: Convertible loveseat/daybed
Product Highlights
Three-way design
Convenient pull-out tray
Made of acacia wood
The navy seat cushion and pillows were probably the first thing that caught our attention about the Best Choice convertible daybed. Their vibrant color makes them stand out from the greenery in a typical porch, not to mention that blue has that effect. While navy isn't a one-size-fits-all kind of color, it's among the more popular in homes, too.
But a beautiful color isn't the only thing going for the cushion and pillows either! These are also thick enough to provide a comfortable cushion upon which to sit back and relax, read a book, or take a nap in an outdoor setting. Their covers are made of water-resistant polyester fabric that holds up well over the years, even with slight exposure to the elements.
The pillows and cushion in particular and the daybed, in general, must be protected from the worst of the natural elements. The unit should ideally be covered with a protective cover or placed indoors during strong rains and snowstorms. Otherwise, their foam can become soaked through and become the ideal habitat for fungi, mold, and mildew.
When properly cared for, these will maintain their fluffy quality and provide a plush experience for you and your family. You can fluff them regularly and spot-clean them in case of minor solid stains and liquid spills. Their thick and fluffy quality also means that you won't feel the wood coming through the foam and poking your skin.
The four pillows are removable and, thus, can be arranged in any configuration desired. You can place them against the backrest when you're sitting down on the seat. You can also use a couple of them as regular pillows when you're napping or as a head pillow when lounging.
Of course, these things are little more than a futon and pillows without the solid acacia frame! Acacia is a tough wood used in indoor and outdoor furniture because of its weather-resistant and eye-catching qualities. Keep in mind, nonetheless, that it can wither and rot without proper care.
The manufacturer also used natural acacia wood, so you may or may not want to give it extra treatments. Oiling or waxing the frame is possible, and it will change the wood's look and provide an extra layer of protection. But you may also skip these steps since the wood is beautiful and durable on its own.
Plus, the quality of the woodwork is nearly flawless. There are no rough edges, uneven surfaces, and other noticeable flaws on the frame, so there's little to no need for after-market improvements. Even the joints and recesses for the hardware have been carefully disguised and smoothened over.
Once assembled, the daybed looks and feels sturdier than it appears, too. The daybed can also be used as a loveseat, a chaise lounger, and a daybed depending on the positioning of its armrests. Don't be afraid to put a little weight on the armrests since these are designed with sturdiness in mind.
And just to show that the little details matter – the daybed even has a pull-out tray at the bottom! Not many outdoor beds have such a small yet thoughtful detail. You can use the tray to place your book, a bottle or glass of beverage, and snacks, and you're ready to roll.
---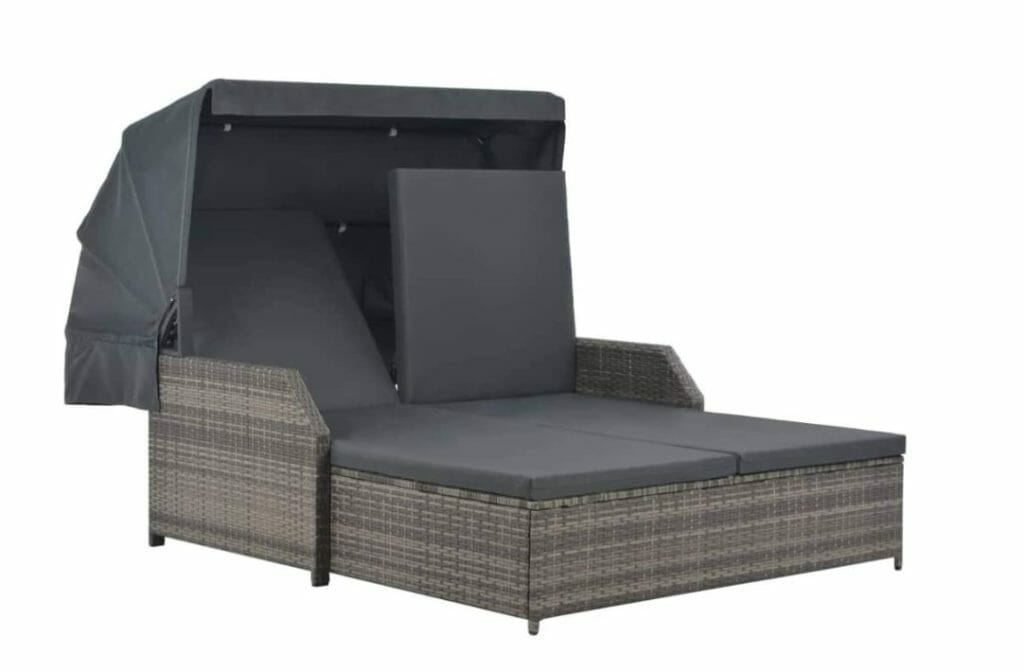 Basic Information
Size: 78.7 x 55.5 x 52.4 inches
Weight: 73 pounds
Construction type: Sunlounger
Product Highlights
Made of PE rattan, powder-coated steel, and 100% polyester fabric
Five-position adjustable backrest
Retractable sun cover
The vidaXL sunbed may be more suitable on a patio than on a porch due to its retractable sun cover. But it's a free country, so make your choice! This isn't an understated piece of furniture since it's large and attractive with its rattan-like frame and old-fashioned sun cover. This is also available in two colors – black and gray – that blends well with nearly every theme and décor.
The frame is made of PE rattan material that evokes the tropical island feel and looks gorgeous. The woven rattan look enhances the outdoor ambiance, too, since rattan is a typical tropical material common in beach resorts and wellness centers. The striped patterns add interest and authenticity to the entire look, too.
The use of PE rattan for the frame has its practical uses, too, including the fact that it's sturdier in quality and easier to maintain. Synthetic rattan is a weatherproof material that can withstand an outdoor environment all year-round.
But you may want to cover it with a breathable cover or bring it indoors when sub-zero temperatures hit. Otherwise, the threads will be less flexible and, thus, more prone to cracking and snapping.
Be sure to clean the PE rattan frame regularly, too, or when it's necessary to extend its life. Just mix lukewarm water with a pH-neutral detergent in a bucket and use it to wash down the frame; use a soft sponge cloth for it. Then, rinse it with cold water through a garden hose; pressure washers aren't recommended since these can damage the material.
The retractable sun cover comprises 100% polyester fabric, weather-resistant fabric with color-fast property, too. You don't have to worry about premature color fading for as long as no bleaches are used. You can also wash it or hose it down with lukewarm water when it gets a little too dirty for your sensibility.
The frame and mechanism for the sun cover are made of powder-coated steel, a tough material that lasts longer due to its rust-resistant property. It also doesn't hurt that it has a contemporary and chic appearance that adds to the sun bed's attractive appearance.
The cushions have covers that match the sun cover's color. These are also thick enough to provide a comfortable experience while you're lying on the sunbed and getting your tan. The bed itself can accommodate two adults, so lounging and napping become a shared activity if you like it.
Both the backrest and the sun cover are adjustable, too, which appeals the most to customers. Each of the backrests can be independently adjusted, but the sun cover only has a single mechanism. The backrest can be adjusted from a 21-degree position to a 35-degree incline. The sun cover, or folding canopy, can also be adjusted to provide different levels of shade.
The bottom line: If you have the space for it, then you should consider getting this sunbed for your patio! You and your family and friends will have fun using it in sunny weather.
---
Basic Information
Sofa Dimensions: 77×22.8×51.6inches (With Canopy)
Weight: Sofa 73 pounds; Tables 13.3 pounds each
Construction type: Sofa and adjustable daybed
Product Highlights
Made of synthetic material with rattan-style weave pattern
Comes with cushions for the seat
Adjustable positions
The grey and beige color combo of the Danxee daybed isn't just contemporary! The daybed can be placed outdoors, such as on a patio, and it will blend in with the overall theme, whether rural rustic or city chic.
With the unique retractable awning, how can you go wrong? In addition, the sofa has three reclining positions, so you can adjust your legs and back for the ultimate lounging experience. It also comes with three matching tables!
The simplicity and sophistication of its design can be appreciated in its original form or decorated according to your preferences. Add a few vibrantly colored throws and throw pillows, pair it with a side table or coffee table, perhaps add a few potted plants.
Beyond its beauty, we love that it's made of synthetic material with a woven rattan-inspired design. While it will not pass for natural rattan even from a distance, it's an excellent material for outdoor furniture. (While it's more expensive in the US, natural rattan furniture can withstand extreme conditions in temperature and humidity. Its natural resistance against insects is also one of the reasons for its enduring popularity.)
The PE rattan material is, nonetheless, also popular because of its water-resistant property. This is also a lightweight yet tough material that can withstand rain and sun for several years. But we also recommend placing a waterproof covering during severe weather conditions.
This is a weather-resistant material that's also popular among furniture makers for its excellent durability. The steel frame makes the daybed able to withstand regular use by adults and children the entire year, too. Holds up to 350 pounds.
The frame comes with the cushions, too, so it's ready to use as soon as it's fully assembled. The 3-inch-thick cushions are thick enough that your body doesn't come into contact with the frame underneath it. These are also fairly plush so that you can lounge and nap in relative comfort, but you can add more cushion.
There's also a foldable canopy that provides different levels of shade. You can fully retract it to enjoy sunbathing or have it cover most of the daybed so you can take a nap without the sun's glare in your eyes.
There's a bit of assembly required, but it isn't more than what you would do for a daybed with a foldable canopy. Indeed, it's the most versatile outdoor bed on our list!
---
Basic Information
Size: 73 x 44 x 68 inches
Weight: 82 pounds
Construction type: Swing bed
Product Highlights
2-in-1 convertible design
Accommodates three persons
With steel frame
Nearly everything about the Best Choice Products swing bed screams excellent quality, durability, and versatility! The powder coated steel frame provides stability and the weather-resistant polyester canopy and cushions provide beautiful color. You can always spruce up its appearance by adding personal touches, such as colorful blankets and throw pillows.
Let's talk first about its a-style steel frame, a proven material where sturdy quality is concerned. Its powder-coated treatment can withstand the vagaries of sun, rain, and snow with proper and regular care. The wide base also ensures that it will stay stable in windy conditions, and three people using it as a swing. Just don't swing too hard as it isn't designed for acrobatic-style swinging. Easy does it.
The swing bed can also be adjusted so that it's in a fixed position and, thus, will not swing back and forth. This is a great feature since you can use it as a hammock-style bed or a fixed bed. Some like the swinging motion as it lulls them to sleep. Some don't like it because it can be nausea-inducing.
Up to three adults can use the seating area without feeling too crowded; more children can fit more in it, obviously. There's little risk of the seat being detached from the frame, thanks to the sturdy main roof cross tube with a 750-pound weight capacity. The zinc-coated hooks also strengthen the entire frame.
We loved that the backrest can also be adjusted from an upright position to a flat position, the latter of which means more room for napping. Most of the convertible daybeds on this list have fixed backrests, so this adjustable feature is a welcome change. Two persons can then lie down for lounging or napping on the swing bed.
The cushions are just as delightful for their comfort and durability! These are made of various materials, including polyester, yarn-dyed fabric, and oxford fabric, suitable for outdoor environments. Their thick foam offers a cozy and comfortable surface to sit and sleep on, too.
To tie up everything, the standalone swing bed also has an overhead canopy to protect its occupants against the sun's glare.
Assembly takes a little more time than most daybeds on this list, but it's to be expected for a swing bed of this size and style. You don't have to hire professionals to set it up, but it pays to read the assembly instructions first.
---
Basic Information
Size: 76.8 x 23.6 x 43.3 inches
Construction type: Daybed with canopy
Product Highlights
Made of PE rattan with metal frame
Adjustable backrest and canopy
Comfortable cushion
Sometimes, sharing a daybed isn't such an attractive idea, so the twin-sized Canditree daybed is a perfect product. With the canopy fully lowered, it can seat 2-3 persons, and, thus, it's excellent for extra seating. With its canopy completely extended, it can be used as a day bed or sun lounger for one person.
This is also made with a tough synthetic material designed to imitate woven rattan, a tropical material popular in the US for its durability and beauty. But unlike natural rattan, the plastic rattan-like material can withstand year-round exposure to the natural elements with little sign of wear and tear. Just be sure to get it indoors or cover it with a protective cover during extreme weather conditions, a piece of advice common in the other daybeds on the list, too.
The daybed is fairly easy to maintain so that it retains its beautiful weave-like design, too. Washing it with a non-abrasive cleaning solution and soft cloth, rinsing it with cold water through a garden hose, and letting it air-dry are recommended. The covers on the cushions can also be removed for washing while also letting the foam air out.
Underneath the synthetic rattan and beige cushions and canopy is a metal frame that serves as its sturdy foundation. The seat cushion is as comfortable as can be, too, aside from being soft when it's pressed on.
This is an important aspect since you may want to spend a few hours on it while lounging with a drink and book, getting a tan, and napping. You may or may not add extra cushions, depending on your preference.
And since you will be using the daybed for multiple purposes, you will find the adjustable canopy a handy feature. Extend it when taking naps or lounging; retract it when sunbathing.
The backrest is also adjustable in five positions. You can go from a nearly flat-lying position to an upright sitting position with just a flick of the pull rod. There's no need to get more pillows if you want to be propped up on the daybed while people-watching.
---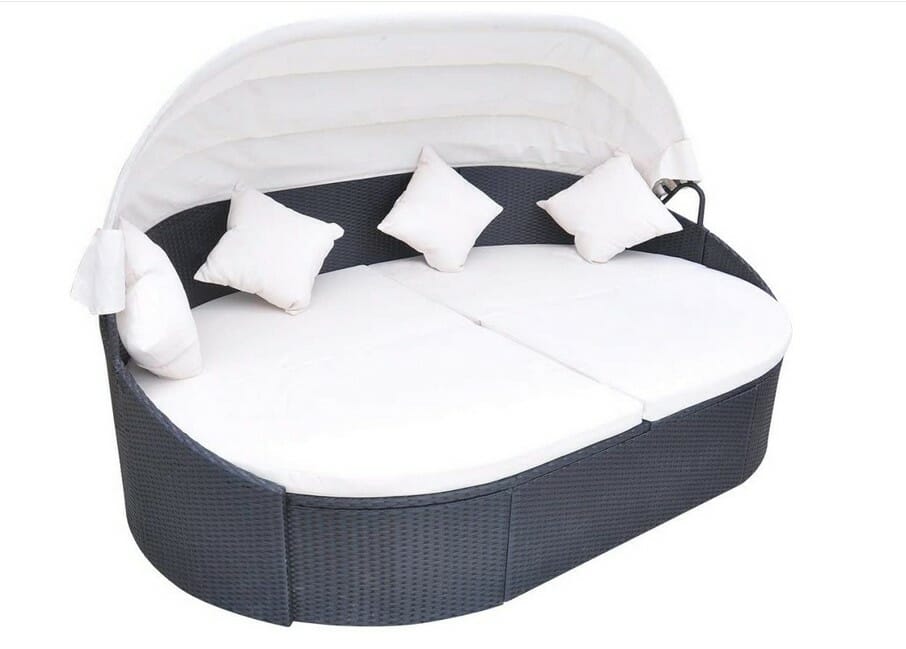 Basic Information
Size: 91 x 57 x 31 inches
Weight: 35 pounds
Construction type: Daybed
Product Highlights
Made of poly rattan and steel frame
With retractable canopy
Oval shape
Unlike the other outdoor beds on this list, the Festnight sunbed is an oval-shaped piece, not a rectangular one. The unique shape is part of its attraction, but we also like its many other benefits.
First, it doesn't have corners upon which children and adults will bump into and sustain bruises and bumps. Second, it can accommodate more people and make any position more comfortable than in a rectangular bed. Third, it encourages a feeling of safety and security – well, at least, that's what psychologists say.
The daybed can also be placed in an area where a rectangular bed can also be positioned. Just make sure that there's ample room for the canopy to retract and expand.
We like its tropical-inspired design, too. With its powder-coated frame wrapped with poly rattan material, it's a great addition to any outdoor area, including a patio, pool, and garden. There's something so inviting about a tropical-inspired piece of furniture – you can't resist lying down on it for a bit, perhaps getting a power nap.
But it isn't all beauty either as it's a truly durable piece of outdoor furniture! The powder-coated steel frame can hold the weight of 2-3 adults and withstand year-round exposure to the natural elements. The polyfoam material is just as weather-resistant and, thus, will withstand several years of outdoor exposure.
Proper care is a must in ensuring that the daybed will last for several years. As with the other synthetic rattan beds featured here, cleaning the external frame and cushions regularly is vital. Covering the entire bed with a waterproof cover when not in use for extended periods pays, too.
The thick cushion on the seat/bed and the cushy pillows add not just to its visual appeal but to its practical purpose, too. You can sit or lie down on the bed, find it so comfortable that you may want to take a nap, and then do so. You may not want it as a bed for sleeping through the night, but it's just perfect for daytime outdoor activities.
The cover on the cushions and pillows can also be removed for washing purposes, a must since these can become dirty with constant exposure to the elements. The cushion and pillows can then be spot-cleaned and allowed to dry under the sun to prevent the growth of bacteria, mold, and mildew.
And then there's the adjustable canopy that serves as protection against the sun's heat and glare if needed. Its mechanism is easy to operate, too, thanks to its pneumatic design.
But there are a few minor flaws in the design, too. The bed doesn't have adjustable components, such as a backrest that can be positioned upright or flat. But it's okay, too, since you can use the pillows to prop yourself up. The seat height is also low profile at 15 inches, but it only makes it more accessible to children.
---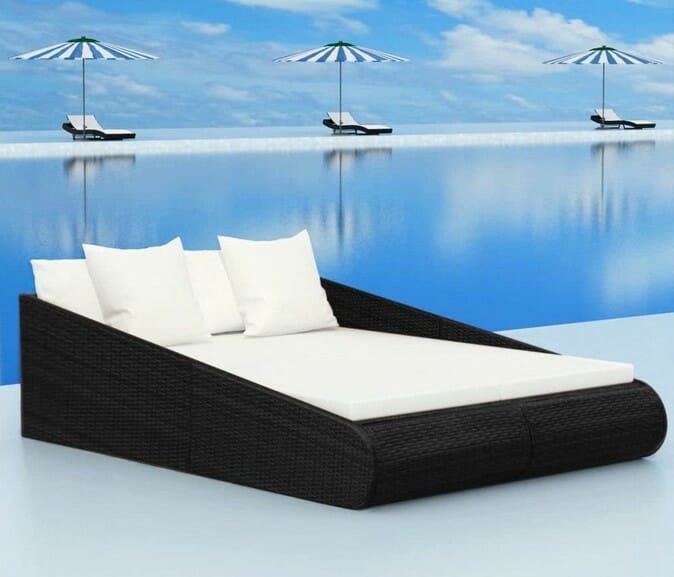 Basic Information
Size: 79 x 54.7 x 22.8 inches
Construction type: Lounger
Product Highlights
Two-person outdoor lounger
Made of steel frame and PE rattan
Fixed position
The Tidyard lounger looks like a standard bed with a frame and mattress since it doesn't have a built-in canopy. But what differentiates it from a standard bed are its materials, mattress, and overall design.
First, its materials aren't typically used in indoor beds – the latter products are made of wood and metal, not plastic and metal. The Tidyard lounger has a powder-coated steel frame with the exceptional rust-resistant property. You can place it in an outdoor area, such as a porch or patio, and won't easily rust.
The thick waterproof PE rattan wrapped around the steel frame is just as tough as steel, too. This is a hard-wearing material that won't fade, crack and break with year-round exposure to the elements. But we suggest placing a waterproof cover over it when it isn't in use or during extreme weather.
Cleaning the exterior of the frame shouldn't be a tricky job either. Your best bet is a regular cleaning schedule, the use of non-abrasive cleaning solutions and soft cloth and brush, and a good rinsing from a garden hose. You can also consider spray painting the frame with another color, but it isn't highly recommended.
Second, its mattress and cushions aren't the same ones used in indoor bedrooms. These are made of tougher materials to withstand the sun and rain and thinner in thickness. The cushion is only two inches thick, which is way thinner than the typical 5-inch to 6-inch mattresses in the market.
But said thickness for the cushion is also typical for outdoor beds, so it isn't exactly a demerit. Besides, a 2-inch cushion on an outdoor bed feels comfortable, even luxurious, instead of a hard surface.
The Tidyard outdoor bed isn't like all the other beds here, too. While the other beds have adjustable parts, such as the backrest, armrests, and canopy, it has a fixed design. This makes it simpler to use, but it also somewhat limits its versatility as a 2-in-1 or 3-in-1 furniture piece.
But there are ways to make it more versatile! You can prop more pillows on the backrest so you can sit upright or place a large umbrella over it for shade. You may also decorate it with a specific theme in mind, such as boho-chic or tropical paradise.
We like that it can accommodate two adults, which means sharing the fun of the outdoors in your home. If you're looking for solitude, then it becomes a spacious daybed.
Due to its simpler design with no moving parts, it's also easier to assemble. Everything you will need for its assembly and immediate use, from the instructions to the cushion and pillows, is already in the shipping box. You may want to assemble it near the area where you're planning to position it for convenience's sake.
In conclusion, outdoor beds are great purchases because they are just as useful as indoor beds. Your patio and porch will look better with these pieces, and you can offer more seating for family and guests, too. Look at your choices and make a smart decision today!