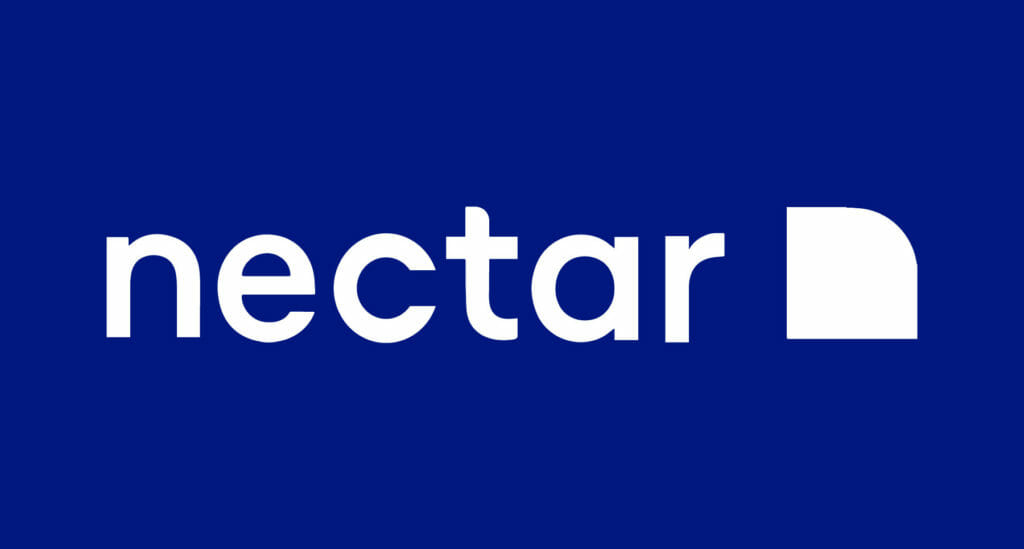 Overview
It's late at night. You can't sleep. Tired of staring at the ceiling, you decide to roam around online; you click on a funny and educational YouTube video and are immediately hooked! There are two animated brains: one on a Nectar mattress sleeping restfully, and one on another mattress—clearly sleep deprived. You find another video and end up watching neuroscientist and actress Mayim Bialik explain the effects of sleep deprivation on your personality and well-being. These unique advertisements relay the extent of Nectar's research to improve the sleep experience.
Opening its doors in 2017, with a dream of creating the most comfortable bed for all types of sleepers, founders Craig Schmeizer, Eric Hutchinson, and Ran Reske launched Nectar Sleep. With a direct-to-consumer foam mattress, Nectar offered a high-quality product at an affordable price. According to a 2019 Top 1000 Analysis Report by Internet Retailer, Nectar became one of the fastest-growing companies through award-winning online advertising and a consumer-first approach.
In 2018, Nectar launched a Spanish-language website, dedicated social media, and Spanish-language customer service aimed at the previously untapped Hispanic market—distinguishing itself as the first direct-to-consumer mattress company to provide a full-service shopping experience to this demographic. Nectar revenues are currently $300+ million per year. The company's second brand, DreamCloud, offers online shoppers the same direct-to consumer service and more luxurious, hybrid mattresses—also at an affordable price.
When buying a new mattress, you'll want to focus on choosing one that has the right combination of support and comfort. Support provides spinal alignment, and comfort provides pressure relief for a good night's sleep. With Nectar's commitment to giving you the best sleep possible, they created a high-density, multi-layered foam mattress that strikes the right balance between support and comfort.
As much as it is a haven for rest and rejuvenation, a new bed is also an investment in your overall well-being. Let's see whether the reality of Nectar mattresses matches the hype. The detailed findings covered here are based on customer reviews.
Nectar Mattress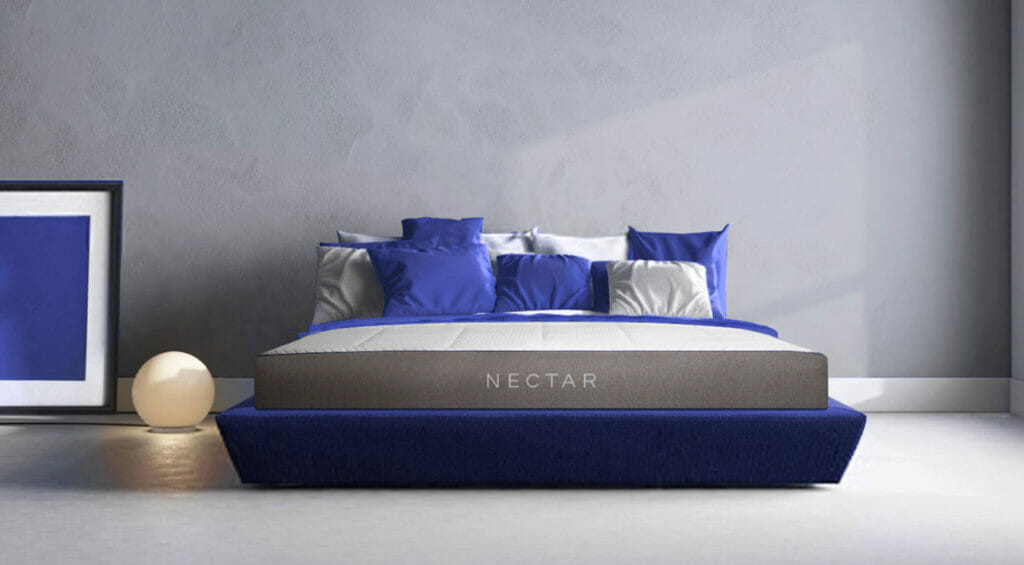 Snapshot
CertiPUR-US® Certified
OEKO-TEX
Bed-in-a-box
Medium-firm (5.5-7.5)
365-night trial
Forever warranty
Free shipping in the contiguous U.S.
Additional fee for white-glove delivery
Price: $399-$899
Sold online, Amazon, and Mattress Warehouse
BBB rating: B+
Customer reviews: 4.8/5.0
Mattress Design
How does Nectar create the "sleeping-on-a-cloud" experience while relieving aches and pains? Actually, it's in large part due to the balance between support and comfort in its 11-inch mattress. To fully understand how the design works, let's take a look at the configuration.
Cover
The Tencel Cooling cover is comprised of two fabrics: Tencel™ and cotton. It is important to note that Tencel is an eco-friendly, regenerated fabric known for its breathability and softness—adding to increased comfort—and similar to silk. The fabric also protects against dust mites. Both Tencel and cotton help circulate air and pull heat away from the body to keep you cooler while sleeping.
Four Foam Layers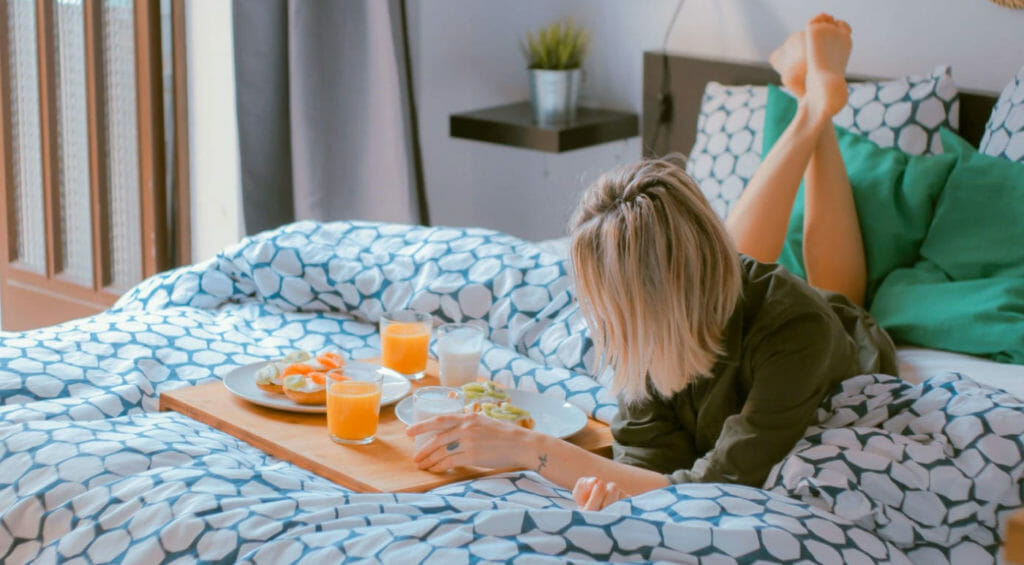 Demonstrating Nectar's dedication to comfort, the first layer is a 1-inch-thick, cooling-gel, memory foam that's quilted into the cover, providing extra loft and breathability. The cover is cool to the touch, and when lying on the bed it soon alleviates stress on the body's pressure points by contouring to the body. The quilting uses a premium process, which most mattress companies avoid due to the high cost, and creates the experience of "sleeping on a cloud."
"Just right." If those two words bring to mind a picture of Goldilocks' adventure, you're on the right track. The Lush Foam second layer is Nectar's 3-inch patented, premium gel foam, which distributes weight evenly while maintaining perfect alignment for the spine. Lush Foam is a medical-grade layer that's excellent for all sleepers—especially those seeking comforting shoulder and back support.
The third layer, or "recovery foam," is made of a 1.5-inch Adaptive Hi-Core memory foam. This material reduces motion transfer by providing rebound and bounce. Another direct-to-consumer bed company offering this Adaptive Hi-Core memory foam will not be found—it's simply too heavy and expensive to ship. Despite these factors, Nectar still uses this unique foam as an optimal solution to alleviate stress on the body's pressure points. Sleepers experience deep support without that uncomfortable "sinking-into-the-mattress" sensation.
Last, but certainly not least, the 5.5-inch, breathable base layer is the supportive foundation of the mattress. This dense, vegetable-based foam incorporates molded channels throughout the layer. This configuration draws in fresh air, which can result in a cooling and restful night's sleep.
Firmness—Not Too Hard, Not Too Soft
Now that we have delved into the unique foam layers of the Nectar mattress, let's take a look at the firmness factor. When selecting a mattress, you want to try to choose the right combination of support and comfort for pressure relief and spinal alignment. With Nectar's goal to provide "the support of a firm mattress while pampering you with the comfort of a pillow top," they rate themselves a 5.5-7.5 out of 10 on the firmness scale. Everyone differs in weight, firmness preference, and Body Mass Index (BMI), so take this range into consideration.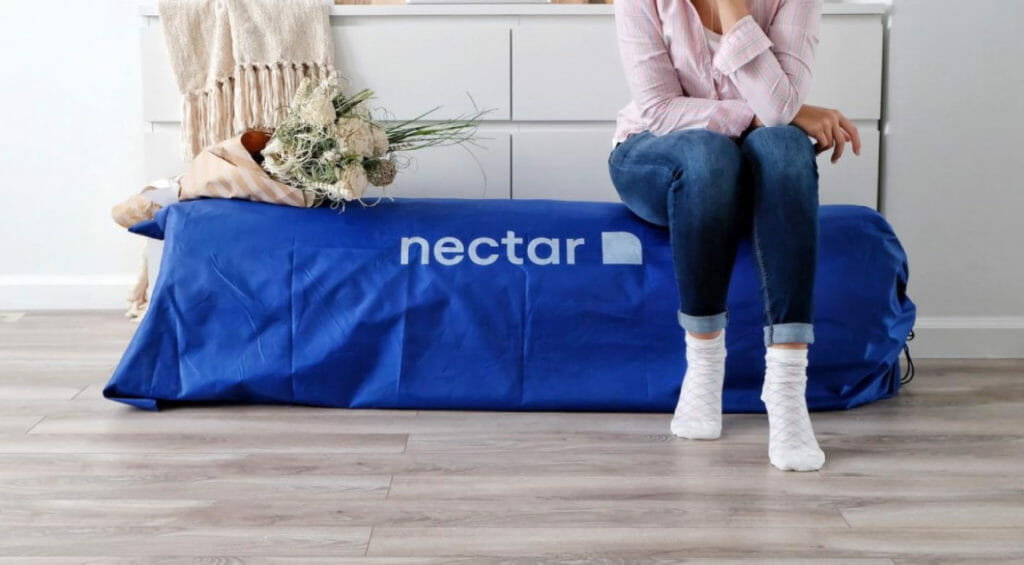 According to The Better Sleep Council, BMI needs to be taken into account when selecting the optimal mattress thickness for an individual's comfort level. Lightweight sleepers may experience Nectar to be more on the firm side. This may be due to not making sufficient contact with the mattress's deeper foam layers. For sleepers in other weight categories, the body will connect further into the layers and experience a contouring effect—and subsequent pressure relief—without that "stuck-in-quicksand" feeling. Nectar's materials create a soft yet firm mattress.
In a May 2019 Consumer Reports review, Nectar received a rating of "Very Good" in support tests for average- and petite-size side and back sleepers, and a rating of "Good" support for all types of large/tall sleepers. Similar to Nectar's own rating, Consumer Reports rates the mattress a 6 out of 10 on the firmness scale.
Sleep Positions
It is important to consider your own personal needs and preferences when choosing any mattress.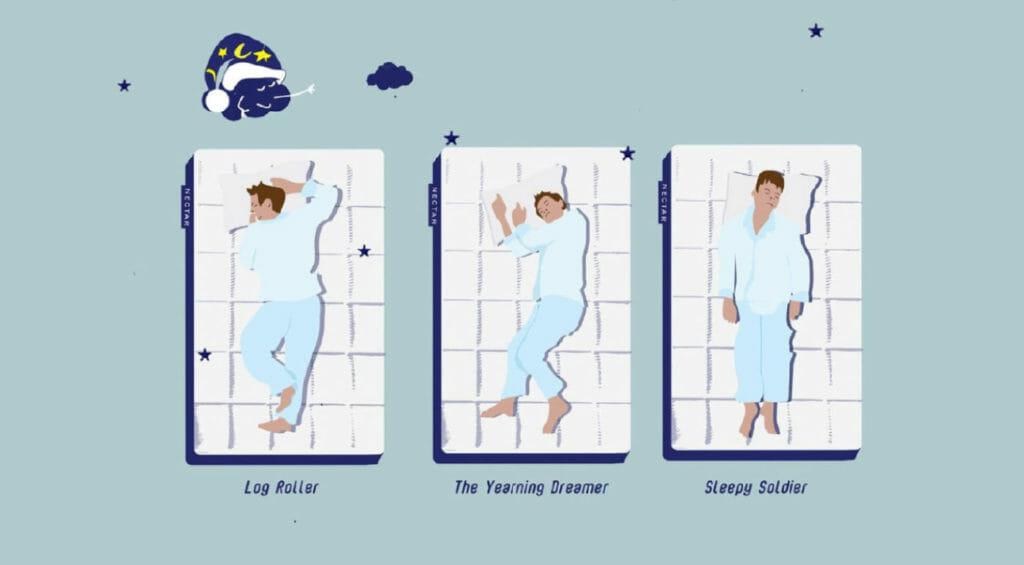 Side Sleepers: Nectar is ideal for this sleep position, as the mattress immediately contours to hips and shoulders, providing excellent pressure relief. Nectar excels at cradling the sleeper while providing spinal alignment. "I am eight months pregnant and Nectar provided the best night's sleep I've had. My husband who is a side sleeper also loves the mattress." Kim M.
Stomach Sleepers: No need to worry about your lower back arching, because the Nectar mattress cushions the hips and provides support for spinal alignment. However, those whose weight is above average may need a firmer mattress for the proper amount of support.
Back Sleepers: Significant lumbar support ensures lower-back pressure relief. The mattress's top layer memory foam contours to the body and cushions your lower back and shoulders. As a result of this contouring, your body will also mold to the underlying Lush Foam and Adaptive Hi-Core foam layers.
Living on the Edge
Most all-foam mattresses do not incorporate good edge support. Nectar is the exception. Due to the high-density foam layers, the edges provide excellent support for sitting or lying near or on the corners. Sleepers of varying weights will feel secure when sleeping near the edge—that is, there should be no concerns with rolling off, regardless of sleep position. The firm edge also allows for getting out of bed more easily. Edge support is especially important when the mattress is used by two people, as each will occupy more space.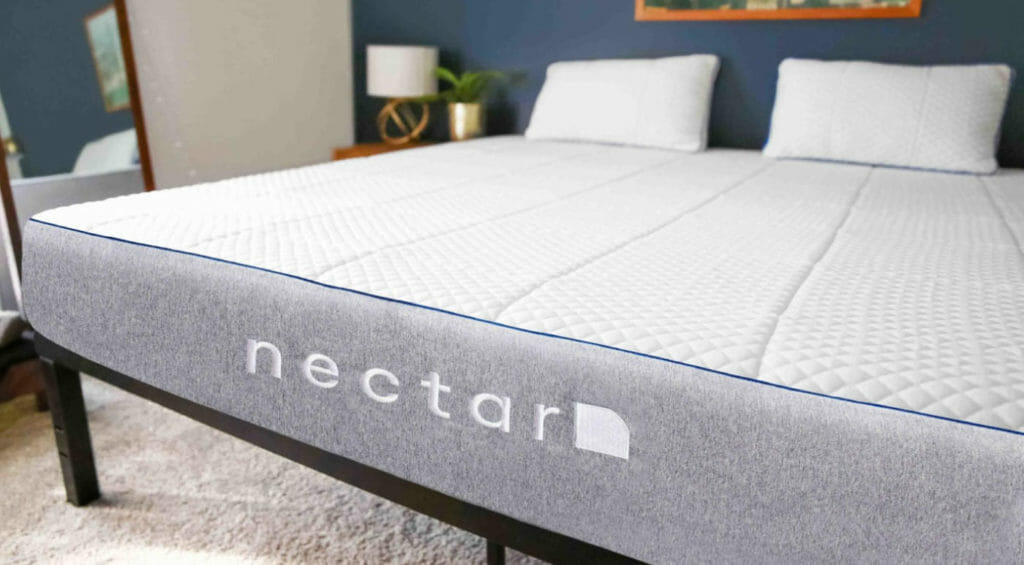 One reviewer, John M. said: "This is the most comfortable memory foam bed my wife and I have ever slept on. It's firm, but plush. The edges do not give in when sitting on the edge."
Motion Isolation
The third layer specifically addresses the motion-isolation factor. The Adaptive Hi-Core memory foam, also described as recovery foam, allows for rebound and bounce by excelling at absorbing and isolating movement. The mattress customizes to individual shapes and sleep positions while allowing for ease of movement—without disturbing a light-sleeping partner.
Cloud Quality for an Exceptional Value
Nectar's combination of eco-friendly fabric and unique foam materials provides optimum support for most body weights by sufficiently molding to each individual. This design is intended to result in sleepers experiencing Nectar's self-described "sleeping-on-a-cloud" sensation. Given such attention to detail, you might be led to believe the mattress is expensive. In fact, this cloud-quality bed is priced quite reasonably when compared to those offered by most foam mattress companies.
| | | |
| --- | --- | --- |
| Size | Dimension | Cost |
| Twin | 39in x 75in x 11in | $399 |
| Twin-XL | 39in x 80in x 11in | $469 |
| Full | 54in x 75in x 11in | $599 |
| Queen | 60in x 80in x 11in | $699 |
| King | 76in x 80in x 11in | $899 |
| Cal-King | 72in x 84in x 11in | $899 |
365-Night Trial Period
When the mattress is delivered to your door, Nectar requires a 30-day break-in period to allow your body time to adjust to the new bed and for you to familiarize yourself with the product before making a final decision. After this break-in time, your 365-night trial period begins with the option to "return" the mattress for a full refund at any time before the year is up. If you decide the mattress is not the right fit for your sleep experience, Nectar's Customer Care team will assist you in selecting the best "return" option, by donation or disposal.
As of this writing, Nectar advertises $125 off and two free pillows. Doug Z. wrote, "The Nectar was a bit firm the first couple of nights—it would take about 2 minutes for your body to sink in, but then it softened up and is EXTREMELY comfortable. The included pillows are very nice and supportive as well. My wife suffers from night sweats and the cooling properties of the mattress are helping her sleep well (finally!)."
The Forever Warranty
Nectar stands behind the quality of its materials and understands the importance of your investment. The Forever Warranty guarantees that if at any point the mattress is damaged from normal use they will replace it at no additional cost. The warranty includes replacing the mattress if any permanent or lasting compressions or impressions of 1.5 inches or more form.
In addition to its mattress, Nectar offers other useful products:
Bases
Bedding
The Nectar Platform Bed
The Nectar Adjustable Bed Frame
The Nectar Metal Bed Frame
The Nectar Bed Frame with Headboard
The Nectar Weighted Blanket
The Nectar Mattress Protector
The Nectar Memory Foam Pillow
The Nectar Bed Sheet Set

Comments from Blissful Sleepers (Customer Reviews 4.8/5.0)
| | | |
| --- | --- | --- |
| "My physical therapist recommended this mattress. I was a bit skeptical due to its being a bed in a box. I have recommended Nectar to all my co-workers due to the first week of getting 8 or more hours of sleep instead of 5 to 6 like I used to. Highly recommend Nectar." – Monica K. Dexter | "The quality is really nice and once you are on the bed it adapts to your body. No matter which side or how you sleep you will get a good rest." – AC | "I have been struggling with back pain from a herniated and bulging disk in my lower back. I slept throughout the night for the first time in almost 2 months! This mattress is the real deal!! Never slept so Good!!" – Dale B. |
With more than 11,000 positive customer reviews on its website, it's no wonder Nectar is one of the leading bed-in-a-box companies in the marketplace. The most common praises shared by customers include: relief in pressure points, contouring and supportive feel, best sleep in years, and waking up feeling refreshed.
A minority of reviewers expressed that the mattress is firmer than anticipated. For example, JLT said: "… it was just too firm for us. I'd say it's a medium-firm. It's nice, but I really love to melt into my mattress and not feel anything under me. If you like a medium-soft, soft, or extra-soft mattress, this isn't the one for you."
For those of you who enjoy watching testimonial videos, Nectar has you covered. You can view a sampling of customers sharing their personal mattress experiences. Katy submitted an impactful video that recounts her journey recovering from surgery. Halfway through her recovery, she and her husband purchased the Nectar and noted the mattress's significant contribution to reducing her healing time.
Blissful Sleep Resources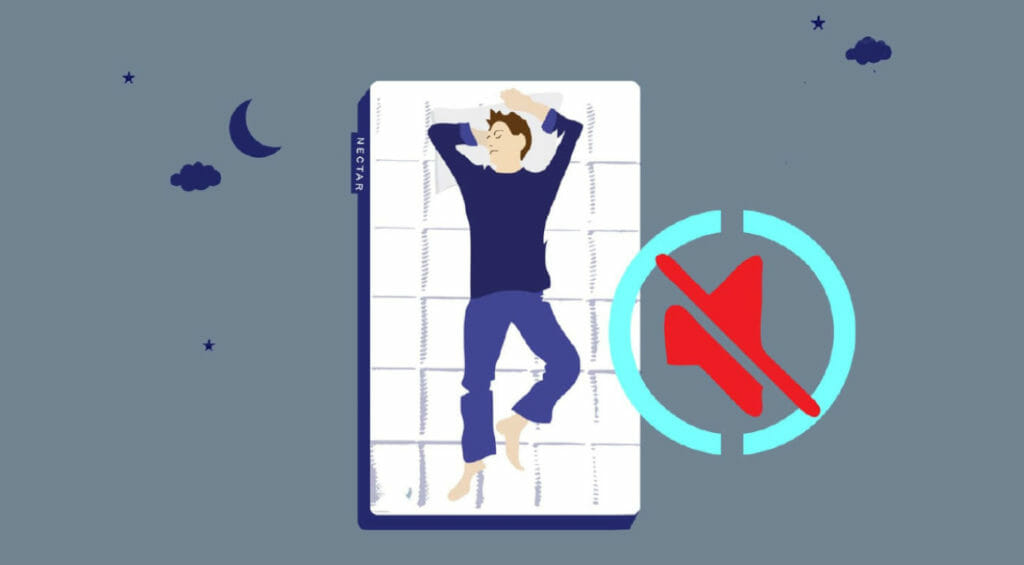 Nectar provides a resource guide that covers several popular topics, including a Sleep Calculator, Mattress Size Guide, Mattress Buying Guide, Pillow Buying Guide, Side Sleeper Guide, Your Sleep Positions, Sleep Hacks for Better Rest, and a Better Sleep blog. You should take advantage of these resources even if you don't ultimately purchase a Nectar mattress. Some examples of the tools offered are listed below.
The Sleep Calculator uses a step-by-step process to help you assess optimal sleep and wake-up times, depending on your schedule. The calculator recommends the appropriate sleep hours and sleep cycles to achieve.
The Mattress Buying Guide 2019 is a comprehensive resource to help sleepers understand when it's time to purchase a new mattress, how to choose mattress firmness depending on sleep position and personal preference, and how to choose mattress size based on whether you share a bed with someone.
Are you a "log roller," "shooting star," or a "sleepy soldier?" The Your Sleep Position section provides insights into your personality, while also sharing tips and substantive research studies to review.
Having trouble sleeping? The Nectar Sleep Hacks for Better Rest section addresses this problem. Here, you'll find tips for deep sleep, scientific research covering this common affliction, and the ever useful FAQs.
Nectar's Better Sleep blog covers an array of sleep topics. It's worth reviewing the numerous topics covered, and then following those relevant to your unique situation.
Is Nectar the Bed of Your Dreams?
As you ponder whether Nectar is the right fit for you, here are a few thoughts to consider:
Just the right choice for:
Side and back sleepers, as it aligns your spine while providing pressure relief. You'll feel that right combination of sinkage and support for your hips, shoulders, and lower back.
Couples who appreciate excellent motion isolation and edge support, which accommodate for ease of movement without disturbing the lightest of sleepers.
Sleepers preferring a medium-firm mattress.
Contouring and supporting the entire body—without the deep-hug feel you get with traditional memory-foam construction.
Sleepers on a budget.
Not the right match for:
Sleepers who prefer a soft mattress and that deep-hug feeling.
Above-average-weight stomach sleepers, whose hips may sink into the mattress with less than optimal spinal and hip support.
Sleepers preferring innerspring, hybrid, or latex mattresses.
Sleepers with chemical-odor sensitivities, who may experience discomfort with off-gassing—which is common in the direct-to-consumer mattress market.
Pros
Cons
Motion isolation
Edge support
Contouring and supportive
365-night trial and Forever Warranty
High-quality memory foam
Exceptional price
Durability
Quiet

One firmness option
Too firm for some sleepers
Complaints over quality of customer service and defective products
Extra cost for coordinating old mattress removal
Nectar mattress return involves donation/disposal by the customer

Summary
The premium-quality materials used in the Nectar mattress come at an affordable price—making it one of the best bed-in-a-box-company options. The four-layered memory foam provides support and comfort for hips, shoulders, and lower back—while also relieving stress on the body's pressure points. Excellent motion isolation allows couples to easily move without disrupting each other, and the significant edge support exceeds expectations.
While it's an ideal match for those who prefer a medium-firm mattress, it's worth noting the firmness level is slightly higher than most. Overall, Nectar is a good option for potential buyers—and with its 365-night trial period and money back guarantee, you just might end up being part of the more than 11,000 happy customers.