Trying to find the best mattress shop in Nashville for one of the most important purchases you can make? You might start off by checking out reviews of the top mattress brands, and maybe even consider an online purchase (all great mattress companies offer a generous return policy).
If you'd rather buy locally in person, then check out our guide below for help in making your choice about where to buy for the best deals.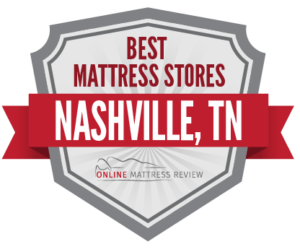 The health benefits of a good night's sleep are well-established: weight loss, muscle recovery, reduced pain, even longer life expectancy. And everyone's personal experience bears out the benefits to mood, job performance and even the skin's appearance that a good night's sleep brings.
Research by the Better Sleep Council shows that switching to a new mattress improves sleep quality while reducing symptoms of stress and back pain. Mattresses are meant to be replaced every 8 years or so, though most Americans hang on to their old ones for around ten years.
With a fresh, high-quality mattress, however, you'll fall asleep faster, stay asleep longer, and spend more time in restful REM sleep.
If you're a Nashville resident in the market for a new model, you may want to know where to buy a mattress in Nashville? There are luxury mattress stores with luxurious high-end comfort models. There are mattress stores that carry in all-natural and chemical-free products. And there are plenty of discount mattress shops that specialize in affordable mattresses. So which is best- and most convenient- for you?
Rest easy- we've got you covered. We've searched the reviews and listings for mattress stores in Nashville to bring you the top-rated options in each area. Read up to discover where to find the mattress of your dreams, and get started on the road to better rest and better health.
---
Mattress Stores in Central Nashville
Downtown Nashville is packed with attractions, stores, restaurants, and venues. With so much commerce and entertainment, space is at a premium, and there's not much room for mattress shops in Central Nashville.
3009 West End Ave, Nashville, TN 37203 Phone (615) 329-6735
One option in the area is Mattress Firm Nashville Vanderbilt. The store is located close to the university, making it a good option for students, and averages 5 stars on Google. Mattress Firm is the nation's leading mattress store chain, and carries a wide array of top brands, such as Simmons, Serta, and BeautyRest. The store's highly knowledgeable staff of "sleep experts" are trained to resolve sleep problems (such as snoring, back pain and overheating) by connecting customers to specialty beds that suit their sleep style, comfort preferences and health concerns. Mattress Firm also has a 120-day "sleep happy" guarantee. During this period, mattresses may be exchanged or returned, and if a customer finds the same product at a lower price, Mattress Firm will refund the difference.
---
Mattress Stores in North Nashville
2823 Dickerson Pike, Nashville, TN 37207 Phone (615) 228-4045
1st Chance Mattresses and More stocks highly affordable mattresses in a variety of models, from innerspring to gel memory, along with traditional and adjustable beds. This unassuming but friendly local store also sells new and gently used furniture, making this a good choice for those furnishing a new home.
Jamison Bedding Inc
565 Brick Church Park Dr, Nashville, TN 37207 Phone (615) 228-2999
Shoppers looking for a luxury mattress in North Nashville should head to Jameson Bedding. This illustrious company has been creating handcrafted mattresses and bedding since 1883, and commercial alliances with Intercontinental Hotels and Choice Hotels. Jameson Bedding sells a number of high-end specialty mattresses, including Interacting Smart Coil, JGel Memory Foam, All-Natural Talalay Latex, Palladian Smart Micro-Coil, and Verticoil. The company's Paradise Collection is an especially attractive option for customers who have trouble sleeping in the Nashville heat; each mattress features cooling gel-infused Visco memory foam. They do not have a website.
---
Mattress Stores in South Nashville
718 Thompson Ln, Nashville, TN 37204 Phone (615) 292-0060
718 Thompson Ln, Nashville, TN 37204 Phone (615) 292-0060
The regional chain, Mattress King has locations in the One Hundred Oaks, and Berry Hill neighborhoods. This store has a five-star Google and Yelp rating and was the 2017 winner of the First Tennessee Reader's Choice Awards for "Best Mattress Store in Middle Tennessee." Reviewers give high praise all around for the staff, selection and prices, including Mattress King's low-price guarantee. The shop carries a variety of models from Simmons and Serta in-store, and also ships a Wellsville bed-in-a-box. The company also stocks mattress pads, bases and pillows as well.
3613 Nolensville Pike, Nashville, TN 37211 Phone (615) 837-2092
Another popular place to buy a mattress in South Nashville is Mark's Mattress Outlet in the Rivergate neighborhood. This mattress shop specializes in discounts- up to 80% off retail- and offers same-day delivery. Mark's stocks popular name brands at wholesale prices, and also manufactures their own line of all-natural and affordable mattresses, Mark's Naturals.
2412 Antioch Pike, Antioch, TN 37013 Phone (615) 833-3444
Farther South, on the Antioch border, family-owned Mattress Express has earned a 4.6-star review average on Google. This mattress shop earns high praise for world-class customer service and highly knowledgeable sales staff, who patiently assist customers without exerting sales pressure.
3909 Hillsboro Pike Ste B, Nashville, TN 37215 Phone (615) 385-2468
Another reliable option is national chain, Mattress Firm, which has a location in the Green Hills neighborhood.
---
Mattress Stores in East Nashville
Sleep Number
We are sorry, this location is currently closed.
157 Opry Mills Dr, Nashville, TN 37214 Phone (615) 823-3143
Out past the airport, Sleep Number stocks adjustable-comfort mattresses, which are especially well-suited for those with back pain, or those whose sleep partner prefers a different level of support.
---
Mattress Stores in West Nashville
4309 Harding Pike, Nashville, TN 37205 Phone (615) 269-4005
6706 Charlotte Pike Ste 100, Nashville, TN 37209 Phone (615) 353-5939
There are a surprising number of Mattress Firm locations in West Nashville: Mattress Firm Belle Meade, Mattress Firm Hillwood, and Mattress Firm Nashville West. Each of these store earns great reviews from customers for their wide selection and highly knowledgeable staff of "sleep experts."
103 White Bridge Pike, Nashville, TN 37209 Phone (615) 356-8590
7114 Hwy 70 S, Nashville, TN 37221 Phone (615) 646-3996
Local, family-owned chain, Mattress King, also has a location in the Belle Mead and Bellevue neighborhoods, and gets positive reviews for affordable prices. The store offers free delivery on all purchases over $499, and promises to beat any competitor's price or the purchased mattress is free.
---
Also check out:
Best Mattress Shops in Tennessee
You can also review mattresses online at some of our favorite stores: