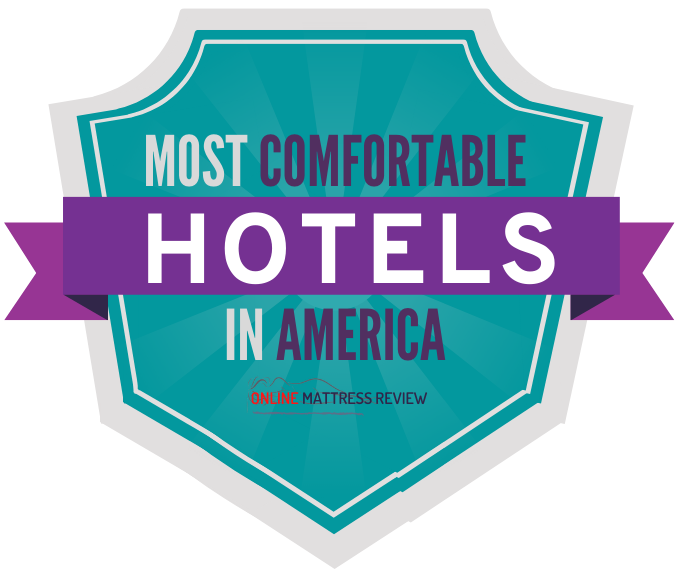 Nothing beats an escape from all the pressure and stress of fast-paced living. And, nothing beats a comfortable hotel! It helps us take a breath, re-evaluate our mental health, rejuvenate, and recharge to come back better—and perform better—at what we do.
Comfort Helps Combat Stress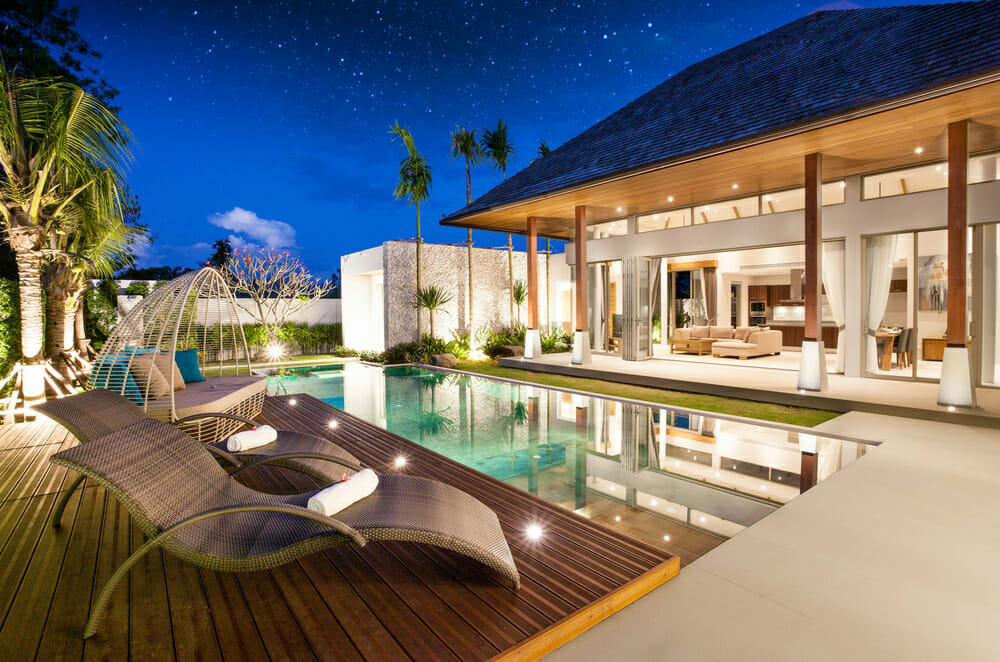 Stress, which manifests as headache, body tension, dizziness, fatigue, and poor sleep, can impact your concentration and decision-making skills even on the most menial tasks.
A heightened state of stress can result in aggressive or defensive behavior, poor communication, and exacerbating mood disorders.
Similarly, anxiety may be inevitable but is manageable with the right relaxation activities. By emptying the mind of all worries, relaxation lowers the heart rate, blood pressure, and breathing rate. It also reduces muscle tension and chronic pain. When the mind and its limits are relaxed, we make better decisions and work optimally!
Relaxation means different things to people. Some may choose to travel or spend quality time with family. Getaways are a fun way to reconnect with friends and forget the worries for a while!
When considering a place to visit and stay for a relaxing vacation, don't settle for anything less! Your place of choice must be comfortable and clean and feature outstanding facilities and service.

---
Based on these criteria, we indexed 15 of the most comfortable hotels in America, featuring the country's top 5-star, 4-star, and 3-star hotels in no particular order.
Here Are America's Most Comfortable Hotels
1 Manele Bay Road, Lanai City, Hawaii 96763
+1 (808) 565-2000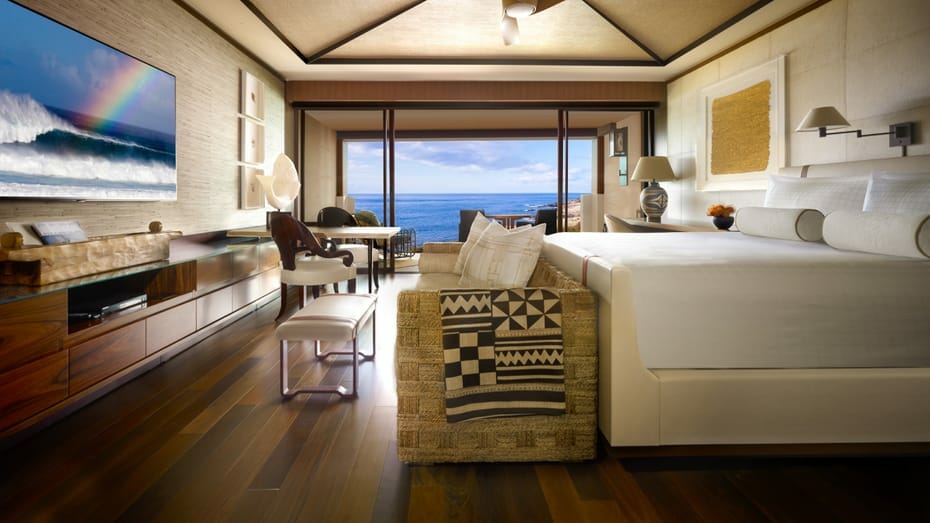 If you are looking to book yourself a perfect beach getaway, a stay at the Four Seasons Resorts Lanai will be the best thing you will ever do, probably, ever. Enjoy the ocean in a secluded, oceanfront retreat in Hulopoe Bay overlooking the Pacific Ocean.
This five-diamond resort is located on the southeastern coast of the pristine island of Lanai, Hawaii's last unspoiled island. Immortalize your experience with photos featuring the many scenic spots surrounding the island. With manicured grounds and top-notch customer service to welcome the guests, it is often described as a paradise and heaven on earth, and rightfully so.
Indulge in luxurious comfort in the Four Seasons Resorts Lanai experience with these features:
The luxury resort features low-rise buildings spread along the pacific coastline with 213 guestrooms.
Guestrooms are equipped with an LCD television, air conditioning, heating, a desk for your answering your emails, and a minibar to quench your thirst.
Satisfy your culinary craving in the many restaurants that feature authentic Hawaiian dishes and anything you may crave from Malibu farm to Nobu Lana'i.
A variety of activities are available, and other facilities like retail boutiques and a gorgeous golf course.
TripAdvisor rates it 5 for its cleanliness and 4.5 for its services, with an overall 5.0 rating.
Four Seasons Resorts Lanai has these awards to prove that it delivers what it promises – AAA/CAA Five Diamond Awards 2020, TripAdvisor Travelers' Choice Best of the Best Awards 2020, and Condé Nast Readers' Choice List 2020.
---
17875 Collins Avenue, Sunny Isles Beach, FL 33160
Contact: 877-312-9742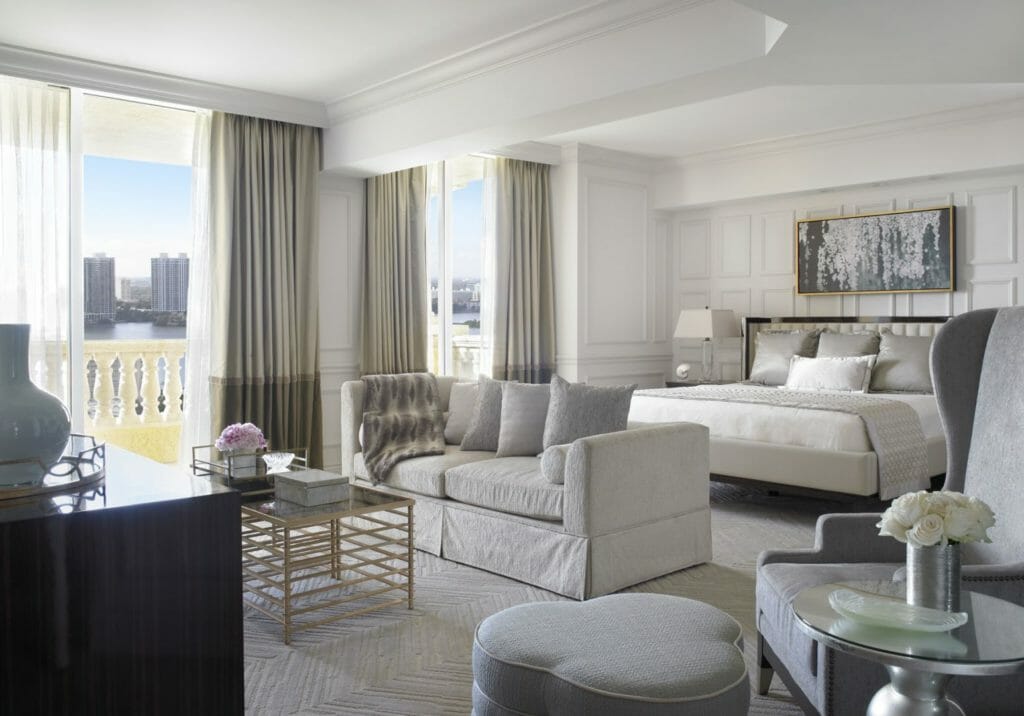 Luxury and comfort find their place in Acqualina Resort & Residences on The Beach, located in the stunning 4.5 acres stretch of Miami's Sunny Isles Beach. Acqualina Resort & Residences on the Beach commits to providing its guests with world-class accommodations and services without leaving the United States. Whether you come with your partner, your friends, your family, or you are simply looking to spend some "me time," Acqualina is the perfect destination.
TripAdvisor has consistently ranked the resort as the #1 Luxury Beachfront Resort in the U.S. for six consecutive years. Do not be intimidated by the promise of luxury because everybody who wishes to have a beachfront getaway is welcome here.
Here's how Acqualina Resort & Residences on the Beach gives you the comfort you never knew you needed:
Your holiday begins once you enter the hotel premises as the Guest Experience Managers greet you with a personalized stay.
Breathe in the fresh air while sunbathing along with one of the world's most renowned beach destinations.
Each room on the property offers a luxurious stay to every guest that goes above and beyond what Miami, Florida, can provide with the most spacious rooms in the city.
Award-winning resort in South Florida, earning Forbes Five-Star Award for its hotel and spa for nine straight years, is the U.S.A. Today's #1 Waterfront Hotel in the U.S.
Explore the resort's world-class dining destinations, oceanfront swimming pools, and spacious meeting rooms.
The 2021 traveler's choice awards by TripAdvisor's 2021 travelers' choice best of the best awards.
The Global Biorisk Advisory council proudly recognizes it as a GBAC star accredited facility. The GBAC is a network of international leaders in response to microbial-pathogenic threat analysis.
---
108 E Superior St, Chicago, IL 60611, United States
Contact: +1 312-337-2888 / pch@peninsula.com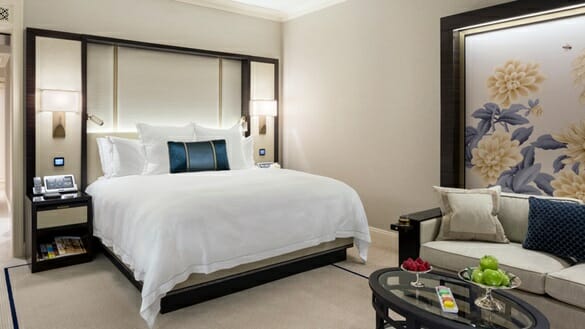 For almost a century, Peninsula Hotels have been known for their elegance and service. In its commitment to provide a superior guest experience, they have introduced a suite of exclusive benefits to ensure that every guest is indulged in a supremely comfortable, safe and environment.
The Peninsula Chicago hotel stands in Chicago's prime real estate. It is a five-star hotel that brings a traditional Asian service by incorporating Hong Kong's cosmopolitan flair with the city's midwestern charm.
Over the years, The Peninsula has become an integral part of Chicago living! Here's how it neither skimps on comfort or fails to impress guests:
Considered the top choice for celebrations and corporate events.
The rooms have a creamy color palette and plush furniture integrating modern technology to make things convenient and comfortable for guests. Everything is wired.
Rooms are equipped with a bedside remote command station that allows the guest to control the light, television, and even room temperature.
Since its opening, the hotel has been a Forbes travel guide five-star awardee each year, most recently in 2018.
In 2018, the U.S. News and World Report named it the #1 hotel d the #2 hotel in the U.S.
It is also recognized by Travel + Leisure in their 'Travel + Leisure World's Best Awards as the best hotel in Chicago.
According to TripAdvisor, out of 2,024 reviews, the hotel is rated 5.0 based on its services and overall cleanliness.
---
9641 Sunset Blvd, Beverly Hills, CA 90210
Contact: +1 310-276 2251 / info.BHH@dorchestercollection.com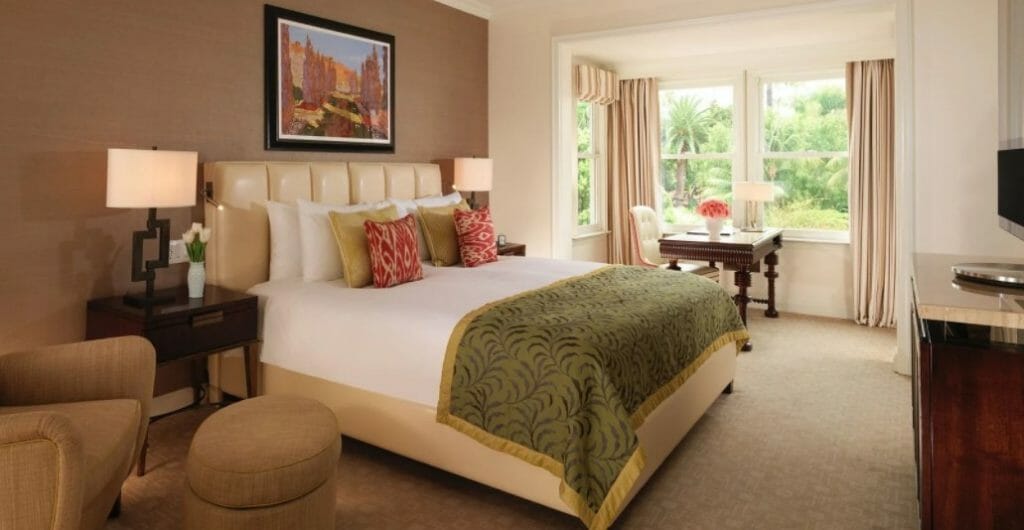 The Beverly Hills hotel boasts a supreme Sunset Boulevard location. Popularized by the Eagles song Hotel California, it was initially known as the pink palace since it is a house in a pale-pink Stucco Building. Built originally in 1912, it is a property where most Hollywood elites visit, including Elizabeth Taylor and one of the Hilton heiresses, Paris Hilton.
Apart from its history, it includes various facilities, including stylish guest rooms equipped with marble bathrooms, flat-screen T.V.s, high-speed internet access, gourmet minibars, and business amenities. To relax, guests can take advantage of the property's full-service spa and an outdoor pool. If guests want to explore the area, downtown Beverly Hills is just 1.6 km away.
Stay at The Beverly Hills Hotel and experience next-level comfort and relaxation with these features:
Customer service is splendid and as legendary as the hotel itself! Its staff is praised for its attentiveness, while its on-site polo lounge is known for its mean breakfast.
The awards it has garnered include the AAA/CAA Five Diamond Awards 2020, Condé Nast Traveler Gold 2021, Forbes Travel Guide Five Star Awards 2020, TripAdvisor Travelers' Choice Best of the Best Awards 2020, and Condé Nast Readers' Choice List 2020.
The hotel offers various cleaning services like daily housekeeping, trouser press, shoeshine, ironing, dry cleaning, and laundry.
Out of 1474 reviews on TripAdvisor, the hotel's cleanliness and service were rated 5.0 with an overall rating of 4.5
---
330 North Wabash Avenue, Chicago, IL 60611
Contact: +1 (312)-923-9988 / tlchi.info@langhamhotels.com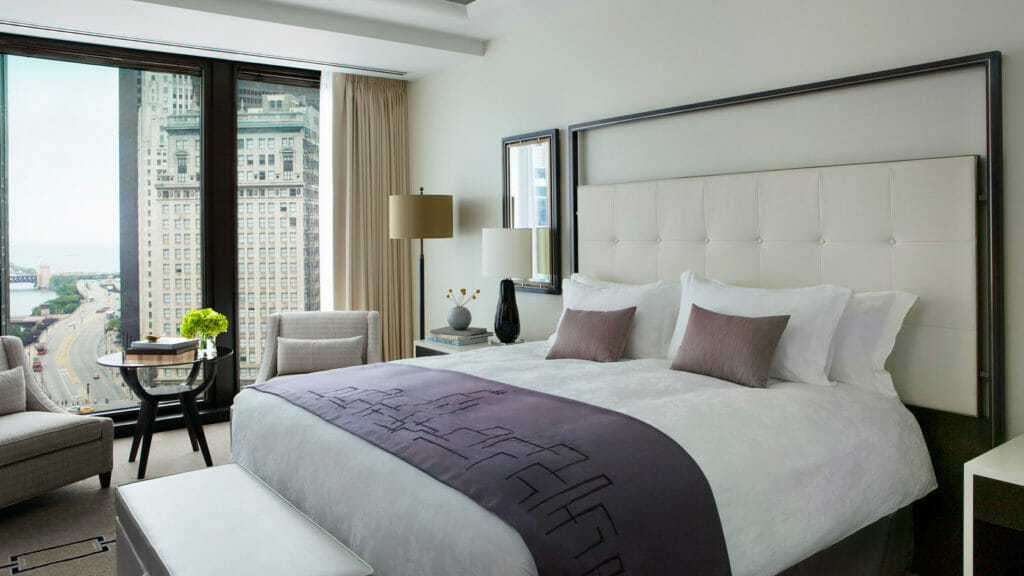 The Langham, Chicago promises to give you an unforgettable cityscape view, featuring the Chicago River and Lake Michigan. Its 316 guest rooms and suites occupy 13 floors within the 52-story landmark skyscraper A.M.A. Plaza designed by Ludwig Mies van der Rohe.
"Relaxing and comfortable" best describes the Langham, Chicago experience. Here's how:
Langham boasts attentive service, a quiet location, and riverfront views.
Forget your stressors and worries by taking a walk at the 1.25-mile stretch of the South Bank of the Chicago River. Go down the Chicago River Walk as a couple, with family or friends, or even go solo!
Accommodations include soaking tubs and rain showers in every room and featuring a flat-screen T.V. and complimentary Wi-Fi access.
Guests have complimented the comfortable beds and primarily recommends it for its relaxing bathroom, which is a must when you are away from home.
To make the most of the hotel's location, booking a room with a river view is a must.
The hotel houses a health club and a 67-foot long indoor pool.
Do not be a hotel restaurant snob, and do not forget to go through the hotel restaurant's menu before going to nearby top restaurants.
It has raked in accolades from the Fodor's Choice, AAA/CAA Four Diamond Awards 2020, Forbes Travel Guide Five Star Awards 2020, TripAdvisor Travelers' Choice Best of the Best Awards 2020, and Condé Nast Readers' Choice List 2020.
It has a 5.0 cleanliness and service rating on TripAdvisor.
---
1200 16th St NW, Washington, DC 20036
Contact: +1 202-448-2300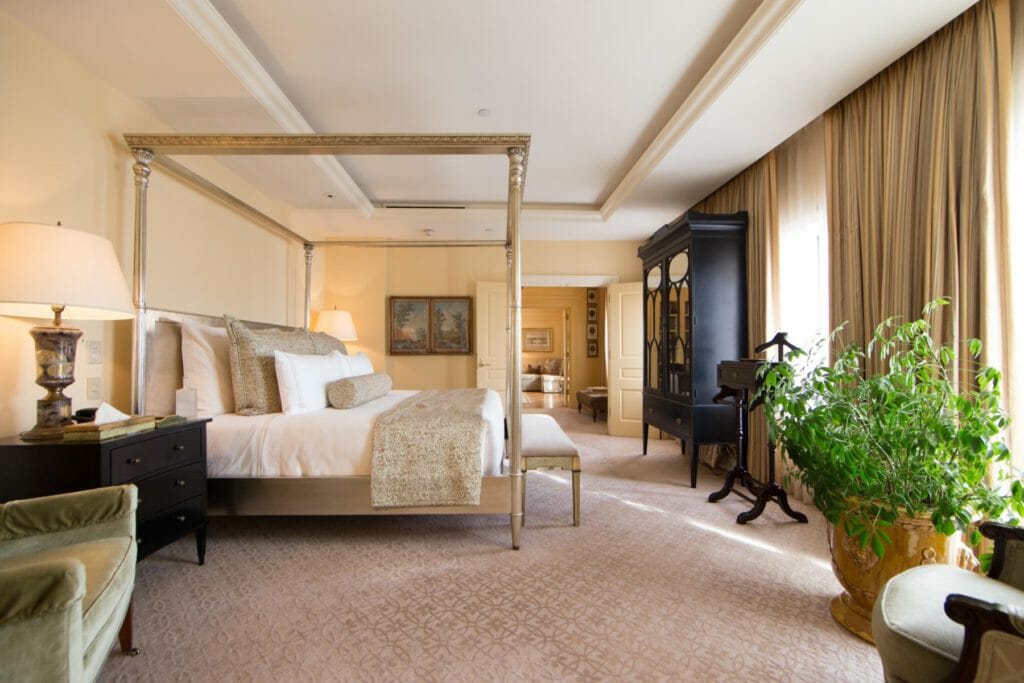 Since 1923, The Jefferson in Washington DC has been the go-to hotel of prominent public figures—and continues to be to this day! It marries history and innovation through its ultra-modern amenities, culinary excellence, and personalized service.
Located only a few blocks from the White House, The Jefferson boasts a European luxury experience. The checkered floors are lined with early 20th century paintings and sculptures, exuding the classic and the contemporary in one place! The private nooks help guests escape their fast-paced world and connect with their loved ones.
A luxury boutique hotel, The Jefferson is nothing short of comfortable with these amenities and features:
The hotel features 99 luxury rooms, each elegantly furnished with unique, intricate, and thought-out interior design.
Combine work and leisure because you can continue your work with the hotel's complimentary Wi-Fi access, and use of hotel technologies.
Partnering with Dolly Parton's Imagination Library and the D.C. Public Library Foundation, The Jefferson commits to sponsor children's books for the Public Library Foundation for every direct reservation that it gets through the First Library Book Program.
Stay fit while you enjoy your stay and take advantage of the 24/7 fitness center.
Meet Jefferson's in-house historian and appreciate history while you relax with your loved ones. Do not forget to bring your fur-baby with you!
---
5921 Valencia Circle (Box 9126) Rancho Santa Fe, CA 92067
Contact: +1 858-756-1123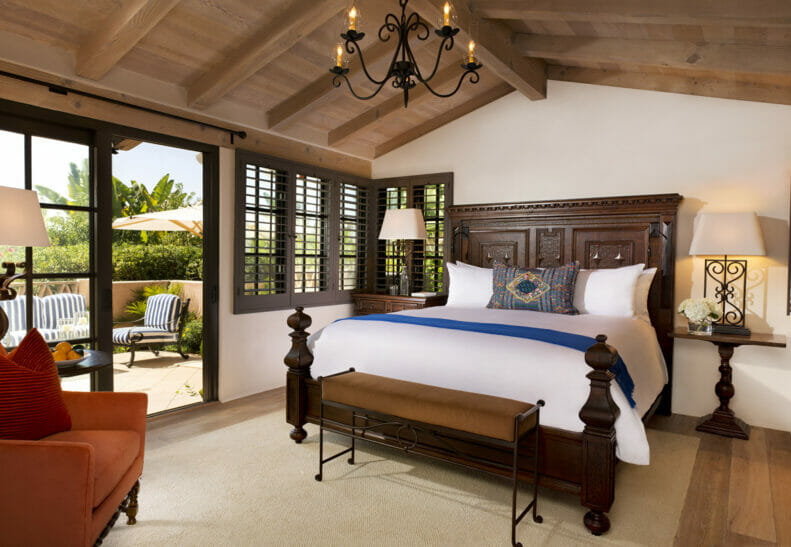 Take a 30-minute drive north of San Diego and get lost at the picturesque, luxurious Rancho Santa Fe resort and spa of Rancho Valencia. This five-star hotel tucked in manicured and lush greenery featuring a 45-acre property promises a vacation that feels a lot like home—but better!
The pride of Rancho Santa Fe, the Rancho Valencia Resort & Spa is a lovely spot that's off the beaten path. The attractive hardwood furnishing, deep-soaking tubs, and private balconies indulge guests who could use a luxurious relaxation. The popular spa offers herb-infused body wraps as well as a variety of massage therapies.
If you enjoy the Mediterranean experience with hacienda-style architecture, the Rancho Valencia Resort & Spa is your destination. Here's why it stands out as a serene, luxurious, and comfortable vacation hotel:
The hotel features 49 authentic, hacienda-style suites, lovingly called casitas, that will make you feel like a true haciendera or haciendero.
The rustic hotel furnishings add to the flare and the experience.
Each casita is equipped with individual heating, ventilation, and air conditioning system, which guarantees guests' safety and privacy.
Designed for memorable romantic getaways, the garden patio will give you and your significant other the perfect spot to have your moment while overlooking olive groves and canyons of Rancho Santa Fe.
Choose to unwind and relax at The Spa at Rancho Valencia and be ready to go back to the real world, refreshed and rejuvenated.
---
7 Lighthouse Ln, Hilton Head Island, SC 29928
Contact:: +1 (866) 561-8802/contactus@seapines.com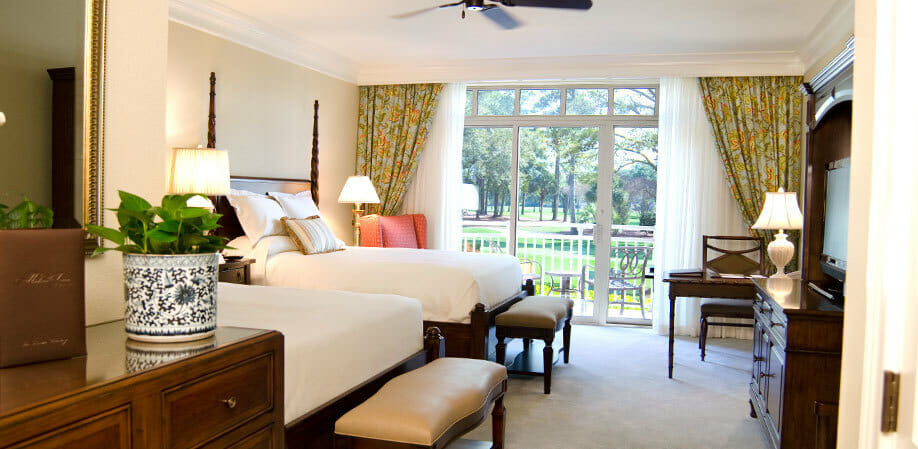 Combining a Scottish heritage with an English-style service, Sea Pines Resort is a five-star hotel located in a stunning harbor town area. Resting in the bottom boot of Hilton Head Island, it is perfect for a Hilton Head trip.
The most popular resort on this island is The Inn & Club. It is part of the Sea Pines resort and is one of the property's standout accommodations. Ideal for families who are looking to enjoy a comfortable and enjoyable vacation. Each of Sea Pines Resort's homes and villas is fully furnished.
Enjoy your privacy and comfort as you take advantage of everything that Sea Pines Resort has to offer:
Guests may choose to make a long trek to indulge in the lush scenery.
Luxurious rooms are available and feature personal butler service.
Love golf? Experience world-class golfing this side of South Carolina.
Each room features Flat screen T.V., blackout-lined window treatments, and luxurious bathrooms with soaking tubs.
The resort also comes with numerous dining options.
Great for two travelers, the property is an award-winning A.A.A. Four Diamond, Forbes Four-Star property, and preferred hotels and resorts member.
---
Lookout Cir, Hot Springs, AR 71913
Contact:: 501-525-6155; info@lookoutpointinn.com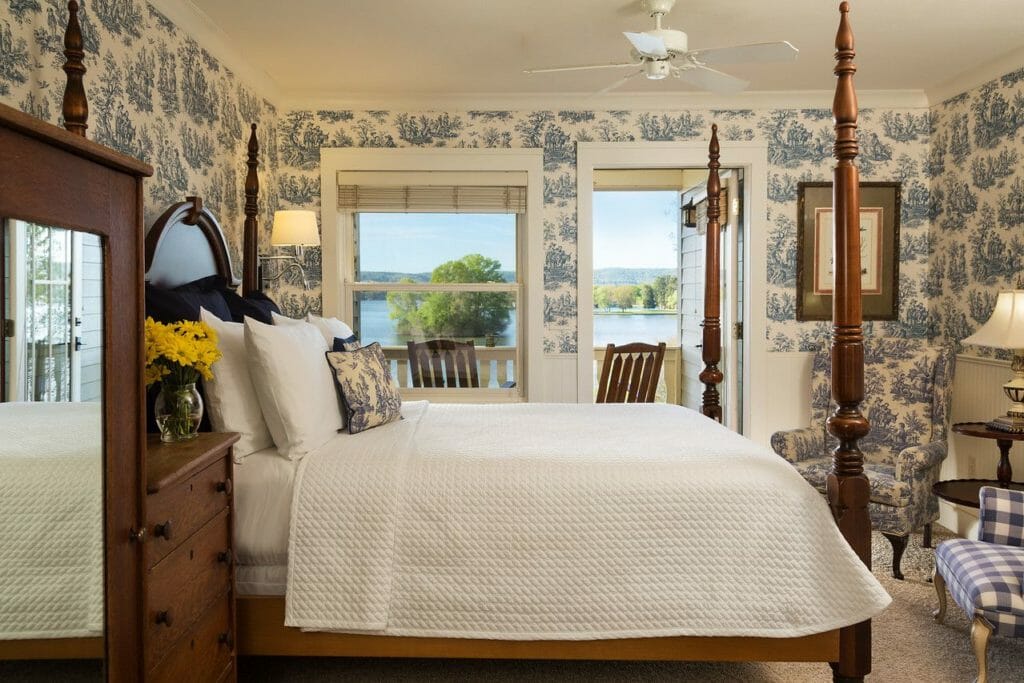 The Lookout Point Lakeside Inn is situated on the beautiful lake Hamilton in Hot Spring, Arkansas. What came out of the labor of love has become the third Best Small Hotel since laying its foundation in 2013.
Worth mentioning is its moniker as one of the Top Hotels for romance in the United States in 2020 and is Travel+Leisure's Most Romantic inns and hotels in the state of Arkansas. Guests rave about the unparalleled peace, tranquility, and comfort at The Lookout Point Lakeside Inn, thanks to these exclusive features:
Lookout Point Lakeside Inn promises a scenic scene as it stands across hot springs national park and historic downtown.
Rooms feature a stunning view of the lake and offer manicured gardens and a picturesque view of the Ouachita mountains.
Each guest room overlooks the lake and comes with a T.V., a DVD player, and free Wi-Fi.
Each booking comes with a 2-course gourmet breakfast.
Out of 1,309 reviews, cleanliness and service were rated 5.0 on TripAdvisor.
It ranks #1 out of 50 hotels in Hot springs.
Overall, it was given a perfect 5-star rating.
Highly rated for its comfort, facilities, and cleanliness according to Booking.com.
---
142 Avenida Menendez St. Augustine, FL 32084-5049
Contact: (904) 824-4301 / info@bayfrontmarinhouse.com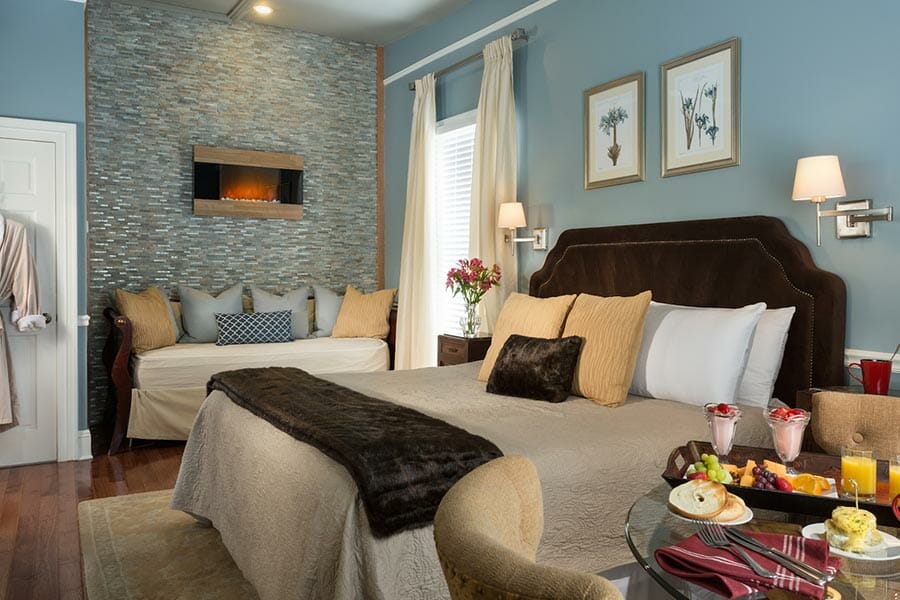 The Bayfront Marin House Historic Inn is a 3-star hotel located directly across Matanzas Bay and the seawall near the Castillo de San Marco. It is in the heart of the historic district of St. Augustine, the country's oldest city that, to this day, is dubbed as a European city—making it perfect for romantic getaways!
Guests can explore the Bridge of Lions and the romantic St. Augustine Lighthouse or watch the playful dolphins in the Intracoastal waterway.
Here's why The Bayfront Marin House Historic Inn is a remarkably unique destination that takes comfort to the next level:
Ensuring guests enjoy ultimate privacy and comfort includes private entrances and individual thermostats for every room.
Everything is accessible. You can walk to the city's historic sites, museums, art galleries, old-fashioned shops, and many fine restaurants within a few minute-walk.
With the safety and health of guests and staff as its priority, the hotel features keyless locks for contact-free check-in.
This downtown property is the #1 rated waterfront hotel in St. Augustine on TripAdvisor.
It is one of the "Top 25 Hotels for Romance" in US.
Dogs are welcome on the premises!
---
1710 Fall River Rd, Estes Park, CO 80517
Contact: (970) 586-4629/info@stonebrookresort.com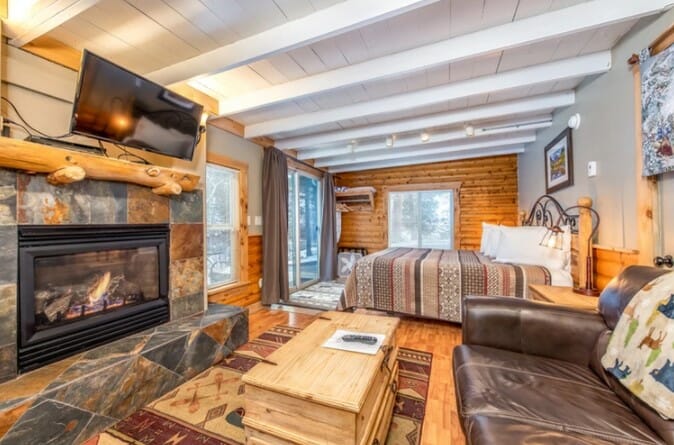 Stonebrook Resort is located along the Fall River, making it a convenient location that sits directly between the village of Estes Park and Rocky Mountain National Park. The property is strictly for adults only.
Established in 2006, the Stonebrook Resort was previously known as Trails West on the river. Four generations of the same family ran the Trails West before it was sold to investors who renamed, re-modeled, and revitalized the property.
Enjoy hiking, rock climbing, fishing, biking in the park, or shopping and dining in town.
Its location offers a tranquil mountain environment which is rated highly by reviewers on TripAdvisor.
A private mountain property, and it also has an adult-only resort that offers riverside cottages with private hot tubs and river suites with in-room spa tubs.
All units have fireplaces and kitchens.
Each room has a dining area, private balcony, and T.V. area.
An ideal place for a honeymoon, as well as relaxation and gatherings.
Perfect for guests who want to get in touch with the Colorado rocky mountains.
Non-smoking, pet-free property reserved for adults 21 and up.
---
901 E Cabrillo Blvd, Santa Barbara, CA 93103
Contact: +1 800-231-0431/info@santabarbarainn.com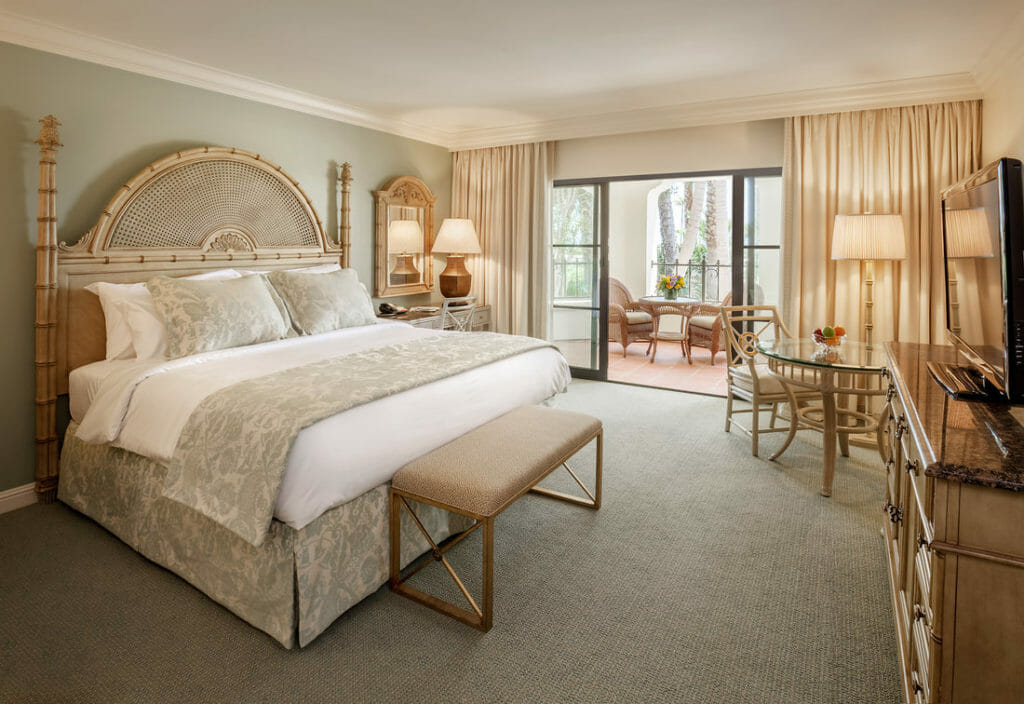 Nestled between the beautiful Santa Barbara beach and the Cabrillo Ballpark, Santa Barbara Inn was renovated in 2016 and now houses 70 guest rooms. Each room includes complimentary Wi-Fi access, a private balcony with an ocean or mountain view, and a flat-screen T.V.
A home away from home aims to make each guest's visit as relaxing and enjoyable as possible. Everyone loves the property's location because it is close to everything they need, but at the same time find themselves tucked away from the noise of downtown.
Guests can look forward to a laidback and comfortable stay at Santa Barbara Inn with these outstanding hotel features:
Spacious guest rooms ideal for small gatherings or a retreat from work.
Each room comes with complimentary Wi-Fi access and high-definition television that comes with a cable.
Visitors have access to the inn's heated outdoor pool, fitness center, oceanfront terrace, and an on-site restaurant called Convivo, offering both indoor and outdoor ocean-view seating. Convivo is one of the few restaurants in Santa Barbara that has an ocean view.
The hotel's housekeeping team has a high standard for cleaning procedures. It always aims to exceed guests' expectations. Currently, it has increased its measures to assure guests a clean, safe environment by frequently disinfecting high-touch areas throughout the hotel.
Santa Barbara Inn is close to every attraction there is in Santa Barbara from Stearns Wharf, Santa Barbara Zoo, Santa Barbara Harbor, Granada Theatre, Santa Barbara
​Bowl, to the Funk Zone.
---
897 Embarcadero, Morro Bay, CA 93442
Contact:: +1 805-772-3434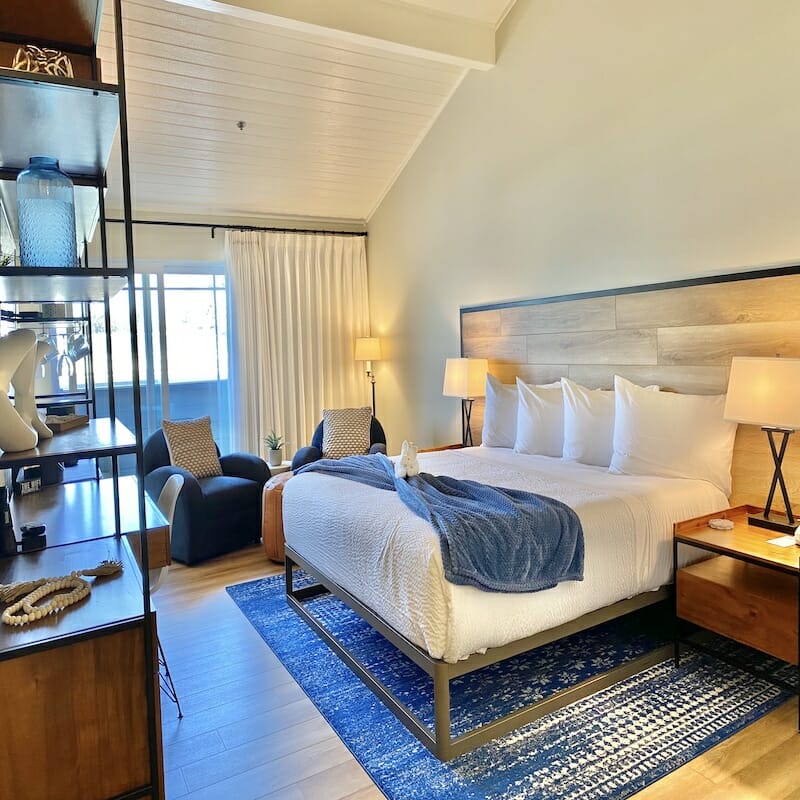 The Anderson Inn is one of the country's most affordable and comfortable hotels. It is a contemporary boutique hotel. Inspired by the natural elements of the sand seas and sky, it is located along the secluded central California coast.
Because of its location, the place is perfect for a romantic getaway or a place for relaxation. You can sit back and relax as they chill in their private ocean view balconies. Bask in the rays of beautiful sunsets as they observe the iconic Morro rock. Do not be surprised when you spot otters, sea lions, harbor seals once you step outside of your room.
Why is Anderson Inn the go-to spot for guests looking for an exceptionally comfortable hotel? Let's count the ways!
Newly renovated upscale guest rooms are all equipped with spa showers and many fireplaces, and soaking tubs.
The place also has an in-house by-the-bay gallery and a highly acclaimed on-site Galley restaurant.
It offers different kinds of suites for leisure.
If you prefer to get a full waterfront view, you can choose the starboard, captain suite, or portside suite.
An awardee of the 2020 Traveler's Choice awards from TripAdvisor, it is ranked #1 out of 31 hotels in Morro Bay.
---
744 SW Elizabeth Street Newport, OR 97365
Contact: (855) 391-2484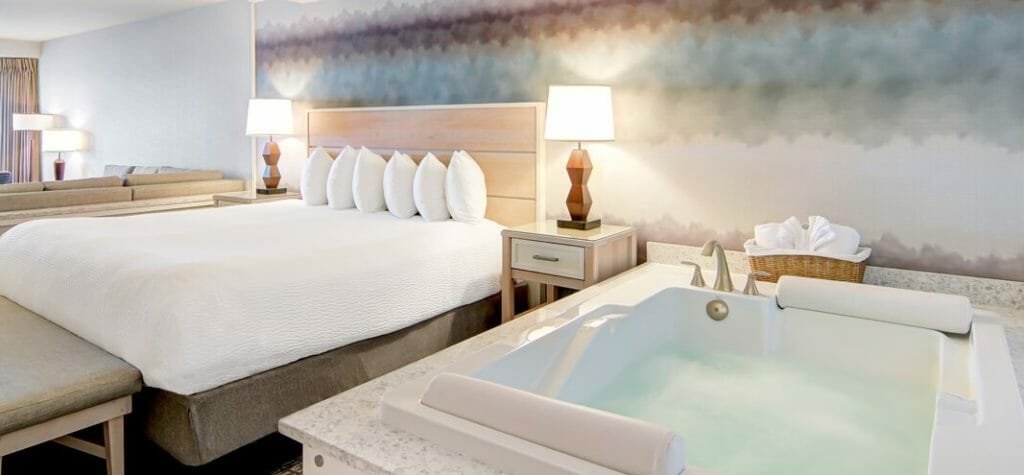 Perched on the edge of the picturesque, vast Pacific Ocean, the Hallmark Resort is a 3-star hotel that offers scenic oceanfront views. It is located directly on the beach overseeing the Haystack Rock. Since it is located near the area, immerse in the sight of fishing fleets returning to Yaquina Bay.
Perfect for corporate events, it has an on-site business center that can accommodate your annual office retreat or just a relaxing trip with the family. Take a break from the city life and look forward to waking up to Oregon Coast as your backdrop.
Here's why the Hallmark Resort meets all expectations in the comfort, relaxation, and accessibility departments:
Family-owned since 1948, it is guaranteed to be a place where lasting memories are made.
It offers a breathtaking view of the Pacific Ocean without breaking the bank.
Guestrooms at the Hallmark Resort feature a flat-screen cable T.V., a microwave, a small fridge, and coffee-making facilities.
Each room is equipped with a gas fireplace and free Wi-Fi.
Guests may choose to be cozy and laze around.
Rent a bicycle to explore the place and always be on the go.
Only certain rooms include ocean views and a balcony or patio. For guests who want to soak, the resort has two indoor heated saltwater pools, three hot tubs, and a dry sauna.
The spa and wellness centers are a must visit.
Pet-friendly! Possibly the first pet-friendly resort in Newport.
---
8550 Costa Verde Dr, Myrtle Beach, SC 29572
Contact: +1 843-692-5500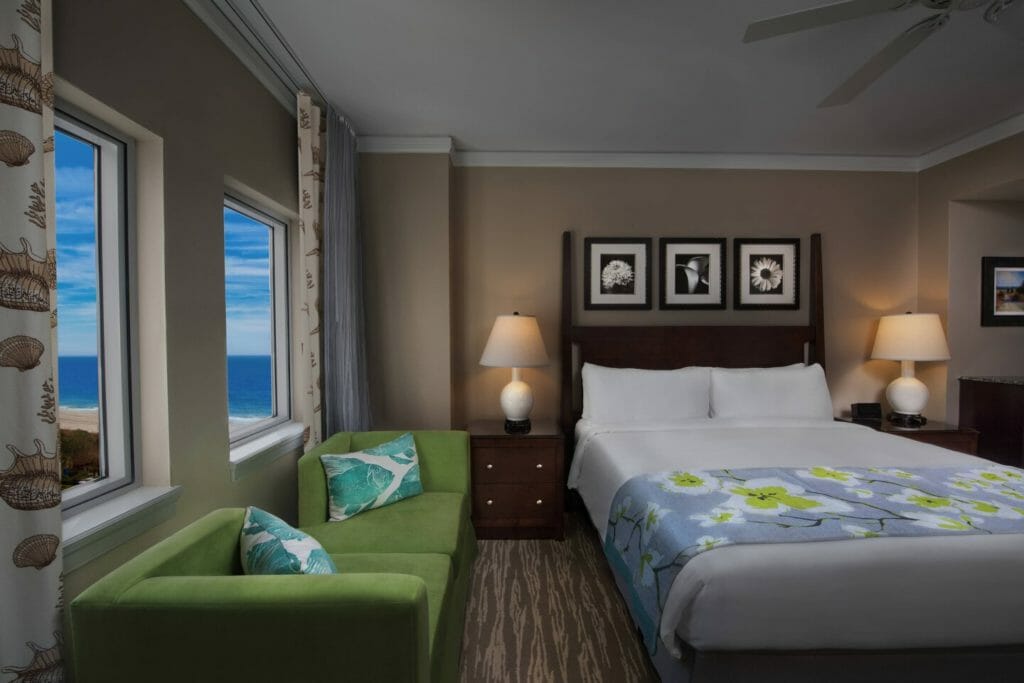 Marriott's OceanWatch Villas at Grande Dunes overlooks the beautiful Myrtle Beach in sunny South Carolina. It is a four-star hotel and oceanfront resort that lives up to its "Vacation time is precious" tagline.
Guests can expect the services and amenities to be of Marriott standards: a premium vacation experience. Members have access to a diverse list of experiences and accommodations, including 50+ other world-class Marriott locations, cruises, and guided tours anywhere in the world.
The OceanWatch Villas at Grande Dunes promise exclusive deals for a grand experience, and guests rave why it's worth it:
Grande Dunes location features two-bedroom villas where you will indeed feel at home while without the need to detach from modern comforts.
The property boasts its separate living and dining areas, as well as a full kitchen.
On-site amenities include dining, a fitness center, an indoor and outdoor pool, or take a stroll on grand strand beach.
It offers expert protocols for health and sanitation. These are made possible through the Marriott's in-house and outside experts in food and water safety, hygiene, infection prevention. It's Marriott cleanliness council seeks to redefine cleaning and safety standards.
Grande Dunes' 374 guestrooms include kitchens with full-sized refrigerators/freezers and stovetops.
The room features premium bedding and furnished sofa beds, satellite programming, and internet access.
Go for a dip at Property's outdoor pool or keep it private in your room's indoor pool or tub.