In the market for a new mattress and wanting to pick one up in the greater Los Angeles region? We've narrowed down some of the best mattress store options near Los Angeles and hope that this helps you find the perfect mattress for your needs.
Mattresses in Los Angeles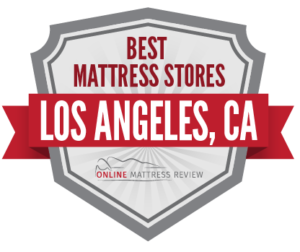 If you live in Los Angeles you understand the value of a great night sleep. Whether you just got into UCLA and you know you'll need your mind sharp for class, or you're ready to make it in acting and always need your beauty rest, sleep is essential. But we aren't just catering to young starlettes and students. Everyone who lives in LA understands the value of their time, and time spent purchasing a mattress can be dreaded. That's why we have selected a number of areas across this enormous city to help streamline the process. Whether you're up in the Valley or down in the Beach cities, there's a great mattress store near you with plenty of range. Check out our run down of mattress store offerings by area below.
Hollywood and Surrounding Areas
Sit 'n Sleep (969 N. La Brea Ave.) is a highly ranked mattress store located in Fairfax. The customer service is top-notch as is the quality of product. When here, expect to find experts who allow you to take your time and find a quality mattress that works within your budget. R Mattress (712 N La Brea Ave) offers is a great option for Hollywood residents. You will find high quality affordable mattresses that a various levels of firmness. Mattress Connection (600 N La Brea Ave) is a family-run business that has a great selection of mattresses with personalized customer experience. If you are looking for a mattress near Hollywood, this is the perfect fit. Good Night Naturals (5979 W. 3rd St.) is a great mattress shop located near Hollywood and is perfect for any individual who suffers with allergies or just anyone who is keen to sleep on an all natural mattress. The prices are excellent, and you walk away with a mattress experience that spares you a headache- not only that, but a backache and neck ache as well, as these are ergonomic mattresses designed to fit you well.
Downtown
When Downtown you may want to head to Mattress Central (439 S Broadway). This is a highly rated, quality mattress store with phenomenal customer service. You will get free installment and hauling of your old mattress. The merchants allow you to take your time and are very knowledgeable about their merchandise. The Bed Shop (1510 E 1st St.) is a mattress shop right near Downtown, Los Angeles in Boyle Heights. The Bed Shop offers a wide-range of products made from various materials at a great price. You will be greeted by a kind and knowledgeable staff. Steal-A-Sofa Furniture Outlet is great for a family on a budget or a student who is just settling into L.A. You will find not only great prices, but a large selection and friendly knowledgeable staff.
Westside
Mattress Shop Mid City(1976 S La CIenega Blvd) is a great option for any price point in Los Angeles. The customer service is excellent as is the mattress selection and cost. If you are looking for an affordable and quality mattress in or near Westside Los Angeles, check out Mattress Shop in Mid City. Los Angeles Mattress Stores (10861 W Pico Blvd) are located across LA, but this location on Pico Blvd. comes with not only excellent selection but also excellent customer service. If you looking for an easy solution to solve your mattress problems, Los Angeles Mattress Stores is a completely painless experience. Legacy Mattress (3757 Overland Ave) sells comfortable and organic mattresses that won't break the bank . If you are on the lookout for a mattress, and are hoping for a patient and support sales team, Legacy Mattress lives up to its name.
Beach Cities
If you want to know where to find a mattress in Santa Monica, you may want to start with Essentia Mattress (2430 Main St.). Here you'll find experts on healthy and clean bedding options that are all natural and organic. The customer service is outstanding and each salesperson has expert knowledge on mattresses. Ortho Mattress (1423 Wilshire Blvd) is great for not only the quality of mattress but quality of experience you will find while shopping for your perfect fit. Don't be fooled by the fact that this is a chain- it is run much more life a family-operated business. Keetsa (1221 Abbot Kinney Blvd.) is the mattress shop right in Venice Beach. There are a number of different kinds of mattresses for all prices. You can even find environmentally friendly options. If you are in or near Venice Beach, you have to stop in Keesta and try out their mattresses. In Manhattan Beach you will find a quality Ortho Mattress (1315 N. Sepulveda Blvd, and in Redondo Beach we recommend you check out Good Night Mattress (2207 Artesia Blvd) for all of your mattress needs.
The Valley
No need to trek all the way downtown to find a mattress. Check out Sweet Dreamzzz (12345 Ventura Blvd.) for quality products, a sales team with your best interests in mind, and a mattress that matches every price point. Sit 'n Sleep is a great chain and this one is located in Sherman Oaks (14936 Ventura Blvd.) and has a great range to pick from with customer service to help you make a decision that will not keep you tossing and turning at night. It's all in the name at My Sleep Mattress (6030 Laurel Canyon Blvd.). If you are looking to secure a good night sleep, head to My Sleep Mattress. You will find a wide variety of mattress styles and very friendly and knowledgeable staff.
You can also check out mattress online at some of our favorite stores: