We've researched the best places to buy a new mattress in Long Beach, CA. Using our guide along with other online resources should help you to find what you're looking for.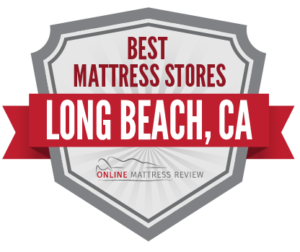 Is good quality sleep important? Researchers think so. Scientists have found that sleep is essential to restore and rejuvenate, to regulate mood, to process information and consolidate memories, to grow muscle, repair tissue, and synthesize hormones.
Laypeople recognize the importance of sleep as well: 92% of adults view sleep as crucial to their overall health and wellbeing. Are mattresses important? You bet. In a separate study, 92% of adults agreed that a good mattress is important for a good night's sleep. If you've been sleeping on a low-quality, uncomfortable, or outdated (older than 8 years) mattress, it's time to consider an upgrade.
Shoppers in Long Beach are fortunate to have a wide selection of high-quality and affordable mattresses at their fingertip; the area has a large number of both independent and national chain mattress stores, meaning competitive pricing and good selection. If you're wondering where to buy a mattress in Long Beach, look no further.
We've scoured the reviews to bring you the best choices, all grouped by geographic area. Read up and find the best place to buy a mattress in Long Beach, right in your immediate neighborhood.
---
Mattress Stores in Central Long Beach
Nader`s Furniture Store
3301 Pacific Coast Hwy, Signal Hill, CA 90755 Phone: (562) 961-1000
There are not many mattress stores in Central Long Beach, but Nader's Furniture Store is a family business has been around since 1956, making it one of the longest-running businesses in South Bay. The store prioritizes customer service and supporting community organizations. Nader's carries memory foam, innerspring and hybrid mattresses.
---
Mattress Stores in Northern Long Beach
There are a few mattress stores in Northern Long Beach, including both chain and independent mattress shops.
3400 70th St, Long Beach, CA 90805 Phone: (562) 232-8806
Mattress Factory Direct has earned great online reviews for its highly competitive pricing, with a good selection of American-made, affordable mattresses.
8757 Artesia Blvd, Bellflower, CA 90706 Phone: (562) 633-1883
Just a couple of blocks away, Nu-Way Mattress Corp has both mattresses and furniture, including a wide selection of futons and recliners. The store's mattress selection includes pillow top, innerspring and pocketed coil mattresses, along with beds and bedroom sets.
---
Mattress Stores in Southern Long Beach
There are decidedly few mattress stores in the Southern area of Long Beach, though a few furniture stores in the area do carry select mattresses.
3143 E Anaheim St, Long Beach, CA 90804 Phone: (562) 888-4070
Shoppers in Southern Long Beach can visit The Bed Post in the Circle Area. Here, customers can choose between several highly affordable mattresses: Spinal Care, Maxim and Sam, as well as bedroom furniture and sleep accessories.
975 Long Beach Blvd, Long Beach, CA 90813 Phone: (562) 432-0562
Another well-reviewed option is Caravana Furniture, which boasts an enviable average 4.6-star Google rating and a perfect 5-star Yelp rating. This reputable, massive, and family-owned home furniture store sells not only modern dining, living, and bedroom furnishings, but mattresses as well, including foam and pillow-top styles.
---
Mattress Stores in East Long Beach
East Long Beach has quite a number of mattress stores, with several clustered in the same area, making for easy comparison shopping.
6382 Pacific Coast Hwy Suite B, Long Beach, CA 90803 Phone: (562) 216-7110
Sit n' Sleep has another location as well.
5700 2nd St, Long Beach, CA 90803 Phone: (562) 434-2900
Just a few blocks to the West, in the same immediate area, there's local chain Orange County Mattress, which has a total of 14 locations in Orange County. Customers praise this mattress store in online reviews for highly responsive customer service, a painless and convenient shopping experience, and for their fast, same-day delivery. Orange County Mattress carries known mattress brands and economy models like Aireloom, Beautyrest, Golden Mattress, OC Mattress, Serta and Tempur-Pedic.
7410 Carson Blvd, Long Beach, CA 90808 Phone: (562) 766-2050
Up in the Northeast part of Long Beach, national chain Ashley HomeStore has a location in the Long Beach Towne Center. The store carries high quality and affordable furniture and mattresses, with gel, innerspring, foam, memory foam, hybrid and wrapped coil mattresses in stock. The store has an incredible 771 Google reviews and an impressive 4.5-star rating.
---
Mattress Stores in West Long Beach
West Long Beach has a few mattress stores to choose from.
Long Beach Mattress
2123 W Cowles St, Long Beach, CA 90813 Phone: (562) 491-0060
The appropriately-named Long Beach mattress is one locally-owned, smaller option in the Lower Westside. They do not have a website.
449 W Anaheim St, Long Beach, CA 90813 Phone: (562) 599-1942
Happy Furniture also carries mattresses, along with a wide selection of bedroom furniture and other home goods. Options at this no-frills discount store include affordable mattresses from Crown and Amalfi, with memory foam and coil models. Same-day delivery and layaway are offered, and customer service is well-rated on Yelp.
****
Thanks for checking out our guide to the best mattress stores in Long Beach, California. We wish you the best of luck on your search.
---
Additional resources:
Best Mattress Stores in California
You can also review mattresses online at some of our favorite stores: