Trying to choose where to get your next mattress? Looking for the best deals and discounts? We've put together this guide to help you find the best mattress shops in Florida and to make your decision easier.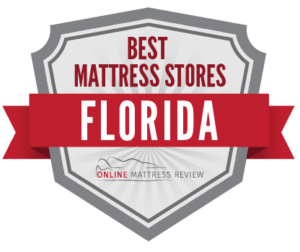 After a day in the sun in the Sunshine State, you are probably looking to get the best night's rest you can. There are many great options for mattresses all across the state of Florida. In today's market, you can gain mattresses that are increasingly affordable or expensive.
Whether you're looking for organic all natural fibers, memory foam, or something to help you complete the furnishings in your beach house, there is something for all price point throughout the state.
Major cities like Miami and Orlando have a vast number of mattress stores and more locally run mattress shops to choose from. You can find mattresses made with sustainable materials and packaging, mattresses shipped to your home, and mattress and frame sets set up in your own home.
In other parts of Florida, there is no shortage of mattresses. We selected some of the top ranked shops to help you narrow down your selection. Check out our individual city pages within the state, or a run down of mattress store offerings by region below.
---
Mattress Stores in Southern Florida
There are many quality and affordable mattress stores in Southern Florida. We consider Miami, Fort Lauderdale, and Fort Myers, FL among some of the largest suppliers of mattresses in the Southern Florida region.
Mattress stores in Miami offer a wide-range of mattress including some great organic options.
3701 Grand Ave, Miami, FL 33133 Phone (305) 461-8674
The highest rated mattress store in Miami is SEB Mattress and offers mattresses free of harmful chemicals and includes Naturepedic mattresses. You'll find SEB in Coconut Grove WH Area.
1030 SW 8th St, Miami, FL 33130 (305) 326-4000
3101 N Miami Ave Ste 105, Miami, FL 33127 Phone (305) 576-8812
1522 N Federal Hwy, Fort Lauderdale, FL 33304 (954) 566-0963
2121 N Federal Hwy, Fort Lauderdale, FL 33305 Phone (954) 561-0375
1522 N Federal Hwy, Fort Lauderdale, FL 33304 Phone (954) 566-0963
3880 N Federal Hwy, Fort Lauderdale, FL 33308 Phone (954) 568-4905
1184 S Federal Hwy, Pompano Beach, FL 33062 Phone (954) 781-4736
7870 W McNab Rd, North Lauderdale, FL 33068 Phone (954) 726-9981
3801 N Federal Hwy, Fort Lauderdale, FL 33308 Phone (954) 563-3768
Perhaps the king of discount mattresses comes in Fort Myers on the opposite coast of southern Florida.
3569 Fowler St, Fort Myers, FL 33901 Phone (239) 278-4931
---
Mattress Stores in Central Florida
You may be asking yourself "Where can I find a mattress in Orlando?" With so many mattress stores to choose from in this large metropolitan area, it may be difficult to discern the best.
1785 FL-436, Winter Park, FL 32792 Phone (407) 673-3040
If you are looking for good quality and affordable mattresses we recommend taking a look at The Original Mattress Factory located near Orlando in Winter, Park FL. Here you will find quality customer service and mattresses for a great affordable price.
Millenia 4194 Conroy Rd Ste 104, Orlando, FL 32839 Phone (407) 370-6575
Colonial Town Center 3748 E Colonial Dr. Orlando, FL 32803 Phone (407) 895-5055
145 S Dale Mabry Hwy, Tampa, FL 33609 Phone (813) 870-1117
Bed Pros Mattress offers factory and close-out prices as well as affordable mattresses that were overstocks.
8317 N Armenia Ave, Tampa, FL 33604 Phone (813) 935-3151
Famous Tate Appliance and Bedding is much loved shop in Tampa located at the intersection of W Water's Ave. and N. Armenia Ave. This is a customer-centric friendly locally run mattress store.
Walter's Crossing 1526 N Dale Mabry Hwy, Tampa, FL 33607 Phone (813) 872-6149
---
Mattress Stores in Northern Florida and the Panhandle
Wondering where to find a mattress shop in Jacksonville?
5250 Bowden Rd ste 201, Jacksonville, FL 32216 Phone (904) 477-4641
Jax Mattress is located Southside and offers great customer service and high quality mattresses for all price points.
Avenues 11035 Philips Hwy Ste 4, Jacksonville, FL 32256 Phone (904) 262-1118
Town Center 4865 Town Center Pkwy Ste 3, Jacksonville, FL 32246 Phone (904) 996-8812
Mandarin 11105 San Jose Blvd Ste 1, Jacksonville, FL 32223 Phone (904) 880-9912
Southside Square 9047 Southside Blvd Ste 9, Jacksonville, FL 32256 Phone (904) 538-9983
9843 Beach Blvd, Jacksonville, FL 32246 Phone (904) 646-1410
Beds Beds Beds is a family-run mattress shop located in Jacksonville. You will be impressed with the personal touches and individualized attention.
If you're headed to Tallahassee, you may be seeing the beauty of the swampy surroundings or more likely finding a new apartment new FSU.
2855 Industrial Plaza Dr, Tallahassee, FL 32301 Phone (850) 545-7112
1901 N Monroe St, Tallahassee, FL 32303 Phone (850) 385-5505
Whether you're furnishing home or vacation home, you are probably going to asking yourself, "Where can I find a mattress store in Pensacola?"
6861 N 9th Ave, Pensacola, FL 32504 Phone (850) 494-1717
1550 Airport Blvd, Pensacola, FL 32504 Phone (850) 477-5070
Mattress Now
11770 Panama City Beach Pkwy, Panama City Beach, FL 32407 Phone (850) 236-8855
13800 Panama City Beach Pkwy #114, Panama City Beach, FL 32407 Phone (850) 249-1300
---
The Top 30 Cities in Florida
You'll be able to find mattresses in all of the major population centers of Florida. We've listed the top 30 here: Miami, Tampa-St. Petersburg, Orlando, FL, Jacksonville, Sarasota-Bradenton, Cape Coral-Fort Myers, Palm Bay-Melbourne, Port St. Lucie, Palm Coast-Daytona Beach-Port Orange, Pensacola, Kissimmee, Naples, FL, Lakeland, Tallahassee, Winter Haven, Fort Walton Beach-Navarre-Wright, Gainesville, Deltona, North Port-Port Charlotte, Ocala, Sebastian-Vero Beach South-Florida Ridge, Spring Hill, Panama City, Leesburg-Eustis-Tavares, Lady Lake-The Villages, Homosassa Springs-Beverly Hills-Citrus Springs, St. Augustine, Zephyrhills, Sebring-Avon Park and Titusville, FL.
These are our most popular mattress cities in Florida:
Jacksonville and Miami
You can also check out mattresses online at some of our favorite stores: