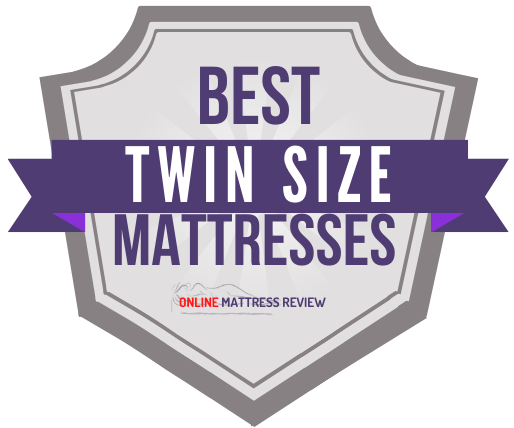 Did you know that a single bed and a twin bed are the same sizes? Both beds are designed for use by only one person, but the term "twin bed" resulted from being part of a pair. These were twins – separate beds but used together as a set.
Nowadays, two twin-sized beds can be used as separate beds in children's rooms, guest bedrooms, and even a married couple's bedroom.
Sleeping in separate beds as a married couple isn't as uncommon as you might think. Numerous benefits that can be gained from it that even famous people enjoy.

Methodology in Choosing the Twin Beds on Our List
When we considered dozens of twin-sized mattresses, we evaluated them based on several factors.
The mattress's thickness is a determinant of the amount of support it will provide to the sleepers. As a general rule, the thicker the mattress, the heavier the weight it can take without bottoming out. Thicker mattresses also provide more pressure relief, hold up for a longer period, and offer more support.
We suggest a mattress no thinner than eight inches for adults, while a thinner mattress will work well for children. Check that the thickness of the mattress will fit in the platform, especially for bunk beds and trundle beds.
The firmness of a mattress boils down to personal preferences concerning weight and preferred sleeping position. The best mattress, nonetheless, should provide the Goldilocks balance between comfort and support. This means the pressure points, particularly the shoulders, lower back, and hips, are cushioned well while the spine is in neutral alignment.
While there are no hard-and-fast rules, you can use these rules of thumb when choosing a mattress according to firmness:
Choose a firmer mattress for heavier sleepers and a softer mattress for lightweight sleepers. For average-sized individuals, a medium firmness mattress is best.
Side sleepers benefit from either a medium-soft or medium-firm mattress, while back sleepers will sleep well on a firm mattress. Stomach sleepers can benefit from medium-firm to firm mattresses since these will maintain neutral spine alignment. Combination sleepers should consider medium to medium-firm mattresses.
Many, if not most, of the twin-sized mattresses here, are available in a range of firmness levels, from soft to firm.
We looked for signs of world-class quality in the mattresses, such as luxurious materials, flawless stitching and seams, and overall durability. When possible, we considered edge support, motion isolation, and ease of movement, which are important factors in your sleep experience.

Lastly, we looked at the prices and prioritized the reasonably-priced mattresses. But we also believe that you get what you pay for and, thus, we considered quality and durability over affordability. This way, we believe that you will get the best value for your money, particularly when considered with favorable sleep trials, return policies, and warranties.
---
THE 10 BEST TWIN SIZE MATTRESSES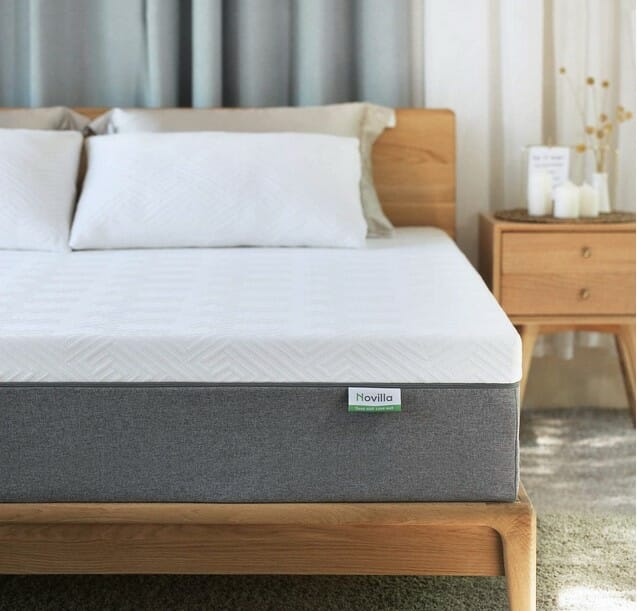 Basic Information:
Size: 39 x 75 x 10 inches
Weight: 32.8 pounds
Type: Bed-in-a-box mattress
Product Highlights:
Medium-firm mattress
Provides sufficient support for neutral spine alignment and comfort for optimum pressure relief
Little to no off-gassing
There are plenty of reasons why the Novilla Gel Memory Foam mattress is the first on our list. First, it's a bed-in-a-box mattress so that it will be delivered in a rolled and compressed form. You can carry it to your bedroom with relative ease with the assistance of another adult and open its package using the included cutter.
But you can't use it immediately, a typical disadvantage of bed-in-a-box mattresses. While it will quickly inflate, it will take at least 72 hours (three days) to reach its fully inflated size. We suggest waiting for another 24 hours, if possible since it will make a huge difference in its comfort and support levels.
Keep in mind that it's a medium-firm all-foam mattress with four layers of foam. Thus, it's more suitable for adults who prefer a firmer mattress due to their weight and preference for side and combination sleeping.
The bamboo fabric used for its surface isn't just soft and supple to the touch, but it's also among the most breathable fabrics used in mattress covers. According to the manufacturer, it enhances breathability by 30%, and it's something that we agree with after sleeping on the mattress for several nights. Most users say that it's quite cool to the touch at first contact, and it maintains its cool quality even after hours of use.
The gel-infused memory foam, the first foam layer, ensures a cool sleeping experience and optimum body-contouring property. You will feel a slight hug when lying down on the mattress, but you won't sink in too much into it, which means great pressure relief.
The next foam layers are comfort foam and high-density foam layers that provide the Goldilocks balance between cushiony comfort and spinal support. There's a slight bounce, but the more noticeable quality is the comfortable firmness that cradles your spine and keeps it in safe alignment.
Yes, it has a break-in period to wake up with slight back pain for a couple of days after first using it. But afterward, you will wake up without pain in your shoulders, lower back, and hips! Many users with MS and chronic back pain say that it was the best decision of their life, mattress-wise, too.
Plus, there's little to no off-gassing issue, a bonus point for people with sensitive noses. The mattress can fit in most bed frames and comes with a 30-day money-back return policy and a 10-year warranty.
---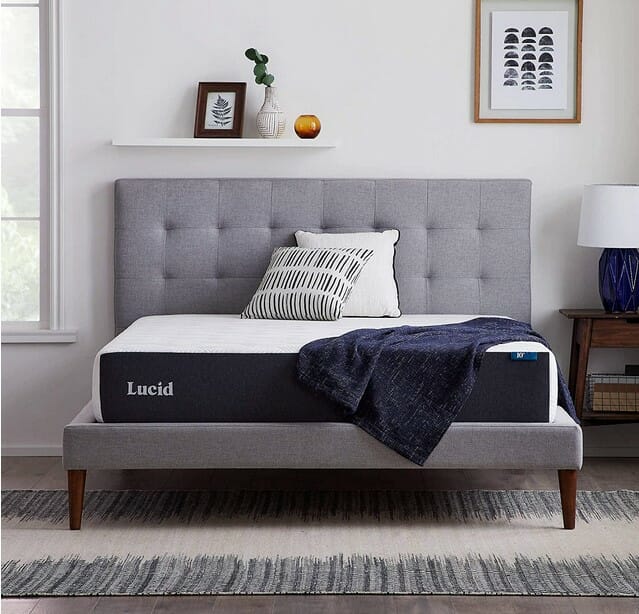 Basic Information:
Size: 75 x 39 x 10 inches
Weight: 28 pounds
Type: Bed-in-a-box mattress
Product Highlights
Gel memory foam mattress
Medium-firm
Suitable for most types of sleepers
Teens and adults will appreciate the 10-inch thickness of the Lucid mattress since it's just the right thickness. Even slightly heavier adults will find that it's perfect for their needs as their bodies don't sink in too much into it. Lighter-weight adults will likely have an on-the-mattress feel because it's a medium-firm mattress.
We then suggest it for people who prefer sleeping on their side, back or stomach since its medium-firm feel provides less sink and more support. But since it's a memory foam mattress, it's among the more comfortable mattresses on our list! Memory foam, after all, provides a cushiony hug around the body's major curves – shoulders, lower back, and hips.
Three layers make up the 10-inch mattress:
The 6.5-inch bamboo charcoal base foam provides the fairly stable support necessary for exceptional edge support and long-term durability. This is the second-thickest layer since it provides a barrier between the bed frame below and the foam layers above. We also appreciate that its odor-absorbing property decreases the buildup of unwelcome odors in the mattress.
The 1-inch gel memory foam transition layer has a dual function. First, it acts as the barrier between the comfort layer and the support layer. As you lie down on the bed, you will enjoy the top layer's cushiony comfort, but you won't sink too much into the firmer base support layer. Second, it cools down the mattress, thanks to its gel-infused construction.
The 2.5-inch top layer is made of ventilated gel memory foam, a material that's much cooler than traditional memory foam. Most users say that they are sleeping cooler than ever before! But it isn't just the cool sleeping experience that makes it great! The moderate hug results in significant pressure relief that people with chronic back pain immediately appreciate.
But since it's an all-foam mattress, there may be a slight dip around the edges when you sleep or sit down near the edge. This is a normal occurrence with all-foam mattresses because there are no innerspring coils for stronger edge support. Every foam layer is a CertiPUR-certified foam, so it's of the highest quality possible.
The mattress is compatible with most types of fixed and adjustable bases, thanks to its all-foam construction. This can even be used over a slatted base without compromising its foam layers.
---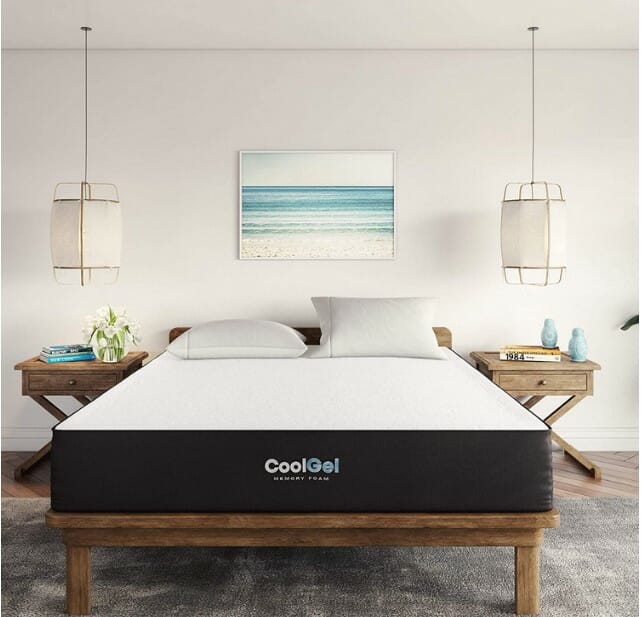 Basic Information:
Size: 39″ x 75″ x 10.5″
Weight: 40.8 pounds
Type: Bed-in-a-box mattress
Product Highlights
Made of gel memory foam
Medium-firm mattress
Recommended for people with chronic back pain
From first sight, the Classic Brands mattress is beautiful, so much so that you may be tempted to just lie down on it without the beddings! The charcoal gray and white cover has attractive details, while the four-way stretch knit cover is soft and supple to the touch. Aside from its luxurious feel, the knit cover also enhances breathability.
The all-foam mattress has several layers, namely:
1.5-inch blue cool gel-infused memory foam comfort layer with a moderate hug, as well as good response and bounce
1.5-inch standard memory foam support layer that adds to its medium-firm feel
8.5-inch high-density foam bottom that strengthens the edge and base of the mattress
The first two foam layers appear to have a 3-pound density, a common density in mattresses at their price range. This isn't an expensive Tempur-Pedic mattress, but if you're looking for the best value for your money without breaking the bank, then it's a great choice.
How does the mattress feel? Keep in mind that it has a medium-firm feel, so it's neither too soft nor too firm for average-sized persons. The gel-infused memory foam provides a more comfortable sleeping surface with its cozy hug on your pressure points. There's a bit of a sink, but your spine remains in neutral alignment due to the support layer beneath.
We like most about it because there's less motion transfer and more ease of movement, both features that make it easy to sleep with a small pet. You won't be woken up every so often by movement from your pet, so you sleep better. However, you may not sleep well with a human partner because of the tight space.
We found a few users with underlying medical conditions, such as hypermobility syndrome and chronic back pain, that cited the mattress's positive difference in their lives. The mattress was so comfortable and cool that they woke up with less body pain, particularly in their pressure points, and with less inclination to get out of bed.
We recommend it for healthy people, too, since prevention is always better than the cure! There's nothing like restful sleep every night to maintain good health, a positive disposition, and a productive day.
But it has its share of issues, foremost of which is the plastic smell that emanates from the mattress after it's opened. Some users say that it took a full week before the unpleasant smell was gone. You may want to give it a few days to air out in a well-ventilated area before using it.
---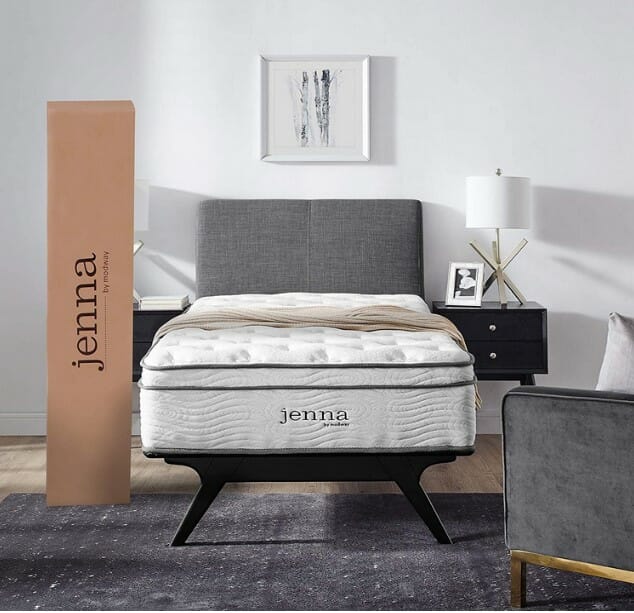 Basic Information:
Size: 75 x 39 x 10 inches
Weight: 48 pounds
Type: Bed-in-a-box mattress
Product Highlights
Innerspring mattress with foam layers
Offers more support than an all-foam mattress
With a 10-year warranty against manufacturer's defects
Yes, there's assembly involved with the Modway Jenna innerspring mattress since it's a bed-in-a-box mattress, but it's so easy! Since it only weighs 48 pounds, it only needs two persons to carry it from the door to the bedroom. Just be sure not to cut the mattress, a fairly easy task with a dull tool, in the process of unboxing it.
Place it on top of the platform where it will be placed, let it unroll and expand to its fullest height, and air it out for an hour or so. There's a certain satisfaction in watching it fully expand in 24 hours or more, too. You may want to give it more time, nonetheless, if you're not satisfied with its inflated size after 24 hours.
It isn't as big an issue as with other mattresses regarding off-gassing, a common complaint with bed-in-a-box mattresses. There's a slight smell when the mattress starts inflating, but it lasts for an hour or so only. If you're sensitive to the plastic smell, you should consider opening your bedroom's windows to let it air out.
Keep in mind that it's an innerspring mattress, and, thus, it has its unique pros and cons compared to all-foam mattresses. The 8.5-inch tall individually wrapped coils lie underneath the 1-inch responsive foam and 0.9-inch convoluted foam padding. The padded polyester quilted cover rounds up the layers and provides a plush pillow top experience.
While it's marketed as a medium-firm mattress, it's more on the firmer side because of the predominantly innerspring construction. We found a firm mattress with a springier bounce but offers better support for heavier persons. We recommend it for stomach sleepers, too, because it promotes spine alignment.
The individually wrapped coils decompress according to the heavier parts of the body, such as the shoulders and hips. Such is its supportive quality that there's less pressure on these pressure points.
But the relatively thin foam layers may be an issue for some people, particularly those more familiar with all-foam mattresses. But if you're more into spine support and less about cushy comfort, then it's just the right one. You may want to place a mattress topper to make it softer without taking away the support, too.
Since it's an innerspring mattress, it retains less heat. There's more airflow in and around the innerspring coils. Thus, you will sleep cooler than on an all-foam mattress. There may be a minor issue with motion transfer due to its innerspring construction, but it shouldn't be a problem if you sleep alone.
---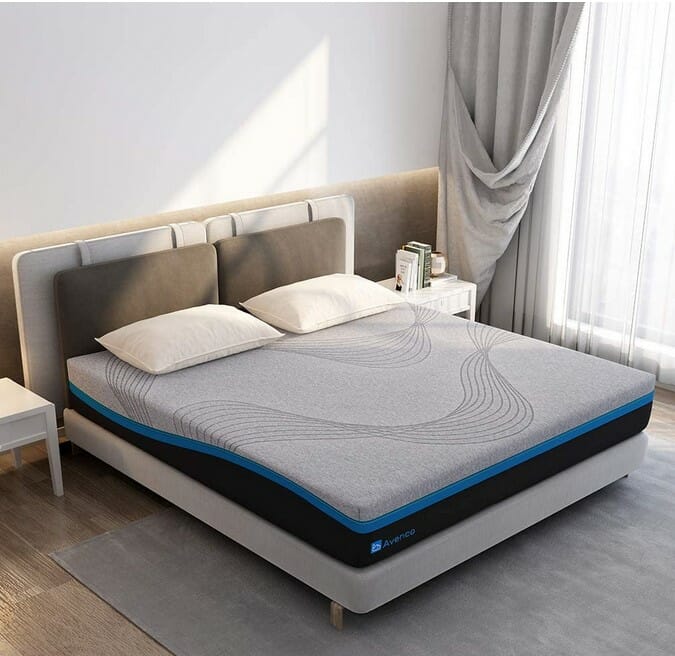 Basic Information:
Size: 75 x 39 x 10 inches
Weight: 46.6 pounds
Type: Bed-in-a-box mattress
Product Highlights
All-foam mattress with single comfort and support layers
Provides twice the comfort
100-night trial period
Many mattresses have a boring out-of-the-box design, but this isn't so with the Avenco Grey mattress! Hands down, it's the most attractive mattress on our list, with its textured grey cover made even more striking by its wavy print. The bright blue middle layer and black bottom layer make for a sharp yet striking contrast.
Of course, an all-foam mattress is only as good as its performance in terms of comfort and support, notwithstanding its beautiful design. The Avenco Grey mattress doesn't disappoint in these aspects either because it delivers twice the comfort of an innerspring or hybrid mattress.
This is because it's an all-foam mattress that provides more body-hugging comfort, particularly with gel memory foam, since it reacts to your body's heat. As you lie down on it, the memory foam quickly molds to your body's major curves. You will feel as if you're sleeping on a cloud without the sinking feeling since memory foam distributes your bodyweight evenly.
When you wake up in the morning, you're less likely to feel the usual aches in your pressure points! Your lower back pain isn't as noticeable, thanks to your spine being in neutral alignment the entire time you're sleeping. Even the crick in your neck and shoulders isn't as painful as it was before, and you wake up feeling more refreshed.
But there's a saying that too much of anything is bad. With the Avenco Grey mattress, you're not getting too much comfort at the expense of support. The thicker and firmer support layer below the thinner and softer comfort layer ensures that you're not sinking in too deep into the mattress.
There's sufficient pushback from the bottom layer that it's more of an on-the-bed experience than an in-the-bed one. This is a welcome quality for larger and heavier people who want a firmer mattress without the sleeping-on-concrete sensation.
Yet another quality we love about it is its limited motion transfer, a fairly common feature in all-foam mattresses but more noticeable with the Avenco Grey mattress. While you may not sleep with another human on it because it's designed for a single sleeper, the low motion transfer is still welcome. You may, after all, sleep with a small pet!
Over time, the medium-firm mattress becomes softer but not too much that it sags and sinks in places. When you become uncomfortable sleeping on it, typically after five to six years, it's time to replace it.
---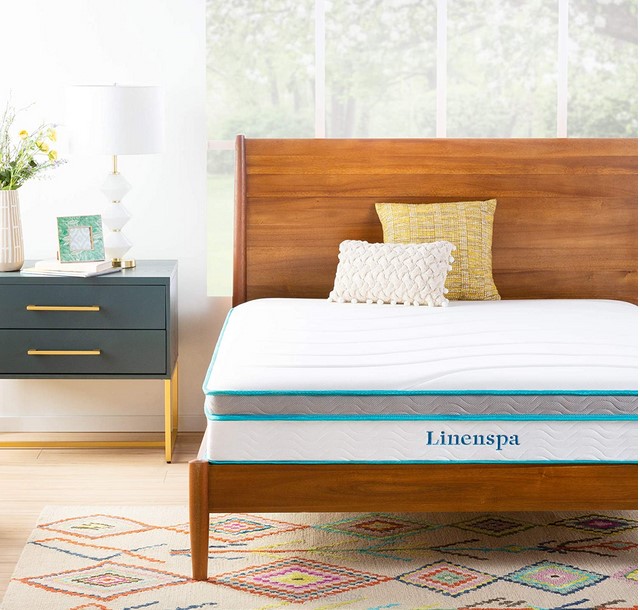 Basic Information:
Size: 75 x 39 x 10 inches
Weight: 32 pounds
Type: Bed-in-a-box mattress
Product Highlights
Hybrid mattress
Available in 8-inch and 12-inch versions
10-year limited warranty
Don't be afraid of the small brown flecks on the Linenspa mattress when it's first removed from its packaging! They are not bed bugs, although these look like pesky pests. These are tiny, harmless pieces of plastic that may take away from the mattress's overall beauty but are otherwise harmless. (Note: Don't make holes in the mattress to check whether these are bed bugs!)
Once you're over these tiny flecks, you will appreciate the mattress's sturdy construction and quality materials. This 10-inch hybrid mattress has the following layers:
1.5-inch quilted memory foam as a comfort layer
A 2.5-inch foam as a transition layer
A 6-inch support base of tempered steel with foam as the base
The 4-inch foam layer may not seem too thick or too comfortable, particularly compared to the 10-inch all-foam mattresses, but it works well! With hybrid mattresses, the thickness of the foam layers isn't the be-all and end-all of comfort – it's also about constructing the innerspring coils. The foam layers and innerspring coils act in harmony, so to speak, to provide the sweet spot between comfort and support.
The Linenspa mattress has a little more give and more bounce, which means it's a great bed for vigorous adult activities and for children who like jumping on it. There's less motion transfer, too, so you can sleep with a pet or a partner – if you're both on the petite side, probably – and not be disturbed by their bedtime movements.
The two-part comfort layer provides sufficient contouring support so you will enjoy a moderate hug while you sleep. With the innerspring coils, the mattress provides a near-weightless feeling that evokes sleeping on a firm cloud. The combination means less achy-breaky soreness in your pressure points and more support for your spine.
Memory foam has a reputation for high heat retention, but it's something that the Linenspa mattress doesn't have. The innerspring coils transfer more heat and allow for better air circulation. Thus, there's less heat retention. Even the topmost foam layers feel cooler to the touch than expected.
Weak edge support isn't an issue with the Linenspa mattress, too! The innerspring system provides structural support to the edges and, thus, you get more surface area for sleeping. You can sleep near the edge of the bed without it giving way and your butt high-fiving the floor.
---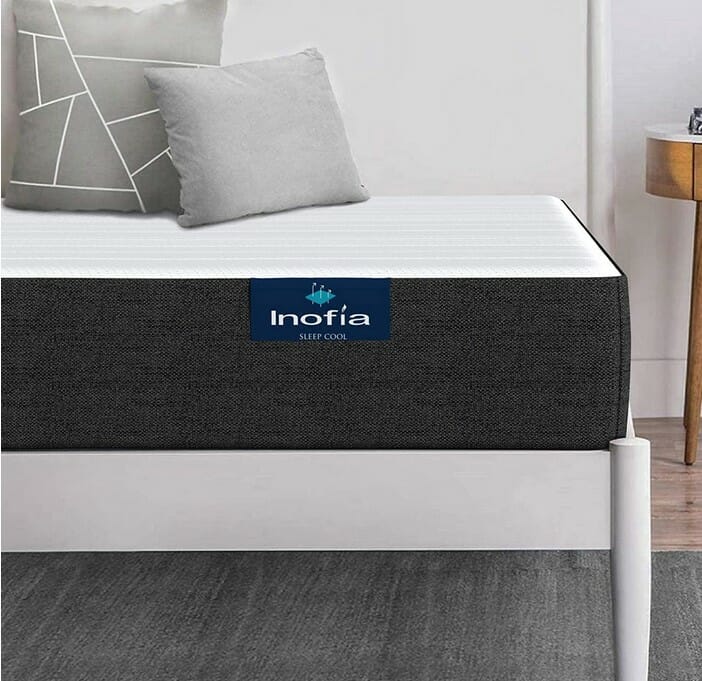 Basic Information:
Size: 75 x 39 x 6 inches
Weight: 25.5 pounds
Type: Bed-in-a-box mattress
Product Highlights
All-foam mattress
With a zoned support system
Made of CertiPUR-certified foam
The unassuming two-tone design of the Inofia mattress belies the numerous great features that make it among the best twin-sized beds in our opinion! We want to shine the spotlight on its ergonomic seven-zoned support system, a feature that contributes to the restful sleep you will enjoy on it.
What is it exactly? The mattress has different zones that allow for heavier parts of your body to get more support so that these are cradled. With more support, these body parts are more aligned with the lighter parts of your body. The result is neutral spine alignment in every sleeping position and a more comfortable sleeping experience.
There are seven areas where the Inofia mattress provides ample support – the head, shoulders, waist, back, hips, thighs, and calves. Think of it this way: While your hips will sink a little deeper into the mattress because of their heavier weight and the wider area, they won't sink too much that your spine becomes misaligned.
This is a medium-firm mattress, but it doesn't feel too firm, even for lighter-weight people. It hits the Goldilocks spot between cloud-like, soft comfort and spine-supporting firmness. Side, back, and combination sleepers will love it for this reason.
Many users say that it's easy to become accustomed to its medium-firm fee because it's so comfortable, too. The break-in period can be inconvenient when you want to use a mattress immediately after reaching full inflation. But there's little to no break-in period with this mattress, not even for an off-gassing issue – there's none.
Note that this is a bed-in-a-box mattress, so you must give it time to expand to its fullest size. This will take 72 hours or more, depending on the temperature and other factors.
The memory foam layer doesn't retain heat as much as we feared it would, and it's a good thing considering that this is an all-foam mattress. The breathable stretch knit fabric also promotes breathability and, thus, a cooler sleeping experience. If you're worried about sleeping hot, you may want to consider an innerspring mattress, but this one may work well, too.
Slipping and sliding on the platform are common problems in mattresses. The Inofia mattress doesn't have this issue, thanks to its anti-slip base. Combination sleepers and active children will agree that it's a great bed for their sleeping preferences and non-sleeping activities.
This mattress comes with a 100-night trial period and a 10-year support period.
---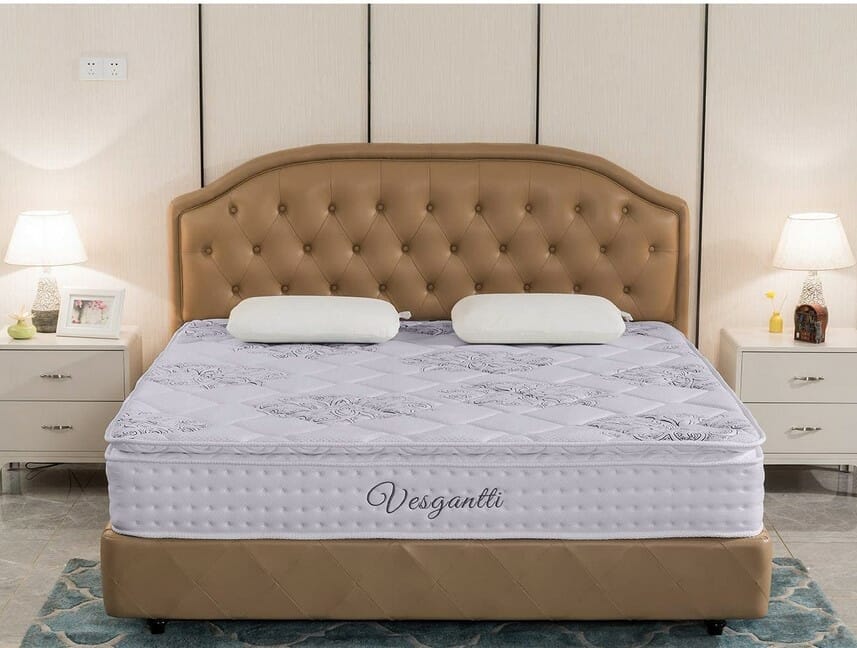 Basic Information:
Size: 75 x 39 x 10.6 inches
Weight: 52.4 pounds
Type: Bed-in-a-box mattress
Product Highlights
Multiple layers of foam, fabric, and coils
A near-perfect balance of comfort, support, and luxury
Tufted design around the perimeter
White with enchanting swirl patterns – it's the first thing that grabbed our attention about the Vesgantti, perhaps even sold us to its merits even before we tried it. However, we all know that appearances aren't the selling point of mattresses, so we also looked into their features.
This is a hybrid mattress consisting of multiple layers of foam and individual pocket springs of varying thickness. Its cover isn't a cheap one with its blend of soft cotton and practical polyester, a soft-to-the-touch introduction to the bottom layers.
Then comes four layers of different types of foam that serve as the comfort layers. The slow spring back foam, or memory foam, quickly conforms to your body's shape by reacting to your body heat. Your first impression is then a cozy hugging feeling around your curves, from the crook of your neck to the bend of your knees.
Next is the high-elasticity foam, a material characterized by its spring-like elasticity. As a cushion material, it's a highly supportive material that also contributes to ease of movement.
The succession of medium-density and high-density foam means that the sweet spot between comfort and support is within reach. Medium-density foam is softer and, thus, conforms to the body's unique shape faster and better. On the other hand, high-density foam is firmer, so it doesn't conform to the body's curves as closely, but it provides more support.
Between the two types of foam, you will experience the cushiony comfort you want in a plush mattress, but it's balanced by the firmer foam necessary for spine support. The layers of foam are separated by thick fabrics, including non-woven fabrics and cotton, presumably for better air circulation and protection against friction.
The support layer consists of hundreds of sturdy stainless individual pocket springs, each working separately in its support capacity. The coils not only absorb more pressure from your body but also provide a springier mattress experience. These coils also compress and decompress depending on their weight, which translates to an on-the-mattress feeling.
And if you're the type who likes vigorous activities, like jumping on the mattress ala-Tom Cruise during his Katie Holmes days, then you'll like its springiness. Surprisingly, its springs don't creak or squeak despite tossing, turning, and jumping.
---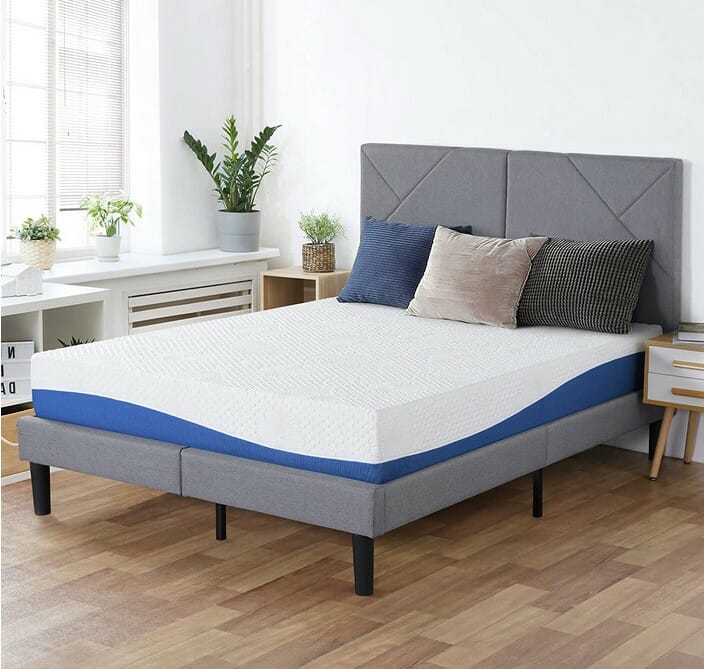 Basic Information:
Size: 39 x 75 x 10 inches
Weight: 33.5 pounds
Type: Bed-in-a-box mattress
Product Highlights
All-foam mattress with three layers
Medium-firm mattress
Sleeps cool
The PrimaSleep mattress has such an unassuming white-and-blue design that it isn't the first product that comes to mind as the best in its class. But we were surprised that it's an exceptional all-foam mattress that teens and adults will find to their liking!
Looking past its rather plain appearance, we found that its multiple foam layers are more than enough for it to provide a comfortable and supportive sleeping surface. The top layer feels plush and lush to the touch with just a bit of pushback that it doesn't feel like your whole body's going to sink into the foam.
After a minute or so, the foam responds to your body's heat and pressure, resulting in a slight hug around your pressure points. This is followed by pressure relief, the kind where you're likely to breathe a happy sigh after years of soreness.
The gel-infused memory foam used in this mattress disperses heat quickly, so there's less risk of sleeping hot, even for people who sleep hot on any type of mattress. While there's no noticeable sense of cool feeling from the mattress itself, it maintains a cool temperature even after hours of use.
The PrimaSleep mattress is on the middle ground of soft and firm. Thus, it's suitable for combination, side, and back sleepers. The first layers are fairly soft, as expected from a comfort layer, while the lower layers are firmer.
There's little springy quality to the mattress since it's an all-foam bed, but it has a bit of a bounce. You may find that it's easier to move on its surface, too, and its edge support is on the sturdy side. But don't expect it not to sag a bit when you're sleeping or sitting near the edge – it doesn't have coils that lend it more structural support.
Unfortunately, there's a minor chemical smell as the mattress inflates. The unpleasant smell will dissipate within a day or two, but it can be an inconvenience when you're sensitive to it. The mattress should be fully inflated after 48 hours, but it may take longer; we suggest waiting for another 24 hours before adding beddings.
---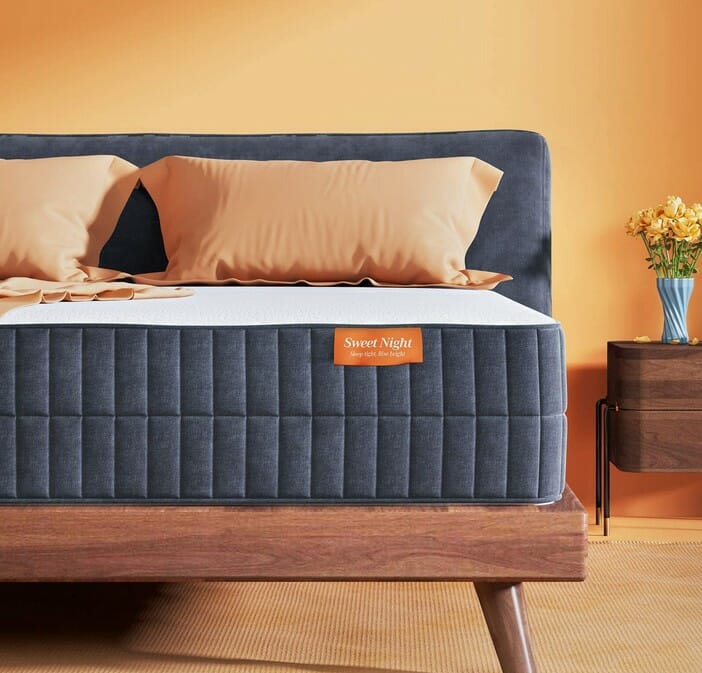 Basic Information:
Size: 39 x 75 x 10 inches
Weight: 39.6 pounds
Type: Bed-in-a-box mattress
Product Highlights
Flippable mattress
All-foam construction
10-year limited warranty
Great all-around mattress
The Sweetnight mattress may be last on the list, but it's a unique mattress, not to mention it's so luxurious we won't be surprised if we see it in hotels! Yes, it's an all-foam mattress, and therein lies its most appealing feature – it can be used on both sides!
Unlike the other mattresses on the list, it's a flippable mattress with a firmness level that changes depending on which side you're sleeping on. Not only does it mean that you're getting two beds in one, but you will also have the opportunity to determine which side you're most comfortable with.
This is an excellent feature if you're unsure whether you will benefit more from a softer or a firmer mattress. We found that it's a common experience among adults whose preferences have changed over the years, perhaps due to their changing bodies. No matter your reason, you will enjoy that you can change mattresses without buying a new one.
The top side has a gel memory foam as its first layer, and, thus, it provides a softer sleeping surface. You will sink a bit deeper into the mattress, so it's like sleeping on a somewhat firm yet still soft cloud. Think of an in-the-mattress feeling, and that's exactly what you will get.
The bottom side features a high-density support foam, so it's on the firmer side. You will find it more suitable if you prefer the on-the-mattress sleeping experience, emphasizing spine support.
In both firmness levels, you will enjoy the optimum balance between body-hugging comfort and spine-cradling support. Just keep in mind that depending on which side you sleep on, there will be a slightly greater emphasis on one aspect over the other. With the top side, it's on more comfort while the bottom side offers more support.
Your choice between the two sides may be influenced not just by your personal preference but also by your weight. If you're on the lighter side, the top side will probably be better for your sleep. If you're on the heavier side, you may want to go with the bottom side.
---
FAQs About Twin Beds
What's the standard size for a twin bed?
The standard twin-size mattress measures 38 x 75 inches, and, as such, it's the smallest size among adult-sized mattresses; only the crib-sized mattresses are smaller. But it must also be pointed out that with a 75-inch length, a twin-sized mattress may be too short for taller teens and adults.
For this reason, it's considered an excellent choice for older children who have outgrown their cribs, toddler beds, and daybeds. It's also recommended for teens of average size and height. Taller teens and adults will sleep better with larger-sized mattresses such as twin XL, full, or queen.
What are its pros and cons?
The beauty of twin-sized beds lies in their compact size and, thus, in their suitability for small rooms. Many twin-sized mattresses can also be used in trundle and bunk beds that accommodate two persons.
But while a twin mattress can accommodate two persons, it will be a tight fit even for two children. This is a situation when doing something because you can doesn't mean that you should! The tight fit will result in a sleepless night for both sleepers.

What are the types of twin mattresses?
Like the larger mattress sizes, twin-sized mattresses come in different materials:
Memory foam mattresses typically consist of two layers of foam – a memory foam comfort layer and a high-density foam support layer. These are popular choices because of their exceptional contouring property that, in turn, means significant pressure relief for the shoulders, back, and hips. These are also known for their low motion transfer and less noise, although the memory foam may make vulnerable sleepers sleep hot. (Tip: Look for memory foam with gel beads or with infusions of copper and granite.)
Innerspring mattresses have a thin comfort layer and a thick support layer. The comfort layer typically consists of foam materials, memory foam, and latex foam. The support layer consists of steel coils, which can be individually wrapped. These mattresses are popular for their balance of comfort and support and their bouncy surface and cool surface.
Latex mattresses are typically all-foam mattresses consisting of a latex layer for comfort and latex or high-density foam as a support layer. While latex has many similarities with memory foam, it doesn't conform as closely to the body, so there's less pressure relief. But it has a more responsive bounce that makes for easier movement on the mattress.
Hybrid mattresses combine multiple layers of comfort and support layers. These are then known for their responsive bounce, excellent pressure relief, and cool sleeping experience. But these are more expensive, although their durability makes them among the best value beds.
When considering the type of twin-sized mattress you're planning on buying, you must consider the pros and cons of each type. The factors that must be considered include your budget, personal preferences in firmness, and value.
---
In conclusion, twin mattresses may be the smallest size of the bunch, but it's no lightweight! These have their merits in your home and the hospitality industry and, thus, deserve attention.