A good night's sleep is essential for better health, but how do you ensure the best sleep quality? Keeping track of how much sleep you get each night is simple. However, you might be surprised to learn that your home's indoor air quality (IAQ) has a significant impact on how well you sleep.
Poor IAQ causes poor sleep and can trigger allergies. Thus, it weakens the immune system and puts everyone using the room at risk of sickness. The answer is to address your poor indoor air quality. But what can you do to improve things?
Air filters can improve indoor air quality. Yet, most are not enough to stop irritants that induce allergy flare-ups and lower air quality. So, you should take it up a notch and invest in humidifiers, vaporizers, and dehumidifiers.
Adding one of each to your bedroom can help enhance the benefits of sleeping.
What are the best humidifiers/vaporizers/dehumidifiers for sleep comfort?
Create a better environment by investing in a high-quality humidifier, vaporizer, and dehumidifier. Here is a list of the best of each you can buy to help you sleep, along with extensive reviews.
HUMIDIFIERS
Humidifiers can be beneficial to your home in many ways. For example, houseplants enjoy increased air moisture since it lets them live and thrive better. Dry air can cause your plants to wilt, regardless of how much water you give them.

If you use steam or a warm mist humidifier, increased humidity can also warm the air in your house. More humid homes feel warmer, saving you money on heating costs. Static electricity is also reduced by air humidity. Yet, static electricity can vary from slight annoyance to electrical interference.
Most importantly, humidifiers can help you sleep better!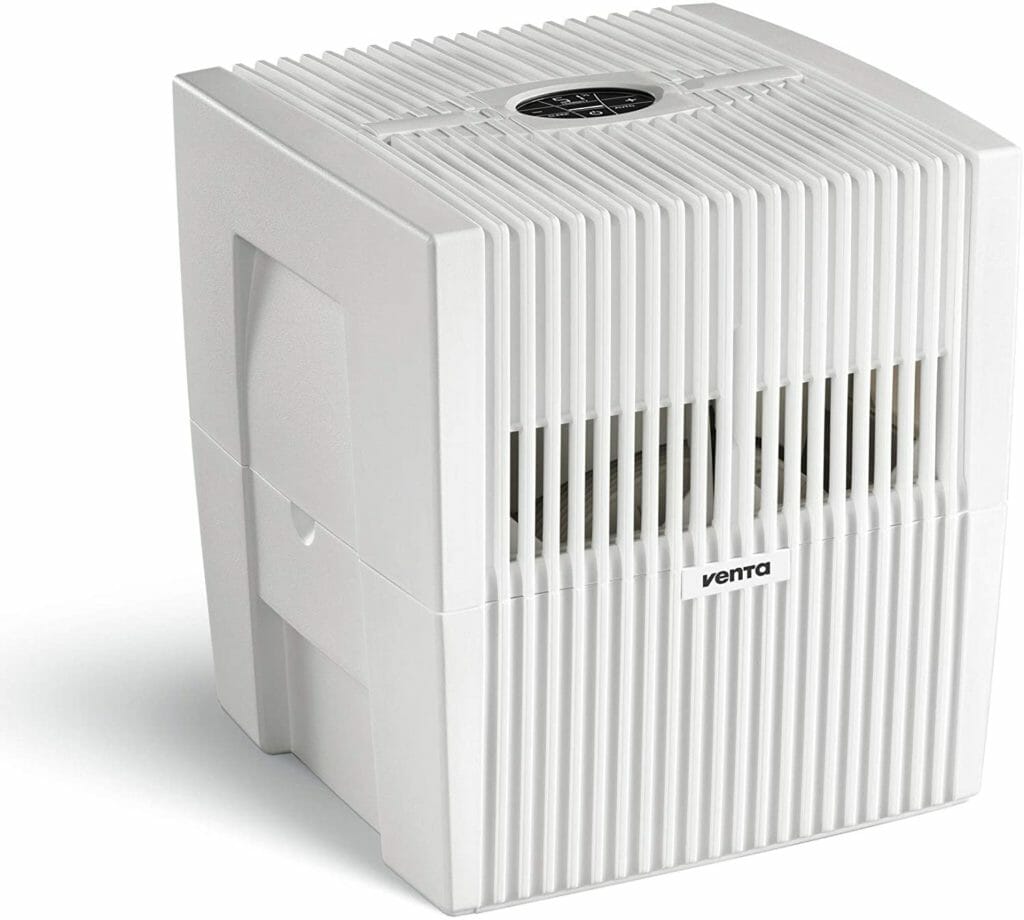 Many people buy air humidifiers to have adequate indoor air humidity for good health. Yet, only a few people consider the air purifier and end up needing another one.
The VENTA LW25 air washer is a straightforward appliance with a no-frills design. No frills do not always imply inefficiency. It instead stands for dependable, error-free operation in this model.
The VENTA LW25 uses a simple yet brilliant system to keep the indoor air clean and moisturized. A powerful fan draws in dry and dusty air, which is sucked directly into the water.
Furthermore, two rotating disc stacks in the water reservoir serve as a filter and a moisture pad. It evaporates clean moisture out of the top vents of an appliance. You should also know that moisture can destroy or damage some of your home appliances and furniture. But with this model, the air moisture cannot linger for too long for appliances and fixtures to obtain damage.
The disc stacks, in particular, can filter out both big waste like dust particles and hair. Not only that, but it also removes small pollutants such as pollen, viruses, and pet dander. This technique, together with cold evaporation technology, allows you to use regular tap water safely. It works without you having to worry about white residue accumulating on your furniture and other interior objects.
When it comes to air washer function, the appliance uses 1.5 gallons of water to cover a room size of up to 485 square feet. This ratio will keep a healthy indoor atmosphere in a larger living room or a smaller bedroom.
Three power modes help you tailor the operating intensity to the size of the room and the quality of the air. Furthermore, the humidity tracker lets you know when it reaches healthy humidity. It will allow you to switch to a reduced power mode – saving you from high energy bills.
You can also pick between an Auto mode (for the day) and a Sleep mode (for the night). It automatically modifies the air quality and finetunes the parameters according to what you use.
The VENTA LW25 has a simple design and reliable controls, keeping a constant check on the air humidity. An intuitive touch display will allow you to make all adjustments easy and quick. If you think that the intensity is not good enough, you can adjust it anytime to what you want.
This model has no disposable air filter, so you may need to clean its entire system every 1 to 2 weeks of regular use. It may sound demanding, but it is not. Cleaning is not an issue with this humidifier.
The equipment comes apart in a few simple steps. You can rinse the water basin and disc stacks under running water. You can use a special Venta water treatment to prevent bacterial growth in the water tank. You can also use one of the branded Venta perfumes to fill the air with pleasant scents.
To summarize, the VENTA LW 25 is an undemanding air washer. It stands out for its combination of functionality, dependability, and superb design.
---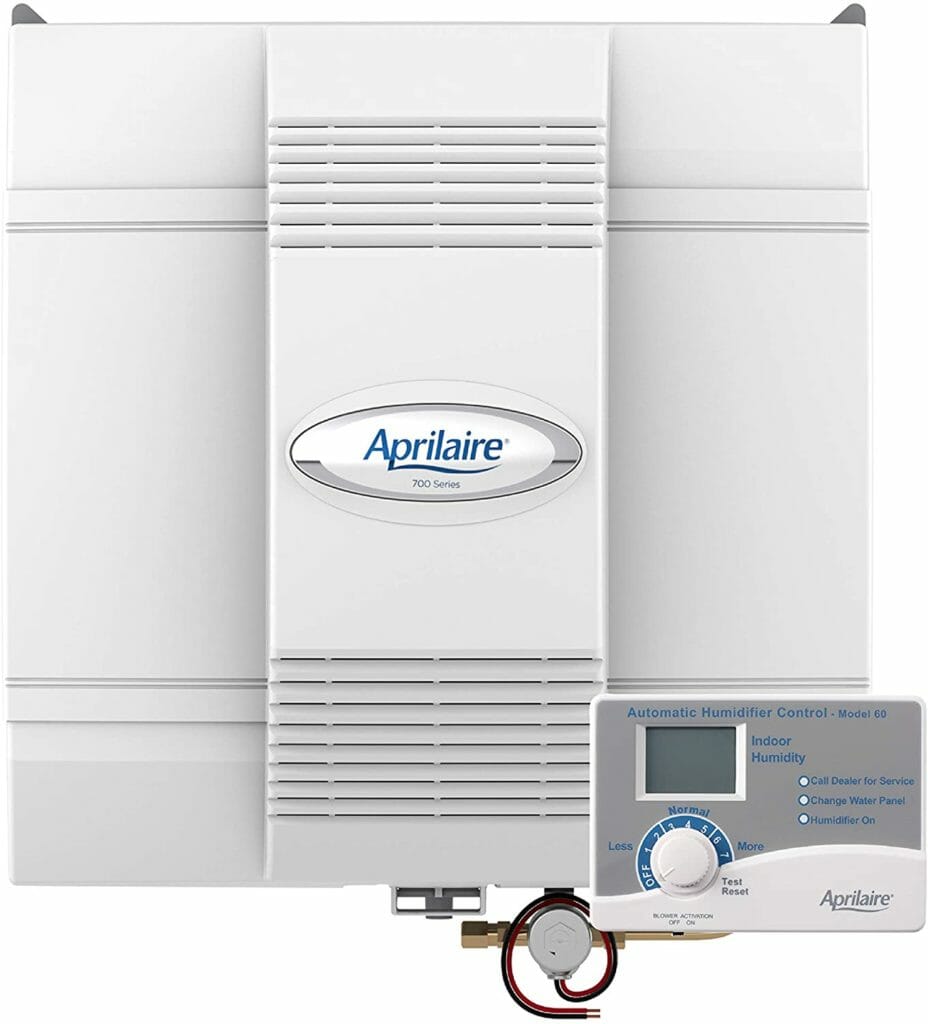 The second of these sleep aid humidifiers is a best-seller from Aprilaire. This company was among the first to introduce flow-through evaporative humidifiers. This humidifier is one of the top preferred options. It is also beneficial for a whole-house cool mist furnace humidifier.
The Aprilaire 700 is a whole-house evaporative humidifier. It is capable of balancing humidity levels in homes up to 4,200 square feet. Even if you have a big house, the Aprilaire 700 can handle it.
The Aprilaire 700 will transport up to 50% more moisture into the air than its nearest competitor. It gives an evaporation rate of 0.75 gallons per hour (GPH).
Despite having so much power, the device is small. The reservoir has a capacity of 18 gallons. And, it has dimensions of 16 x 11 x 18 inches and weighs less than 16 pounds.
However, there is no installation kit included with this furnace humidifier. But you should be fine on this front if you have many DIY experiences.
Still not convinced? Consider the cost of installing a whole-house humidifier. The computerized controls let you adjust the exact humidification quantity your space needs.
There is an LED screen that displays readings that you can immediately understand. The volume can be adjusted to whisper, medium, or high. It is an excellent technique to avoid any buzzing or humming from keeping you awake at night.
When it comes to humidifiers, the last thing most people want is to have to deal with ongoing upkeep. With the Aprilaire 700, all you will need is annual servicing. This device should last you for a decade or two if you take care of it.
Some humidifiers need distilled water to function correctly. It can lengthen the life of your appliance and ensure that no minerals escape, but it can be expensive.
You can use hot or cold water, distilled or even harder water with the 700 without issue. Even tap water is compatible with this whole-house humidifier. This level of adaptability, coupled with a five-year limited guarantee, is a great touch!
You cannot go wrong with the Aprilaire 700 if you are looking for a whole-house humidifier. Several doctors and professionals recommend this easy-to-operate and virtually maintenance-free product, especially in households with children.
---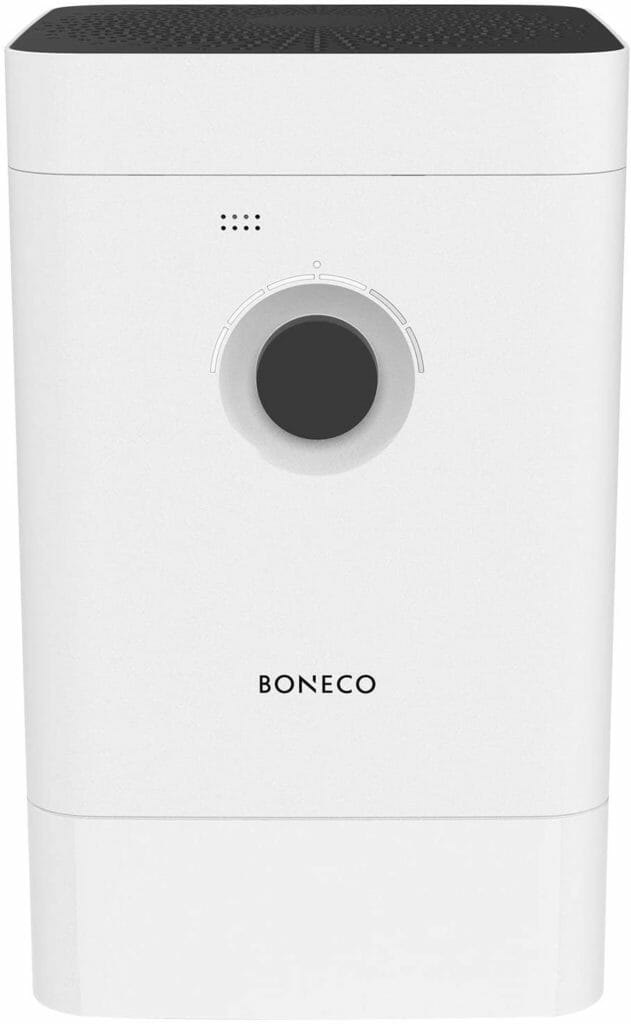 The BONECO H400 is a step forward from most air washers since it filters while moisturizing the air. It has a hybrid mechanism that is capable of doing all these things at once and separately.
Because of its advanced features, this humidifier should fit your current demands. You can choose from six performance levels ranging from low to high intensity.
When set to high performance, the unit will cleanse the air and return the humidity to normal in less than an hour. The low-performance settings maintain a pleasant environment while consuming less energy. This air washer is great for mid-size to bigger rooms, with most coverage of up to 540 sq. ft.
This model has a complex filtering system based on high-capacity filters. A pre-filter captures coarse dust, dander, pollen, and other potential allergens. As a result, the device will be beneficial to sensitive and allergic users.
If allergies keep you up all night, this appliance is one of the best to use. It relieves allergy symptoms and irritations produced by excessive air dryness or pollution. No more sneezing and clogged nose for you!
There is a built-in air sensor in BONECO H400 to detect air humidity. It adjusts the evaporation intensity while maintaining a healthy moisture level.
Also incorporated is an auto shut-off feature that turns the device off when it runs out of water. This mechanism prevents overheating and system damage.
The BONECO H400 air washer, as beneficial as it is, has more to offer. The appliance has a wireless link to the BONECO app, allowing you to control the unit from your smartphone. It can also access more capabilities not available in manual mode. You can control humidity levels in real-time.
You may select the desired operation session duration with the On/Off timer. It will also give you reminders for filter replacement.
Aside from that, you will get access to three more operation modes, including an Auto mode. Auto mode helps you adjust the settings based on the indoor air quality. The other modes are Sleep mode for restful sleep and a Baby mode for nursing mothers.
Cleaning and maintenance worry most people. The good news is, this BONECO H400 does not need intricate cleaning. It has a fragrance container for essential oils with dishwasher-safe parts. And with that, cleaning the machine is simple. Those are two more features that make this humidifier stand out.
The BONECO H400 is one of the best air washers out there for home use. It has a triple-function feature and several adjustable settings to help keep a clean and healthy home environment.
---

The Dyson AM10 Humidifier is another humidifier that you cannot go wrong with inside your home. It keeps a perfect and comfortable environment all year long. It eradicates 99.9% of microorganisms with its Ultraviolet Cleanse Technology.
The dual function on this device produces regular humidification with a high-velocity airflow. This feature ensures a pleasantly cool climate in the summers. It is also best for maintaining the proper degree of moisture during winter.
The Dyson AM10 is one of the smartest humidifiers on the current market. Furthermore, it also excels in quality control and delivering on what it promises.
It comes with a slew of high-tech but user-friendly functions. As a result, this humidifier takes center stage among some recent releases in the market.
The Dyson AM10 has Ultraviolet Cleanse Technology. The UVC light or ultraviolet rays kill contaminants that pass through the system. It eliminates 99.9% of air bacteria, which will keep your family safe from air infections and diseases. The unit makes sure that the air released is free from bacteria, has a clean mist and hydrated air.
It is a device that provides a wide range of consistent humidification for all rooms. This function allows the system to produce long-range mist projection. It ensures an equal distribution of clean and hydrated air across larger areas.
Its features remove the inconvenience of moving appliances about the room. You may take advantage of their benefits regardless of where you are in the room.
It has an Intelligent Climate Control feature that determines the level of moisture and the temperature. It keeps the moisture content in the space balanced. This process eliminates the risk of over-humidification. You no longer have to adjust the device parameters frequently.
The Dyson AM10 is an excellent humidifier with a seemingly simplistic appearance. As soon as you turn this home appliance on, you'll be surprised how precisely it cleans the air and leaves no pollutants behind.
---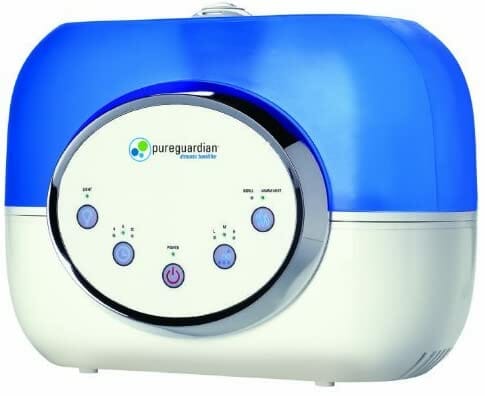 PureGuardian ultrasonic feature and 2-gallon tank humidifier will restore moisture to your indoor air. It has a three-level, high-output adjustable spray nozzle. As a result, the H4610 disperses a fine, even mist in two directions around the room.
Dry skin, sore throats, and allergies can all be relieved with its powerful cool or warm mist. And, unlike other humidifiers, it uses Silver Clean technology. With its Silver Clean Technology, it prevents water tank mold and mildew buildup.
It humidifies rooms up to 600 square feet making it perfect for small bedrooms. It has a 120-hour operating period between tank refills (on a cooling mist setting).
The simple low water indicator light lets you know when it is time to refill the tank. You can program the timer to turn off after achieving the correct air humidity.
Other advantages include an easy-to-fill XL water tank and simple digital controls. It also has no expensive replacement filters, wicks, or pads.
With over 120 hours of mist and two no-noise mist settings to choose from, the PureGuardian H4610 offers a peaceful and more comfortable sleep environment.
---
VAPORIZERS
Vaporizers convert liquid essential oils into fragrant vapor using electricity. Diffusing essential oils is one of the best and simple ways to reap the advantages of aromatherapy. This home enhancement will help you relax while also keeping your area fragrant.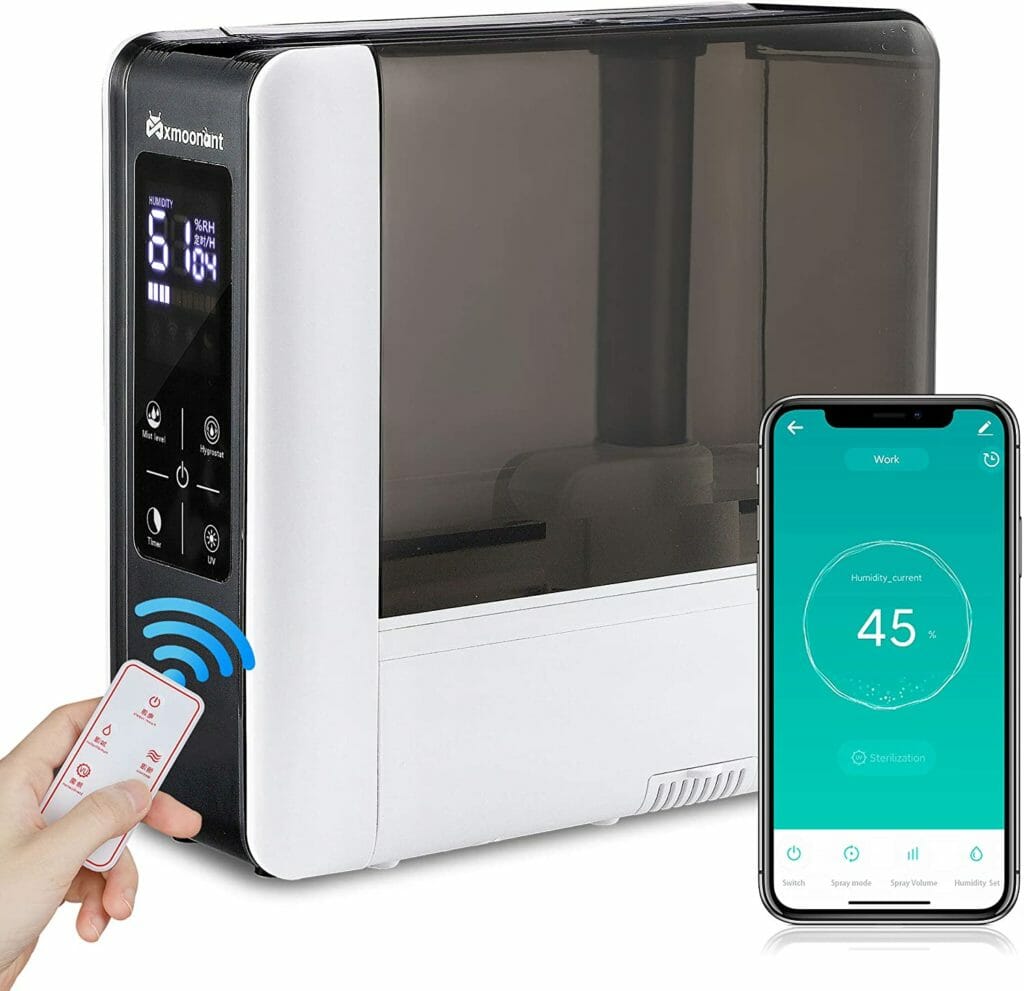 Most people like to keep things in their homes fancy and easy to use. The Mxmoonant Humidifier and Quiet Air Vaporizer have a wifi network function, letting you control the unit from your smartphone. They have their app called Tuya App, which is easy to download.
Since you can control it through smartphones, you can expect more. It has an intelligent humidity control system for better mist volume control. This feature also allows you to set the humidity you prefer in your room at a constant state.
Another technological feature is the touch screen display and remote control. You will see a digital touch screen display at its surface, which you can manually adjust. To make it more convenient, it also comes with remote control. You are only one press away for sleep mode – no light indicator and no noise will disturb you.
With the Mxmoonant Vaporizer running, you do not have to worry about falling asleep. It has a one-to-twelve-hour timer that works in your favor. You can set the timer for bedtime several hours ahead of time.
Its 6 liters water tank capacity reduces your efforts in adding more water to the tank. This tank size is enough to keep your room smelling good the whole day.
Also, the turbofan blows air faster than other devices to form circulation air ducts. It allows rapid atomization of a clean water source in the water tank into tiny molecules. This mechanism supports continuous correct air humidity.
Many people love Mxmoonant Humidifier and Quiet Air Vaporizer because of their technology. You would think that with all these great features, the price is doubled compared to others on this list. But you get all the great benefits at low prices!
---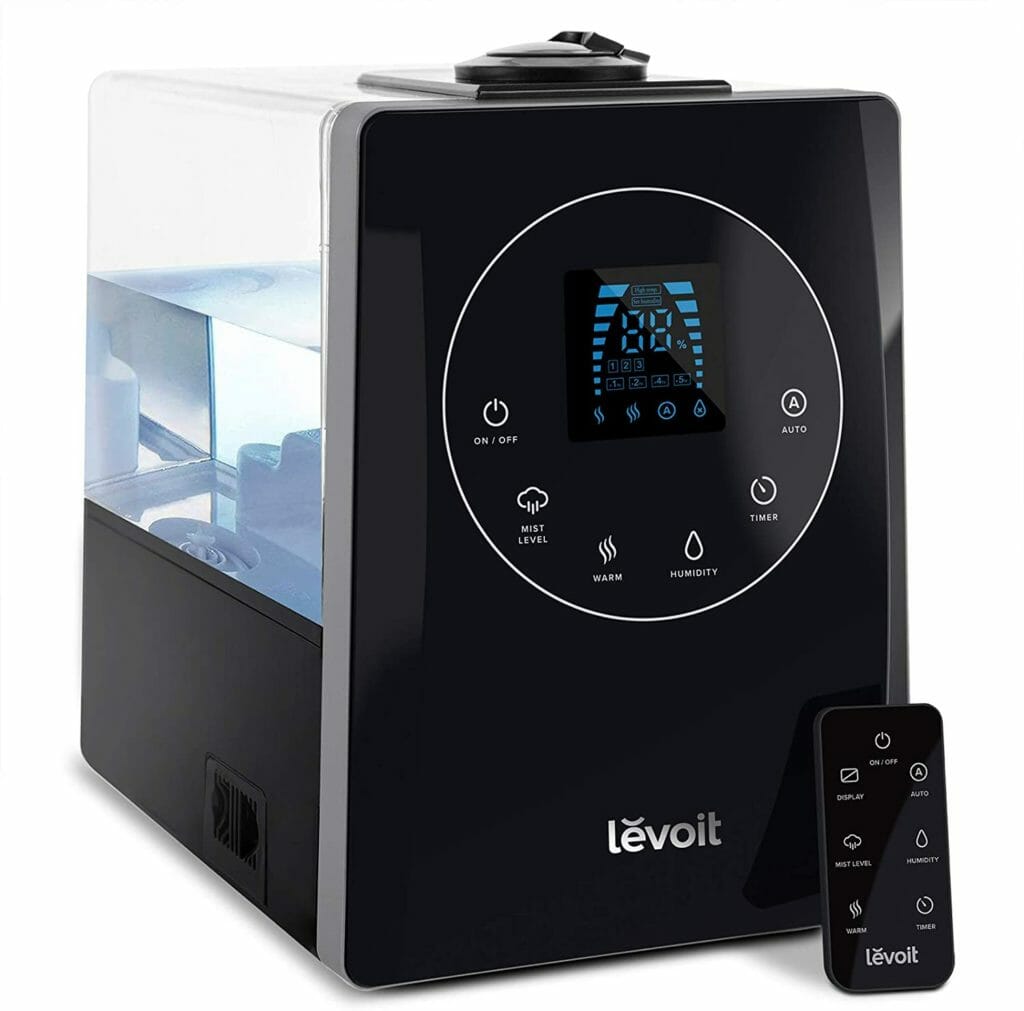 If you need to boost the humidity in a medium to the big bedroom, the Levoit Hybrid Ultrasonic Air Vaporizer is the best option.
This humidifier has a sizable 1.5-gallon tank and looks great in any modern home. It means you no longer have to be concerned about the water supply running out if the unit runs overnight.
If you prefer to use this device while sleeping, you do not have to worry about the noises. It is an ultrasonic humidifier that runs quietly. Even at most capacity, the machine makes only 36 decibels of noise. If you have an issue with the screen brightness at night, you can also choose to turn it off.
The Levoit Hybrid, if there is such a thing as a luxury humidifier, would be it. It is dependable, quiet, and well-built. Aside from that, it also includes a few extra functions to make your life a little easier.
The humidistat is one of the more beneficial features of the Levoit Hybrid. It allows you to define a target humidity level that is automatically maintained.
You can also manage this device with the provided remote control. You do not have to get out of bed in the middle of the night to alter the humidity levels!
The built-in timer and waterless shut-off features make it simple to set and forget. With this feature, you can do more things without worrying about the device.
The device also has an aroma box. It gives you the calming and beneficial properties of essential oils. It is almost like having your spa in your house!
The two 360-degree revolving nozzles can disseminate cool or warm air. Depending on your preferences, it can cover up to 753 square feet.
LEVOIT HWarm and Cool Mist Ultrasonic Air Vaporizers are simple to use. Aside from that, it is also easy to clean and refill. It has a big aperture at the bottom of the water tank. As a result, filling the reservoir and keeping it clean to prevent mold growth is a breeze.
It is a high-end unit that performs well in huge spaces. It is quiet, dependable, and packed with practical functions. Furthermore, it is easy to adjust the mist output amount. The Levoit Hybrid Ultrasonic Air Vaporizer is the top pick for wide spaces.
---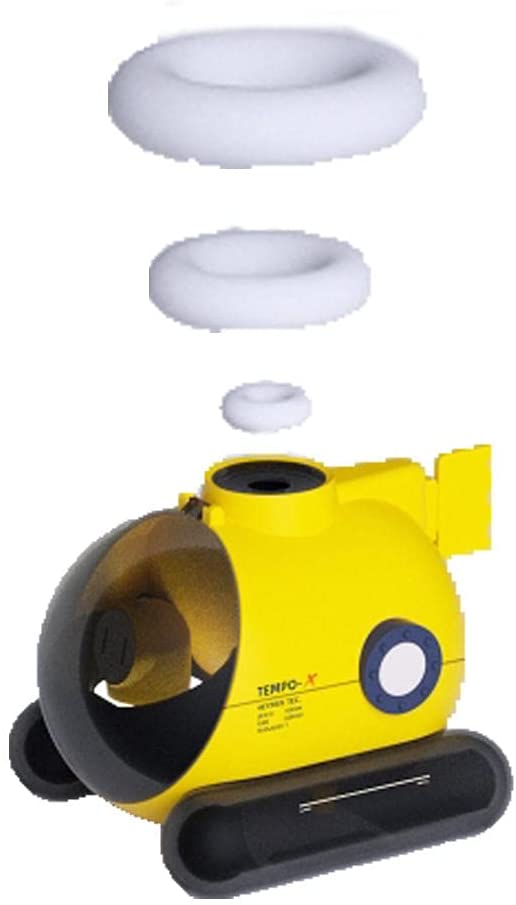 With a submarine-like design, the QEWR Humidifier Filter Automatic Vaporizer is eye-catching. Aside from its appearance, it has various attributes that make the device one of the best.
It is a portable 193*145*128mm vaporizer and weighs only 300g. This vaporizer produces only 38 decibels of noise, allowing you to sleep soundly.
The material used for the QEWR is ABS plastic. It is the best material for diffusers due to its oil-based resources. It has a far greater melting point than other materials like PP plastic. The acidic chemical composition of essential oils cannot break or damage the unit.
You can operate it in 3 modes: slow, fast, and sound control. Furthermore, this device has a soothing night light that will help you fall asleep.
When the water tank runs out of water, it shuts off automatically to ensure safety. This QEWR vaporizer does not have any filters. As a result, you won't have to think about costly maintenance or replacement.
Most people may think that vaporizers with no filter are unsafe, but that is not true. Even if a vaporizer has no filter, homeowners can still make use of it. No filter vaporizer works by passing water to the air through its operating system.
It has an integrated purification system. This system removes bacteria and allergens from the moisture before releasing it into the air.
There are many benefits related to this vaporizer since it has no filters. It avoids maintenance on the filter, avoids the cost of a replacement filter, and is easier to clean.
If you have hard water at home, though, you may detect white dust around the device. The dissolved minerals in the water caused this by-product, which is proven safe.
This QEWR Humidifier Filter Automatic Vaporizer is easy to clean. You can use a dry and clean cloth to cleanse the humidifier. Your only concern is the time the dust lingers on your interior. If the white dust stays on top of your furniture for an extended time, it could cause damage.
---
DEHUMIDIFIERS
Dehumidifiers are the most effective way to remove extra moisture from your house. It is also the perfect way to avoid the problems that come with high humidity. These are some of them:
Usual window condensation occurrence.
Uneven floorboards or structural damage.
Mold odors and musty odors.
Unsettling air conditions.
If homeowners do not address these problems, several health concerns can develop. Maintain a healthy humidity level with a dehumidifier to avoid them.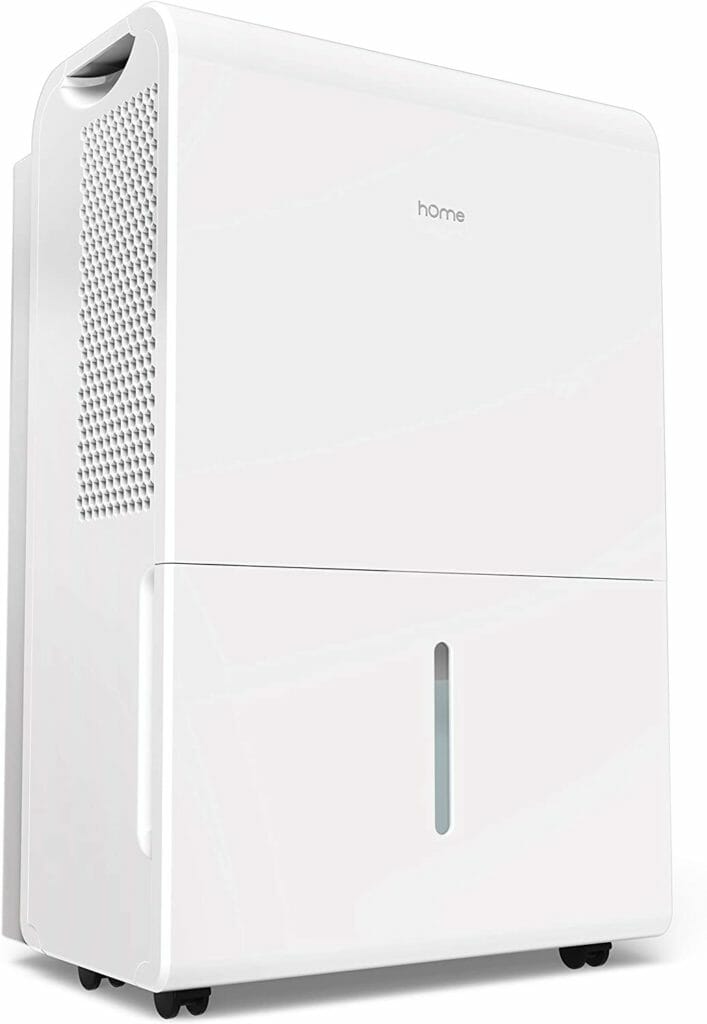 hOmeLabs Energy Star Dehumidifier is the top pick for the best dehumidifiers. It can rapidly and effectively remove excess moisture from the air. This dehumidifier works best with a large room, basement, garage, or cellar.
It can dehumidify larger spaces by removing up to 70 pints of moisture every day. The unit is Energy Star Certified, so you should have the correct humidity without breaking the bank.
This powerful appliance features a sleek and streamlined design. It has ergonomic handles and caster wheels for easy movement around the household.
It includes a 1.6-gallon detachable water tank that will shut off on its own if the reservoir is full. There is also a drain hose outlet for constant drainage. However, the hose is not free – you must buy them separately.
It is a high-quality dehumidifier that serves two purposes. First, to remove extra moisture from the air. Second, to reduce odors and allergens. The hOmeLabs appliance does that: it keeps the air healthy and clean.
The unit is easy to use and has all the features you would expect from a high-quality home humidifier. It has an LCD screen and ergonomic indicator lights on a touch control panel.
There is a clean filter light to remind you to clean the filter. When this light notifies you, press the filter button to reset it, and the light will turn off.
There is a Continuous Mode button you can use for continuous dehumidifying. Another button is a Turbo button to let you decide on the fan speed. The left and right buttons provide humidity level options and a timer to operate the auto start or stop feature.
When you need to empty the tank, a FULL indicator light will illuminate. It also has auto-defrost functionality. An Auto Defrost indicator light will light up when users turn it on.
hOmeLabs Energy Star Dehumidifier is a portable and effective dehumidifier that prevents mold or mildew from building up in your interior. It is also great in eliminating indoor bacteria and odors.
---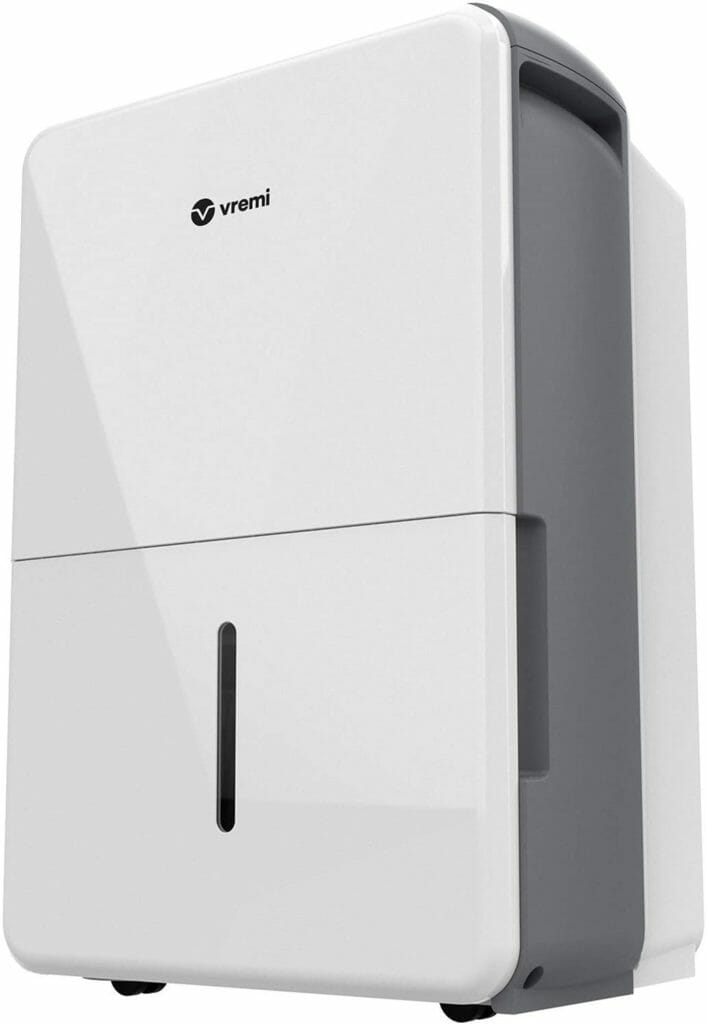 The Vremi dehumidifier has a sleek contemporary appearance and a small footprint. It only takes up very little space in a room. It has a pleasing appearance, thanks to the white body of the unit that can blend in with any home décor setting.
If you love moving things around, this might be the best one for you. Moving this dehumidifier around the household is easy. Portability comes from its ergonomic wheels and handles.
The Vremi dehumidifier has two dehumidification settings: high air turbo and normal air. These modes maximize the ability of the unit to remove moisture and odor from the interior air.
The turbo speed is best for drying the indoor air faster than usual. The normal speed option is ideal for quieter operations. Users can choose their desirable fan speed according to the indoor moisture levels.
This dehumidifier can manage up to four gallons of moisture with its 3-liter water tank. However, it is only excellent for rooms under 1000 square feet because of the water tank capacity.
Vermi 22 removes excess indoor moisture while maintaining clean indoor air. It has a replaceable filter that traps harmful particles lingering in the air.
The tank is removable, which gives convenience for consumers who want quick and easy tank draining. You can also use a hose to connect to the built-in drain outlet for continuous draining.
The powerhouse (15.2″ H x 10.2″ L x 19.7″ D) may seem small, yet that does not stop it from removing moisture and allergens.
The portability of this unit has support from the handholds on its sides. While minor in appearance, it increases mobility.
The Vremi 22 Pint Dehumidifier is the best in its class. It outperforms other devices on moisture removal, efficiency, portability, and ease of cleaning. While this unit offers many benefits, it comes with a price.
---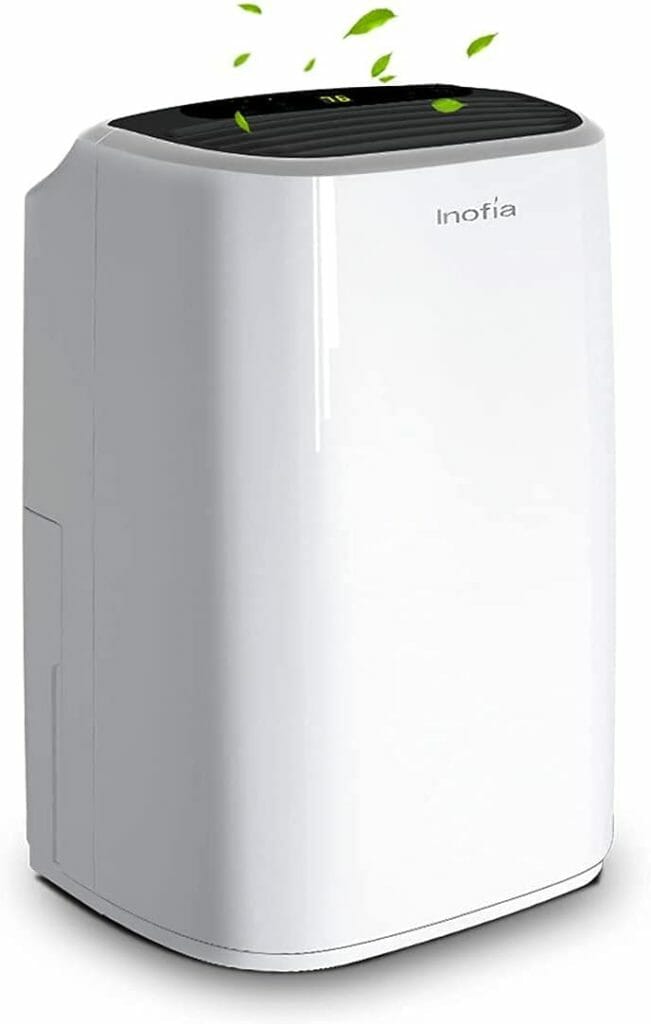 The Inofia 30 Pints Dehumidifier is for you if you need something small and quiet. The Inofia is as easy to use as it gets, with only four buttons to learn. Despite this, it includes several useful features that make upkeep a snap.
You can drain into the provided 0.5-gallon pail or connect the hose for continuous drainage. Furthermore, the sleep mode option makes this dehumidifier ideal for bedrooms.
Dehumidifier maintenance is often forgotten, and some models appear to make it a burden. With its intelligent maintenance functions, the Inofia dehumidifier makes it a breeze.
You may clean and remove the filter without difficulties. When working in low temperatures, the operation protects your equipment by defrosting it. The bucket is also easy to find at the back of the machine and transport to a nearby sink.
Although this dehumidifier is mainly for basements, it offers a quiet sleep mode. Users need to plug it in and put it to sleep mode – if you need it in your bedroom or a child's room. The unit will then run at a low fan speed to simulate white noise, giving you a restful and dry sleep.
To fit your demands, you have two drain options. The bucket can hold up to 0.5 gallons of water before shutting down until the user empties the water tank. You can also attach the included 5.65-foot hose for continuous drainage. The dehumidifier will then run continuously to maintain a comfortable humidity level.
The Inofia dehumidifier for homes and basements has exceptional characteristics. It creates a pleasant environment in areas where the humidity level is high. By removing moisture from the air, expect the best indoor air quality. It is suitable for bedrooms, bathrooms, workplaces, basements, and other humid areas.
---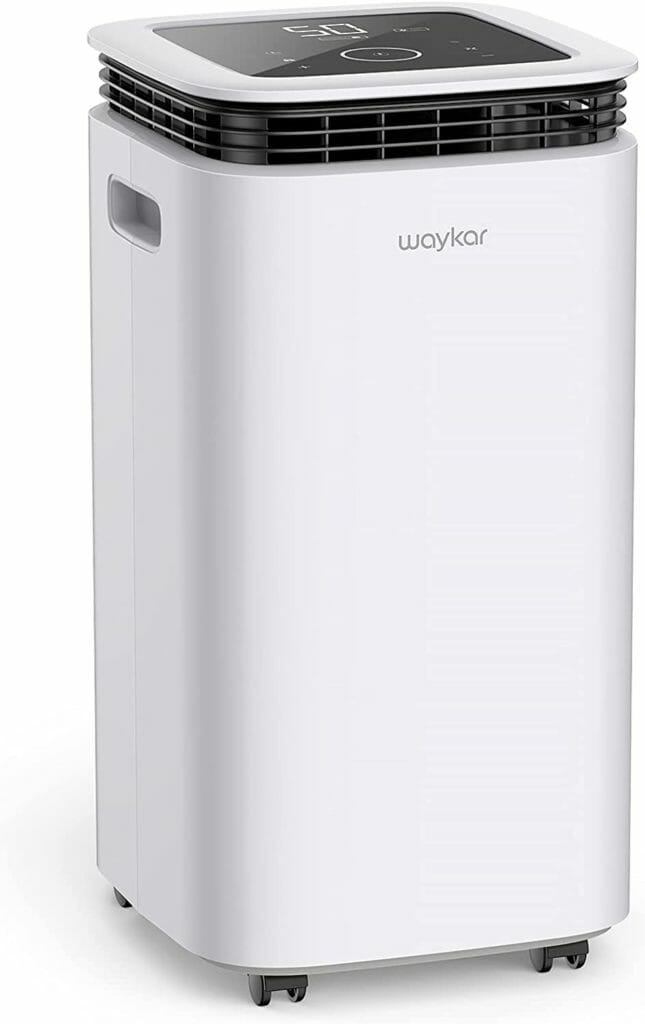 The dehumidifiers from Waykar have a clean and modern design. It has 360° rotatable wheels and ergonomically constructed lift-up handles. You can easily carry this dehumidifier to every inch of your home.
It includes a whisper-quiet fan with many fan speeds to select from, so it won't wake you up at night. You may set a 24-hour timer if you do not have the time to worry about shutting the device off. It allows pre-programmed operation and reduced energy consumption.
The unit has a 6.56-foot drain line that you may connect to the drainpipe hole. It will allow the dehumidifier to drain water continuously. The water tank holds 0.66 gallon/2.5 liters, and when it reaches capacity, the "full tank" sign will appear. The dehumidifier will turn off only when the water tank contains no more water.
Furthermore, the Waykar Dehumidifier can remove up to 34 pints of moisture each day. It can change humidity from 30% to 85% in areas up to 1750 sq. ft., making it an excellent dehumidifier for bedrooms.
The intelligent dehumidifier will run after you have set your desired humidity level. It also includes automatic humidity control! You can configure it to your favorite humidity level.
Furthermore, it will stop working once it reaches that level. When the humidity level climbs above the setpoint, it will automatically restart dehumidification. And, you should also expect automatic shut-offs and on-shuts.
This dehumidifier is ideal for those looking for a quiet dehumidifier. This top-rated dehumidifier has a silent fan with four variable fan settings. So, it makes no annoying noises. Its many qualities make it ideal for bedrooms, offices, living rooms, and other areas.
It also has a digital control panel, four-wheel design, automatic shut on, and shut off.
It has alert systems for when the water tank is full of water, in addition to the silent operating system. There is also a child lock setting for more security.
---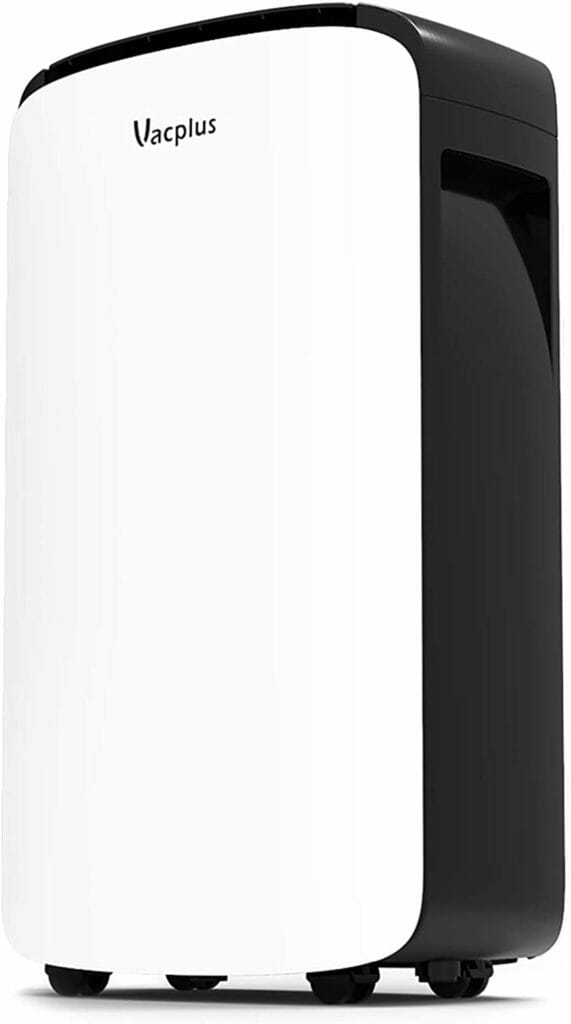 The Vacplus is a sleek unit with a modern design that includes a smooth front and no louver. This design is perfect for any decor in your house. This dehumidifier has a white shade and a black top, making it easy to mix with your interior decoration.
The Vacplus Dehumidifier can extract 30 pints of moisture from 1500 sq. ft. of space. It has two fan speeds: turbo and normal, allowing consumers to decide on the speed to dehumidify the air.
It features a built-in humidistat that assesses the dehumidification needs of your room.
It has a large control panel with comprehensible features, making it easy to operate. It comes with an LCD monitor that shows the current humidity levels in the room. This unit will surely make your place look even fancier!
Cleaning and maintenance of any device is a top concern for many people. This dehumidifier is very easy to keep clean since it only has three components that require attention.
Before returning the air filters into the unit, clean them with water and allow them to dry. To clean the grill and the filter cabinet, use a vacuum cleaner with a brush attachment. Also, do not forget to clean the bucket regularly.
It also includes industry-standard features, making it easier and more convenient to use.
It has an adjustable humidistat. This function allows you to specify the quantity of moisture your device should keep. As a result, as the RH levels in your home fluctuate, it will cycle on and off and change the fan speed. This feature allows you to choose humidity levels in 5% increments between 35 and 85%.
You can also alter the fan speeds to suit your preferences. It allows you to choose how much moisture you want to remove from your room.
And since this is an advanced unit, it restarts on its own. It uses this capability to resume after a power outage. It will continue running with the past program configuration once the power comes back on.
The Vacplus Dehumidifier will be your best ally in keeping the atmosphere comfortable.
---
Conclusion
When it comes to air comfort, never skimp on your budget. Of course, the best ones are expensive. Yet, these are the ones that will go a long way to make you happier and healthier.
The humidifiers/vaporizers/dehumidifiers mentioned above are the top picks from Amazon. You have read everything from the best bedroom devices for sleeping to high-tech options you can control through your smartphone.
The best for you, however, will still depend on your personal preference and needs. But rest assured that all of these will give you the best air quality for relaxation – and will help you sleep day or night.