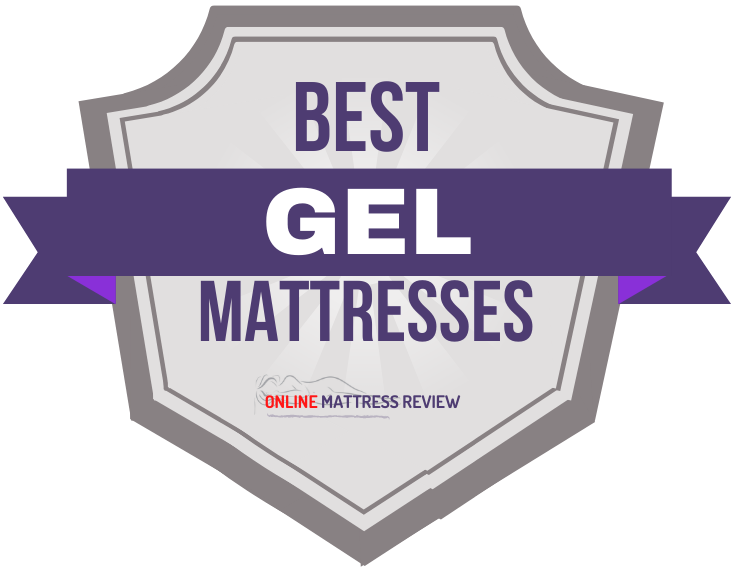 If you were Sleeping Beauty and you have to wait for Prince Charming for 100 years, then you probably need one of the best gel mattresses! Of course, it won't last for 100 years, but it will definitely keep you cool and comfortable while it lasts.
Indeed, the best gel mattresses are known for their cool sleeping experience, and it's this characteristic quality makes them popular despite their expensive price. Here, we feature ten gel mattresses with a 10-inch thickness, which falls under the standard size category (9-12 inches).  
---
Listing of the Best Gel Mattresses
The gel mattresses were chosen for superior comfort and support, overall quality and durability, and reasonable prices. These mattresses come in different sizes, from twin to queen and larger sizes, but most of the mattresses featured here are full-size ones (75 x 54 inches).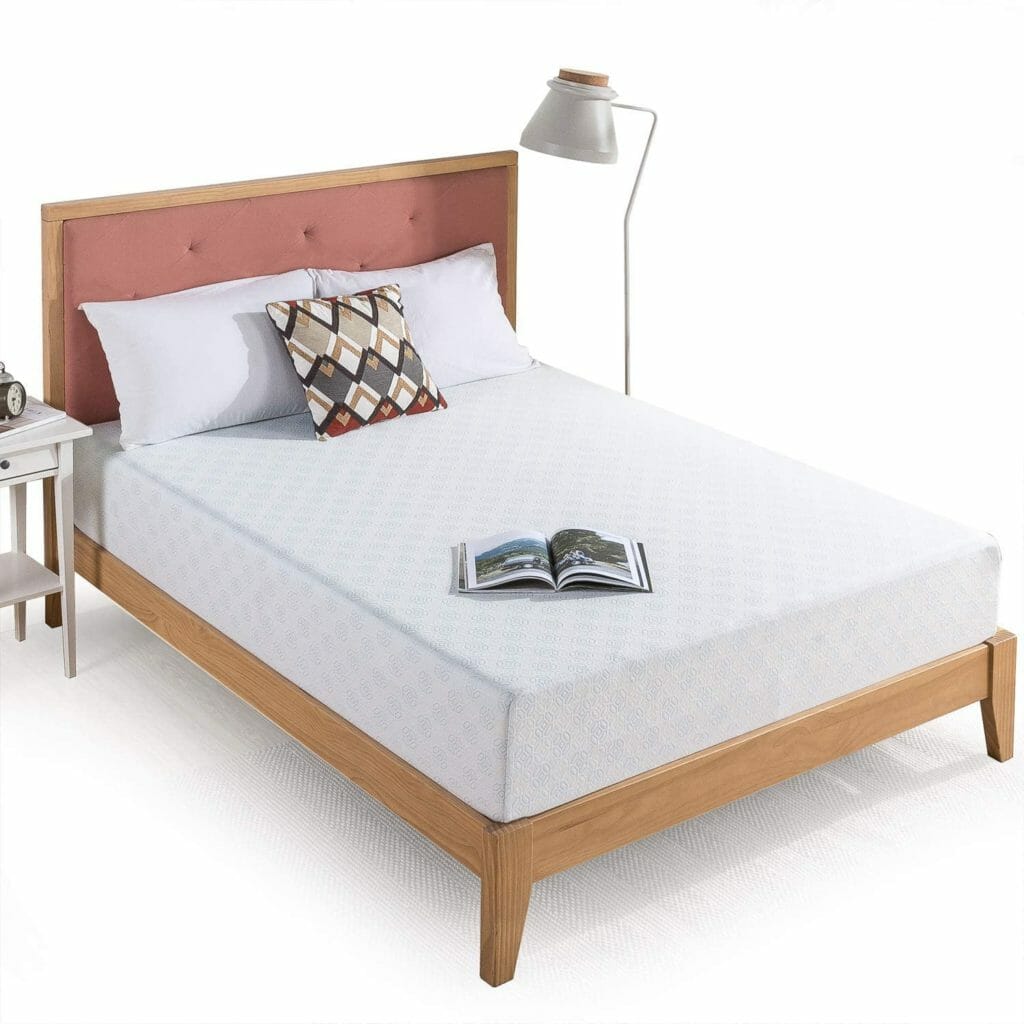 Zinus is a well-known international brand known for its use of natural ingredients in its mattresses. These ingredients include green tea, activated charcoal, and olive oil, which have several purposes, including odor elimination.
The Zinus 10-inch, gel-infused green tea memory foam mattress is among its popular products because it isn't just an all-foam mattress – it's a great mattress for adults! 
The adult part must be emphasized as it's on the medium-firm range, combining the benefits of soft comfort and firm support. It is also ideal for children and teens, particularly those with allergies, because it has fewer petroleum-based chemical oils than your regular gel mattress.
STRENGTHS WE LOVE
There are three layers, with each layer performing a specific function while also complementing the other layers. The 2-inch gel-infused memory foam, the comfort layer, has green tea infusions and activated charcoal. Aside from providing a comfortable "hug" and relieves pressure points, it also keeps your body cooler and prevents odor buildup.
The 2.5-inch soft comfort foam acts as the transition layer while also providing a comfortable surface for sleeping. The 5.5-inch high-density support foam has a firm feel, but it's necessary for overall support and durability. All the foam layers are CertiPUR-certified, meaning these have little to no toxic substances, among other properties.
This is a suitable mattress for back sleepers and sleepers weighing up to 500 pounds. A firmer pushback offers more support for the spine among back sleepers and fairly heavy sleepers. The mattress also has low motion transfer while also making it easier to change position than expected from a gel mattress.
The mattress comes with a 10-year warranty, which may as well be a lifetime warranty as gel mattresses should ideally be changed within 8-10 years.
This is easy to unbox and unroll and takes a couple of days for full inflation.
Things to Consider:
This may be too firm for some people, particularly lightweight sleepers.
It may emit a slight chemical smell when opened.
OMR ADVANTAGE SCORE: 9.5/10
---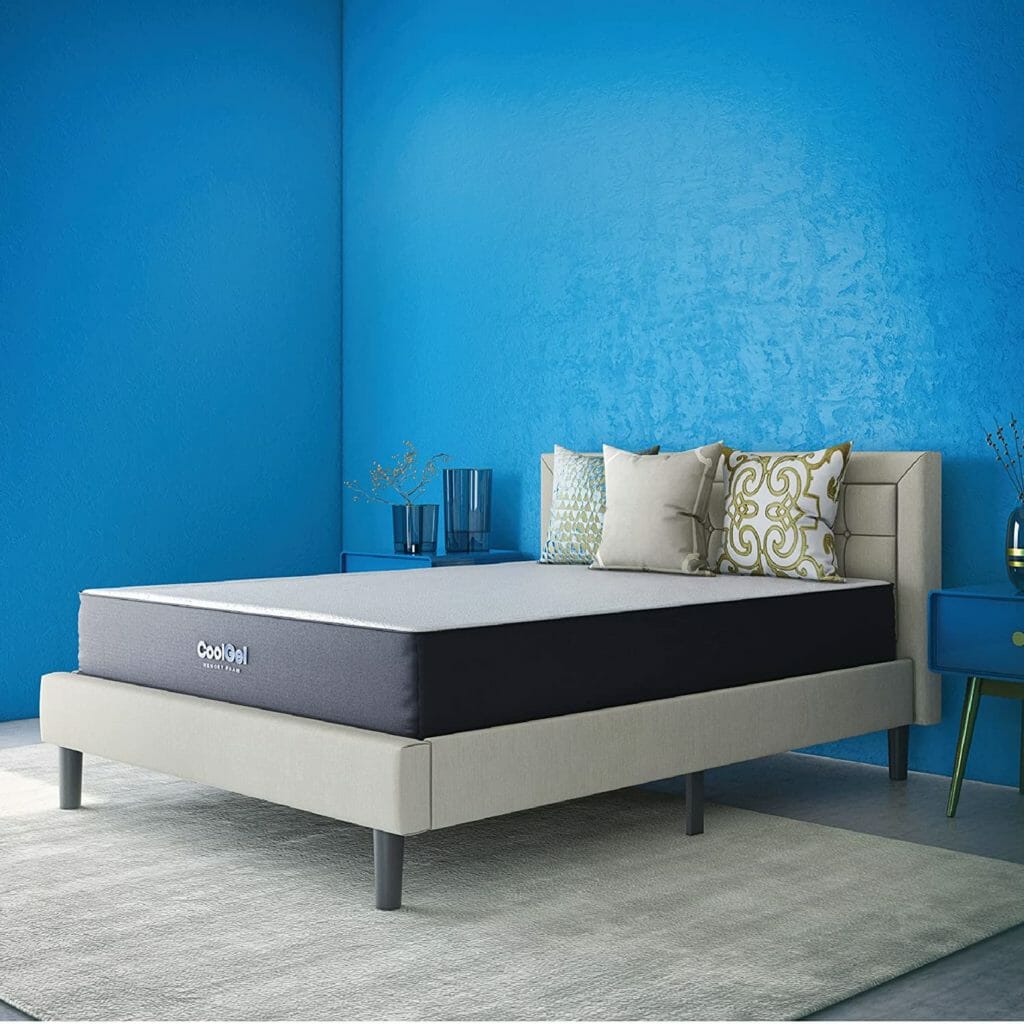 The 50-year old Classic Brands is known for the excellent quality of its latex and memory foam mattresses, among other sleep-related products.
Of its products, the Cool Gel Ventilated Memory Foam mattress comes highly recommended because it hits the sweet spot in many aspects. With its 10-inch profile, it's neither too high that you will have difficulty getting on it nor too low that you're sleeping too close to the ground.
This mattress is sold in all standard sizes, including twin and twin XL, king, queen, and California king, as well as the full-size mattress featured here. The gel particles, which contribute to the cooler sleeping experience, are infused throughout its comfort layer, meaning even weight distribution and other benefits.
The all-foam mattress consists of 1.5-inch cool gel memory foam, 1.5-inch standard memory foam, and an 8.5-inch high-density foam base. 
STRENGTHS WE LOVE
The medium-firm feel means that it's a suitable mattress for most types of sleepers, including side, back, and combination sleepers. Individuals of average weight will find its medium-firm feel better for their pressure point-related issues, particularly their shoulders, lower back, and hips.
The mattress inflated faster than expected, but it will take a couple of days for full inflation. Surprisingly, it's on the lightweight side, although it's best to decompress it on the foot of the foundation on which it will be placed or on the foundation itself.
This is suitable with a fixed foundation or an adjustable base. The foam is firm enough to hold its shape on a fixed foundation but flexible enough for an adjustable base.
The gel particles work so well in terms of cooling properties as well as for comfort and support. Most buyers assert that their sleep quality considerably improved after a couple of nights; there's an adjustment period. The mattress provided a cool sleeping surface and one that conformed to every curve within minutes and provided pressure relief.
Things to Consider:
The slight chemical smell upon opening may take two weeks to dissipate completely. But this is an uncommon customer experience as most say that it only takes a couple of days in a well-ventilated room.
OMR ADVANTAGE SCORE: 9.5/10
---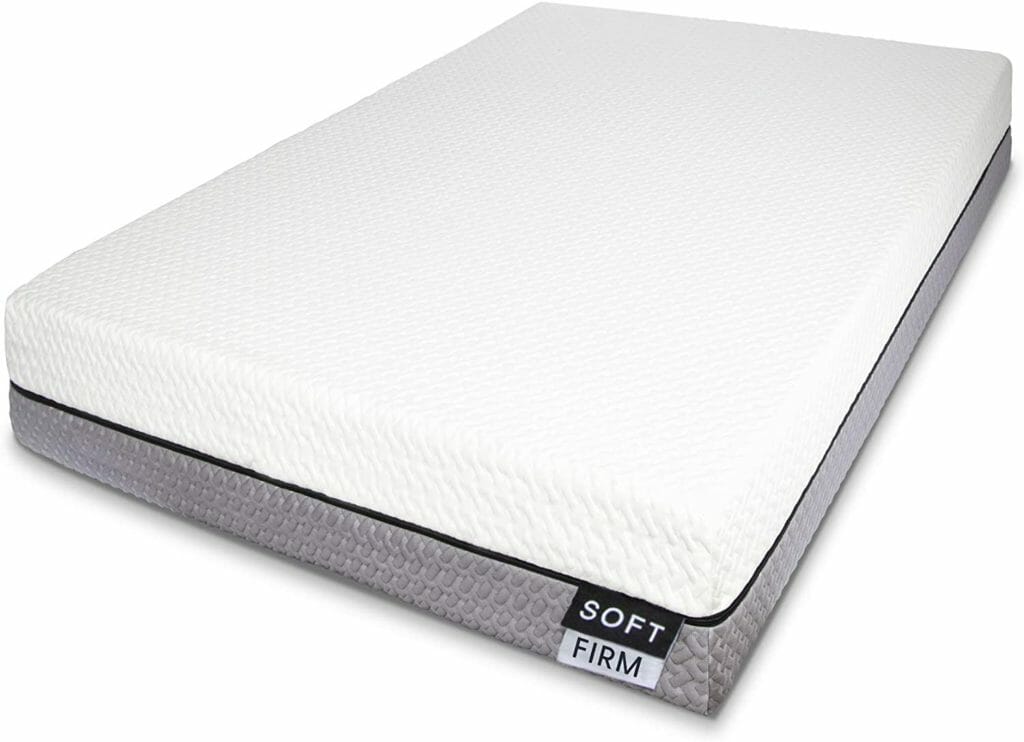 Mattresses-in-a-box is popular because of their ease of assembly, particularly as these products don't require several persons to carry from door to foundation.
This is true with the Milliard 10-inch, all-foam memory mattress that came in a long yet narrow box, which was lightweight enough (84.7 pounds in its compressed form) to be carried by one person.
The two-tone mattress is also beautiful to look at and soft to the touch with its stretchy, soft cover on both sides and high-quality foam for all layers. This comes with a 1-inch foam topper that improves the cushioning effect for individuals who like their mattress softer than usual.
STRENGTHS WE LOVE
This is a flippable mattress with each side offering a different firmness level, so you get the best of both worlds! The comfort layer consists of a 1-inch memory foam that offers an extra-firm feel on the firm side. On the soft side, the 2.5-inch memory foam offers an extra plush feel. You can switch sides depending on your present sleeping preferences and needs – firm if you're a stomach sleeper or soft if you're a combination or side sleeper.
The 1-inch foam topper further personalizes the feel of the mattress. Place it inside the mattress cover to make the comfort layer, whichever side you're using, and make it softer. The extra-firm side, for example, becomes a firm mattress when it's placed on top of the comfort layer.
No matter the firmness level, most customers agree that it's such a cool, comfortable and supportive mattress that their biggest challenge is getting off it! The luxurious memory foam has superior contouring properties that result in a more comfortable sleep quality with little to no usual aches and pains. There's less sinkage than expected, too. The high-density foam in the middle provides a stable base and a more supportive cushion for healthy spine alignment.
This is an easy-to-assemble, easy-to-clean mattress with a removable and washable cover. The foam used is also free of harmful chemicals and easy to care for (i.e., spot clean).
Things to Consider:
Some people, particularly individuals with mobility and joint issues, may find it difficult to change positions and get off the bed when using the soft side.
OMR ADVANTAGE SCORE: 9/10
---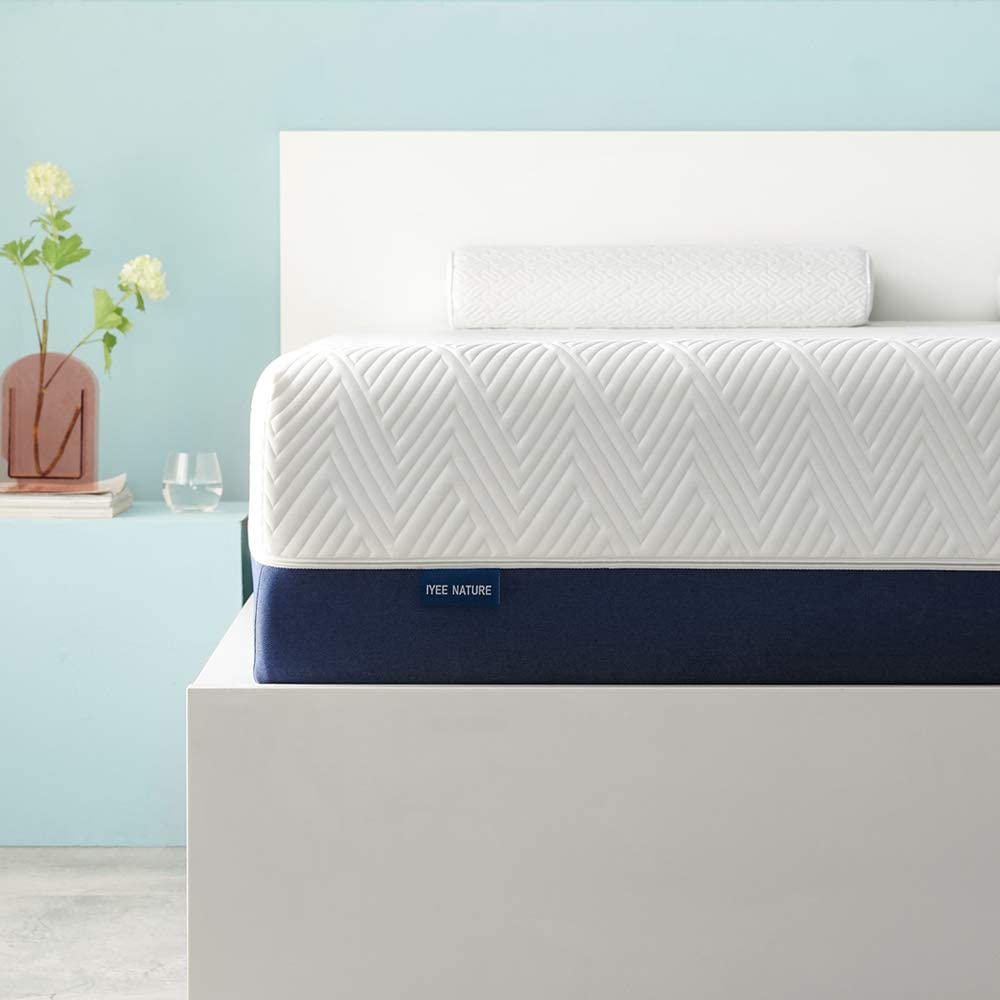 First impressions can make or break your decision-making process, mattress-wise. The IYEE Nature cooling gel memory foam mattress will make a good first impression, from its attractive appearance to its medium-firm feel. The two-tone mattress catches attention through its chevron-patterned white-and-blue cover and retains it through its superior performance.
This is a mattress-in-a-box shipped in its compressed and rolled form. It's a simple matter of unboxing and unrolling it, then letting it expand to its fullest size in 48+ hours. You should have an easy time assembling it on your own, too, considering it weighs only 48 pounds.
STRENGTHS WE LOVE
There are three layers to ensure the right balance between comfort, support, stability, and sturdy construction. The 2-inch memory foam comfort layer offers an exceptional cushion for pressure points and heat dissipation, meaning a more comfortable and cooler experience. The thicker 1.5-inch foam middle layer provides a more supportive layer and improves the pushback feel of the uppermost layer. The base layer of 5.5-inch high-density foam makes the mattress more stable even with physical activity and contributes to its durability.
Every layer of foam has undergone stringent manufacturing testing to meet the standards of Oeko-Tex Standard and CertiPUR-US. This mattress comes with a 10-year warranty, too, an assurance of high quality for conscientious customers.
This is a great choice for many individuals, from lightweight to average-weight individuals and different types of sleepers. But this isn't a "universal mattress" as its medium-firm feel, and 10-inch profile may be unsuitable for some individuals. Most buyers, nonetheless, assert that they haven't slept so well until they have tried the IYEE Nature mattress.
Things to Consider:
A few customers say that the mattress has a horrible smell akin to mold and mildew that persisted even after airing it out. But this seems to be the exception rather than the rule.
OMR ADVANTAGE SCORE: 8.5/10
---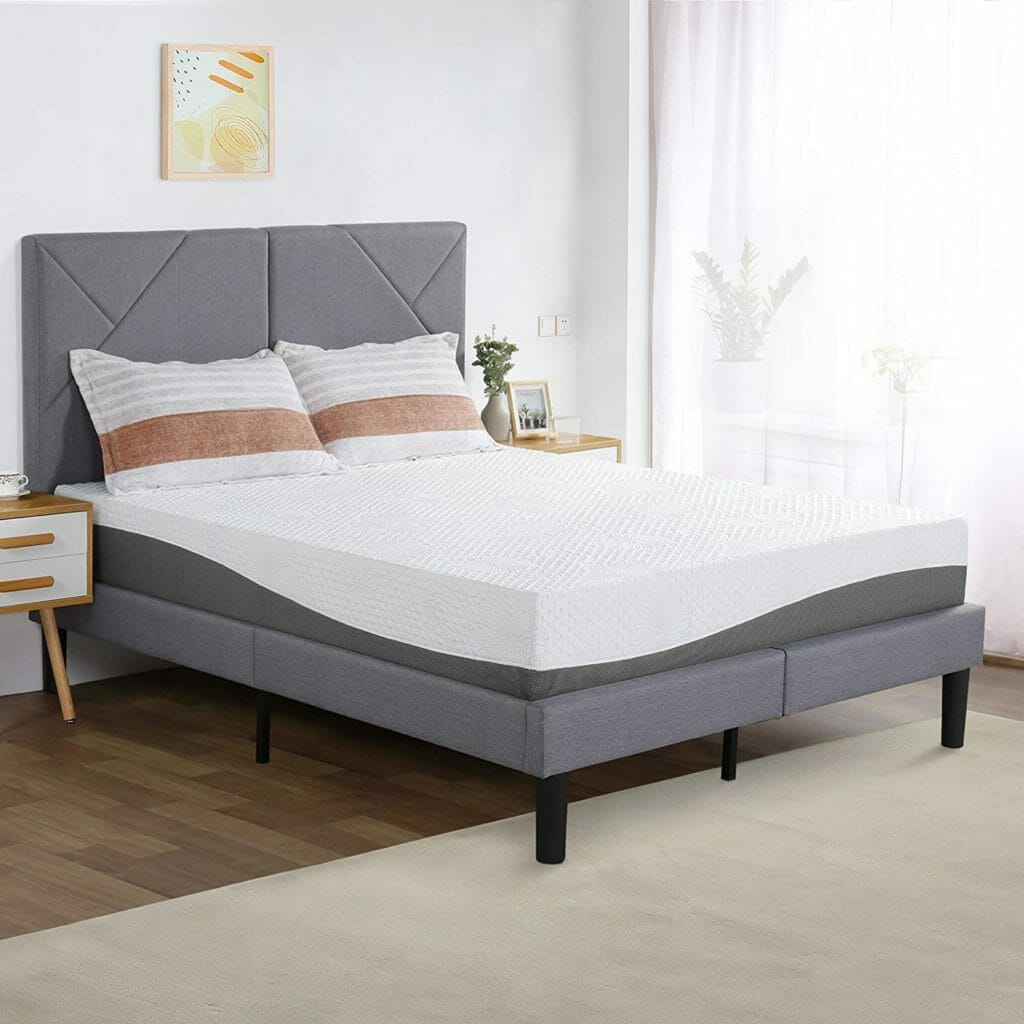 The PrimaSleep gel-infused memory foam mattress has a patterned, polyester jacquard cover in white that hides a wealth of superior foam underneath.
The two-tone, white-and-gray cover has a wavy pattern at the side, an elegant design that you may be hard-pressed to hide under bed linens. With or without bed linens, it's a great mattress that provides the Goldilocks balance between soft comfort and firm support. 
This is available in four sizes, namely, twin, full, king, and queen. The prices differ depending on the size, but the overall sleeping experiences are similar – you will enjoy a restful sleep with little to none of the sore body parts you've suffered from all-foam mattresses.
STRENGTHS WE LOVE
The three layers of foam are in different densities and thicknesses, with each layer performing a specific but complementary function. The 5-inch comfort layer is made of I gel foam, which dissipates heat away from your body, so you don't overheat while providing a comfortable sleeping surface. There's a bit of a sinkage, about an inch or two, but it's still fairly easy to move, change positions, and get off the bed.
The 5-inch middle layer has Dura HD foam with a firmer feel, so there's better pushback on the uppermost layer. This is also designed for better airflow for a cooler surface and better weight distribution for significant pressure relief. The 5-inch base layer is the sturdy and stable base for the mattress that prevents extreme slippage and premature sinking and sagging.
The overall feel is a soft cushion for comfort combined with a firm feel for spinal support, resulting in better sleep quality! Couples appreciate its low motion transfer, strong edge support, and low-noise quality, too. This is an all-foam mattress, so these features are to be expected.
The simple assembly and suitability for fairly heavyweight persons are also frequently mentioned by customers.
Things to Consider:
There may be a slight chemical smell during the inflation process, but it completely dissipates after a few days. (This has a California Proposition 65 warning tag)
The fabric cover isn't removable and is washable.
OMR ADVANTAGE SCORE: 8.5/10
---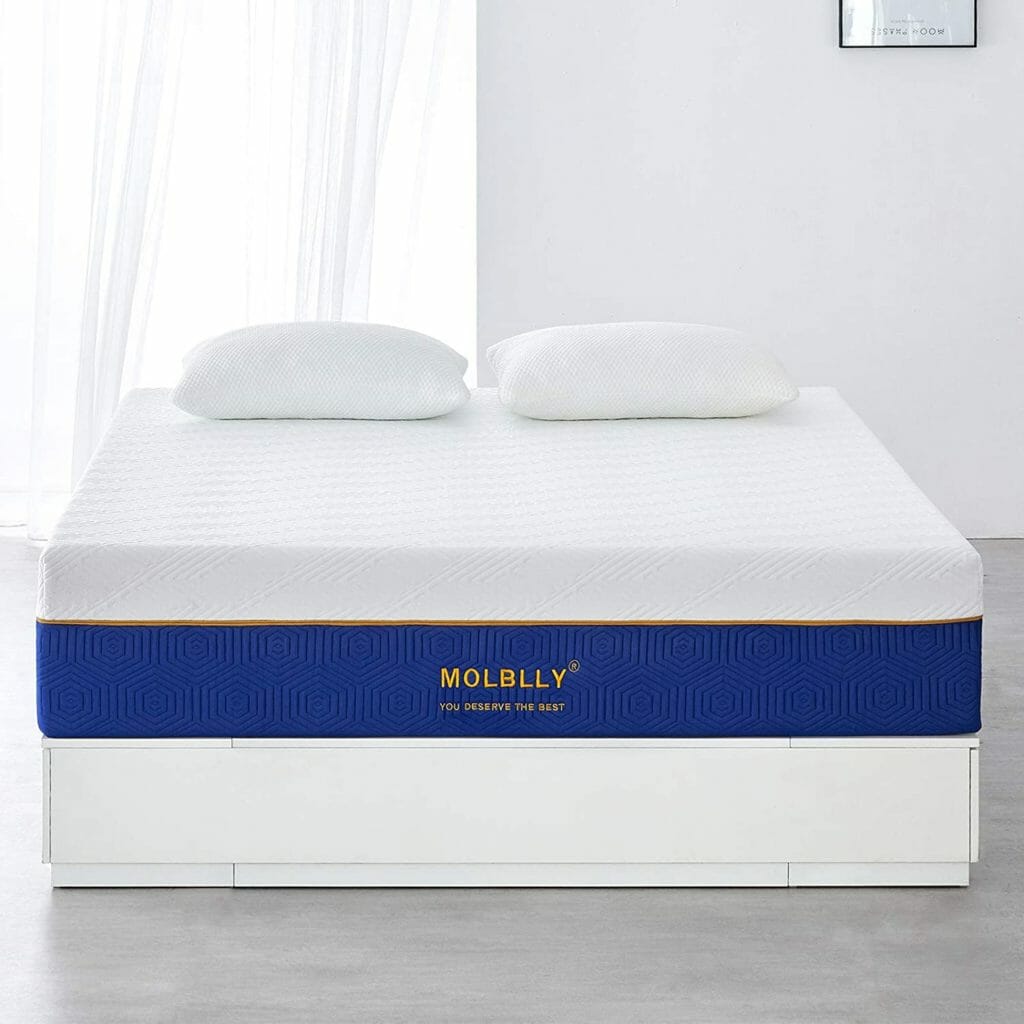 The 10-year warranty period on the Molblly 10-inch gel mattress proves its manufacturer believes in its good quality, a guarantee that the company honors based on customer reviews. Most buyers say that the mattress was delivered in excellent condition – no manufacturing defects – and fully inflated within two days.
While the manufacturer's description says it's a plush mattress, it has a medium-firm feel for lightweight persons. Remember that the firmness level can be a subjective experience, and your weight and preferred sleeping position influence it.
STRENGTHS WE LOVE
Most customers say that their sleeping experience at home is akin to a five-star hotel experience! This is because the mattress provides a soft cushion for the body while also offering spine support. The balance between soft and firm is just right for the average person, although lightweight and heavy sleepers will have a different view.
Thanks to their superior quality, the three layers of foam underneath the soft knitted jacquard cover can withstand pressure from sleeping bodies for years on end. The 2-inch gel memory foam comfort layer doesn't overheat even after hours of being in contact with your body, and it cushions your pressure points from neck to ankles. The 2.5-inch transition layer provides good spinal support with its firm feel while giving the mattress moderate bounce and rebound. The 5.5-inch foam base layer provides stability while also breathable, so you sleep cooler through the night.
This is a fairly lightweight mattress when it's still in the box – about 50 pounds – so it's quite easy to carry and set up with or without assistance. This should inflate in a couple of days, perhaps less, and be ready to use afterward.
Things to Consider:
A few customers complained that the edges didn't inflate as fast as the rest of the mattress.
Individuals susceptible to allergies with fiberglass must note that its inner cover has the substance of fire prevention. But there's no direct contact between the inner cover itself and the sleepers, so it isn't a big deal.
OMR ADVANTAGE SCORE: 8.5/10
---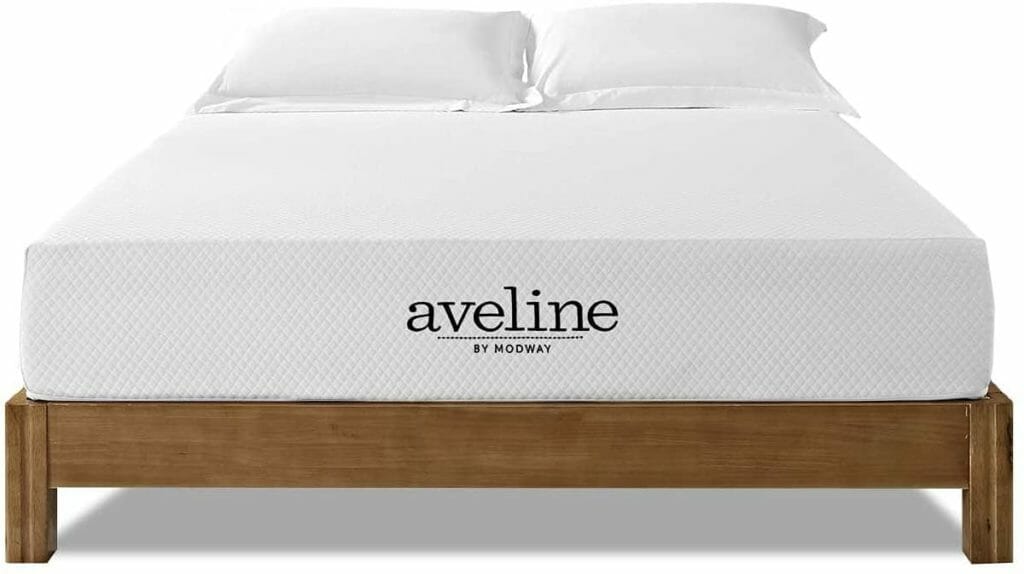 The Modway Aveline queen-size mattress comes with a 10-year warranty, a guarantee from the manufacturer that it will last for years, perhaps even outlast its warranty.
With a removable cover, this mattress is easy to clean which, in turn, means its lifespan can be extended well beyond the expected 8-10 years. This is compatible with a solid frame, a box spring, or a slatted base with slats less than three inches apart. 
Take note that it only has two foam layers or one less layer than the other all-foam mattresses on this list. But it's just as comfortable, cool, and durable as the others, aside from being of the same 10-inch thickness. Indeed, the number of layers doesn't matter as much as the quality of the materials – at least, in this mattress.
STRENGTHS WE LOVE
Thanks to the mattress's medium-firm feel, many customers describe the sleeping experience as comfortable and sufficient support. But it's still soft enough to enjoy a cushiony feeling to the pressure points, particularly at the shoulders, lower back, and hips for side sleepers.
Sleeping cool is also its hallmark, thanks to the 3-inch, gel-infused memory foam comfort layer. The gel beads dissipate heat away from the body, so overheating isn't an issue except for individuals with underlying medical conditions (e.g., menopause-related hot flashes).
The 7-inch base foam adds bounce and pushback, making getting on and off the mattress and changing positions easier. There's little edge support – it's an all-foam mattress, after all – but the base layer is firm enough to carry a person's weight while sitting on the edge. Plus, it has low motion transfer, a feature perfect for couples and other co-sleepers.
The foam materials are CertiPUR-US certified, so these are made without heavy metals, formaldehyde, and ozone depleters, among other harmful chemicals.
Things to Consider:
There's a slight chemical odor that lasts for about 30-60 minutes in many cases, but it may last longer depending on air ventilation and other factors.
The mattress didn't achieve full inflation even with the sides expanding much slower than the center. But the inflation evens out eventually.
OMR ADVANTAGE SCORE: 8.5/10
---
The three-layered Simmons gel mattress looks simple but sophisticated with its white, chevron-patterned cover, but it has welcome surprises underneath! Although not visible, the cover itself has a surprise – it's designed with Climate Cool technology. Think of it as a fancy way of saying that it adds to a cooler sleeping experience.
But the cover itself isn't removable and washable. But it can be easily spot-cleaned with a damp cloth if stains happen. Better yet, use a mattress protector over it. Other than this minor issue, it's a great bed for sleeping alone or with others, both humans and pets. There's also a no-risk, 100-night free trial so you can determine if it will work for you or not.
STRENGTHS WE LOVE
The comfort layer consists of premium gel memory foam, a material known for its comfortable and cooling properties. It quickly molds to every curve of your body, especially around your pressure points from the neck to the ankles. Said property results in a soft, cushiony feeling that leads to significant pain relief and good spine support. In short, you will sleep well – and cool, thanks to the gel particles – from this point onwards!
The transition and base layers have a firm feel that gives the mattress bounce, responsiveness, and pushback, so you don't feel like you're sinking too much. The base layer is the thickest, and it's firm enough to withstand years of pressure and physical activity.
The Simmons brand is well-known in the U.S. for its superior quality, and this mattress lives up to expectations in terms of quality and durability. This can be placed over a solid foundation, a slatted base, or an adjustable base, but it cannot be flipped on either side.
Things to Consider:
A few customers reported that it didn't expand to its full size even after waiting a week. But it seems to be the exception since most customers say that it expanded as expected.
Several customers reported an unpleasant chemical smell, but it seems to dissipate on its own in a well-ventilated room.
OMR ADVANTAGE SCORE: 8/10
---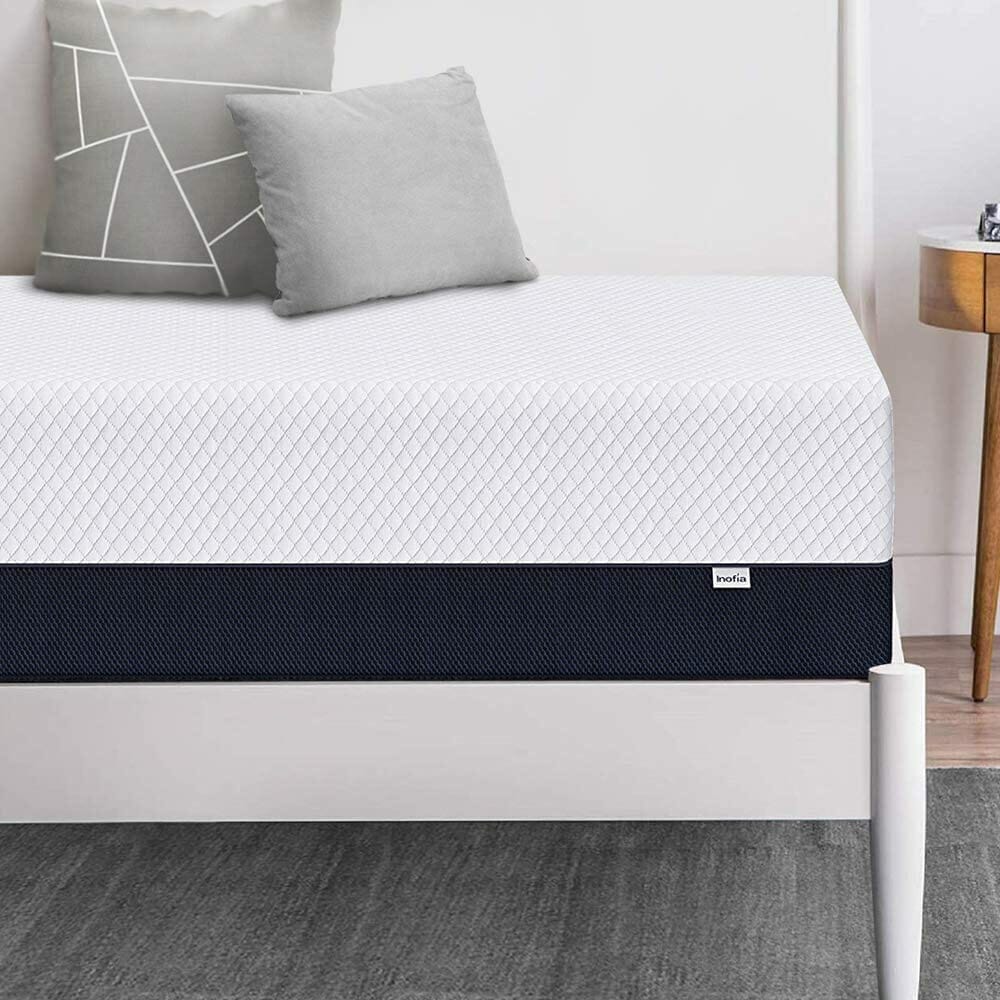 If you're looking for a gel mattress with a medium-firm feel, then you should consider the Inofia mattress! Medium-firm means between 6.5 and 7 on the firmness scale, meaning it's a great fit for most adults. Keep in mind that its medium-firm feel may be too firm for lightweight individuals but too soft for heavy persons.
This comes with a risk-free, 100-night trial where you can test its comfort and support-related aspects. The mattress-in-a-box may take up to 72 hours, perhaps longer, for full expansion. The number of hours varies depending on environmental conditions, such as poor air ventilation and cold weather.
STRENGTHS WE LOVE
The three layers provide an exceptionally comfortable sleeping experience even for the pickiest customer. The gel-infused memory foam comfort layer quickly contours to your body's unique form and cradles your pressure points, so there's less pain felt. The gel particles keep your body cool, too, so there is no sweat sessions, just sweet sleep.
The transition and base layers have a firm feel for extra support to the body and prevent too much sinking into the mattress. The on-the-mattress feel is great for most people anyway since it also makes for easier movement, including getting on and off the bed and changing positions. The base layer is thick enough to maintain stability and bounce even during strenuous physical activity.
All foam materials are CertiPUR-US certified and, thus, are safe to use even for individuals with allergies. The all-foam mattress also has great motion isolation and responsiveness.
Satisfaction is the common thread in customer reviews, thanks to its breathable quality combined with great comfort and support performance. Back pain and other chronic aches caused by sleeping on an inferior mattress become non-existent with regular use.
Things to Consider:
The corners don't seem to be fully inflated despite days of waiting, but it's a minor issue for the customers who observed it.
OMR ADVANTAGE SCORE: 8/10
---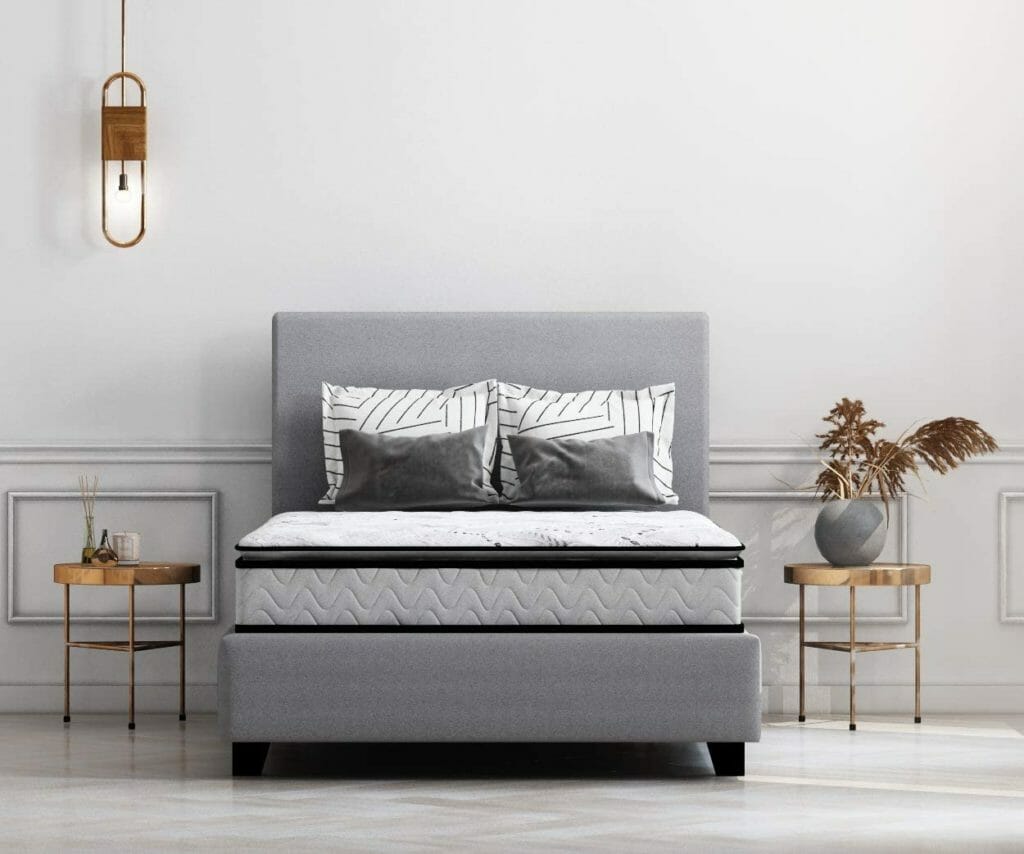 The Signature Design mattress is a hybrid mattress that combines gel memory foam and pocketed coils with a pillow top design.
Combined with its medium-firm feel, it's marketed as suitable for both adults, teens, and children. Plus, it can be placed over a solid frame, a slatted base, or an adjustable base for as long as it's well-supported on all sides. 
The pillow top design gives it a luxurious appearance and feels akin to the high-end mattresses of swanky hotels. Once it partly loses its soft, plush, and plush feel, it can be topped with a thick mattress topper to bring back its glory days.
STRENGTHS WE LOVE
The mattress has a plush feel on its top, thanks to the pillow top construction. But press a little deeper into its high-density gel memory foam layer, and it has a medium-firm feel that delivers soothing pressure relief and spine support.
Edge support is good enough so that you can sit on its edge without slipping and sliding to the floor. But it must have a stable and sturdy frame to hold the weight of two average persons.
The pocketed coils complement the high-density gel memory foam by providing a bouncy surface with good pushback. Plus, these coils enhance spine support, an important feature in foam mattresses.
Things to Consider:
Some people may require some adjustment because of the firmer-than-expected feel.
The coils transfer motion more than an all-foam bed and may have slight creaking noises after a few years of use.
OMR ADVANTAGE SCORE: 8/10
No mattress is perfect, not so much because humans designed it but because every human has unique needs, and there's no one-size-pleases-all mattress. But the best gel mattresses come close to perfection and, thus, are worthy of your consideration as a smart consumer!
---
FAQS
1. Do gel mattresses provide a cooler sleeping experience?
Yes, they do! Gel mattresses are made of memory foam as the base material with one of two types of gel incorporated into it, namely:
A thermal gel, usually either particles or beads, the common material used in gel mattresses; or
A phase-changing material (PCM) changes from its original solid state to a liquid state in response to increased temperature. (Your body temperature increases the PCM's temperature resulting in the body-conforming characteristic of memory foam)
Depending on the manufacturing process, the thermal gel or the PCM gel can be spread as a thin layer over the memory foam or spread throughout its cells. Regardless of their distribution, the effect is the same – the gel materials' cooling property absorbs the heat from your body and wicks it away. You're less likely to sleep hot and wake up covered in a fine layer of sweat.
Many gel mattresses also have quite uncommon substances incorporated into the memory foam for many purposes. Castor seed oil and green tea extracts are used to inhibit bacterial growth and odor formation, meaning the mattress smells fresh for extended periods.
Activated charcoal has excellent thermal absorption property that keeps the mattress cool as well as clean and fresh. Aloe vera may also be used because of its cooling and comfort properties, as well as for its hypoallergenic quality. 

2. Is it necessary to place a gel mattress on a foundation?
Yes, it's highly recommended to place a gel mattress on a foundation! The foundation, or base, can be a wooden slat platform or solid metal or wooden base. While it may seem like an extra expense that can be dismissed, it serves several purposes that will make the extra expense worth every penny.
The base provides the gel mattress with a stable and sturdy foundation to make it a comfortable surface to sleep on. Without the right base, the mattress will have indentations on its underside that will compromise its structure. Soon enough, it will sag and sink in places where there was little to no foundational support.
Not only will the sagging and sinking parts look ugly, but these will also compromise your comfort and support while you sleep. Your spine will not be in neutral alignment, and your pressure points will not have the best cushioning effect. You will toss and turn in the night because you can't find a comfortable position.
In the morning, you will feel the aches and pains from your pressure points and sore muscles. You will also feel the effects of interrupted sleep. Indeed, for your own sake, you must find the right foundation for your gel mattress!
Other benefits of getting your gel mattress on a foundation are:
Increases its lifespan resulting in great value for your money
Keep it in place (No slipping and sliding, a common occurrence when a mattress is placed on the floor)
Adds height to your bed for an easier time getting on and off it
Keeps it clean by getting it off the floor (Dust and dust mites, pet hair and dander, and other dirt tend to accumulate faster on the floor)
3. What's the best type of foundation for gel mattresses?
First off, a box spring isn't a good foundation for a gel mattress because it doesn't provide a solid surface. Many manufacturers even void warranties when a box spring is used with their gel mattresses, so be sure to check.
Instead, either a solid or slatted mattress foundation is best for a gel mattress. However, for a slatted foundation, its slats must be three inches apart at least – any farther than three inches, and the gel mattress' structure can be compromised. Also, a slatted foundation should be paired with a bunkie board for added support.
Gel mattresses can also be placed on top of platform beds, either solid or with slats, for as long as the three-inch rule is followed. Adjustable beds are also a great foundation.
As for the material, both metal and wood foundations work well. But it's also best to choose wooden foundations made of mahogany, pine, oak, beech, maple, and poplar since these are durable materials.
4. Are there ways to make unboxing and assembling a mattress-in-a-box faster and easier?
Yes, there are ways to do so, but you must also have the patience to wait for the mattress-in-a-box to inflate fully. Depending on the mattress's size, make, and model, it can take 24 and 76 hours to achieve full inflation. There's no technology or trick to make the inflation process faster.
But there are tricks to make its unboxing and assembly easier! By easier, we mean not cutting through the mattress itself, not struggling with transferring it to its foundation, and not being bothered by unpleasant smells.
Depending on the weight of the mattress and your physical strength, you may or may not ask for assistance from a family member or friend to transfer the mattress in a box to your bedroom. If it's available, you may want to avail of the white-glove service where the mattress company's personnel carries the mattress to your bedroom.
Getting your gel mattress to your bedroom is a necessary first step for many reasons. First, it's easier to transfer in its compressed state, partly since it will still fit through the door with ease. Second, it will become heavier when fully inflated, making sense to have it on or near its foundation.
Use the special blunt tool that came with the mattress when releasing it from its plastic packaging. Sharp knives and scissors must be avoided in this task since these can tear through the mattress and affect its structure.
Ensure that your bedroom is well-ventilated, such as opening as many windows as possible so that the off-gassing can speed up. Turn on an electric fan, if needed, so that the unpleasant smell can dissipate faster.
5. Who will benefit the most from gel mattresses?
Nearly everybody can benefit from sleeping on gel mattresses! But, of course, you must consider your specific needs concerning a gel mattress's size, firmness level, and several layers. For example, a king-size gel mattress with a medium-firm feel is recommended for co-sleepers.
If you belong to one or more of these categories, you must consider purchasing a gel mattress.
Looking for a comfortable and supportive mattress for significant relief from sore pressure points
Sleeping hot has become so unhealthy and, thus, a mattress with cooling properties isn't just a one-time purchase but a long-term investment in health
Looking for a mattress that provides personalized comfort, low motion resistance, and long-term durability
Both light and heavy sleepers will also appreciate the benefits of gel mattresses. The trick, as mentioned previously, is to find the best gel mattress that will fit in perfectly with your specific needs and wants.