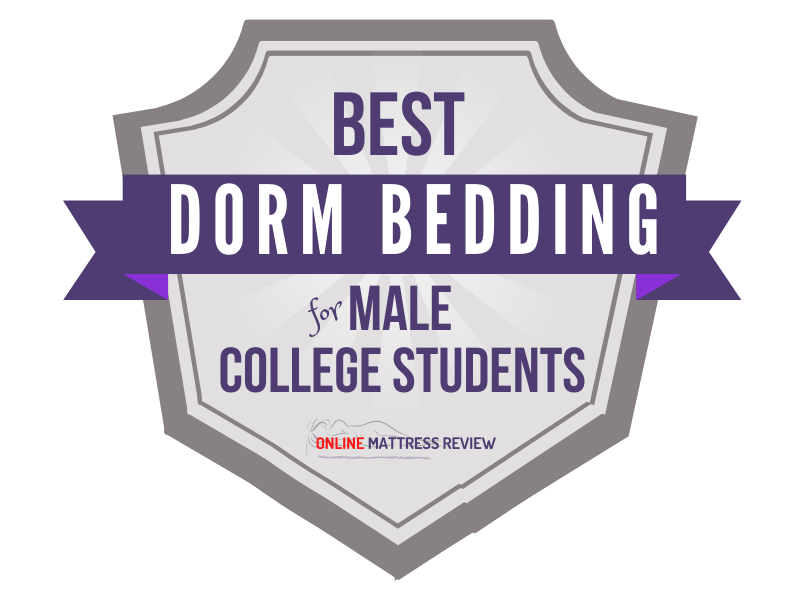 Buying dorm bedding for male college students is something parents can provide each semester year to their sons and is a great contribution to their new college dorm space!
One of the best things about going to college is living on your own. If you're a freshman, there's a chance that this is your first time living outside of your house!
It doesn't just give you a sense of freedom but allows you room to grow and discover yourself. School dorms are where some of the most memorable experiences happen.
Why Stay in a Dorm?
Moving out of the house and staying in school halls or dorms for college is a big deal for most students. Parents also struggle with finding a good on-campus housing environment together with the right school for their children.
If you're looking for school options, you may consider choosing from this list of colleges and universities with the highest student population staying in school dormitories. 

While some parents may be skeptical about this move, there are many benefits to staying on-campus. These are the common reasons why many opt for college dorm life:
You can walk to class. Staying on campus means that you don't have to miss the bus or wake up too early. Most dorms are within walking distance, or if it's far from walking, most schools offer shuttle services. You can take morning classes without worrying about getting late.
You gain more independence. Living in a dorm means doing things on your own. The chores include doing laundry, cleaning, and budgeting.
A great way to make more friends. Part of living on-campus is sharing a room with another student. This helps you learn to adjust and be more mindful of others. Dorm life lets you mingle with other students and, ultimately, share close bonds.
Save more. – Aside from the convenience of being near the classrooms, staying in school accommodation helps you save more, spending less on gas and commuting. Most schools offer different housing arrangements that will suit your budget.
Different dorm amenities. – Dormitory amenities such as fitness centers, study lounges, and gaming rooms may be available but vary from school to school.
Living Conditions
Most housing accommodations offer private or shared room choices, which may depend on your preference and budget. Shared rooms may accommodate up to four students, while private rooms are for single occupancy. Additionally, some arrangements may offer private bathrooms within the dorm or a communal bath hall with multiple shower stalls and cubicles.
University dorms may include different room facilities such as hot and cold showers and WIFI access. Many colleges may offer meal plans for students staying in dorms and usually have dining halls within the residence halls. On-campus laundry services may also be provided for convenience.
Polyester vs. Cotton
Both polyester and cotton fabrics are suitable for bedding. However, they have different advantages and disadvantages. Cotton is a widely used material for its quality.
Some cotton types, such as Egyptian cotton, offer a higher thread count to increase the fabric's softness. However, pure cotton may come at a higher price. Another notable disadvantage is that cotton fabric may wrinkle more easily compared to other fabrics.  
On the other hand, polyester is a more affordable substitute for quality fabric. Like cotton, it's very durable and provides comfort. It produces a stain-resistant fabric that is advantageous to use in manufacturing different bedding pieces. Some disadvantages of polyester include lower breathability, static buildup, and odor retention.
Through innovation, manufacturers combined polyester and cotton to produce poly-blend fabrics. This fabric combines quality and affordability that are received well by consumers. Poly-blends offer comfort with cotton paired with polyester's wrinkle resistance. It's an ideal choice for students looking into buying comfortable sheets without paying a premium price.
Get Rid of the Dirt
Doing laundry can be challenging for students staying in dormitories, especially when you're new to living independently. See these tips for proper bedding laundry:
Add it to your routine – Managing your study load and personal chores may be hard. It's best to make a to-do list to manage your activities. It's best to add doing laundry in your weekly chores so you'll always have clean sheets.
Separate the colors – Adding dyed sheets to white fabric is not ideal since the dyes may bleed and soil the lighter ones. Make sure to sort your laundry first before loading them on the washing machine.
Treat the stains first – Spilling coffee or blotting ink in beds is common when staying on campus halls. It's best to treat bed stains right away before putting them in a washing machine. There are different stain removers available that may help in treating your spill.
Find the right detergent – Before going to the nearest laundromat, it's best to prepare a laundry kit that includes detergent, fabric conditioner, and dryer sheets. With this, look for a detergent that meets your needs. For example, if you have sensitive skin, go for the hypoallergenic ones.
Buying Online
There are many online platforms available to search and buy bedding sets. With the abundance of choices, you may have a hard time choosing the right one. One way to make your online search easier is to add filters on the product you're looking for. You may sort the items by price range, color, or size. You may search for beddings available in twin XL sizes for students staying in dorm rooms to save more time.
You may also consider and read through the product reviews when buying online. These are usually honest feedback from customers who have bought and used the product. This section may provide insight such as the product's real size, quality, and durability.
It's also best to shop on legitimate websites to avoid getting scammed. It's recommended to visit sites that start with "HTTPS" or have a lock symbol beside their Uniform Resource Locator (URL) for security. 
Moving in can be challenging, especially if you need to bring so many of your belongings. Fortunately, dorm rooms usually provide a set of basic furnishings such as beds, chairs, and desks.
So if you're planning to stay on-campus, you just have to bring the basics such as beddings, which may help you sleep comfortably. If you're looking for one, here are the ten best dorm beddings for male college students: 
The Best Bedding Options for Male College Dorms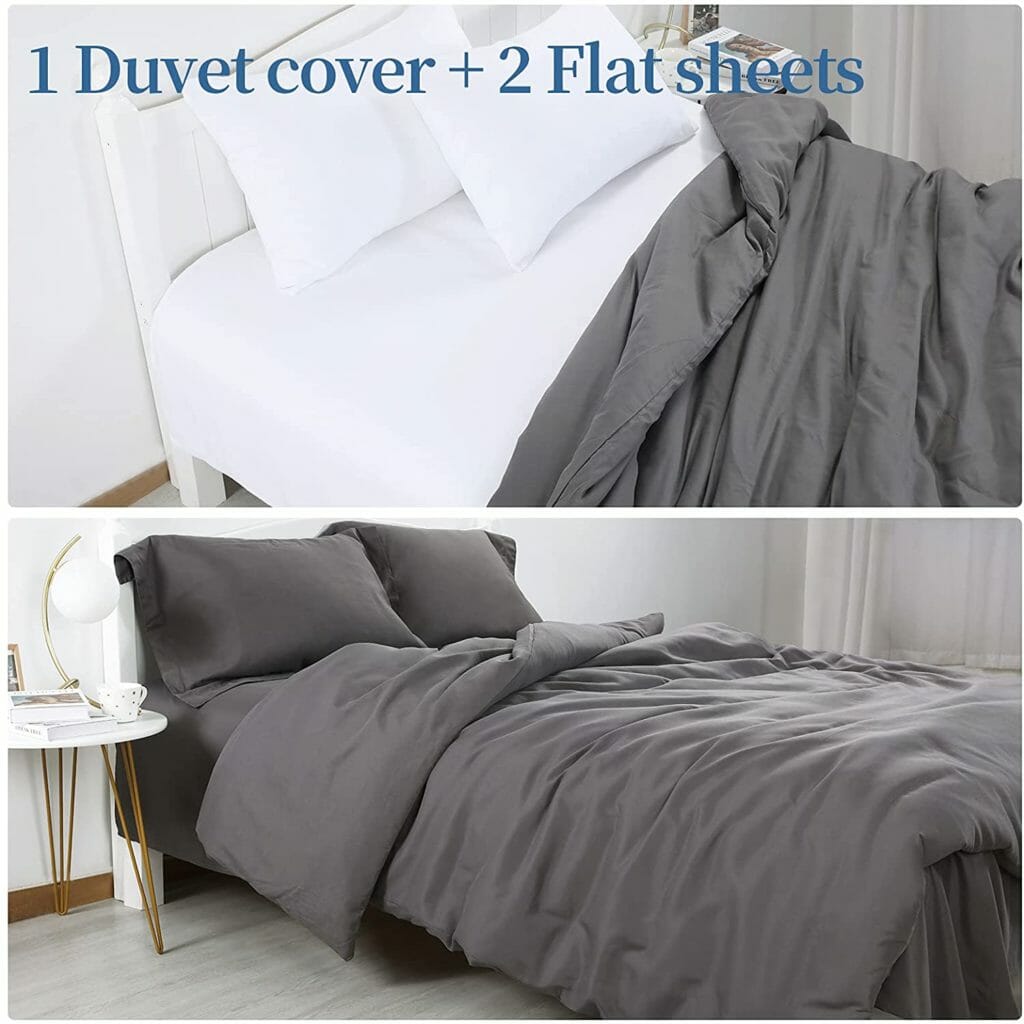 The HOMBYS dorm room 25-piece bedding offers a complete set for your dorm stay. The comfort pack comes in twin XL size, which is perfect for dormitory beds.
The comforter, bedding sets, and quilted mattress pad are all designed for warmth and comfort. Aside from the beddings, the set also comes with bath and hand towels and laundry bags, essential for dorm life.
The beddings are made from fabric made of polyester and cotton, making them durable and soft at the same time. Doing laundry can be very challenging, especially when staying in school housing. Good thing, the beddings are easy to wash since they're machine washable. The set comes in white and gray, perfect if you want to maintain a masculine look on your bed.
Strengths We Love:
The 25-piece comfort pack offers a complete set for dorm life, including pillows, bath towels, and a duvet cover.
The set even offers eyewear that's perfect for students who need help in getting some shut-eye.
The fabric is soft and durable, which may provide comfort when students need to relax or study in bed.
The added towels are essential for every student staying in dormitories, used in bathing or during workouts.
Things to Consider:
The set can be pricey, but it's worth the cost since you're getting 25 pieces of dorm essentials.
Although complete, the items weigh around 19 pounds, so they may be heavy to bring in.
OMR Advantage Score: 9.5/10
---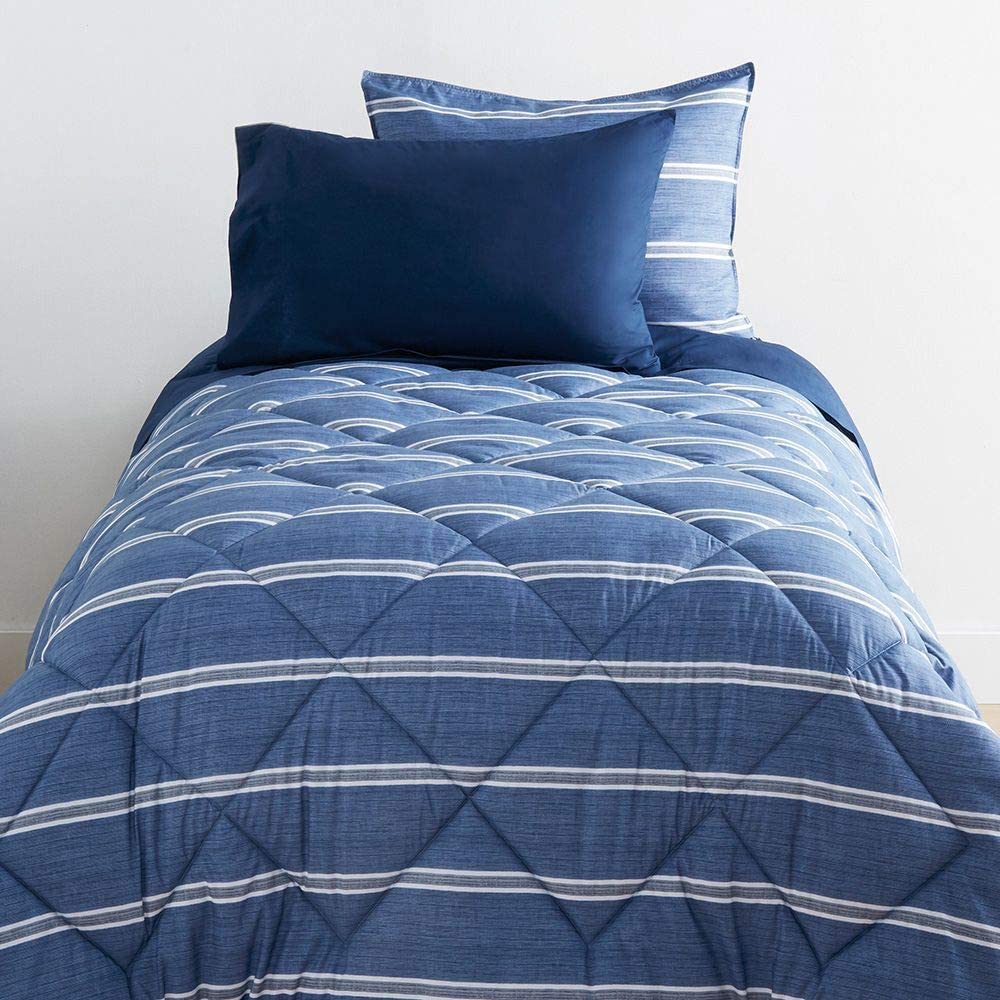 The OCM dorm room bundle offers a 12-piece bedding and bath bundle, which are great for on-campus students. The reversible comforter adds style and functionality to your bed. You can choose from two reversible sides: one with a solid blue color and another in Nautica's Keller design with blue and gray stripes.
The beddings are made from microfiber, a synthetic fiber from polyester and polyamide that make them soft and cozy. They come in a twin XL size, commonly used in dorm room beds or standard twin beds. Additionally, the bundle includes cotton towels in various sizes.
Strengths We Love:
The color and pattern of the bedding are ideal for those who want to add style to their dorm room. Plus, the blue color gives a nautical vibe and may remind you of the ocean.
This fully reversible comforter comes in two designs, so you can have stripes or solids whenever you like. Versatile and cost-effective, it's like buying two comforters at the price of one.
The microfiber material makes it cozy and soft to use, especially when you want a good night's rest after a long day from school.
The bundle comes with bath towels that are essential for students who choose on-campus housing.
Things to Consider:
While the pattern may not suit everyone's taste, having a reversible one allows you to choose a solid color instead of stripes.
OMR Advantage Score: 9/10
---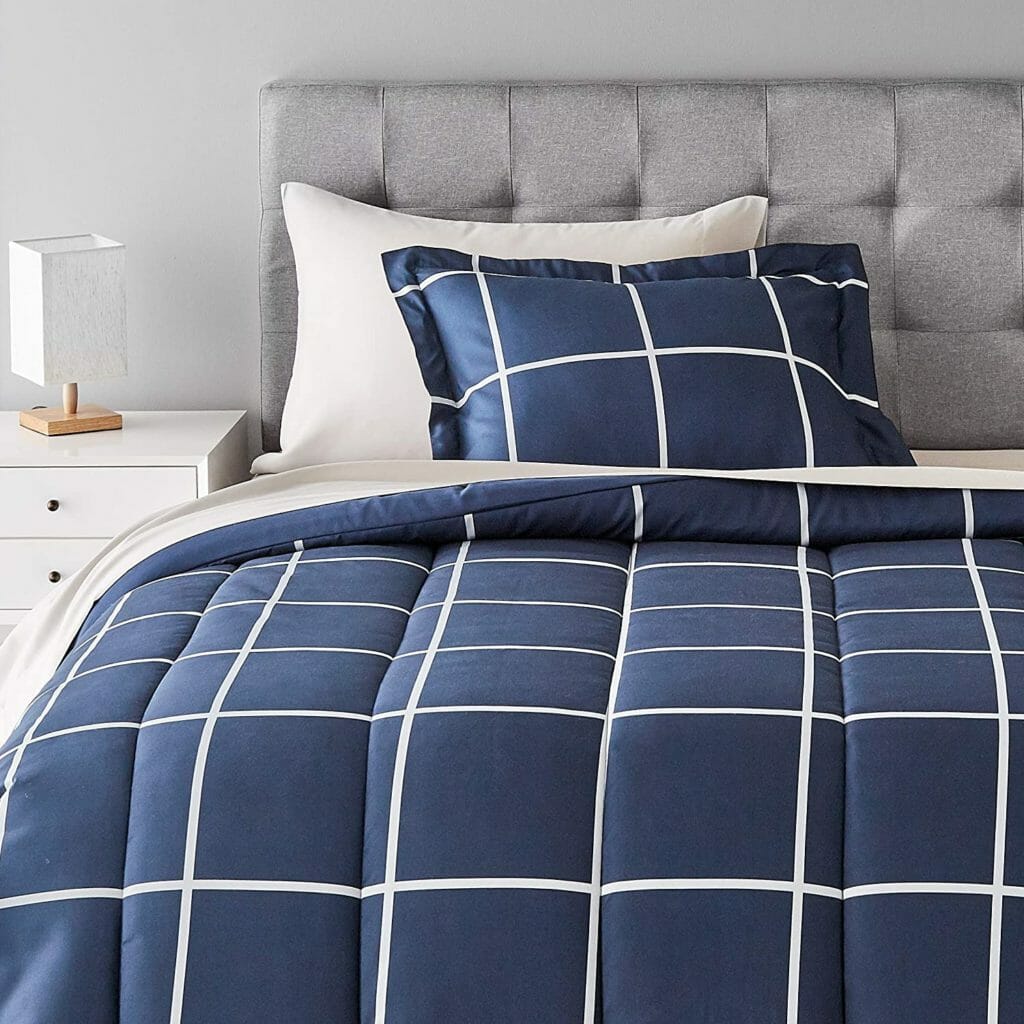 The Amazon Basics bed-in-a-bag set offers five pieces of beddings, including a fitted sheet, comforter, and pillowcase. It comes in different patterns in stylish colors such as navy blue and burgundy. The fitted sheet gives a snug fit so you can have a smooth sleeping area. It's also best used to protect the mattress from wear. 
The basic set is made from 100% polyester microfiber, which is durable and wrinkle resistant. The fabric used was manufactured in an OEKO-TEX certified factory, which ensures high product standards. Another advantage of using a polyester fabric is that it's machine washable and may dry out easily compared to cotton.
Strengths We Love:
The set comes in different patterns depending on your preference. The styles include plaid, stripes, and Aztec design.
The beddings are affordable, costing less than $130 for a set of five pieces.
Aside from the pillowcase, the Amazon Basics set comes with a pillow sham that adds more style to your ensemble.
The OEKO-TEX certification guarantees that the materials used in the beddings are of high quality and may last longer.
Things to Consider:
Some students may look for a set with more inclusions, but this is a great option if you're looking for the basics.
OMR Advantage Score: 8.5/10
---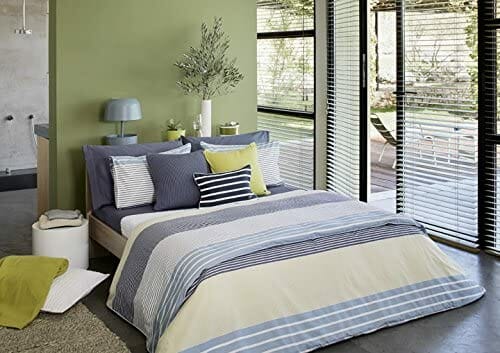 The Lacoste Aventin Set comes with a duvet and a sham. The set is made from 100% cotton material that's breathable throughout the year. Fabric made from 100% cotton allows air to flow, which helps increase moisture absorption and may keep you cool during hot days.
If you're a fan of the luxury brand, this Lacoste-inspired bedding set is great for you. It also comes with a sham that has the iconic embroidered Lacoste logo. The duvet is available in a Folkestone or oasis color that gives it an elegant look, especially with a little sunlight.
Strengths We Love:
The 100% cotton fabric may improve your sleep since it's soft and breathable. It may keep you warm during the winter season and cool in the summertime.
Doing laundry while staying on-campus can be a daunting task. Good thing the Lacoste Aventin set is machine washable.
The color set is ideal for students looking for a more elegant dorm room look. It may also add more style and sophistication.
The set comes in a twin XL size that is perfect for dorm beds.
Things to Consider:
The set may be costly at $199.99 but getting 100% cotton fabric makes it your money's worth.
OMR Advantage Score: 9/10
---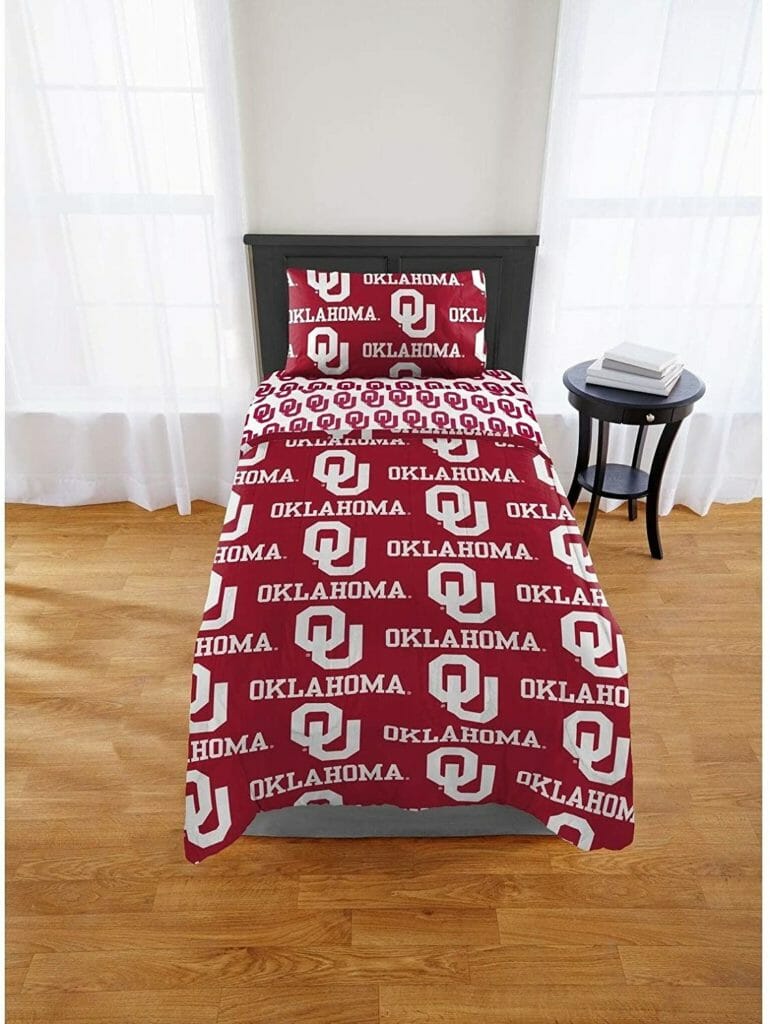 Aside from getting a comforter, the Oklahoma Sooners bedding set comes with a flat sheet, fitted sheet, and a pillowcase. The set is made from a polyester blend fabric, which makes it durable and wrinkle-resistant. This type of fabric dries up easily, so washing won't be much of a burden.
If you're an Oklahoma Sooners fan or a sports enthusiast, this bedding set is perfect for you. The comforter comes with a repeating print of the university's team spirit logo in red background. The design is officially licensed by the National Collegiate Athletic Association (NCAA).
Strengths We Love:
The comforter set is oozing with school spirit. It's a great addition to any Oklahoma Sooners fans who are looking for collectibles.
Since the bedding is made from fade-resistant material, it may be used longer, even after multiple washes.
As the fitted sheet fits over the mattress, users don't experience the slip-ups that cause sleep discomfort.
Things to Consider:
The comforter set's design may not suit everyone's taste, but it gives out a sporty and empowered vibe.
OMR Advantage Score: 8/10
---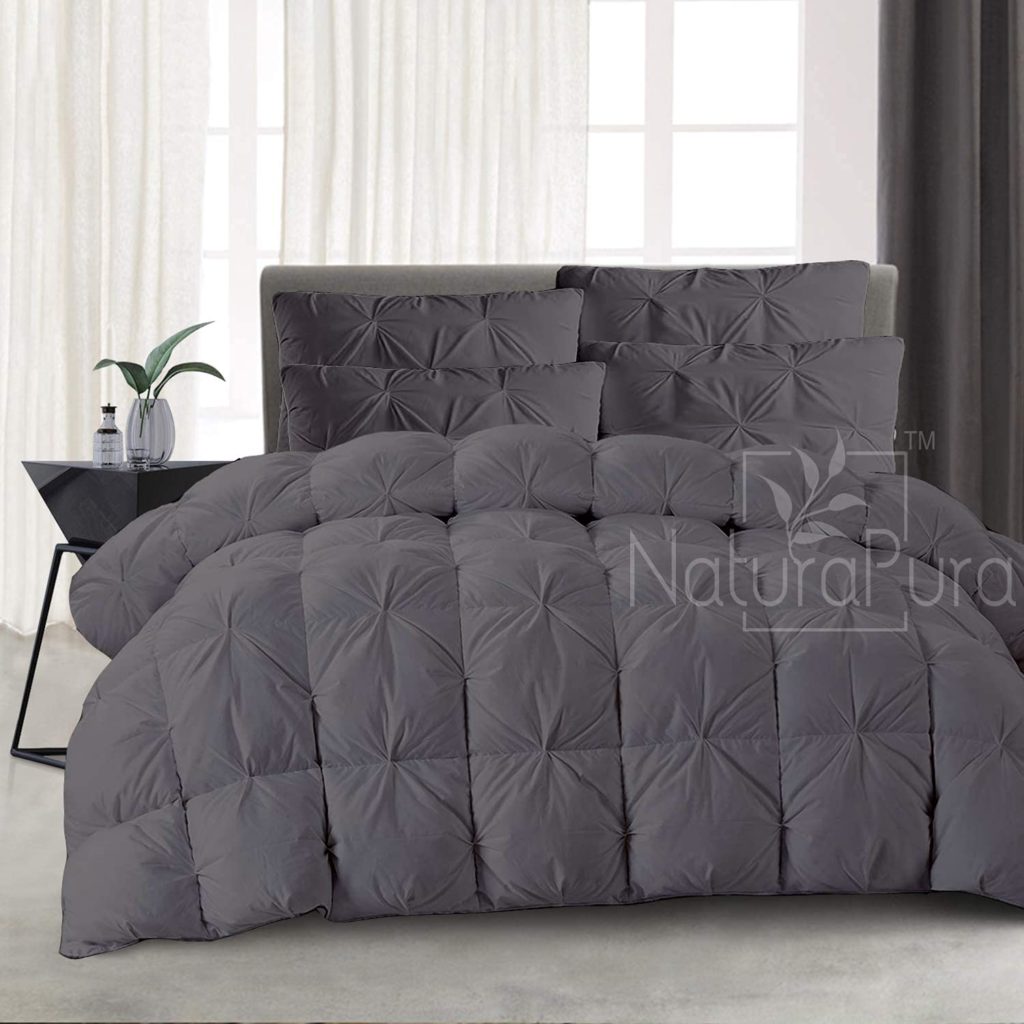 The Natura Pura comforter set comes with a comforter and four pieces of pillow cover. The set comes in a luxurious color design with a geometric pattern. Both the comforter and pillow covers have down alternative quilted fills that provide an extra layer of coziness.
The elegant design comes in different colors, such as dark grey, which is best to add masculinity to your room. Additionally, the color may easily hide stains in case of any spills or mishaps. Best of all, the fabric is made from soft cotton that may give you comfort away from home.
Strengths We Love:
The design will surely add elegance to any bachelor's dorm room. The dark grey color is also perfect if you're going for a monochromatic themed room.
The quilted fill gives extra softness and comfort that may help you sleep more soundly.
The set promises great stitching and no loose threads for better durability.
The ensemble is machine washable and can be tumble or sun-dried.
Things to Consider:
The set is vacuum packed so it may take some time to fluff. The best way to fluff it faster is to tumble dry it or expose it to sunlight.
OMR Advantage Score: 10/10
---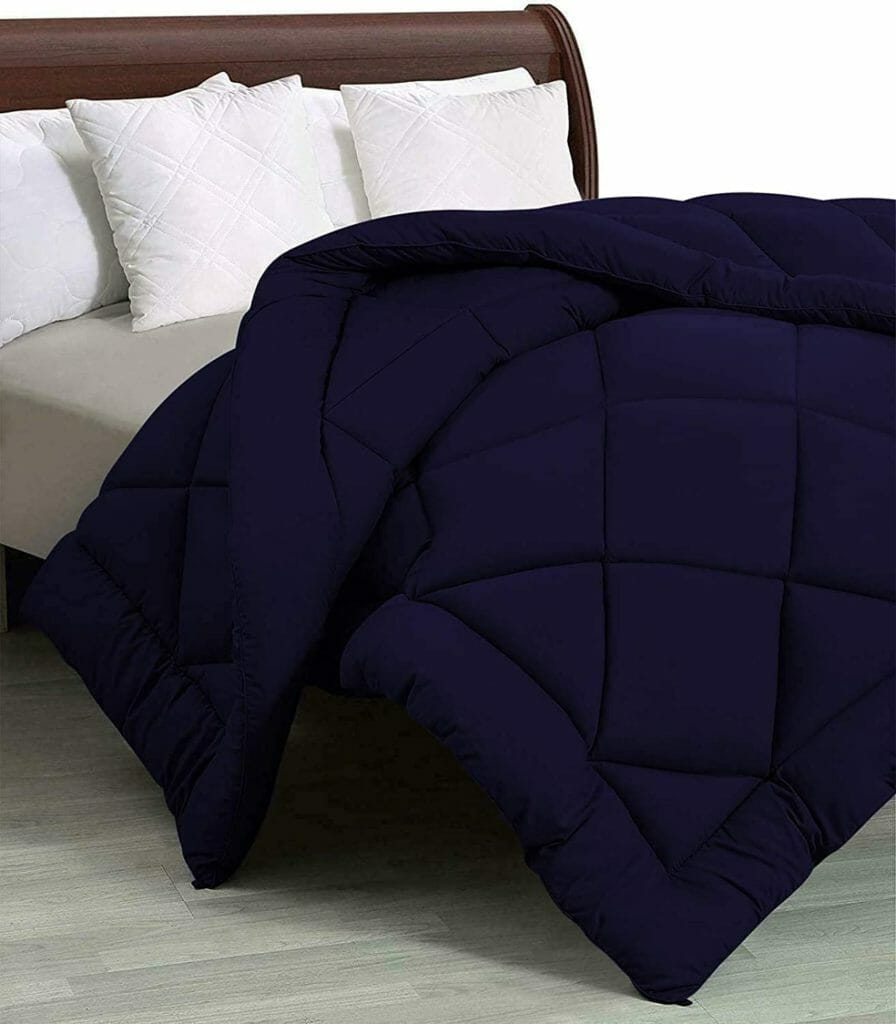 The Goose Down bedding set comes with a comforter and four pillow shams. The comforter may provide good warmth all year round, especially during the winter. The collection is available in various colors, including navy blue color, which is associated with feelings of confidence and power.
Both the sham and comforter are made from 100% Egyptian cotton with an impressive 800 thread count. Moreover, cotton is a good fabric material that is breathable and soft for better sleep. To ensure quality and safety, the products have undergone inspection for any defects and loose threads.
Strengths We Love:
The solid navy blue color is very versatile and easy to pair with.
The set is ideal for students staying on-campus since it's easy to maintain, and all pieces may be machine-washed and tumble-dried.
Fade-resistant dyes were used, so you may expect the color to last for a long time.
Quality inspection assures that the product is made from the best and durable materials.
Egyptian cotton may provide a softer and more comfortable feel—not to mention a higher thread count.
Things to Consider:
The comforter may not be as soft when first used. It's recommended to wash it first before use to get a softer feel.
OMR Advantage Score: 10/10
---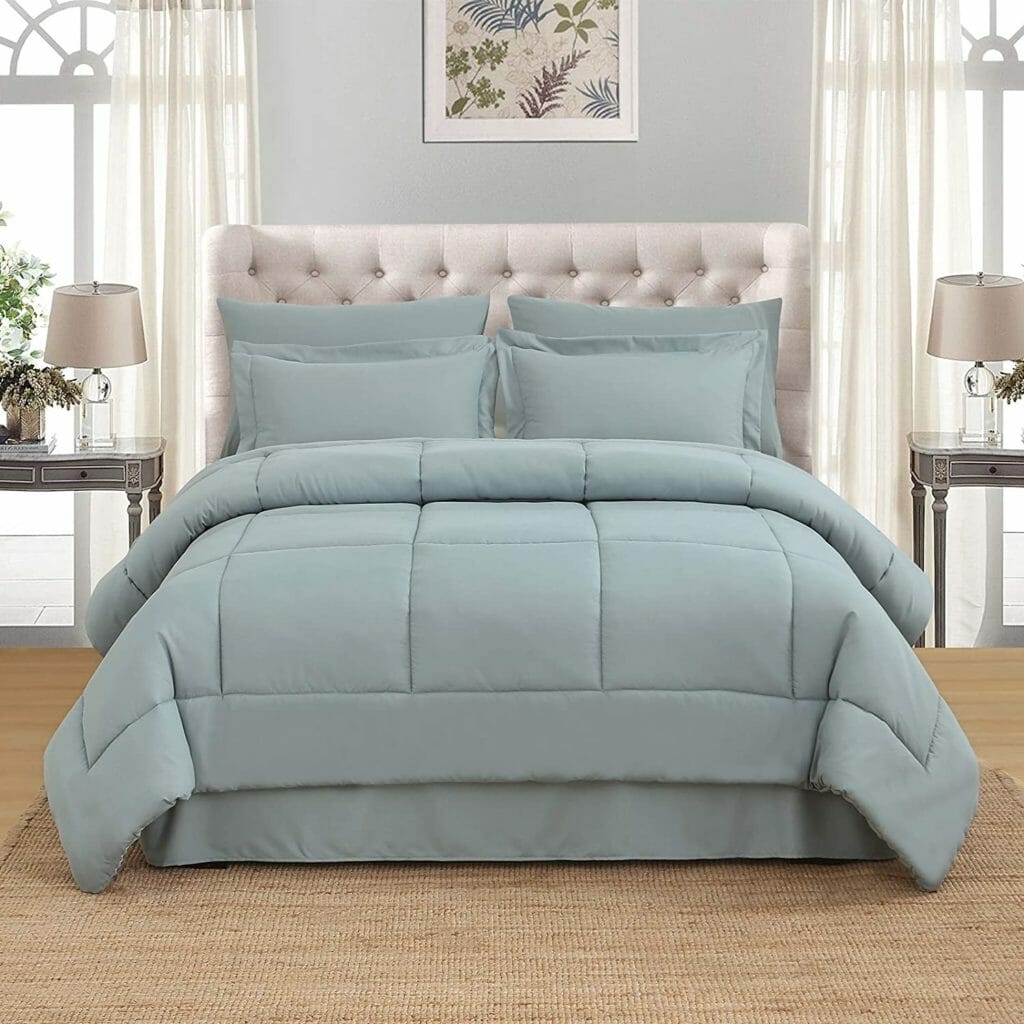 The EMME comforter set comes with five pieces of microfiber beddings in twin XL size. The collection is available in aqua blue, which gives it a cool elegant vibe and may remind you of the ocean. The fabric was double brushed to give it a smoother texture and better feel when touched.
The comforter is filled with siliconized fiber, a material known for dust accumulation and bacteria resistance. Additionally, it has solid stitches to prevent the filling from shifting and forming uneven lumps. Best of all, the comforter set is lightweight and machine washable.
Strengths We Love:
The basic aqua blue color gives a chic look and is easy to pair with.
A double brushed fabric gives it a smoother finish, adding more comfort, especially after a long school day.
The siliconized fiber filling is beneficial to prevent bacteria growth and dust buildup. Plus, the filling also adds to the warmth needed during cold nights.
The solid stitching increases the product's durability and prevents the fillers from clumping together, which can be bothersome.
Things to Consider:
The product garnered mixed reviews, but it had a high rating on value for money and softness.
The product doesn't have an OEKO-TEX tag; however, several reviews can vouch for its quality.
OMR Advantage Score: 9/10
---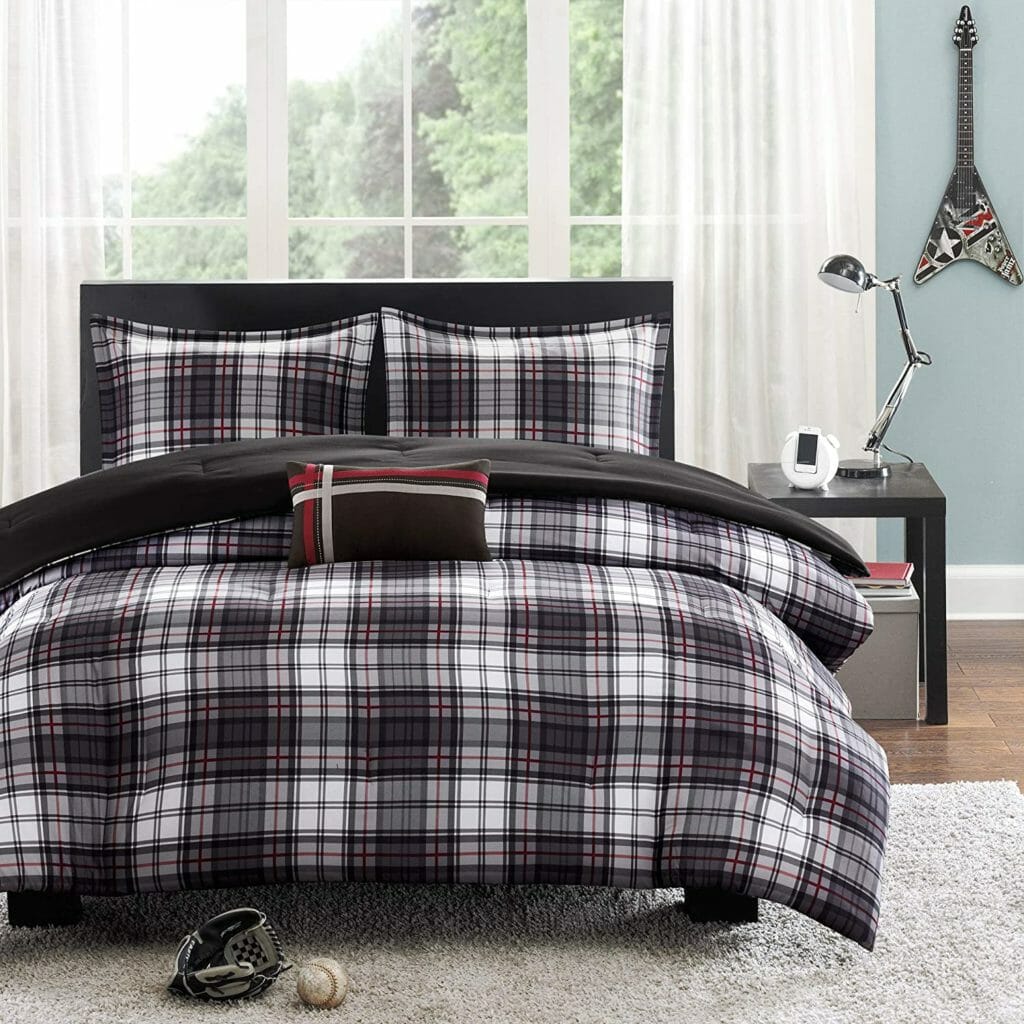 If you're into rustic designs, the MIZONE comforter set is the best fit for you. With a plaid design that combines black and red patterns, this comforter looks highly decorative and stylish. In addition to the comforter, the trio set comes with a decorative pillow and shams.
The sham and comforter are made of hypoallergenic polyester microfiber, while the decorative pillow comes with polyester filling. Unlike cotton and wool comforters, polyester comforters are lightweight and wrinkle-resistant. For convenience, students may wash the product in a washing machine.
Strengths We Love:
If you have sensitive skin, get bedding made from hypoallergenic microfiber like one from MIZONE.
Students who want something different from the usual solid colors will find the plaid design to be the most appealing.
The set comes at an affordable price, costing less than $39 for a 3-piece set.
The decorative pillow is a good addition to your bed. Aside from adding accent, it may be used to elevate your head or for added back support.
Things to Consider:
Some students may be more interested in a set with more inclusions. Nevertheless, if you're just looking for the essentials, then this is a good option.
OMR Advantage Score: 9/10
---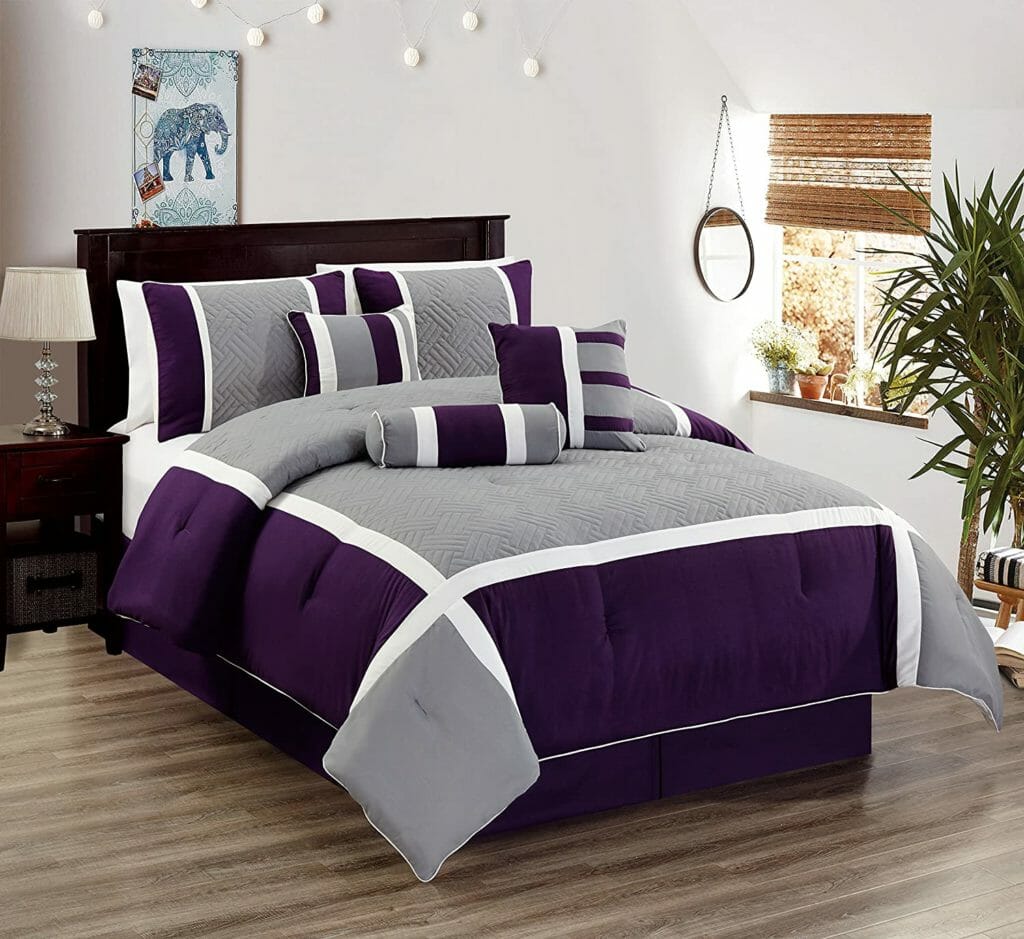 The All American Collection comes in a seven-piece set, including a comforter, decorative cushions, and pillow shams. The set also comes with a bed skirt to cover the space under the bed frame, adding another layer of style to the dorm room. All the pieces are made from 100% polyester that is stain-resistant and machine washable.
This set features geometric patterns in purple, white, and grey colors that are easy on the eye and may add more color to your sleeping area. In addition to enhancing the appearance of your bedroom, the decorative cushions may also maintain good posture since they make sitting upright more comfortable. In addition, the comforter is designed to be durable to last for a long time and may also be used during all seasons.
Strengths We Love:
Buying this set is worth your money because it includes seven pieces. The cushions are a fantastic addition to the set since they're both decorative and functional.
The bed skirt may help make your bed seem more organized by covering the space under your bed.
The material used for the set pieces provides durability and comfort at the same time.
Having machine washable beddings are extremely convenient for students living on campus halls since it won't take much effort to clean.
Things to Consider:
The color combination may not appeal to everyone. Regardless, the color scheme creates an environment of elegance and comfort that some students may appreciate.
The product has mixed reviews but is generally received well due to its lightweight.
OMR Advantage Score: 8.5/10
The Takeaway
Staying on campus halls is part of every student's college life. Besides eliminating the inconvenience of traveling to school, students get the opportunity to connect with roommates and new friends. They become more independent as a result!
However, students living on-campus are usually provided with basic room amenities. One way to elevate your dorm is by adding some stylish bedding. Aside from adding your style, it may also help you get a good night's rest, especially after a busy school day.
When it comes to college dorm bedding options, find what suits your preference and budget. Get your money's worth from complete sets that provide bed covers and bath essentials. If you're more concerned with the overall look of your bedroom, explore the different color schemes and patterns.
When choosing the right bedding for you, consider the cleaning instructions; remember that machine washable sheets make your life easier. Check product reviews online to help you get the ideal bedding for your dorm room stay.