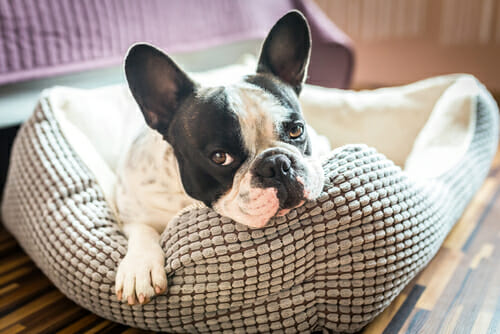 Dogs need their beds to rest, recharge, and sleep on! While sleeping with pets is quite common in the United States, it isn't advised because of both humans and canines' health risks. People with pet allergies or asthma are strongly advised to avoid sleeping with their dogs since dander can trigger attacks, not to mention that pets can disturb sleep patterns due to their snores and movements.
But it isn't just about people either! Puppies sleep for up to 20 hours a day, while older dogs typically snooze for 9-14 hours, a combination of napping throughout the day and sleeping during the night. Dogs will also spend 5-7 hours resting and lounging, perhaps observing the goings-on in their environment.
It then becomes clear that dogs need a soft, comfortable, and supportive bed regardless of their age, breed, and gender! Their beds will provide them with a place to sleep on, rest, and recharge their bodies and spirit – and when they are happy, so will you be. They will also be healthier because the right bed will let them enjoy a good sleep, avoid the negative effects of sleep deprivation, get support for their joints, and have a place to call their own.
Find a dog bed to suit their needs by using these quick links:

What happens if your dogs don't have beds of their own? Keep in mind that dogs will look for warm, safe, and soft spots because of their denning instinct, and even dogs in the wild will gather leaves or find soft sections of grass as their beds. In your home, your dogs will likely collect clothes, blankets, and pillows to make a cozy spot, perhaps claim a snug spot in your bed or couch.
And then there's the matter of the number of beds you should buy. You may want to buy each dog at least two beds so that he will have the perfect place to sleep and rest in his favorite spots around your home. You can save yourself the hassle and lower back pain of lugging a dog bed around to different areas in the house, such as your living room, kitchen, and the floor beside your bed.
You must first identify the places where your dogs love to sleep and rest. You can then buy at least two dog beds for each dog that can be placed in their favorite spots. You may also observe that your dogs like cuddling, so a large single bed will likely suffice.
Be sure to put dog beds in warm, quiet places where your dogs will not be disturbed by human traffic. Check that these areas are also free of drafts since temperature and humidity fluctuations can have adverse health effects.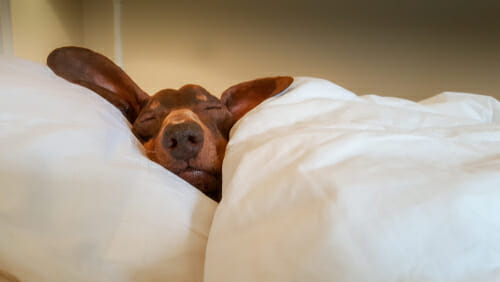 Because dogs come in all types, shapes, and sizes, there isn't a one-size-fits-all dog bed or mattress. Chihuahuas and Saint Bernards have different needs, and so do puppies and elderly dogs. Each dog's specific needs, including age, weight, and breed, and health condition, must be considered when buying their bed. Every dog's specific sleeping style, chewing and bathroom habits, and personal preferences must be considered, too.
You can start with your dog's size – measure from nose to tail and add a couple of inches, which will be the basis for the bed's size. While dogs like to curl up, it's still a good idea to choose a bed that will allow your dog to turn around before lying down and stretch his legs before getting up. Your dog must lie comfortably in whatever position he desires, from curling up into a ball to stretching all four legs out.
Dog beds should have sufficient padding and be made from comfortable and washable materials, too. These should be waterproof or water-resistant, too, since dogs can urinate and sweat on them – such quality will prevent beds from getting damp and developing mold.
These beds must also be chosen based on your dogs' unique personalities. If your Labrador a shy or nervous dog, then an igloo-type bed will be more suitable since he can seek comfort inside it when he feels overwhelmed. If your Great Dane has joint problems, he will benefit from an orthopedic bed with a raised platform.
The bottom line: Take your time when choosing dog beds for your dogs! You don't want to rush the process and end up with dog beds that your pets won't use because they are too small or too big, too hard, or too soft. You also don't want the hassle of dog beds that can't be easily cleaned and aired.

Fortunately, we can make the selection process by presenting to you the 12 best dog mattresses! We chose these beds according to three categories – highest quality, the best value, and most affordable – and each category has four beds, namely one each for small dogs, large dogs, senior dogs, and dogs with special needs. We selected them based on comfort, the convenience of cleaning, and durability, among other factors.
If you buy products based on a "buy nice or buy twice" motto, then you will find the highest quality beds as the best choice. These beds will last for several years of regular use and with proper maintenance, provide excellent comfort and support, and designed with ease of cleaning in mind.
The best value for the money beds represents the most beneficial combination of cost and quality that will meet or exceed a discerning customer's scrutiny. Cost refers to the whole life cost or the total expenses of owning a product over its entire lifetime, from buying it to disposing of it. Quality means meeting the purpose for which a product was purchased that, in this case, means giving your dogs great beds of their own.
Don't dismiss the most affordable dog beds as cheap products! We chose them because their prices were low enough for most pet owners to afford them without sacrificing good quality. These beds also provide comfort, support, and a feeling of safety for dogs without breaking the bank.
Highest Quality Dog BEDS
For Small Dogs:
Orvis Memory Foam Wraparound Dog Bed
Most dogs like to curl up while sleeping because it conserves body heat, and it's a throwback to their wild past – the curled-up position protects their most vulnerable body parts, their abdomen, and internal organs. The best bed for small dogs who like the donut sleeping position is a wraparound bed, such as the Orvis Memory Foam bed, because it adds to their sense of safety and security.
The oval-shaped bolster provides all-around comfort and support, whether used by a puppy or an older dog, resulting in restful sleep. Your dog can also rest his head on the outer ring as if he has a pillow.
Unlike many dog mattresses, its open-cell foam isn't chopped foam but a single piece of foam. Whenever your dog lies on the bed, the memory foam will compress and conform to his body shape. Your dog will then benefit from the even distribution of his weight across the foam that, in turn, means greater comfort, lesser stress on his joints and pressure points, and better blood circulation.
This means your small dog will enjoy a more restful sleep and enjoyable relaxation times! There are neither hard lumps nor soft spots on the bed since memory foam bounces back, so to speak, to its original shape. The memory foam doesn't need as much fluffing as regular foam, a convenient pet owner feature.
The 3.5-inch memory foam used on this bed is low VOC, Certi-PUR-certified foam without heavy metals, phthalates, and formaldehyde – a 100% safe bed! There's little to no chemical smell as soon as it's opened from the box.
Don't worry about the memory foam being damp or wet from accidents either, thanks to the hypoallergenic, water-resistant liner that protects it. The zippered liner itself can be easily removed and washed if it's dirty from regular use or accidents. The sleeping surface itself is made of durable material that will not pull, pill, and shed regardless of your dog's restless movements while on the bed.
With the ease of cleaning combined with durable materials and construction, it's the perfect bed where you're concerned. Your dog, on the other hand, will love the comfortable and supportive foam. Indeed, it's a win-win for everybody!
For Large Dogs:
Furhaven Pet – Plush Faux Fur and Suede Sofa-Style Dog Bed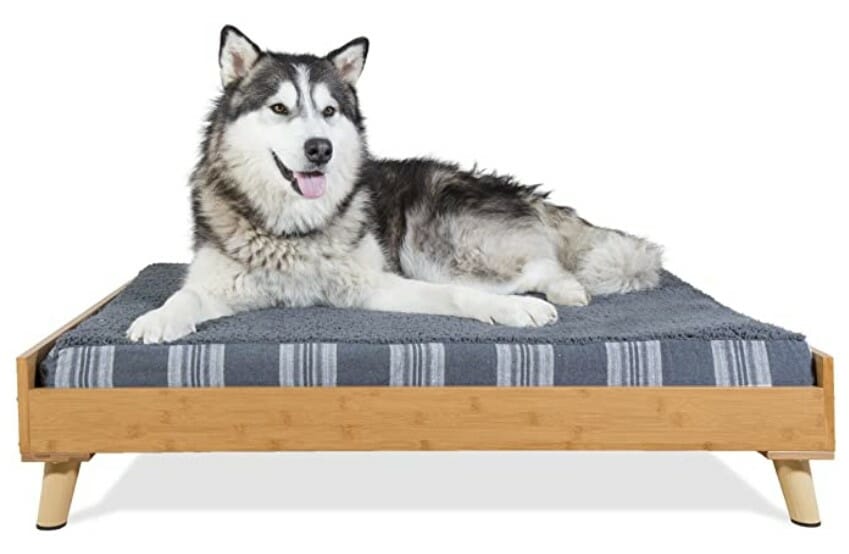 Large dogs can benefit from raised or elevated beds since they can easily get in and out, particularly among older dogs with joint issues like arthritis or hip dysplasia. The Furhaven Pet sofa-style bed is high enough for lesser debris finding its way into and under it but low enough for a large dog to get on and off easily. The raised design also makes it easy to sweep under the bed, a must to ensure that your large dog will have a clean place to call his own.
The frame itself comprises four metal leg stubs and bamboo slats for the sides and bed, a sturdy and stable design that will withstand the weight of a full-grown American bulldog or a Belgian Malinois. The size itself, 45.9″ x 37″ x 9.8″ (Jumbo), is also suitable for a large dog's bulky frame, especially when he likes to sleep and lounge in the lion pose, the superman position, or on the side. Indeed, both its weight capacity and size are designed to make large dogs happy, whether they are enjoying a full night's sleep or dozing during the day.
While the bed requires assembly, it doesn't require special tools, and it only takes 15-30 minutes to put together. The bed frame partitions and metal legs have already been pre-drilled, so it's only a matter of putting the pins into the holes. Once assembled, it's light enough to transfer to your dog's favorite spot, not to mention that it will blend in with your home's modern interior.
The raised bed comes in three finishes – bamboo, walnut, and gray wash – so there's no issue of it sticking out like a sore thumb from the rest of the décor. Each of these finishes, nonetheless, can be paired with your choice in a mattress, from faux fur to fabric with a protective cover.
The faux fur in merlot red and sable brown variants are highly recommended because they consist of multiple layers of 100% fluffy filled bolsters and plush fake fur on top, followed by cooling gel foam medical-grade foam underneath. Your large dog will love the soft sleeping surface, thanks to the plush fabric and the comfortable yet supportive layers of foam.
On your part, you will like that the sofa bed can easily be washed and cleaned.
For Senior Dogs:
Friends Forever Orthopedic Dog Bed Lounge Sofa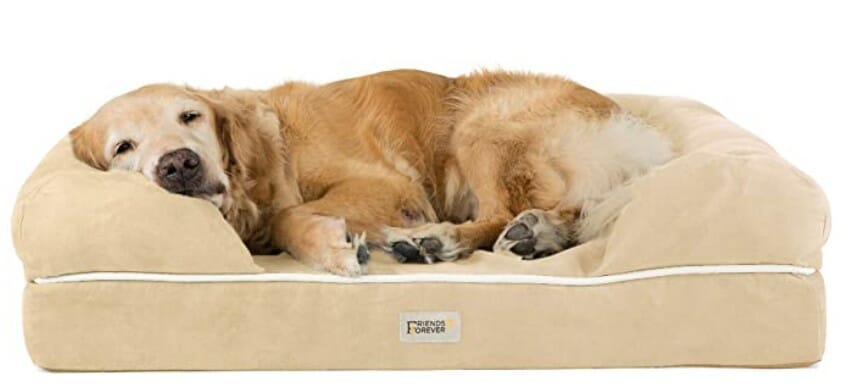 Senior dogs have a wide range of issues, from joint problems and anxiety to increased house-soiling, changes in the wake-sleep cycle, and decreased interaction with others. While changing your senior dog's bed won't solve all these issues, it will make your pet's quality of life better! The Friends Forever bed comes highly recommended because its design ensures maximum support and comfort for your dog's aging body.
For one thing, it's made with human-grade foam, a high-quality material known for its body-conforming quality. When your dog lies on the bed, its memory foam reacts to his body heat and conforms to his body shape within a few minutes. Your dog's joints and pressure points aren't subjected to unnecessary stress and, thus, he's able to enjoy a more restful sleep – faster to doze off and longer in duration.
Look at your dog when he's sleeping on this bed. You will see that his head and neck, back and spine, and front and back legs are in near-perfect alignment as if he's standing up. This signifies that his joints aren't being distorted into unnatural positions that otherwise can worsen his health issues.
The bed's design also makes it easier for a senior dog to get on and off it. The front part is open, so your dog can get on and off it without much effort, while the three sides create a cocoon-like effect, which makes him feel cozy and comfortable. Your dog can also use the bolster as a pillow for his head when he's in a curled position.
Indeed, this is the perfect bed for a senior dog – deep, soft, and roomy! Don't be surprised if your dog spends more time in it than in any other place in your home. Get the right size: it's available in small, large, and extra-large sizes.
Are you worried about the increased incidence of house-soiling in your senior dog? It shouldn't be too much of an issue with this bed since it's easy to clean. The softcover can be removed and washed, either by hand or in the washing machine, not to mention that it has a non-skid, non-slip bottom for your dog's safety.
This bed comes with a limited 1-year warranty.
Best Value Dog BEDS:
For Small Dogs:
Best Friends by Sheri – OrthoComfort Deep Dish Cuddler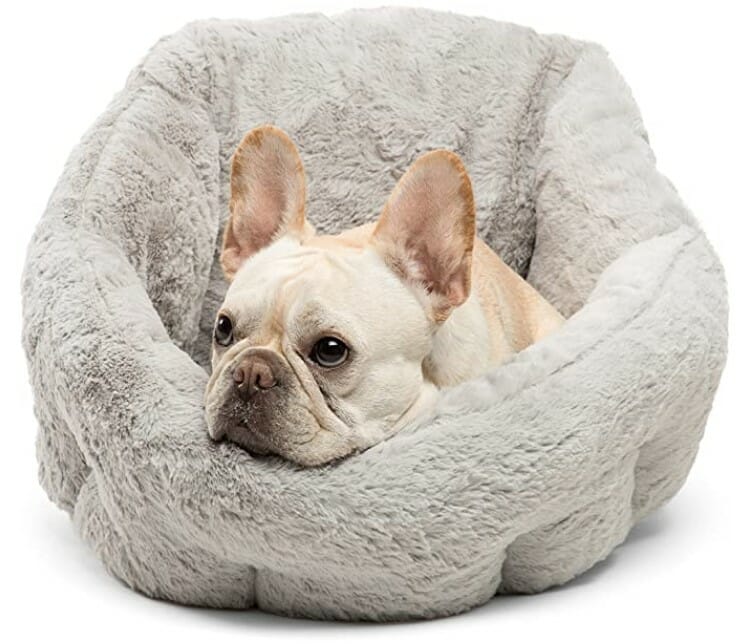 Dogs are den animals regardless of where they live, in the wild, or in a home. Their den should be enclosed, a personal space where they can feel safe and secure from the outside world, as well as large enough for them to stand up and stretch. Their sanctuary must also provide them with the feeling of being cocooned, so it should be small enough to fit just one dog.
And the Best Friends deep dish cuddler meets all these requirements from the first get-go! While it seems like a simple basin-shaped bed, it's designed with optimum denning in mind. Its back wall is higher than its front and sidewalls, a deliberate design intended to provide your dog with a feeling of being cocooned on all sides with emphasis on his back.
Its design allows a small dog to quickly get on and off the bed since it lies close to the ground. It's front and side walls can also serve as a headrest if your dog is into pillows. Your dog will feel like he's in an actual den, an experience made even more enjoyable with the deep crevices inside the bed where he can burrow even further.
But it isn't just the design that makes it stand out! The walls are made of soft and thick fabric that feels like fur, akin to a puppy being cuddled by his mother. Such a sense of security boosts your dog's well-being, too, resulting in his happier disposition – and the happier your dog, the happier you will likely be! The bed also holds its shape even with regular use, thanks to the durable stitching along its sides that also keep the filling in place.
The fabric itself can be manipulated to be folded to create a den or spread open, a feature that allows for a customized sleeping experience and overall versatility. While it seems difficult to clean with its fur-like fabric, it's easy because it can be cleaned with a vacuum or washed in the washing machine. Plus, its bottom is made of nylon, a fabric with high resistance against water, dirt, and dust –wipe it with a damp cloth, if necessary.
For Large Dogs:
Dogbed4less Jumbo Orthopedic Pet Bed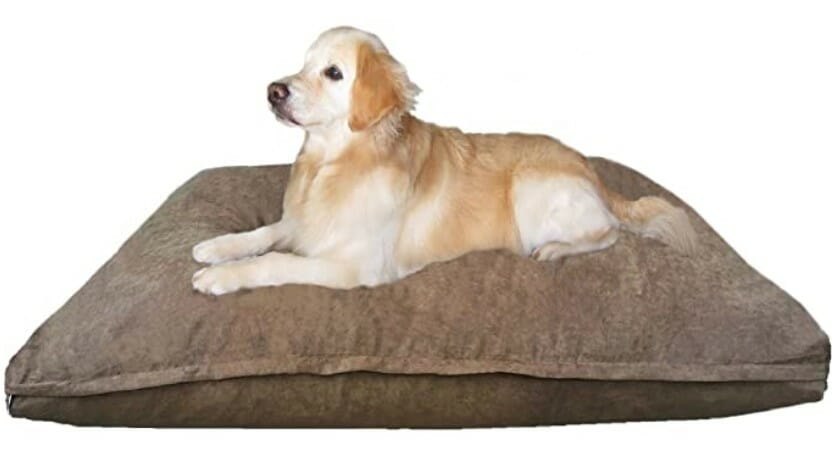 Sometimes, the simpler the bed, the better its functionality and quality! With this one, there are no complicated assembly, use, and maintenance measures to worry about, and, thus, the focus can be on the quality of materials and construction. This is what we saw in the Dogbed4less jumbo orthopedic bed – it may be simple in appearance, but it delivers the best value for the money.
Since it's a jumbo pillow (55″ x47″), there's no assembly involved – unwrap it from its package, let it sit for 24 hours for its desired shape to materialize gradually, and place it in your dog's favorite corner. When it becomes slightly deflated from your dog's weight, it can be fluffed again to restore it to its normal height and shape. While you're at it, you can also vigorously dust off the buildup of dust, debris, and dander on its surface.
But if it needs to be washed, it's easy enough because of its removable suede cover that you can wash by hand or in the washing machine. The 10-inch overstuffed shredded memory foam is protected from dust, dirt, and moisture by a waterproof internal cover, which prolongs the bed's life even with all-day, all-night use.
The stuffing, a combination of premium poly-fill and shredded memory foam, can support a large dog's weight up to 132 pounds. Take note that shredded memory foam makes for a more comfortable and supportive sleeping surface, a great feature for dogs with joint issues in particular. The individual pieces of foam mold to your dog's body shape faster and better, so his entire body enjoys maximum comfort and support, not to mention that these are easier to fluff and last longer.
Shredded memory foam also holds its loft, height, or five times longer than solid memory foam. This means there's less fluffing required, but the jumbo pillow will not flatten too fast; frequent fluffing and flattening are common issues in traditional foam beds. Plus, the shredded foam pieces mean there's better air circulation between them, resulting in a cooler, more breathable surface.
For Senior Dogs:
Better World Pets Orthopedic Dog Bed for Aging Dogs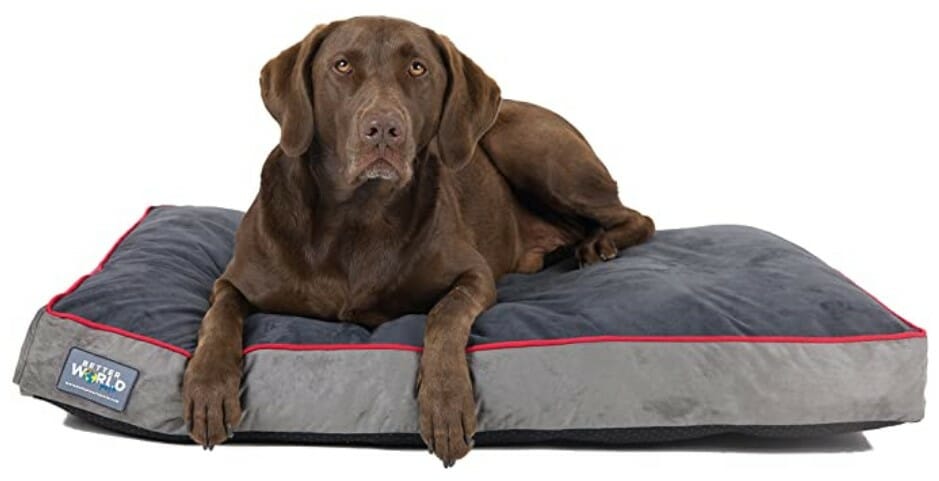 Yet another simple yet effective pet bed is the Better World bed for aging dogs, a best-value bed because it combines good quality with a reasonable price. Small and large dogs can use it, especially dogs who like to adopt a spread-eagle or side position, although it's just as suitable for a curled-up position. Pick the right size for your dog – it's available in small, medium, large and extra-large, so there's a size for every dog breed.
Depending on your dog's preference, the bed can be placed on the floor or a raised platform. Small dogs, for example, will benefit more from an on-the-floor placement because of their shorter legs. Larger dogs may appreciate a raised platform, making lying down and getting up from the bed easier on their joints. Either way, the bed provides a soft yet supportive and comfortable surface for aging dogs to sleep and rest on.
The 5-inch 100% shredded memory foam pieces are densely packed, so the bed provides a balance between firmness and softness, a must for aging dogs with joint issues. This is highly recommended for older dogs with arthritis, hip dysplasia, or ACL injury since its filling quickly adjusts to body heat and conforms to body shape while also being cooler on the skin. Your dog will sleep for longer periods during the night because he's enjoying soothing relief for his aching bones.
While traditional foam inevitably flattens within months, it isn't so with shredded memory foam! It holds its shape for longer, even when larger dogs squeeze themselves in it. Yes, it's necessary to fluff it once in a while, but it will be restored to its original loft and softness once it's done.
Other notable features include a well-made removable and washable cover, a waterproof lining as protection against moisture, spills, and urine, and an anti-slip grip on its bottom part.
For Dogs with Special Needs:
The Dog's Bed Orthopedic Dog Bed for Dogs with Joint Conditions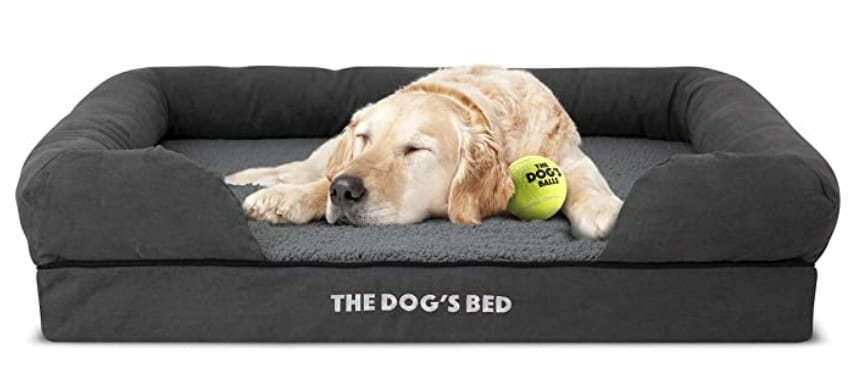 Even younger dogs can experience joint issues and other orthopedic conditions, although these are more common in older dogs. The Dog's Bed orthopedic bed is an excellent choice for these dogs, thanks to its multiple useful features.
The low height makes it easier for sick or injured dogs to easily get on and off it, especially when it's time to go to the potty. The 9-inch bolster on three sides, however, provides your dog with a den-like bed for a safe and secure feeling, a place he can call his home within a home. The bolsters can also be used as a pillow on which he can lay his head or elevate his legs for soothing relief.
The 4-inch foam consists of two layers, so there's an excellent balance between firmness for support and softness for comfort. The bottom layer is 2-inch high-density memory foam, the support layer, while the top layer is a solid 2-inch premium support bed, the comfort layer. Many pet beds only have a single layer, usually traditional foam, which doesn't provide as much comfort and support.
The combination eases the pain caused by orthopedic conditions like arthritis, hip and elbow dysplasia, and torn cruciate ligaments. In dogs that cannot change positions easily, such as after surgery or due to an illness or injury, the memory foam also lessens the risk of pressure sores and elbow calluses. Less pressure is exerted on these sensitive areas resulting in less irritation on the skin, muscles, and bones.
Dogs with special needs are also more prone to accidents, resulting in inconvenience for their humans. But this bed has a removable cover that can be washed and dried quickly, as well as a waterproof mattress protector that prevents urine and other liquids from getting into the foam layers.
Most Affordable Dog BEDS:
For Small Dogs:
MidWest Homes for Pets Plush Dog Bed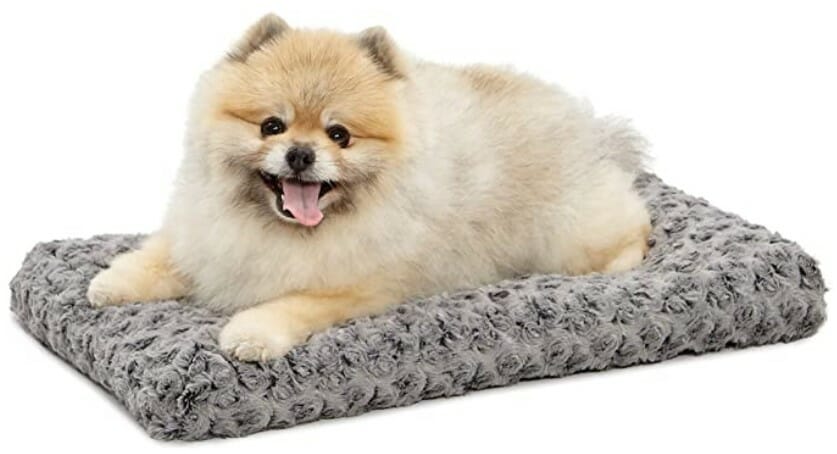 Dogs benefit from lying on a firm surface but not on the cold, hard floor since it's too firm and, thus, bad for their physical well-being. But lying on a too-soft bed isn't a good idea since it doesn't offer the optimum support for healthy joints and restful sleep. You must then find a dog bed with a good balance between plushness and firmness, particularly if you have small dogs like Shih Tzus and Pomeranians.
The MidWest Homes plush bed is the perfect choice because it's both soft and firm, thanks to the combination of a plush polyester surface and a foam layer. The ultra-soft polyester cover, which has a striking ombre swirl pattern, is easy on your dog's body and paws, while the foam layer makes it easy for him to rest easy on the bed.
The bed itself can be placed inside a 24-inch crate so your dog will be comfortable while traveling – no hard wires poking into his skin and hurting his paws. You may also place the bed inside a crate to create a den-like place for your small dog; again, denning is necessary for a dog's physical and mental well-being.
Take note that the bed can only accommodate a dog up to 12 pounds in weight for optimum comfort and support, as well as for quick fluffing. Heavier dogs need thicker beds for the foam to hold up well after a few years of regular use.
The bed also has a detachable and washable cover as well, so stains and dirt can be hand- or machine-washed using water and a mild detergent. It comes with a non-skid bottom, so it doesn't shift whenever your dog gets on and off it or moves around in it, but it's light enough to move from one place to the next.
For Large Dogs: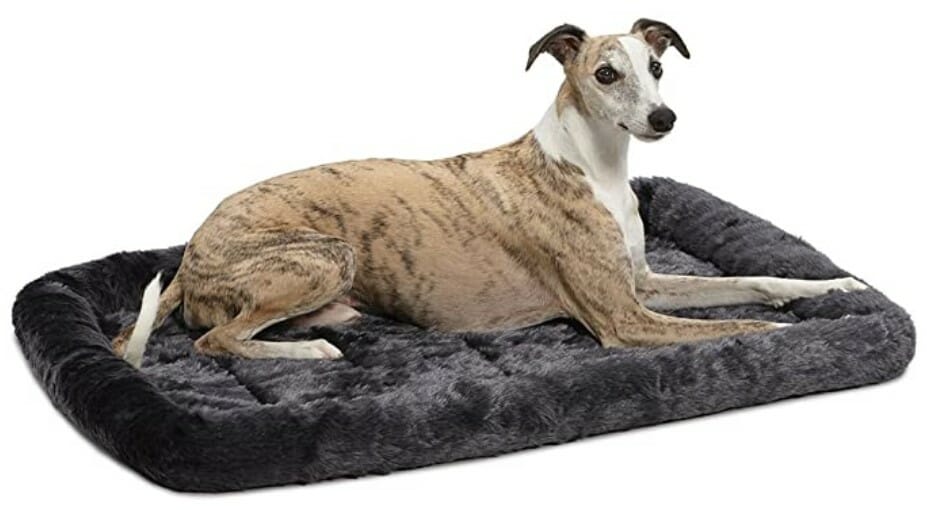 The MidWest bolster bed is an excellent choice if you're looking for a large pet bed that doubles as a standalone bed and a crate cover bed. This will fit inside a 36-inch-long crate that can then be used inside the house as a DIY den or outside when traveling. Your dog will like that it serves as a barrier between the cold, hard floor or the wire grates on his crate – truly, a much-appreciated comfort during his long sleeping and resting hours.
Take note that this is best for medium and large dog breeds, such as basset hounds, Siberian huskies, and retrievers, with weights ranging from 40 to 65 pounds. We don't suggest it for dogs who like to chew on things since it's material cannot withstand the abuse.
But its ultra-soft faux fur material with its foam padding will last for years with proper care and maintenance. When it gets dirty, wash it in the washing machine and let it air dry on the floor before allowing your dog to use it again. It's also easy to shake out in an outdoor area, which will remove the slight buildup of dust, dirt, and debris, including shedding.
The bed has four overstuffed bolsters, a feature that contributes to a den-like feeling for your dog and serves as protection against the hard corners of a crate. Plus, these bolsters can become your dog's head and paw rest.
You can choose from several colors – bluish pink, charcoal gray, cinnamon, powder blue, and white fleece – depending on your dog's personality and your preference. A 1-year quality guarantee comes with the bed.
For Senior Dogs:
Barkbox Memory Foam Platform Dog Bed, Plush Mattress for Orthopedic Joint Relief
Affordability doesn't mean compromising on overall quality, especially if you're looking for an orthopedic dog bed! This Barkbox Memory Foam Platform Dog Bed is a great marriage between affordability and quality and comfort and support for mobility-challenged senior dogs. Plus, it has a few other convenient features not found in more expensive beds, like several sizes and various colors.
The therapeutic gel memory foam material used isn't like memory foam that eventually becomes pockmarked with holes after prolonged use. Instead, it's the kind of material that maintains its overall integrity and, thus, its firmness over an extended period. It's also known for being breathable, so it doesn't harbor moisture from sweat and accidents, and it doesn't produce smelly odors.
More importantly, it has the right firmness that allows for even weight distribution across its surface area, resulting in a near-straight spine alignment, less pressure on sensitive joints and muscles, and less risk of pressure sores. It isn't too soft that your dog will sink to its bottom, but it isn't too firm that his body aches in several different places due to the unwanted pressure.
Senior dogs have their senior moments more often than their humans want, but that isn't a big deal with this bed's removable and washable cover. And… what's more? It comes with a cute squeaky toy!
For Dogs with Special Needs: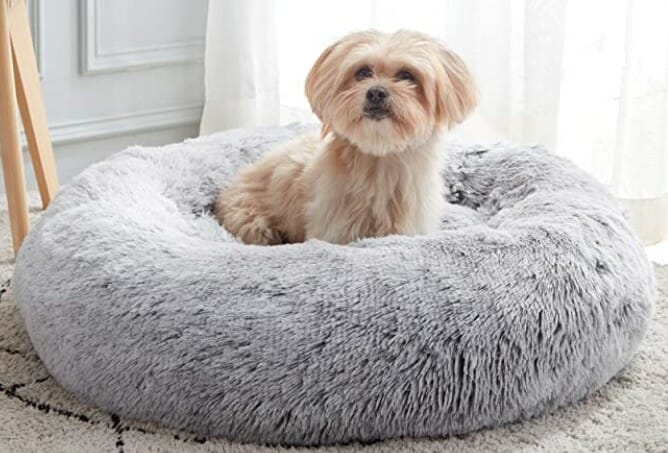 Dogs also experience anxiety for different reasons, such as fear of lightning, physical separation, and loneliness, and they will also look for reassurance and relief. Of course, their humans should ideally be their source of comfort, but the Western Home calming bed is an excellent choice when it isn't possible.
Your dog can rest and sleep in a curled-up position on the bed since it has a donut-like design – a circle with a hole in the middle, the perfect place to enjoy a primeval sleeping position. As previously mentioned, dogs like denning since it gives them a feeling of safety and security from external threats, and being curled up are the best position for it. The raised sides feel like walls cocooning your dog's body that adds to such positive feelings and, thus, reduce anxiety symptoms.
Made of sturdy yet luxurious fake fur, it's also as soft as can be on your dog's skin. Think of it as your dog being cuddled by his mother, which further reduces his anxiety and loneliness. The soft, plush foam also soothes aching muscles and joints by providing a barrier against the cold, hard floor.
CONCLUSION
Dog beds aren't just for show because they provide them with a supportive and comfortable place to sleep; therefore, addressing their need for a den. The trick is choosing the right dog bed based on your dog's unique needs and, of course, your budget.