Day beds aren't just used for daytime activities despite their name! These beds can be comfortable places for taking naps in the daytime, relaxing with a book or watching television, and even sleeping through the night.
These are suitable for use by children and adults alike, although there will be size-related limitations, as discussed below. 
Choices Galore in Day Beds
Just like other types of beds, day beds come in different sizes and styles. But there are several similarities between day beds that every interested buyer must know for comparison purposes.
Day beds usually have three sides that make them similar to sofas in terms of style. The three-sided box design typically includes two short sides on the arms and a high side on the long side (i.e., backrest).
These beds can be made of different materials for the frame, too, with the most common steel and wood, such as pine, oak, and maple. Their durability is influenced not just by the type of material used but also by the care they handle. Steel is prone to corrosion, while wood can crack, but both materials will last for years with proper care.
Day beds come in several types of upholstery, too, if these are sold with mattresses. Take note, however, that most day beds are sold without mattresses (i.e., frame only).
These beds come in different sizes, too, in terms of height, length and width. But the most common daybeds are manufactured to accommodate standard-sized twin mattresses (38 x 75 inches). Few day beds can fit full-sized mattresses. Most day beds are between nine and 14 inches high from the top of the mattress to the floor. But the frame's height itself can vary from 22 to 28 inches.
Day beds can come in two types of construction. First, a link spring foundation with wires running through the frame in a grid-like structure, both horizontally and vertically. The wires are, in turn, attached with springs to the frame's side panels. The result is a sturdy and stable base that acts like a traditional box spring. Second, a slatted foundation wherein the slats can be made of either metal or wood. These slats are typically spaced about two to three inches apart for sturdiness. The choice between these two types largely boils down to your personal preference and budget since both can be durable with proper construction.
Take note that day beds are larger than love seats but smaller than sofas. For this reason, these are popular pieces of furniture because of their versatility in placement and uses.

These can be placed in a large room for a more welcoming effect or a small room for more seating. These can also be placed against a wall or placed as a standalone piece, such as part of a lounge set in front of a television.
These can, of course, be used as seats in a living room or as beds in a guest bedroom, perhaps as extra seats and beds in the living room.
Day beds can even be used as transition beds for children! Parents use day beds to ensure a smooth transition from crib to bed for their toddlers. The three-sided design evokes the crib's safety while the open side encourages a sense of independence in young children, a big bed yet still in their size.
Many homeowners use day beds in the interior parts of their homes. But that doesn't mean that you can't experiment with these beds by placing them in semi-outdoor settings, such as in patios or porches. Just be sure that their mattresses have suitable covers to prevent moisture from the environment, such as rain and snow, from seeping into the foam.
To Trundle or Not to Trundle?
And then there are day beds with trundle beds, which expand the consumers' choices. A trundle bed is a bed under a day bed with both being of the same size. The former rests on a platform with casters or wheels that make it fast and easy to pull it out of the latter when necessary.
As for its purpose, a trundle bed maximizes under-bed space and provides an extra bed without the added space when it's under its corresponding day bed. In most, if not all, cases, the mattress for the day bed is thicker than that for the trundle bed due to space constraints for the latter. The difference in mattress thickness should be considered when buying the beds' separate mattresses.
But is a day bed with a trundle bed a good idea for you? It may or may not be depending on your unique answers to these questions,
Do you frequently have guests who stay overnight or children who like to host sleepovers regularly?
Do you struggle with limited space for overnight guests in your home or your guestroom, or your children's bedroom?
If your answers were "yes," consider the two-in-one piece of furniture! You and your family members can use the day bed for lounging and napping and then as extra beds for overnight guests.
In our list of the ten best day beds in 2021, we chose day beds with trundle beds for their versatile uses. While these are slightly more expensive than standalone day beds, these are well worth the money.

Methodology in Choosing These Day Beds
With dozens of choices in day beds with trundle beds, hereafter referred to simply as day beds, it can be a bewildering experience for many people. We narrowed down these choices into the best ten by using the following criteria.
The materials used for the frame should be strong enough to withstand regular use over several years and sturdy enough to hold the people's weight on the day bed. The day beds here are made of either solid wood or thick metal, or both. Their padding and upholstery, usually on their sides and backrest, must also be made of a durable material like foam and leather.
But we're not just talking about high-quality materials! The day beds' construction must also be at par with industry standards, such as the quality of the welds or the longevity of the wood. Their build quality should allow adults and children to sit or lie down on them without fear of the frame breaking down underneath them.
All day beds are shipped in separate components, sometimes in two to three different boxes. These must be fairly easy to assemble with standard tools found in your home and comes with accessories and instructions. The accessories may include screws and clips for securely attaching the different parts.
Ease of finding appropriately-sized mattresses and beddings
Since most, if not all, of day beds, only come as a frame without their two mattresses, the importance of finding suitable mattresses cannot be overemphasized. The manufacturer should provide precise frame measurements and, if possible, recommend properly-sized mattresses (i.e., where and what to buy)
The day beds were chosen for their universal appeal to contemporary consumers, although it must also be said that their overall design lends itself well to personalization. Aside from the fitted sheets, colorful throws and throw pillows can be used to spruce up the day bed itself. With limited space under the day bed, the trundle bed can only be covered in a fitted sheet.
The price tag was also a consideration, and we suggest choosing a day bed according to your budget. Just remember that you will likely get what you pay for, as with any piece of furniture. If you can spare extra dollars for better quality, then go for it!
---
The Best Day Beds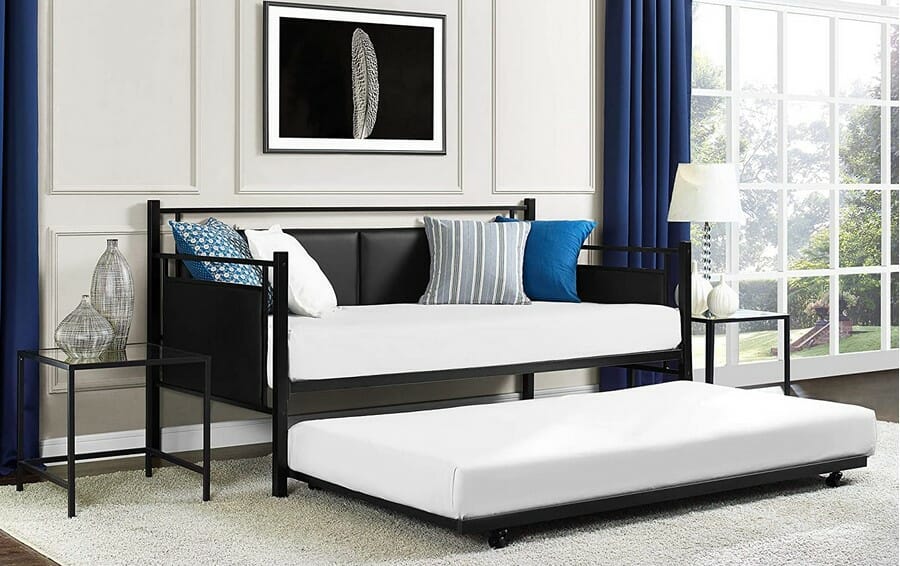 Basic Information
Size: 41 in x 77.5 in x 40 in (Twin)
Weight: 84 pounds
Construction type: Slatted foundation
Product Highlights
No additional foundation required
1-year limited warranty
Upholstered arms and backrest
The DHP Astoria day bed is as contemporary as it can get! The slatted foundations for the day and trundle beds are made of black metal, a neutral color that lends itself well to dressing down or dressing up. The upholstered sides and backrest are also in black faux leather, an easy-to-care-for material.
The overall impression is a day bed placed in the living room, bedroom, or patio. With a thick mattress and throw pillows on the day bed, it can pass for a small sofa, too. The black-on-black style serves as a beautiful backdrop for whatever design inspiration comes to mind, whether neutral colors or bold hues.
The slatted foundations are strong enough to carry the weight of a twin-sized mattress and the weight of a full-sized adult on each bed. Each bed accommodates a standard twin-sized mattress, which isn't included in your purchase, but each bed has different weight limitations.
The day bed has a weight capacity of 400 pounds, while the trundle bad has a lower 225-pound weight limit. These weight limitations are important when assigning who will sleep in each bed. The lower weight capacity in the trundle bed is due to its base – four caster wheels only.
Both beds weigh 83.5 pounds in total, so it's best to assemble the parts where you're planning on placing the day bed. But it's quite easy to assemble, and its instructions are clear, too. You may want to ask for assistance during assembly, and it should take about an hour for it to be set up as intended.
All the parts come in a single, albeit, long box. We suggest reading the instructions first, so the screw and plastic clips are in their proper places. This must ensure that the parts won't fall apart, resulting in injuries to the sleeping individuals.
Once assembled, the day bed and trundle bed looked simple yet sophisticated, just waiting to be spruced up. The mattresses for each bed should be different in thickness, so be sure to measure the frame.
A 10-inch mattress works well for the day bed, and an 8.5-inch mattress fits the trundle bed. But if a 10-inch mattress seems too high, such as when children and teens will use it, then an 8.5-inch mattress for the day bed will suffice.
The day bed doesn't just look like an expensive piece of furniture! It's also strong and sturdy, that it's well worth the money. The metal frame doesn't bend easily under two adults sitting on the day bed. The upholstered arms and backrest can take a pounding, too, from resting heads and backs, not to mention that these are easy to clean with a damp cloth.
The rolling trundle bed also easily disappears under the day bed. But the caster wheels may not be as easy to maneuver on some floor surfaces, such as with a thick carpet.
---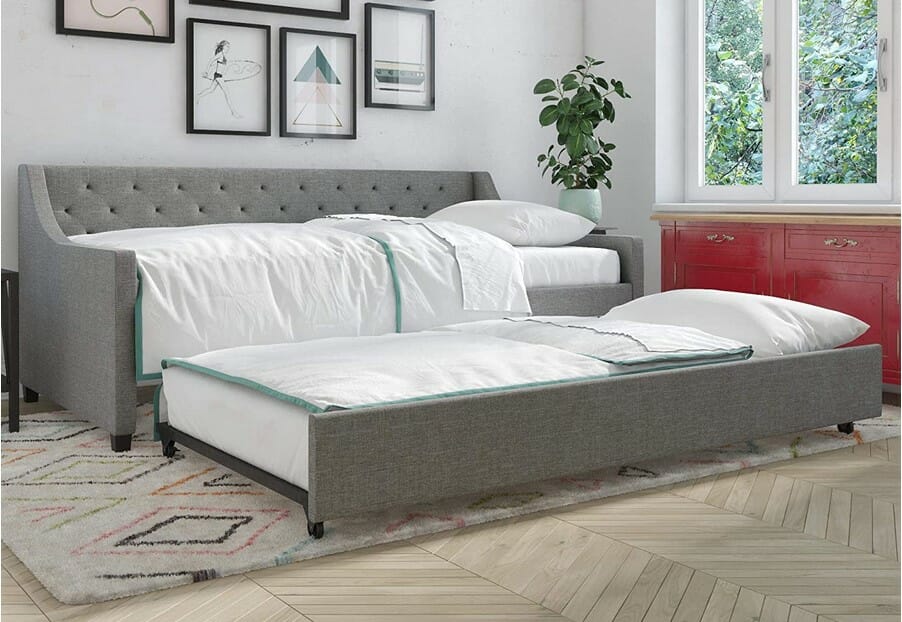 Basic Information
Size: 43.5 x 75.5 x 33.5 inches (Twin)
Weight: 96 pounds
Construction type: Slatted foundation
Product Highlights
Elegant design featuring tufted upholstery
Durable wood frame
Upholstered base
Many day beds look like bland furniture sold to make a buck, but this isn't the case with the Novogratz Her Majesty upholstered day bed! You are likely to fall in love with it at first glance because it's so beautiful, a day bed fit for royalty, from its sophisticated design to its lush materials. Even with the slats in full display, you can already imagine the inspired themes possible to spruce it up from a frame to a three-in-one furniture piece!
Once there's a mattress and other striking accessories on the day bed, it doesn't seem like a day bed at all! The trundle bed fits so snugly under it that it seems like a single piece of furniture – a cozy sofa that can sit up to three adults. But once the trundle bed is pulled out, its true versatility is revealed – it's a sofa, a twin-sized bed, and another guest bed.
The bases for the day are tapered wooden legs, which add to its elegant look. The trundle bed, however, has caster wheels that lock in place. The combination of wood base and metal casters may be a bit jarring in the overall design scheme, but the wheels serve a purpose – to make it easier to pull out the trundle bed.
But what immediately takes your attention is the stylish finesse of the upholstery work! The backrest's diamond-tufted backrest features fine artistry uncommon in affordable day beds. There's such a striking symmetry to the pattern that it would be a shame to cover it with throws.
And then there's the premium linen that covers the entire day bed's surface, from the front to the back, resulting in a luxurious feel from a reasonably-priced product. This can be placed in the middle of the room since the back is as pretty to look at as the front. Even the trundle bed is covered well in the same premium linen.
Beauty is nice, but durability is nicer, and the Novogratz Her Majesty upholstered day bed delivers on both aspects. The wooden frame looks and feels solid even with two or three adults sitting on the day bed. You can test it by bouncing a bit while sitting on it, and it will hold its own – no squeaky sounds and swaying motions.
But the day bed and trundle bed have different weight limits, too. An adult up to 400 pounds can supposedly lie down on the day bed, while a 250-pound adult can use the trundle bed. We don't suggest testing these weight limits, but we recommend going significantly below them for durability purposes.
As for mattresses, these beds will accommodate twin-sized beds. But a 6-inch mattress is best for the trundle bed, so both can fit snugly underneath the day bed.
With the right mattresses, you or your guests will enjoy restful naps and nighttime sleep. The slat system ensures that the mattresses are well-supported and well-ventilated from underneath. Your shoulders, lower back, and hips have sufficient support, and you will sleep cooler, too.
The shipping box itself is heavy, but the assembly is quite easy, too, with an assistant.
---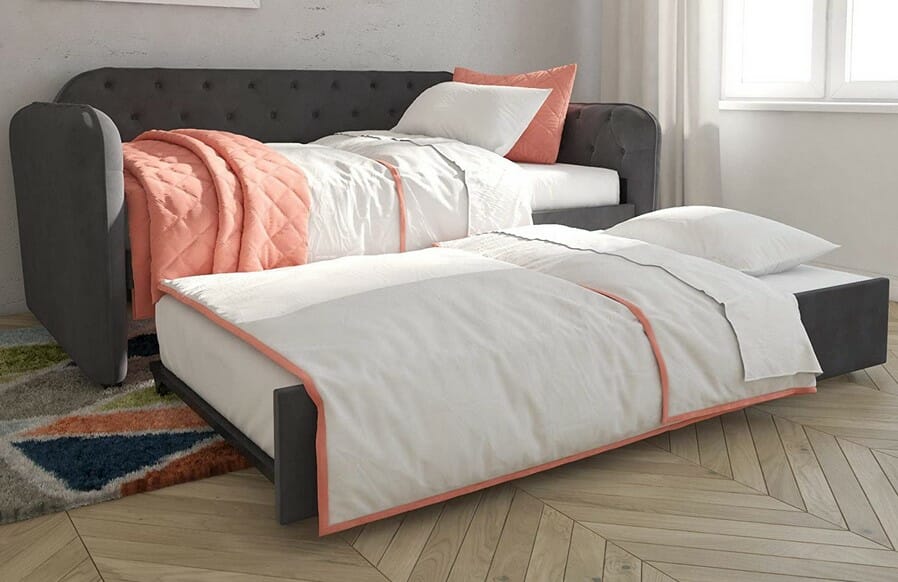 Basic Information
Size: 48 x 85.5 x 37 inches (Twin)
Weight: 142 pounds
Construction type: Slatted foundation
Product Highlights
Wood frame with plush velvet cover
Available in pink, gray, or blue
Tufted backrest
Yet another lovely day bed from Novogratz is the Tallulah tufted day bed in your choice of gray, pink, or blue upholstery. Unlike the Her Majesty version with its wingback armrests, it has rounded armrests that seem cozier. Even the tufted backrest has a more rustic appeal with its button detailing; the Her Majesty version has diamond patterns.
But the Tallulah day bed has a striking beauty about it, too! Everything about it, from the premium velvet material to the wooden base and caster wheels, speaks of attention to detail. Run your hands on its surface, and the velvet feels lush and flush. Sit and bounce on the day bed and feel the frame's sturdiness.
Indeed, it's the wooden frame's durable construction that made us sit up and take notice more than its striking design! The solid wood is nearly flawless – no cracks, dents, and chips when it was delivered. Once properly assembled, the frame has a sturdy and stable quality that speaks about its longevity.
But we must warn you that even the sturdiest frame has its weight limits and the Tallulah day bed isn't an exception. These are 400 pounds for the day bed and 250 pounds for the trundle bed.
Such sturdiness comes from the unique bentwood slat system used in many Novogratz day beds. The slats are well-spaced to ensure that the mattress place on top will have excellent support. There should be no noticeable sagging in one or more parts of the mattress since all of its surfaces contact the frame and its slats.
Such excellent support translates to better body weight distribution when you're lying down on the mattress. Your shoulders, lower back, and hips will be in neutral alignment, and, thus, you're less likely to suffer from back pains. You will also notice that the slats remain in place despite your movements on the mattress.
The slats are also designed for better airflow underneath the mattresses. This should not only mean sleeping cooler but also preventing moisture from building up on the foam.
The mattresses are sold separately, but you may also use your existing twin-sized mattresses on the day and trundle beds. But note that the mattress on the trundle bed may be thinner than that on the day bed. You must still be able to push the trundle bed with its mattress underneath the day bed with no difficulty.
The covers on the upholstered parts should not and cannot be removed. But life happens, and it comes in the form of food stains, bodily fluids, and even pet accidents. In case cleaning is a must, the manufacturer suggests using a mild detergent and water mixture in spot-cleaning the unwanted spots.
The day bed is shipped in two boxes with the necessary parts and instructions. Reading the instructions is recommended, but the beds are designed in such a way as to make assembly easier for anybody with common sense.
---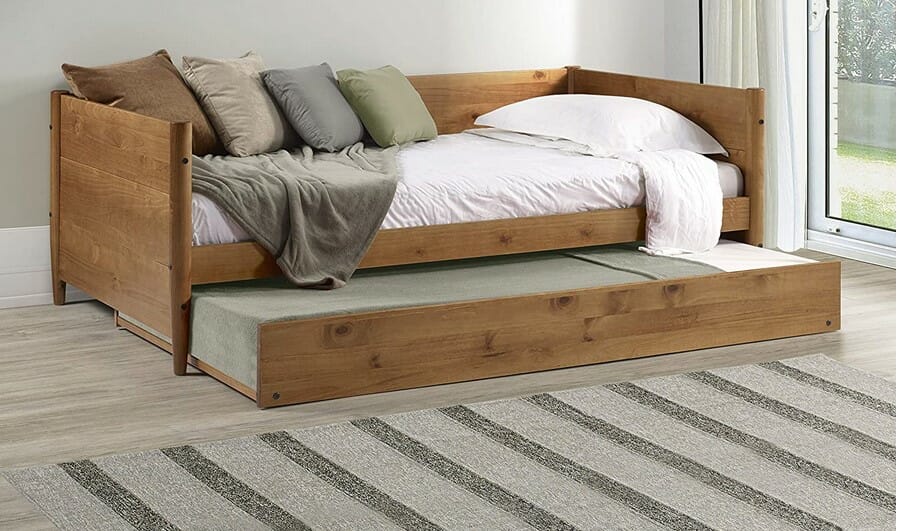 Basic Information
Size: 79.75 x 42.13 x 29 inches (Twin)
Weight: 106 pounds
Construction Type: Slatted foundation
Product Highlights
100% solid wood frame
With urethane finish as an accent
Mid-century modern design with a country aesthetic
If you're looking for a rustic yet chic day bed with a trundle bed, then you must consider the Camaflexi Mid-century day bed. Yes, it's somewhat on the plain side in comparison with the fanciness of the Novogratz daybed. But therein lies its beauty – its simplicity makes it a blank canvas for your artistry!
This can be a day bed fit for a young girl with pastel beddings and accessories, such as pink-hued pillows, throws, and blankets. This may also be a day bed for young boys, perhaps twins, with cars, trains, or planes as the theme. The day bed can also be a teenager's sleepover bed for friends, or an accent piece in a home office, or a place for lounging on the patio.
Indeed, it is 100% solid wood construction may have a log cabin aesthetic, but it can be just as much a piece of modern furniture as your sofa or bed! The trick is choosing the right beddings and accessories to accentuate its natural beauty and transform it into whatever design you desire.
Don't be deterred by the variations in the wood grain because it's natural. Instead, focus on the fact that it's made of 100% solid wood, not the flimsy manufactured wood that bends under pressure. Knocking on wood's surface reveals that it has a solid feel and sound to it, too.
But with solid wood comes heavyweight. Be sure to assemble it in the room where it will be placed and ask for its assembly. Many customers say that it took about three hours of manual assembly, but it can be quicker with power tools. But if you're not adept with power tools, then a screwdriver and Allen wrench will suffice.
When properly assembled, the finished frame has a sturdy and stable quality that many metal day beds lack. The base of the day bed and the trundle bed is close to the floor, too, so there's less wobbliness. This is true even when children bounce around on the beds, which is popular among parents with toddlers.
The day bed and trundle bed fit well when the latter is placed underneath the former. There's a small gap between the two, but these beds look like cohesive parts of a whole unit. The trundle bed can be quite easily pushed in and pulled out from underneath the day bed, particularly over smooth floors.
But if you're thinking about moving the entire bed with its two mattresses on, think again! The heavy wood is a pain to move.
The wood itself has a urethane finish that acts as a protective layer and an accent. Each finish brings out the unique grains in the wood, so no two Camaflexi Mid-century day bed looks the same. There are two clear finishes to choose from – Castanho Brown and Scandinavian Oak.
---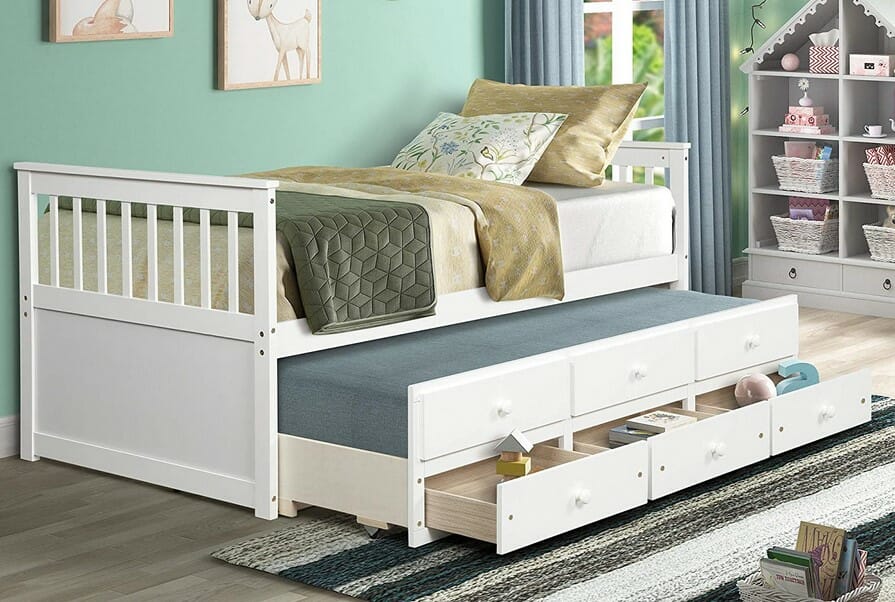 Basic Information
Size: 75.9 x 45.3 x 35.8 inches (Twin)
Weight: 132 pounds
Construction type: Slatted foundation
Product Highlights
Solid wood frame
Comes with three drawers and a trundle bed
Slatted headboard and footboard
Unlike most of the day beds on this list, the LZ Leisure Zone Captain's day bed doesn't have three sides. There's no backrest, but there's a slatted headboard and footboard, just like a typical bed. For this reason, it's best to place it up against a wall, particularly when children will be using it.
But such an uncommon day bed design has a positive effect on young children, too! Toddlers, for example, will think that it's a big kids' bed and, thus, be more inclined to sleep on it during the daytime and nighttime.
The white solid wood frame makes it a suitable addition to any room, such as your guest bedroom, your children's playroom, or their bedroom. You may even place it in your living room for extra seating or as a lounging area for the family. There's little to no need to repaint it since white blends well with nearly every color, from pastel pink to bold red.
White is also sort of a blank canvas for whatever color of beddings and accessories you may like to place on the day bed. You can choose the sophisticated route with monochromatic tones or go wild with splashes of bright colors. Let your inner artist go to work!
Beyond its beautiful color, the day bed and its trundle bed and drawers are as sturdy as can be. The solid wood frame stays steady even when shaken from the footboard and headboard. There doesn't seem to be any creaking or squeaking sounds when children play rough-and-tumble games on the day and trundle beds, too.
But we don't suggest letting children run roughshod on the beds for prolonged periods or as often as they like. These beds aren't designed as trampolines despite their durable materials and construction. Keep in mind that proper use and care is half the battle for longevity and exceptional value for the money.
Of course, such sturdiness partly depends on the proper assembly. The entire bed is shipped in two large boxes, and both require lifting by two persons at least. The instructions are clearly stated, so it's a matter of following them, perhaps looking at the parts first, and understanding their general placement.
The day and trundle beds are fitted with thick support slats that serve as the platform for the mattresses. These are closely spaced to ensure that the mattress placed on top will be supported at all points, from corner to corner. These are also necessary for even bodyweight distribution for the sleeping individual, particularly in maintaining neutral spine alignment.
And the best thing about this day bed: It has three drawers that can be used to keep various items! This is space maximization at its best for day beds, a great feature for parents with limited storage space for their children's things. A few clothes, books, and toys can be kept in these drawers so children can access them quickly.
---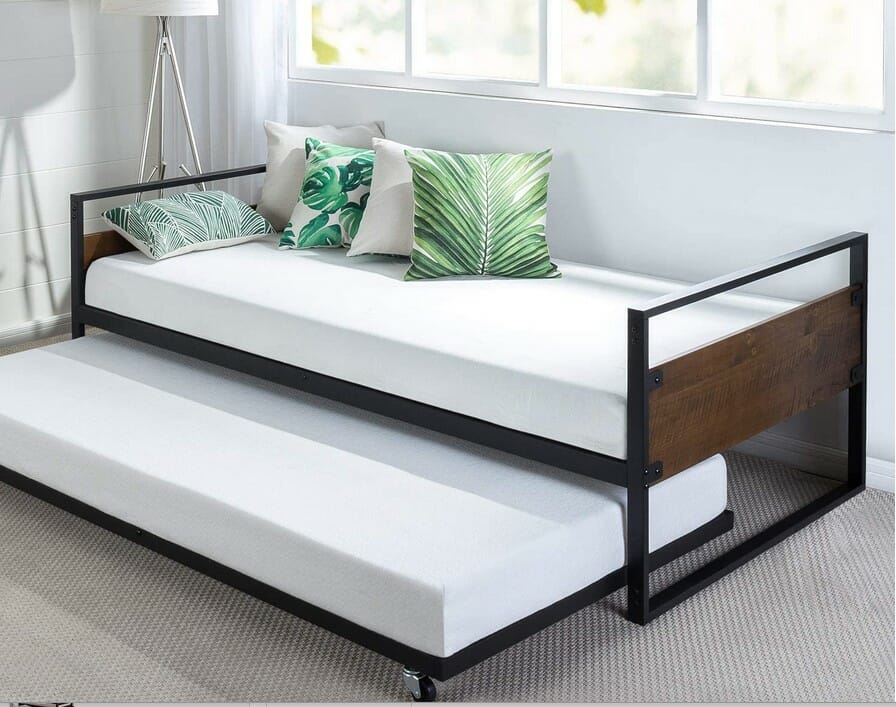 Basic Information
Size: 78 x 39 x 25.8 inches (Twin)
Weight: 64 pounds
Construction type: Steel slatted foundation
Product Highlights
Minimalistic and modern design
Steel and wood construction
Comes with a 5-year warranty
There's something so appealing about a minimalist piece of furniture! This is the case with the Zinus Suzanne day bed, a no-fuss day bed with a trundle bed with a wooden headboard and footboard and a metal frame. There are neither fancy metal whorls nor elaborate wood carvings, but it works!
The minimalist style makes it easier to put your spin into the day bed, whether used in a girl's room or a boy's room, in a bedroom, or outdoor space. The black frame with the wooden boards won't take away from the aesthetic of whatever design inspiration comes to your mind, from rustic style to city chic. The entire day bed can also be transferred quite quickly, even with the mattresses, because of its lightweight design.
But there's nothing lightweight about its construction! The assembled day bed and trundle bed has a solid and sturdy feel about them, and its 250-pound weight capacity is proof of it. The close spacing between the metal slats is part of the reason, particularly as seamlessly welded to ensure strength.
Many customers say that it isn't just a token piece of furniture. It's just as useful as a small sofa for lounging on weekends, as a day bed for cuddling and napping, and even as a playground for toddlers. It's a piece of functional furniture that can see moderate to heavy use among adults and children.
The slats can also hold the weight of thick mattresses, both of which should be twin-sized to fit into the day and trundle beds. Keep in mind that the trundle bed's mattress should have a lower profile than the day bed's mattress.
A 5-inch mattress should suffice for the trundle bed, while a 6-inch mattress is great for the day bed. But you can choose a thicker mattress for the day bed if that's what will make you and your guests more comfortable.
You may, for example, remove the casters on the trundle bed to accommodate a thicker mattress, say, 8 inches. You can then install felt sliders instead of the casters to make pulling out and to push in the trundle bed easier.
With the slats in the frame, a foam mattress won't feel as bouncy as when placed on top of pocketed coils. Then again, there's always the choice of memory foam for the mattress if you're aiming for optimum comfort and support.
As for its assembly, it's also quite easy to put together with a few basic tools and follow the instructions. With its minimalist design, it's also quick and easy to see where each part goes. The clear instructions for assembly are a huge help, nonetheless, not to mention that the product came in excellent packaging.
Plus, it comes with a 5-year warranty, an uncommon feature in day beds. This means that the manufacturer stands behind the excellent quality, and the customer can rely on it.
---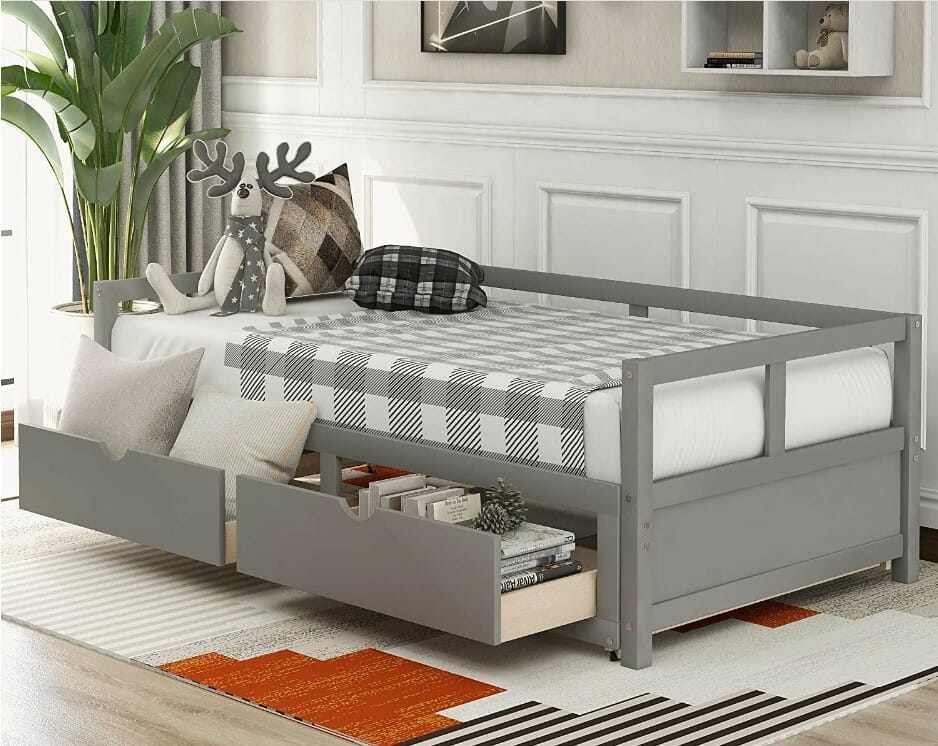 Basic Information
Size: 78.2 x 79 x 23.2 inches (Twin)
Weight: 90 pounds
Construction type: Slatted foundation
Product Highlights
Extendable daybed
With two large drawers underneath the bed
Wooden frame
Unlike most of the day beds on this list, the KLLM daybed doesn't have a trundle bed underneath it. Instead, the day bed itself can be extended so that it becomes larger. From its twin-sized dimensions, it becomes a king-sized bed that can accommodate two or more persons comfortably.
And it's easy to transform it from a twin-sized to a king-sized bed, too! Just pull on the bottom part where the bed meets the drawers, and voila! You can place another suitably sized mattress on the space, which should be easy enough to do. When a smaller bed/sofa is needed, just push back the extended daybed to return it to its twin-sized dimensions.
Due to its expandable design, the mattresses are typically level with each other instead of higher than the other, similar to a day bed-trundle bed combo. This has its benefits, such as when a couple will be using the bed or when children want to be in the same bed. You can also buy the same mattresses instead of thinner than the other, which simplifies shopping.
There's also the choice between using it most of the time as a smaller sofa in the living room or making it into a king-sized bed in the bedroom. Such versatility makes it popular among college students, parents with children and teens, and even owners of hospitality establishments.
Two large storage drawers underneath the bed can hold numerous odds and ends, from books to beddings. While these aren't designed to be a full-sized closet, they are handy for whatever things you want to be within reach of the bed. When things are placed well in them, you should have an easy time opening and closing them, too.
The frame itself is made of pine wood, a fairly strong and sturdy material used in modern pieces of furniture, from sofas to beds. The frame has a sturdy look and feels to it, particularly with its no-nonsense construction. The slats are thick, too, with no signs of cracking and breaking even with a heavy mattress on top and with children roughhousing on it.
But be sure to keep within the recommended limits for the daybed just to be on the safe side. There's a 400-pound limit, but it's best to keep well below it. Besides, heavier people should sit and sleep on heavy-duty frames – this day bed isn't in the said category despite its overall sturdiness.
Everything about the frame is made of pine wood, too, including the solid pine legs. The day bed has a low profile that contributes to its stability even with adults' or children's activities. Such a low profile allows for thicker mattresses to be placed on it, too. There's no need for a box spring.
Its assembly is also fairly easy since there are few parts involved. The bed is available in three colors – gray, espresso, and white.
---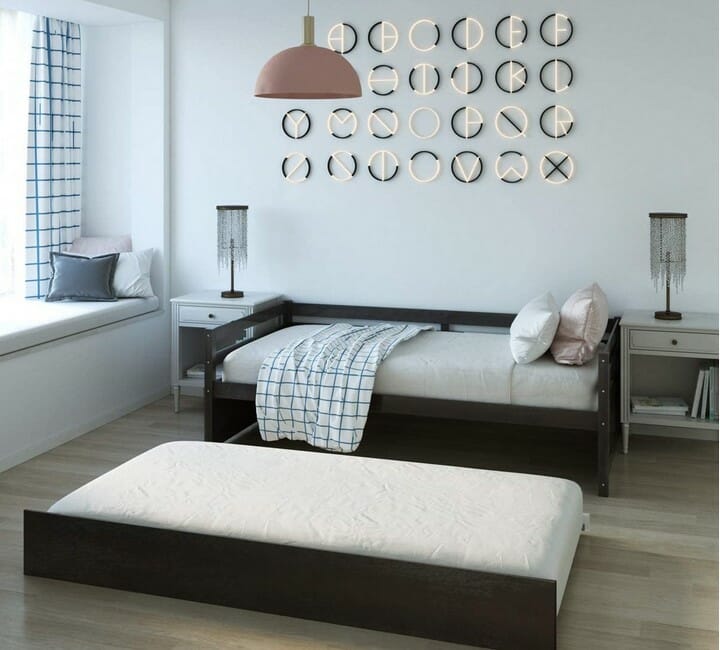 Basic Information
Size: 79.5 x 42 x 26 inches (Twin)
Weight: 73 pounds
Construction type: Slatted foundation
Product Highlights
Multifunctional day and trundle beds
Wood frame
Beds can be completely separated
While most of the day beds on this list have attached trundle beds, the Giantex Wood day bed is unique! The trundle bed can be completely separated from the day bed, albeit it's lower in profile. But the trundle bed can also be placed underneath the day bed if it isn't needed as a separate bed or placed close to the day bed if desired.
Their separateness makes it possible to use the day bed and trundle bed in different parts of the room or different parts of the house. Such versatility means that you're getting two pieces of furniture for the price of one, an excellent value for the money considering that both are durable beds.
The trundle bed has casters that make it quick and easy to push it in and pull it out from underneath the day bed or move it between places. The casters lock into place, too, so there's no risk of the trundle bed accidentally moving a few inches here and there due to its users' movements, either awake or asleep.
The day bed doesn't have casters, but it has wooden legs and panels on the bottom complemented by rails at the top. The rails keep the mattress within the confines of the wooden frame and add an interesting touch to an otherwise simple design. The wooden panels at the bottom will hide the trundle bed's sides underneath it and add a touch of elegance.
We like that the day bed has a fairly high profile that makes it suitable for use as a small sofa, too. Just place a twin-sized mattress on its slatted base to raise its profile even higher. A foam mattress of any height can be used, say, a 6-inch mattress, for a comfortable sitting and sleeping experience.
The simple yet sophisticated wooden frame is a welcome addition to any room, regardless of its theme. Think of the day bed as a chameleon that can change its appearance – through your imagination, of course – when necessary. The white-colored day bed is just as attractive as the espresso-colored version, so it's a matter of personal preference.
You can, for example, go with a monochromatic design by pairing off-white or cream beddings with the white day bed. You may also make an eye-catching arrangement with the espresso day bed topped with bold reds, oranges, and blues.
Play around with where the day bed can be placed, too. Since it has a low backrest, it can be placed against a wall or as a piece of standalone furniture in the center of the room. Either way, the mattress will stay in place even with restless movements or playful roughhousing.
As for the day bed's durability, there's no question that it will last for several years with proper use and care. The wooden frame with its slats is made with sturdy materials and with attention to quality. If the frame becomes dirty, you can wipe its surfaces with a damp cloth, perhaps repaint it to give it a new look.
---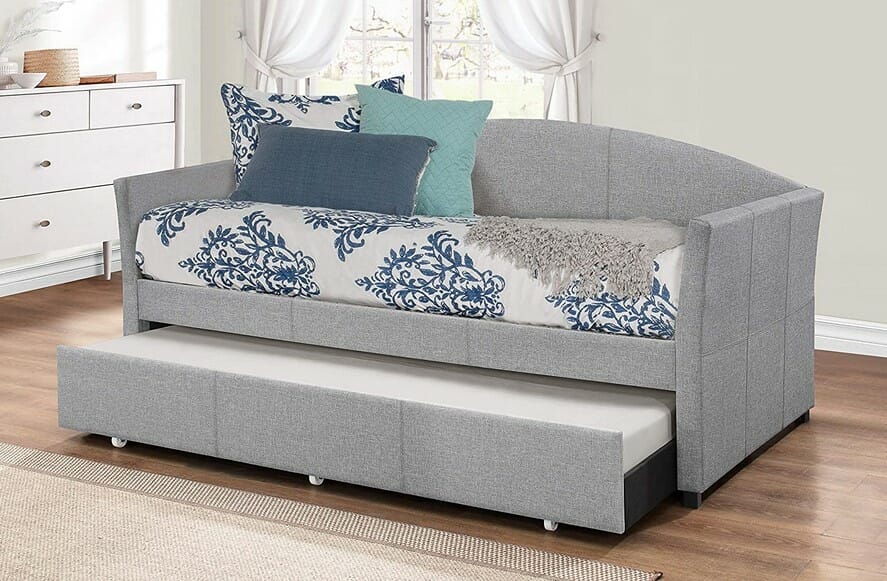 Basic Information
Size: 43.5 x 88.5 x 31 inches (Twin)
Weight: 139.5 pounds
Construction Type: Day bed with sleigh bed
Product Highlights
Casual design
Wooden frame
Fabric upholstery
Are you looking for a day bed with a casual yet contemporary appeal? Look no further than the Hillsdale Furniture Westchester day bed, a piece of usually-ignored yet beautiful and functional furniture! Its universal appeal can be used in college dorm rooms, children's bedrooms, and guest rooms.
But don't dismiss it as too universal because it's also a blank canvas for your creativity. Thanks to its gray fabric upholstery, it can be decorated with plush and lush beddings and accessories. It can be as casual or as chic as you want it to look because of its contemporary aesthetic.
We suggest using printed beddings, so it doesn't look bland, or throw pillows in bright solid colors for a pop of joy in the room. The high backrest and low sidearms will look great with a smattering of throws and throw pillows, too.
Since it has a high backrest, it can be used as a standalone sofa in limited spaces. You may or may not place it against a wall, but the backrest has your back. You can also place your head against one of the arms if you're lounging or napping for a more comfortable position, thanks to its fairly high profile.
We like the detailed stitching on the backrest and arms, too, with the stitching on the latter going all the way down to the base. The little details differentiate a high-quality day-and-trundle bed from the run-of-the-mill ones. These small things aren't so small when these add greater interest to a piece of furniture, not to mention that it's a testament to the manufacturer's attention to detail.
But beauty is only skin-deep, and we're looking for day beds that will stand the test of use and time. The Westchester day bed may look delicate because of its fabric upholstery, but it's among the sturdiest we've come across!
The wooden frame has a durable quality that can be felt through the fabric. Knocking on it gives a solid thud that attests to its dense quality while feeling around the frame reveals thick wood. Even with the shaking and moving caused by human activity on it, the frame holds itself well.
The mattresses on the day and trundle beds should be twin-sized but of different thicknesses to account for the differences in their profiles. The day bed can have a thicker mattress since there's more space, but it shouldn't be too thick to cover the backrest completely. The trundle bed should have a thinner mattress but still provide comfort and support for the user, which should fit well underneath the day bed.
The entire day bed is shipped in three boxes, which is the most number on this list. But it's easy to assemble with the assistance of another person.
The only con we saw is that the back panel of the day bed only has a flimsy black material. We were expecting it to be of the same fabric as the rest of the furniture. The effect is that you may want to reconsider placing it away from the wall and, thus, exposing the flimsy odd-man-out material.
---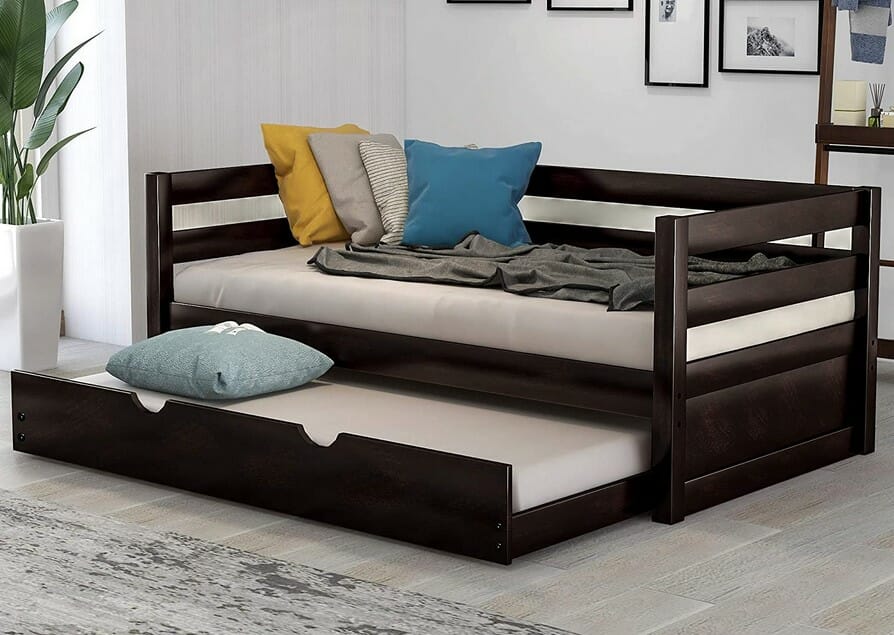 Basic Information
Size: 76'' x 41.7' x 30 inches (Twin)
Construction type: Slatted foundation
Product Highlights
Wooden frame
Removable trundle bed
The 250-pound weight limit for each of the day and trundle beds
The natural beauty of wood is in the spotlight with the espresso-colored Merax day bed! Brown is beautiful because it can be paired with just about any color combination, from monochromatic nudes to fiery rainbows. Besides, brown wood has a warm quality that adds a feeling of comfort and coziness into any room, a welcoming vibe often absent in metal furniture.
Nonetheless, the wooden frame is just as strong and sturdy as a metal frame with the same dimensions. There's nothing hurried in its construction, too, as evidenced by the secure attachments, thick wooden slabs and slats, and smooth paint. Every wooden part seems to have been chosen not only for their thickness but for their sturdiness against constant use, perhaps a bit of abuse.
The day and trundle beds require assembly, as is the case for all the products here, and it can influence the product's overall durability. Be sure to read the instructions first, so you know which part goes where and how much tension to put on the screws.
We suggest testing the assembled bed, too, by shaking and moving it to see if everything's in place. Once you're satisfied that there are no missing or loose screws, you can place a twin-sized mattress on each day and a trundle bed. Again, the trundle mattress should be thin enough to fit underneath the day bed but thick enough for comfort.
The manufacturer recommends using a 6-inch-high mattress for the trundle bed and a mattress with five to eight inches in height for the day bed. The thicker the day bed's mattress, the higher its floor-to-mattress profile will be.
There is no need for a box spring because the beds already have a slatted foundation for the mattresses. The slats are constructed so that even a quite heavy mattress won't break them, not even when adults or children are lying or playing on the mattress. These also allow more airflow beneath the mattress, so a sleeping cooler is possible.
The backrest and the side arms have the same height, too, so the day bed has a sofa-like look with a mattress on top. While it can be placed away from a wall, it's better to place it against a wall if children use it. The wall will act as a place to lean against and, thus, prevent children from falling over backward.
But if adults will use the day bed or it will be mostly used as a mini-sofa, then placing it away from a wall also makes sense. The frame has a uniform look, so there's no concern about exposing an odd back panel.
In keeping with its sturdy look, the day and trundle beds have high weight limits, too. Both can accommodate one to two adults or children weighing up to 250 pounds in total.
What we love about this day bed combo is that the trundle bed is also completely removable. You can place the trundle bed anywhere – underneath the day bed, beside it, or away from it.
---
In conclusion, day bed and trundle bed combos have an enduring appeal among consumers because of their durability, versatility, and functionality! We would be hard-pressed to mention many other types of furniture with multiple uses in and outside of the home. We consider it to be among the must-have pieces of furniture in small and large homes for these reasons.