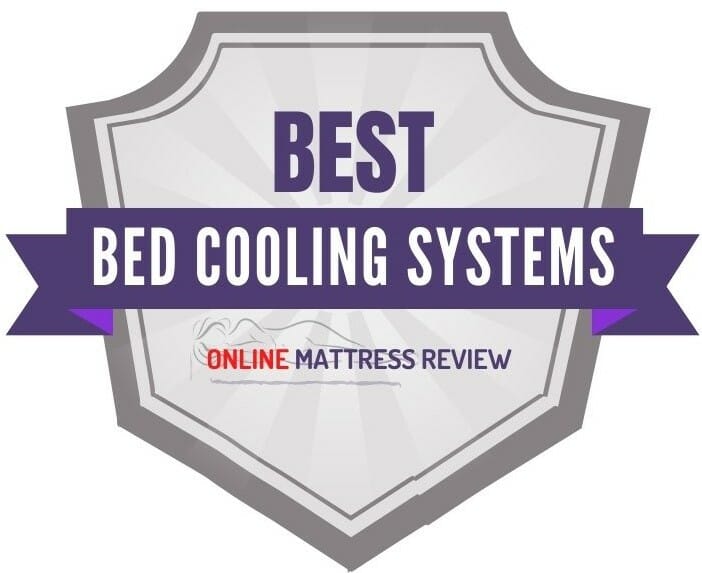 Sleep is powerful! It lets your mind and body recharge, recover from stress, and function optimally! That said, sleep deprivation affects brain function and impairs your ability to concentrate, think, memorize, or process information.
OMR's Pick of the Best Bed Cooling System:
Falling short of proper sleep can take a severe toll on your emotional balance, energy, and productivity.
What is a Bed Cooling System?
Most people at some point have trouble getting to sleep and more often than not, it is because the room is too warm. Studies show that cooler temperatures contribute to the best sleep patterns, therefore, leaving you feeling rested the next morning.
Although air conditioning or fans can help the situation by lowering the room temperature, cooling your bedding itself may be the answer to your problems. A cooling system focuses on technology used to help keep your mattress cool and conducive to sleep. Investing in a quality system is the most innovative way to combat night sweats, hot flashes, and insomnia.
Best Bed Cooling System
Bedjet 3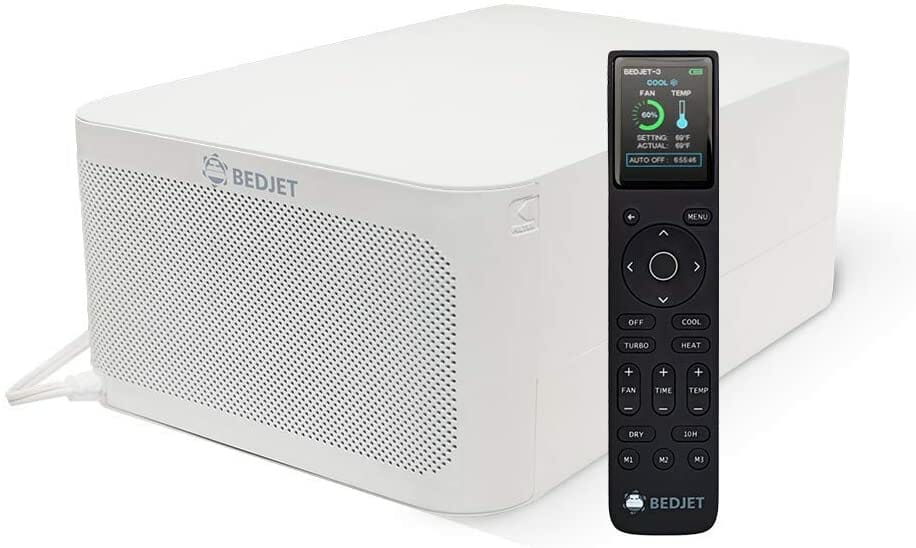 BedJet is known for its unique air-based cooling and warming technology. The company's BedJet 3 is its newest and most luxurious system. Like the products that came before it, it works with your existing bedding. It can work on any size of bed or mattress, including adjustable beds.
Equipped with air-based convective cooling, it is exceptionally efficient for removing moisture and sweat from the bed. It is an excellent solution for hot sleepers, those with hot flashes, and night sweats. And if you are someone who suffers from cold feet and cold legs, it is a safer alternative to electric blankets.
Equipped by the biorhythm sleep technology, it has automated smart temperature control. Temperature is based on the bedroom ambient temperature conditions. By programming different temperature settings, you can figure out which setting makes you sleep better. People who bought this cooling system laud it for how quiet it is. It keeps you sweat-free all night.
Check out our extensive review: BEDJET 3 MATTRESS COOLER & HEATER REVIEW – PRICE & FEATURES
Strengths We Love:
The Bedjet 3 is quiet and uses just air to help you sleep.
There is no hassle as it does not use wires or electricity in your sheets, lumpy mattress pads, and water tubes that could leak.
Its dual system allows independent control for the cooling or heating on each side of the bed.
It is equipped with biorhythm sleep cycles technology that can help you fall asleep and stay asleep longer.
Easy to install.
This product underwent clinical tests, and its results were published in a medical journal and presented at a medical conference.
Things to Consider:
The Bedjet 3 comes with a hefty price tag.
If you have dry skin, lotion up before going to bed. The Bedjet 3 is not advisable for those who have severely dry skin conditions.
In using this cooling system, the company recommends high-quality sheets for a better experience.
Some reviewers commented that the remote layout is terrible and not convenient in the dark while lying in bed.
OMR Advantage Score: 9.5/10
---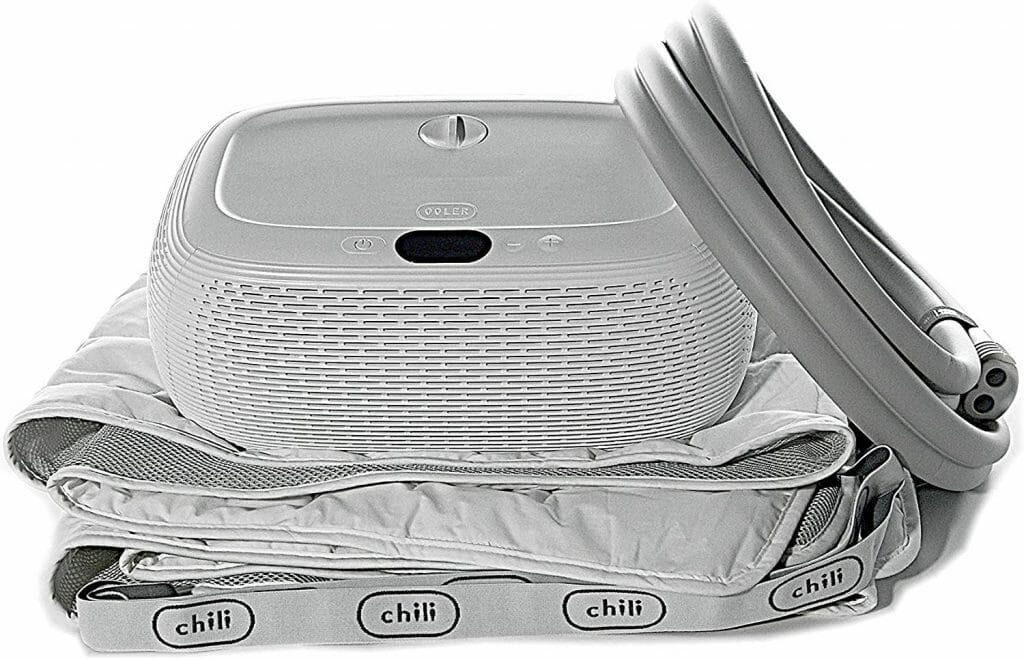 The ChiliSleep OOLER Sleep System is a hydro-cooled weighted blanket that features water cooling benefits for a balanced temperature range while you sleep. It can be adjusted by the hour to reach the right temperature at any given time during the night. This scheduling is a unique experience to suit your sleeping needs.
It is constructed with thermal efficiency in mind. By actively circulating water, the surface temperature of your stress will either cool or heat the pad. The wide temperature range of 55 – 115 F (13-46C) allows you to enjoy higher quality sleep.
It is equipped with technology where the pad can be controlled through apps available for both apple and android devices. These features allow you to control the unit, set programmable sleep schedules. It also has a warm awake feature. The bed temperature turns warm to trigger the body's wake response.
Available in Half King to California King sizes, the ChiliSleep is priced depending on the mattress size of your choice. The ChiliSleep OOLER Sleep System is an expensive product, but it is made using polyester or a polyester blend material.
Strengths We Love:
ChiiliSleep products are equipped with technology that enables physical temperature changes from the ambient temperature.
The product matches your body heat for maximum comfort.
It is made with cotton and Tencel blended fabric and includes a deep pocket fitted sheet, a flat sheet, and pillowcases. Tencel fibers bring natural comfort and are produced using an environmentally friendly process.
The bed cooling system is constructed to be EMF-free and chemical-free. EMFs or electric and magnetic fields are often referred to as radiation.
There is no noticeable bacterial growth in its water tank, thanks to the integrated UV light.
Its innovative technology allows you to set a different temperature for bed and wake time.
It has three fan speed settings: silent, normal, boost. It cools or heats faster with higher fan speed settings.
It works with many bed and mattress types.
It has an automatic cleaning function.
Things to Consider:
This mattress is a bit pricy.
Some reviewers complain about the noise. In terms of acoustic consideration, it is not suitable for rooms with hardwood floors.
It does not adjust to natural changes in body temperature during sleep or the ambient room temperature.
If you are into sleep or biometrics tracking, then you might be disappointed. This pad is not equipped with such technology.
The cooler connects via Bluetooth and not WIFI, so it cannot be integrated with Alexa/google home.
OMR Advantage Score: 9.0/10
---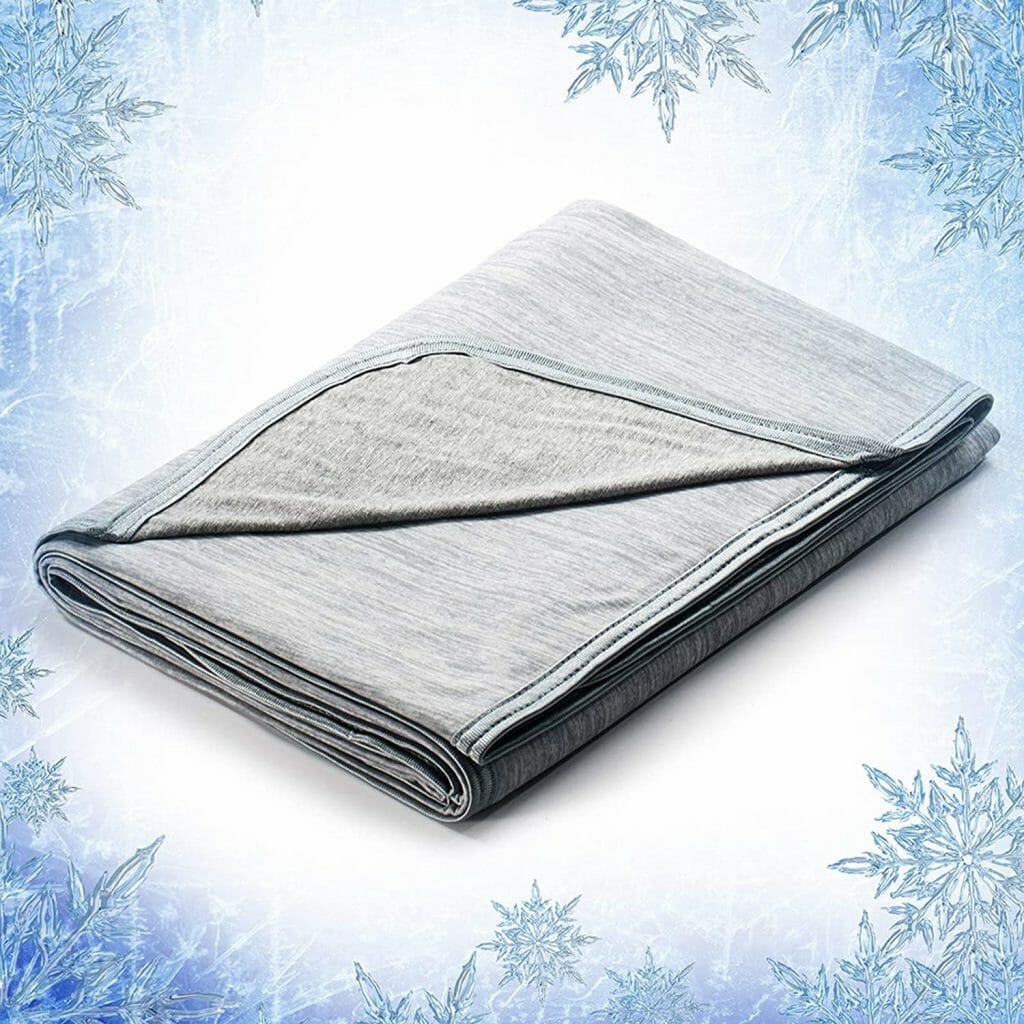 The Elegear Revolutionary Cooling Blanket is manufactured by Elegear, the earliest brand to study cooling blankets. It has devoted research and development of fabric using Japanese cooling technology, Arc-chill, and the Elegear Revolutionary Cooling Blanket.
Using the special Japanese Q-max 0.4 Arc-chill cooling fibers, this blanket brilliantly absorbs body heat and reduces skin temperature by 2 to 5°C. This outperforms other companies' cooling fibers which only have a cooling value of 0.2. Because of its cooling mechanism, the blanket makes you relaxed and comfortable without perspiration.
Reducing skin temperature is possible because its top is a fabric with arc-chill cooling yarn. This yarn can quickly transfer moisture from the skin to the fabric's surface and quickly evaporate.
After absorbing heat for a while, naturally, the cold feeling the blanket gives will not be as strong. It is recommended to change the place you touch to get a cool and comfortable feel again. Another tip is to use air conditioners and fans to cool the fabrics before using them.
Constructed to have the cooling fabric outside, consisting of a blend of 80% mica nylon and 20% polyethylene, it is very suitable for hot summers. The 100% cotton on the bottom inside is perfect for spring and autumn. Moreover, it doesn't have any odor, so this will be loved by those who have sensitive noses.
The blanket size, 59″ x 79″, is just right to fit a twin or full bed. It can be used indoors, outdoors, and anywhere you want a comfortable blanket to keep you warm or cool. You can bring this blanket if you wish for extra softness and comfort for an afternoon nap. People love this so much that they are stocking up with Elegear Revolutionary Cooling Blanket because it is perfect for carrying in the car and keeping another at work.
Strengths We Love:
The Elegear Revolutionary Cooling Blanket is affordably priced.
It utilizes arc-chill cool technology fabric, which can quickly absorb human body heat when the body touches the material. Once the body touches the fabric, the body surface temperature immediately drops by about 2 to 5 degrees so that the body feels cool.
It is easy to keep clean by simply washing it using a washing machine.
The blankets feel lovely against the skin, so a top sheet is not needed.
Features high-quality materials at an affordable price, making it hypoallergenic with no harsh chemicals or toxins.
It lets you use less energy on air conditioning and refrigeration.
Light-weight and doesn't take up much space
Things to Consider:
The mattress pills on the cooling side and affects its smoothness. This causes the material's effectiveness to decrease.
Once the material piles, it feels itchy and uncomfortable against the skin.
Some customers are not satisfied with the size. It is not what they expected it to be.
OMR Advantage Score: 7.5/10
---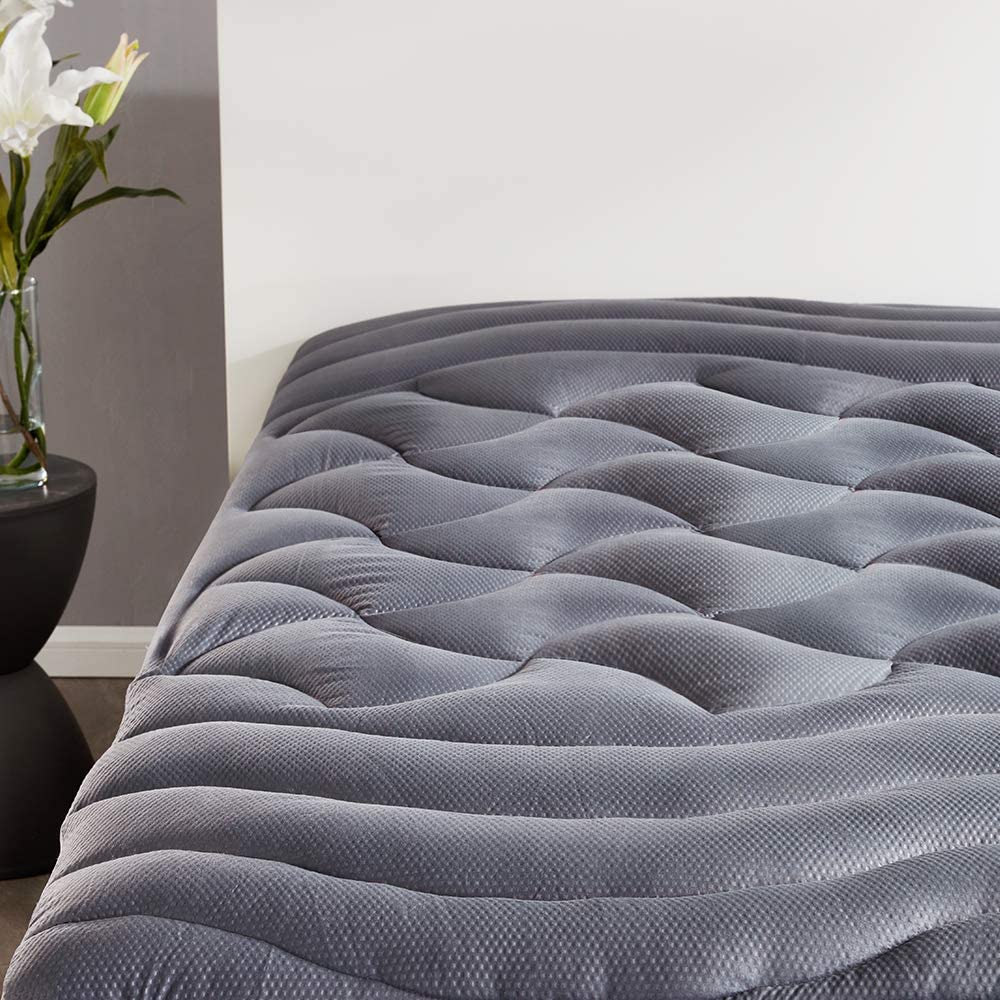 The Sleep Zone Premium Mattress Pad is designed with NANOTEX coolest comfort technology. This technology lets it dry 100% faster than cotton and balances your body temperature by absorbing moisture away from your skin. An embossed process that is usually applied to sports fabrics is applied on the surface of the mattress to make it more breathable and stylish.
Coupled with the 120 gsm over-thick brushed microfiber used on the surface, the comfort this pad gives is worth it. Thanks to its fiberfill, it has excellent softness and resilience. Its fluffiness provides an extraordinary level of comfort, allowing you to feel refreshed and rejuvenated every day. Not only is the pad surface soft and fluffy, but it also brings advanced dynamic elements to your bedroom.
It also has a cozy sleep design through its 3-zone sleep-friendly design. To ensure the edges are not deformed, the head and foot areas have a wavy design. The middle areas, which provide support and relaxation, use a quilting design to disperse the body's pressure and adequately prevent sagging.
Sleep Zone Premium Mattress Pad will keep your body stretched naturally so you can easily enjoy deep sleep. The deep pocket and precision fit ensures you get the most restful and restorative night sleep.
Strengths We Love:
A practical and affordable choice.
The manufacturer is Oeko-Tex Standard 100 certified.
The mattress has a quilted stretch-to-fit pad. It can be easily placed or removed on most mattresses thanks to its knitted skirt pocket, which can stretch up to 21 inches deep.
The wrap is easy to apply and remove, thanks to its high-quality sport elastic trim.
The elastic around the topper is snug as advertised.
The deep pockets on Sleep Zone Premium Mattress Pad are an excellent feature, and it gives the feeling of having another pillow on your pillowtop.
According to reviewers, it is very comfortable and plush to sleep on.
Things to Consider:
The Sleep Zone Premium Mattress Pad needs to be machine-washed using cold water.
Some reviews do not think that the padding in the material is thick.
It is only a blanket with unique material but does not give the same cold sensation an active bed cooling system provides.
OMR Advantage Score: 8.9/10
---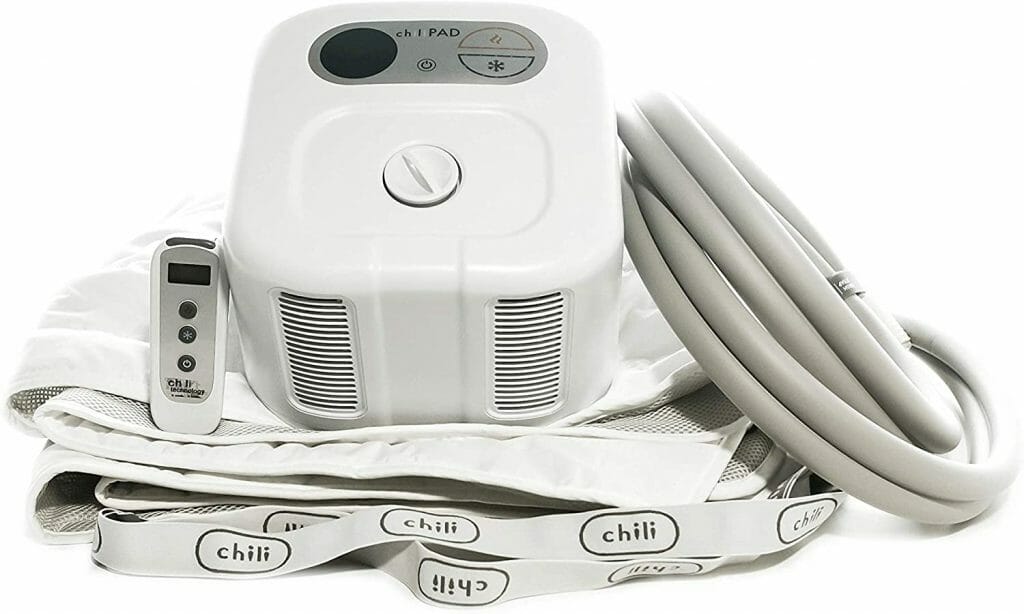 Originally called ChiliPAD sleep system with Chili Cool Mesh, in 2021, its name was changed to Cube Sleep System with Chilipad Cool Mesh. Like the Ooler system, it is also hydro-powered. Hydropower is made possible through a flexible hose which can be used to retrofit existing mattresses. A mesh pad connects the entire power supply to a control unit.
Thanks to its elastic straps, the Cube Sleep System with Chilipad Cool Mesh can quickly take on and off. Despite this, it still depends on your activity level in bed whether you must readjust it from time to time or not.
Unlike the cooler system, the ChiliPad does not have a smartphone app. Instead, a remote control is used to turn it on and off and change the temperature settings. It is priced at a higher price point and is the model that came before the Ooler System. Previously, it was Chili Technology's pioneer sleep system.
You will get a hydro-powered mattress pad and a thermal regulating control unit that operates between 55-115°F (13-46°C) when you buy this product. However, the overall performance of this unit will ultimately depend on ambient temperature, individual mass, and humidity of the room, and it cannot replace an air conditioner.
It has a soft quilted side consisting of 52% cotton and 48% polyester blend. It is also made of 100% polyester constructed to a mesh knit for optimal cooling benefit. By actively circulating water through silicone microtubes in the pad, it gives comfort and a relaxing sensation to help you have a good sleep. Furthermore, it has an adjustable water-based system to regulate the surface temperature of the pad.
Strengths We Love:
The Cube Sleep System with Chilipad Cool Mesh is priced at a value range between bed fans and higher-end cooling systems.
For total comfort and availability, it is designed to work with many types of beds and mattresses.
The Cube Sleep System with Chilipad Cool Mesh is available in sizes to work for one side of the bed or both.
It also does not contain any electronics inside the mattress topper.
Easy to install, remove, and clean.
For custom comfort, it has reversible sides.
This system has a mechanism to prevent heat from building up. It stays cool, so it allows for better sleeping conditions throughout the night.
Things to Consider:
The unit requires regular maintenance.
It uses a remote control rather than a smart app. If the remote control is not your preferred feature, you may choose the Ooler system over this.
It has no sleep and biometrics tracking as well as vibration alarm.
Despite its capability, it is not meant to replace an air conditioner; rather, it is only meant to assist the customer in getting a cooler night's sleep.
OMR Advantage Score: 8.5/10
---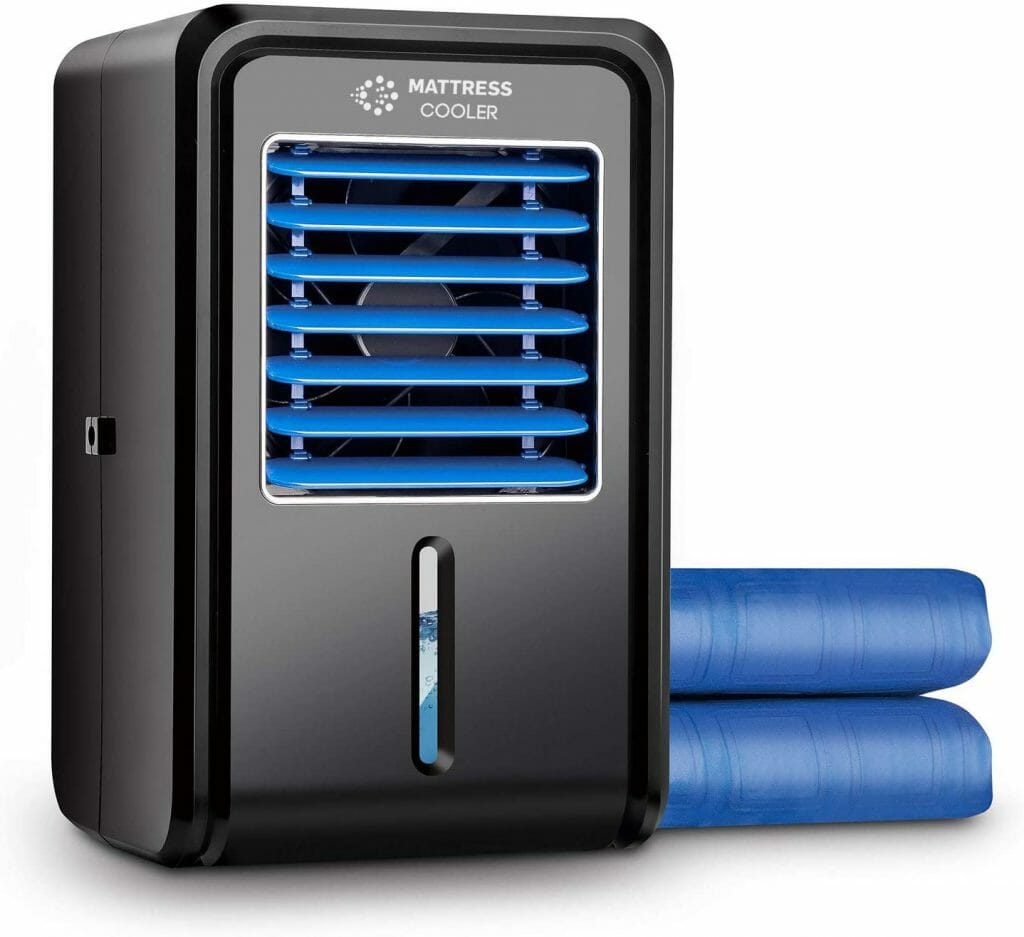 Manufactured by Mattress Cooler, the 2020 Mattress Cooler Classic will ensure that you stay cool all night long without high electricity.
Packed with an innovative hydro-powered cooling system, it intelligently uses water to produce cool air. Its cooling sleep system involves chilling a gallon of water that uses evaporative cooling to circulate through your room.
The evaporated water removes trapped body heat and cools your mattress to regulate body temperature through its thin PVC vinyl mattress topper. Water can be chilled 7 to 12 degrees below room temperature and circulates through the 27 inches x 63 inches cooling pad.
The blanket is constructed to remove body heat and trap cold air under the blanket, thereby insulating you to provide you with a relaxing sleep. Customers who bought this product reveal that this topper feels like sleeping on a sheet of ice.
Some like it as it is, but if it feels cold to you, you can just add blankets or other insulating material to regulate the pad's temperature. Running the water without using the coolant feature will make it cool enough for a good night's sleep.
Many people have expressed that they've slept better using this pad.
Strengths We Love:
The 2020 Mattress Cooler Classic is reasonably priced.
The material feels luxuriously soft against the skin.
The tubes are at a good length and an excellent fit for your mattress.
It has a straightforward assembly.
If you are particular about noise, then this may be good for you. The actual cooling feature is not as loud as a standard small fan. The water pump is almost entirely silent.
It doesn't take too much space on the nightstand.
The material has the right amount of thickness.
Things to Consider:
Like products that use water for cooling, leaks are possible.
When you get the 2020 Mattress Cooler Classic recommended that you only use this product in locations where the risk of a leak can be managed.
Alternatively, you can use a mattress protector or pay extra care and attention to prevent leaks. It is suggested that you can minimize such a risk by placing the cooler in a shallow tray or dish.
The vinyl mattress only lasts 4 to 6 months.
You must check the mattress pad for moisture regularly.
Drain the system every two weeks to preserve your cooler.
For better circulation, place the cooling system higher than the mattress pad.
OMR Advantage Score: 8.2/10
---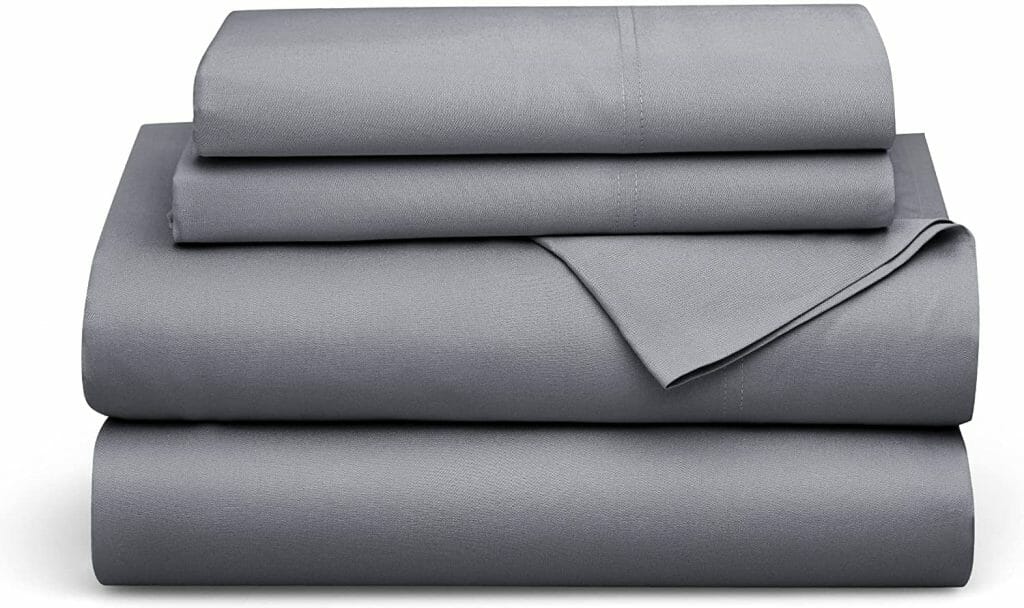 Made of 100% viscose from bamboo, the Bedsure 100% Bamboo Sheets are natural thermoregulating bamboo sheets; it wicks away moisture to keep you cool and dry. Bamboo, after all, is a natural fabric that adjusts to body temperature!
The sheet's solid color design makes it perfect for traditional bedrooms and makes you feel like lying in the lap of luxury. The sheets come in many sizes and range in prices. You can choose from a variety of colors.
Its soft viscose bamboo sheets are comfortable and skin-friendly, ideal for those who have sensitive skin. This smooth, seamless constructed, and breathable bed sheet keeps you cool and cozy. If you are the type to be particular with your sheets slipping off, then this sheet may be a choice for you.
This sheet is deep fitted and fits mattresses up to 16″ inches deep. It is easy to put on and remove. The product includes envelope-style pillowcases designed to make your pillow stay snug and secure. This sheet is perfect for hot sleepers or cold weather.
Strengths We Love:
These sheets are affordably priced and are very soft.
It is ideal for sensitive skin, but it is generally suitable for different kinds of skin types.
Its 16″ deep pocket with its elastic band is capable of holding the sheets in place.
The aesthetic of these sheets will add a luxurious feel to your home, as they fit well and are comfortable.
Reviewers are satisfied with the product's softness and coolness. It is a high-quality mattress for a great price.
Things to Consider:
The 2020 Mattress Cooler Classic sheets will stain after continuous use.
If you are particular about sustainable and environmentally friendly products, the bamboo viscose material may not be for you. The production process of this material is chemical-laden and is terrible for the environment.
These sheets wrinkle. If you can't stand wrinkles, some reviewers recommend that after taking them out from the dryer, you must fold right away.
OMR Advantage Score: 9.0/10
---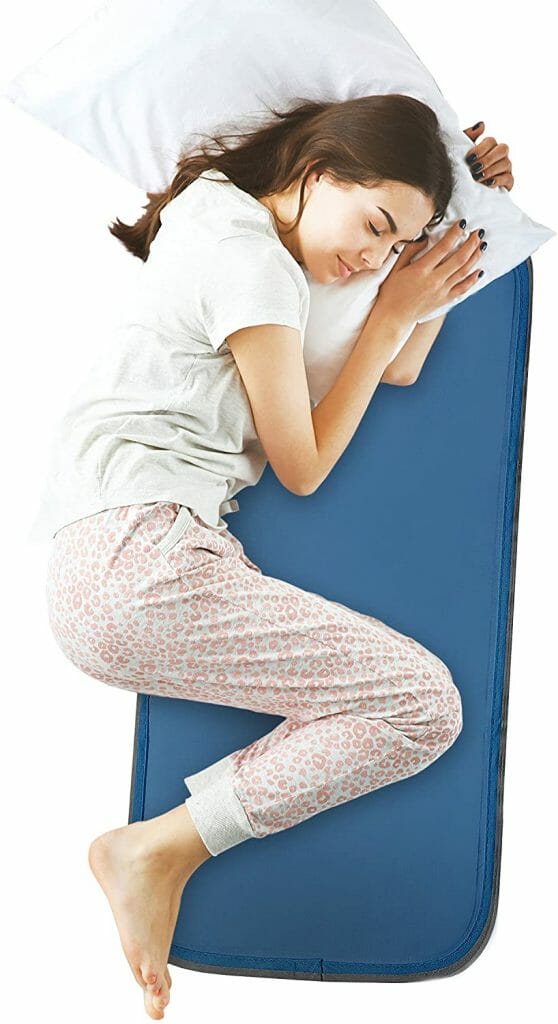 The Cool Care Technologies Cooling Pad for Bed features pressure-activated Gel cooling. Instant cool relief is provided; you just have to lie on the pad to get the coolness you seek. It saves electricity because water, electricity, or refrigeration is not required. It comes in two sizes: pillow size measuring 11.75 x 15.75 inches and body size measuring 43.4 x 27.6 inches.
It is a self-activated cooling pad priced affordably. To reactivate it, let it sit in a cool place for 30 minutes. Conveniently, this pad automatically recharges after 15-20 minutes of non-use, thanks to its cooling gel pad technology. It does not only serve as menopause relief, but it is also ideal for summer sleeping, post-exercise, soothing sore muscles, and achy joints. It is safe for all ages and pets.
For best results, it is recommended that the Cool Care Technologies Cooling Pad for Bed needs to be refrigerated or frozen. Because it is lightweight, this product is perfect for home and gym use. It can be used in the car as well.
Strengths We Love:
The mat can get surprisingly cold.
Most women who bought this said that it helped with their hot flashes.
Easy to clean and well-made, just use mild soap and water is enough for cleaning.
It is a self-activating pad. Despite this, it needs to be reactivated frequently, but it takes no time to cool.
Things to Consider:
The Cool Care Technologies Cooling Pad for Bed cools for one to three hours, depending on room conditions.
In extreme heat, a second pad is needed.
The pad needs to be put in the freezer before use.
It needs to be frequently reactivated since it doesn't stay cold.
It absorbs heat after a while so it can get hot. Some customers like it because they feel cold, so the heat absorbed from their bodies becomes soothing.
OMR Advantage Score: 9.3/10
---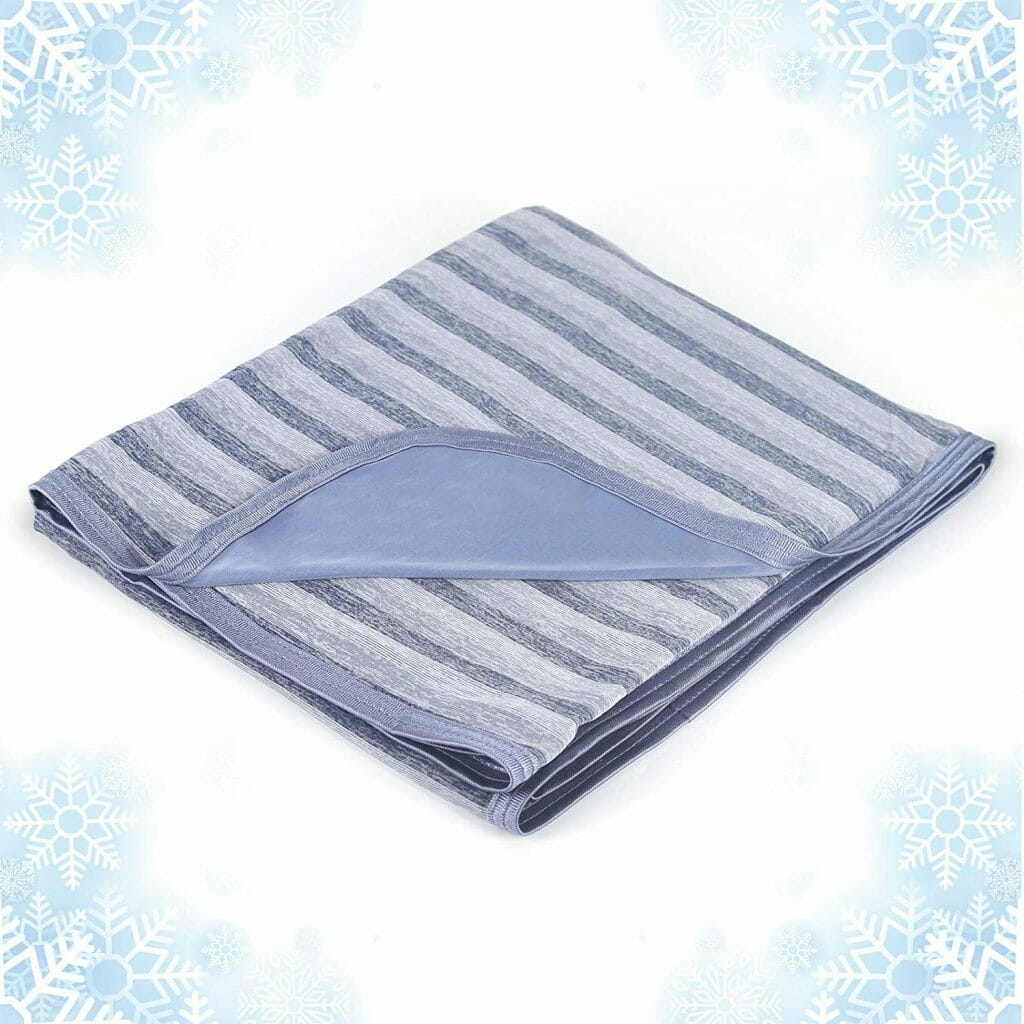 The Ailemei Cooling Blanket is a double-sided throw blanket for the couch and bed. Featuring interweaved mica nylon with ice-jade cold fiber, this cooling blanket provides superior cooling touch and comes with a travel bag. The blanket utilizes a double-sided cooling effect technology which owes its cooling effect to the Japanese cold fiber on both its sides.
It has a cool-sensing value (q-max) of more than 0.441 to ensure a good night's sleep. Due to this, the blanket feels cooler than regular blankets. It is also equipped with heat balancing functions that can help you cool down. While lowering body heat to 2°C, it transfers human body heat to give you comfort.
With the Ailemei Cooling Blanket, you get a breathable blanket that is comfortable and soft to the touch. The upgraded cooling technology also prevents you from feeling sticky inside of the blanket.
It is helpful for hot sleepers and those who suffer from night sweat and hot flashes. It is suitable for sensitive skin and may also serve as an excellent extra layer for your bed. If you are into the cooling effect and the aesthetics, Ailemei may suit your tastes. With its vibrant hues and sophisticated look, it introduces color and interest to your living space.
Strengths We Love:
The blanket is affordable and comes in five sizes.
It helps that the Ailemei Cooling Blanket is easy to wash. You may choose to hand or machine wash it. To prevent snagging and scratching, the laundry bag is highly recommended.
The blanket's high specific heat capacity makes it suitable for hot sleepers and night sweats.
Things to Consider:
Customers who bought this product complain that they do not like how the blanket smells.
It is recommended that it should not be exposed to the sun after washing. Air dry in the shade is enough.
OMR Advantage Score: 7.0/10
---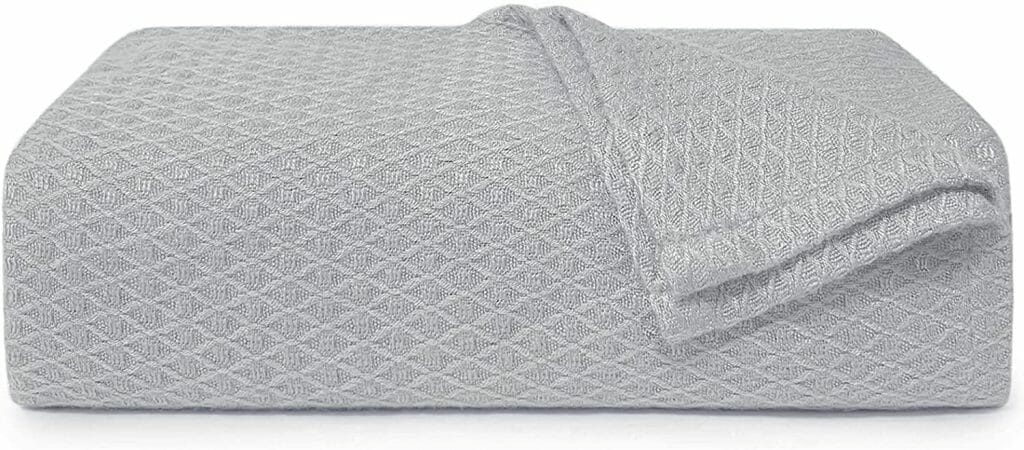 The LAGHCAT Cooling Blanket is designed to keep hot sleepers stay dry and cool. This fabric also has a high specific heat capacity that will keep you cool through the night.
Bamboo fabrics feel soft like silk! Since the fibers used for this blanket are not chemically treated, they are naturally smoother and rounder. The material does not irritate the skin. It is hypoallergenic and perfect for those who experience allergic reactions to other natural fibers. Moreover, bamboo is also antibacterial and antifungal, so this sheet is easy to clean and maintain.
Fabrics made from bamboo are incredibly breathable. Highly sweat absorbent, it pulls moisture from the skin through evaporation. Combined with its insulation power, it keeps you warm in the winter and cools in the summer. Apart from this, it is also a natural UV protectant and anti-static. It protects you from skin cancer.
Priced very reasonably, it is available in three sizes. These can also be used for a kid's room, for camping, in the car, travel, airplanes, and if you just want to bring something that can provide you with extra softness and comfort.
Strengths We Love:
The LAGHCAT Cooling Blanket is light and breathable, making it a perfect travel companion.
It features a diamond pattern weaving making a beautiful and elegant finish.
Because of the material, sweat and heat are more easily discharged.
It is made of pure bamboo fiber fabric.
The fabric is glossy and has good draping.
It is pleasant to the touch, making it perfect for use in sultry summers.
The binding makes the blanket more durable and long-lasting.
Things to Consider:
The size should be checked because some reviewers said the sheet is smaller than what they expected.
Some buyers don't think it is as smooth as it is advertised to be. The pattern of the blanket makes it rough.
With normal usage, it easily pills and snags.
It is a high-maintenance blanket. It should be washed in cold water and thrown over a chair or line inside to dry. So the blanket doesn't lose its shape, it has to be line dried. Furthermore, when you wash, a gentle cycle must be used.
This should be ironed on low heat and never with a steamer.
OMR Advantage Score: 7.9/10
Benefits of Sleeping Cool
The first step to developing a healthier sleeping habit is taking the time and effort to fix your sleeping schedule. There are many ways to sleep better. Sleeping in a cool room is one of them. Study shows that, surprisingly, the temperature is a factor in having a good night's sleep.
The National Sleep Foundation confirms that sleeping in a cozier room or bed can improve sleep quality. This is linked to the fact that the body is programmed to experience a slight dip in core temperature at night. The body's circadian rhythm or body clock causes the body temperature to decrease to initiate sleep naturally.
Studies suggest that a decline in core body temperature facilitates falling asleep and entry into the deeper stages of sleep. Doctors advise that the ideal sleeping temperature is 60 to 67 degrees Fahrenheit (15.6 to 19.4 degrees Celsius).
In contrast, an overly warm bed makes it harder to fall asleep. Research suggests that sleeping too hot can reduce sleep efficiency, which can lead to fatigue over time. This is because heat causes more wakefulness which in turn causes a reduction of the length of REM sleep. REM is the first stage of sleep. During this phase, the brain is more active. This phase is essential for brain function and one's health.
There are many ways to enjoy cold, sleepy nights even in the summer or enjoy relaxing warmth during winter nights. Air conditioning (AC) units are effective at cooling down your bedroom. But ACs can be expensive, especially if you install them in multiple spots within the home.

Did you also know that ACs also bring breathing discomfort? A study found that air conditioners can disrupt sleeping cycles, causing you to sleep in an awkward position and affecting the depth of your sleep. The dry environment that it creates makes it hard for you to fall asleep.
Room fans are an alternative, but they often end up just circulating warm air around the room. If you want a better choice, you may want to check bed cooling systems.
Since temperature affects sleep, a cooler is a good choice. It helps you sleep quicker and stay asleep through the night. It is essential for people who experience symptoms that increase body temperatures, such as night sweats, menopause, and hot flashes. It is recommended for people who live in a hot climate.
Types of Bed Cooling SystemS
There are three types of bed cooling systems: passive, active, and advanced.
Passive Cooling System
Cooling mattress toppers and pads are examples of a passive system. They utilize increasing ventilation and heat dissipation in cooling the bed. Special materials like cooling gel, ventilated foam, foam, or bamboo may keep the bed cool.
Passive bed cooling like mattress toppers and bed cooling pads help regulate body temperature. These are usually formulated gel-infused memory foam, which allows air ventilation better than a standard mattress.
More air ventilation absorbs heat energy within the air spaces and disperses heat to the edges of your cooling pad or mattress topper. This process creates an excellent sleeping surface.
While effective and affordable, the amount of cooling they can provide is limited. If you need a little cooling to sleep, a passive cooling system will suffice.
Active Cooling System
Unlike passive cooling systems, instead of dissipating heat, active cooling systems work to bring down temperatures. Active cooling systems are a recent innovation that incorporates advanced technological features, including smartphone apps, sleep tracking, and smart home connectivity.
Active bed coolers are best for hot sleepers, those experiencing hot flashes, night sweats, and anyone living in a hot climate.
There are three types of active bed cooling systems: bed and pillow fans, air cooling systems, water-cooled systems.
Fans, which are relatively cheap, circulate cool air around your body to keep your sheet, bed, and pillow cool. No active cooling is provided. The downside is since there is no active cooling, you will not experience much temperature change.
On the other hand, the air-cooling system cools the air before pumping it into your bed. Its advantage is instant temperature relief and all-over body cooling.
Water-cooling systems are systems that utilize chilled water. It is pumped through tubes embedded in a pad placed on top of your mattress. It circulates cold water through a mattress topper or cooling pad to provide accurate and steady temperature regulation throughout the bed. The advantage of this system is its precise temperature control and silent operation.
Advanced Cooling System
This type of cooling system incorporates extra features such as a smart alarm and personalized settings.