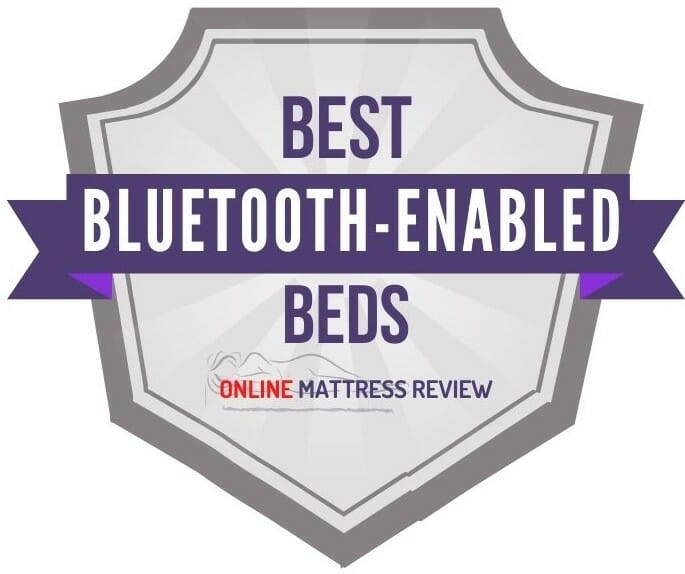 A smart bed… can you believe such a thing exists?! Technology has been evolving to make things easier. Even homes are getting smarter thanks to advances in technology.
Innovations have an advantage over other products mainly in terms of buyer interest. Buyers who desire technological capabilities will indeed spend money on the feature they want to have at their disposal.
OMR's Pick for the Best Bluetooth-Enabled Bed:
For example, a smart home is equipped with features to allow you to have greater control over home appliances, lights, and energy use. It helps provide insights on your energy use to help you become more energy-efficient and mindful of ecological factors. If you prefer the above features, you will most likely buy a product with those features if your budget allows.
What is a Smart Bed?
Simply put, smart beds are beds that use technology to help you sleep better. It is a type of bed that uses sensors and other technologies to gather data or assist you for your convenience.
You can customize the features according to your preference. It may collect data about sleeping or use such data to adjust and improve your sleep. However, other smart beds do not necessarily focus on keeping track or managing your sleep.
For some, sleeping in an intelligent bed means a more relaxing sleeping experience. A more noble use for these is to assist persons with disabilities to ease their pain or aid in mobility.
Some smart beds come with a built-in TV or alarm. Others might offer smart bedsheets and a built-in network connected to your home automation devices. The industry for smart beds is still in its infancy, though, so there is still no clear-cut description as to what a smart bed should or should not do.
However, these products generally offer some or all the following features:
Sleep tracking
Temperature control
Air chambers
App integration
Position control
Self-making
Automatic mattress firmness adjustment
Anti-snoring features
Internet of things and smart home connectivity
Sleep tracking and temperature control is a feature that enables you to monitor how you sleep and is one of the distinguishing aspects of a smart bed's mattress instead of a regular one.
An intelligent fabric that comes with your bed or sensors on the surface of your bed tracks a variety of information such as respiration, heartbeat, sleep restfulness, and pressure. All of these determine how to give you the most comfortable night's rest.
Some features offered above are just to make for a more convenient user experience. It may include USB chargers, massage features, and under-bed lighting. You can benefit from the USB charger ports by using your bed as a charging station and keeping all your bedroom technology close.
The massage feature, of course, is suitable for ensuring ultimate comfort. It will help you relax and soothe away the stress of your day. And if you are someone who gets up during the night to drink water, you can slip out safely without stumbling.
In this list, we provide you with 10 of the best Bluetooth-enabled beds from Amazon.
The Best Bluetooth Enabled Beds
IULULU's Adjustable Bed Frame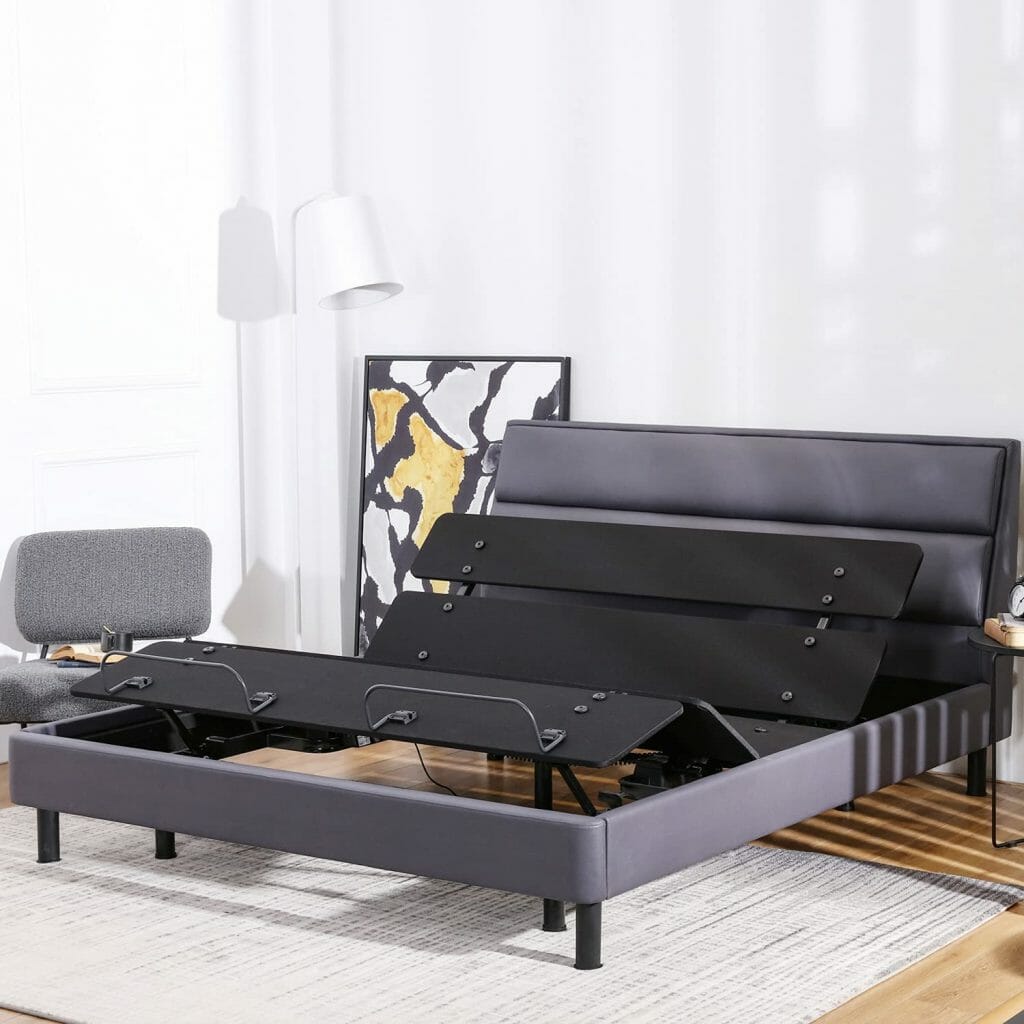 This smart bed frame from Iululu is an ergonomic adjustable bed frame that improves the quality of your sleep. The Iululu's Adjustable Bed Frame comes in two versions: Bluetooth and upholstered.
Since it is a smart electric adjustable bed base, you can adjust it to find the most comfortable position you like. Once you do, you will feel like your back muscles are given their long-awaited pain relief. If you have problems with snoring, the enhanced airflow feature will help you deal with it while boosting your digestion. The Iululu's Adjustable Bed Frame is also suitable for pregnant women by customizing the position of the bed frame.
What makes this different from other regular upholstered beds is the adaptability of its head and feet areas. The 0-60 degrees of the independent head incline and 0-45 degrees of the foot incline helps soothe stress.
The Iululu's Adjustable Bed Frame stretches your body when you nap as well as when you watch TV, read, or work on your laptop. Equipped with a smart wireless remote control, you can adjust this electric bed without getting out of the bed. Connect the bed to your smartphone or tablet via Bluetooth and download the App. This also comes with a remote that offers you a set of buttons with images for easy operation.
The legs of this adjustable bed can be height adjustable as well. It is available in different height levels 4″, 7″ or 11″. The size and shape of the flexible base correspond to most mattresses sized under 12 inches and most of the standard bed frames. For this product, though, the mattress, bedframe, and head are not available.
The design of this bed is a multi-bed slat design conducive to mattress ventilation. Its black heavy-duty steel frame and modern design can be fit into a variety of style designs.
Strengths We Love:
The Iululu's Adjustable Bed Frame is reasonably priced; although on the pricier side, but this bed is perfect for pressure and pain relief.
It is equipped with a mechanism that reduces snoring and sleep apnea.
It helps improve blood circulation as well as improve digestion and acid reflux.
One of the reasons it was manufactured was to give comfort to clients. It can assist the elderly, pregnant, and those who suffer from other disabilities that make getting in and out of bed difficult. This is possible by bringing the bed to a comfortable height at a press of a button.
The adjustable bed frame fits the most standard mattress.
Unlike other beds, this bed is near silent.
A reviewer has shared that adding these adjustable bases to their bed was a satisfying upgrade, and it has helped tremendously for snoring issues.
Things to Consider:
It has a zero-clearance design.
The adjustable bed frame allows it to work on slatted and platform beds. However, it is advised that you must make sure your slatted or platform bed can handle the weight of the adjustable bed frame and mattress.
OMR Advantage Score: 8.5/10
---
Classic Brands Adjustable Comfort Upholstered Adjustable Bed Base 2.0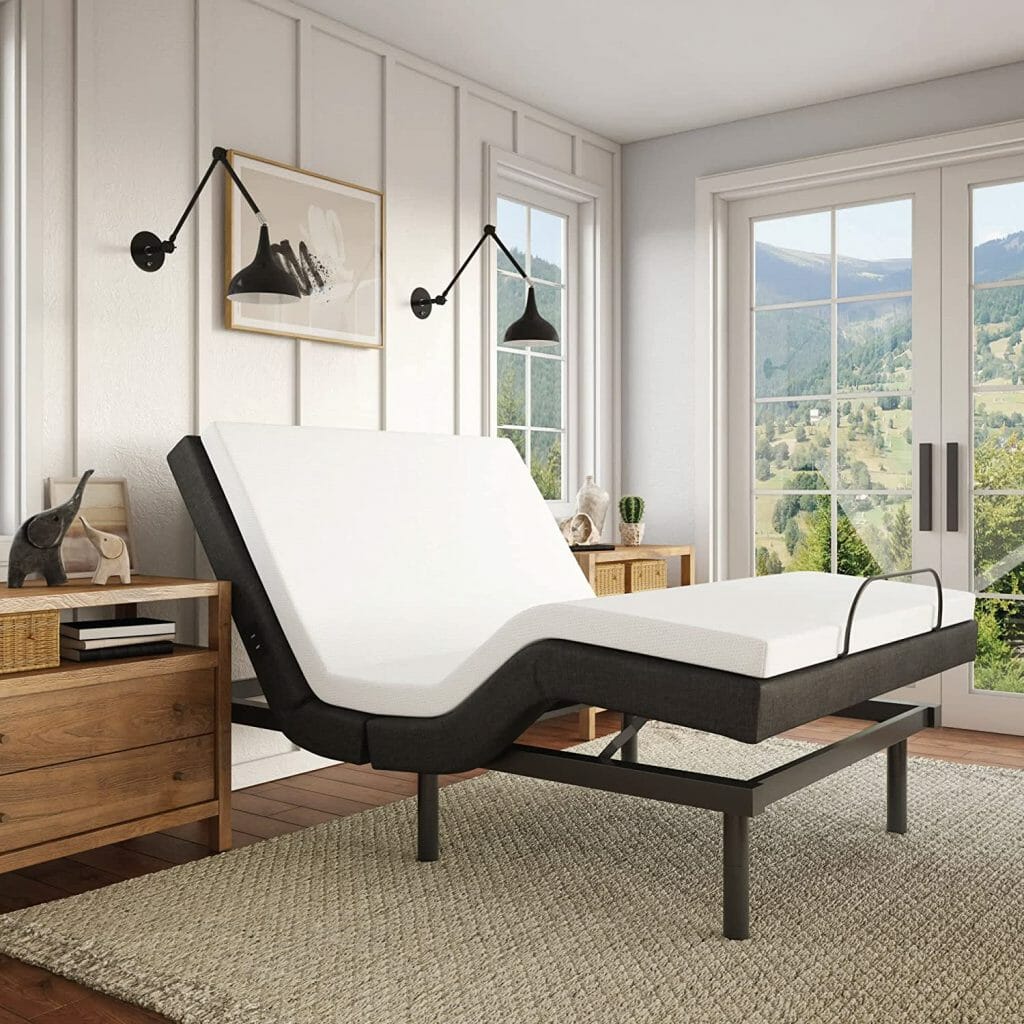 The Classic Brands – Adjustable Comfort Upholstered Adjustable Bed Base 2.0 includes massage, USB ports, and wireless remote features. Made of 100% polyester, this adjustable bed base has a programmable ergonomic head (0-60°) and foot (0-40°) elevation positions to help you relax.
This adjustable bed base is noise-free; it is quieter than most of its counterparts! It operates off your smartphone or wireless remote with preset and programmable settings. It also comes child safety lock – a bonus for those who have small children.
The Classic Brands Adjustable Comfort Upholstered Adjustable Bed Base 2.0 is equipped with two 1.5 USB ports are built in the base to charge electronic devices. Nowadays, this feature has become necessary as people tend to browse their phones as they relax. Equipped with the zero-gravity feature, this simulates floating and enables you to relax as its reclined position simulates weightlessness.
If you tend to unwind by reading or watching TV, then this is for you. Quickly find the perfect position for reading, watching TV, or talking on the phone. Not only does it give you lifestyle benefits, but it also helps you manage your sleep. It includes a mechanism to track your breathing property and decrease potential snoring and lessen acid reflux. Most importantly, it can help you increase blood circulation for undisturbed sleep.
Furthermore, it has adjustable legs for two different height options, 6″ or combined for 12″. It includes a mattress retention rail to keep your mattress in place and is ideal to use with memory foam, hybrid and innerspring mattresses.
Strengths We Love:
When assembling the Classic Brands Adjustable Comfort Upholstered Adjustable Bed Base 2.0, you do not need to use any tool. The assembly is quite straightforward, and the instructions are helpful.
The base has a good quality steel construction with a good fabric finish.
This is a good purchase for its price and has excellent delivery to boot.
The bed base is aesthetically pleasing. It has a sleek and contemporary design.
Your mattress will not slip due to its excellent support.
Things to Consider:
It is heavy so you might want to ask for help in assembling it.
Customers share that the lifespan of this product is not long.
Pay attention to instructions regarding the motors for the head and foot. They are different.
OMR Advantage Score: 9.0/10
---
SNODE Upgraded Adjustable Bed Base Frame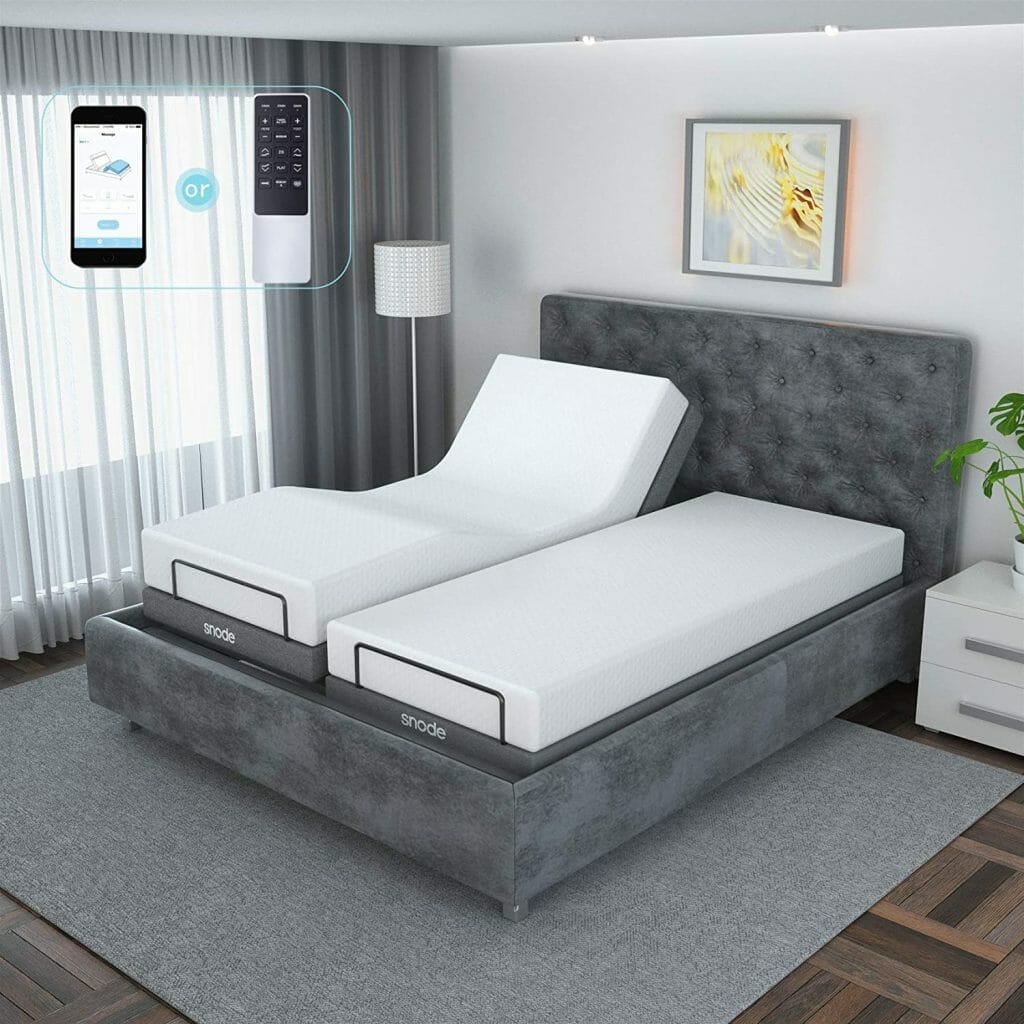 The SNODE Upgraded Adjustable Bed Base Frame has a maximum weight capacity of up to 850 pounds. It comes in two sizes: twin XL and queen. When you buy this, you can choose between the upgraded version or the basic version. Unfortunately, this does not include a mattress.
Like other adjustable beds, it has a massage feature, dual USB charging ports, and an under the light. You can use Bluetooth with a bed base app or change it via the backlit wireless remote to adjust your bed.
It can be easily set up. No tools are required for its assembly. Its ergonomic design and high-quality motor ensure that the entire adjustment process is smooth and quiet. You will be happy to know that the SNODE Upgraded Adjustable Bed Base Frame is compatible with most mattresses. You do not need to worry about what mattress suit this bed. If you want to read, watch TV or sleep in bed, it is an ideal addition to your room.
Strengths We Love:
Customers who bought the SNODE Upgraded Adjustable Bed Base Frame bed were impressed by how it was shipped.
It is very easy to set up.
The adjustable setting is helpful for restless sleepers. Customers share that it helps people who have a problem with partners who snore.
When watching TV sitting on this bed, customers share that it is relaxing.
Things to Consider:
Some customers were not satisfied with the frame because it is shaky and unstable.
It is essential to pay attention to the instructions when setting this up.
OMR Advantage Score: 9.2/10
---
LUCID L600 Adjustable Bed Base Frame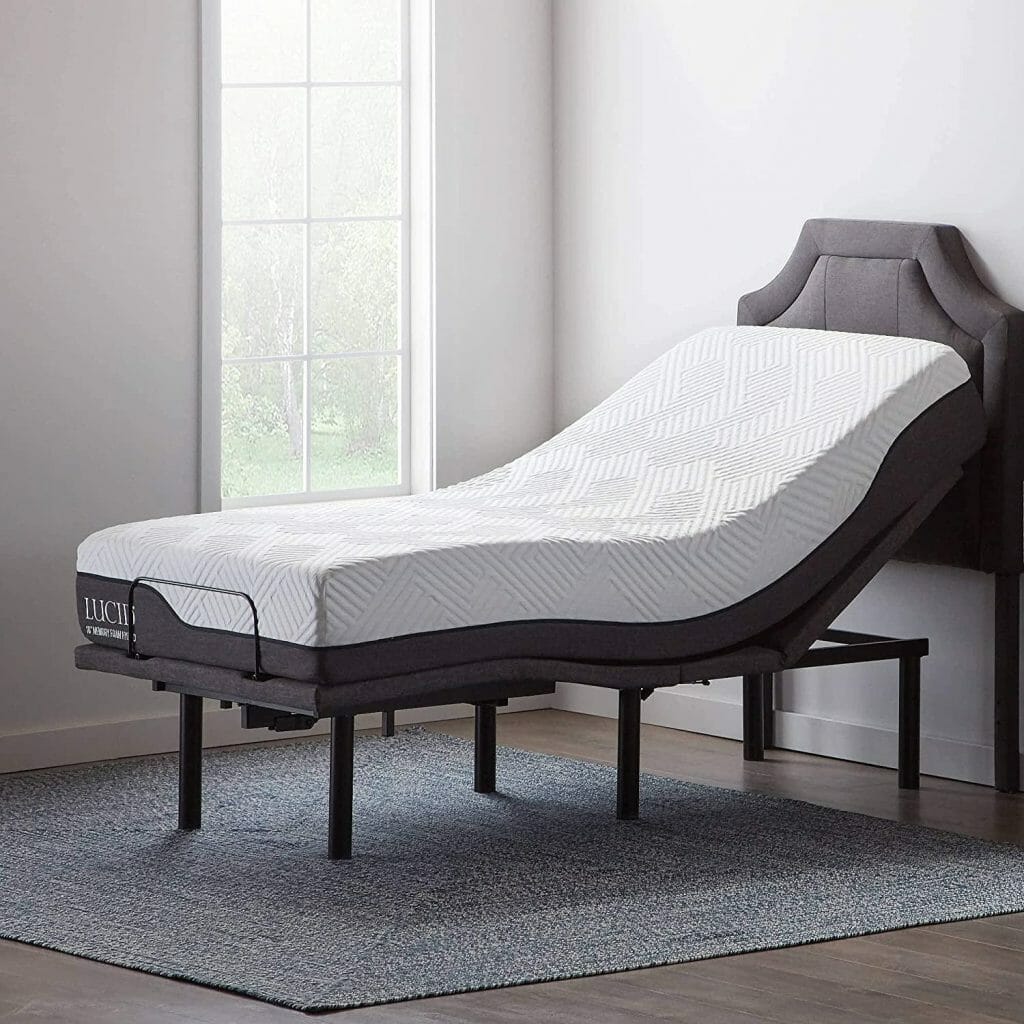 The LUCID L600 – Adjustable Bed Base Frame is a premium model among the LUCID's line of adjustable bed bases. It is equipped with advanced technology which can make your bedroom experience to new heights. Built heavy and robust, its metal construction allows it to carry a maximum capacity of about 750 pounds.
It is Bluetooth compatible and with the help of the Lucid Base App, searching and enabling its many features is accessible, easy, and convenient. Thanks to this compatibility, controlling and customizing the base is simple. You can even add extra customization options like voice controls with just a few taps on the App.
The LUCID L600 – Adjustable Bed Base Frame is ideal for reducing lower back tension so you can relax while you lounge in bed. Besides being Bluetooth-enabled, it also has multiple presets with traditional memory settings like zero gravity which simulates weightlessness. Its anti-snore features promote better breathing.
If you wish to watch TV or read on your bed, adjust and position it accordingly. If you want a massage, you can also use the massage preset for complete body relaxation.
If you do not like tweaking your phone or the Bluetooth, you can use the remote with this bed. You do not have to get out of bed to charge your phone. Simply access any of the two-port USB charging stations in the LUCID L600 Adjustable Bed Base Frame.
Equipped with partner control, you and your partner can control the bed and each other's side. The partner control is a premium feature that makes sure you do not disturb the person sleeping next to you.
Plus, the premium motor that powers the LUCID L600 Adjustable Bed Base Frame is reliable and quiet. It is available in queen, complete, and twin XL sizes. Reasonably priced, you can get a good bed backed by a 10-year warranty.
Strengths We Love:
The LUCID L600 – Adjustable Bed Base Frame may look bulky, but it can be assembled easily.
It is suitable for people who have difficulty waking up in the morning. You could set an alarm that would raise the bed in a lounge position.
The motors are very quiet. You can hear them unless you listen carefully.
The remotes are already synced with the base.
Customers are satisfied with the comfort this product brings.
You will not have trouble during assembly because easy-to-follow instructions come in the box.
Things to Consider:
This bed is designed as two halves. A hinge connects them. Customers share that the two halves do not attach seamlessly.
The bed is hard to lift. You'll need at least three people to move the bed to clear your space
This 97-pound bulky frame is difficult to manipulate without breaking the bolts connecting the legs to the frame.
OMR Advantage Score: 7.5/10
---
BDEUS Adjustable Bed Frame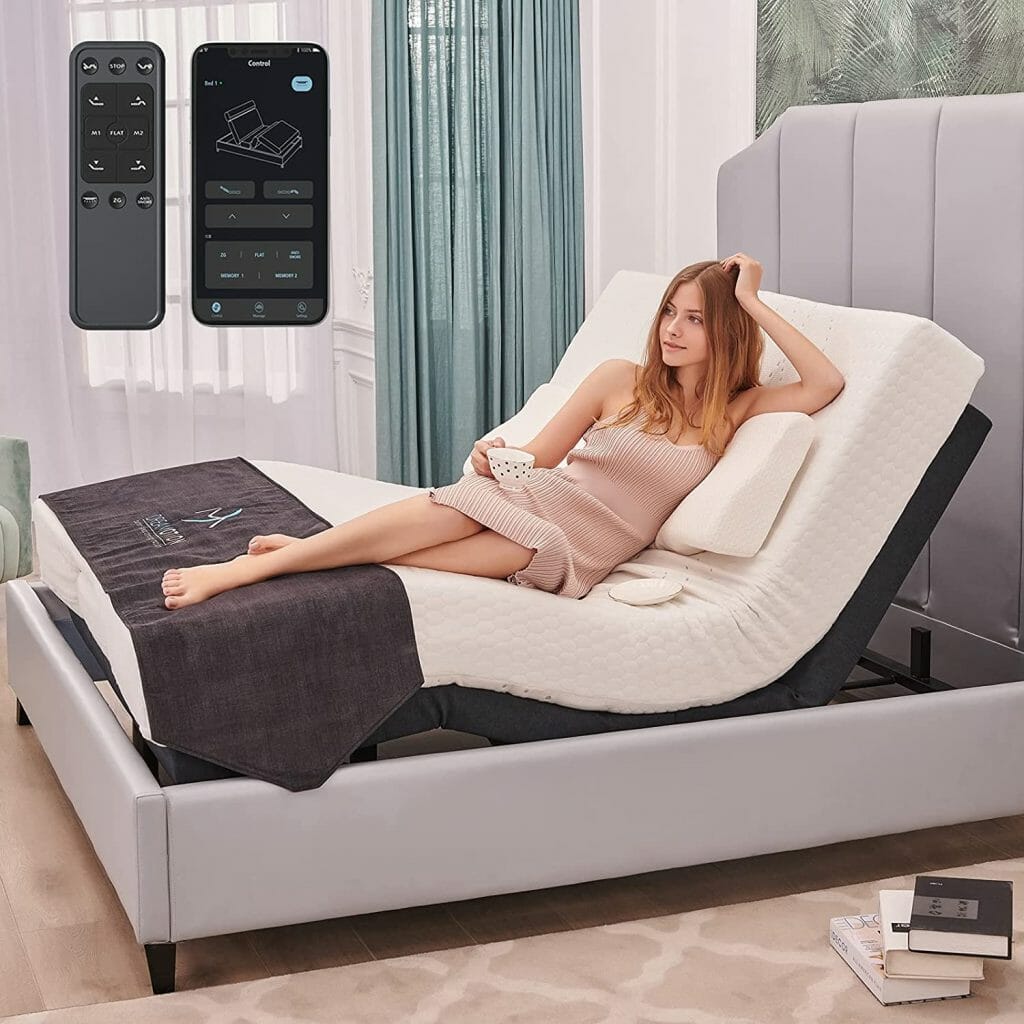 This adjustable bed frame from BDEUS Adjustable Bed Frame has a maximum weight capacity of 850 pounds. It is equipped with independent head and foot tilt adjustments that will allow you to find your preferred position. The head incline is 0 – 60 degrees, while the foot incline is 0-40 degrees. Its leg heights are a 2-in-1 (3″+6″) Adjustable Legs.
You can get a queen-sized bed with four convenient one-touch preset buttons, two of which can be used as memory buttons. Its wireless remote is backlit and simple to use. However, the remote does not contain batteries, so you need to purchase additional batteries.
With its dual USB charging ports on both sides of the bed, you can charge your device anywhere if you are on the bed. The LED light under the mattress helps you maneuver in the dark.
The BDEUS Adjustable Bed Frame has a zero-gravity position feature for maximum relaxation and comfort and has adjustable feet and a wireless remote head. The remote control enables the head and foot of the intelligent adjustable bed to be raised and lowered.
A smart bed can understand what you need. This bed combines a variety of position modes to match many life scenes. With this much power, the BDEUS Adjustable Bed Frame is surprisingly easy to assemble. You only need five minutes to build your new favorite bed. Every purchase also comes with a 2-year quality warranty for the products.
Strengths We Love:
The BDEUS Adjustable Bed Frame is heavy-duty. You can expect you spend many relaxing nights with your BDEUS bed frame.
This bed is easy to set up.
It is pregnant women-friendly supports the fragile waist of pregnant women.
The zero-gravity option helps ease back pain.
Things to Consider:
Customers share that the motor is slow, but you also do not want it to be fast for safety purposes.
For some customers, the leg is too low.
OMR Advantage Score: 7.9/10
---
Applied Sleep Queen Adjustable Bed Frame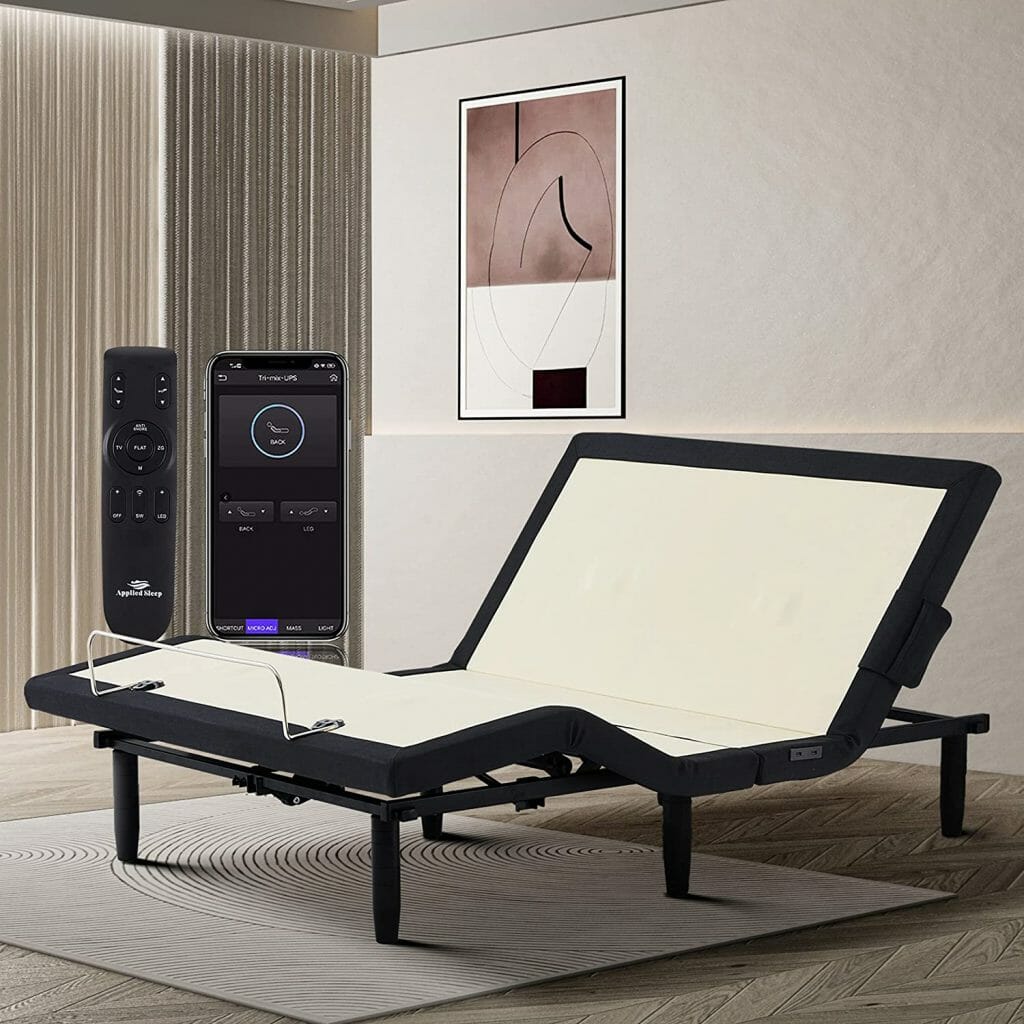 The Applied Sleep Queen Adjustable Bed Frame is not the cheapest one on the market. Like any smart bed, it combines premium technologies with an ergonomic design to transform your bed into a relaxing retreat.
The price is owing to its heavy-duty steel construction. Because it is made of metal, this bed is sturdy and reliable, supporting a maximum weight capacity of 860 pounds. You can adjust the height of the bed according to your preference.
Equipped with dual USB charging ports on each side, you will have no problem charging your devices. And when you wake up at night, the under-bed light and remote backlight will help you maneuver in the dark. It has Okin motors that are known to be premium, reliable, quiet, and high quality.
It is also Bluetooth-enabled. With its wireless remote and App, it makes the bed easy to control. It is integrated with massage settings that offer multiple massage levels, pulse, wave, and full-body vibration. With the Applied Sleep Queen Adjustable Bed Frame, you do not only get a great bed, but you also get a relaxing bedtime experience every night.
Strengths We Love:
The Applied Sleep Queen Adjustable Bed Frame is an adjustable bed designed and manufactured with quality materials and components.
The bed frame's base comes with a strong clamp shell-type packaging box with protections on all four corners. It is well constructed as it is welded and coated well. Every joint looks excellent and smooth.
The top cloth material is soft and high quality.
The head and foot of the base raise and lower quietly and quite quickly.
The flat button is convenient because it is the button that needs to be pressed with ease.
This bed is easy to assemble despite being heavy duty.
It comes with a 10-year warranty.
Things to Consider:
The remote is backlit only when a button is pressed.
Some buyers share that there is no massage timing on the remote control.
The Bluetooth name of the adjustable bed is not stated on its user manual.
OMR Advantage Score: 8.9/10
---
Sweet Night Tranquil Adjustable Base
Sweet Night allows you to sleep tight and rise bright with its high-quality products with unparalleled craftsmanship. The Sweet Night Tranquil Adjustable Base is a bed frame made with sturdy laminate and steel frame and elegantly covered with polyester. It is equipped with a highly reliable, quiet, and responsive premium motor.
The Tranquil Adjustable Base has a thoughtful and ergonomic design with dual USB ports on each side of the adjustable base where you can charge your devices. The bed can be controlled through a wireless remote or Bluetooth app for easy access.
It also has mattress bars and side pockets to keep your space neat. The under-bed-light design comes in handy at night when you feel peckish or need a drink. Its soothing light with motion sensors makes for easy navigating in the dark.
The immersive remote settings can control most of this bed's features. Change the angle of the head and footbed by tapping a button. A single tap also lets you access the flatbed option, zero-gravity, anti-snore, and other settings.
When you decide to get this product, you will get these out of the box: (1) one-bed base, one wireless remote control with three batteries, (2) 6 adjustable bed legs, (3) 3 mattress bars, (4) 1 power supply, (5) 1 power cord, (6) 1 side pocket, two motion sensor.
Strengths We Love:
Customers say that the Tranquil Adjustable Base is very user-friendly. The upper body inclines and reclines, and you can also adjust the lower body. You will always find an angle that suits your preference.
This is convenient and helpful for the elderly, especially those who have limited mobility.
Two illuminates are installed at the bottom of the bed, which is equipped with two motion sensors that are very sensitive and have an extended sensing range.
It is convenient. Instead of connecting to the plug-in board, there are two USB ports where you can charge mobile phones and other devices.
The controls are conveniently placed for easy access.
Easy to put together despite being heavy. These adjustable beds do not need any tools to assemble. All you must do is to screw the legs and plug them in.
It is very quiet. A customer shared that they could change the position of the mattress with just a press of a button.
In cleaning the products, it is enough to an ordinary dry cloth or soft brush.
This syncs very quickly with its Bluetooth.
There are different modes available for whatever you prefer. You can choose the zero-gravity mode, TV mode. You can save your desired preset using the memory feature, so you do not need to set them up each time you use the bed.
The quality of this frame is top-notch. It is entirely made of durable metal with excellent foam guards around the outside to protect your shin/knees.
Things to Consider:
Pay attention to how the warranty on this product works. The 10-year limited warranty is only for its steel base. Its remote control only has a 1-year limited warranty. The other parts, like the head, lift/down the motor, leg lift/down the engine, control box, motion sensor, and USB ports, only have a 3-year limited warranty.
You should not use accessories that are not approved by the manufacturer or obtain the standard warranty.
For maintenance, a customer shares that the bed lifting motor must not be raised continuously and lowered for more than two minutes during the 18 minutes service life.
The motor needs to rest for at least 18 minutes after continuously running for more than 2 minutes. And to extend the use of this bed, it is recommended to avoid long-term direct sunlight.
For safety, children and incapacitated adults are not allowed to operate the bed alone without supervision.
OMR Advantage Score: 8.6/10
---
Dynasty Mattress King Adjustable Bed Frame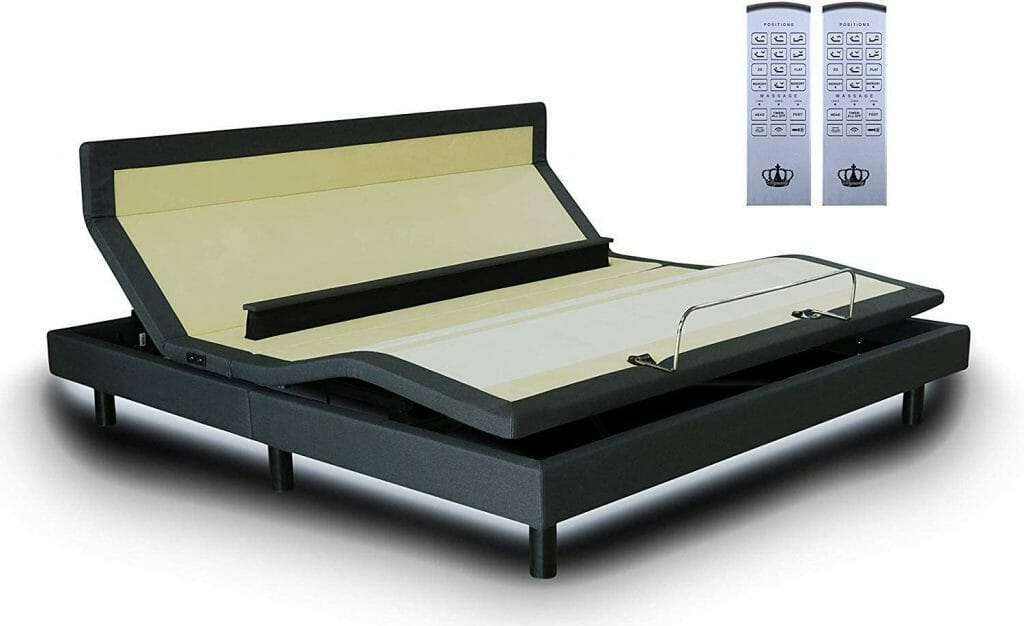 Built for royalty, this adjustable bed frame from Dynasty Mattress is one to look out for. Dynasty Mattress produces the highest quality mattresses and adjustable bases, and its King Adjustable Bed Frame is one of its top products.
The Dynasty Mattress King Adjustable Bed Frame was designed and built with efficiency in mind. It is the product that will give you the relaxation you need and deserve.
Equipped with three independent positions, it is a feature available for the head, the chest, and the feet. This bed allows you to sit comfortably or relax in a reclining position with a 75° independent head tilt, an independent chest reticulation of 0-60 elevation, and an independent foot articulation of 0-45 height. It also has micro hooking, a foot retainer bar, dual USB ports, and a dual massage feature.
Thanks to its 6″ inches wall hugger mechanism, it stays within reach of your nightstand. You can raise or lower the heavy-duty steel frame base height in 11-inch increments up to 10″ inches tall. You can also remove the bed legs.
If you are worried about your mattress not fitting, do not worry. You can easily customize this bed frame to work for you. This frame holds onto the mattress to keep it from sliding around. This fits well using a memory foam mattress. Combining that mattress with this bed frame gently cradles your entire body with zero gravity technology.
If you suffer from lower back problems, this bed will help you. Thanks to its patented lumbar support feature, it gives you the support that you need so that you can sleep through the night without pressure or pain.
The Dynasty Mattress King Adjustable Bed Frame is integrated with the newest technology. Thanks to its high-quality Bluetooth speakers, you can sleep while listening to music. You can also save your preferences with memory presets and charge your devices with this bed's USB ports.
This bed sits snuggly against the wall, so you do not have any awkward wall gaps. You do not need to worry about not being able to reach your nightstands or your devices.
Strengths We Love:
The Dynasty Mattress King Adjustable Bed Frame is easy to set up. You do not have to use any unique tool to assemble this. All you must do is screw in the legs.
It has 10-year parts and labor extended warranty.
It has a patented genuine lumbar support to ease your lower back pain.
The bed has Bluetooth speakers and subwoofers. It is zero clearance/platform bed friendly and is equipped with under-bed lighting.
It has a simple 3 step installation that takes up to 1 minute, and then you are done.
It has four fully customizable memory positions to set the positions you love the most quickly.
It has many independent features.
The bed is well made, sturdy, and stable.
This bed is equipped with quiet and reliable motors that won't fail to give you a serene sleep.
The App for this bed is very convenient. It gives you all the remote features you need. It can connect you to your phone via Bluetooth and use your phone to control the bed. The speakers also connect via Bluetooth.
It has a comfortable Zero Gravity preset. The position is almost perfect as is.
Under-bed light has just the correct brightness.
Things to Consider:
The bed is hefty. It weighs 250 pounds, so you might need to ask someone to help you move it. According to some customers, each side of the split kings weighs 200 pounds.
The remote and the flashlight do not stay lit long.
According to a customer, the pillow tilt part is huge and does not do what it is supposed to.
Some buyers found the instructions hard to read.
OMR Advantage Score: 7.9/10
---
Prodigy 2.0 Leggett and Platt Adjustable Bed Base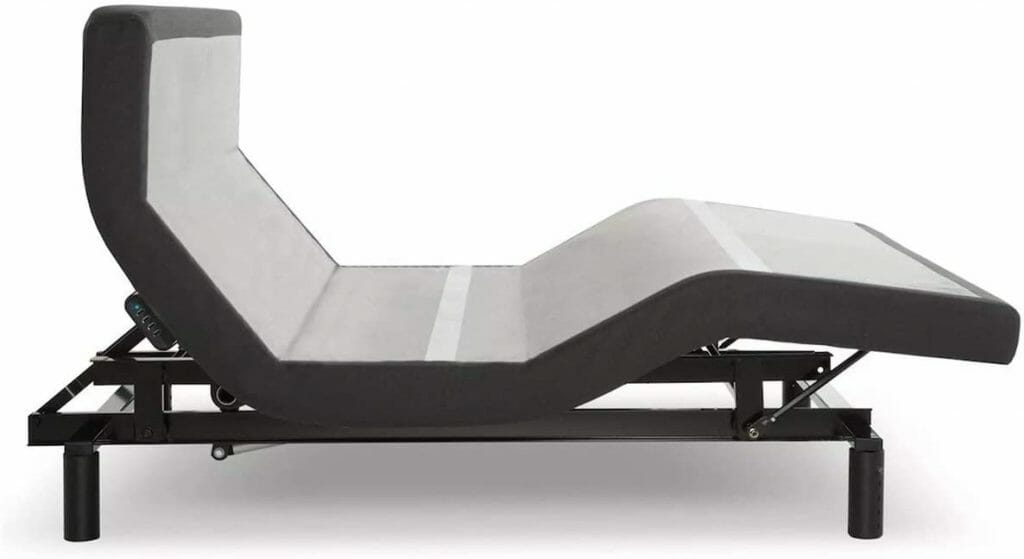 This adjustable bed manufactured by Prodigy 2.0 is the new ultra-premium Prodigy adjustable bed constructed with furniture grade upholstery. It is the redesigned Prodigy 2.0 and features the manufacturer's all-new microhook retention system that prevents mattresses from slipping. With this bed, you do not need to have mattress retainer bars.
Top of the line, this bed features the industry-first capable touch remote and an exclusive app for apple and android devices which allows you to adjust your bed easily. It has a pillow tilt feature that enables the mattress to adapt to support your head while reading, working, or watching TV in bed.
Like other intelligent beds, the Prodigy 2.0 Leggett and Platt Adjustable Bed Base has under-bed lighting. The difference is that it is multi-directional and is fully dimmable. You can also adjust them using the remote control or App.
Waking up in the morning will motivate you thanks to this bed's ability to program the under-bed light with the alarm clock feature. If you want to charge your devices, you can use this bed's 2 4 USB ports on both sides. Charge up to eight devices simultaneously.
Equipped with DC motors with 850-pound total maximum capacity, you can rely on this bed for stability and sturdiness thanks to its heavy-duty 2-½ diameter leg. Its height can be adjusted from 6″ to 10″ inches. Unlike other smart beds, this is equipped with a dual body massage with a wave feature.
These are not its only feature. The pillow tilt feature helps you read, improve blood circulation and sleep. It also has zero gravity, anti-snore, and a particular pillow-tilt feature for extra comfort. Furthermore, its Bluetooth connectivity and wireless remote make this adjustable bed easy to use. It is compatible with iOS and Android.
Strengths We Love:
The Prodigy 2.0 Leggett and Platt Adjustable Bed Base is sturdy and comes pre-assembled.
Customers commend that this bed works as described and expected.
The mattress retainer also works as a sheet or bed spreader retainer.
You can charge up to eight devices on this bed.
The much-loved wall-hugger design makes it easy for you to reach your things on your bedside table.
Things to Consider:
Its wall-hugger design does not keep your shoulders at a constant distance from the wall.
Some customers share that the remote holder is too small. The remote does not fit.
The LEDs on the control box are bright for pet dogs.
OMR Advantage Score: 9.5/10
---
MAXXPRIME Adjustable Bed Frame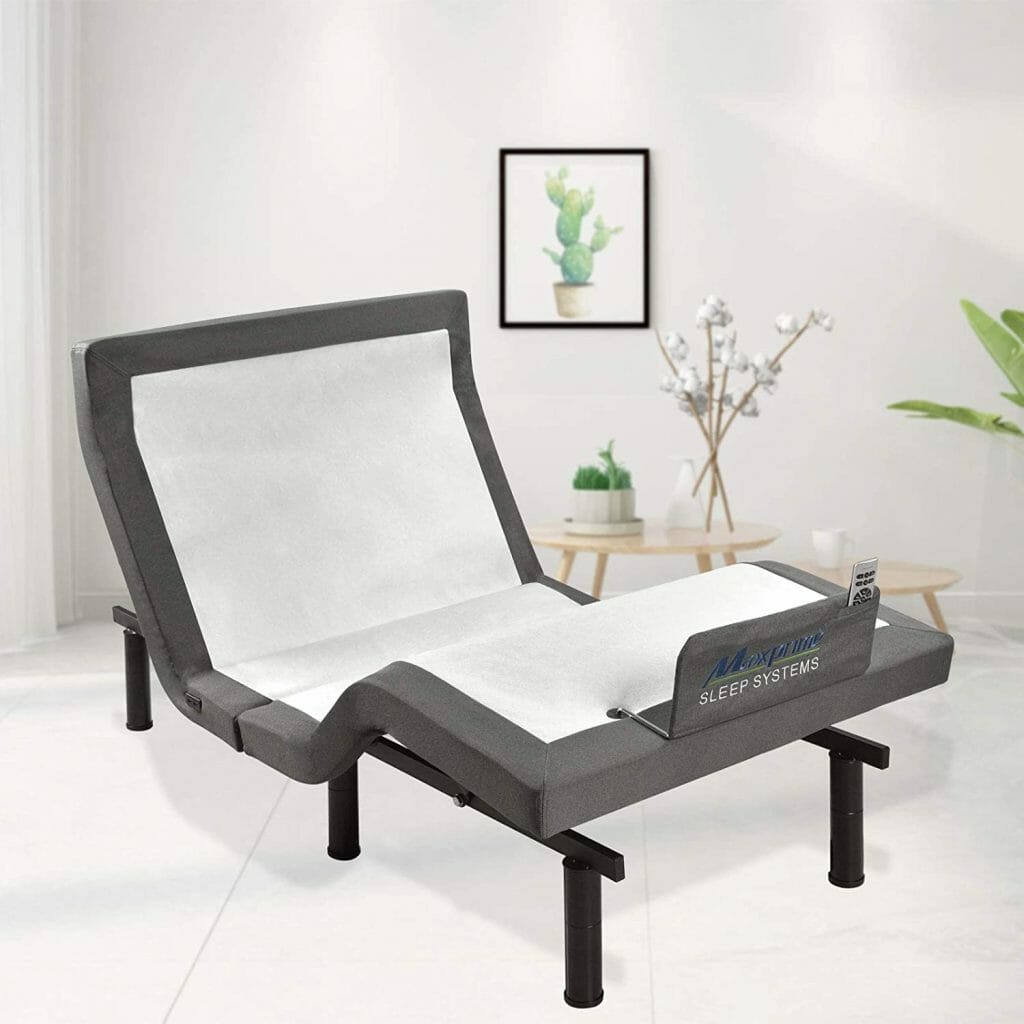 MAXX Prime Adjustable Bed Frame is equipped with German technology, noise-free OKIN motor. It has three individual OKIN motors for head-tilt, back incline, and foot incline. It can support a maximum weight of 900 pounds and comes with a US professional service team.
Affordably priced, the bed base is designed to allow two twin XL bases to become split king beds. You can use a remote to control the two-bed bases. All you need to know is in the manual.
With its dual massage and USB ports, you can relax and indulge in comfort, style, and luxury. By reclining the back to a perfect angle and raising the leg area to a comfortable height, the MAXX Prime Adjustable Bed Frame will give you the best sleeping experience every night.
You can lift your feet to relieve pressure and relax your legs after a long day of work. When you watch TV or read, this bed allows you to sit back and relax while fully supporting your back. Whether you play, read, or retire for the night, MAXX Prime Adjustable Bed Frame will make you comfortable.
Strengths We Love:
The MAXX Prime Adjustable Bed Frame features heavy-duty metal adjustable legs that fit in most bed frames. It is ideal for foam and latex mattresses.
Easy to assemble. You do not need to use any tool. All you need is to screw its legs, and voila, you are done. However, it is still recommended that two adults assemble this product.
It has three individual noise-free OKIN motors for head-tilt, back incline, and foot incline.
The super heavy-duty legs can be stacked.
This bed gives you a set of six 4″, 6″ or 10″ legs for the perfect height.
Things to Consider:
The bed is heavy so that transport can be tricky.
The USB ports have light. This can be distracting because it can light up too much.
OMR Advantage Score: 8.2/10
---
Technology and Rest
The application of technology is widespread. Even things that we cannot imagine incorporate technology into the simplest products. Technology is even turning mattresses "smart." If there are smart mattresses, there are also smart beds. This innovation is not exactly new because humans have always been interested in developing tools to make their lives more comfortable.
According to a study, manufactured bedding dates to around 77 thousand years ago in the middle stone age. The discovery only proves that we are more always looking for ways to make our life more livable. 
Humans have tried finding ways to make their beds comfortable since ancient times, from using goatskins to feathers to cotton and wool. And then came the modern innovations like memory foam and innerspring. Currently, manufacturers started integrating cutting-edge technology into beds, all for the name of comfortable sleeping. What is this obsession with comfortable sleeping?
Humans spend a third of their lives asleep. Sleep is essential for productivity and health. But sleeping on time is not enough. Good sleep directly affects important aspects of life such as emotional, physical health, and overall performance, so it is just as important. One product that seeks to satisfy the human need for good and comfortable sleep is smart beds.