Trying to find the best place to buy a new mattress in Alabama?
Mattress Stores in Alabama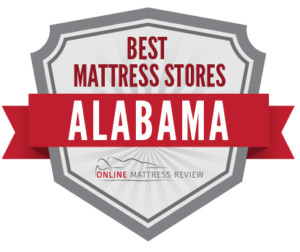 Anthony Burgess is famous for saying: "Laugh and the world laughs with you, snore and you sleep alone" and unfortunately he's right. Partners struggle to find a mattress that is "just right" for each of them, and sleep disorders such as sleep apnea are more than common in the United States.
Often left alone to toss and turn on their own, those who struggle with sleep can find some relief with the right mattress. But how do you know how which mattress is right for you? How do you know who to trust.
With so many mattress options, it can be one of the most stressful purchases for shoppers. Which is why we took the time to review some of the top-ranked mattress stores in Alabama. We looked at mattress shops that offer quality products, a wide range of options, quality customer service, and some other essentials- return policies and speedy delivery.
Today with a flourishing industry, you can readily find mattresses in Birmingham, Montgomery, Mobile, and Huntsville and in other parts of Alabama as well as much as in Auburn, Tuscaloosa, Florence, Marion, and Selma. We selected some of the largest metropolitan areas across the state of Alabama and found the highest-ranked mattress shops within each region, and this is what we came up with.
---
Mattress Stores in Birmingham
If you are looking for the best mattress shop in Birmingham, we can help.
Mattresses are a major purchase, and we understand that picking and sticking with a mattress can be stressful. We took a look at the top-ranked mattress shops in and near Birmingham- the best for coverage, selection, customer service (this includes knowledge of the product) and other essentials (like delivery options, and refund policies). Here's what we found.
Galleria 4340 Creekside Ave Ste 100, Birmingham, AL 35244 Phone (205) 982-4155
If you are looking to try something other that Mattress Firm, you could try Bedzzz Express.
4500 Montevallo Rd, Irondale, AL 35210 Phone (205) 956-8033
This is a great option for a person who needs a great mattress fast, or someone who is looking to take their time. The customer service really shines here, and the sales team are known to be good listeners, patient, and true to their word. If you are looking for a high quality and affordable bed Bedzzz Express is a great option. The iciing on the cake may be the next-day timely delivery.
---
Mattress Stores in Montgomery
Have you ever wondered: Where can I find a mattress store in Montgomery, Alabama? We can help.
Purchasing a mattress doesn't need to be so stressful, though we understand the pressure- you will spend ⅓ of your life on this purchase, sales professionals tend to be pushy and sneaky, and you need to find something that works for your sleep patterns. This is why we went ahead and examined the best mattresses stores in Montgomery- we were looking for options that did not break the bank, had a selection for all types of sleeping patterns, and quality customer service- a patient and knowledgeable sales team.
7417 Eastchase Pkwy, Montgomery, AL 36117 Phone (334) 801-9041
If you are looking for a quality and affordable mattress, try Bedzzz Express. We like this location for the high quality products available at very reasonable prices. The owner even offers free delivery!
620 N Perry St, Montgomery, AL 36104 Phone (334) 221-8108
Montgomery Overstock is a find place to head for an affordable mattress and other furniture to complete your furnishing needs. If you are looking to shop with a family-run business, head here. The staff are friendly, patient, and knowledgeable.
---
Mattress Stores in Mobile
If you need to find the best mattress shops in Mobile, we can help.
Mattress shopping is not everyone's favorite. However, it's an essential purchase- for some, the pressure of finding something that is "just right" is even more stressful. What if my mattress doesn't work out? How can I return my mattress? How do I know if a mattress can fix my back pain? And on an on go the worries. We did our best to alleviate some if not all of those worries when we took a look through the top-ranked mattress shops in the Mobile, Alabama area. We looked for mattress stores that offer a wide-range of mattresses, quality customer service, and other user-friendly experiences like same-day or next-day delivery, and essential return policies. While no two mattress shops are the same, we did our best to find some that have either some or all of those elements.
Tillman's Corner Upholstery and Mattress
4751 Calhoun Rd, Mobile, AL 36619 Phone (251) 454-7763
If you are looking for an affordable mattress and other furniture, you could try Tillman's Corner Upholstery and Mattress. This family run establishment has been in business since 1970. With over 65 years of experience under their belt, Tillman's has learned the art of customer service. There are a wide-range of mattresses available of all sizes. If you prefer to shop local and shop small, you could try Tillman's.
---
Mattress Stores in Huntsville
If you're wondering: Where's the best mattress in Huntsville, Alabama? You have come to the right place.
Huntsville attracts quite a diverse community with all kinds of needs. Whether you're hunched over a desk, standing all day in a lab coat, or hustling and bustling waiting tables, you'll need a quality mattress to help you get optimal sleep at night. Bed in a Box stores have some limitations, and of all products, it's essential that you try before you buy. Which is why we took the time to comb through the highest ranked mattress stores in Huntsville- to help you save some time combing through options.
4800 Whitesburg Dr. Huntsville, AL 35802 Phone (256) 885-4400
Bedzzz Express seems to have the whole package- a patient and knowledgeable staff, great selection of mattresses, affordable prices, and free delivery.
930 Old Monrovia Rd NW, Huntsville, AL 35806 Phone (256) 837-4283
Haverty's Furniture is a furniture store that also sells mattresses and is a great place to head if you need more than just a mattress. The delivery team is a fast and efficient, and the sales representatives are courteous and knowledgeable. If you are looking to take your time shopping try Haverty's.
---
Of course mattress stores are available in areas of Alabama outside of those already covered. In or around Auburn, Gulf Shores, Dothan, Gadsden, Hoover, Cullman, Foley, Anniston, Fairhope, Prattville, and others all have local mattress stores or at least mattress stores in the region.
You can also check out mattresses online at some of our favorite stores: